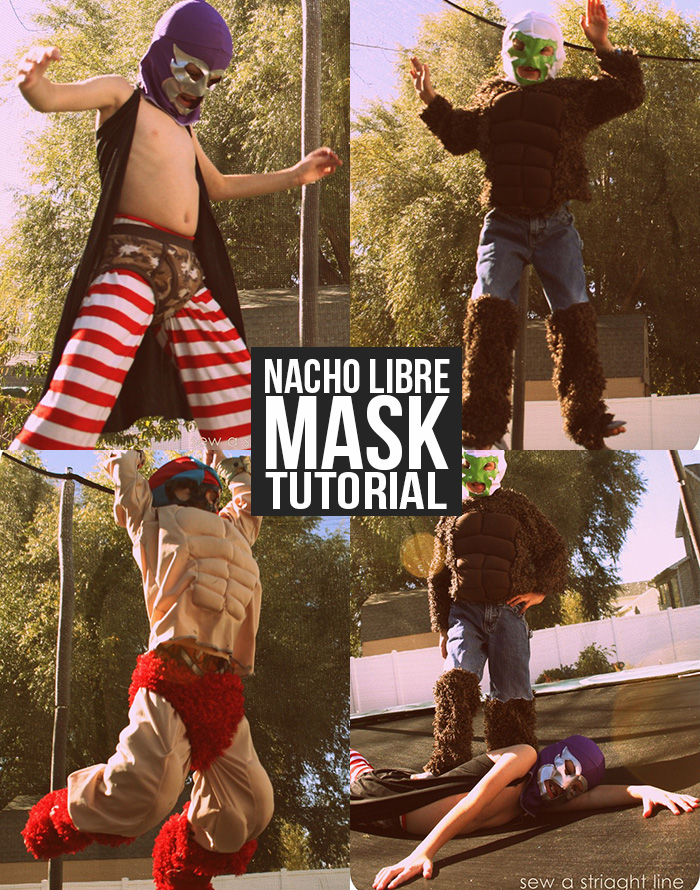 You are in for a treat. These costumes are. amazing. Sabra from Sew a Straight Line is simply a magician with fabric. She's here to show you her amazing Nacho Libre costumes and she even has a tutorial for el Luchador mask!
This past summer my kids watched Nacho Libre approximately 7.3 million times. My four-year old now refers to tortilla chips as The Lord's Chips. All day long we hear "Eagle powers, come to me, please!", and every meal is complemented by "mmm, good toast." So, in honor of Nacho and my sons' obsession with him and Esqueleto, they designed, and I made them each their own luchador mask.
The rest of their self-dressed wardrobes come from our costume box (werewolf HERE and HeMan HERE) . My kids were excited to create their own Luchador personas while my husband and I sat back and and enjoyed the show.
We have:
Angry Face
Flurbango
and Flambo.
If you find yourself in need of some Mexican wrestling headgear, you're in luck! Click the button below to download the pattern and read on to get the tutorial for your own…
For each mask, you'll need:
-½ yard dancewear knit
-⅛ yard pleather
-Pattern pieces

Trace the basic face shape onto the wrong side of the pleather.
Add design elements and change the face as you, or your luchador want. For a symmetrical face, cut on the fold.

I let my kids decide on their individual eye and mouth holes. Cut out the holes and set face aside.
After cutting out the head pieces, mark the top, as indicated on the pattern, of each piece.
Right sides together, sew the front seams of the Head Sides.
Right sides together, sew the top of the Head Top.
Pin the face in place on the right side of Head Sides front, using the center seam to line things up.
This pinning is the hardest part of the whole deal, promise. I found it easiest to place the Head Sides on a rounded surface and pin the face on that way.
Stitch all along the outside edges of the face, about ⅛ inch in.
Then sew all along the edges of the face holes, about ⅛ inch from edge.
Cut the holes out of the fabric, following the edges of the face.
Right sides together, sew the Head Top to the Head sides, matching center front seams.
Right sides together, sew the back of the Head Sides, catching the back corners of the Head Top to enclose.

Finish the bottom with either a rolled hem or a simple serged/zig-zagged edge.
Slap it on your luchador and throw that kid in the ring!
Thanks for having me, Andrea. I had a good time, real good.