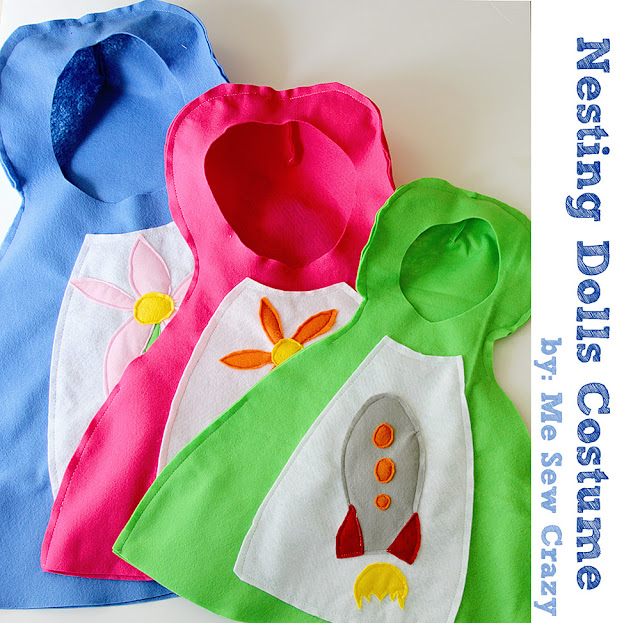 Hi everyone! Jessica here from Me Sew Crazy, and I love being here for the Handmade Costume Series. Seriously though, doesn't Andrea do such a fabulous job putting this together?!! I love following along, and am always so amazed what people come up with! Its the ingenuity, the imagination, and the creativity that I see that absolutely blows me away.
I have to admit something though…Making costumes? Not my favorite. *Gasp*
Which is why I like things to be super simple, super easy, and of course cute whenever possible! And when they coordinate, it is like an added bonus.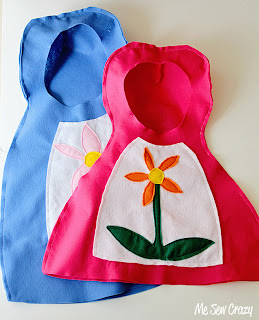 That's when I came up with Russian Nesting Dolls.
I was browsing SewSet (shameless plug), when I stumbled across the Matryoshka Doll Ornament by Danielle of My Sparkle. Before I knew it, the gears were going and I had my costume idea set!
I have 3 kids all under the age of six, of course they would be cute in coordinating nesting doll costumes! And hey – I put a rocket on the front of Ben's after all. Lol.
Why do I love this costume so much?
Because it is made out of felt, which is cheap. Easy to cut, and easy to sew. Furthermore, if you don't sew you can still make this costume! All you will need is hot glue and a stapler (trust me, I made a tweedle dee costume using nothing but a stapler, glue, felt and a hoola hoop in middle school…and won the award for it!).
Now I know what you are saying…but there are no arms.


Don't worry, I made armholes. Furthermore, if your kids don't like to wear things on their head as much as mine, the top can fold back and work like a hood when they are being fussy.
Alright, let's go.
First off, you will need to get the large felt sold by the yard at fabric stores. It is really cheap, and perfect for this costume. 1 yard is all you will need, and you will have plenty leftover. For the front belly embellishments, get ½ yard of white felt, and some of the paper sized felt in whatever colors you like. I made all three of my children's costumes for around $15. Not bad.
You will need some very basic measurements of your child in order to cut your pieces properly. I had each child stand next to my ruler for a second and eyeballed it…


Don't make your costume too long, you don't want your child tripping as they run around at night getting candy!
Once you have your basic head and overall length measurement, you can start cutting…


Don't want to deal with a small head dart later on? Skip step number 2 above. But know it won't fit the same.


(Stsitch = stitch…I have fat fingers when I type.)


The head dart will help the costume to fit around your child's head a bit better. You can easily use a stapler to replace the sewn seam if you don't sew. (Perfectionists remember – this is a costume. Staples work).


Turn right side out, and you are done! If you want exposed side seams, you can do this step with leaving the wrong sides together. This may give it a more 'doll-like' appearance.


What did my kids like most about these costumes?


The fact that they got lipstick put on their face, they were so excited to be wearing mommy's make-up.


Thanks so much for having me Andrea. I have loved what everyone has created so far, and cannot wait to see what's next!
Want to stop by my place and say hello? You can find me hanging out here:
blog | facebook | twitter | pinterest | SewSet
Happy Sewing!