Stuffed avocado became really popular a few years ago. We had a bunch of crab cracked so we decided to make a fresh crab stuffed avocado. If you love avocado and crab (or stuffed avocado recipes), you'll love these!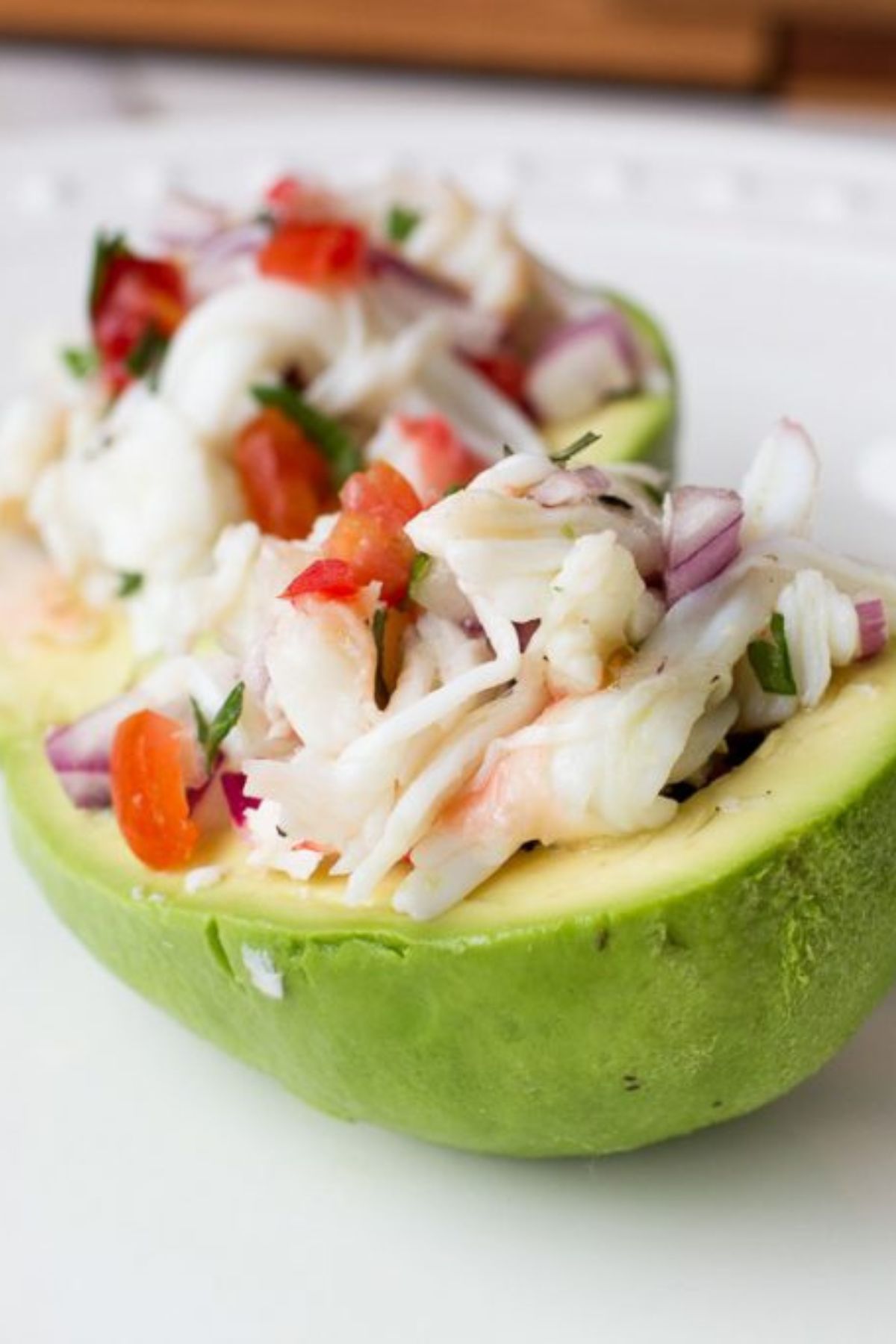 Crab stuffed avocados. I think that's all that needs to be said here. These are healthy and so delicious. They make the perfect snack or appetizer. Crab? Good. Avocado? Good. Fresh pico de gallo? Good. These take very little time to make and if you like crab you'll love these.
You can buy crab meat in your grocery store seafood department or do like we do and save some meat from a crab dinner. Dice up a little tomato, onion and cilantro and you have a mouth watering treat. You could also use fake crab meat, which is actually fish.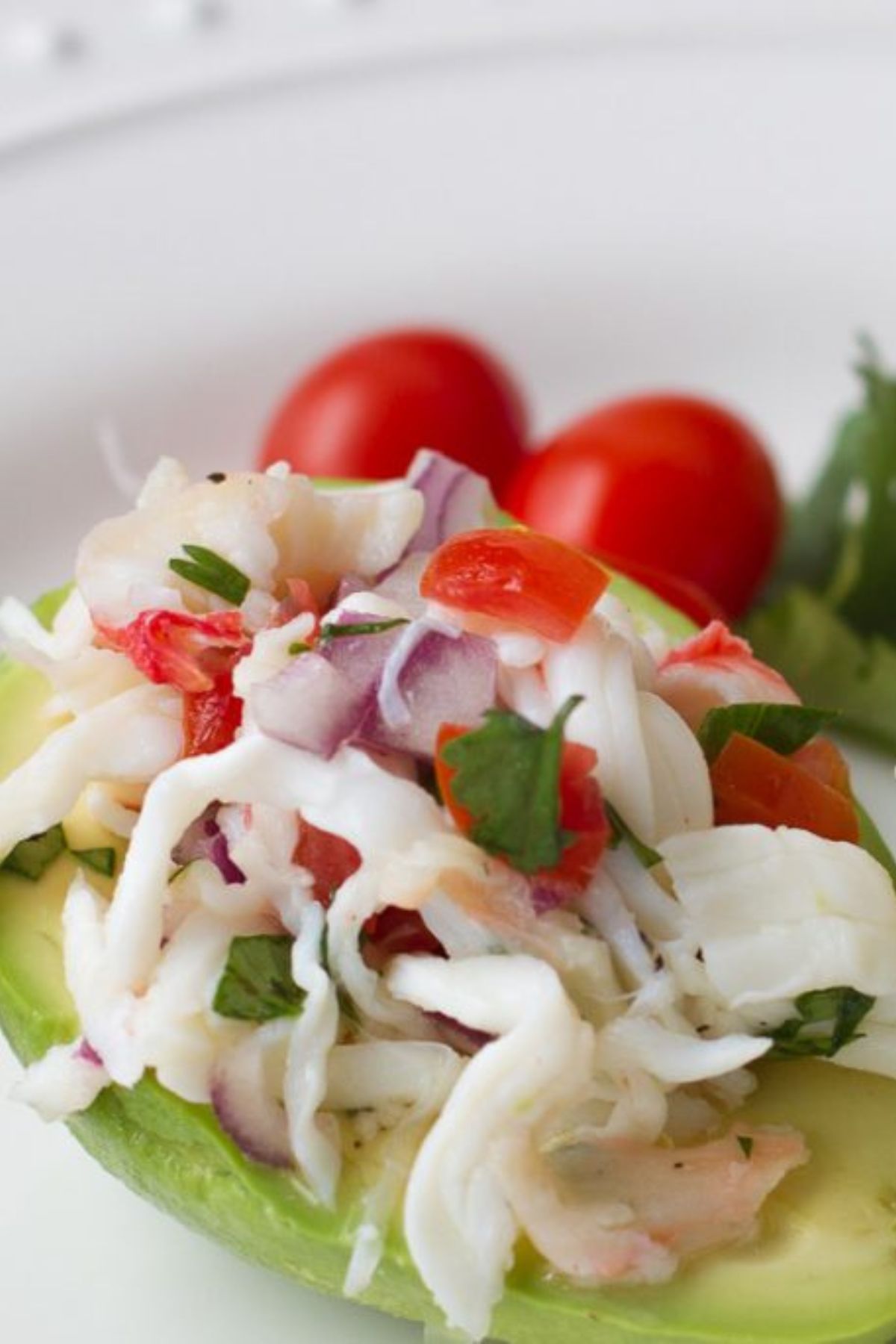 If you want to make this even quicker you can buy pico de gallo instead of making your own but fresh is so much better. However, I understand the need to have healthy foods more easily accessible. And sometimes the ones you buy from the store are pretty fresh.
If you don't live somewhere crab is readily available, the imitation crab meat isn't bad in this. I'm sure that's not a glowing review but I love real crab so much it's hard to substitute it. When we've made these it's usually the day after a crab dinner with some extra crab meat leftover in the fridge.
This crab stuffed avocado is gluten-free, dairy-free, paleo and keto friendly. And you can't beat the nutrition! Full of protein, vitamins and healthy fats.
How to cut an avocado
Never cut an avocado before? It's easy! The tricky part is getting a perfectly ripe one. To cut an avocado line your knife up along the long end so that each half will be the same size. The pit is in the middle so you won't be able to cut directly through so cut until you feel the pit with the knife then just rotate the knife all the way around the avocado until you meet up with the beginning of your cut. Then grab each side with a hand and gently twist the avocado until the pieces come apart. The pit will be stuck in one half. An easy way to remove the pit is to get your knife stuck in it and twist. Real Simple has a great little pictorial.
Once you have the avocado cut just peel the outside peel away from the inside and you're ready to stuff it! If the avocado is ripe it will be a vibrant green that's a little soft but not too squishy or brown.
DIY: Learn how to grow an avocado from seed.
Ingredients
1 medium avocado
2 tablespoon chopped red onion: or substitute for green onions or shallots
3 oz crabmeat, in lumps
1 lime, juiced: you can always substitute for lemon juice if you need to.
1 tablespoon chopped fresh cilantro or chives
2 cherry tomatoes, diced: you can also substitute for bell pepper
½ teaspoon olive oil
¼ teaspoon salt and fresh black pepper
Recipe is 2 servings. It's easy to make more! If you want to save some for later I'd make the crab salad mixture and refrigerate but don't cut the avocado until you're ready to eat them. They start to look bad pretty quickly once they're cut.
More Recipes You'll Love: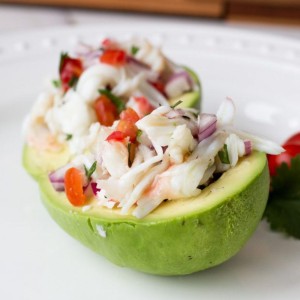 Crab Stuffed Avocados Recipe
Use fresh cracked crab and avocado to make these crab stuffed avocados.
Ingredients
1 medium avocado
2 tablespoons red onion chopped
3 ounces crab meat
1 lime juiced
1 tablespoon fresh cilantro chopped
2 cherry tomatoes diced
½ teaspoon olive oil
⅛ teaspoon salt
⅛ teaspoon black pepper
Instructions
In a small bowl, combine the onion, lime juice, cilantro, tomato, olive oil, crab meat and a pinch of salt and pepper. Toss to combine.

Cut the avocado in half and remove the pit. Peel the skin off the avocado.

Season the avocado with a pinch of salt and pepper

Fill the avocado halves with the crab mixture.

Eat right away.