I'm all about healthy eating right now and I'm pulling out my favorite healthy recipes that are full of flavor to keep me excited! This pesto chicken wrap is super simple and such a quick and easy dish to make for lunch or dinner!
I love prepping some grilled chicken and chilling it early in the week. Then I can keep it in the refrigerator so that it is easy to pull out later in the week for chicken pesto wraps. Preparation definitely makes healthy eating doable!
NOTE: This post was originally posted in 2016 and has been updated.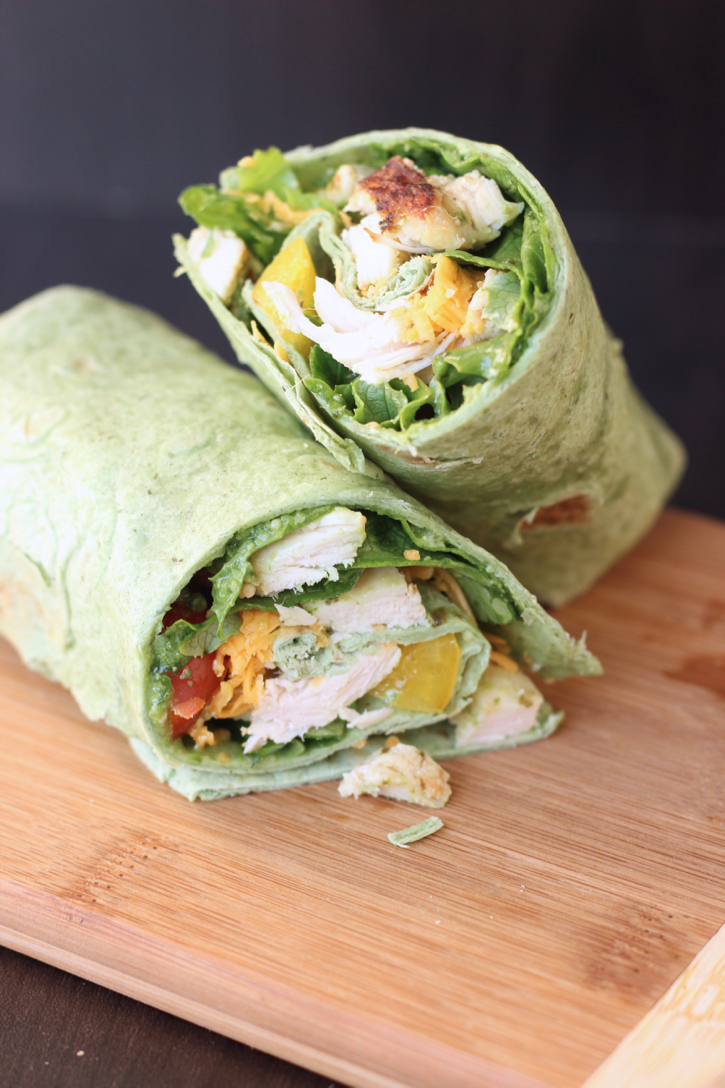 Also, I try to keep some fruits and veggies on hand to make this Pesto Chicken Wrap super easy to throw together.
I normally make this wrap with a wheat tortilla! They are low carb and have some dietary fiber and protein which makes them a really great choice. I'll occasionally make this with a spinach wrap because its still a great choice and its super pretty! I love pretty food!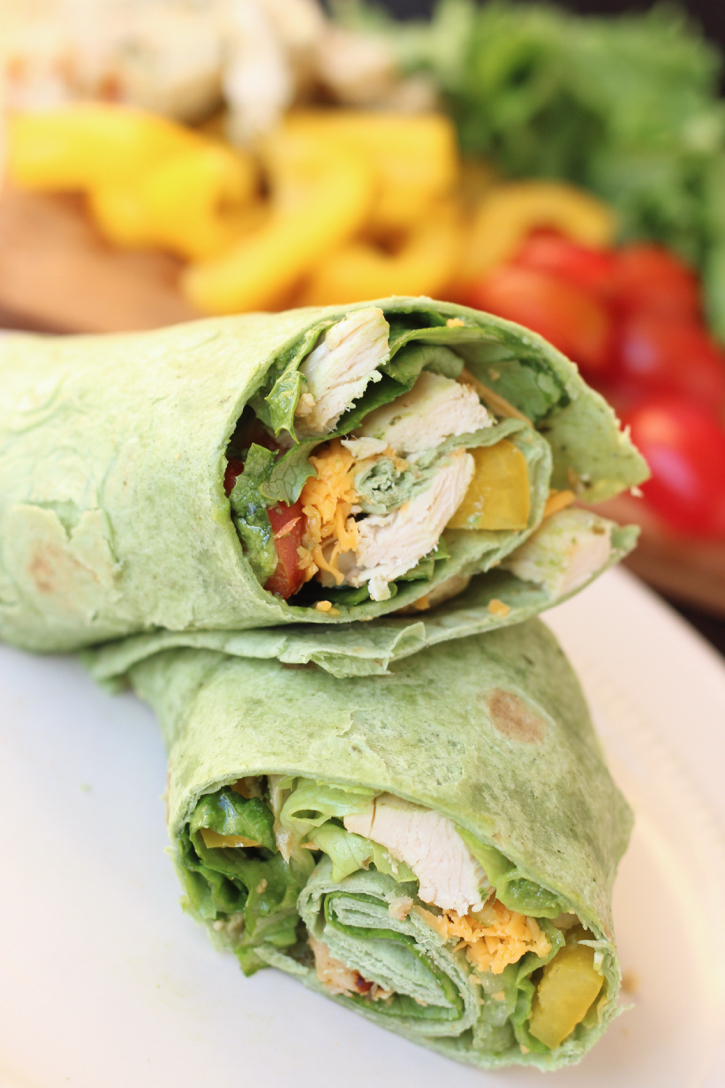 This wrap is full of protein that will keep you going all afternoon! If you're stuck in a lunch time rut this will get you excited and happy to eat lunch again… trust me, you need a little pesto in your life!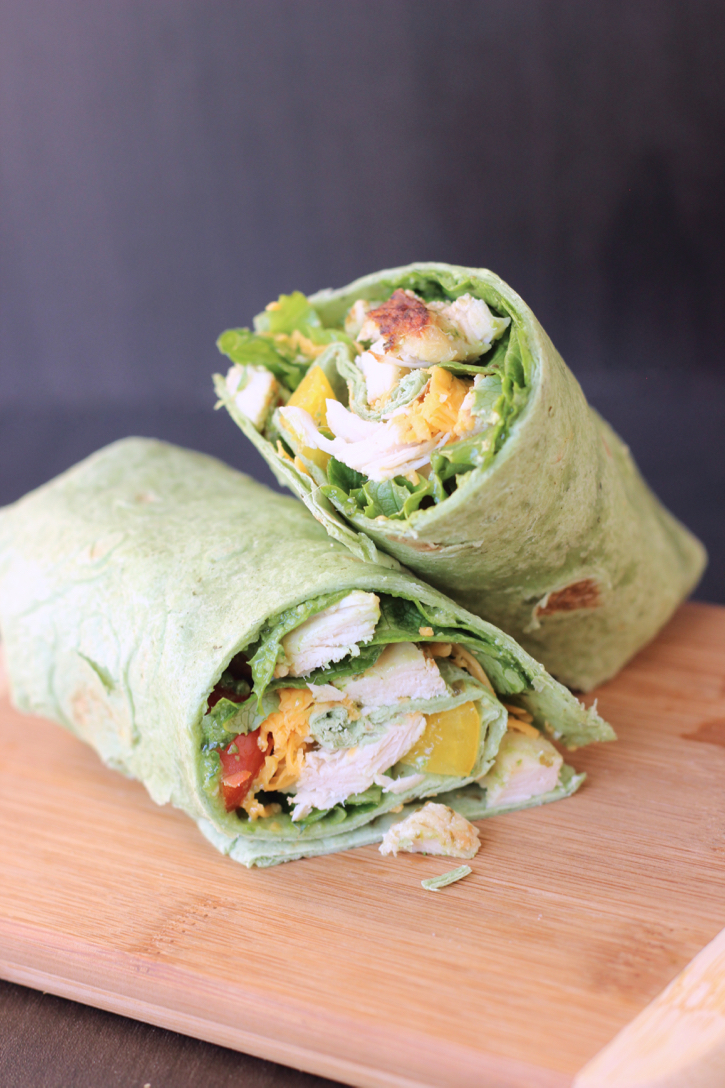 If you've got a little extra grilled pesto chicken you can throw it into this super easy Pesto Chicken Pasta… my kids eat this stuff up like crazy and it is super addictive. But let's get back to the wrap! Or if you're looking for more sandwich ideas here are 25 different sandwich recipes you may enjoy.
Ingredients
You can cook a chicken breast especially for this wrap or use leftover chicken.
Wheat or spinach tortilla: Use your favorite kind. They should be minimum of 10″.
Chicken: Use leftovers or follow the instructions below for cooking a chicken breast. Try one of these 27 Smoker Chicken Recipes.
Garlic: Mince your own garlic or use refrigerated minced garlic.
Pesto: If you have homemade leftover pesto use that or buy store bought pesto. I prefer fresh basil pesto but any type of pesto will do!
Salt
Lettuce: Use romaine lettuce or substitute spinach or arugula.
Yellow bell pepper: You can substitute any color bell pepper you have on hand.
Cherry tomatoes: Use any small tomatoes you have, or dice a larger tomato.
Cheddar cheese: Shred some cheddar cheese or substitute for mozzarella cheese, monterey jack, provolone, feta or parmesan cheese.
Directions
Full instructions and ingredient amounts in the recipe card below.
Grill Chicken: Slice your chicken and toss with garlic, 2 tablespoons of pesto and a dash of salt. In a small skillet over medium heat, pan sear chicken until all the pieces are cooked through. Remove from heat and cool.
Make Wrap: Set out your tortilla and spread a little pesto down the middle. Make a bed of lettuce and place shredded chicken, yellow bell pepper, cherry tomatoes and cheddar cheese on top. Roll it up or wrap burrito-style. Enjoy your pesto chicken salad wrap!
You might also consider adding avocado, olives, red onion or bacon for an extra treat!
More Easy Recipe Ideas
If you love this pesto chicken wrap you're going to enjoy some of these recipes!
Frequently Asked Questions
What meat goes with pesto?
Chicken is the most common meat paired with pesto but you can also pair pesto with a white fish or salmon.
Can I add pesto to leftover chicken?
If you have leftover chicken you want to use in this recipe but want it to have more of a pesto flavor, simply spoon a little pesto over it and toss to coat.
How do you roll a wrap sandwich?
We like to fold the ends in a little then roll the wrap so that once it's all rolled up the ends are tucked in. This wrap will taste just as good if you don't tuck the ends in burrito style. You'll just have to be more careful about things falling out of your wrap while you eat it.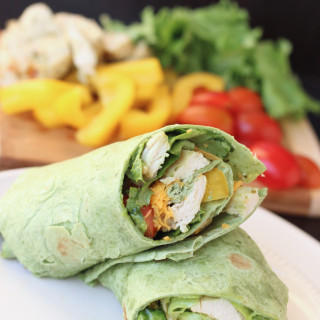 Pesto Chicken Wrap
Easy pesto chicken wrap is a fresh and quick meal.
Ingredients
Chicken Ingredients
1 chicken breast (or use leftover cooked chicken)
1 teaspoon garlic minced
2 tablespoons pesto
pinch salt
Wrap Ingredients
2 leaves lettuce
¼ yellow bell pepper
3 cherry tomatoes sliced in half
¼ cup cheddar cheese freshly shredded
1 spinach tortilla wrap
1 tablespoon pesto
Instructions
How To Cook Chicken
Slice chicken breast into ¼" slices.

Toss chicken breast pieces with 2 tablespoons pesto, garlic and salt.

Heat a small skillet over medium heat. Spray skillet with oil or non-stick cooking spray.

Add chicken pieces to the hot skillet. Cook for 2 minutes then flip pieces. Cook until chicken is cooked through and internal temperature is 165°F.

Remove from heat. Chill chicken before assembling wrap.
How To Make Wrap
Spread 1 tablespoon of pesto down the middle of the tortilla wrap.

Layer lettuce, chicken, yellow bell pepper, cherry tomatoes and cheddar cheese.

Roll the wrap up and enjoy.
Notes
This wrap works great if you have leftover cooked or shredded chicken. No need to cook a chicken breast especially for this wrap if you don't have to!
You can also add sliced cucumber, spinach, sun dried tomatoes, red bell pepper or avocado.
Nutrition
Serving: 1g | Calories: 781kcal | Carbohydrates: 46g | Protein: 64g | Fat: 37g | Saturated Fat: 12g | Polyunsaturated Fat: 1g | Monounsaturated Fat: 4g | Trans Fat: 1g | Cholesterol: 176mg | Sodium: 1316mg | Potassium: 1067mg | Fiber: 5g | Sugar: 5g | Vitamin A: 1747IU | Vitamin C: 70mg | Calcium: 451mg | Iron: 5mg