If you have never had a grilled pizza, it is time to try it out. Grilling pizza gives it a whole new level of flavor! And it is actually really easy to make if you have all the elements. If you want to grill pizza, there are a few things you need to keep in mind!
The process is simple enough, but it does require some planning.
I promise it's worth it!
First of all, get your elements ready to go. You need a great pizza dough. Most doughs will work well, but this is my favorite dough!
You'll also need a stellar pizza sauce. I love this 5 minute homemade sauce that has a bit of a tang and adds so much flavor to the pizza.
Don't forget the cheese, meat, veggies and any other toppings you might want! Set everything out in an organized fashion so you can top your pizza quickly. Remember that any toppings that need to be cooked should be cooked before you start grilling your pizza.
Heat up your grill so that it is nice and hot when you are ready to grill! We use a charcoal grill and let the charcoal sit for just a minute to spread out the heat.
Keep your pizzas small. After making your dough you will separate it into small fist size balls for each pizza.
Roll your dough out to about ½ inch thickness and transfer it to the grill.
You only grill the first side for a minute or two until it just barely starts to get the grill marks.
If you bake it for too long on the first side the other side will burn.
Flip it over and immediately top it off with sauce, cheese and veggies. The dough cooks quickly and you don't want your pizza to burn before your cheese melts and all the toppings warm up. Cover the grill to help the cheese melt on your pizzas.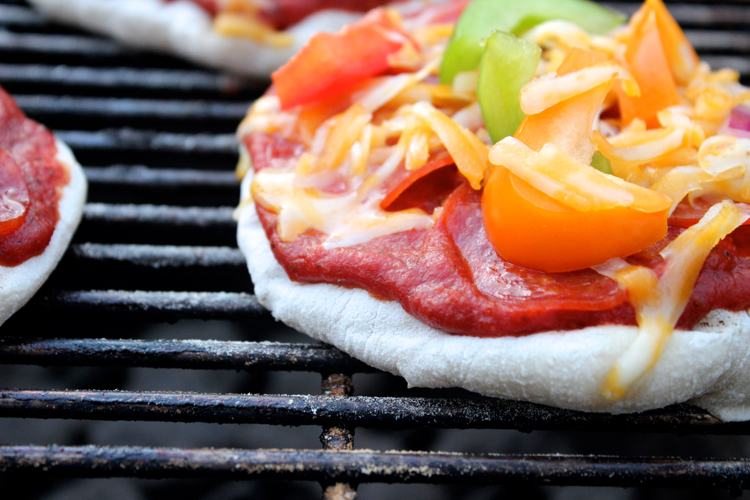 Once you get nice grill marks on the bottom and your cheese is all melted, pull pizza off the grill! This should only take about 5 minutes if your grill is hot.
Let cool for just a minute!
Then eat it all up.