Learn how to make a delicious grilled pizza on the barbecue grill. This chargrilled crunchy and soft pizza is perfect for summer cookouts.
If you have never had a grilled pizza, it is time to try it out. Grilling pizza gives it a whole new level of flavor. And it is actually really easy to make if you have all the elements. If you want to learn how to grill pizza and host a cookout everyone wants to come to keep reading!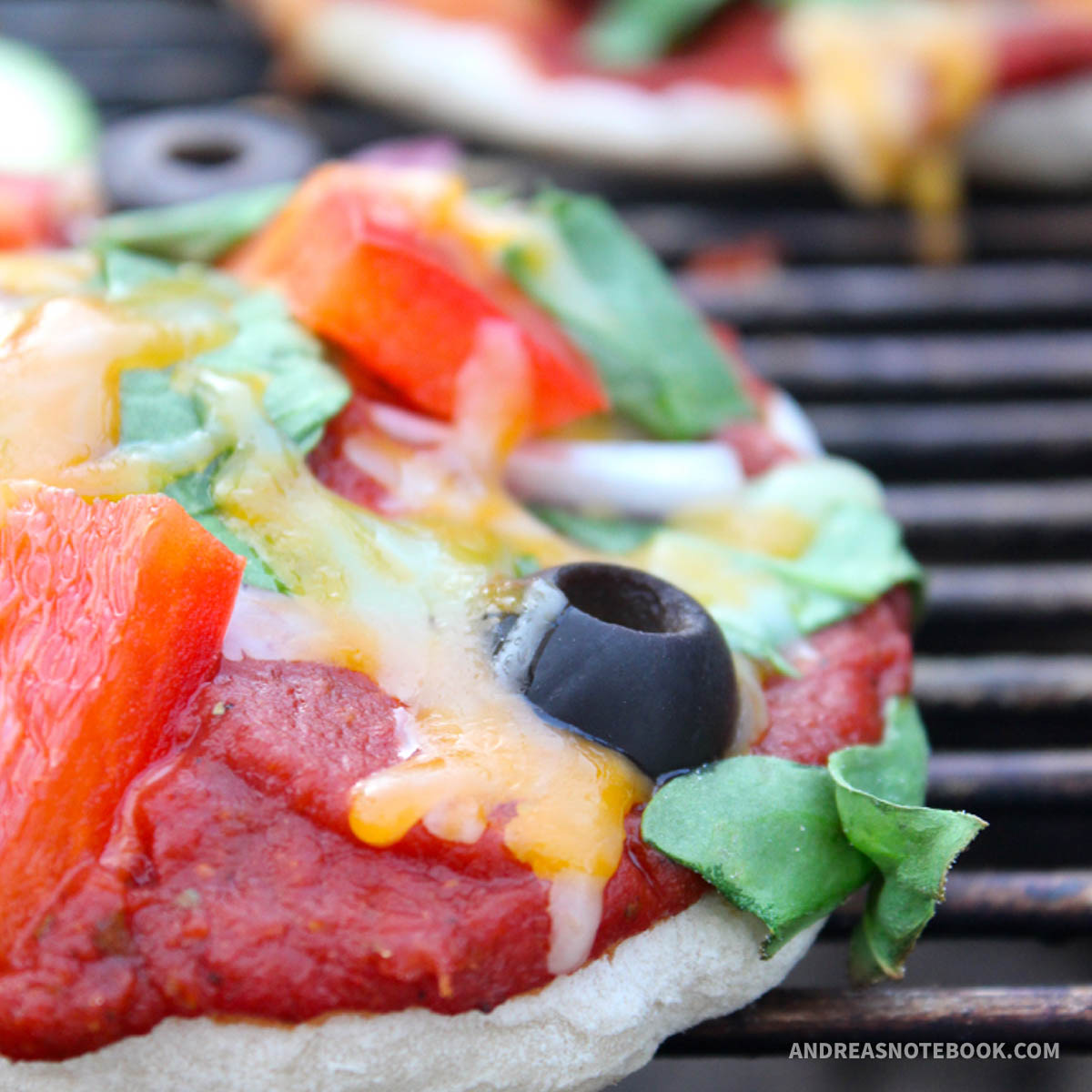 Why You'll Love Grilling Pizza
Flavor: Pizza crust just seems to taste better when it's cooked over a flame!
Time: Grilled pizzas are very quick to make. They're perfect for a night when you don't have much time to cook. Use pre-made pizza dough to save time.
Save Energy: Keep the oven off and don't heat up the house!
Equipment Needed: Pizzas cook up well on a gas grill or a charcoal grill.
Ingredients
Pizza Dough: Make your own homemade pizza dough or buy it from the grocery store. Pre-made pizza crusts can be very good. I like the dough from Trader Joes but in a pinch I'll buy it in a can from Pillsbury. Thin-crust pizza cooks up quicker on the grill but you can also cook a thicker crust.
Pizza Sauce: You can make your own, use marinara, or buy pre-made pizza sauce. I like using a tomato based sauce but a white pizza sauce or BBQ sauce would be good as well.
Cheese: I love using mozzarella cheese on pizza. These cook quickly so opt for shredding your own low-moisture mozzarella. Fresh mozzarella tends to take longer to melt. You can also use cheddar, goat cheese or whatever cheese you prefer. Remember, these cook quickly so don't put too much cheese on them so it all melts.
Toppings: The ideas are endless for toppings. Any toppings that need to be cooked should be pre-cooked (sausage, etc). Try fresh bell peppers, garlic, fresh basil, mushrooms, red onion, pepperoni, sausage, black olives, ham, pineapple, chicken, arugula, bacon, prosciutto, salami or any other toppings you enjoy.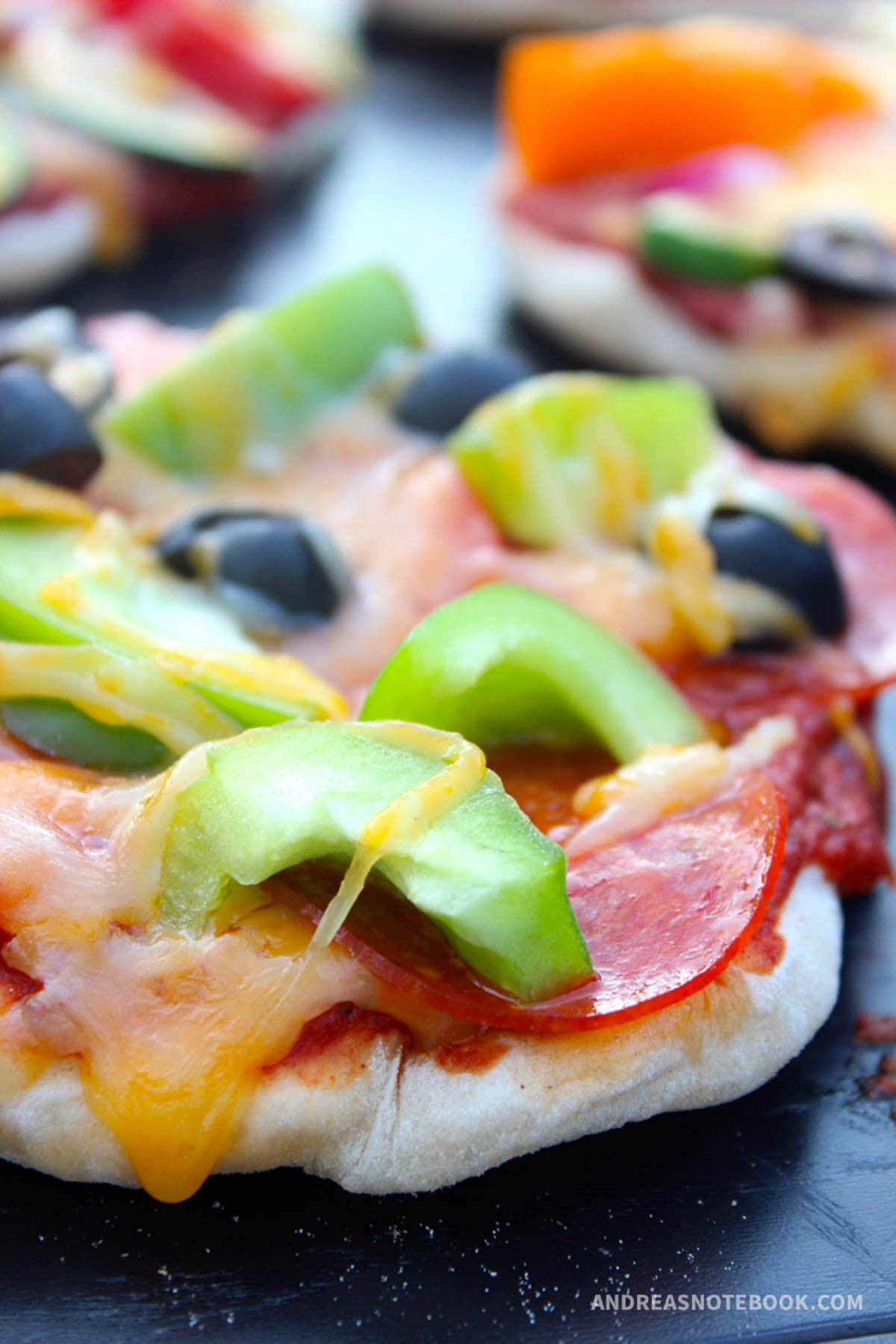 Instructions:
Instructions are also included in the recipe card below for easy printing.
Prep: Grilled pizzas cook quickly so prep all your ingredients before you start. Chop your vegetables, cook any uncooked meats, etc. I prefer to freshly grate the mozzarella cheese. And usually I add a little fresh grated parmesan cheese as well. Make your tomato sauce (or whatever pizza sauce you're using).
Preheat: Preheat your grill. It's helpful if you oil your grill grates before starting the grill. The grill should be medium-high heat to cook the pizzas quickly.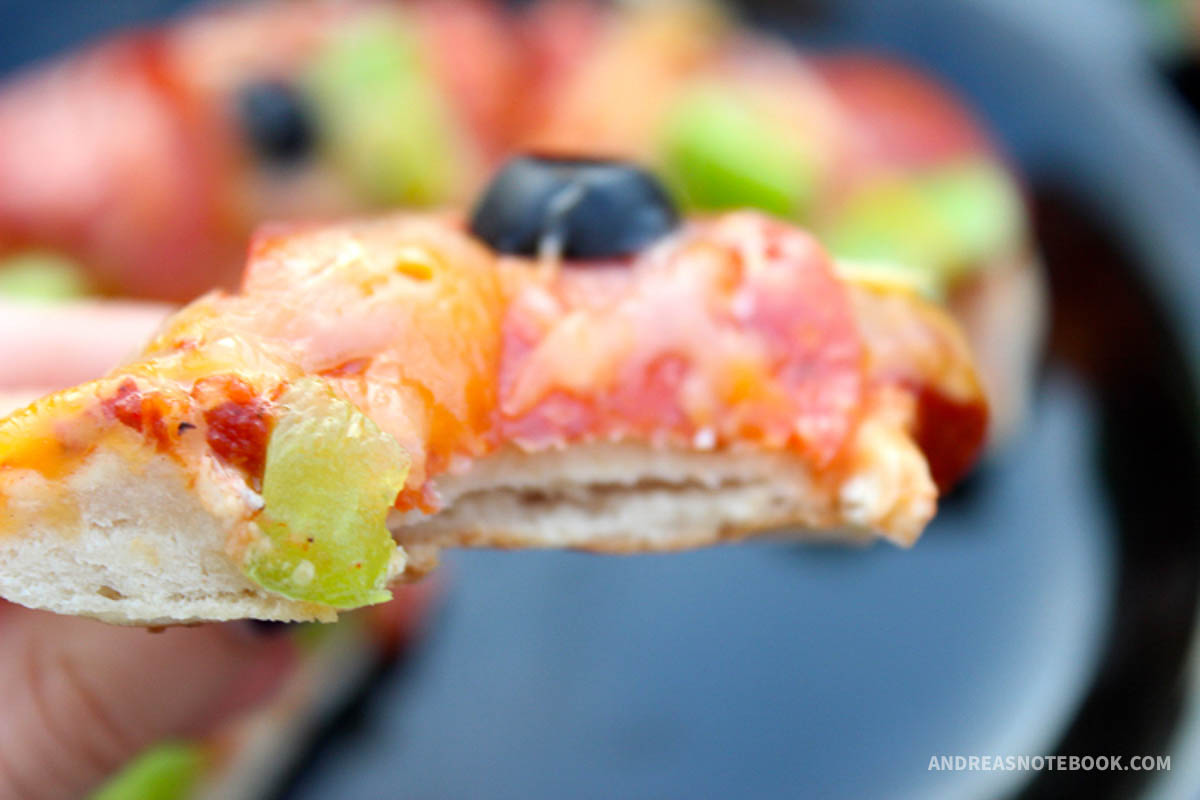 Make Pizza Crusts: Divide your pizza dough into 3-4 fist size balls of dough. Using your hands, pull and pat the pizza dough into individual sized pizzas. Use a little flour on your surface if the pizza dough is sticking. You can also put a little olive oil on your hands to prevent the dough from sticking to your fingers.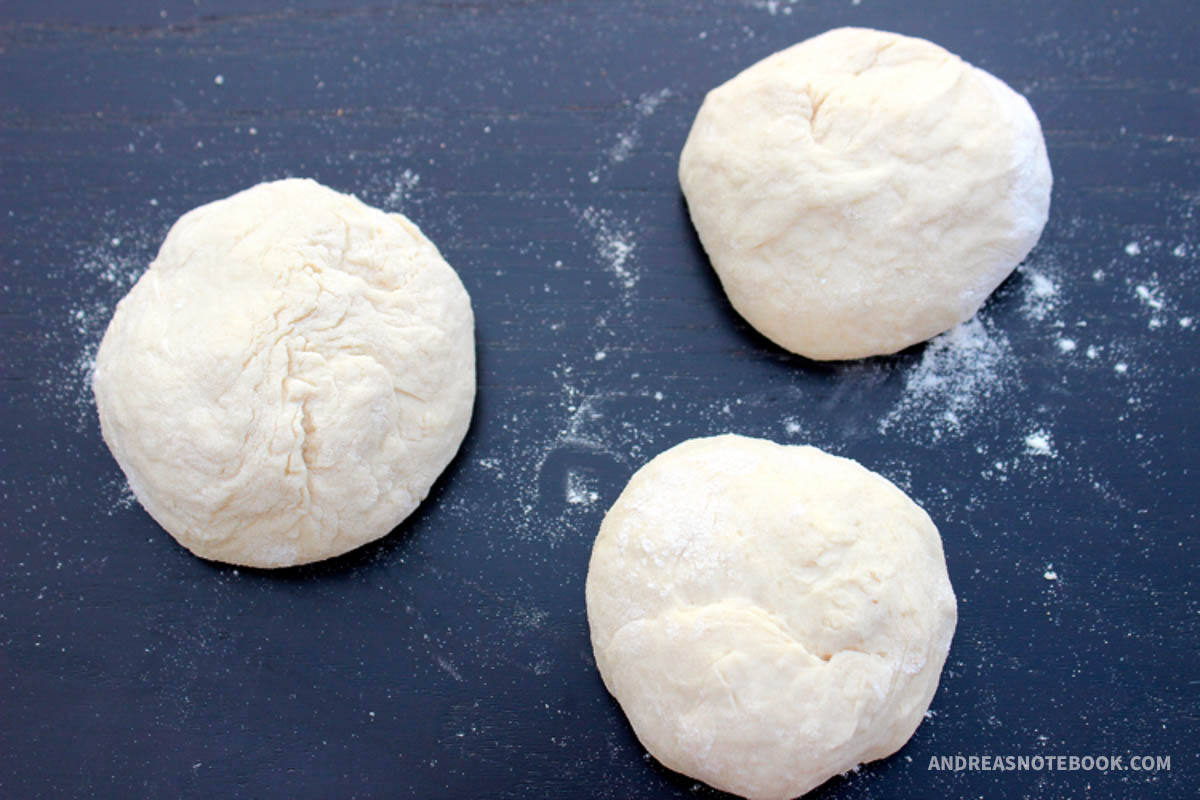 Grill Pizza: First you're going to slide the pizza dough onto the grill using a spatula, a pizza peel or tongs. Cook for 2-3 minutes until the underside has slight grill marks. Flip the pizza over to the other side of the dough and spread on pizza sauce, cheese and toppings.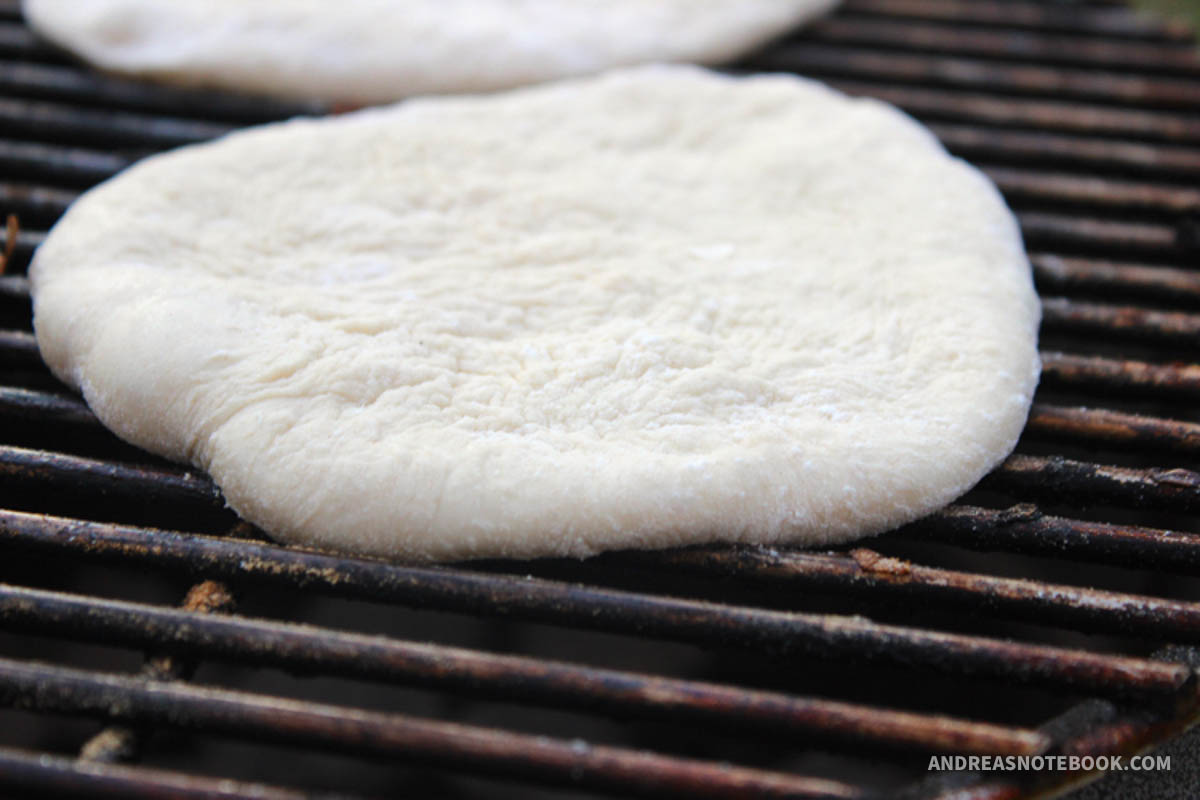 You may find it easier to remove them from the grill before topping. Top the pizza crust with whatever pizza recipe you like. Layer with lots of fresh toppings.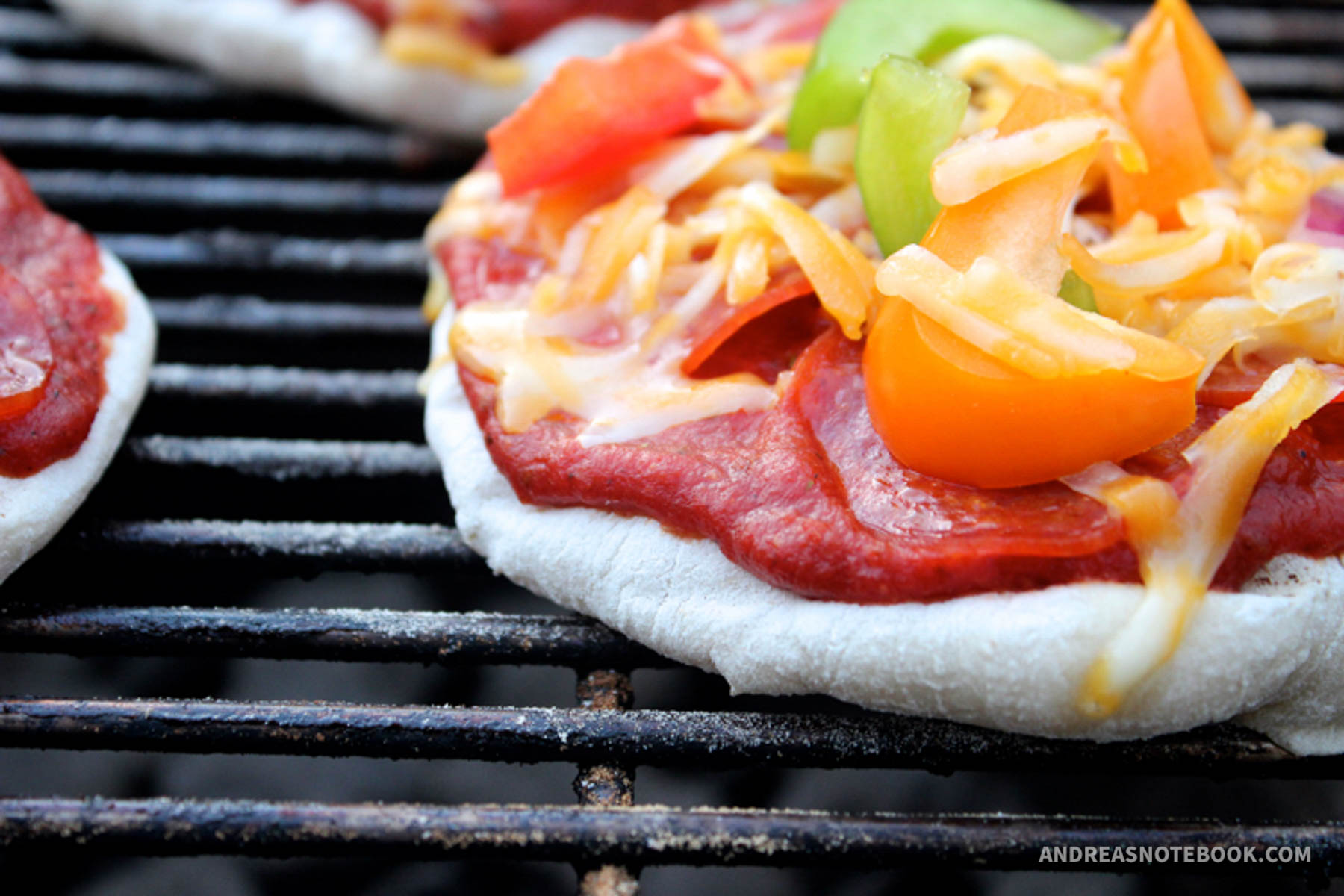 Remove From Grill: Once the cheese is melted and the crust has nice grill marks, remove from the grill. Let cook for a few minutes then enjoy!
Let cool for just a minute!
Tips for Grilling Pizza
Preheat your grill so it's nice and hot before you put your pizza crust on it. This will help it cook more evenly.
Don't add too much cheese! Cheese layered too much will not melt.
Close the lid while cooking the pizza. This will help the cheese melt.
Cook the pizza directly on the grill rack rather than a pizza stone. If you really want to use a stone make sure you put it on the grill to heat up as the grill preheats.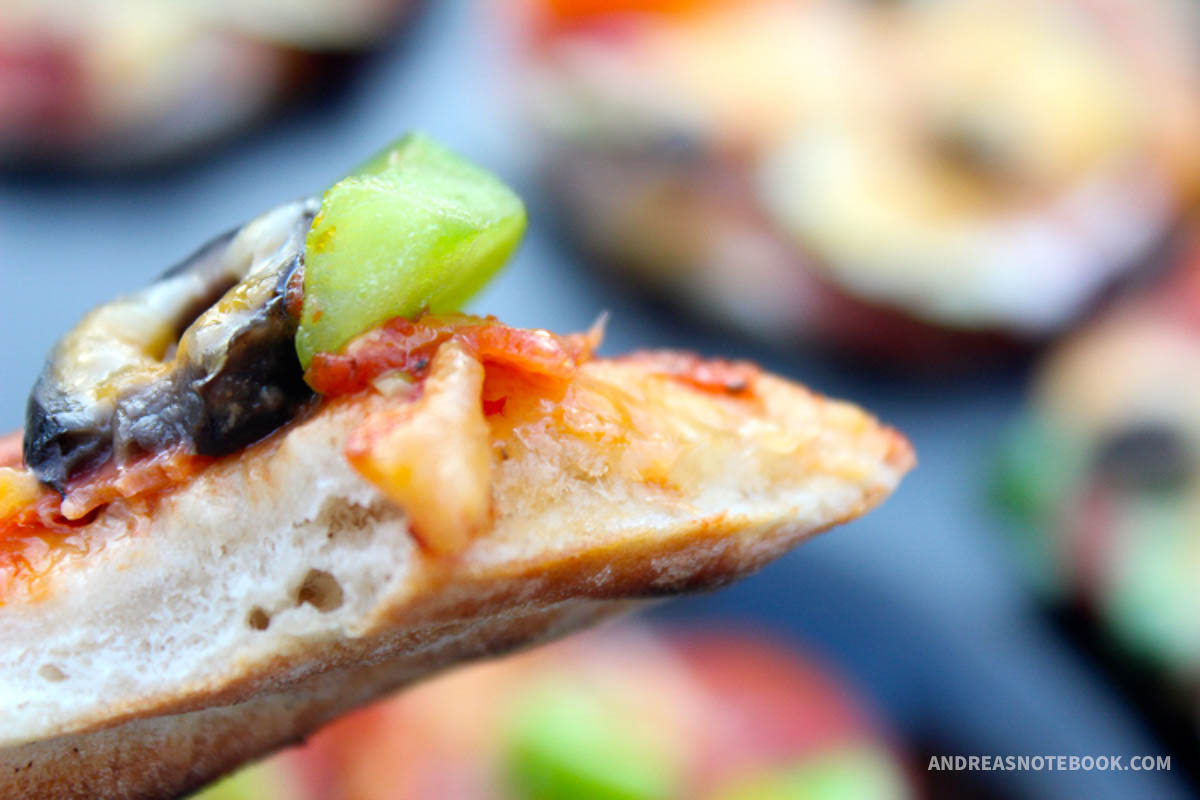 Then eat it all up! Yum! Don't grill? Try making a pizza on air fryer naan pizza.
Grilled Pizza
Learn how to make a delicious grilled pizza on the barbecue grill. This chargrilled crunchy and soft pizza is perfect for summer cookouts.
Ingredients
1 cup grated cheese mozzarella is traditional
¼ cup pizza sauce
1 cup pizza toppings cooked meats and fresh vegetables
Instructions
Preheat your grill to a medium-high heat.

Divide your pizza dough into 4 parts.

Flatten out the dough rounds with your hands until it's about ½ inch thick.

Oil the grill rack with a high heat oil like avocado oil or canola oil. Use a brush to lightly coat. Do not spray or pour oil on the grill.

Place the pizza doughs on the grill. Cook for 2-3 minutes on one side until it barely starts to get grill marks.

Remove from the grill (or assemble very quickly on the grill). Top with pizza sauce, cheese and toppings.

Cover the grill to help the cheese melt. Cook for about 5 minutes.

Remove from the grill once the cheese has melted and you get good grill marks on the bottom.
Notes
Do not put too much cheese on your pizzas or your crust may burn before all the cheese melts.
Nutrition
Serving: 1pizza | Calories: 315kcal | Carbohydrates: 45g | Protein: 14g | Fat: 10g | Saturated Fat: 4g | Polyunsaturated Fat: 0.3g | Monounsaturated Fat: 2g | Cholesterol: 22mg | Sodium: 922mg | Potassium: 91mg | Fiber: 4g | Sugar: 1g | Vitamin A: 283IU | Vitamin C: 1mg | Calcium: 223mg | Iron: 0.3mg