Creamy and delicious mint oreo ice cream recipe is a family favorite! It only takes a few minutes to stir this mint oreo cookie ice cream mixture and pour into your ice cream maker! No cooking involved! Keep your saucepan put away because this ice cream recipe has no eggs, no hand mixers! This is a delicious Ben & Jerry's copycat that I love even more than their ice cream.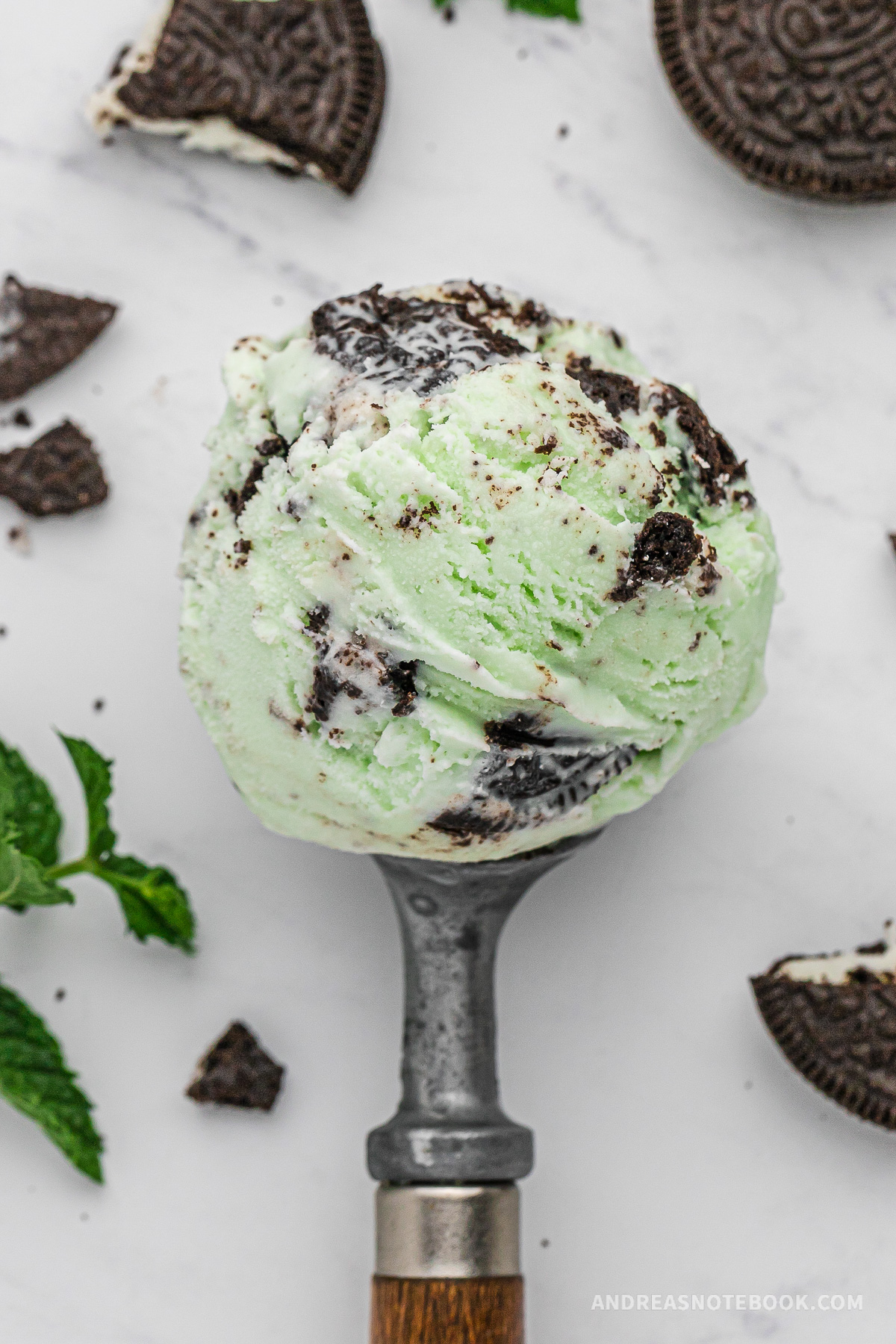 Why You'll Love This Ice Cream
Flavor: This rich and creamy ice cream is better than store bought! The mild mint flavor isn't overpowering. This ice cream in mint chocolate chip ice cream's better sibling!
Nutrition: Under 350 calories per serving.
Time: Prep time takes only 5 minutes! No cooking involved.
Equipment: This recipe requires an ice cream maker. Optional: Freeze in a loaf pan for easy scooping.
Diet: Vegetarian, Gluten Free (use gluten free Oreos)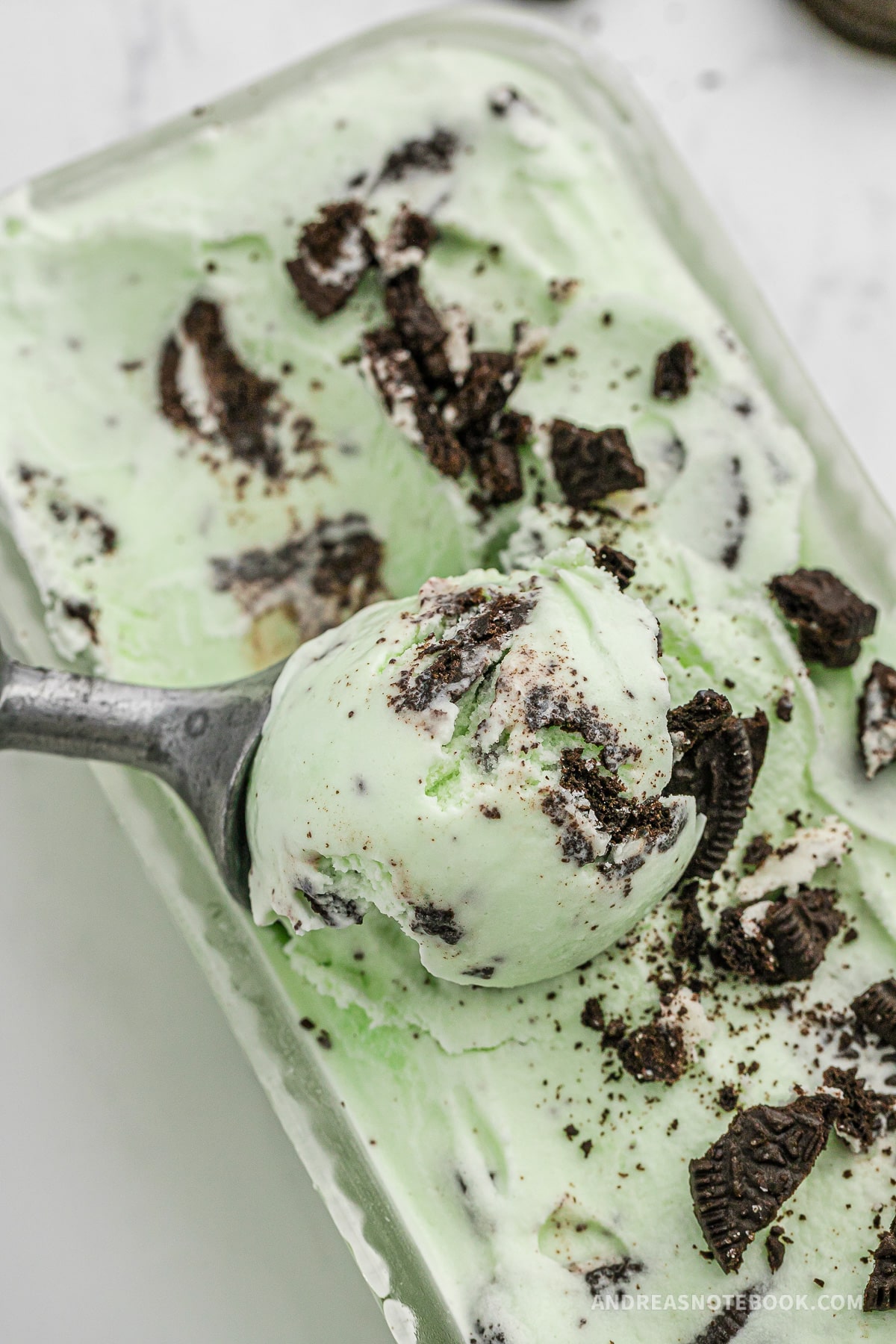 If you love easy, no bake recipes, check out these 50 No Bake Recipes.
Ingredients
Full ingredients and step-by-step instructions are in the recipe card below.
Milk: This recipe calls for whole milk and heavy whipping cream. I highly recommend using those and not substituting for a different kind of milk.
Sugar: Use granulated white sugar.
Vanilla Extract: If you have it on hand, don't skip it! Vanilla adds an important flavor to this ice cream.
Peppermint Extract: The peppermint extract provides the mint flavor, not the color. Measure this carefully because a little bit goes a long way. If you add too much it'll taste more like toothpaste than ice cream.
Salt: This recipe calls for just a pinch of salt. I like how it adds to the flavor but you can omit this if you're avoiding salt.
Food Coloring: Green food coloring is 100% optional.
Oreos: Use regular oreos or substitute for Gluten Free oreos or even mint oreos if you prefer. I do not recommend double stuff oreos.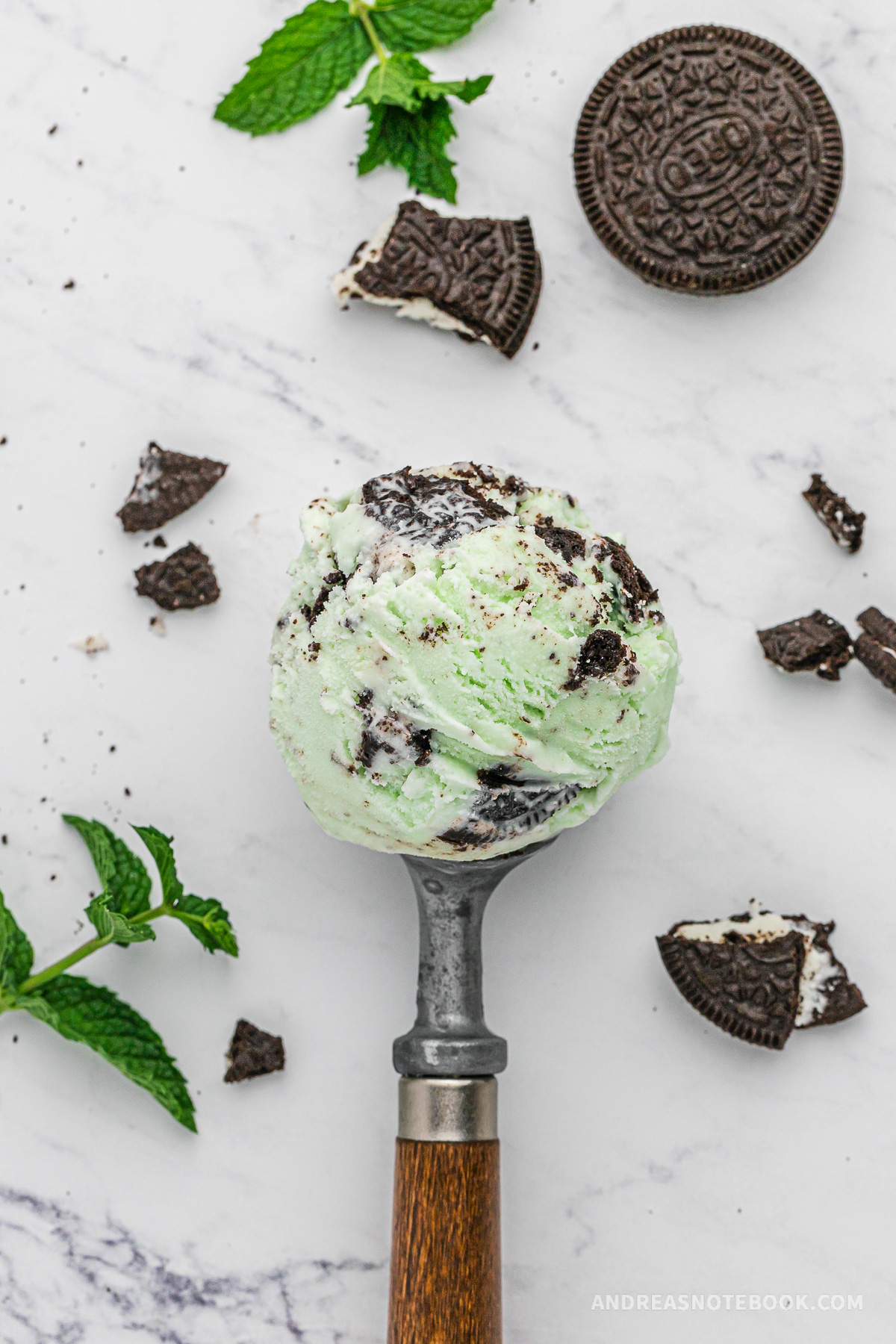 Instructions
Full step-by-step instructions are in the recipe card below. You can print or save to Pinterest for later.
Prep: Gather your ingredients. The green food coloring is completely optional! Just don't forget the mint extract! This recipe does not have eggs so there's no need to cook before churning.
Mix: Mix all your ingredients, except your oreo cookies together by whisking in a medium sized bowl. Pour the ice cream mixture into your ice cream maker. Churn ice cream according to your ice cream maker's instructions.
Freeze: Mix your oreo crumbles into your ice cream in a large bowl. The chopped oreo cookies should still be in large-ish pieces. Freeze for 4+ hours. Use a freezer-safe container covered with an air-tight lid or plastic wrap.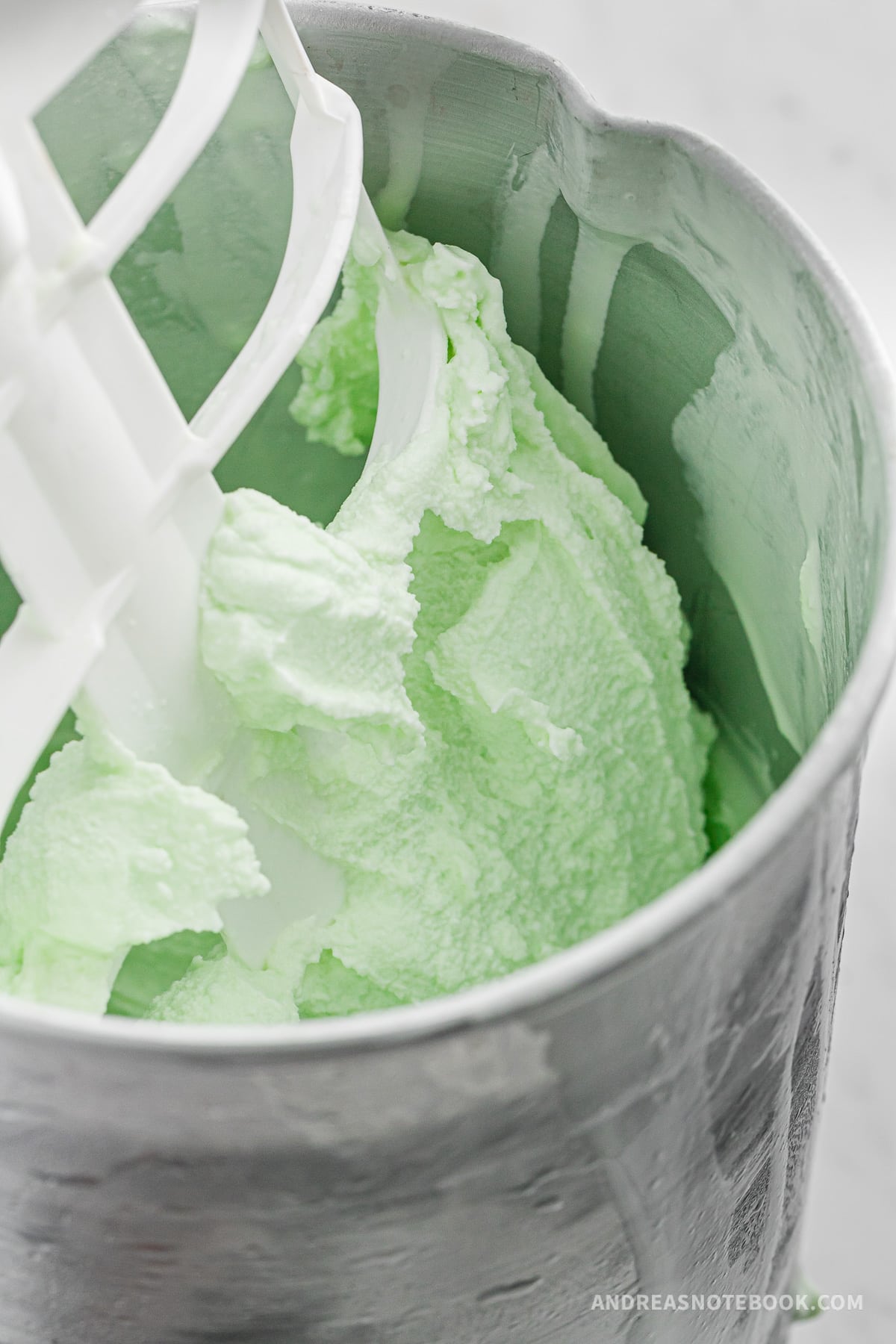 Tips For The Best Mint Cookie Ice Cream
There are a few things you'll want to make sure you do to ensure the tastiest ice cream.
Use the kind of milk listed. Do not substitute for alternative milks. This recipe hasn't been tested to use with coconut milk or soy milk, etc.
Measure your mint extract. I now a lot of us play fast and loose with vanilla extract but make sure you measure your mint. A little mint goes a long way!
Whisk your ice cream mixture together well to combine all the ingredients before pouring into your ice cream maker.
Chop your oreos into generous sized pieces. Finding a big chunk is part of the fun of eating mint cookie ice cream. When mixing your oreos into your ice cream, make sure you get to the bottom of the pan! Mix them in really well.
Freeze for at least 4 hours, longer if you can. Ice cream will continue to harden the longer it freezes.
Serving
Serve in a bowl, on an ice cream cone, make into an ice cream cake or just eat it right out of the container with a spoon!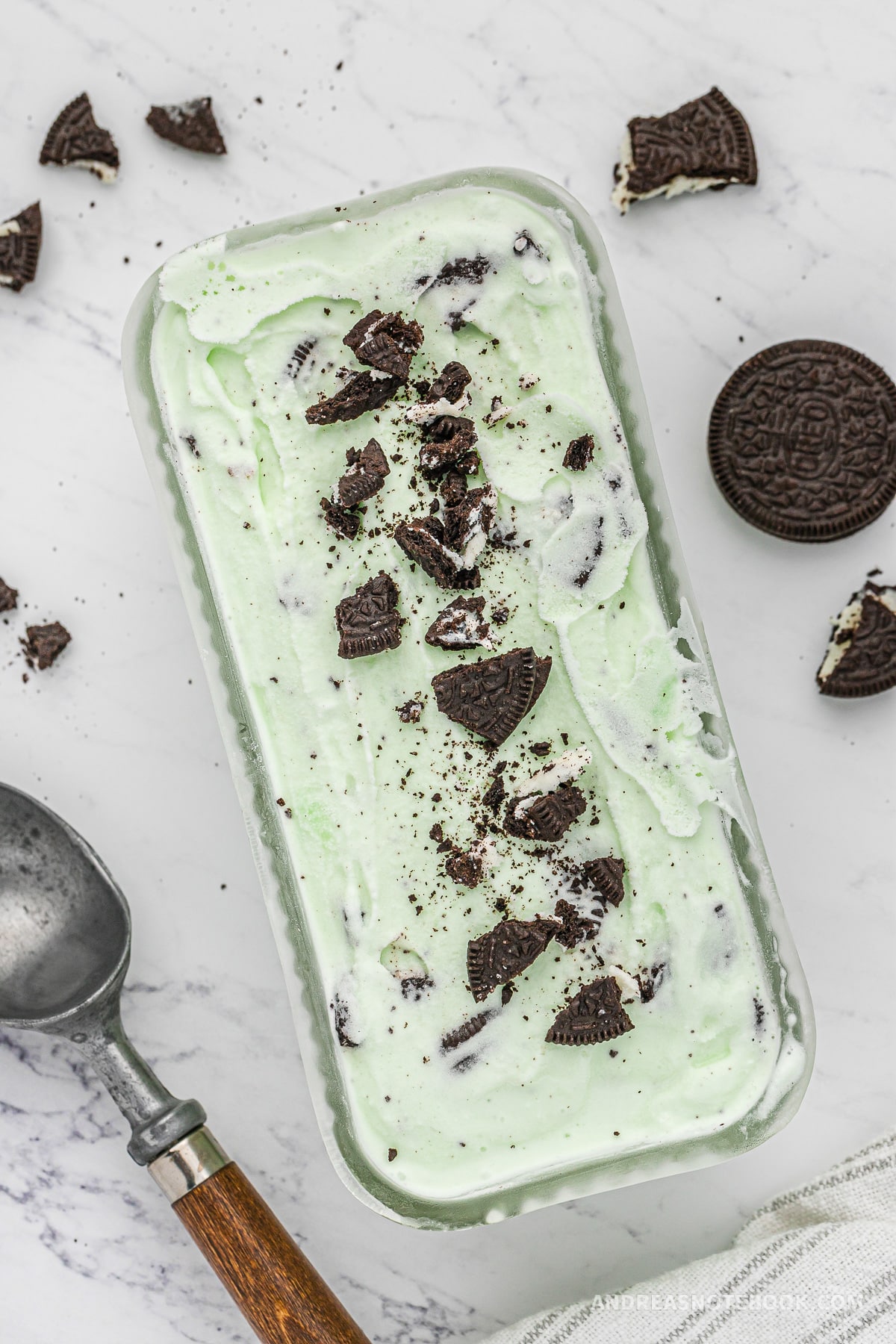 Don't miss this new Apple Pie Ice Cream recipe. There's churn and no-churn instructions.
Storing
Store this mint oreo cookie ice cream in a freezer-safe dish that has a lid, or a loaf pan covered in plastic wrap. Make sure there isn't a lot of air above the ice cream to prevent freezer burn. If your ice cream doesn't go to the top of the container you can put a little freezer paper or plastic wrap on top of the ice cream to prevent the freezer burn if you're going to store for a long time. Store for up to 3 months.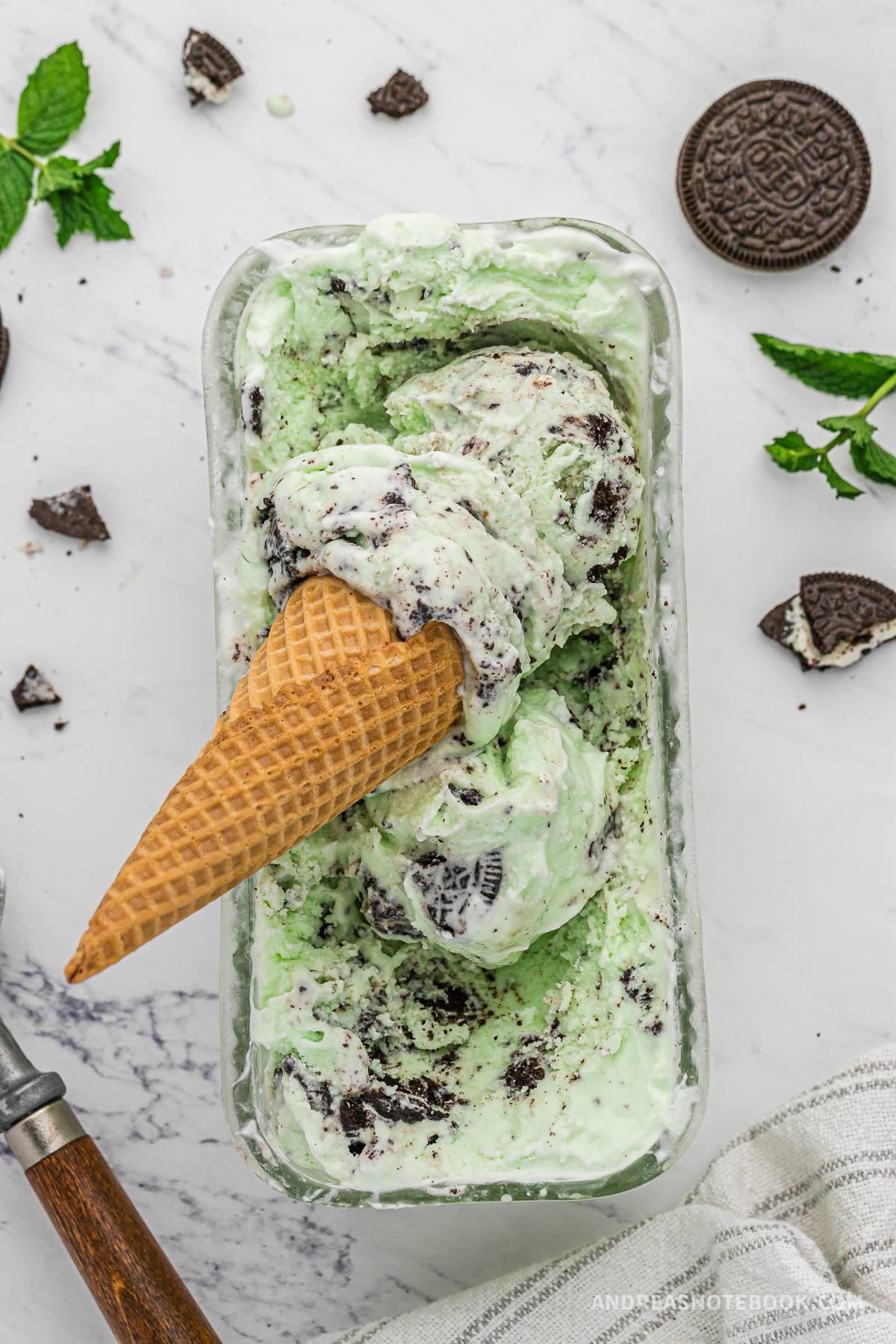 Common Questions
How many calories are in a serving of mint ice cream?
This ice cream has 345 calories per serving.
Do they make mint oreos?
Yes! You can also use mint oreos in this recipe if you'd like.
Can I eat the ice cream right out of the ice cream maker?
Yes, absolutely! The ice cream will be the consistency of soft serve and will still be delicious. I prefer to freeze it to harden but you can definitely eat it right away if you prefer.
More Mint Recipes You'll Love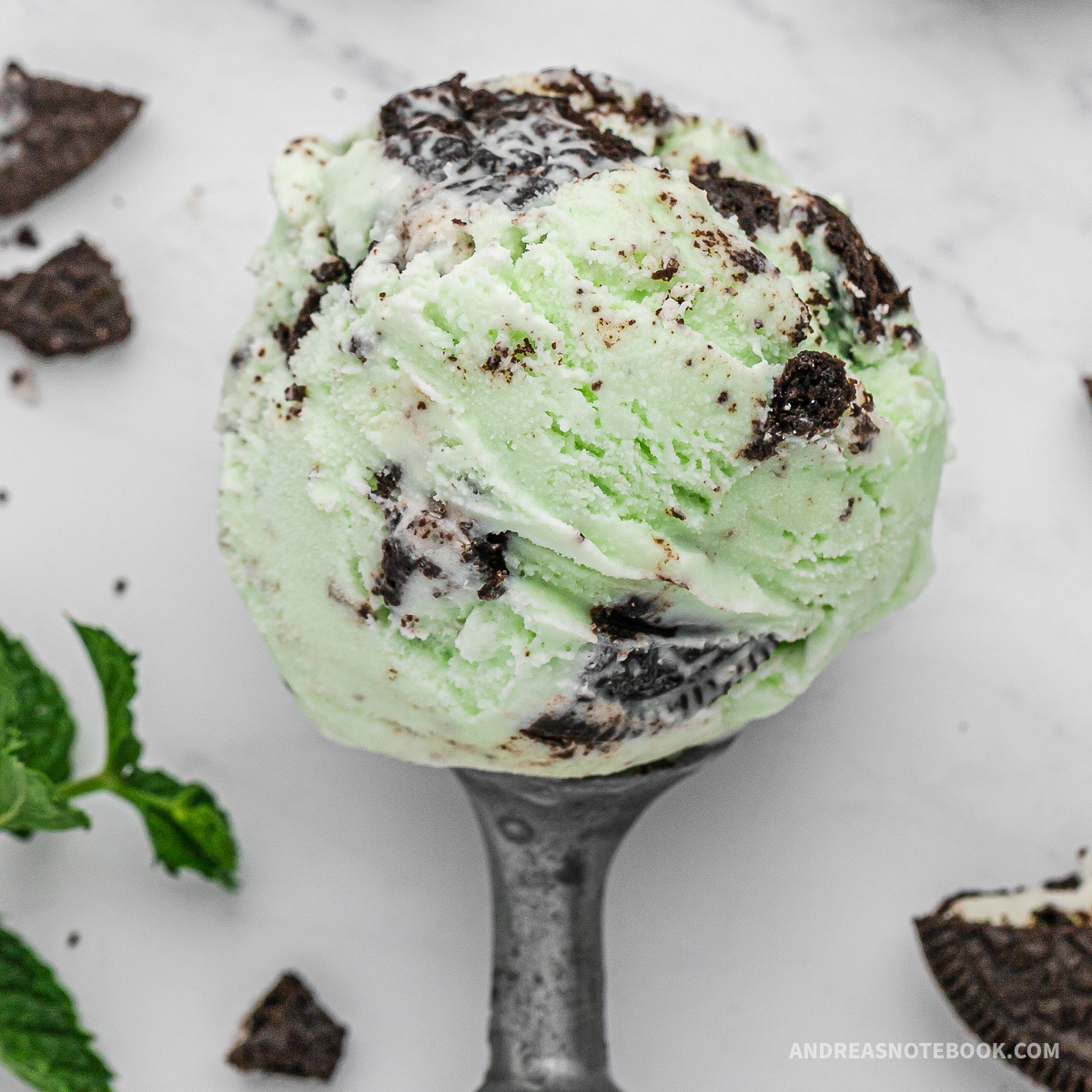 Ingredients
2

cups

whole milk

2

cups

heavy whipping cream

1

cup

sugar

⅛

teaspoon

salt

1

teaspoon

vanilla extract

1

teaspoon

peppermint extract

8-10

Oreo cookies

(gluten free or original)

2-3

drops

green food coloring

(optional)
Instructions
In a medium bowl, stirr together milk, heavy whipping cream, sugar, salt, vanilla extract, peppermint extract and food coloring. Add food coloring until you get your desired tone of green.

Pour mixture into your ice cream maker and follow it's instructions to freeze the ice cream. Time varies depending on your ice cream maker.

Crunch up the Oreo cookies.

When ice cream is finished, stir oreo chunks into the ice cream.

Freeze for 4+ hours to harden the ice cream.
Notes
Color:
You do not need to add green food coloring! Feel free to omit this. It does not affect the taste at all.
Storing:
I like to pour the ice cream into a bread pan or similar sized dish before freezing. This makes it easy to make nice scoops with your ice cream scoop. Make sure you cover tightly before freezing to prevent freezer burn.
Store in the freezer for up to 3 months.
Nutrition
Calories:
345
kcal
|
Carbohydrates:
11
g
|
Protein:
9
g
|
Fat:
30
g
|
Saturated Fat:
18
g
|
Polyunsaturated Fat:
2
g
|
Monounsaturated Fat:
8
g
|
Trans Fat:
0.01
g
|
Cholesterol:
89
mg
|
Sodium:
275
mg
|
Potassium:
107
mg
|
Fiber:
0.3
g
|
Sugar:
7
g
|
Vitamin A:
1064
IU
|
Vitamin C:
0.4
mg
|
Calcium:
183
mg
|
Iron:
2
mg