This rich and creamy apple pie ice cream recipe can be made with an ice cream maker or without as a no-churn ice cream. Instructions for both ice cream methods are included. You'll love this fall ice cream dessert! Make with fresh apples cooked into a homemade apple pie filling then mixed in with a delicious and easy ice cream. This apple ice cream is sure to be a crowd pleaser. It's even better than Ben and Jerry's apple pie ice cream!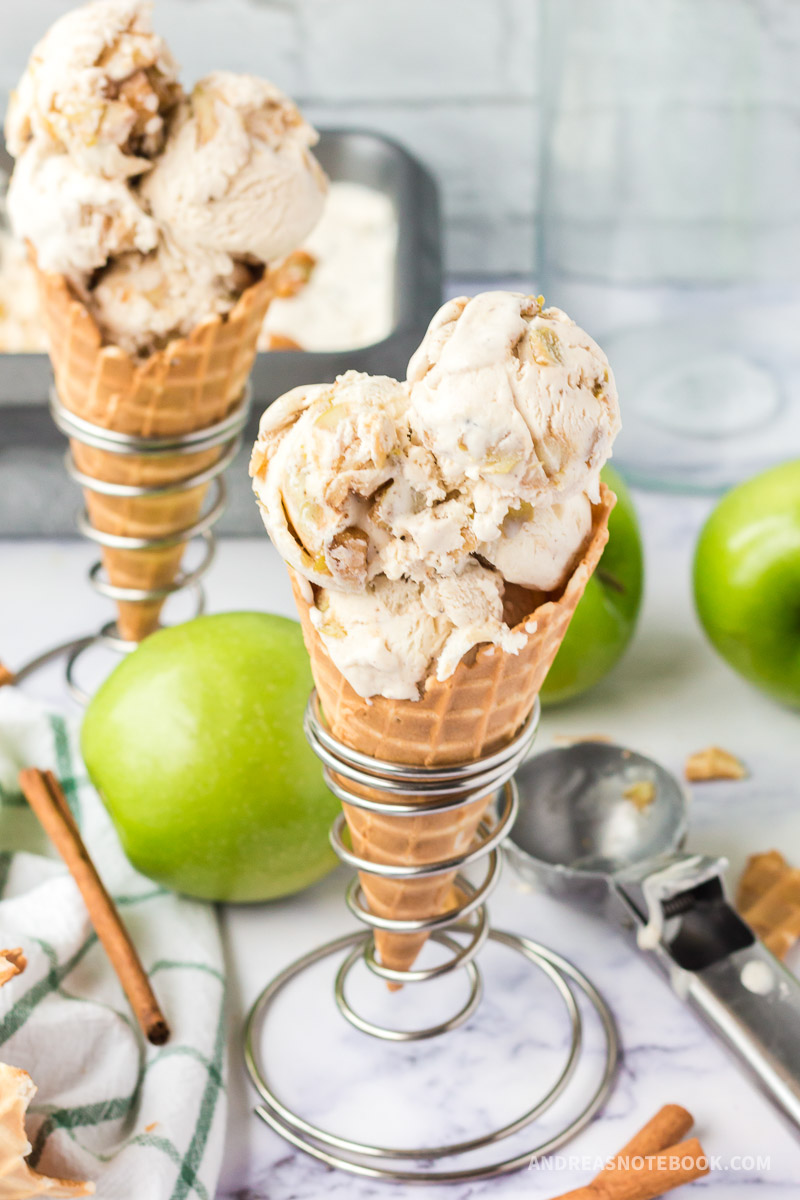 Why You'll Love This
Flavor: This rich and creamy ice cream is better than store bought! This vanilla ice cream with homemade apple pie filling mixed in is full of flavor and texture.
Nutrition: Great source of protein and vitamin A.
Time: Prep time takes only 10 minutes if you use an ice cream maker or 20 if you do the no-churn method! No cooking involved.
Equipment: This recipe can be made with an ice cream maker or using an electric mixer. A loaf pan or freezer-safe container with a lid is also required.
Diet: Vegetarian, Gluten Free
Notable: This recipe includes no eggs.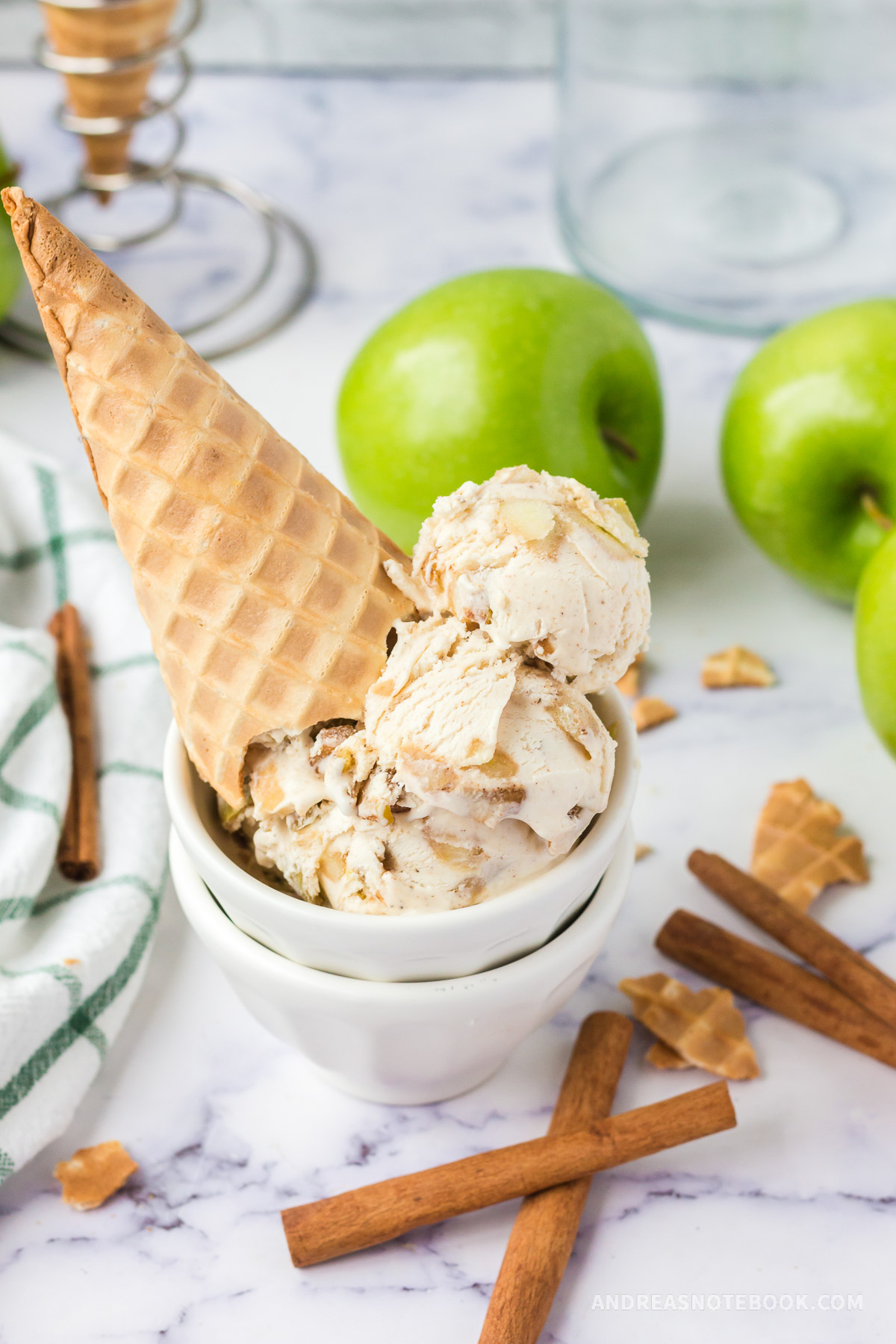 Ingredients
Full ingredient amounts and step-by-step instructions are in the recipe card below.
Apples: Use a tart dessert apple like Granny Smith apples or Honeycrisp apples. You can peel the apples or leave the peel on, depending on your preference.
Butter: The butter is cooked with the apples, cinnamon and brown sugar to make a rich syrup for the apple pie filling. I use salted butter, which I prefer in this recipe but you can substitute unsalted butter if you prefer.
Brown Sugar: You can use light brown or dark brown sugar. The sugar cooks with the apples to make a sweet syrup.
Spices: Ground cloves and cinnamon are used in this recipe. If you like, you could add a dash of nutmeg as well.
Milk: This recipe uses both heavy cream (heavy whipping cream) and canned sweetened condensed milk.
Vanilla: This is optional but I prefer the ice cream base with a little vanilla extract.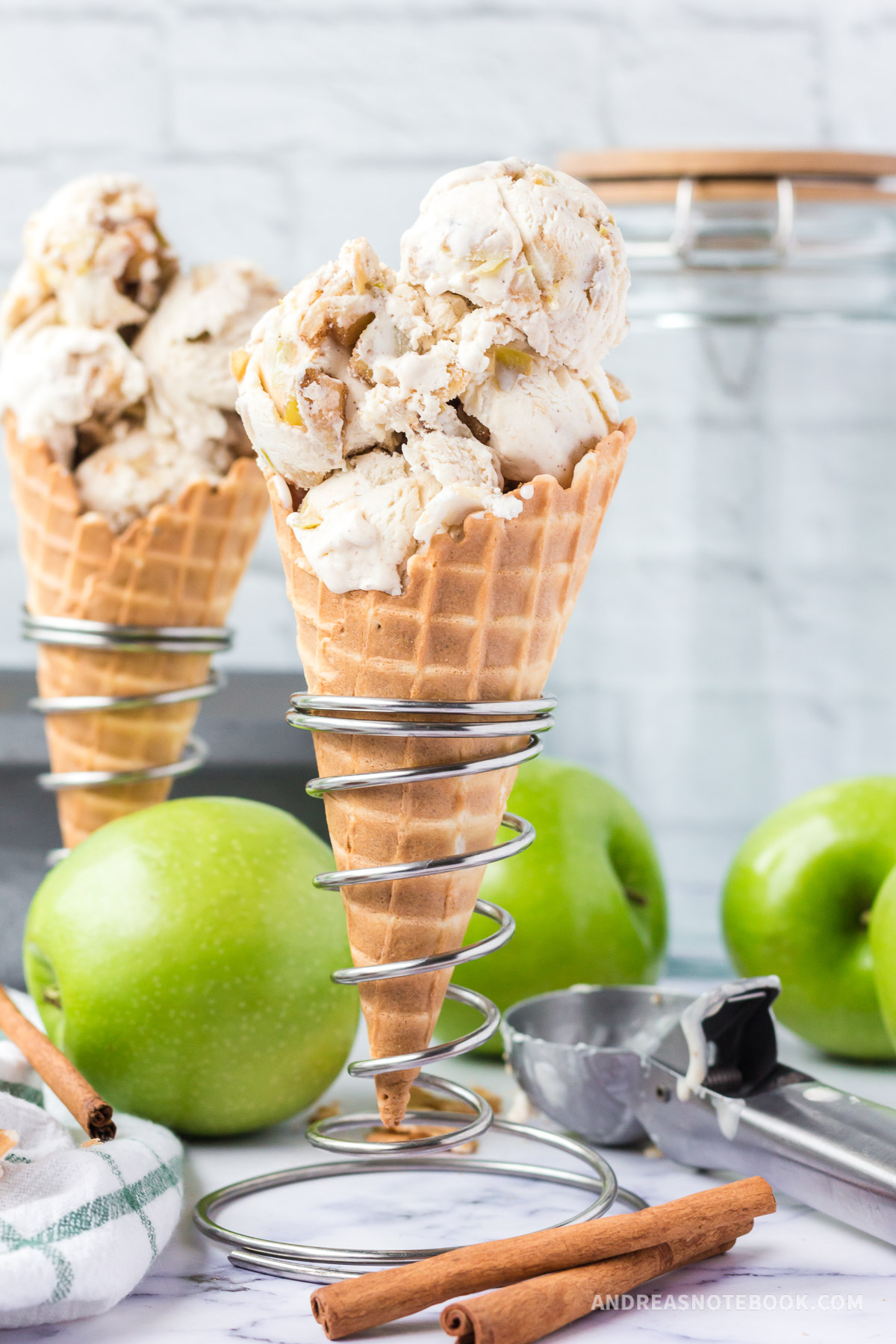 Instructions
Full step-by-step instructions are in the recipe card below. You can print or save to Pinterest for later.
Make The Apple Pie Filling: No matter which method you choose, you'll make the apple pie filling first. Simply mix together the apples, sugar, cloves and cinnamon in a bowl. Then you'll heat it all up in a skillet with butter. This will create soft apples with a thick, sugary sauce.
Churn vs. No-Churn Methods: If you have an ice cream maker, I recommend using the ice cream maker method, simply because it takes less hands-on time. The no-churn method requires a little bit more time up front because you need to ship the heavy cream into whipping cream then add the sweetened condensed milk. Both methods still require freezing afterward.
Tips For The Best Apple Pie Ice Cream
Use apples that are firm and tart. Granny Smith and Honeycrisp apples work well. If you prefer, peel the apples. The peels add a bit more tartness and texture.
For the no-churn method, make sure you fold the apples into the whipped cream carefully. Do not over-mix or the apples will fall the the bottom of the container before the ice cream begins to set.
Cover your ice cream well when freezing. This will prevent freezer burn.
Storing
Store ice cream in a freezer-safe container with a lid in the freezer for 1-2 months. To prevent freezer burn you can put plastic wrap or freezer paper right on top of the ice cream, then put on the lid. This will prevent ice crystals from forming on the ice cream top.
Common Questions
What do you eat with apple pie ice cream?
We love eating apple pie ice cream in a cone or a dish. You can also make an ice cream sandwich by putting some ice cream between two graham crackers or cookies. Serve it with apple pie for a little more fun.
How long does it take for the ice cream to get hard?
I recommend freezing your ice cream for 5 hours or overnight so it firms up enough to make ice cream scoops. You can eat it before then and it will taste a little more like soft serve.
More Ice Cream Recipes
Recipe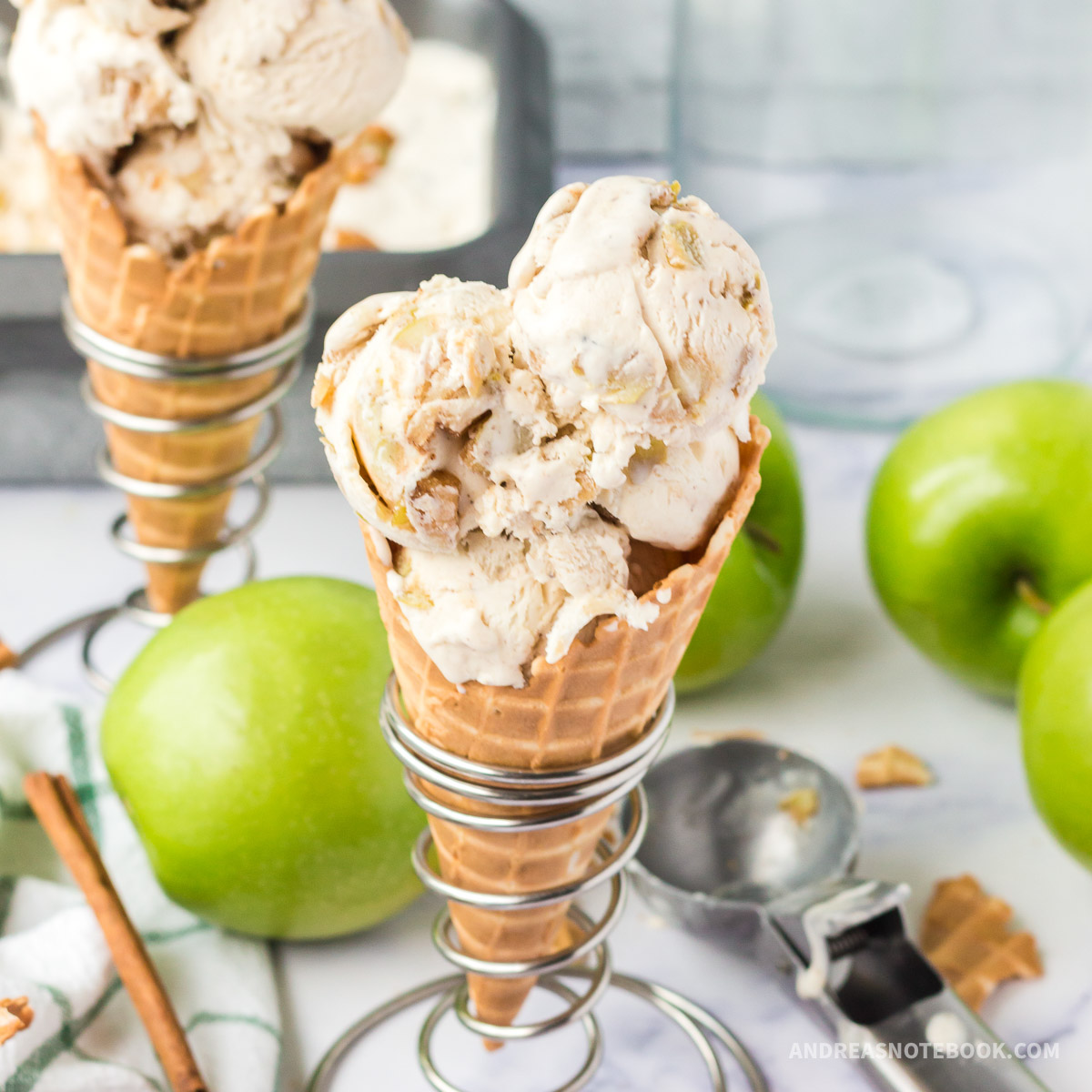 Equipment
Ice Cream Maker
(optional)
Ingredients
2

cups

diced apples

(2-3 medium apples)

4

tablespoons

light brown sugar

1

teaspoon

ground cloves

3

teaspoons

ground cinnamon

(divided)

2

tablespoons

salted butter

2

cups

heavy cream

1 ½

cups

sweetened condensed milk

1

teaspoon

vanilla extract

((optional))
Instructions
In a medium bowl, toss the apples, brown sugar, cloves and 1 ½ teaspoons of cinnamon.

Heat a skillet over medium heat. Add butter and apples.

Stir occasionally until the apples are soft. Remove from heat.
No Churn Ice Cream Instructions
In a separate medium bowl, whip the heavy cream with an electric mixer until stiff peaks form.

Fold in the sweetened condensed milk, remaining cinnamon and vanilla.

Gently fold in the cooked apple mixture, including the juices. Do not stir.

Pour into a 9x5 loaf pan. Cover with plastic wrap or a lid.

Freeze for 5 hours or until the ice cream is as hard as you prefer. Serve.
Ice Cream Maker Instructions
In a medium bowl, add the heavy cream, sweetened condensed milk, remaining cinnamon and vanilla extract.

Pour ice cream mixture into ice cream maker. Churn according to your ice cream maker manufacturer's instructions.

When ice cream has finished churning add apples and juices and stir to combine.

Transfer to a freezer safe container. Cover. Freeze for 4+ hours until ice cream is as hard as you prefer. Serve.
Notes
You can store this ice cream in the freezer for 1-2 months as long as it is covered with plastic wrap or transferred to an airtight container. Otherwise, it may begin to develop some freezer burns.
When making the filling, you can use any type of apple; however, crisper apples like Granny Smith or Honeycrisp tend to work best for apple pie filling.
It is important to fold the apples in gently in the no-churn method, otherwise you may knock the air out of the whipped cream and the apple pieces will sink to the bottom of the loaf pan before the ice cream sets.
Nutrition
Calories:
453
kcal
|
Carbohydrates:
44
g
|
Protein:
6
g
|
Fat:
29
g
|
Saturated Fat:
19
g
|
Polyunsaturated Fat:
1
g
|
Monounsaturated Fat:
8
g
|
Trans Fat:
0.1
g
|
Cholesterol:
94
mg
|
Sodium:
114
mg
|
Potassium:
317
mg
|
Fiber:
1
g
|
Sugar:
42
g
|
Vitamin A:
1135
IU
|
Vitamin C:
3
mg
|
Calcium:
219
mg
|
Iron:
0.3
mg