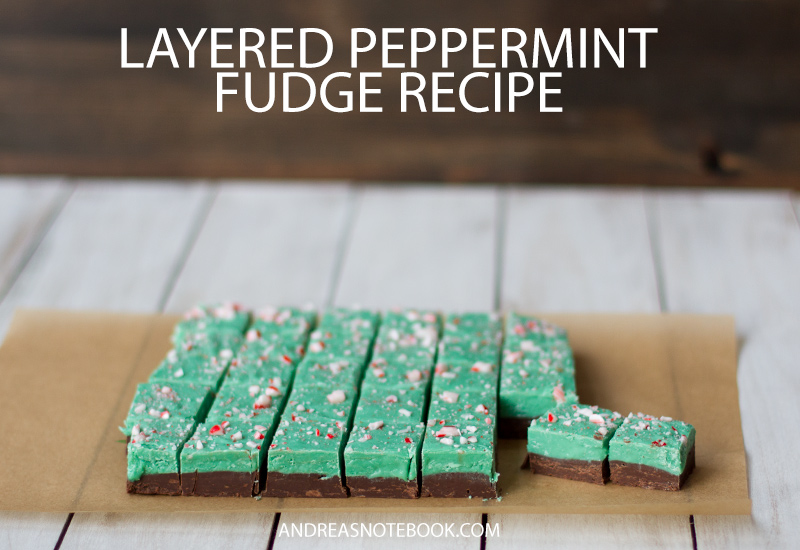 It's probably no surprise to most of you that I really love the combination of chocolate and peppermint. Whether it's ice cream, hot cocoa, peppermint bark, cookies or more, I just love it. It's my favorite part of holiday eating baking. This layered chocolate peppermint fudge recipe came to me while I was making my pretzel fudge this year. I had found those green peppermint baking chips in the baking aisle and had about 5 bags of them sitting in my pantry, just waiting to be used. To some of you 5 bags of peppermint baking chips may seem excessive, but trust me, you want to have that on hand when inspiration strikes.
This recipe is super simple. It takes about 10 minutes to make then a couple hours being chilled. I made mine and then delivered to neighbors the same day. Don't worry, I saved a bunch for us too. Remember, I did buy FIVE bags of the green. We had plenty left over to eat ourselves. We'll be munching on it for weeks to come. That's what is so great about fudge. Just keep it in portions in the freezer and take out when you're ready!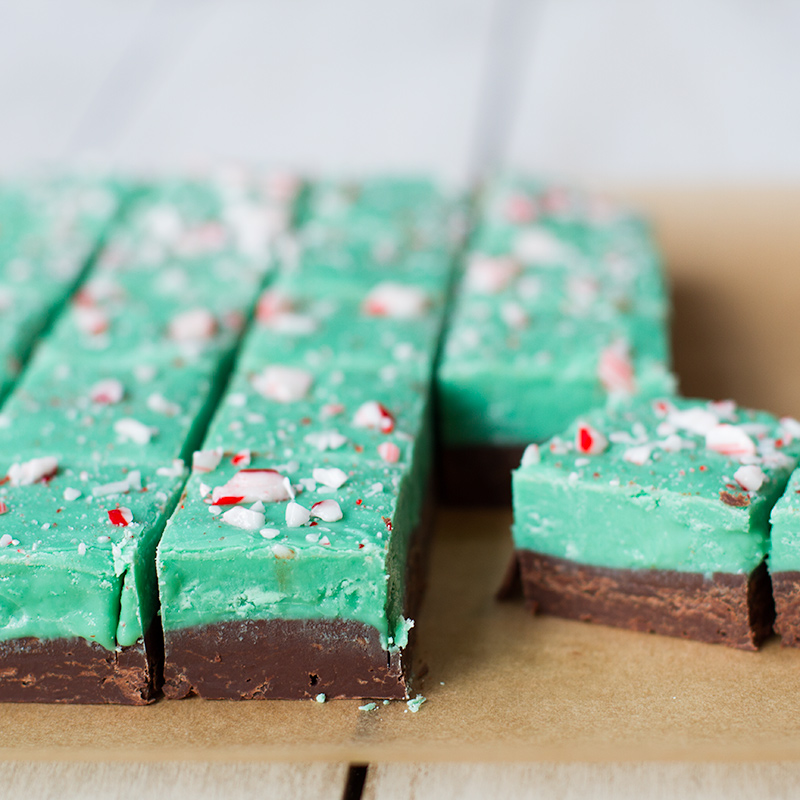 If you love no bake recipes then check out these 50 No Bake Recipes.
Look at those layers. Just looking at these photos makes my mouth water!
This layered chocolate peppermint bark fudge takes just 4 ingredients. If you don't have the green baking chips you can sub out white chocolate and peppermint extract. Add a little food coloring if you wish.
Layered Chocolate Peppermint Fudge Recipe
Ingredients:
Instructions:
Prepare a 9x13 baking dish by lining with foil or parchment paper.
In a heavy bottomed pan or double boiler, melt the chocolate and one can of Sweetened Condensed Milk until mixed. Pour into the baking dish. Chill for 5 minutes while preparing the peppermint layer.
In a heavy bottomed pan or double boiler, melt the peppermint baking chips and the other can of Sweetened Condensed Milk. Pour into the baking dish on top of chocolate layer.
Sprinkle candy canes on top.
Place into the freezer for 2-3 hours to set. I recommend removing after about 45 minutes to cut then put back into the freezer. Fudge can be very difficult to cut when fully frozen.