Cooking meat in a smoker has been popular for a reason! Here are 27 Traeger smoker chicken recipes are broken into types of recipes so you can easily browse. From spatcock smoke chicken to smoked chicken legs and smoke chicken thighs, there are all types of smoked chicken recipes.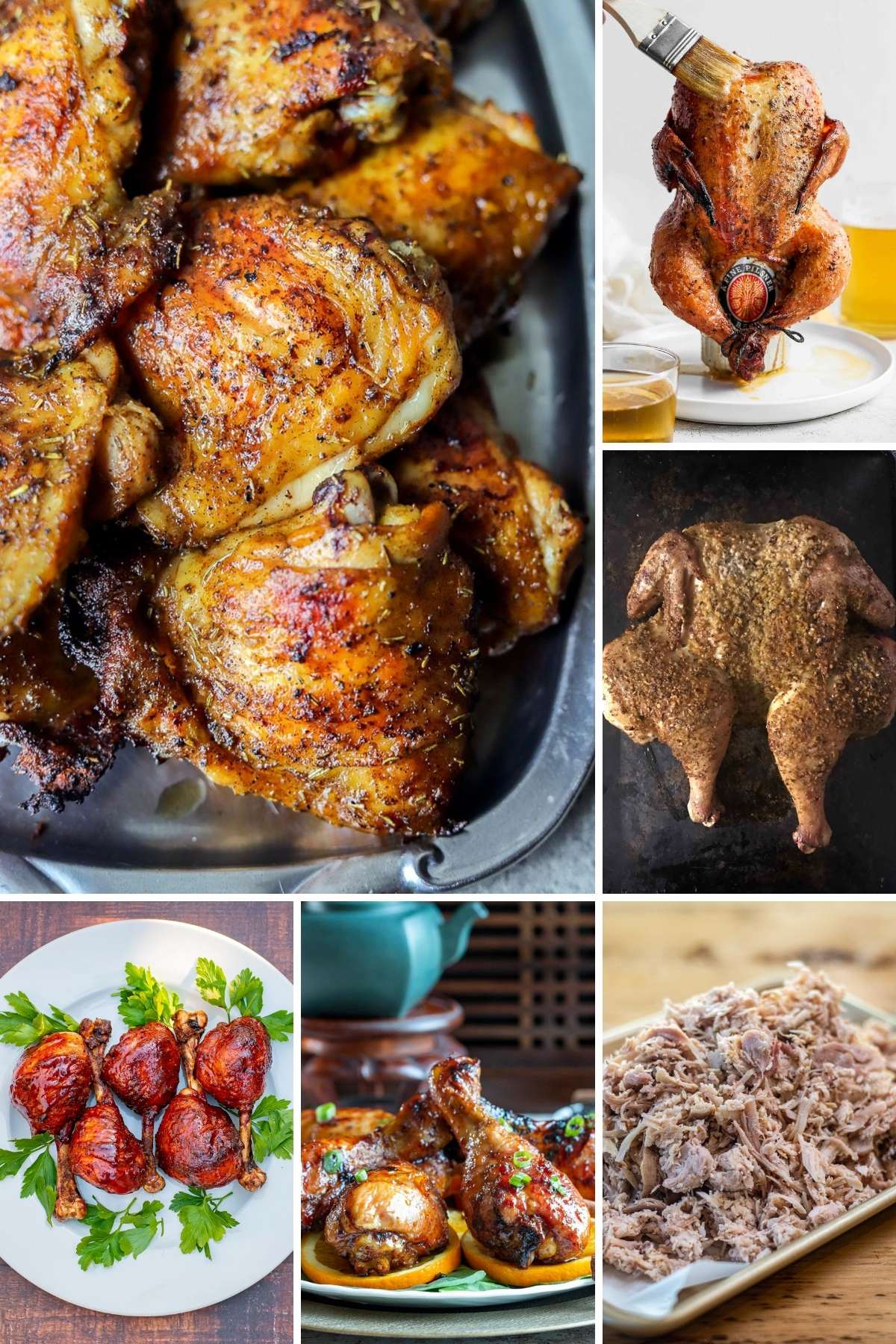 These recipes are meant for a pellet smoker. Each recipe includes ingredients and suggestions for wood pellets, smoking tips, prep time, cook time and total time estimates. When smoking chicken, make sure you use an instant read meat thermometer to get the internal temperature. Chicken should be cooked to 165°F. Just serve with your favorite salads or potluck recipes and you have a whole meal!
Chicken Wings & Drumsticks Recipes
These Smoked Chicken Wings are so easy. Just a few minutes of prep and a couple of hours to smoke. The special ingredients are poultry seasoning and cider vinegar.
Smoked BBQ Chicken Drumsticks on your pellet grill. Take the time to impress your guests with these insanely delicious BBQ Chicken Lollipops. These are seasoned with your favorite BBQ sauce, a BBQ rub and brown sugar.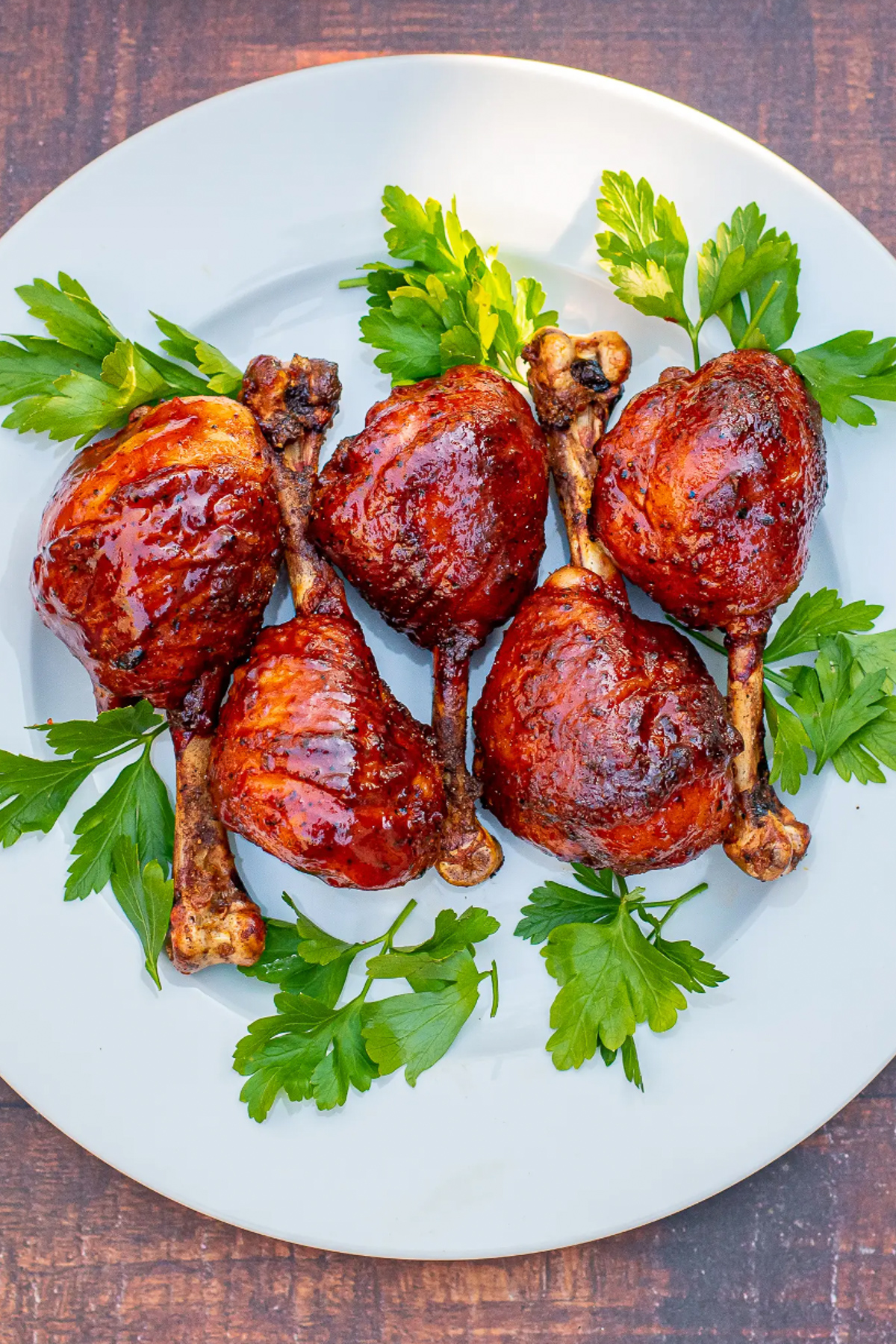 This easy Smoked Chicken Wings recipe yields crispy on the outside and juicy flavorful chicken wings with minimal prep and effort. Season this chicken with sea salt flakes and your favorite chicken seasoning.
These Smoked BBQ Chicken Wings will make it into the dinner rotation because they are so easy to make and taste like a dream. If you are new to smoking they are the perfect fool-proof recipe.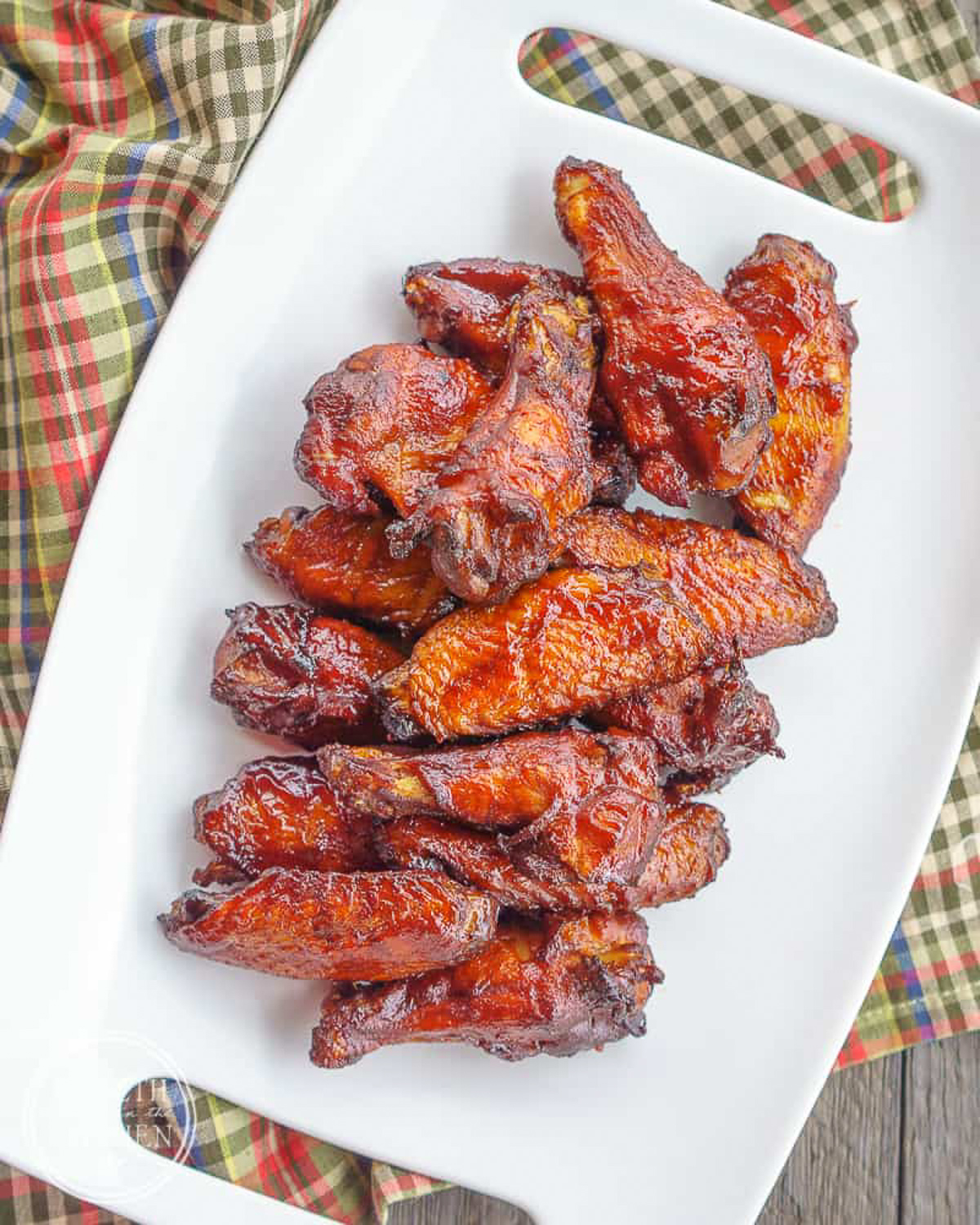 Sweet and Spicy Bourbon-Red Pepper Glazed Smoked Chicken Legs are just about the best thing to come off you smoker! Easy and delish, feast on flavor today! Season this chicken with garlic, lemon, dried rosemary, kosher salt and fresh ground pepper. Glaze with red pepper jelly, bourbon and sriracha.
Tea Smoked Chicken Legs are smoked on the grill with an Asian tea spice packet and then slathered with sticky honey soy glaze. Crispy on the outside and tender on the inside and with a delicious smoky flavor. Season with rice wine vinegar, soy sauce, orange zest, ginger and more.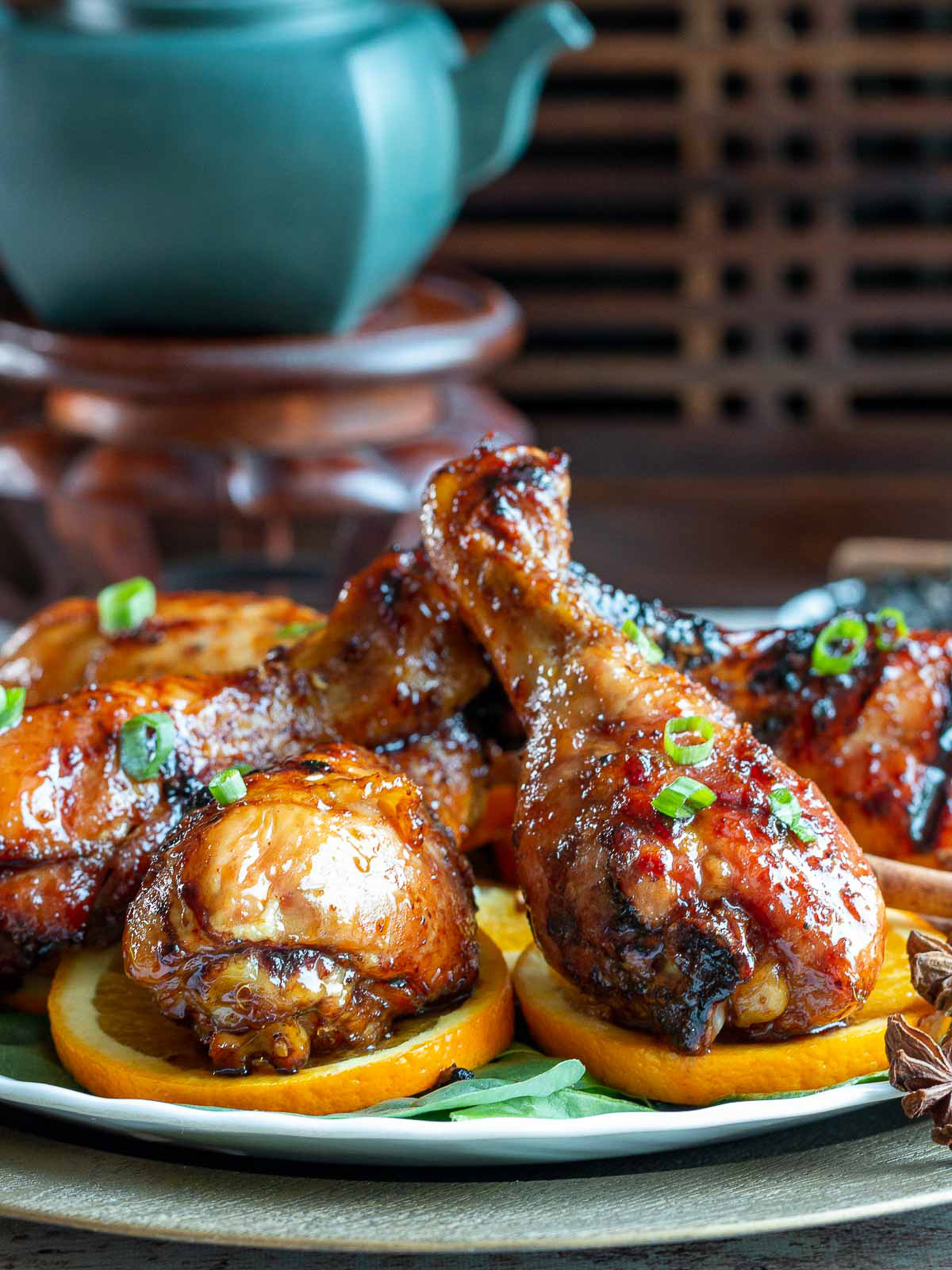 Smoked Chicken Drumsticks or chicken legs are an easy, economical smoker recipe perfect for beginners. They're tasty, ready in 70 minutes, and always a crowd-pleaser. Seasoned with a homemade seasoning blend including chicken rub of paprika, brown sugar, garlic powder, onion powder, cayenne pepper, ground cumin, black pepper and more.
Crispy Smoked Chicken Wings, marinated in a lemon and garlic marinade, then slow smoked, before finishing in a hot oven or grill. They're crispy on the outside and tender and juicy on the inside and loaded with an absolutely amazing smokey, savory flavor!
Pulled Chicken Recipes
Smoked Pulled Chicken melts in your mouth and is loaded with flavor. Oh and it's great on its own or added to other dishes.
This quick and easy meal prep friendly Pulled Smoked Chicken turns out tender and juicy ready for sandwiches, casseroles, soups or nachos. Make a batch of this to put into single servings for the freezer to pull out on those nights your family doesn't want to cook for a delicious meal that tastes straight off the grill.
If you love chicken, you'll love this juicy BBQ Cilantro Lime Chicken Breast recipe.
Chicken Thighs Recipes
Smoked Chicken Thighs is smoking 101. Always juicy, always flavorful, it just doesn't get any easier!
These Smoked Chicken Thighs are first brined, then seasoned with a dry rub, and then smoked to perfection on a pellet grill. The brining, seasoning, and smoking method results in juicy, flavorful, tender chicken thighs.
This Traeger Chicken Thighs recipe is low in carbs, easy to prepare, and tastes absolutely amazing! The smoked thighs come out moist, tender, and have the perfect amount of smokey flavor. Seasoned with lots of seasonings, including chipotle chili powder. Yum!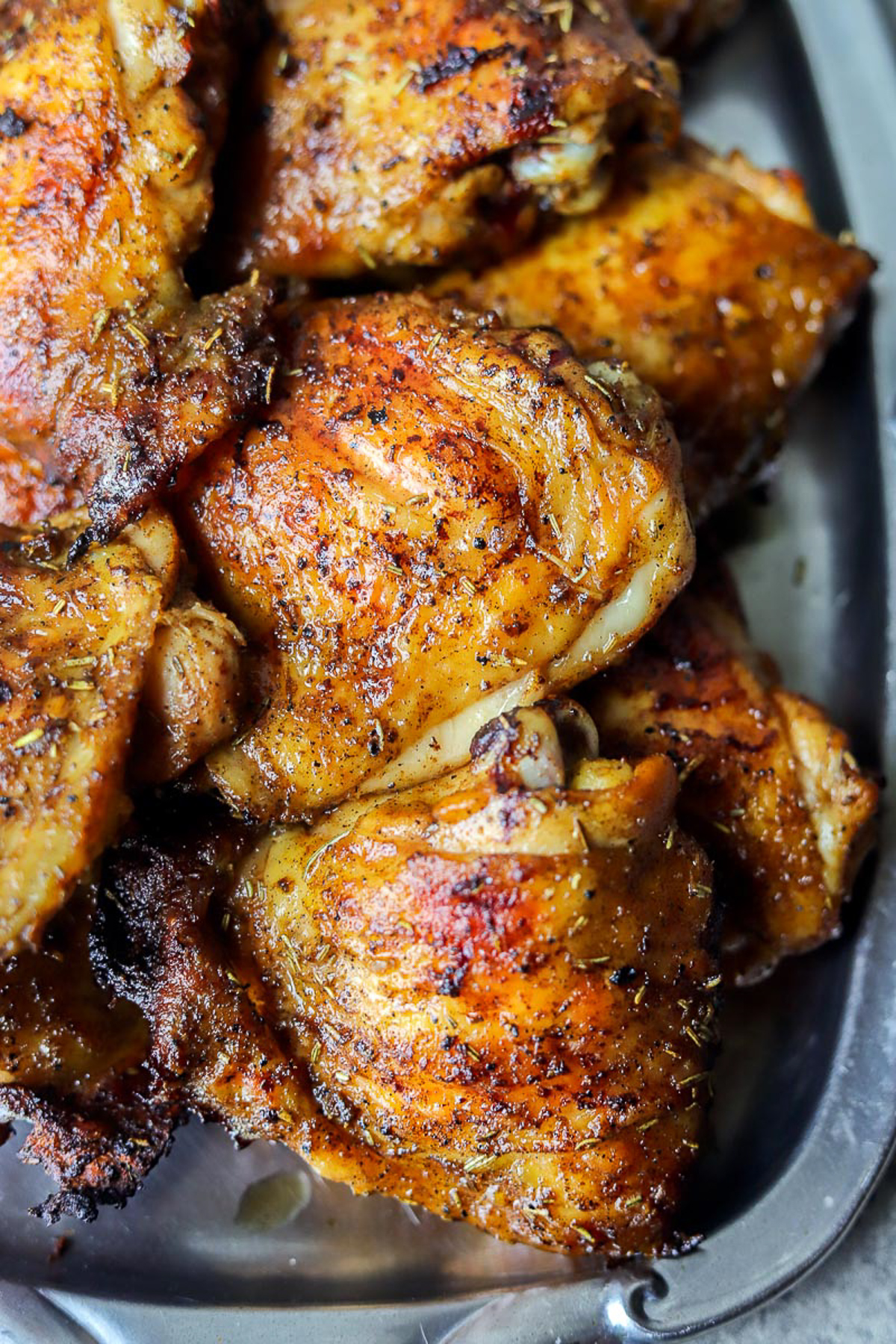 These Chicken Thighs are cooked low and slow, which gives them moisture and wonderful flavor in every bite. Learn how you can easily smoke chicken thighs so they always turn out perfectly. I love smoking chicken thighs with this easy method.
These Smoked Chicken Thighs are always a huge hit with family and friends. The juices flow out of the thighs that are covered in a homemade rub and bbq sauce.
Spatchcock Chicken Recipes
This Smoked Spatchcock Chicken recipe comprises a whole chicken laid flat, covered in an tasty dry rub with just the right amount of smoke flavor.
Try this Smoked Whole Chicken. Flavored with a homemade BBQ dry rub, then smoked low and slow for a moist, juicy chicken that's full of flavor.
Another Smoked Spatchcock Chicken! It is a whole chicken, split open and flattened then smoked to crispy perfection in just 2 hours!
Chicken Quarters Recipes
Maple Bourbon Glazed Smoked Chicken Quarters are so juicy and crazy delicious. Smoke in the Big Green Egg, grill, or electric smoker, and enjoy the most succulent flavorful chicken of your life in less than two hours.
For this Chicken Quarters Smoker Recipe, chicken pieces are dry brined in our Brown Sugar Spice Rub and smoked for just a few hours until juicy and delicious! This tasty recipe creates juicy chicken legs with great smoky flavor!
Chicken Breast Tenders Recipes
Bacon-wrapped Chicken Tenders on the smoker are incredibly juicy and so delicious with this rub recipe!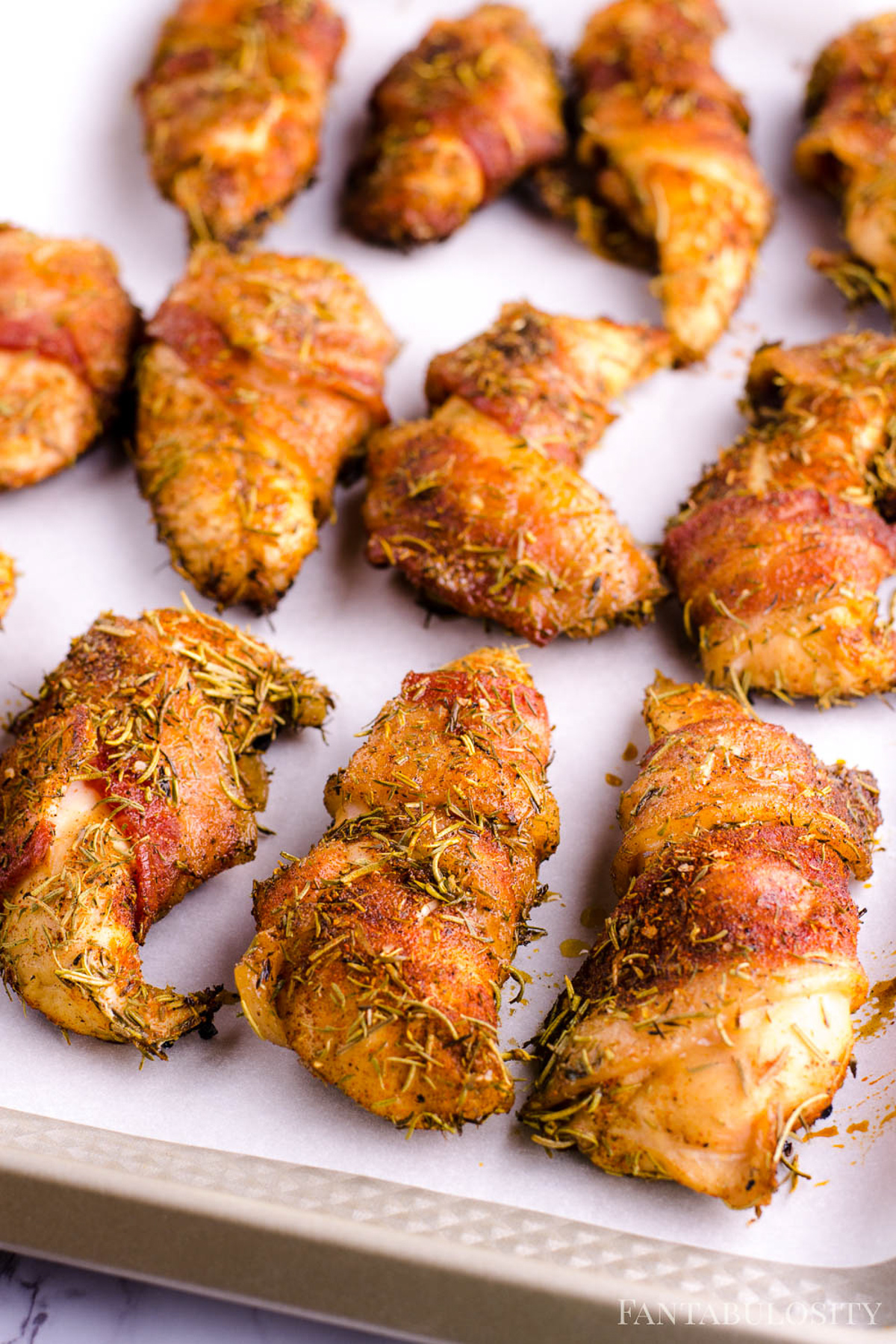 Whole Chicken Recipes
If you're wondering How to Brine a Chicken for Smoking, this recipe will help you prepare your chicken to make sure it's juicy and flavorful.
Smoked Chicken with Mustard BBQ Sauce is a delicious meal to add to your menu this week. A simple recipe for busy weeknights or to make ahead for sandwiches
This recipe makes the best Traeger Smoked Chicken that turns out tender, slightly smoky, and super juicy. Traeger smoke chicken is easy to make and results in that perfect juicy chicken you crave.
Smoked Whole Chicken prepared 2 different ways! Smoked Chicken Brine is optional, but highly recommended. Perfect for any summer cookout!
This home-style smoked whole chicken is flavorful, juicy, tender, and better than any rotisserie chicken that you can buy! Smoked slowly till perfection, infused with the best smoking flavor for a great-tasting and economical family meal.
Smoked Beer Can Chicken – a juicy, delicious smoked chicken chicken recipe that is perfect for summer!