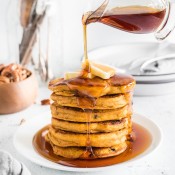 Fluffy homemade pumpkin pancakes with pecan pieces and mini chocolate chips baked inside.
This pumpkin spice pancakes recipe from scratch are the best pancakes. They are so much better than pumpkin pancake recipes using pancake mix. Skip the mix and make these delicious, fluffy pancakes. Mix in the optional mini chocolate chips and pecan pieces for added flavor and texture. Pumpkin pecan pancakes with chocolate chips will be a favorite fall recipe. It's a great way to start any day.
If you love pancakes you'll also enjoy these homemade fluffy blueberry pancakes and this homemade buttermilk pancake mix. And for all the pumpkin pecan lovers, try these easy pumpkin pecan cinnamon rolls from scratch!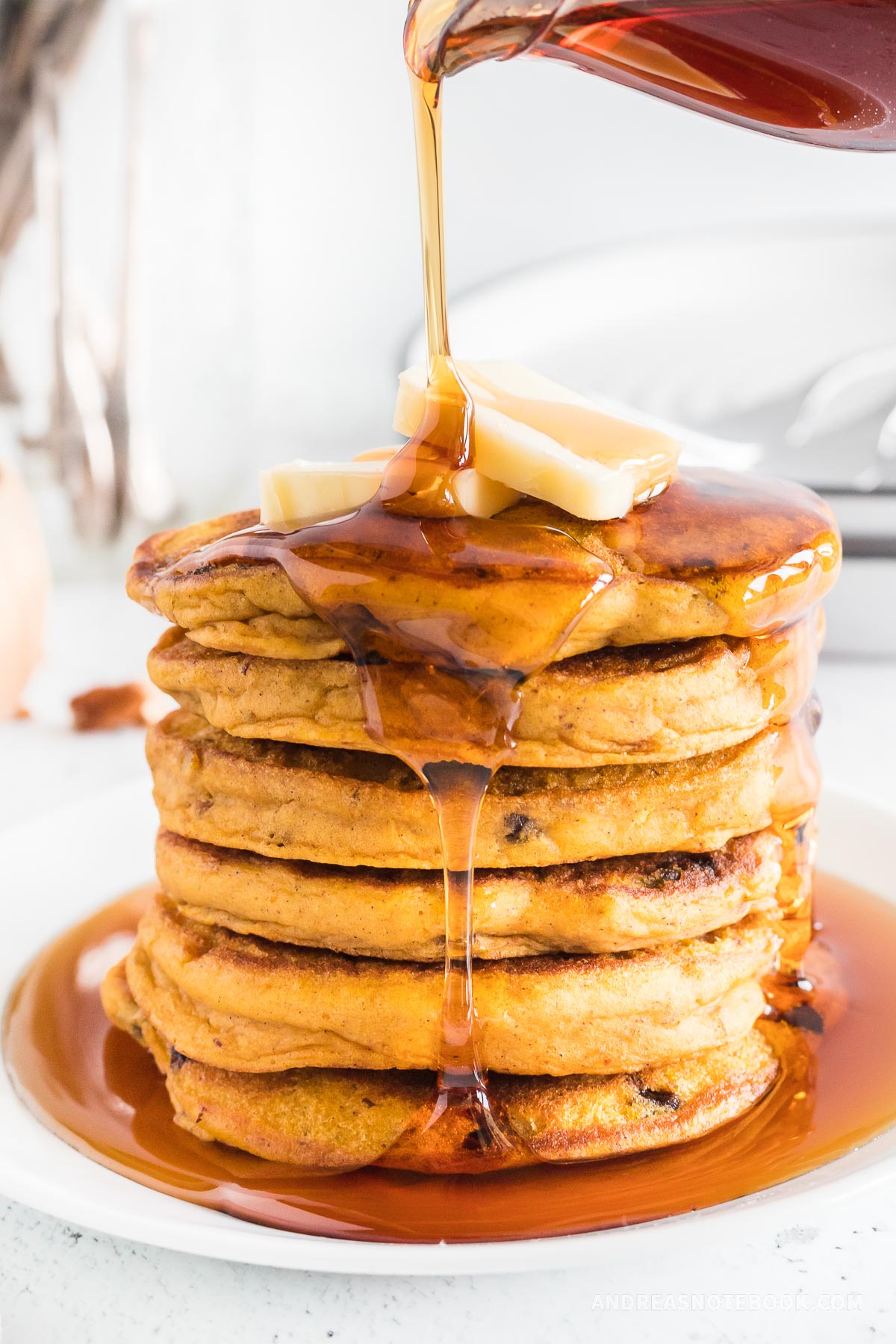 Why You'll Love Pumpkin Pecan Pancakes
Flavor: The combination of pumpkin, cinnamon, pecan and chocolate is delicious. The texture is light and fluffy with a little crunch. A a drizzle of maple syrup for perfectly delicious pumpkin pancakes
Nutrition: Each pancake is about 100 calories. Plus they are packed with vitamin A.
Time: Prep time for these easy pumpkin pancakes takes only 5 minutes! Cook time for all 24 pancakes is about 15-20 minutes.
Equipment: There are two options for cooking pancakes. Use a countertop electric skillet or a skillet on your stovetop.
Diet: Vegetarian, Gluten Free (if you substitute the all-purpose flour for a Gluten Free flour mix)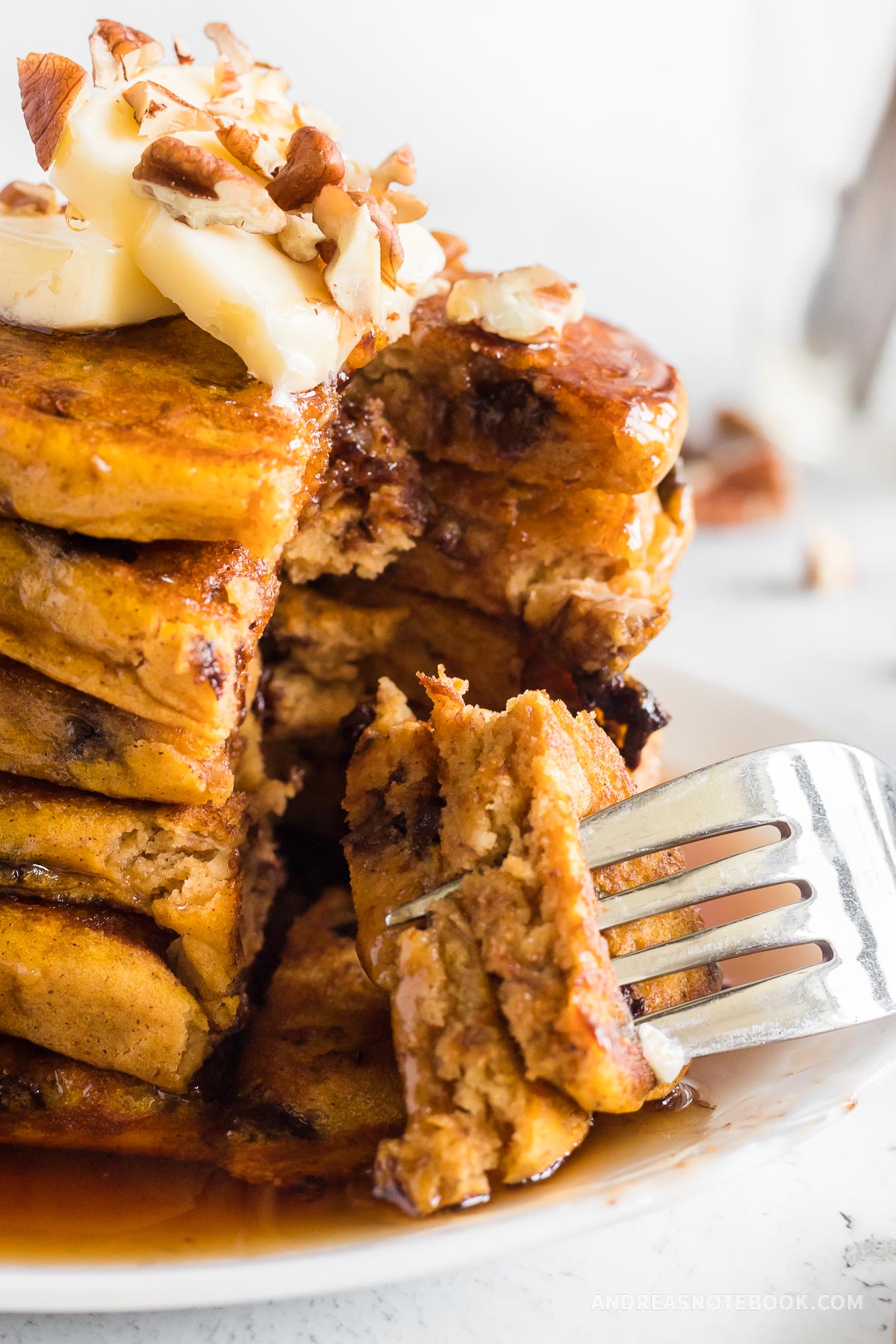 If you love this recipe you'll enjoy this buttermilk pancake mix recipe. Make the mix ahead to make pancakes easier in the morning.
Ingredients
Full ingredient amounts for this delicious fall breakfast are included in the recipe card below.
Pantry ingredients:
all-purpose flour (or substitute for a Gluten Free flour mixture for gluten free pumpkin pancakes)
pumpkin purée: This canned pumpkin puree is not pumpkin pie filling. I used Libby's 100% Pure Pumpkin but you could also make your own pumpkin puree.
baking powder
baking soda
brown sugar: Use light brown sugar or dark brown sugar.
vegetable oil: Use vegetable oil or canola oil for best results. You can also substitute for melted butter.
pecans: buy pre-chopped pecans or chop your own.
mini chocolate chips: substitute for any size of chocolate chips you prefer.
vanilla extract
Spice ingredients:
Refrigerator ingredients:
egg
buttermilk
milk: Use whole milk, preferably. Substitute any milk you prefer.
Tip: Mix together all the dry ingredients to make your own pumpkin spice pancake mix. Store in an airtight container then add the pumpkin, oil, egg and milk when you're ready to make your pancakes.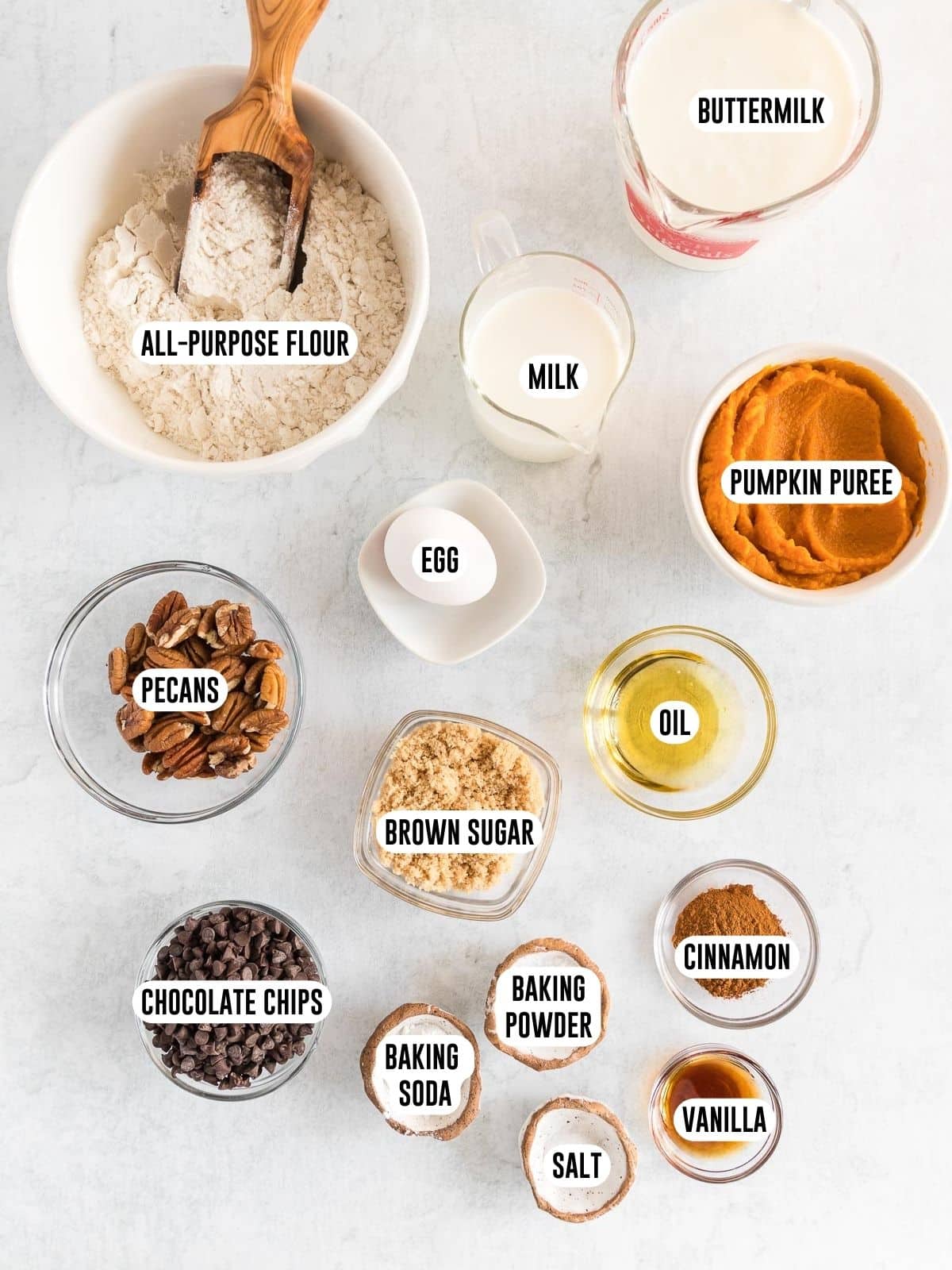 Instructions
Full step-by-step instructions for these healthy pumpkin pancakes are in the recipe card below. You can print or save to Pinterest for later.
Prep: Measure your ingredients and chop your pecans before beginning. You will need 1 large bowl for mixing and a large skillet or electric skillet.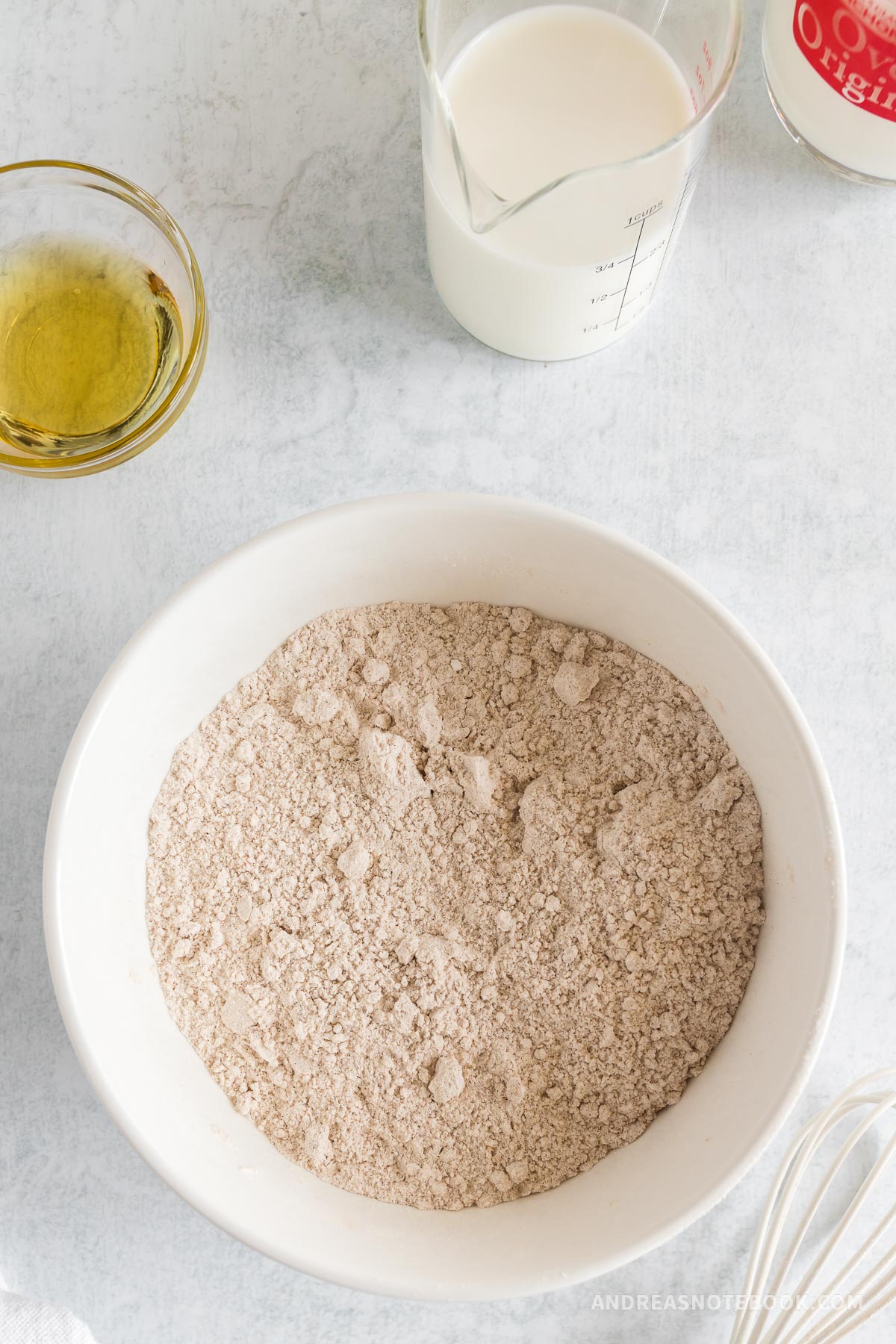 Step 1 – Mix Dry Ingredients: In a medium bowl or a large bowl, combine the dry ingredients including the regular flour, baking powder, baking soda, salt, cinnamon, and brown sugar. Optional: substitute 1 tablespoon cinnamon for 1 tablespoon of pumpkin pie spice or 1 teaspoon of cinnamon, 1 teaspoon ground nutmeg and 1 teaspoon of ground ginger.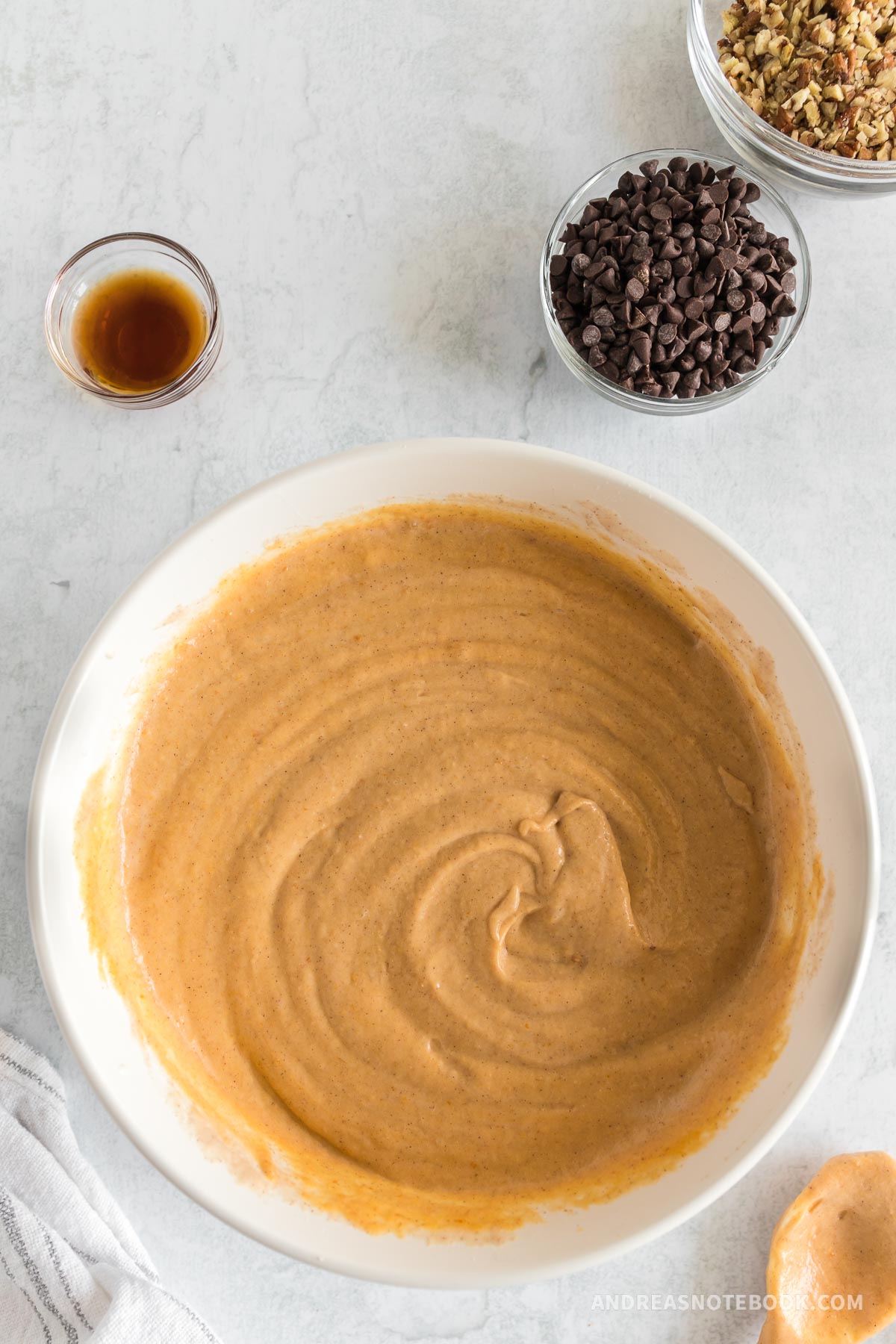 Step 2 – Mix In Wet Ingredients: Add oil, buttermilk and milk to the dry ingredients. Whisk to combine. Then add egg, vanilla and a cup pumpkin puree. Stir until just combined.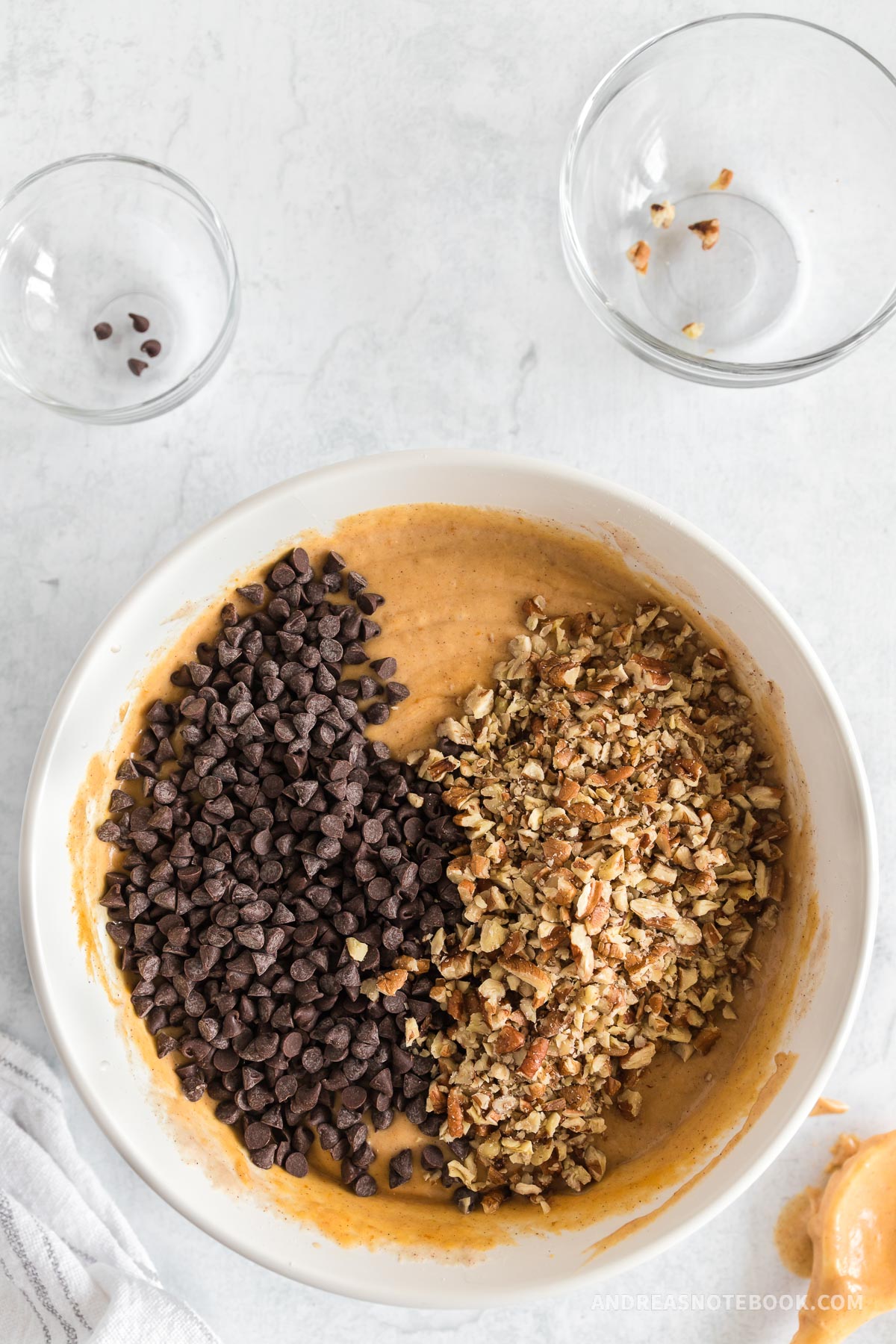 Step 3 – Add in Chocolate and Pecans: Pour in the mini chocolate chips and chopped pecans into the pumpkin mixture. Mix.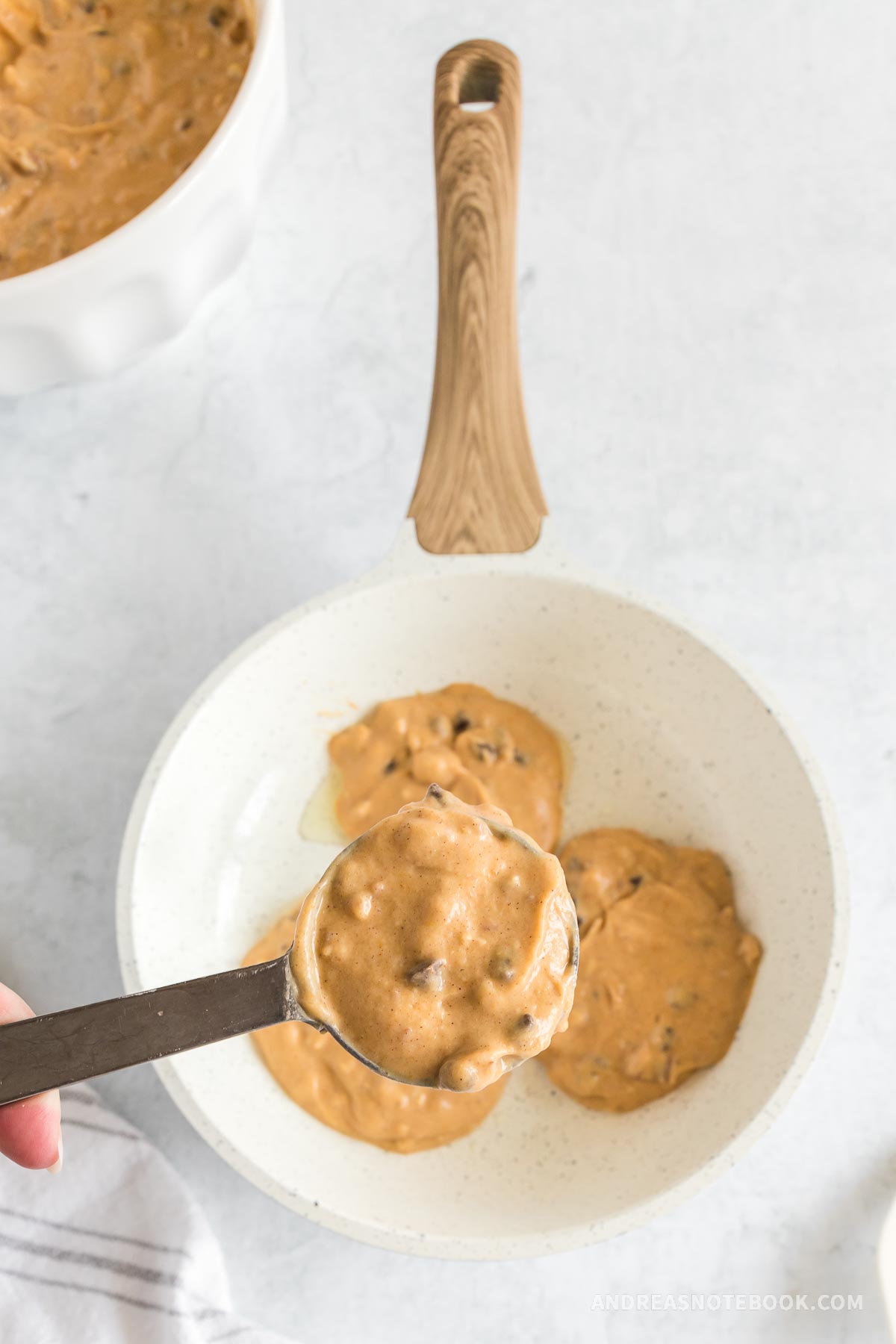 Step 4 – Cook Pancakes: Heat your skillet, nonstick griddle or nonstick pan over medium heat. Spray with nonstick cooking spray. When you have a hot griddle, pour ¼ cup batter on the surface. When bubbles in the middle of the pancake pop, flip over and cook until bottom is brown.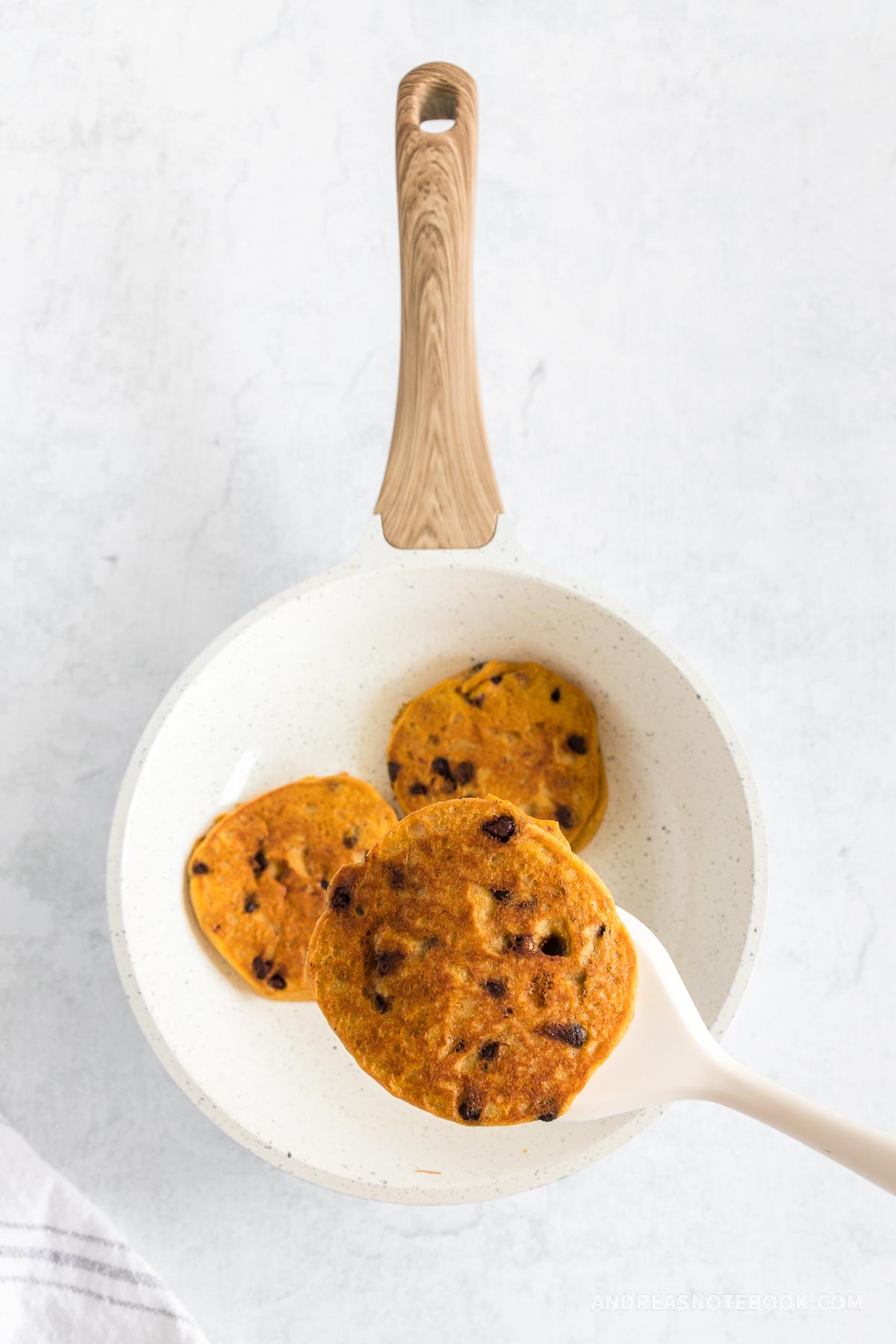 Step 5 – Flip Pancakes: The center of the pancakes must be cooking through before you flip or your pancakes will still be gooey in the center when you remove them from the griddle. Make sure the little bubbles are popping. If your pancakes are too brown on the bottom before the pancake bubbles burst turn the burner down to medium-low heat.
If you love this recipe you'll enjoy these other pumpkin recipes this fall season: Chocolate Chunk Pumpkin Cake Recipe, healthy Pumpkin Bars, Pumpkin Cinnamon Roll Muffins or these Pumpkin Dessert Recipes.
Tips For The Best Pumpkin Pancakes
Pancake batter should be thick enough that when you pour it onto the skillet the pancakes spread out to about ¼″-½″ thick before cooked. To thin batter, add more milk 1 tablespoon at a time.
Do not overheat the skillet. Pancakes will brown on the outside before the inside is cooked through. The first side of the pancake should take about 2 minutes to be nice and golden brown. When the bubbles in the middle of the pancake pop then you know it's time to flip. Turn the heat down if the bottom is too brown before the bubbles pop.
Serve while warm with a little butter and a drizzle of pure maple syrup.
Serving
Pancakes are traditionally eaten as an American breakfast food. But you can eat these fluffy pumpkin pancakes at any meal. Enjoy them one of these ways:
Place a small pat of butter on top of your pancakes and drizzle with warm pure maple syrup.
Add a dollop of whipping cream on top of your pancakes.
Sprinkle more chopped pecans and mini chocolate chips on top of your pancake.
Serve as a dessert with a small scoop of vanilla ice cream and chocolate syrup.
Serve with fresh fruit and bacon.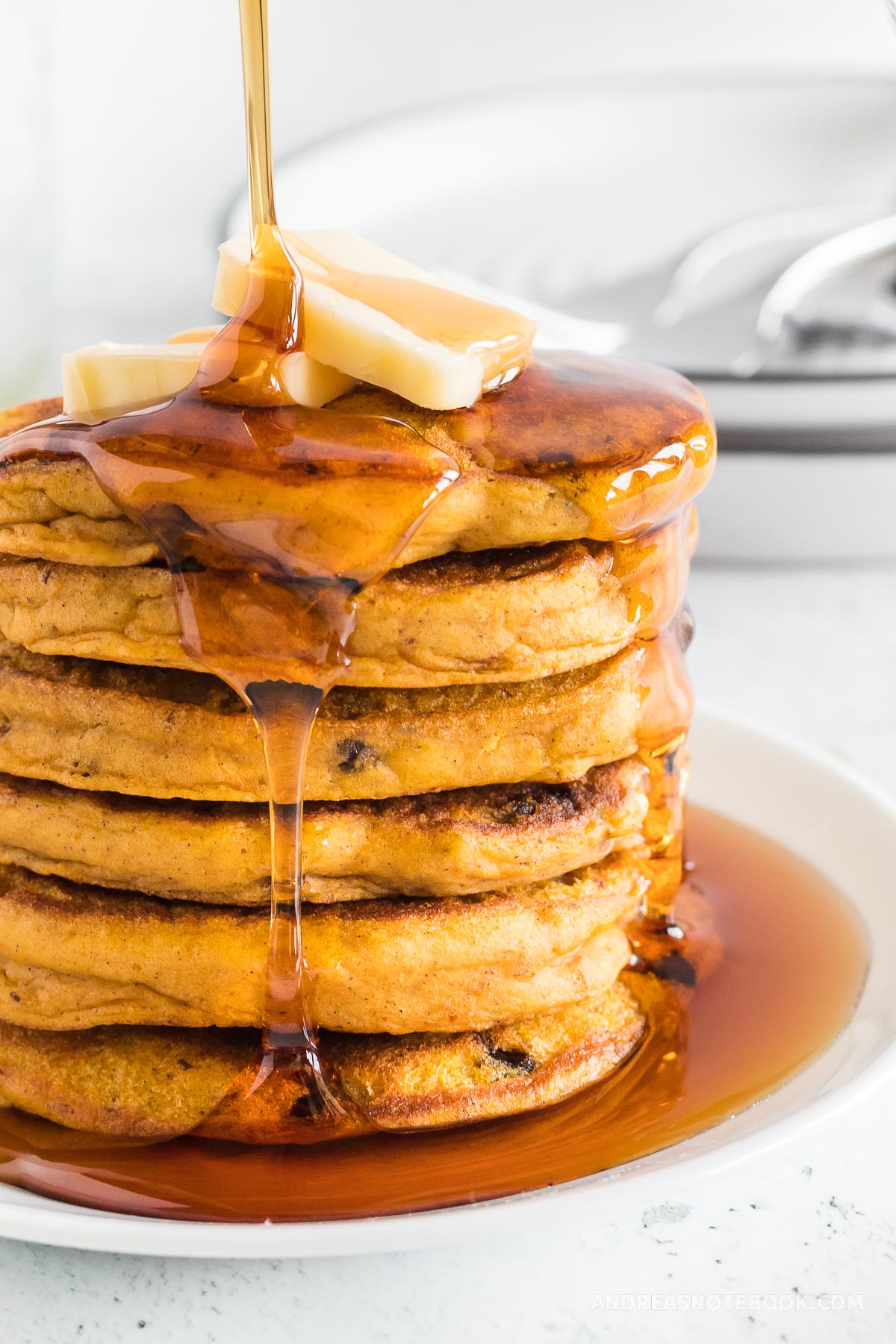 Storing
Store leftover pancakes in a ziplock bag or container with a lid. Any airtight container will work. Allow the pancakes to fully cool before putting closing your container. If you're freezing, you might want to put a piece of parchment paper or freezer paper between each pancake to easily separate them when you want to eat.
Refrigerate for up to 3 days or freeze for up to 3 months.
Reheating
Defrost in the refrigerator and reheat in the microwave for a few seconds or in the toaster oven.
Frequently Asked Questions
What type of syrup goes with pumpkin spice pancakes?
Pure maple syrup is the most popular type of syrup for pumpkin pancakes. You can also drizzle a little caramel sauce over the pancakes.
What is pumpkin spice?
Pumpkin spice is the spices that are put into pumpkin flavored recipes. Usually involving cinnamon and sometimes nutmeg or other spices. Try my favorite pumpkin spice seasoning recipe.
More Breakfast Recipes You'll Love
The next time you're making breakfast make one of these easy recipes.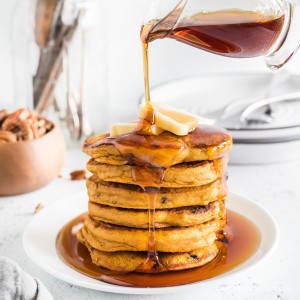 Pumpkin Pancakes With (Optional) Chocolate Chips And Pecans
Fluffy homemade pumpkin pancakes with pecan pieces and mini chocolate chips baked inside.
Ingredients
2 cups all-purpose flour
2 teaspoons baking powder
1 ½ teaspoons baking soda
½ teaspoon salt
3 teaspoons cinnamon
⅓ cup brown sugar light or dark brown sugar
2 tablespoons vegetable oil
2 ¼ cups buttermilk
¾ cup milk (I used whole milk)
1 large egg
1 cup canned pumpkin puree
2 teaspoons vanilla extract
1 cup pecans chopped
½ cup mini semi-sweet chocolate chips (or use regular chocolate chips)
Instructions
In a large bowl combine the dry ingredients; all-purpose flour, baking powder, baking soda, salt, cinnamon, and brown sugar..

Add the wet ingredients (vegetable oil, buttermilk, milk) to the same mixing bowl; whisk until smooth.

Add the egg, canned pumpkin and vanilla to the bowl. Stir to combine.

Fold in the chocolate chips and pecans.

Cook on a pre-heated griddle, temperature set at 325 degrees, or use a nonstick skillet and cook on the stovetop on medium heat. Use nonstick cooking spray before adding pancake batter.

Using a ¼ cup measuring cup, spoon batter onto hot griddle or the skillet. Cook until you see bubbles pop in the middle of the pancakes, around 2 minutes. Flip over, and then continue to cook around 1-2 more minutes. Repeat with the rest of the pancake mix.

Serve with warm maple syrup.
Notes
If you prefer thinner pancakes, add more regular milk to the batter. Start with a Tablespoon at a time until desired consistency.
Avoid cooking over high temperature for pancakes, this will result in burning the outside and the inside will not be cooked through.
Store in the refrigerator in a Ziplock bag for up to 3 days.
These pancakes freeze beautifully. Defrost in the refrigerator and reheat in the microwave or toaster.
Nutrition
Serving: 2pancakes | Calories: 210kcal | Carbohydrates: 26g | Protein: 4g | Fat: 10g | Saturated Fat: 2g | Polyunsaturated Fat: 3g | Monounsaturated Fat: 4g | Trans Fat: 0.1g | Cholesterol: 9mg | Sodium: 369mg | Potassium: 147mg | Fiber: 2g | Sugar: 6g | Vitamin A: 1618IU | Vitamin C: 0.5mg | Calcium: 56mg | Iron: 2mg