Sweet pumpkin cinnamon roll muffins made from pumpkin puree, sugar, spices and crescent roll dough. These pumpkin cinnamon rolls are cooked like cute cinnamon roll cupcakes. Top with pecans and icing and serve while they're warm for the perfect fall dessert. This cinnamon roll muffins recipe can be used to create many different seasonal flavors!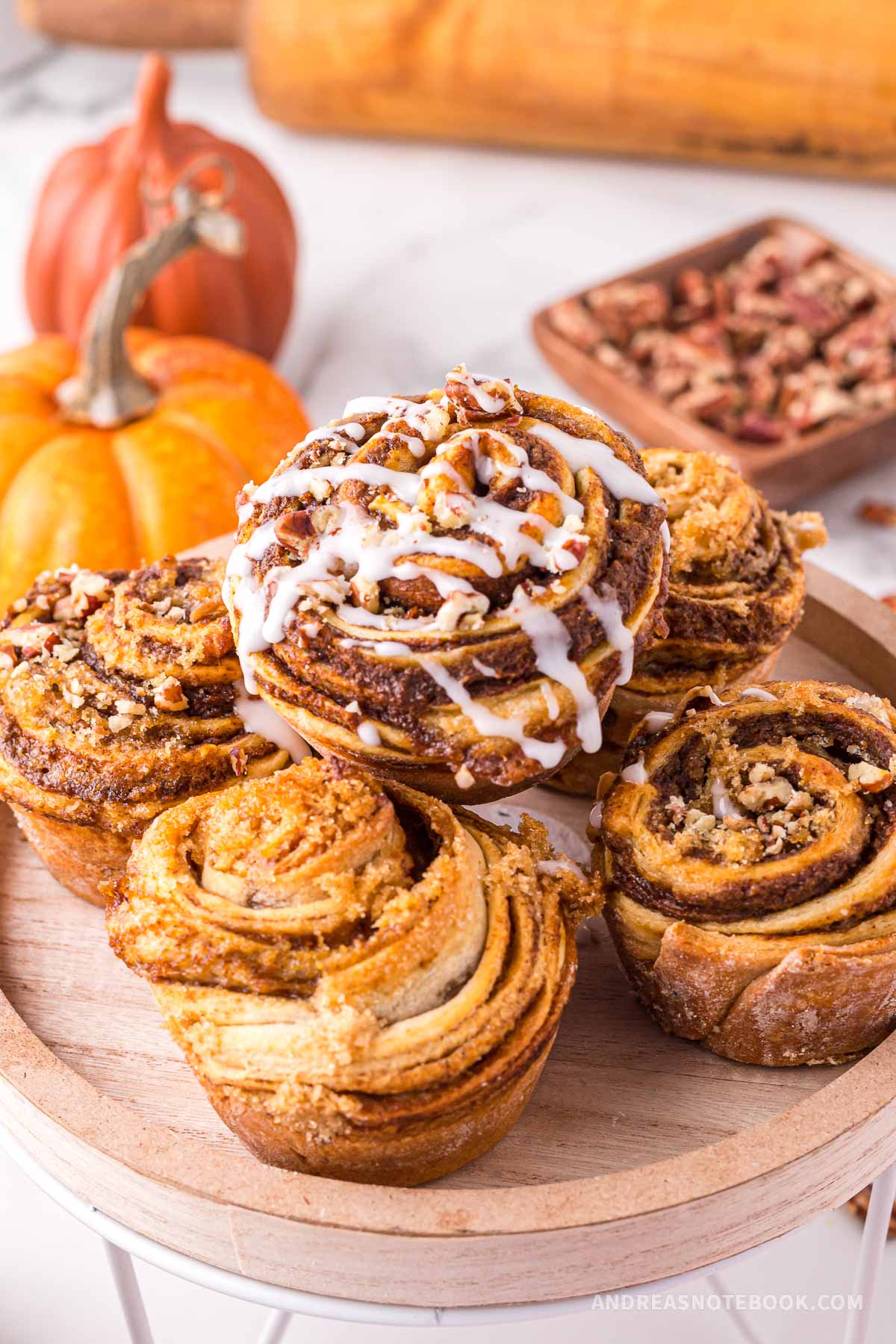 Why You'll Love This Cinnamon Roll Muffins Recipe
Flavor: These taste like a pumpkin cinnamon bun! Sweet and delicious. Add it to your favorite pumpkin recipes.
Nutrition: Under 200 calories per muffin.
Diet: Vegetarian
Easy: No yeast cinnamon roll muffins! No need to wait for rise time. You can prep these in 10 minutes and cook right away. These are perfect for when you don't have time to make traditional cinnamon rolls.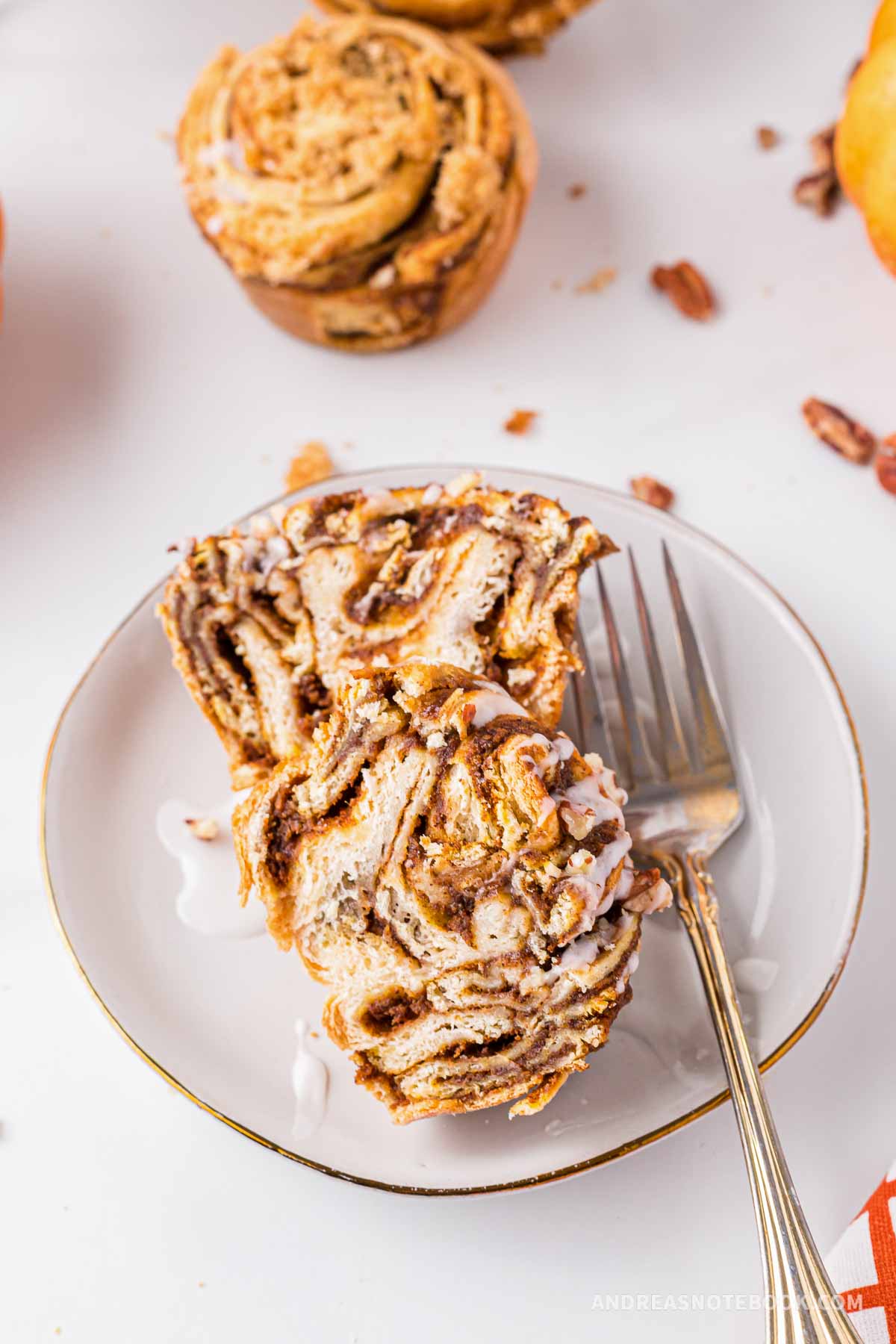 Ingredients
These pumpkin spice cinnamon rolls are quick to make because the ingredients are simple. You might have all these ingredients already.
Cinnamon roll ingredients:
3 cans of Pillsbury Hawaiian crescent rolls: You could also use regular crescent roll dough.
1 cup brown sugar, packed: Use either light or dark brown sugar.
½ cup pumpkin puree: The most common brand is Libby's pumpkin puree. Make sure you get the puree, not the pumpkin pie filling.
⅓ cup butter, melted: I prefer to bake with unsalted butter.
1 tablespoon pumpkin pie spice: You can buy pumpkin pie spice or make your own with cinnamon, nutmeg and cloves.
2 teaspoons ground cinnamon
1 teaspoon allspice
½ cup chopped pecans (optional)
Glaze ingredients:
½ cup powdered sugar
2 tablespoons milk: You can use whole milk, half and half or heavy cream, whichever you prefer.
Variation: Spread a little cream cheese over the dough before adding the pumpkin mixture.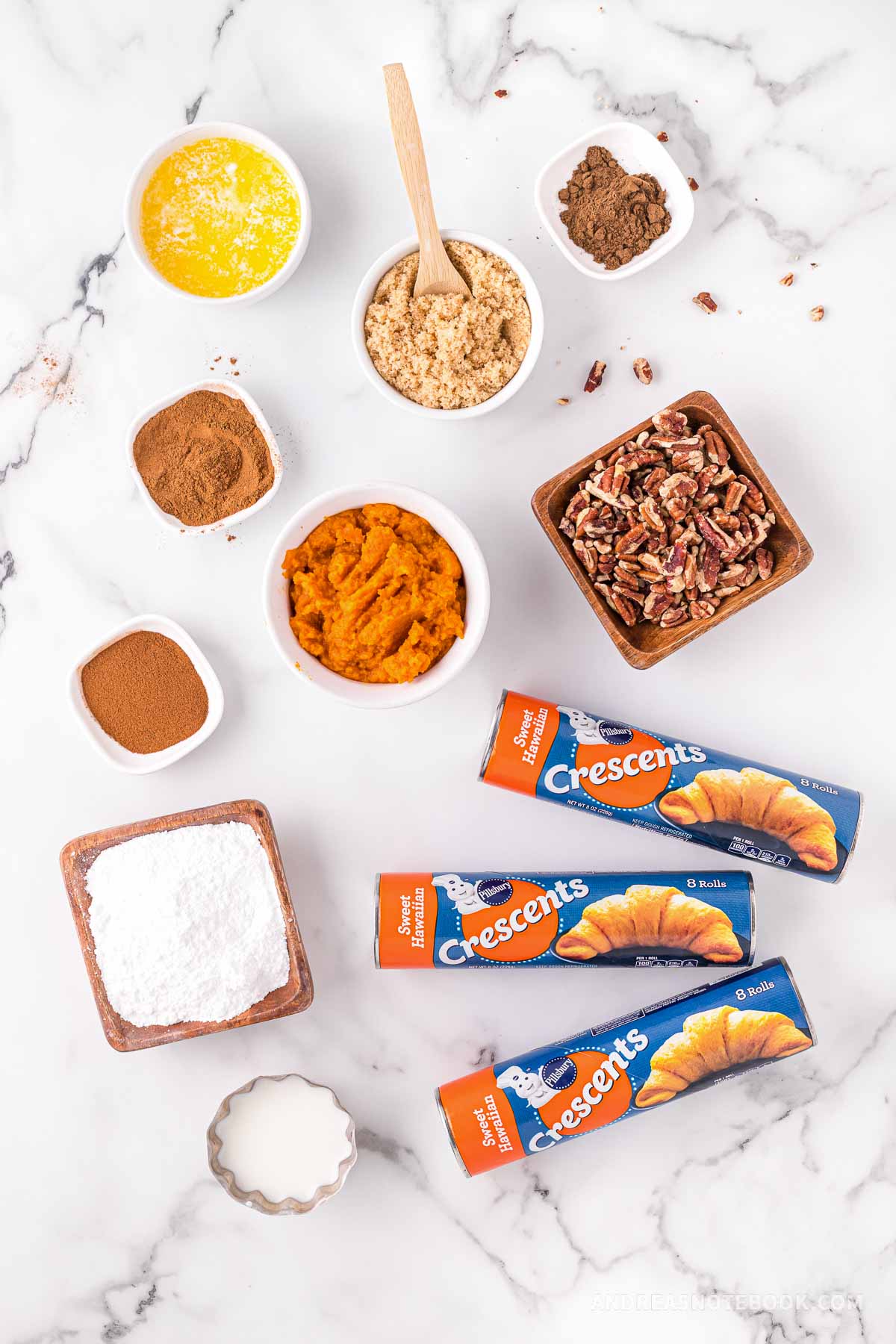 Instructions
Full step-by-step instructions for the pumpkin cinnamon roll muffins recipe are in the recipe card below. You can print or save to Pinterest for later.
Prep: Measure your ingredients and preheat oven to 350°F. Spray a 12-cup muffin cups with non-stick cooking spray. You could use cupcake liners if you prefer.
Prepare Pumpkin Cinnamon Mixture: In a medium bowl or a large bowl, combine your dry ingredients and wet ingredients. Mix the melted butter, ½ cup brown sugar, pumpkin spice, cinnamon and allspice. Mix together with a spoon or spatula to get rid of all the lumps.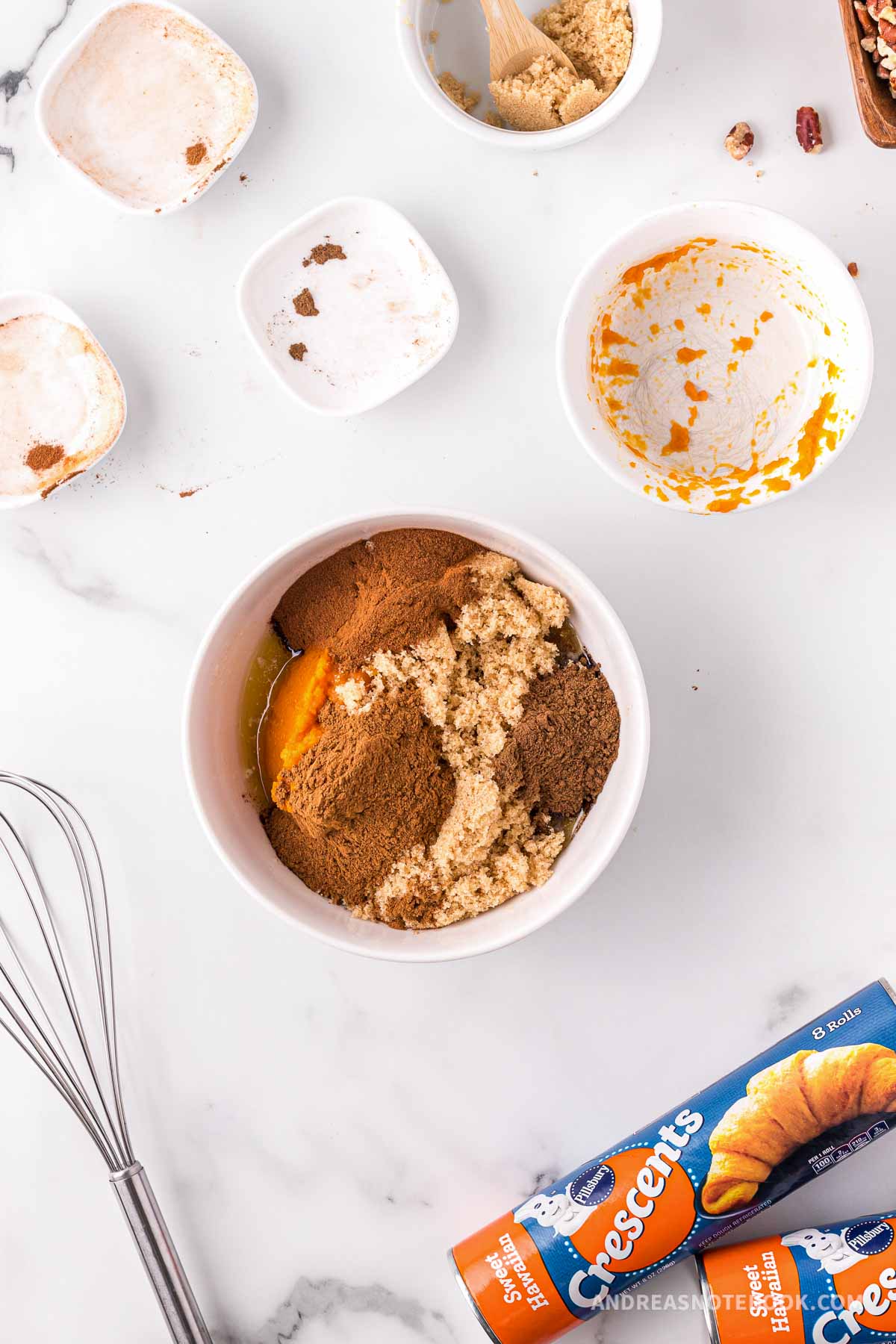 Prepare Dough: Pop open the crescent roll dough. From now on we'll refer to it as cinnamon roll dough. Put a little all purpose flour on your clean counter. Unroll the dough onto the lightly floured surface. Put a bit of flour on your rolling pin. Roll with a rolling pin to press the seams together and make the dough thinner. You will now spread the pumpkin and spices on top of the dough.
Add Filling: Spread ⅓ of the pumpkin cinnamon mixture onto the cinnamon roll dough. Sprinkle 2 tablespoons of brown sugar over the cinnamon mixture.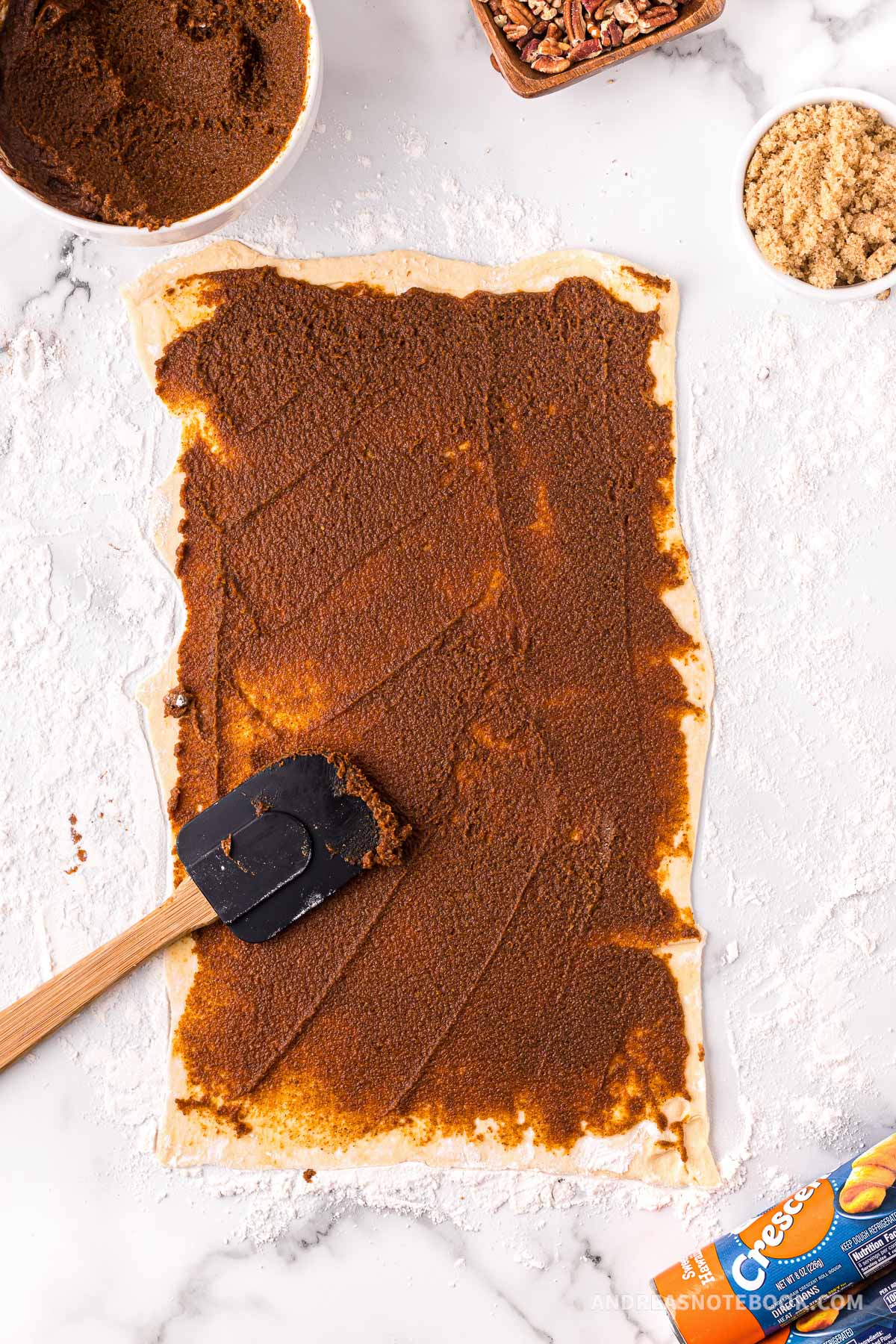 Roll Dough: Roll the pumpkin cinnamon roll dough from the long side to create a long roll or log. The filling will be rolled up in layers inside the dough.
Cut Log: Cut long in half. Cut each half down the middle, lengthwise into equal pieces. You will be able to see the layers.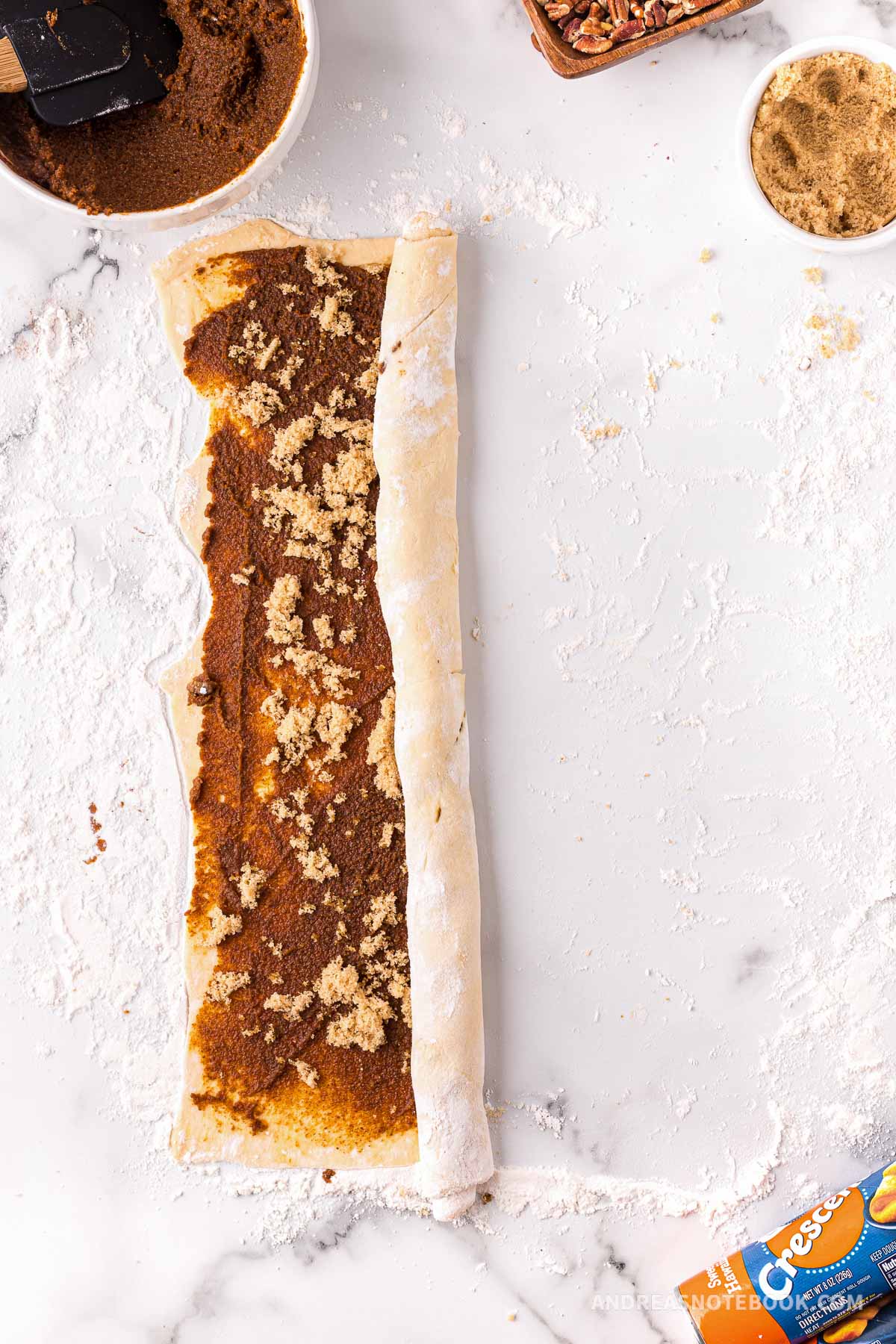 Repeat: Repeat the above steps with the other dough until you have 12 long pieces with the layers showing. These will make your 12 pumpkin cinnamon roll muffins.
Roll: Roll up each sliced dough like a cinnamon roll.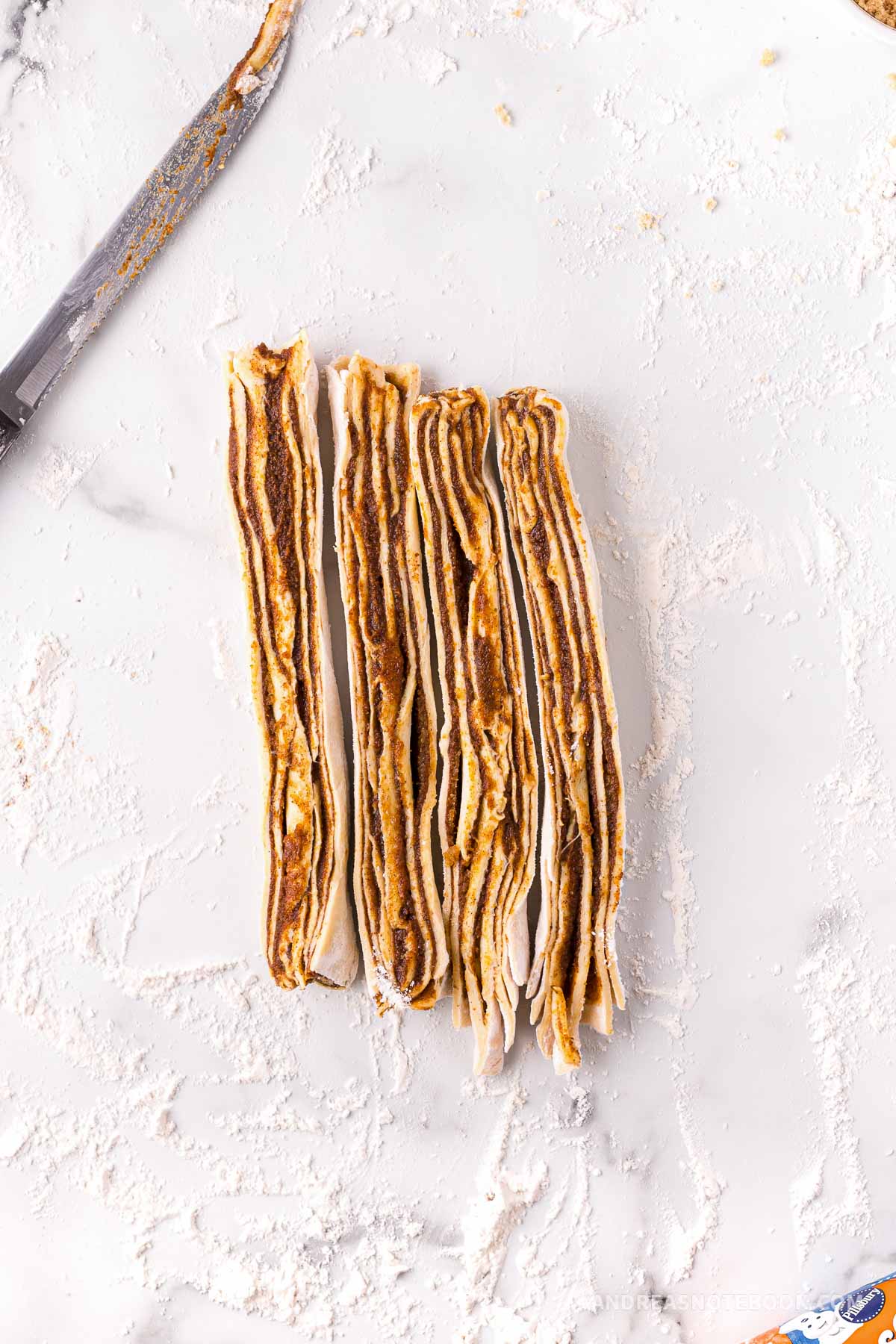 Finish Rolls: Place the rolled dough into the greased muffin pan (or muffin tin with paper liners). Sprinkle remaining brown sugar and chopped pecans on top of the rolls.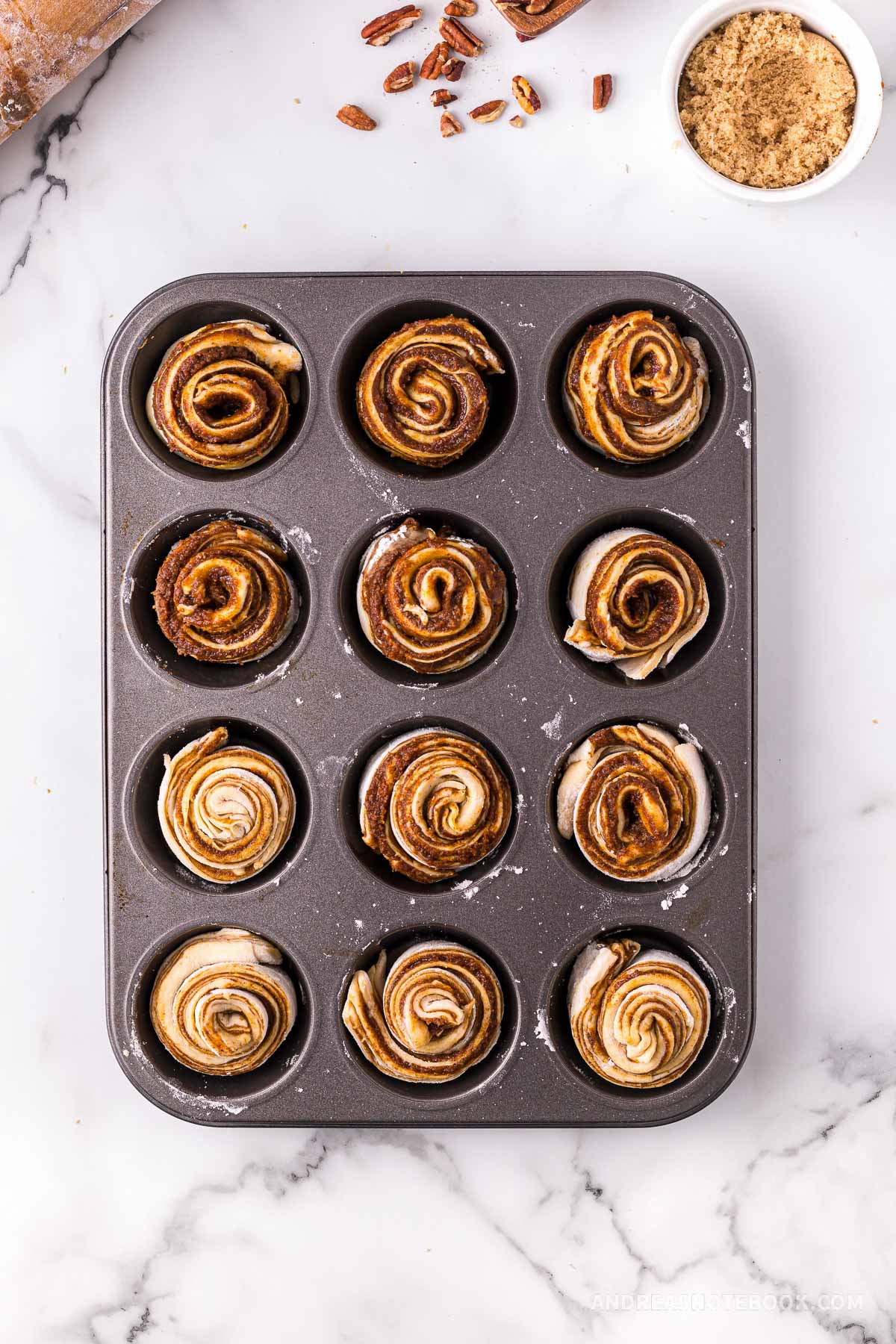 Bake: Place the muffin tin into the center of the oven rack. Bake for 18 minutes, or until dough is puffed up and golden. Remove from the oven and cool on a wire rack.
Make Glaze: In a small bowl, whisk the powdered sugar and milk together to make the glaze. Drizzle the glaze over the cinnamon roll muffins.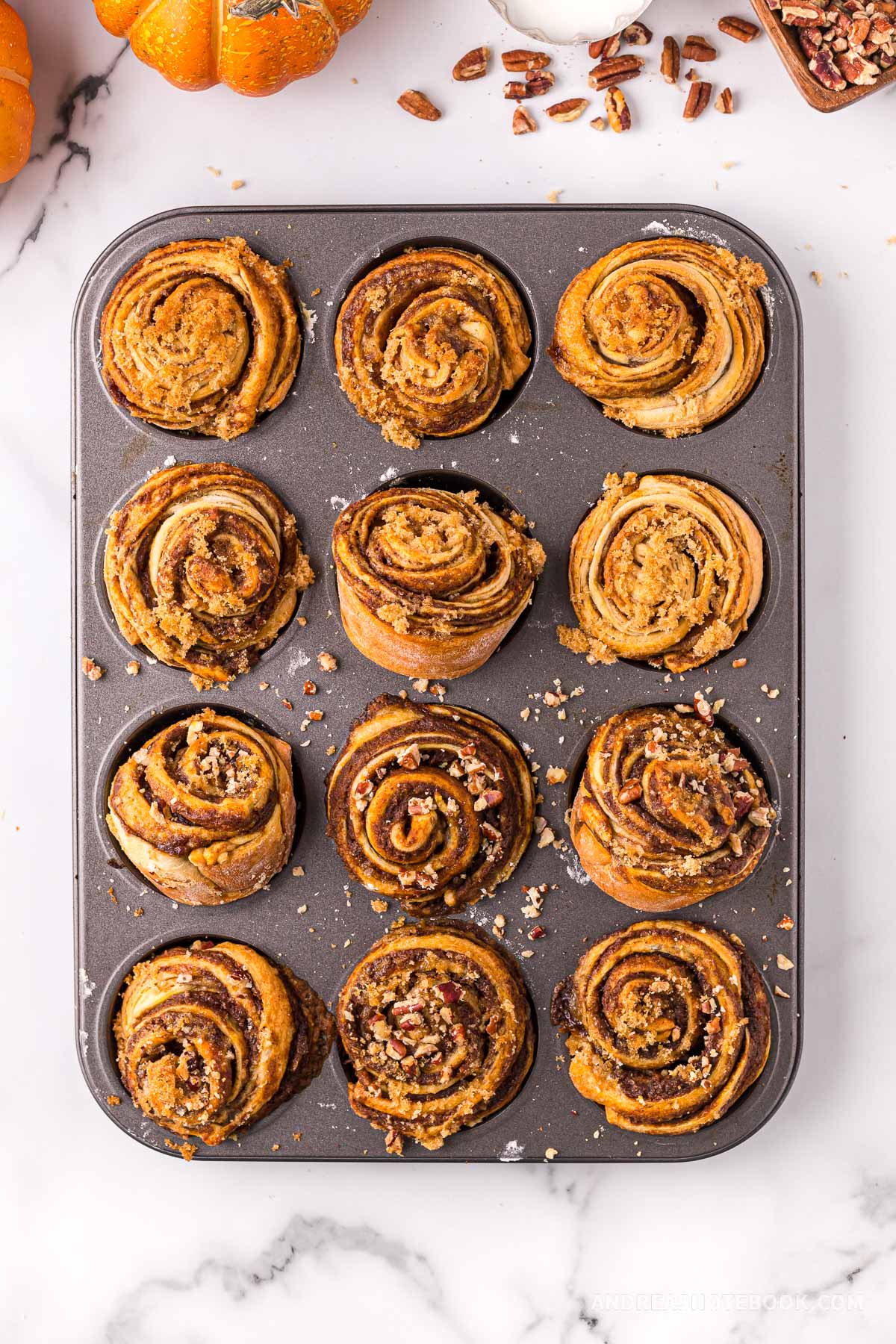 Tips For The Best Pumpkin Muffins
Don't skip the step rolling out the dough. Crescent roll dough is perforated and a bit thicker than you want for this recipe. Rolling it out with a rolling pin will seal the perforation.
Use Hawaiian crescent rolls for a bit of a sweeter dough. These sweet rolls make better cinnamon rolls. Regular crescent roll dough will work as well but isn't preferred.
Don't skip the glaze! Allow the muffins to cool a little before adding the glaze. If you allow the cinnamon bun muffins to cool a little before drizzling on the glaze it won't melt right into the muffins, which is usually prefered. You could also make a cream cheese glaze, a cream cheese frosting or a homemade pumpkin butter. Yum.
Serving
Serve this easy recipe while warm for best results. You can serve these homemade cinnamon rolls as a breakfast pastry with a side of fruit, or as a dessert any time of day.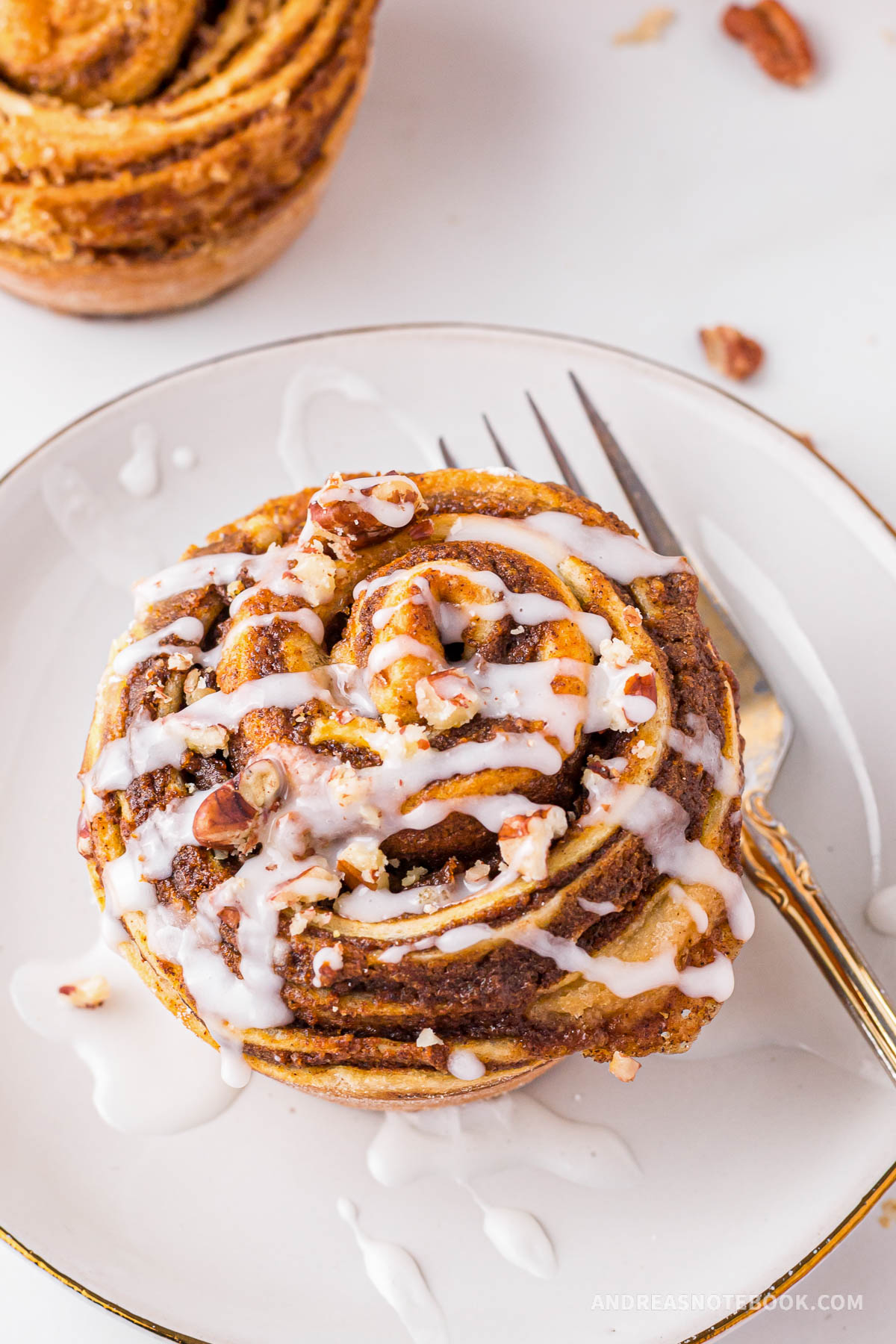 WHAT TO MAKE NEXT: If you love this cinnamon roll recipe, try Pumpkin Caramel Cinnamon Rolls.
Storing
This leftover pumpkin muffin recipe will save well! Cover them in plastic wrap or store the muffins in an airtight container at room temperature for up to 3 days. Warm them up in the microwave for a few seconds before serving.
Frequently Asked Questions
Can I use crescent roll dough to make cinnamon rolls?
Yes! I love using the Hawaiian crescent roll dough but you can use any crescent roll dough to make these cinnamon roll muffins. You could also make your own cinnamon roll dough.
Can I cut this recipe in half?
This recipe works well cut into thirds. You can make ⅓, ⅔ or a full recipe. You could even make a double batch.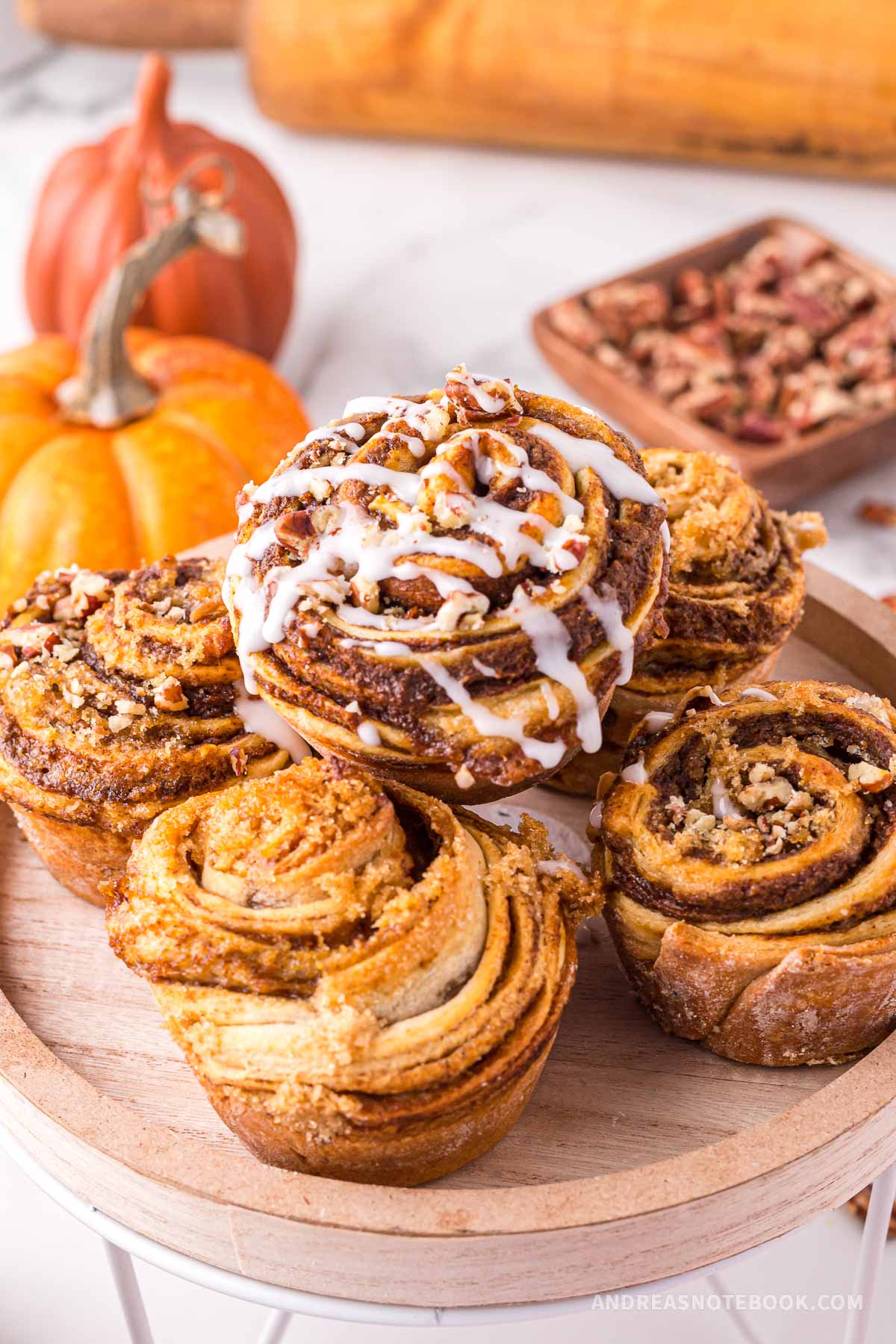 More Fall Season Breakfast Recipes
Ingredients
1

cans

Hawaiian crescent rolls

1

cup

brown sugar

(packed)

½

cup

pumpkin puree

½

cup

butter

(melted)

1

tbsp

pumpkin spice

2

tsps

ground cinnamon

1

tsp

allspice

½

cup

pecans

(chopped (optional))

⅓

cup

powdered sugar

2

tbsps

milk
Instructions
Preheat the oven to 350 degrees. Spray muffins pan with non-stick spray.

Mix pumpkin puree, melted butter, ½ cup brown sugar, pumpkin spice, cinnamon, and allspice in a bowl.

Add flour to the countertop, and roll out crescent rolls, keeping all the seams together. Roll crescent rolls with a rolling pin until thin.

Spread ⅓ pumpkin puree mix over crescent roll dough.

Spread 2 tablespoons of brown sugar over the pumpkin puree.

Roll the dough up from the long side to create a log.

Cut the log in half to make 2 equal sized pieces.

Cut the dough lengthwise in half. You will be able to see all the layers.

Repeat with the remaining 2 crescent roll doughs.

Roll up the sliced gough into a cinnamon roll. Place into the muffin tin. Repeat with the other 11 rolls.

Sprinkle remaining sugar and some pecans on top of the muffins.

Bake for 18 minutes or until the cinnamon buns are cooked through and golden brown.

In a small bowl, make the glaze. Mix powdered sugar and milk with a whisk until smooth. Drizzle over the muffin.
Notes
Store in an airtight container for up to 3 days.
Reheat in the microwave for a few seconds.
Nutrition
Serving:
1
muffin
|
Calories:
191
kcal
|
Carbohydrates:
32
g
|
Protein:
2
g
|
Fat:
8
g
|
Saturated Fat:
2
g
|
Polyunsaturated Fat:
2
g
|
Monounsaturated Fat:
2
g
|
Cholesterol:
1
mg
|
Sodium:
165
mg
|
Potassium:
86
mg
|
Fiber:
1
g
|
Sugar:
24
g
|
Vitamin A:
1615
IU
|
Vitamin C:
1
mg
|
Calcium:
43
mg
|
Iron:
1
mg