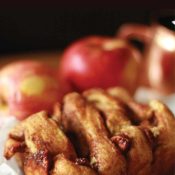 This easy and delicious apple pull apart bread is made from canned biscuits, fresh apples and cinnamon and sugar!
Love apple pie? This apple pull apart bread recipe couldn't be easier! No need to make a dough or sprain a wrist stirring. Put your dough hook away, this pull-apart bread is made with refrigerator biscuits and a delicious apple mixture.
If you love pull-apart bread recipes you'll probably consider this a cheater recipe. That's ok! This is good for kids to make or when you just really want a sweet snack with very little effort.
It's gooey and sweet! Everyone will love this one! Teach your kids how to make it so they can make their own after school baked snack. Or they may enjoy this easy homemade bread pudding recipe or try a Mexican Arroz con Leche if you want to try a simple, warm Mexican dessert.
Why You'll Love This Apple Bread Recipe
This bread takes only 5 minutes to prep. You'll have a sweet treat with very little effort.
Use refrigerator biscuit dough for less cleanup! No cleaning your mixer!
Add as few or as many apples as you want. Add some glaze for an extra sweet treat!
NOTE: When I first posted this recipe in 2016 I hadn't added the butter to the recipe so the photos don't include butter.
Ingredients:
You may have these ingredients in your pantry and refrigerator already! Full ingredient amounts and instructions in the recipe card below.
apple: Use granny smith apples, fuji apples, or honey crisp apples.
sugar: If you prefer, use a half and half mix of brown sugar and white sugar.
ground cinnamon: Cinnamon is absolutely necessary for this recipe! Don't skip the cinnamon.
refrigerator biscuits: We use the grands size biscuit dough. If you don't have biscuits you can try using refrigerated crescent dough or slices of puff pastry dough.
salted butter: This is optional but melted butter makes a big difference in this apple cinnamon pull apart bread.
Variations
Glazed: We love this recipe as is, but if you're looking to take it up a notch, try adding a homemade glaze on top once the bread is cooked!
Raisins: If you love raisins, try tucking some raisins in with the apples.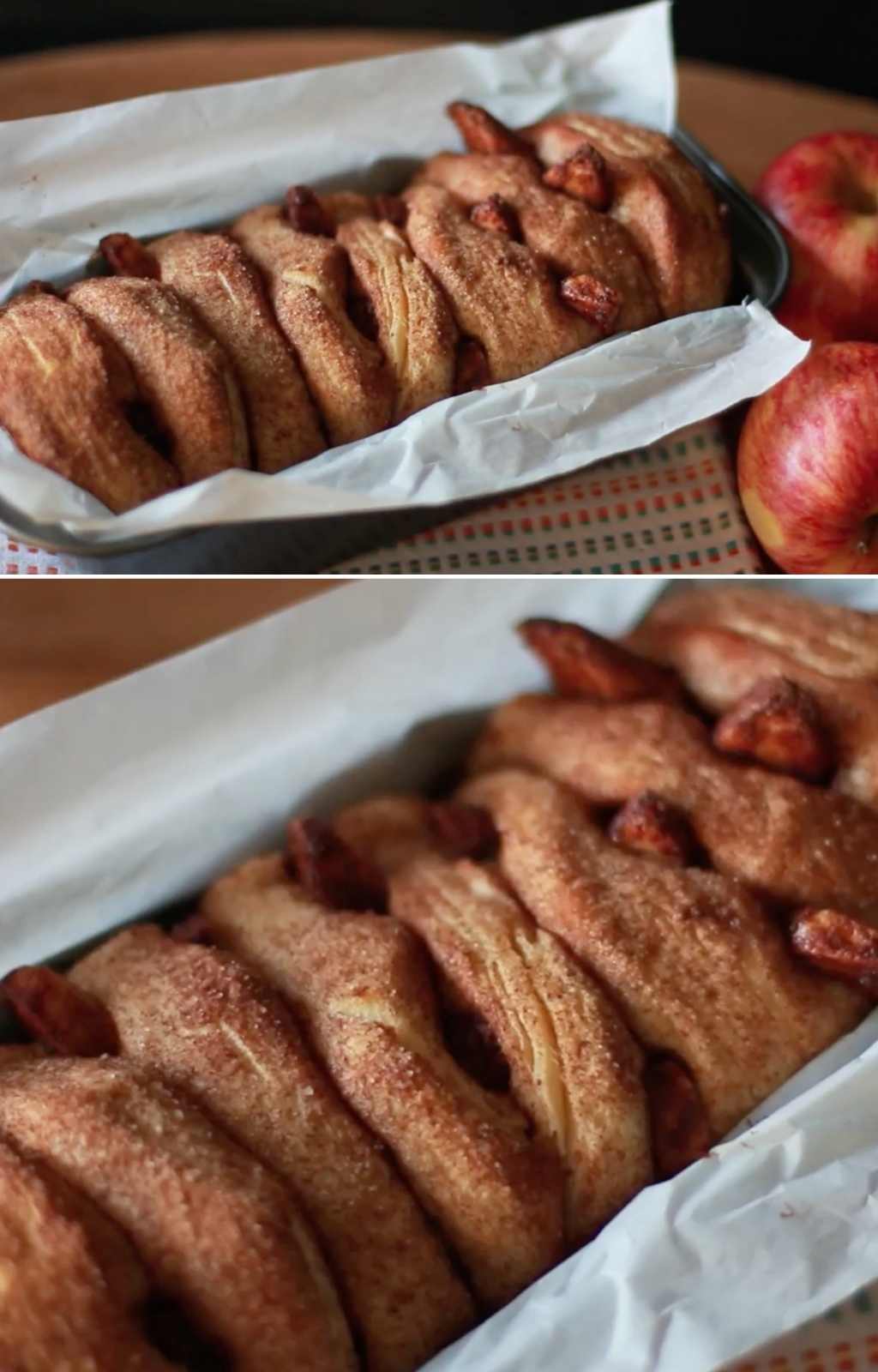 If you love this easy recipe with biscuit dough, try this Cheesy Garlic Rolls recipe made with crescent roll dough.
Instructions
PREPARE: Preheat your oven to 350°F. Cut a rectangular piece of parchment paper. Line a 8 inch by 4 inch loaf pan with the paper. You can use foil or cooking spray if you don't have parchment but we prefer parchment paper. Peel, core and slice your apples.
CINNAMON AND SUGAR: In a small mixing bowl, combine the cinnamon and sugar. Roll the biscuits and the apple slices in the sugar mixture.
ASSEMBLE: Stack the biscuits then transfer them to the bread pan on their side. Tuck apple slices between each of the biscuits. Drizzle melted butter evenly over the biscuits.
BAKE: Bake the pull-apart bread in the oven for 20-25 minutes until the biscuits are golden brown and the apples are tender and cooked.
SERVE: Place the bread pan on a cooling rack. Allow to cool for at least 5-10 minutes. If you're going to add a glaze to make it more like a cinnamon roll, add the glaze once the bread has cooled about 15 minutes.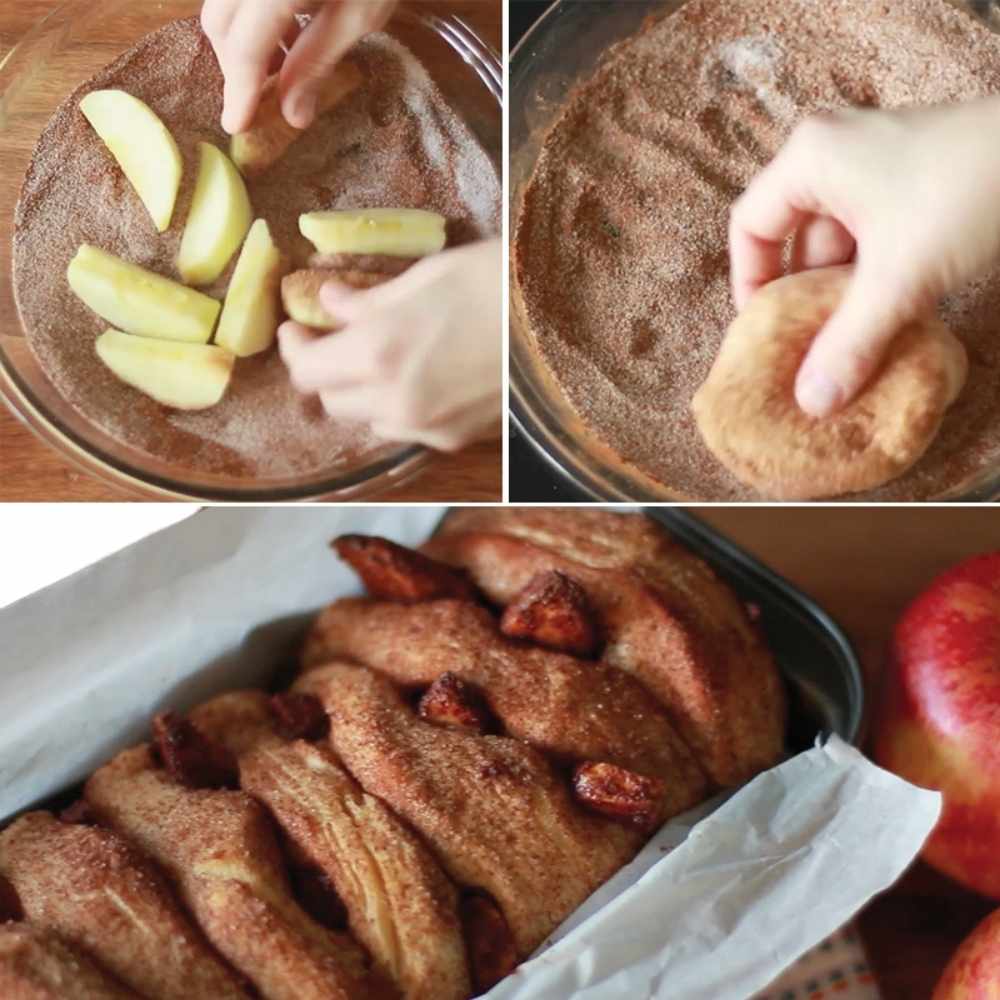 What kind of apples are good for bread
I prefer to use granny smith apples. Any tart, firm apple will bake well and not become mushy.
How do you make a glaze?
Whisk together 1 cup of powdered sugar (confectioners sugar) and 2-3 tablespoons of water until it's creamy and well combined.
More Dessert Recipes
If you love easy apple bread, you'll love these other recipes.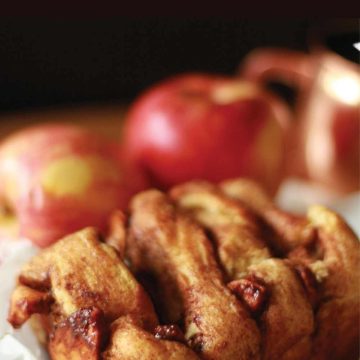 Apple Pull Apart Bread
This easy and delicious apple pull apart bread is made from canned biscuits, fresh apples and cinnamon and sugar!
Equipment
1 8X4 bread pan

parchment paper
Ingredients
1 apple peeled, cored and sliced into thin slices
½ cup sugar
¼ cup cinnamon
1 can large refrigerator biscuits
4 tablespoon butter (optional)
Instructions
Preheat the oven to 350°F.

Line a bread pan with parchment paper.

Combine sugar and cinnamon in a small bowl.

Slice apples into thin slices, no more than ½" thick.

Roll biscuits and apples slices in the cinnamon and sugar.

Standing on their sides, place all the biscuits together in the bread pan.

Add apple slices between each biscuit.

Melt butter and pour over the biscuits (optional).

Cook for 20-25 minutes in the oven until apples are soft and biscuits are cooked through.

Allow to cool for 5 minutes. Serve.
Nutrition
Serving: 1piece | Calories: 294kcal | Carbohydrates: 50g | Protein: 4g | Fat: 10g | Saturated Fat: 2g | Polyunsaturated Fat: 4g | Monounsaturated Fat: 4g | Cholesterol: 1mg | Sodium: 553mg | Potassium: 196mg | Fiber: 5g | Sugar: 17g | Vitamin A: 48IU | Vitamin C: 1mg | Calcium: 112mg | Iron: 3mg
Bon appetit!