I don't know why, but it took me about 15 years to figure out how to make mashed potatoes consistently good, every time. I tried a lot of different methods and recipes and always ended up with potatoes that weren't quite right. So now that I'm a mashed potato expert, I'm here to impart my wisdom on how to make perfect mashed potatoes.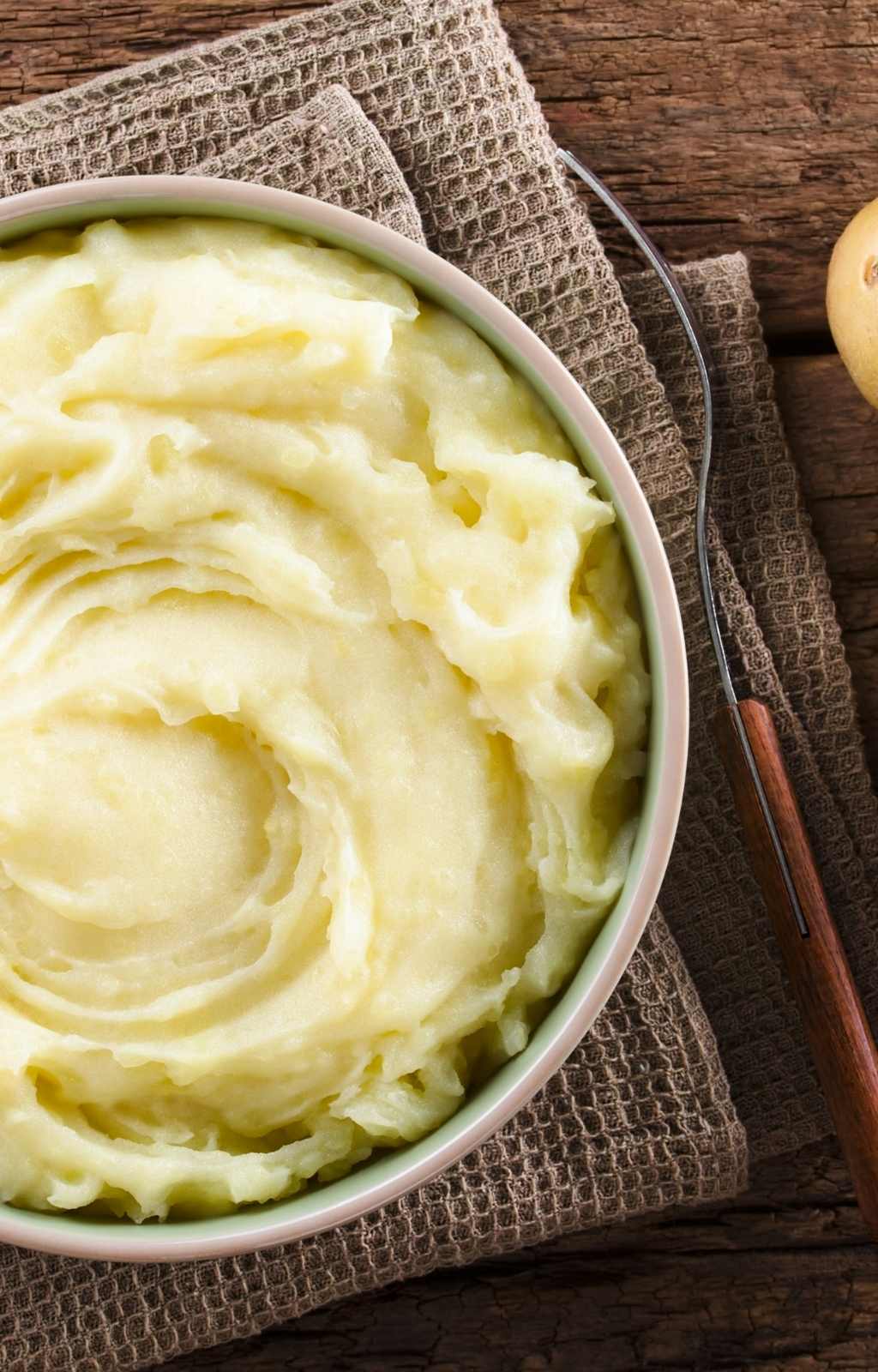 The best mashed potatoes are creamy, but not too creamy. I've tried the recipes that called for cream cheese, but I don't want my mashed potatoes to taste like cream cheese. We like to serve them with BBQ ribs, a Ninja Foodi Pot Roast, BBQ Cilantro Lime Chicken and any other type of meat! If you're looking for a new way to make potatoes, try this Indian Curry Potatoes recipe. Delicious.
Ingredients:
These ingredients are all important to bring out the flavor in the potatoes!
Yukon Gold potatoes: In a pinch you can also use russet potatoes though I prefer Yukon Gold.
Heavy cream: Go for the real stuff! Heavy cream makes the mashed potatoes so good.
Butter: Use unsalted butter so you don't over salt the potatoes.
Sea salt
Garlic powder: For extra special potatoes, roast your garlic, then put the roasted garlic into the potatoes.
How Do You Top Mashed Potatoes
If you're like me, you like your potatoes topped with a little bit of butter and that's it. But here are some more ideas for making them exactly how you like.
Herbs: Add some fresh herbs to the top like parsley, oregano or chives.
Sour Cream: If you love baked potatoes with sour cream, you'll love these with sour cream as well.
Cheddar Cheese: While the potatoes are hot, add some shredded cheddar cheese to the top of your potatoes so it can melt.
Instructions:
Full instructions and ingredients are in the recipe card below.
PREP: Peel then chop potatoes. Bring a large pot of cold water to a boil and add potatoes. Reduce heat to a simmer if your pot is in danger of boiling over.
BOIL: Boil the potatoes until a fork is just able to be inserted without resistance. This is called fork-tender. Don't boil until the potatoes fall apart. Drain water into a colander. Return potatoes to the pot.
MASH: Add the heavy cream, soft butter, salt and garlic to potatoes and mash using potato masher. I use this potato masher and it's great. The kids can use it safely as well. Mix until nearly all the lumps are gone. I don't recommend using an electric mixer, blender or food processor because the potatoes can get too starchy and mushy.
TASTE: Taste some of your potatoes! If it is too dry, add a tiny bit of cream. You don't want to put too much liquid back into the potatoes. If they need more butter, stir in some more butter. Add a little black pepper if you like.
SERVE: Make a crater on the top of the hot potatoes. Add 1 to 2 tablespoons of butter to melt and make a delicious butter crater.
Eat them all! That's it. Super simple. Don't overcook, don't add too much liquid, don't over mix.
Perfect Mashed Potatoes
Learn how to make the perfect mashed potatoes every time.
Equipment
Potato Masher or Potato Ricer
Ingredients
8 cups Yukon gold potatoes peeled and cut into 2" size chunks
½ cup heavy cream
½ cup butter unsalted
1 teaspoon salt
1 teaspoon garlic powder
Instructions
Bring a large pot of water to a boil over high heat. Add the potatoes. Boil until a fork is able to be inserted without resistance. Don't boil until the potatoes fall apart.

Drain the water.

Add the cream, butter, salt and garlic to the potatoes and mash with your potato masher.

If your potatoes are too dry, add a little more cream until you have them the consistency you want. You can always add more but can't take any away so just add a little at a time.

Make a crater in the top of the hot potatoes and add another little bit of butter to melt.
Nutrition
Calories: 324kcal | Carbohydrates: 57g | Protein: 8g | Fat: 8g | Saturated Fat: 5g | Polyunsaturated Fat: 1g | Monounsaturated Fat: 2g | Cholesterol: 25mg | Sodium: 433mg | Potassium: 1380mg | Fiber: 7g | Sugar: 4g | Vitamin A: 331IU | Vitamin C: 62mg | Calcium: 75mg | Iron: 3mg