Make this easy buttermilk pancake mix to store in the pantry for later or make the pancakes right now. Very quick and easy. These make light, fluffy pancakes.
These are easy buttermilk pancakes made with homemade pancake mix. Make the mix now to make breakfast easier later. They're not only quick but they're light and fluffy pancakes everyone loves. These are the easiest buttermilk pancakes because they only take 5 minutes to prep. No whipping up egg whites or separating eggs. If you have the homemade pancake mix already made up it will only take a minute or two to make the batter.
The best pancake recipe is the kind that is both quick and delicious. This fluffy pancake recipe is for people who don't love thin pancakes and also don't love separating eggs! It's a buttermilk pancake recipe, which helps make them extra fluffy pancakes.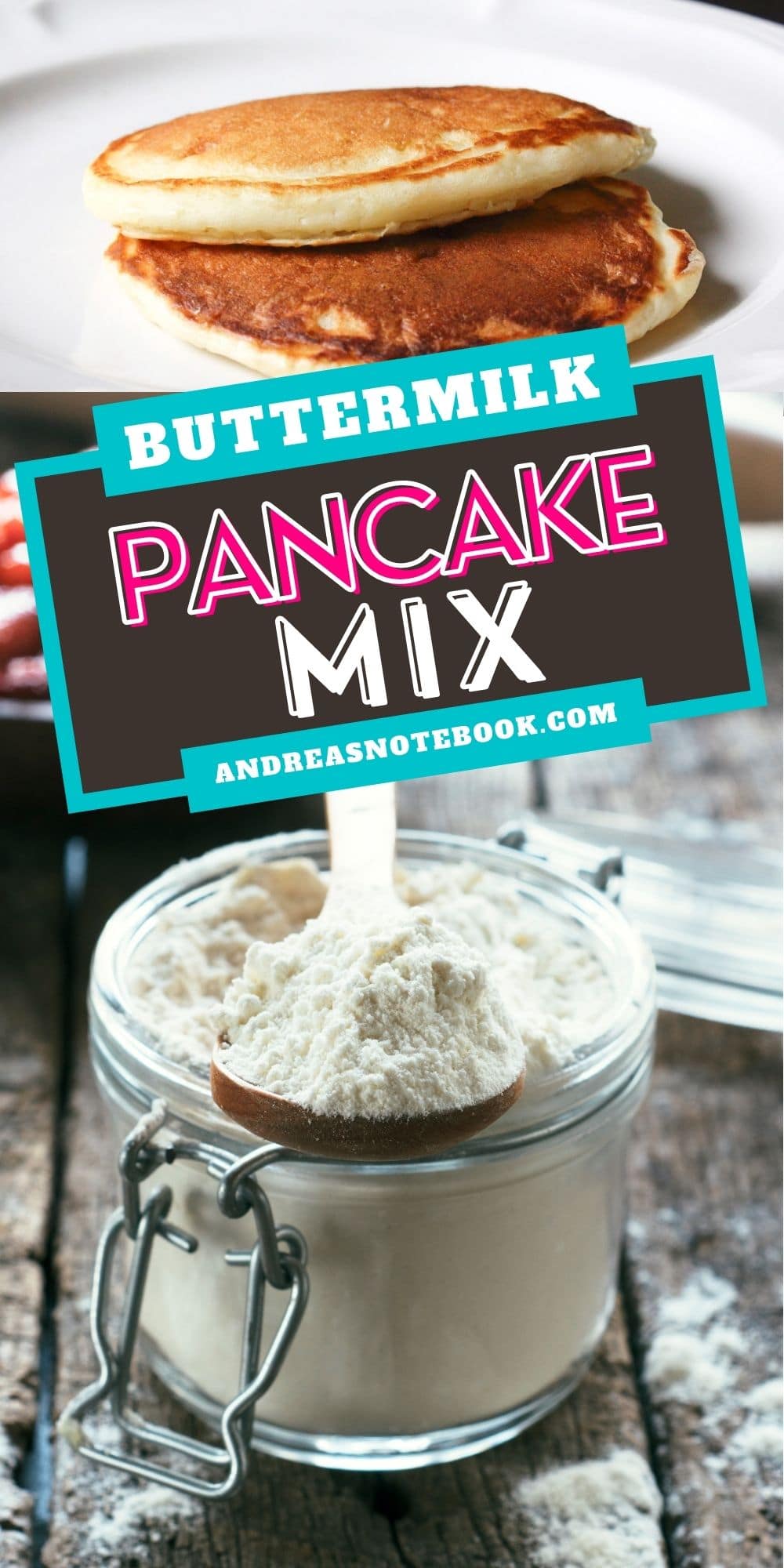 If you love this recipe you'll enjoy these pumpkin pecan pancakes.
Pancakes should be fluffy, tasty and not take forever to make. I always look for a recipe that doesn't require separating eggs and isn't fussy.
To make the next pancake breakfast even easier just mix up the dry ingredients and put them in a jar to be quickly mixed with the egg and buttermilk when you have a pancake craving.
More Breakfast Ideas:
Pancake Mix Ingredients
cake flour (use all-purpose flour if you can't find cake flour)
sugar
baking powder
baking soda
salt
egg
buttermilk
melted butter
How To Substitute buttermilk in a buttermilk pancake recipe
If you don't have buttermilk, no problem. You can make a buttermilk substitute by mixing 1 tablespoon of white vinegar to a 1 cup measuring cup. Then fill the rest of the cup up with milk. Or see more buttermilk substitute recipes. The buttermilk or substitute makes this a fluffy pancake recipe. In a pinch you can just use milk but buttermilk really does make the best pancake recipe.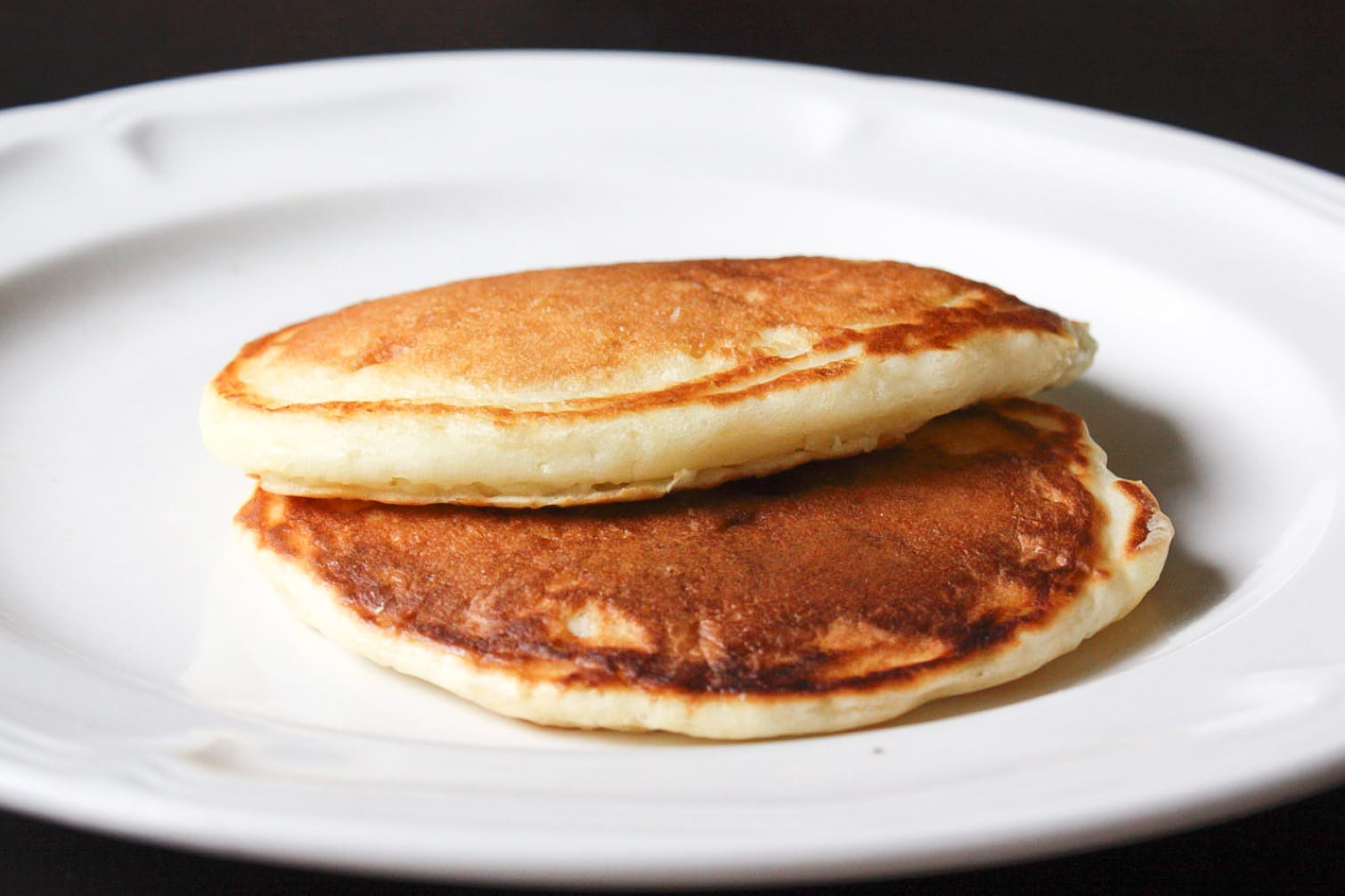 Optional Pancake Add-ins
Blueberry Pancakes: Mix ½ cup of blueberries into your pancake batter.
Chocolate Chip Pancakes: Mix ½ cup of mini chocolate chips into the easy buttermilk pancake batter.
Banana Pancakes: Slice a banana. After pouring batter onto pan when cooking, place thin slices of banana on top of the pancake.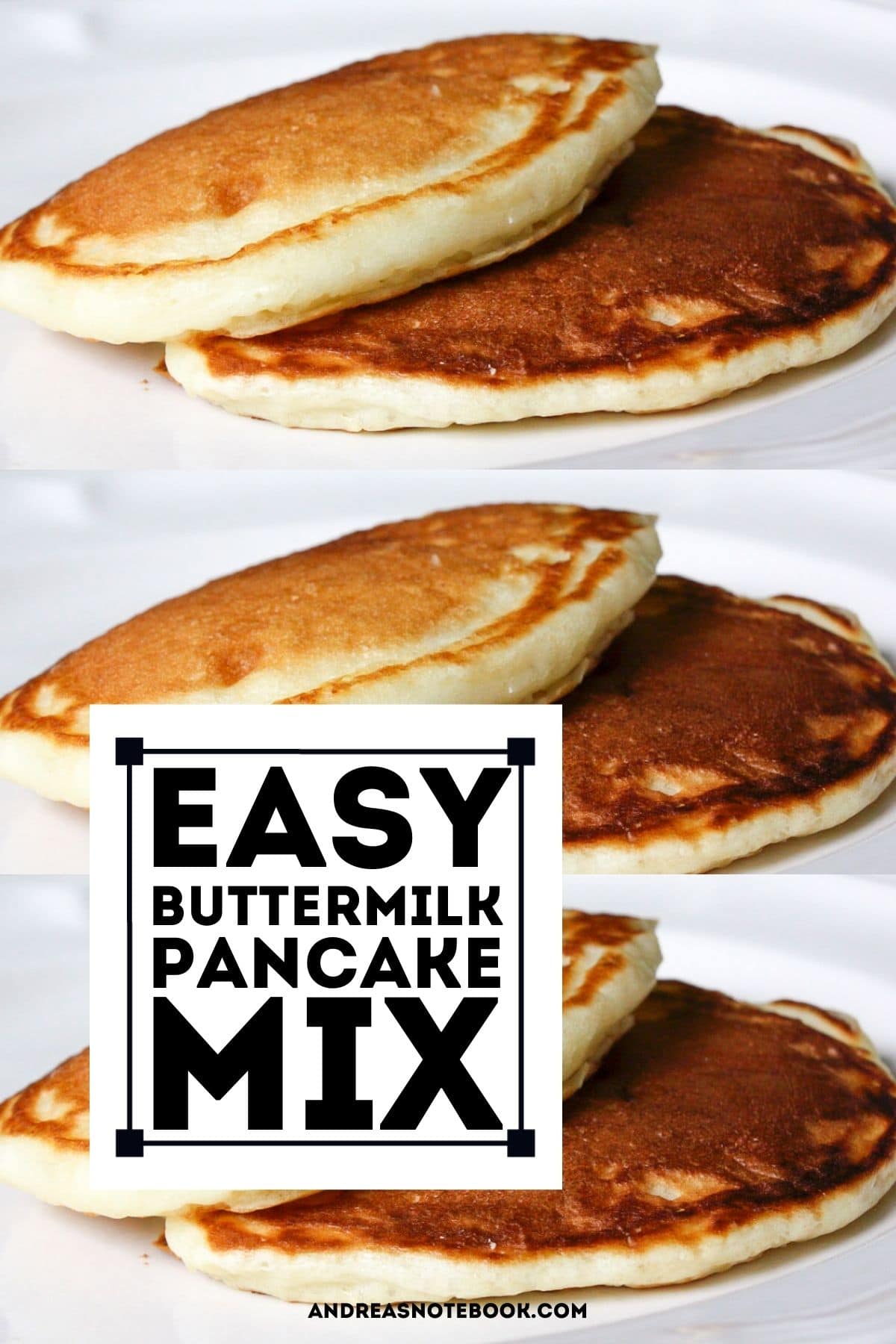 Easy Buttermilk Pancakes Instructions
Step 1: Heat skillet on the stove to medium. Use non-stick cooking spay on pan to prevent pancakes from sticking.
Step 2: Mix the dry ingredients together. Store in an airtight container. Store in a cool dry place if you aren't using right away.
Step 3: Add the wet ingredients. Mix until just combined. Do not over mix. It will be a bit lumpy, that's O.K. See above for buttermilk substitutions. Buttermilk make this the best fluffy pancake recipe so don't skip it if you can help it.
Step 4: Pour 4 inch diameter pancakes onto heated skillet. When pancakes begin to bubble and pop in the middle of the pancake they are ready to flip.
Step 5: Cook other side until pancake is golden brown. Serve while warm.
Notes:
This easy buttermilk pancake mix recipe serves 3-4 people. My kids are big eaters so I double it. When I first wrote this recipe we always used cake flour. Now we use King Arthur's Gluten Free flour mix.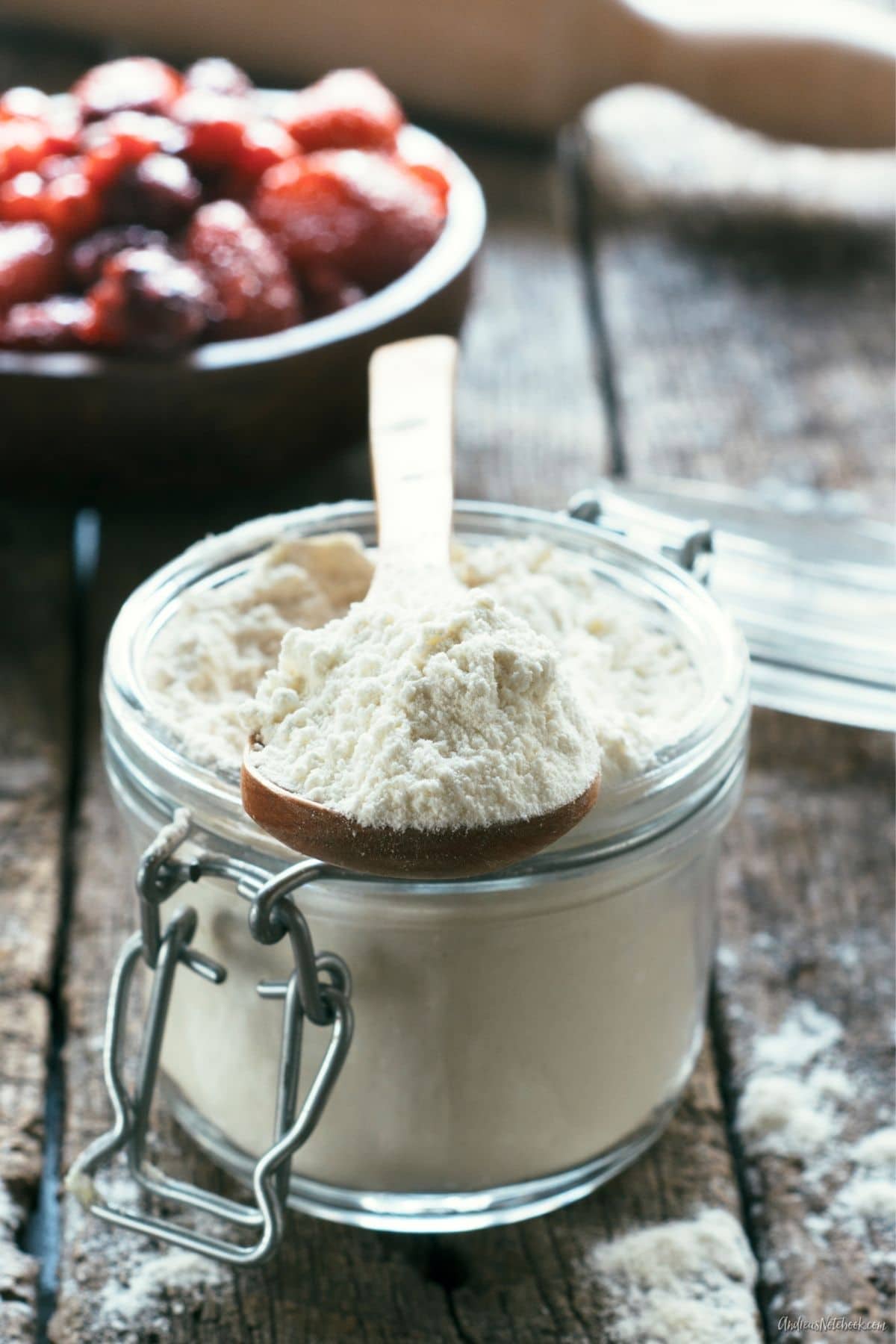 Can you make these buttermilk pancakes gluten free?
Yes! We like to use the King Arthur gluten free flour mix to substitute for the cake flour.
How do you substitute buttermilk in a buttermilk pancake recipe?
Put one tablespoon of white vinegar in a 1 cup measuring cup. Add milk to the top of the 1 cup. Stir and let sit for a couple minutes.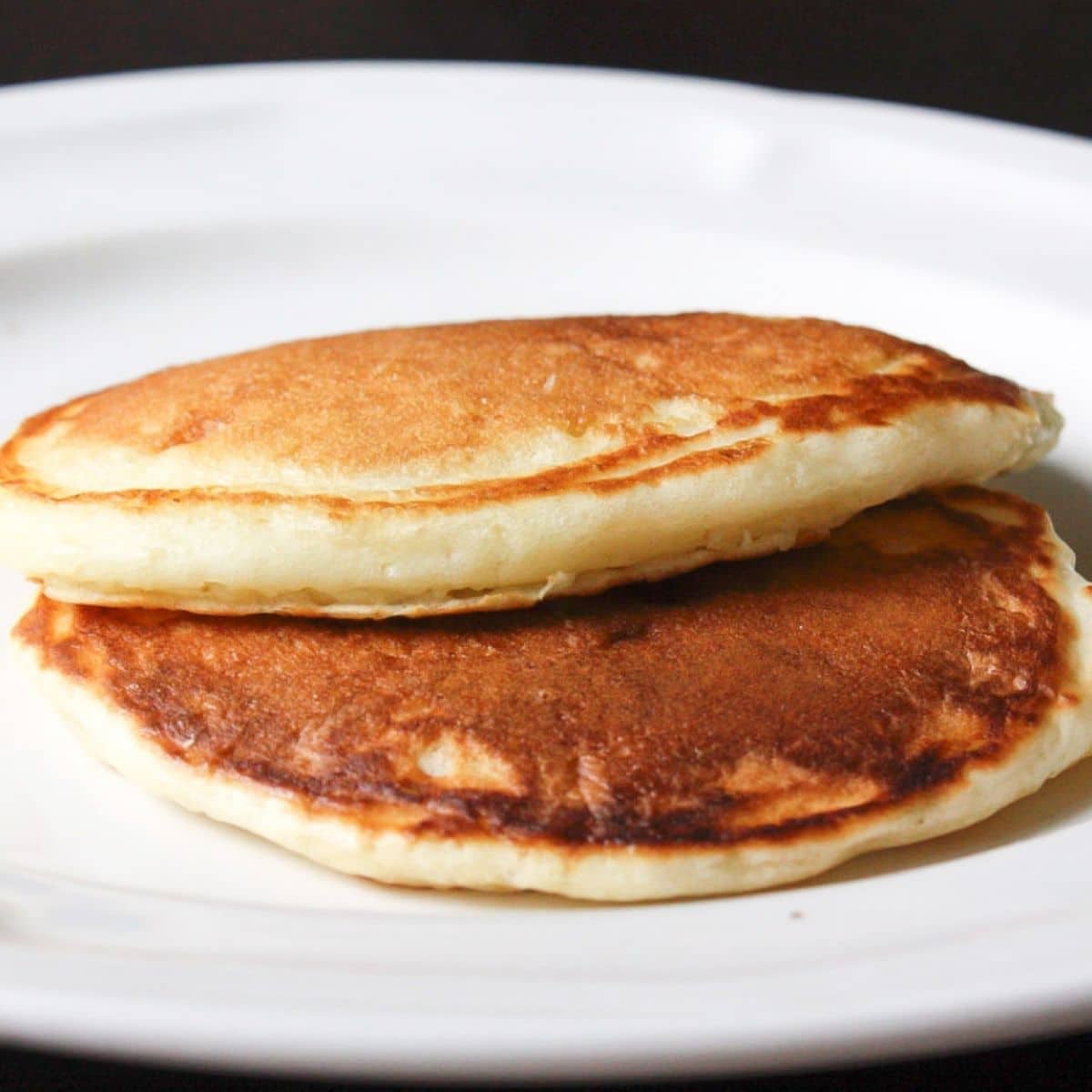 Servings: 4 people
Calories: 158kcal
Ingredients
Pancake Mix
1 cup cake flour (or all-purpose flour)
1 tablespoon sugar
1 teaspoon baking powder
½ teaspoon baking soda
½ teaspoon salt
Pancake Ingredients
1 tablespoon unsalted butter (melted)
1 egg (lightly beaten)
½ teaspoon vanilla
¾ -1 cup buttermilk
Instructions
Heat skillet to medium. Spray with non-stick cooking spray.

Mix dry ingredients together.

Add melted butter, vanilla, lightly beaten egg, and ¾ cup of buttermilk

Mix batter until just mixed. Do not over mix.

Add additional buttermilk if your batter is too thick.

Pour 4 inch pancakes on pan. Cook until bubbles in middle of the pancake pop. Flip.

Remove pancake from heat when other side is golden.

Serve while warm.
Notes
Double or triple the recipe and store the mix for later! Fun add in ideas: chocolate chips, blueberries, bananas.
Nutrition
Calories: 158kcal | Carbohydrates: 24g | Protein: 5g | Fat: 4g | Saturated Fat: 2g | Trans Fat: 1g | Cholesterol: 48mg | Sodium: 550mg | Potassium: 48mg | Fiber: 1g | Sugar: 1g | Vitamin A: 147IU | Calcium: 71mg | Iron: 1mg