Looking for the best things to do in San Diego with kids or without? The city has so many beautiful and historical attractions to visit. This list is perfect whether you're going to travel to San Diego and want to see the best San Diego tourist attraction or you live here and want to experience everything the city has to offer.
From wonderful architecture and art museums at Balboa Park to amazing animals at the San Diego Zoo and the Zoo Safari Park to a floating history museum, you'll find plenty to explore in America's Finest City.
COVID 19 ALERT: Before planning your visit, please check an attraction's website or Facebook page for its requirements or restrictions.
We moved to San Diego two years ago and have thoroughly enjoyed exploring our city. It's one of the best places to live or visit. Not only is the temperature mild and sunny all year, but there are endless things to do and explore!
Top Things To Do In San Diego
Let's get started exploring things to do in San Diego with kids or without. You could travel to San Diego and explore for a week without getting bored. These are our favorites, including what we think is the best San Diego tourist attraction. Don't forget to pick up a book to read for the trip here!
Our Must-Do In San Diego List:
Eat good Mexican food.
Visit San Diego's top tourist attractions.
See the beautiful sunset over the ocean.
Do one of the best hikes in San Diego.
Surf, boogie board, stand up paddle board, or kayak in the ocean.
How many days do you need to explore San Diego?
You'll want to spend at least 3 days in San Diego but I recommend a whole week. Expect to spend 2-3 days in good weather at the beach or doing water activities and the rest of the week exploring attractions or hiking. If you're doing a one day trip I recommend visiting Balboa Park half the day and the zoo half the day. Then watch the sunset on your way out of town.
When is the best time to visit San Diego?
We're known for our mild, sunny weather all year round. You can come any time of year and enjoy a wonderful vacation. If you want to spend any time at the beach I recommend late Spring through Fall. The winter months may have a few days hot enough for the beach but you won't want to enter the water without a wetsuit.
Search the Ocean at Old Point Loma Lighthouse
Visiting the beach at San Diego can be more than laying on a towel and sunning yourself. The Old Point Loma Lighthouse once stood as a sentinel over the mouth of the San Diego Bay, guiding ocean-weary ships into the city's harbor. Today, the Old Point Loma Lighthouse is part of the Cabrillo National Monument.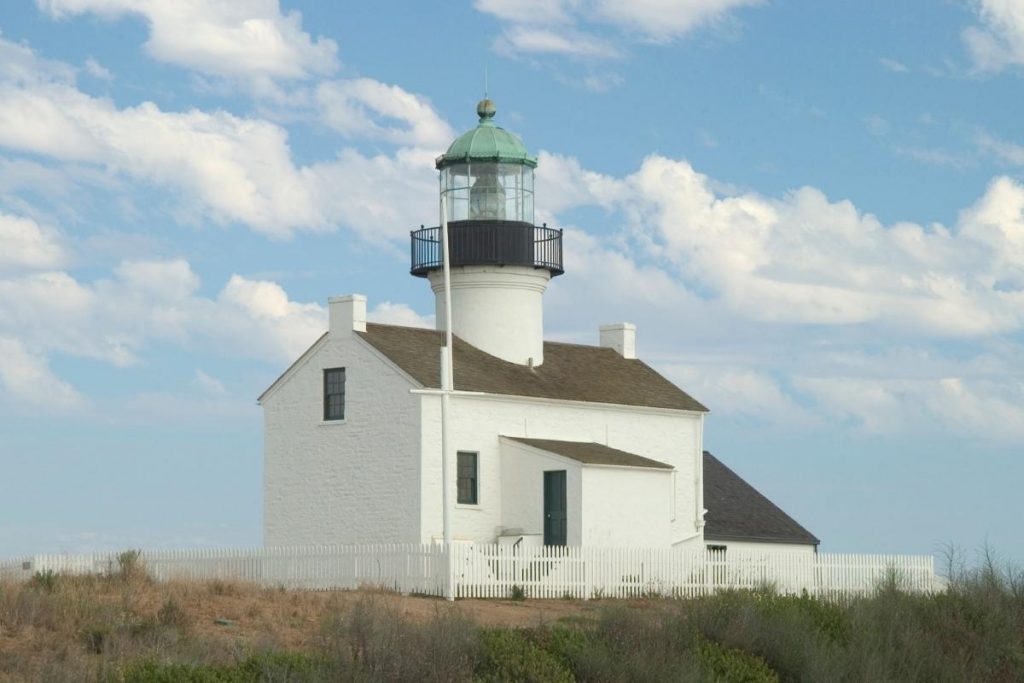 Tour the lighthouse, which served the area for more than 35 years in the mid-1800s. Take a look at the Pacific Ocean and enjoy the view that was once only seen by the lighthouse keeper. Your visit includes a look at life during the 19th century.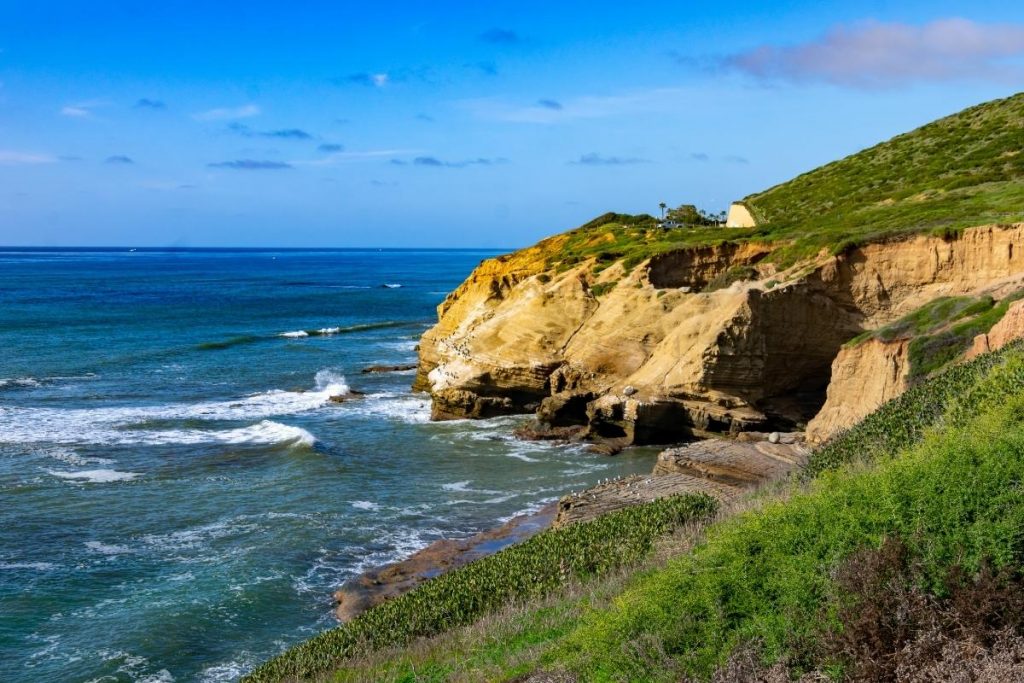 Point Loma has a beautiful, easy hike along the coast as well. Make sure to stop and enjoy the beautiful views. We love going on a clear day but even the foggy days are gorgeous. Make sure you check park hours when you drive in so you know what time the gates close.
Explore the USS Midway Museum

When you travel to San Diego, don't miss this one. Once the largest naval vessel in the world, the USS Midway served the United States as an aircraft carrier for nearly 50 years after it was commissioned in 1945. The ship's assignments included the South Pacific, where the crew helped rescue people fleeing South Vietnam after the country was overtaken by the North in 1975.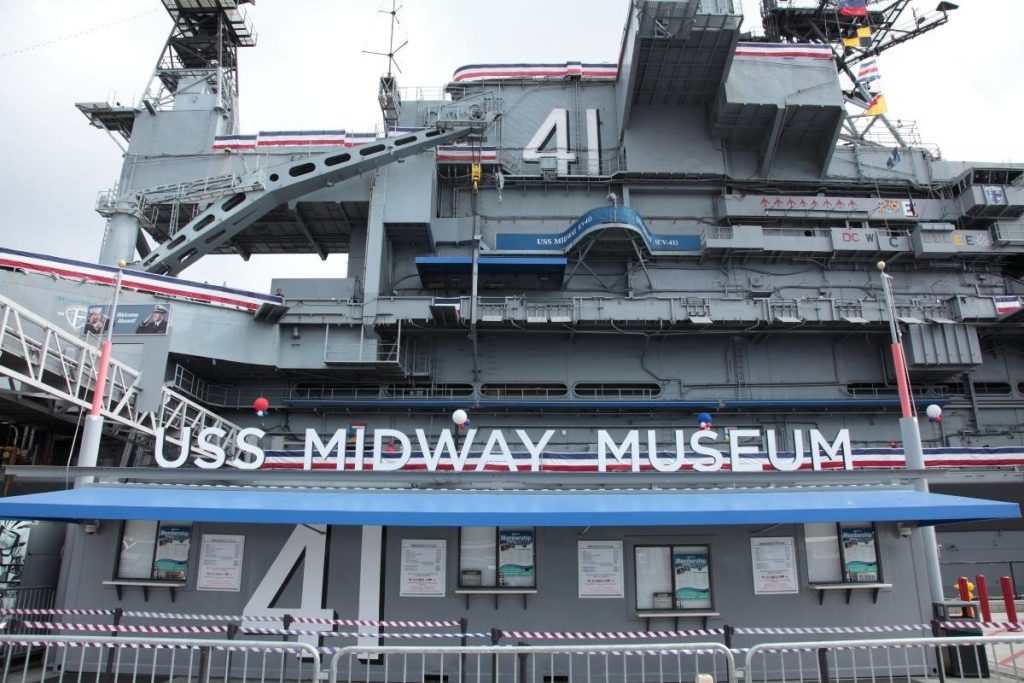 Decommissioned in 1992, the USS Midway opened as a floating museum in 2004. Immediately popular with tourists, the ship attracts about 1 million visitors annually.

The entire aircraft carrier is open for viewing, from the flight deck with the ship's bridge and aircraft, such as the F-4 Phantom and Huey helicopter, to the lower decks, where sailors lived and worked. You'll visit the command quarters and offices, as well as the enlisted sailors' living quarters. Check out the laundry room, brig, and the mess hall, where a table sits empty to honor the sailors lost or missing from war.
We spent hours here learning both from the free audio tour (just point your device at the item you want to learn about) and from in person classes from men and women who have worked on the aircraft carrier. Make sure you learn all about how planes take off and land on the deck.
While you're in the area, walk a few block to Seaport Village. It's full of touristy shops but it's a great place to get some souvenirs and take some photos.

Roam Balboa Park

Spread across 1,200 acres, Balboa Park invites history's visitors to check out its 17 museums and fertile gardens. Explore the San Diego Art Institute, which seeks to promote local and regional artists through rotating exhibits, while also sharing the area's culture. The Museum of Us seeks to explore humanity thorough multiculturalism.
After exploring Balboa Park's museums, enjoy a stroll through any of the 17 gardens. The Japanese Friendship Garden is a 12-acre symbol of peace between San Diego and its sister city Yokohama. As you walk along the paths featuring flowers, trees, and plants, enjoy the serenity the area brings. Along with a koi pond and Japanese stone lanterns, the garden offers an international flavor to Balboa Park.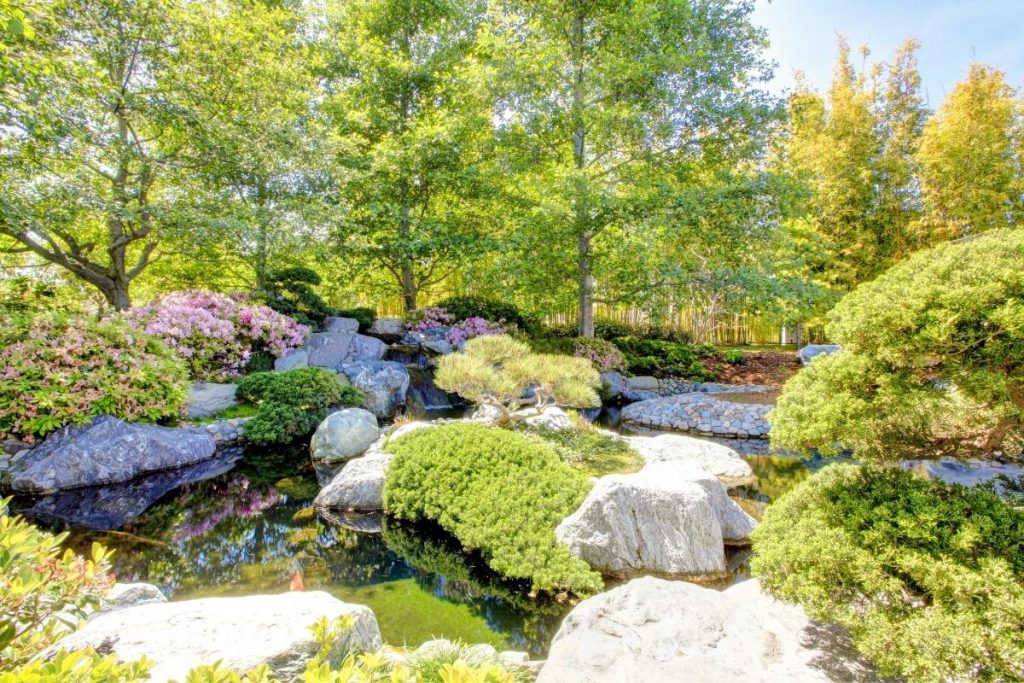 The Marston House and Gardens features a walk through history. Built in the early 1900s, the Marston House covers more than 8,500 square feet and includes two floors and an attic, six bedrooms and four bathrooms. Designed in the Romantic style made popular in England, the home was converted to a museum in 1987. With five acres of gardens featuring colorful flowers, well-groomed plants and bushes, as well as tall trees proving shade, you'll enjoy both the estate's architecture and gardens.
See the Animals at San Diego Zoo and Safari Park
Considered one of the best zoos in the world, no trip here is complete without a visit to the San Diego Zoo and Wildlife Park. It is in Balboa Park so you should do it on the same day you go to Balboa Park or take a few days to get through it all.
It's easy to spend a day or longer here, checking out some of the most unique animals in the world, such as the Bataleur Eagle, with the traits and skills of vultures and eagles, and the Chinese alligator. The San Diego Zoo is home to more than 3,500 animal species, with some of them featured in animal shows.
The San Diego Safari Park is just outside San Diego in Escondido and is perfect if you're looking for things to do with kids in San Diego. With nearly 60 types of animals freely roaming their areas of the park, you'll want to keep an eye out for your favorite – maybe a lion? Cheetah? How about a cute meerkat or two? You can reserve your own safari tour for a group up to six and even reserve a behind-the-scenes tour. Of course, these tours are available at an extra fee.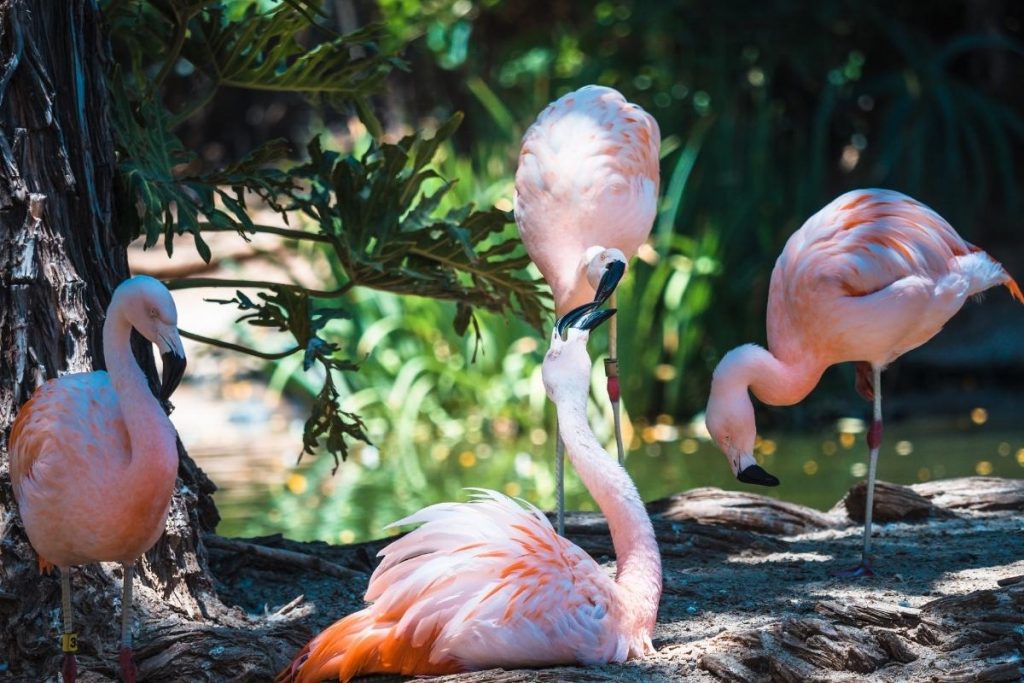 Shop and Dine in the Gaslamp Quarter
Covering about 16 blocks in downtown, the Gaslamp Quarter is a popular destination for shopping and dining, as well as an exciting nightlife. With boutiques – such as Dream Boutique – local and national shops, including It's Sugar candy and novelty, dotting the vintage buildings, the Gaslamp Quarter is an enticing area to visit during the day, if you don't prefer clubs and loud music.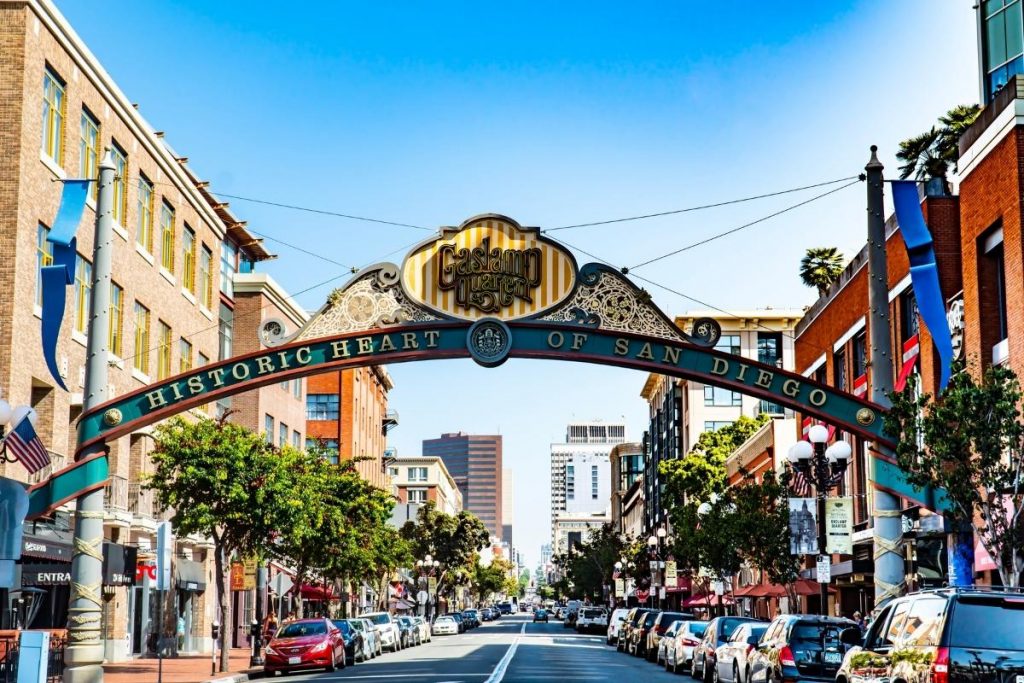 The area is perfect for enjoying dinner at a local restaurant, such as La Puerta, Chocolate Cremerie or Taqueria Los Chuchys, as well as national chains. Don't forget to snap a photo in front of the Gaslamp Quarter arch.
San Diego Tourist Attraction Honorable Mentions
If you have more time when you travel to San Diego make sure you check these out as well.
Belmont Park – This beachside amusement park in Mission Beach first opened in 1925. It has a traditional boardwalk vibe with rides, games and food.
Bay Cruises – There are many short or long cruises you can enjoy. From whale catching tours to fishing and sunset cruises.
Old Town San Diego – This little area is a mile long full of shops and buildings preserved like they were when it was first settled by Europeans. Learn a little about the Spanish settlements to the gold rush and the colonization by the Catholic church. Plus enjoy traditional foods and souvenirs.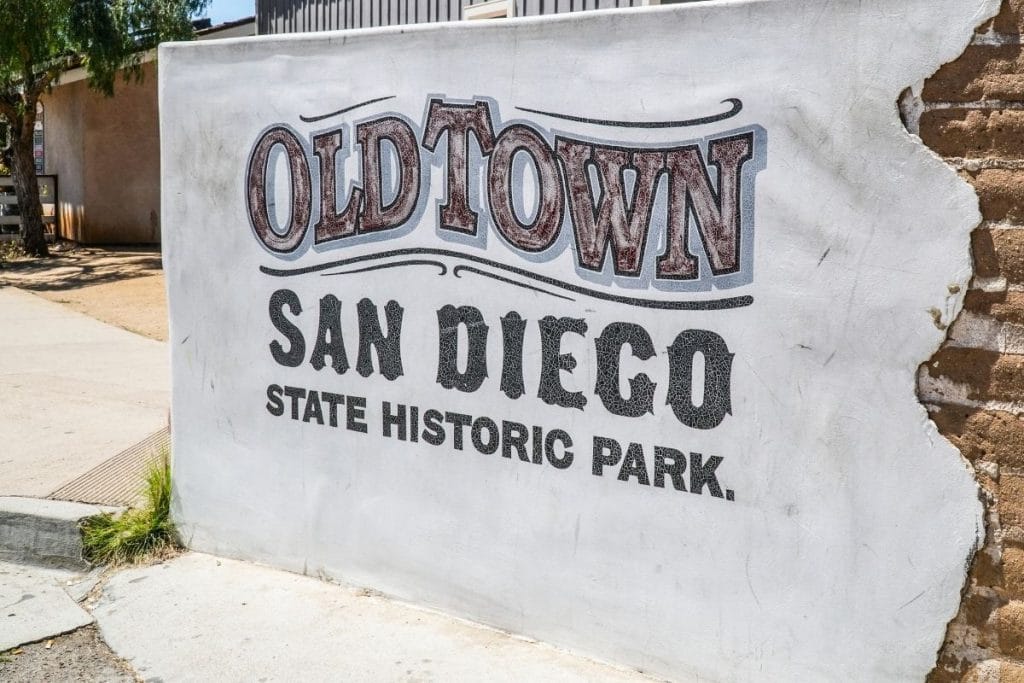 San Diego is a great destination for everyone – families, couples, and friends. You'll find something fun to do regardless of your interests. And, when looking for a day trip, the city lives up to its nickname as America's Finest City, as it has just what you're looking for.
More Posts You'll Like