If you're in the San Diego area, the last thing you want to do is stay indoors. With beautiful weather and San Diego trails, it's always a good time to take a hike after you've seen the best attractions in the city. Of course, the main question is which trail to take today. Here's a look at the best hikes in San Diego. There's something for everyone. From a Torrey Pines hike to Cedar Creek Falls to Los Peñasquitos Canyon trail there's something for every fitness level.
Each San Diego trail below is rated for difficulty. I've also included location, parking and fees information, and whether or not you can (or should) bring your dog.
Tips Before You Hike In San Diego
Hiking in San Diego can be different than other parts of the country. There are a few things to watch for if you aren't used to the area.
Heat: It might be cool if you take off in the morning but it can get very hot. Prepare for heat. Wear layers and bring plenty of water. An insulated water bottle will keep your water cool all day. Pack sunscreen and a hat as well.
Rattlesnakes: This is rattlesnake country. Snakes are cold blooded so they'll come out in the morning to sun on the trail. During the heat of the day they're usually in the shade. Keep an eye out.
Protect your feet: I know it's sunny but put trail shoes on your feet. Flip flops and sandals are not safe on most trails.
Parking: Know how much parking fees are before you go. Many trails are part of a park system and are not free to park. Some will take state or national park passes. All 4th graders qualify for the free National Park pass. All parking information is included with each of the best hikes in San Diego below.
What do I do if I see a rattlesnake on the trail?
Back away. Rattlesnakes aren't aggressive to people unless they feel threatened. They are shy of larger animals and people. If they sense you they'll try to escape so make sure you give them room to do so. Don't try to scare them or push them with a stick. To warn them of your arrival you can try stomping from a distance so they feel your vibrations and leave.
Don't miss the Best Places To Visit In San Diego.
The Best Hikes In San Diego
Keep scrolling through all the San Diego trails or click the link to find the San Diego hike you want to read about.
---
Torrey Pines State Natural Reserve
With 2,000 acres, Torrey Pines State Natural Reserve in La Jolla offers hikers an opportunity to explore a rare wilderness area in an urban setting. You can stand inches from the Pacific Ocean as it crashes against the walls of the bluffs hugging the sea. Torrey Pines hikes offer magnificent views of the ocean and the area with overlooks on trails, such as the Guy Fleming Trail, as well as the High Point Trail.
The state reserve features about five miles of trails, ranging from easy to steep. But, the views of the ocean, vistas, and landscape make a Torrey Pines hike one of the best places to hike in San Diego.
Length: 3.3 miles of trails.
Dogs: No
Location: La Jolla
Difficulty: Easy
Parking: Lots are located at the South Beach entrance and at North Beach. Two small lots are near the Lodge. If you park in the lower lots the walk up the hill to Torrey Pines hikes and trails is steep but paved. Parking in the lots is up to $25 depending on demand. There is sometimes free street parking nearby. You can also buy an annual pass to California State Parks.
---
Potato Chip Rock via Mount Woodson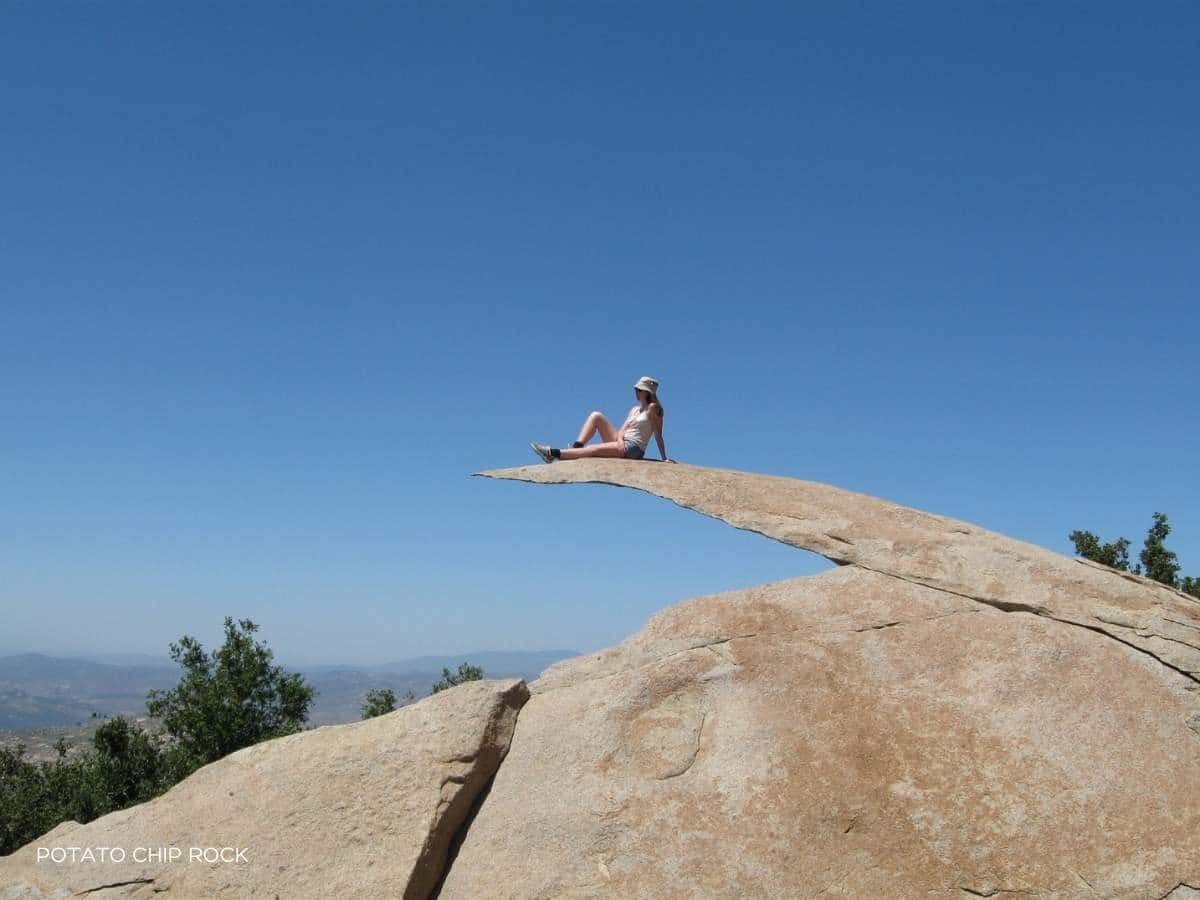 With rocks serving as steps along the trail, hikers enjoy exploring the area and taking in the panoramic views they find along the Potato Chip Rock via Mt. Woodson Trail. An 7.3-mile round trip, the ultimate goal of the 2,000-foot climb is Potato Chip Rock, a thin slice of rock that extends outward, offering a perfect spot for views of the Poway area, as well as great selfies. Dogs are allowed on the trail, but need to be leashed. This is one of the most popular and best hikes in San Diego.
Length: 7.3 miles round trip
Dogs: Yes
Location: Poway
Difficulty: Hard
Parking: From Espola Road go to the Lake Poway entrance. On weekdays access to Lake Poway is free. On weekends, for non-Poway residents, the fee is $10.00 for all day.
---
Los Peñasquitos Canyon Trail
Breathtaking views await during a hike along the 7-mile loop at Los Peñasquitos Canyon County Preserve in Poway. The Los Peñasquitos Canyon trail includes a waterfall providing a scenic backdrop, the trail takes hikers through an area where you can find prehistoric remains, as well as traces of the Native American historical influence. Among the canyon rocks, you'll find Sycamore tree groves and a freshwater marsh, home to herons and other birds. You may even see mule deer, bobcats, and coyotes among the wildlife that call the area home. Dogs are allowed along the Los Peñasquitos Canyon trail, but must be leashed.
Length: 4.7 miles
Difficulty: Easy
Dogs: Yes
Location: San Diego
Parking: To get to Los Peñasquitos Canyon trail, take I-15 and exit at Mira Mesa Blvd. Head west and turn right on Black Mountain Rd. Turn left on Canyonside Rd. Parking is available here. Check the trail map for other parking areas.
---
Cedar Creek Falls (Devil's Punchbowl)
A San Diego trail, the 3-mile Cedar Creek Falls trail requires a federal hiking permit. While the trail offers some of the most beautiful scenery you'll see in the San Diego area, such as the Chaparral Hills, it is a steep decline. Weather can be challenging, with temperatures climbing above 100 degrees, even near the falls and the Devil's Punchbowl swimming hole. You'll want to pack plenty of water and sunblock for the hike.
Length: 5.2 miles round trip (8.5 miles to the top of the falls)
Difficulty: Hard
Dogs: Not recommended
Location: Poway
Directions: 15531 Thornbush Road, Ramona. Trail is at the end of the road on the left.
---
Three Sisters Waterfalls
With three cascading waterfalls and their swimming holes, the Three Sisters Waterfalls trail is a popular and challenging San Diego hike. Experienced hikers in good physical condition are recommended along the trail. Dogs are allowed but definitely not recommended. With a 1,000-foot descent to the falls, the hike down isn't an issue; the climb back to the top of the 4.3-mile out and back trail is the true challenge.
While it is one of the best hikes in San Diego, ill-prepared or inexperienced hikers have often had to be rescued by San Diego County authorities. So, ensure you're capable of handling the terrain and heat before embarking on the trail. Going in cooler months in the mornings is recommended. Once at the Three Sisters, hikers find the San Diego trail to be one of the best in California, with beautiful view of the falls cascading down the canyon to the bottom pool.
If you want to experience gorgeous views and nature but aren't up for this one, physically, consider the Torrey Pines hike.
Length: 3.5 miles out and back
Difficulty: Hard
Dogs: Not recommended
Location: Pine Valley
Parking: No parking fees. Google GPS will take you to the trailhead. A vehicle good on bumpy roads is recommended.
---
Cowles Mountain
A three-mile round trip, a hike to the summit of Cowles Mountain offers one of the best views in the region. Nearly 1,600 feet above sea level, the summit allows you to see downtown San Diego (13 miles away), Mexico, and Orange County. The hike to the top requires moderate exercise and is popular with runners and bicyclists, as well as hikers.
Take your GoPro to get good footage of the views on your hike. Take in the views of beautiful wild flowers during your adventure. As part of the Mission Trails Regional Park, Cowles Mountain is one of about 40 miles of trails at the park.
Length: 3 miles out and back
Difficulty: Moderate
Dogs: Yes
Location: Santee
Parking: Google GPS will take you to the trailhead 8282 Mesa Rd, Santee, CA 92071. Free street parking. The beginning can be a bit confusing. The Hiking Guy has photos of where to go.
---
Cabrillo National Monument
With two trails, hikers can explore some of the most beautiful scenery along the Pacific Ocean at Cabrillo National Monument. It was also included in my list of the best places to visit in San Diego.
Bayside Trail combines history with beauty as you'll start your adventure near the Old Point Loma Lighthouse, which once guided mariners in the Pacific Ocean. A 2.5-mile round trip, Bayside Trail ends overlooking Ballast Point, where Juan Rodriguez Cabrillo landed his boat in 1542 in what is believed to be the first European contact on the west coast. The trail follows a downhill slope that's easily navigable by people of all ages and skill levels. The walk back up the 340-foot elevation may challenge some people, but there are benches along the way, on which you can rest and take in the views of the surrounding areas. There are no restrooms along the trail and people are encouraged to bring their own water.
A one-mile loop, the Coastal Trail takes you along the peninsula to the tidepool access area. You'll see colorful wild flowers and cross vistas taking you near the ocean. You'll notice the geographical change during the moderate-level hike.
Length: 1 mile or 2.5 mile round trip
Difficulty: Easy
Dogs: Yes
Location: San Diego
Parking: Google GPS will get you there. You will need to pay the daily fee or have a Cabrillo National Monument annual pass. They also accept the America The Beautiful pass including your 4th grader's free Every Kid Outdoors pass.
---
Cuyamaca Rancho State Park
Cuyamaca Peak is the second highest peak in the San Diego area at almost 6,500 feet. While there are different trails you can take to reach the peak, Azalea Glen Loop at Cuyamaca Rancho State Park offers a moderate hike along a 7.7-mile loop. As you traverse the dirt trail, you'll move from tall trees to the former Cedar Fire area. Once at Cuyamaca Peak, you'll love the view when, on a clear day, you can see for several miles, including the Coronado Islands and Palomar Mountains, as well as the Santa Rosas.
If you enjoy this you'll also enjoy the Los Peñasquitos Canyon trail.
Length: 6 miles round trip
Difficulty: Moderate
Dogs: Yes
Location: Julian
Parking: Use your GPS Paso Picacho Campground, Julian, CA, 92036. There is a park entry fee or use your California State Park Explorer Annual Pass.
---
Swami's Beach
Known as a surfer's paradise, Swami's Beach is also an excellent hiking trail. Part of a string of beaches, including South Carlsbad and San Elijo, Swami's Beach trail offers picturesque views of the Pacific Ocean and the sea cliffs above it.
Park your vehicle at Swami's Park and descend the staircase that takes you to your starting point. Walk about 1.5 miles south to the tidal pools near San Elijo State Beach. The hike, depending on the tide, is considered a moderate. During high tide, you'll have less beach space to enjoy, so plan accordingly. I included this in the list of best hikes in San Diego because it's a great one for people who want to do a little hiking, a little swimming and even catch the San Diego sunset. If you love this you'll also love a Torrey Pines hike.
Length: 1.5 miles round trip
Difficulty: Easy
Dogs: Yes
Location: Encinitas
Parking: Use your GPS to park at Swami's Beach. There is free parking. Or park at Cardiff State Beach and hike to Swami's. Cardiff State Beach is one mile south of Cardiff on Old Highway 101. You may use your California State Parks Explorer Pass (like at the Torrey Pines hike and the Cuyamaca Rancho State Park hike) or pay the daily fee. Remember that all beach parking lots get very busy.
---
Balboa Park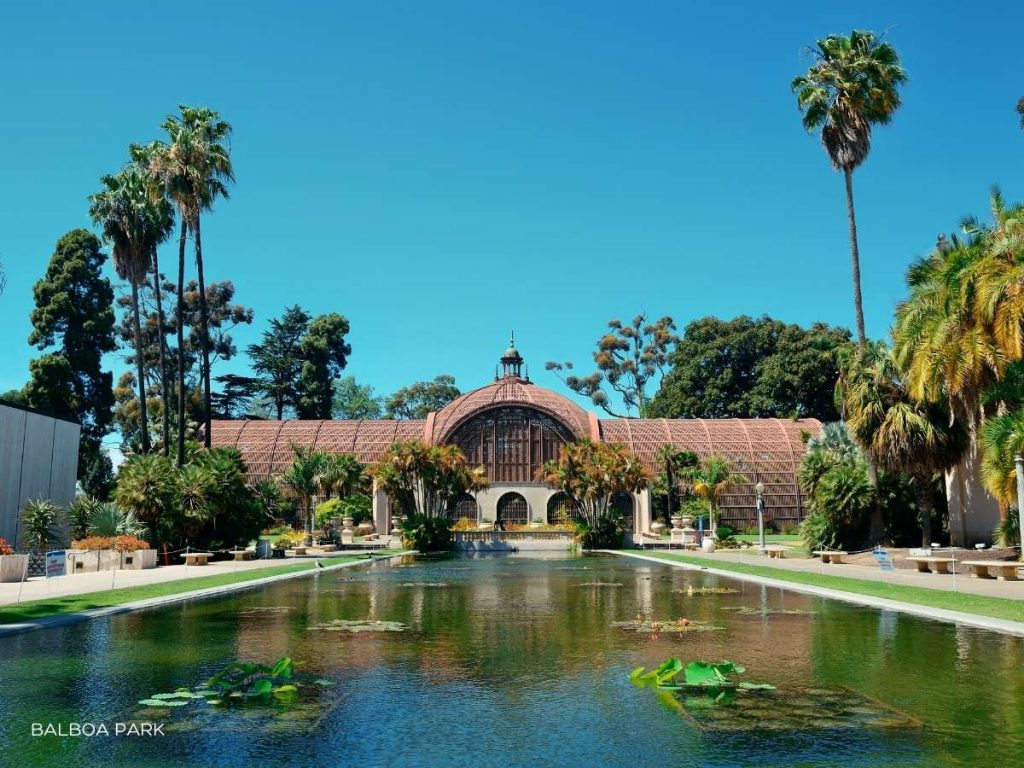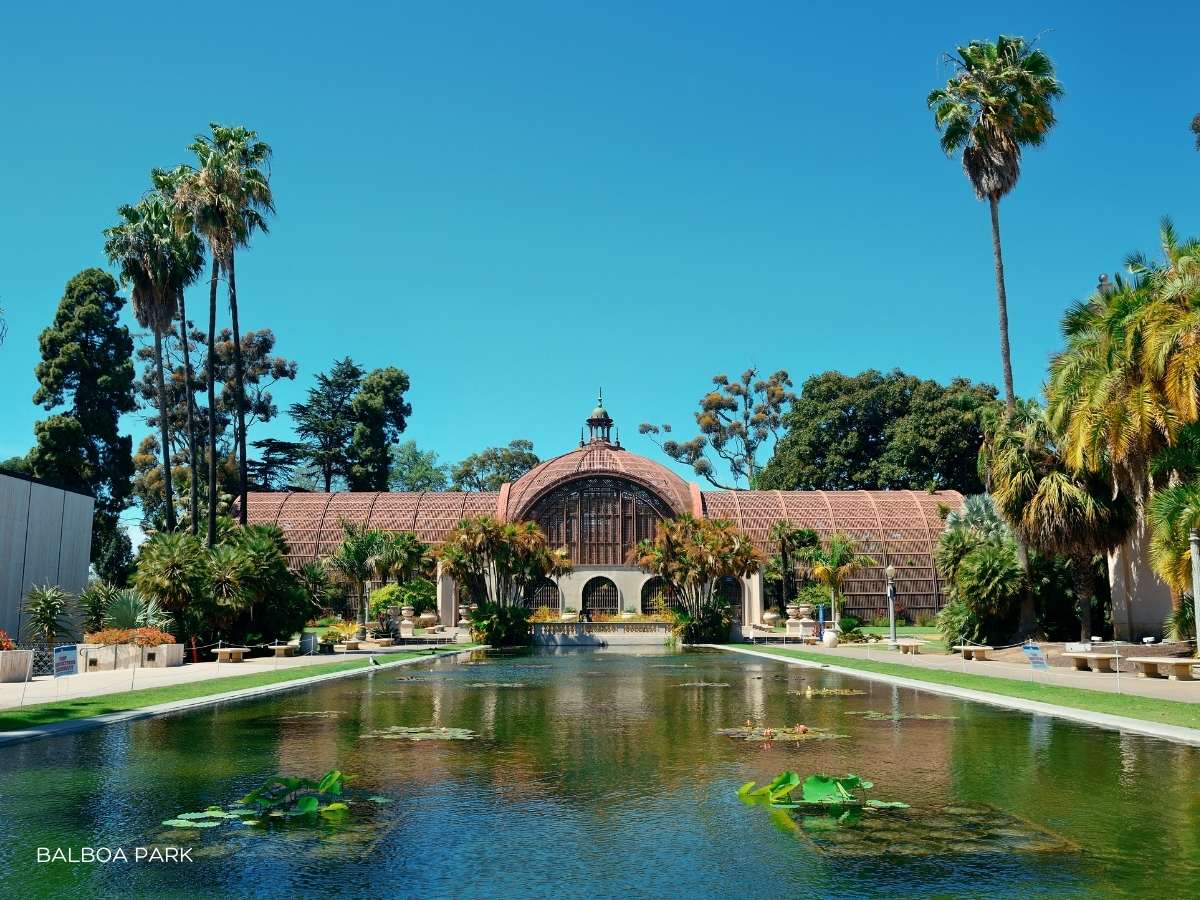 With almost 20 trails covering more than 60 miles, Balboa Park offers hikers impressive trails, each with natural beauty and sometimes an opportunity to intertwine with other park attractions. While the number of trails offer great variety, Balboa Park has five main gateways to them – Golden Hills, Marston Point, Morley Fields, Park Boulevard, and Sixth and Upas. Trails run from half a mile long to almost seven miles, with a mix of paved paths to dirt trails. Balboa Park is on my list of best things to do in San Diego so make a full day of it.
Length: 19 hiking trails span 65 miles
Difficulty: Easy to Moderate
Dogs: Yes
Location: San Diego
Parking: Use the Balboa Park map to determine which parking lot is best for you.
---
More Great Travel Tips
---
San Diego is home to some of the most challenging, yet beautiful, trails you'll find to explore. While most people prefer moderate level San Diego trails (Torrey Pines hike, Los Peñasquitos Canyon trail, or Swami's Beach), you can challenge yourself with some serious hiking opportunities in the region (Cedar Creek Falls, Three Sisters Waterfalls), but you'll want to be well-prepared for those. Regardless of the trail you choose to follow, your hike is sure to include picturesque views of the San Diego countryside and Pacific Ocean. As you plan your hiking adventure, remember to pack plenty of water, sunblock, and a few treats to enjoy along the way. Safe travels.