Arts and crafts are a great way to get your kids' creativity going! With Summer on its way, take the creativity outside with these fun outdoor arts and crafts ideas for kids. There are activities appropriate for toddlers, preschool aged kids and grade school aged kids. Parents will even enjoy these outdoor art projects.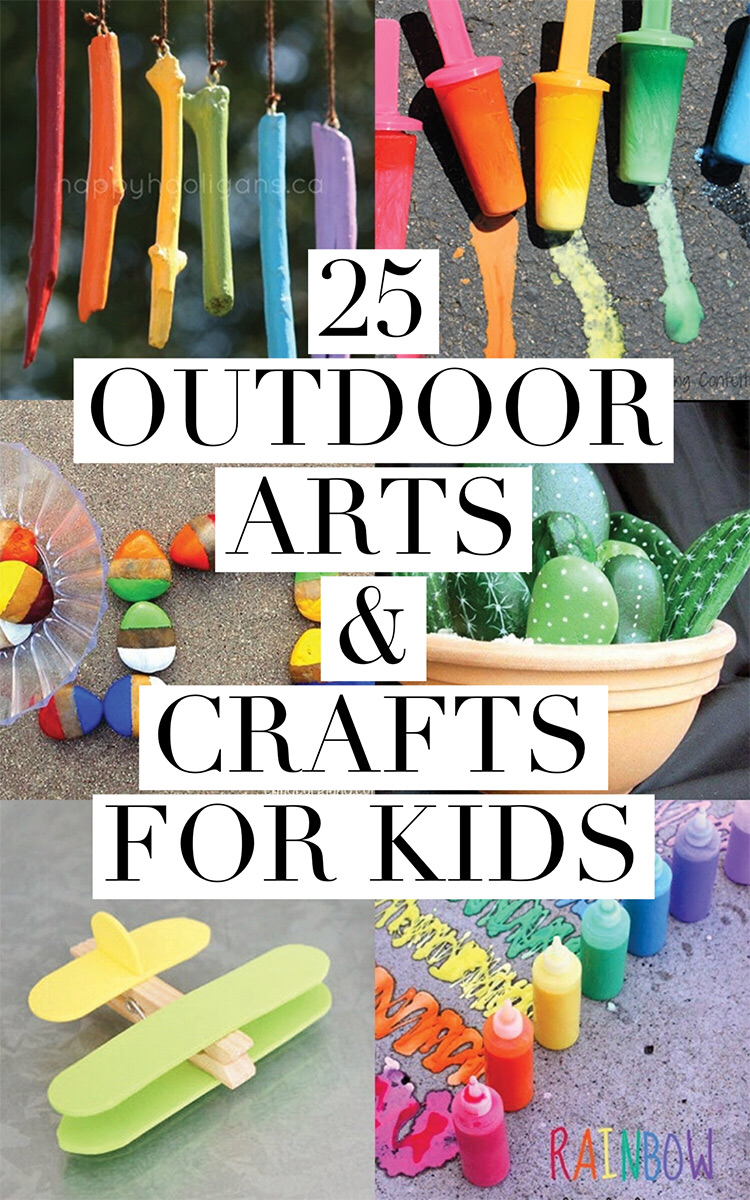 The following outdoor art activity tutorials will give you inspiration for outdoor fresh air playtime and art time. I've included some of my favorite outdoor art ideas to do during the summer months.
Have a garden hose nearby to hose down the mess from all these fun outdoor activities.
Outdoor Craft Ideas
1. Sun Print Cards
I love the idea of making art with nature. This is an amazing project from Garden Therapy. I will definitely be trying this out this summer!! Use nature to create beautiful art. You can use branches, feathers, leaves, flower petals or whatever you like.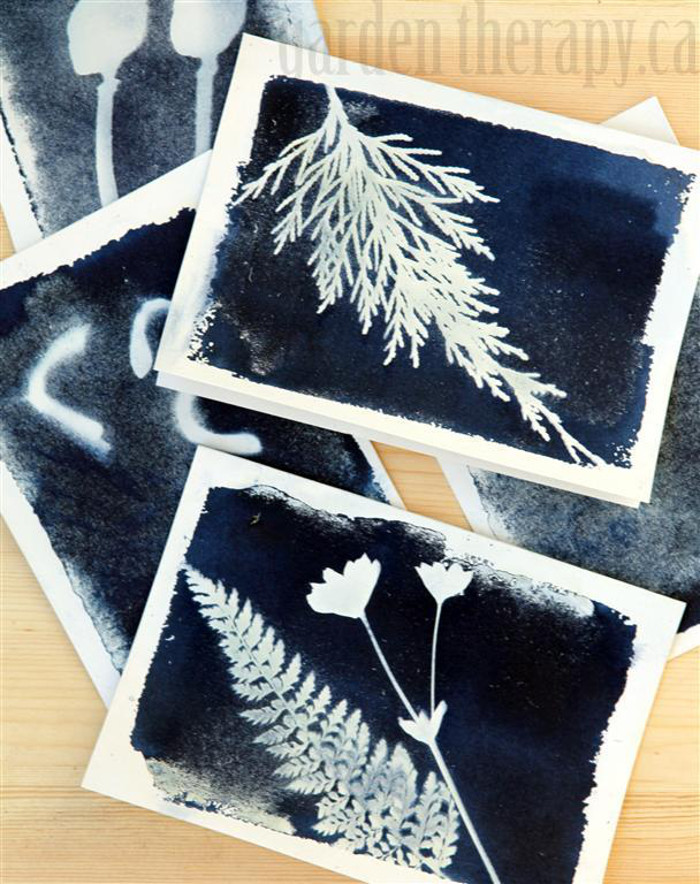 ---
2. Nature Sculptures
See what unique textures and shapes leaves, rocks and other items you find in nature have with this fun project from Plum Pudding! These nature sculptures will be fun for children of all ages. Find the pieces of nature you want to use by taking a nature walk.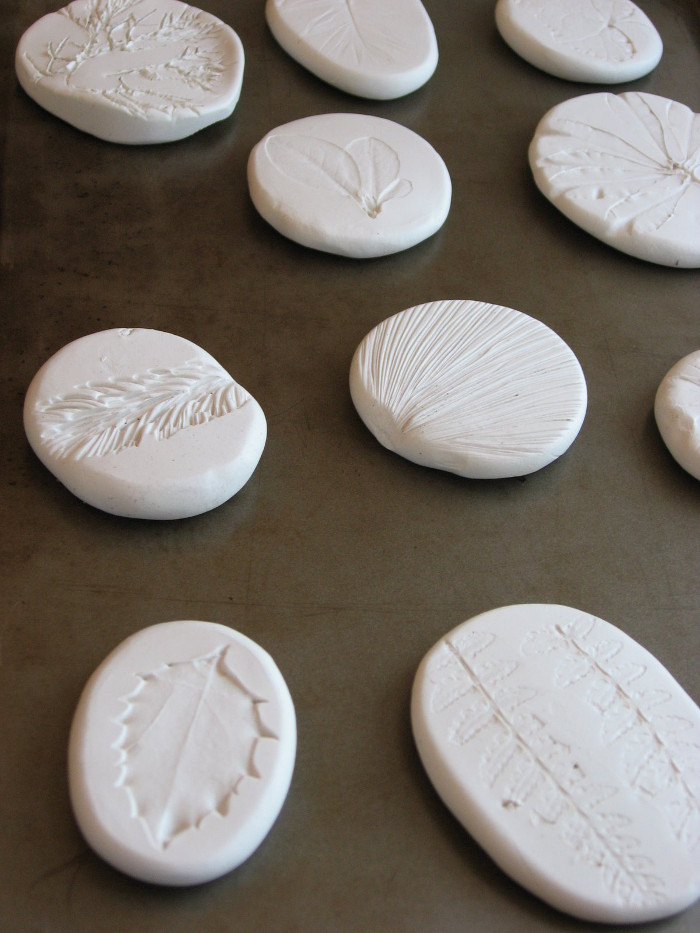 ---
3. Stick Wind Chimes
This craft from Happy Hooligans would be such a fun one for the kids to help with! I know that my kids have no problem collecting sticks pretty much anywhere we go… Plus it is something that you can use all Summer long.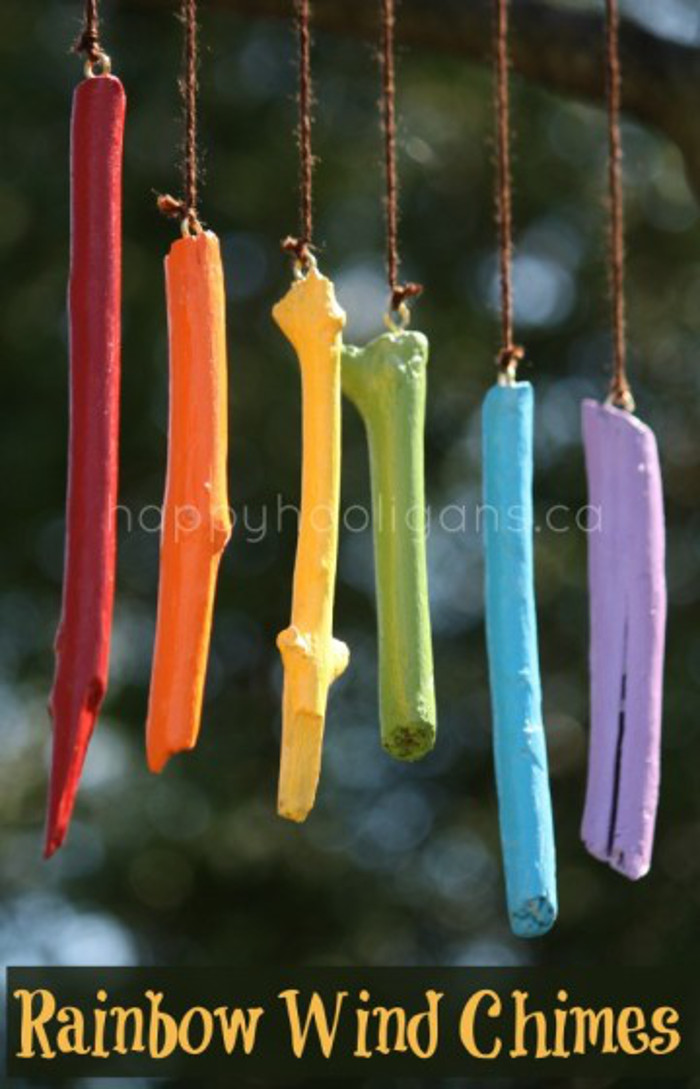 ---
4. Bubble Paint Flowers
I would never have guessed that you could make this beautiful piece of art with bubbles. The flowers look amazing!! Check them out on A Piece of Rainbow. The little kiddos will love making these with an adult!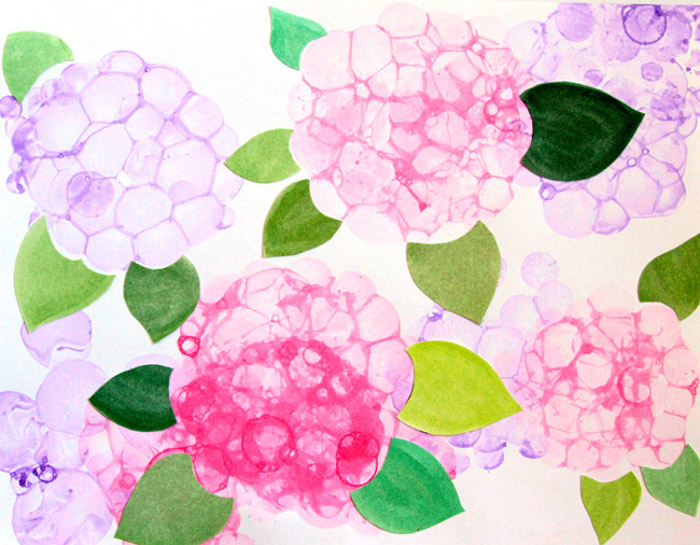 ---
5. Spiral Suncatchers
If you have a girl who loves beads, like my daughter, this would be such a fun craft. I can only imagine the rainbows that the clear beads would make as they reflect the sunlight. How pretty!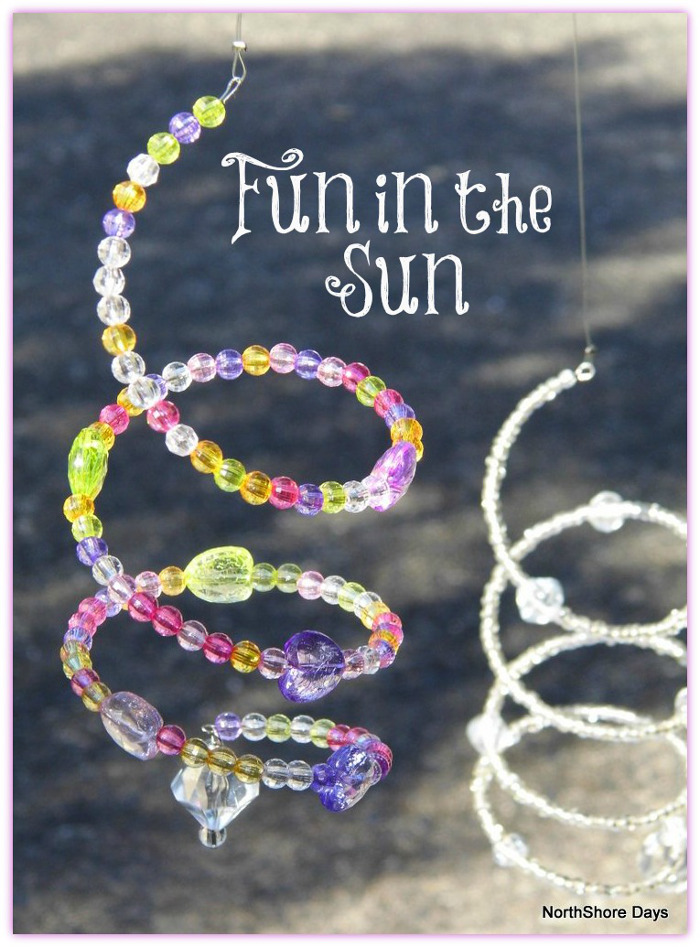 ---

---
6. Tic Tac Toe Rocks
Art project, plus a game that will last all Summer long! I love these bug inspired Tic Tac Toe rocks from Chicken Scratch NY. You could add some googly eyes for extra fun.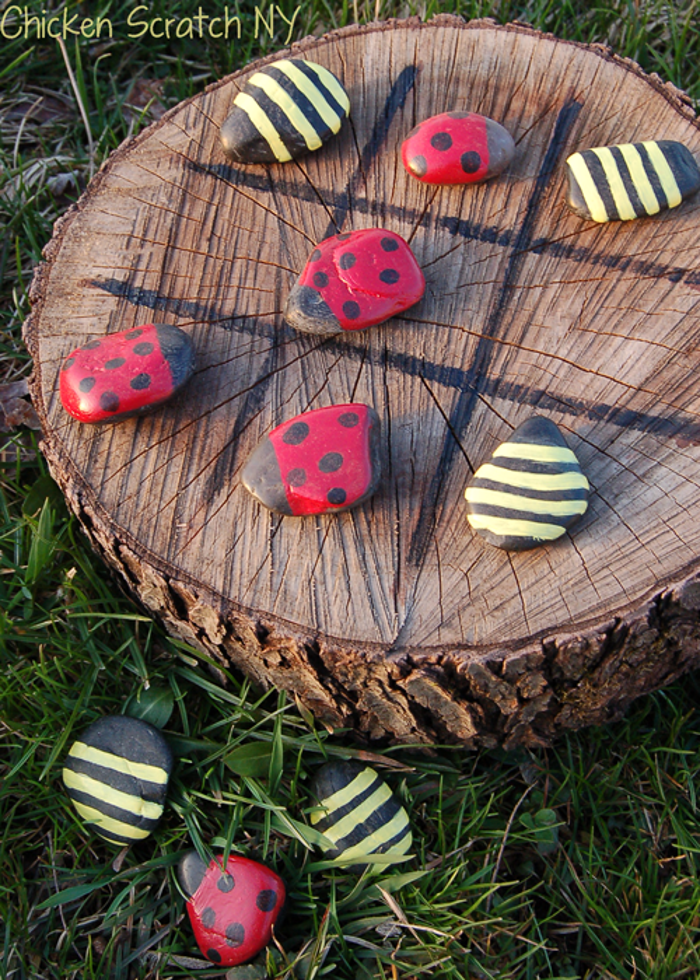 ---
7. Bouncy Balls
How neat are these DIY Bouncy Balls?! I love this fun project for kids from The 36th Avenue!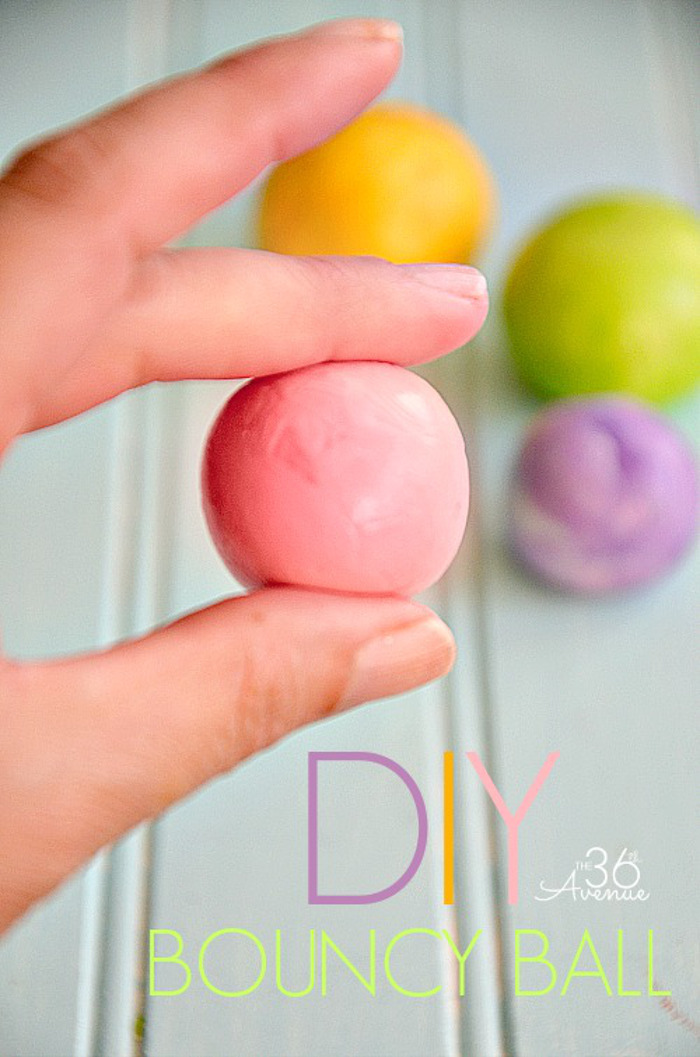 ---
8. Acrylic Paint Sun Prints
Bright, pretty, nature filled artwork!! I love this project. You definitely need to go check out how to make these beautiful paint sun prints!! These are a new fun take on a leaf rubbing.
---
9. Salt Dough Snakes
Have a cute boy that loves animals of all kinds??? This project would be so fun for a little boy to make, decorate and play with all by himself! Frugal Fun for Boys definitely knows how to craft with boys!!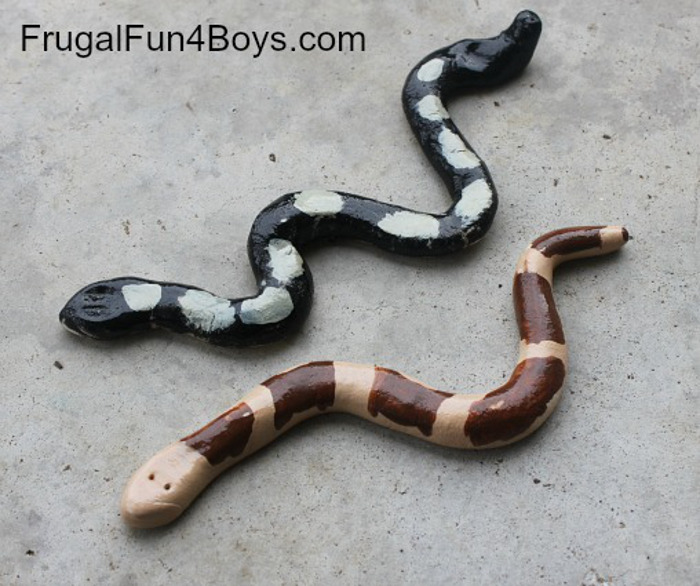 ---
10. Painted Rocks
There are so many fun and exciting ideas for kids in this post!! Can you believe these fun painted rocks? A Girl and a Glue Gun rounded up a bunch of other unique rock painting projects. You could also paint acorns or pine cones.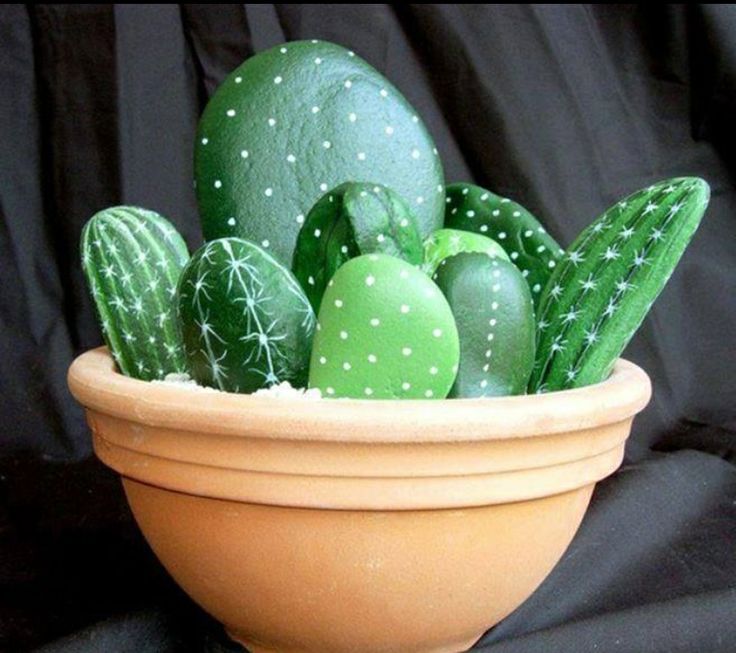 ---
11. Popped Bubble Art
This is such an easy and simple art project for kids. My kids are just learning how to blow bubbles on their own and I can just imagine their fascination with the outcome of these colorful bubbles!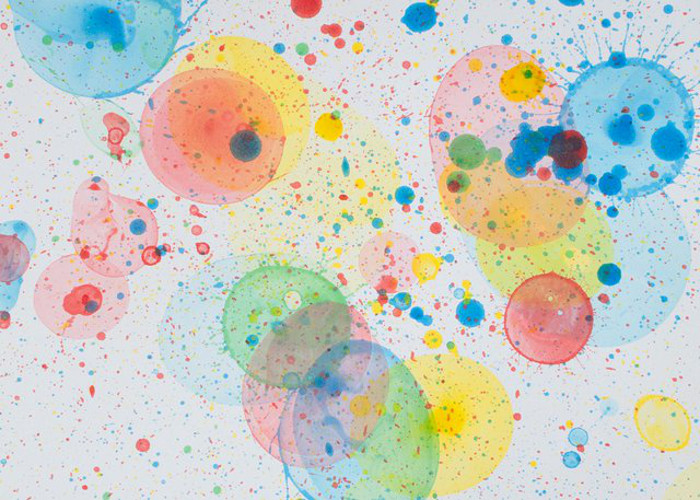 ---
12. Popsicle Chalk
This is such a fun and cute idea for kids who love to paint! You'll have to check out the ingredient list from Reading Confetti to see how to make popsicle chalk that doesn't stain your kids fingers!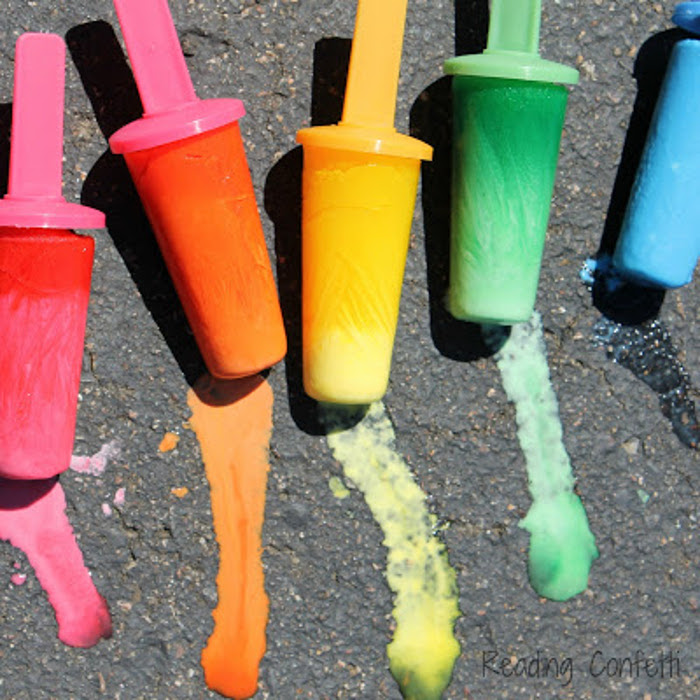 ---
13. Catapult Painting
Um, I believe that this art project would help you achieve the BEST MOM EVER status!! Catapults are definitely fun on their own, but add a little paint and you are set! Thanks Fun-A-Day for the great idea. Grab a large piece of paper and try this. Or you can try painting with paint filled eggs.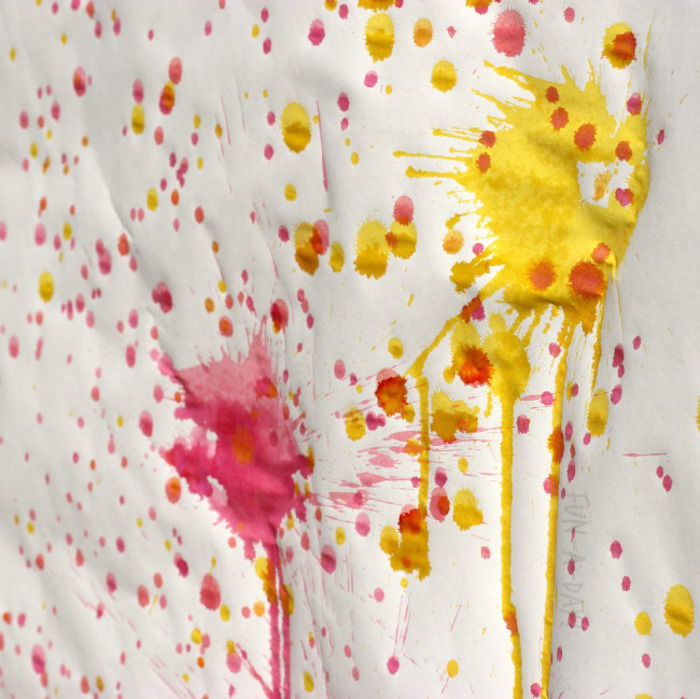 ---
14. Airplane Craft
DIY Inspired knows that it doesn't take much to satisfy a little boy on a hot Summer day. These airplanes would be so easy to make and would entertain my little boy for days.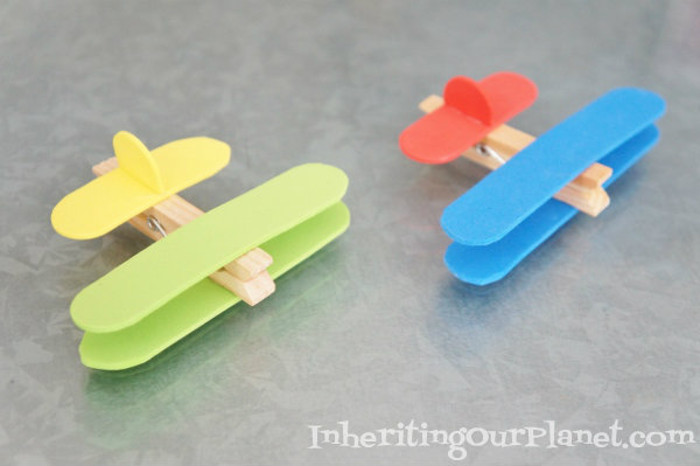 ---
15. Art Using Rain
I love this idea for an outdoor activity when it's not super hot and sunny. In fact, this project requires a little rain! It is very easy and would be so fun to watch the process as the rain assists you in creating a fun art project!
---
16. Rainbow Bubbles
There are several fun and simple ideas here on how to paint with bubbles and how to paint bubbles. The Gift of Curiosity shows how to get creative with liquid water colors.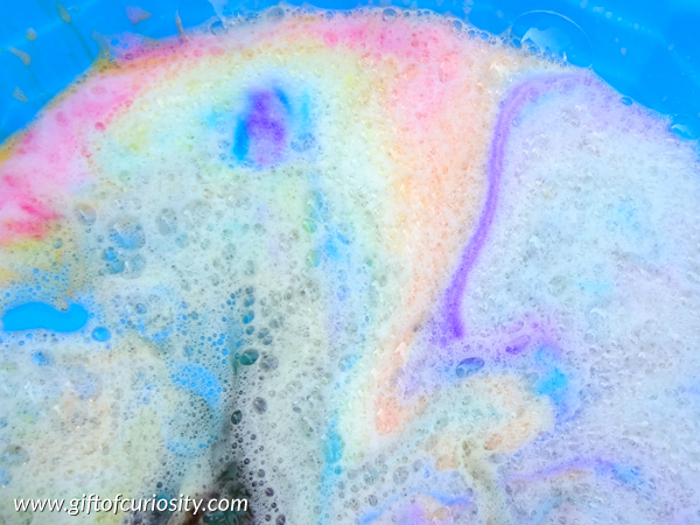 ---
17. Erupting Sidewalk Chalk Paint
Learn Play Imagine (link no longer works) takes chalk painting to the next level by providing a second step to the whole thing. First you paint with chalk. Then you make it erupt! Watch and learn. Try this tutorial from Argo Foods.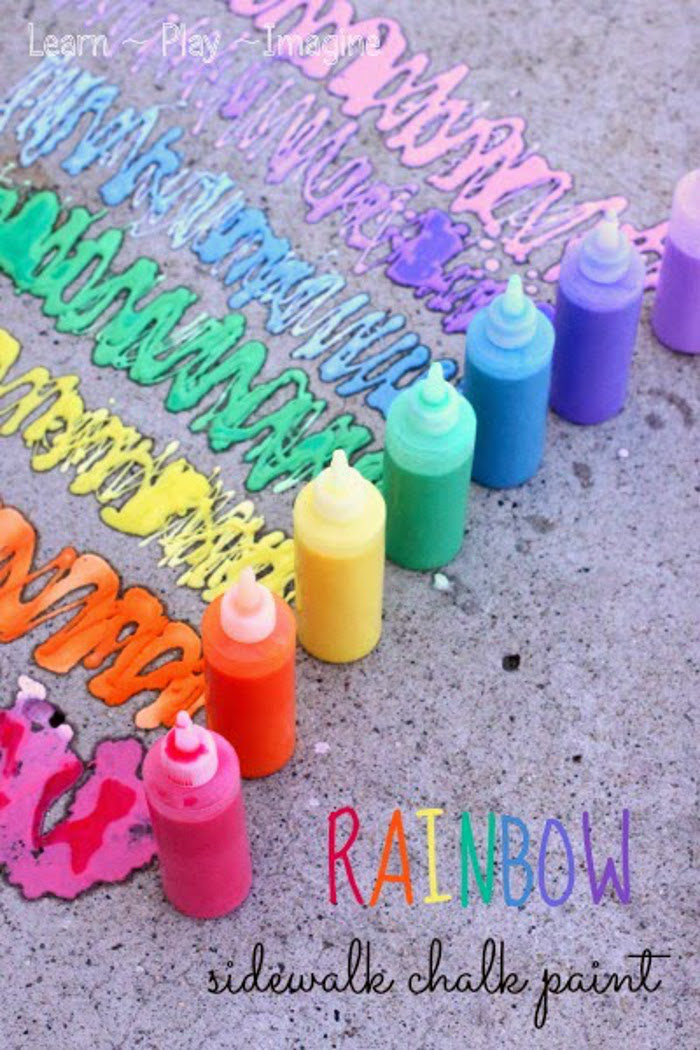 ---
18. Wind Chimes
This is a craft that nobody could mess up! Take the craftiness outside so you're not concerned about the mess and then let the kids decorate!! I love all the clever ideas from Hands On As We Grow for getting the tin cans to make different clanking noises.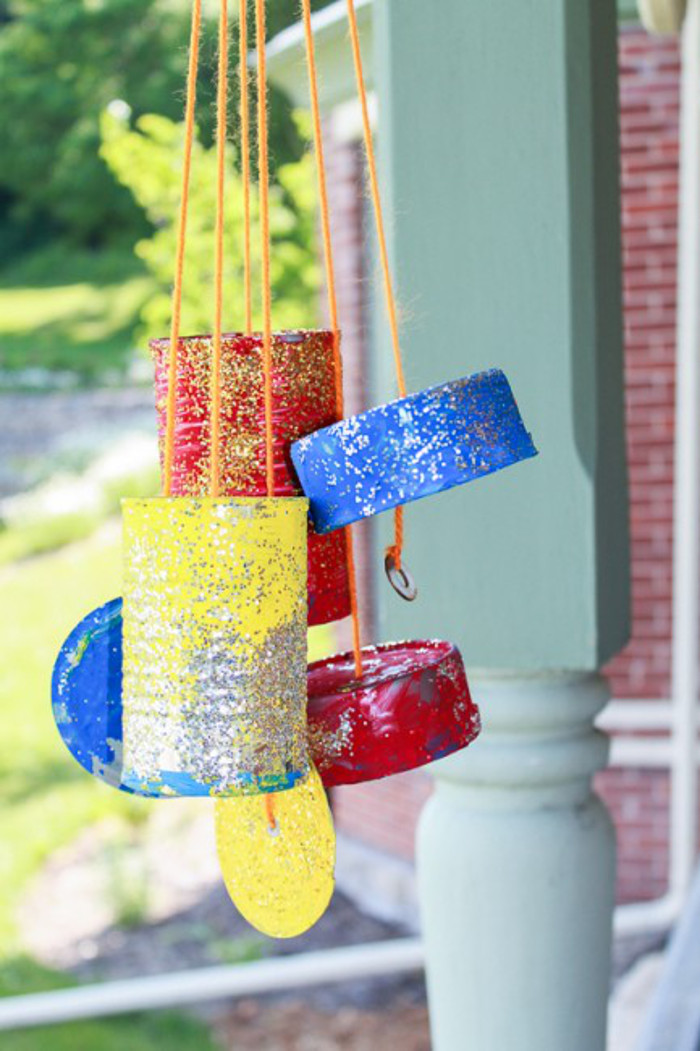 ---
19. Glass Sun Catcher
This art project from Kids Activities Blog is beautiful and easy for kids to make on their own. I love the idea of hanging it in your kids room to brighten it up!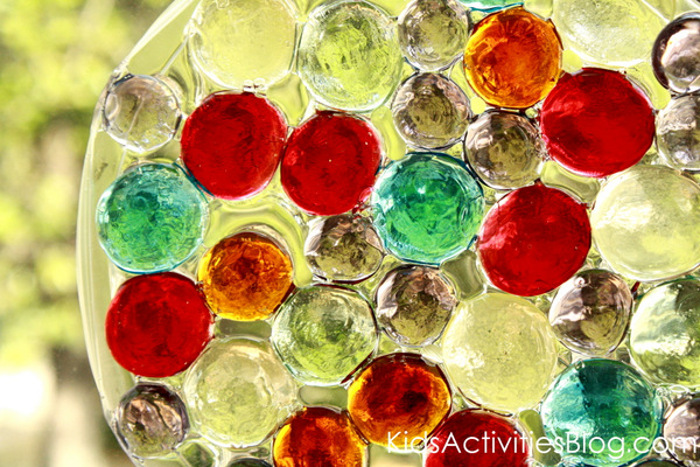 ---
20. Forest Faces
How funny and fun are these?? This is definitely WILD ART from The Boy and Me. These are the ultimate nature crafts!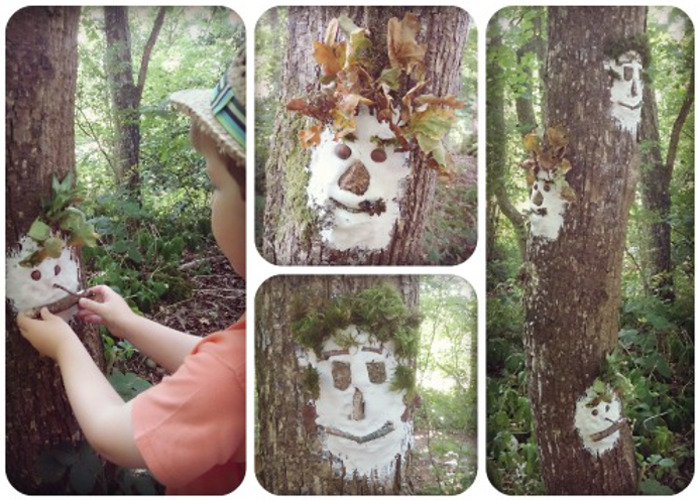 ---
21. Painted Rock Dominoes
Another fun rock painting idea that is also very educational. This craft would be easy for kids to help with and they would love to play and match the colors to create some fun patterns outdoors! It's fun to use natural materials for classic games.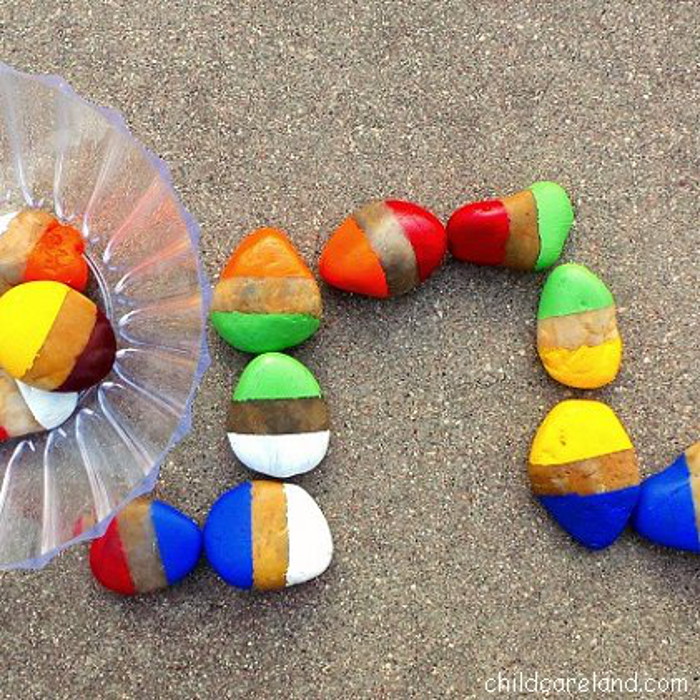 ---
22. Poured Painting Pots
Have the kids help dress up the flower pots for the garden! What a fun and clever idea. I love how each pot is so unique! Try one of these fun flower pot painting tutorials.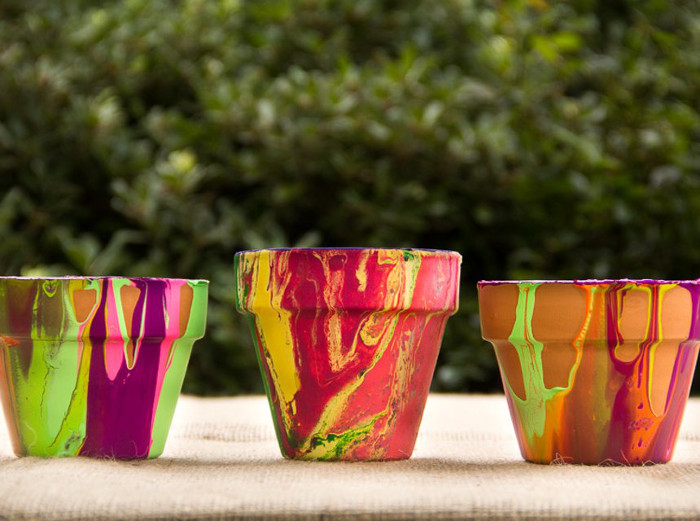 ---
23. More Bubble Art
Another unique method to bubble art! Who knew there were so many ways to create artwork with bubbles!? Try this tutorial by Happiness is Homemade.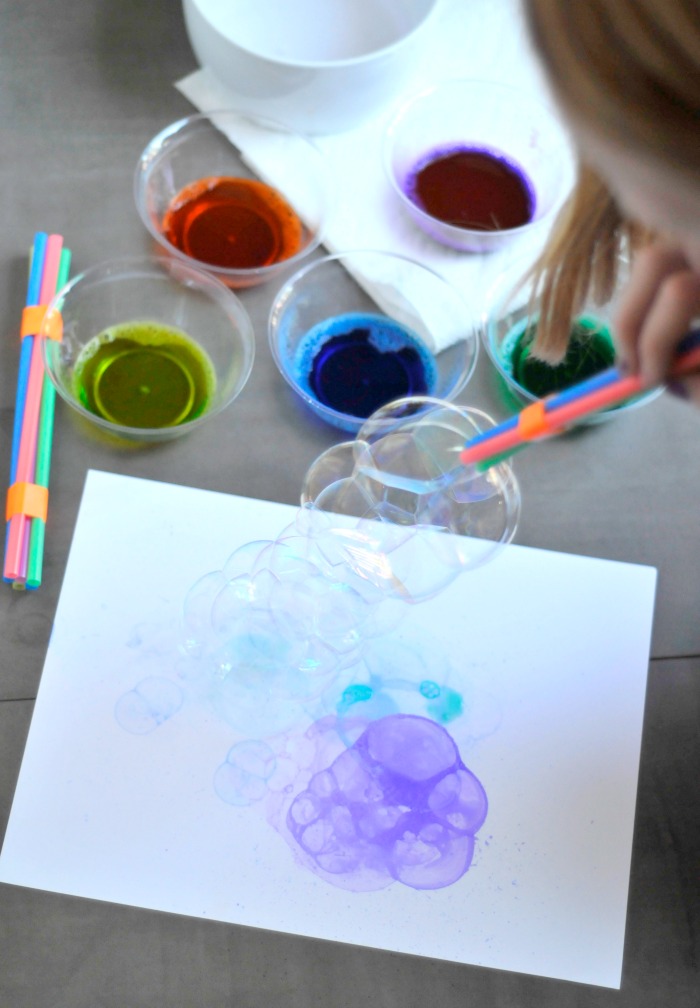 ---
24. Nature Sun Catcher
This is an even more simple idea from Hands On As We Grow for a sun catcher that has the kids searching for special items from nature to feature!!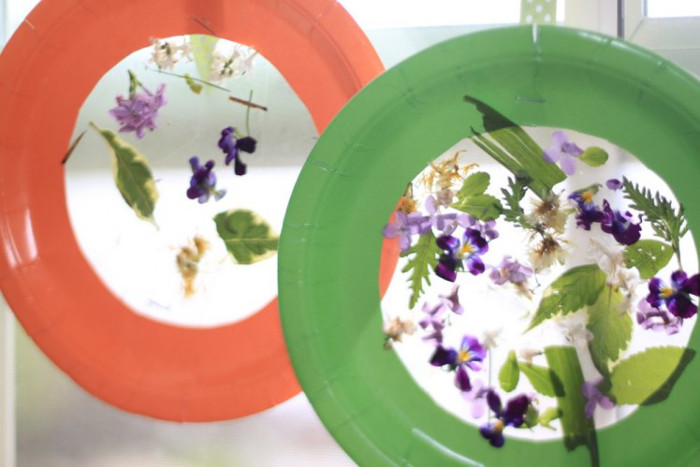 ---
More Art Activities