Give your plants a beautiful home with a personal touch! Painting plant pots is an enjoyable and creative activity that can truly transform your green spaces. Whether you're an indoor plant enthusiast or love your outdoor garden, this article has got you covered with 20 easy and creative DIY painted pot tutorials and ideas.
From minimalist designs to vibrant patterns, there's a painted pot style for everyone. Follow along our step-by-step tutorials, get inspired, and start creating your unique plant pot masterpieces today! Make one of these for a DIY Floral Arrangement or for decor around your outdoor DIY fire pit.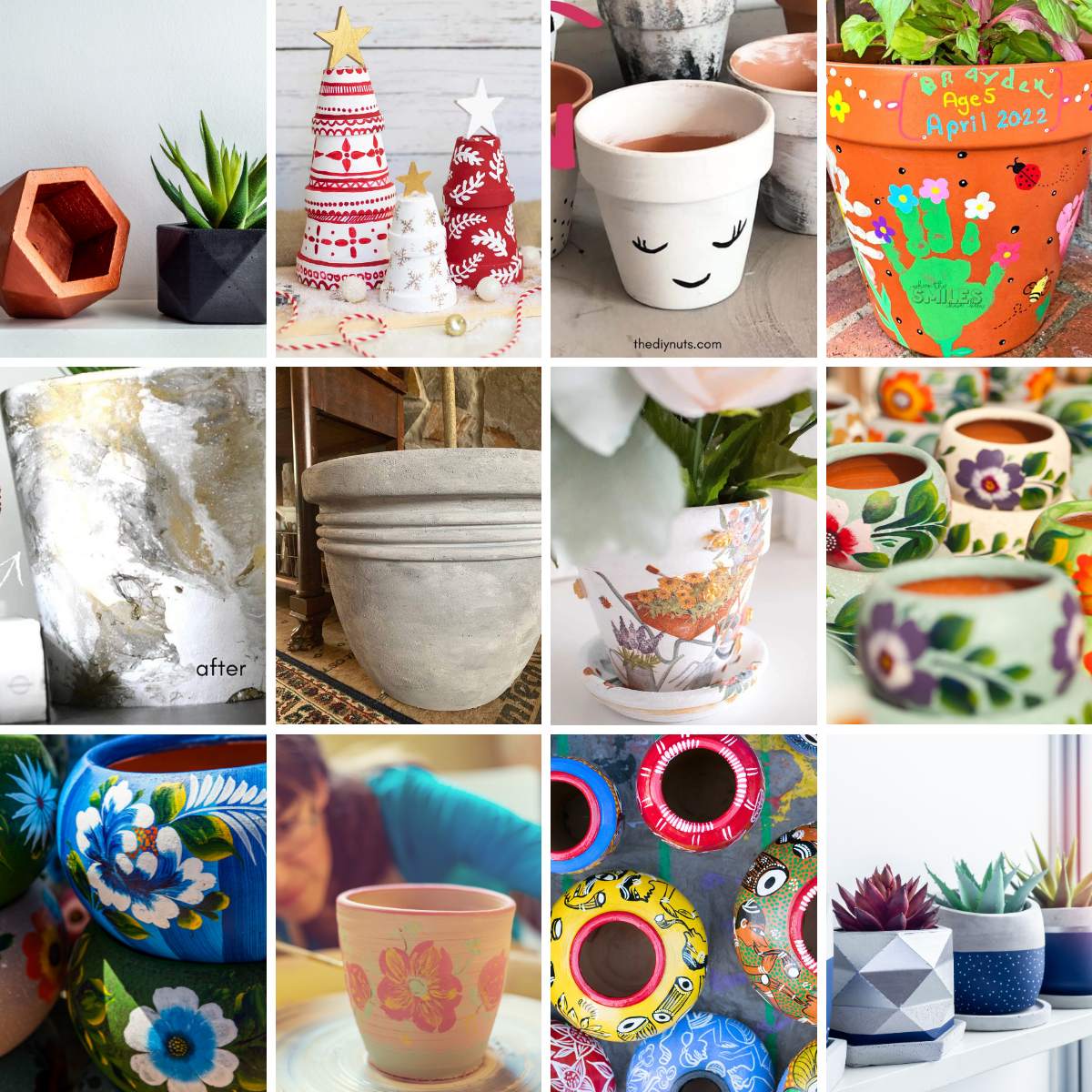 Grab a new clay pot or an old pot you're no longer using. Gather some supplies like some colorful paints (spray paint, acrylic craft paint), and maybe some painter's tape, foam brushes, paint brush, rubberbands, decoupage, stickers, chalk paint, primer and other fun supplies from the craft store or dollar store. Check out these great tutorials for inspiration. You can paint the entire pot or just a little bit of it. These range from an easy diy project to more difficult projects.
Plant Pot Painting Tips
Choose the Right Pot: Terracotta pots are great for painting because their porous nature allows the paint to absorb well. Plus, they are generally an inexpensive option.
Clean the Pot: Before you start painting, clean the pot thoroughly to remove any dust or dirt. Allow it to dry completely.
Apply a Primer: Applying a primer, or a base coat of white paint, can help the colors show up more vividly, especially if you're painting on a dark pot.
Use the Right Paint: Acrylic paint best paint for terracotta pots. It's waterproof and comes in a wide variety of colors. See below for more paint options.
Let Each Layer Dry: Don't rush the process. Allow each layer of paint to dry completely before applying the next. This helps prevent smudging or mixing of colors.
Use Brushes of Different Sizes: For larger areas, use a bigger brush. For smaller details, use a fine brush. This will help you achieve a neater finish.
Seal Your Artwork: After your design is complete and the paint is dry, apply a sealant to protect your design to add a layer of protection. This is especially important for outdoor pots that are exposed to the elements.
Have Fun: Remember, this is a creative project. Let your imagination run wild and create a design that makes you happy! Don't stress about making it perfect. The most important thing is that you enjoy the process.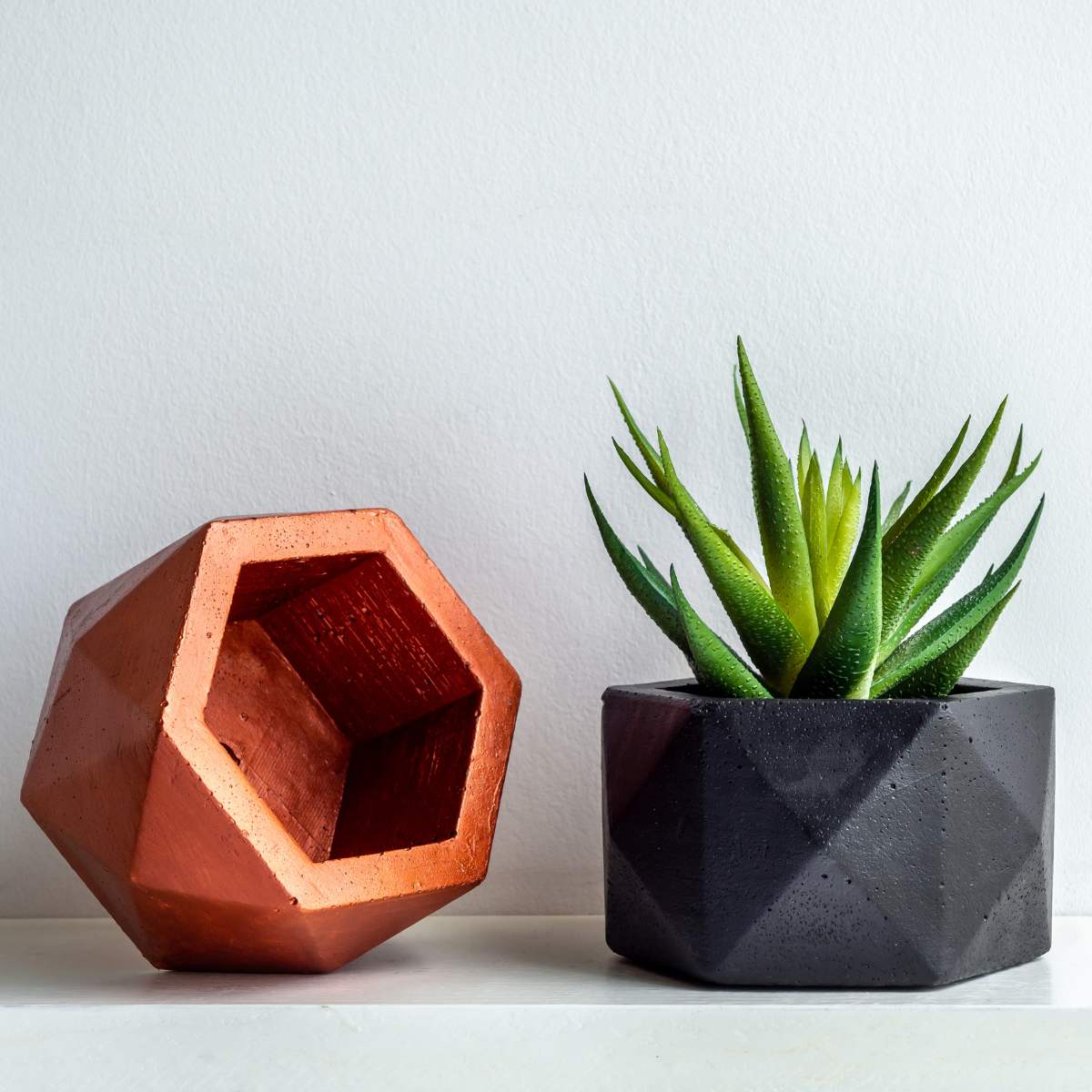 Types Of Paint You Can Use To For Painted Clay Pots
There are several types of paint you can use when painting terracotta pots, each providing a different finish and texture. Here are some of the most common types:
Acrylic Paint: This is the most popular type of paint for terracotta pots. It's water-based, comes in a variety of colors, dries quickly, and offers a nice, even coverage.
Chalk Paint: Chalk paint provides a matte finish and a vintage, distressed look. It adheres well to terracotta and doesn't usually require a primer.
Latex Paint: Latex paint is another good option for terracotta pots. It's durable and resistant to weather, making it a good choice for outdoor pots.
Spray Paint: Spray paint is a quick and easy way to paint a pot. It provides a smooth, even finish, but it's important to use it in a well-ventilated area and protect surrounding areas from overspray.
Patio Paint: This is a type of acrylic paint specifically designed for outdoor use. It's weather-resistant and doesn't require a sealant.
Craft Paint: Craft paint is typically used for smaller, detailed designs. It comes in a wide variety of colors but may require a few coats for full coverage.
Chalkboard Paint: If you want to draw on your pot with chalk (indoor pots only) then try using a chalkboard paint.
Remember to seal your pots with a clear, outdoor-friendly sealant after painting to protect your designs from the elements, especially if the pots will be kept outdoors.
Terracotta Pot Painting Ideas
Check out all these creative pot painting ideas and tutorials! Whether you're looking for outdoor painted pots or indoor painted pots there are techniques for you. From easy painted pot tutorials for beginners to more detailed and skilled painting tutorials, there's DIY painted flower pot ideas for everyone. Even something for the kids.
DIY Pineapple Planter: Paint lines to make a cute pot that looks like a pineapple. This would look adorable with spiky succulents.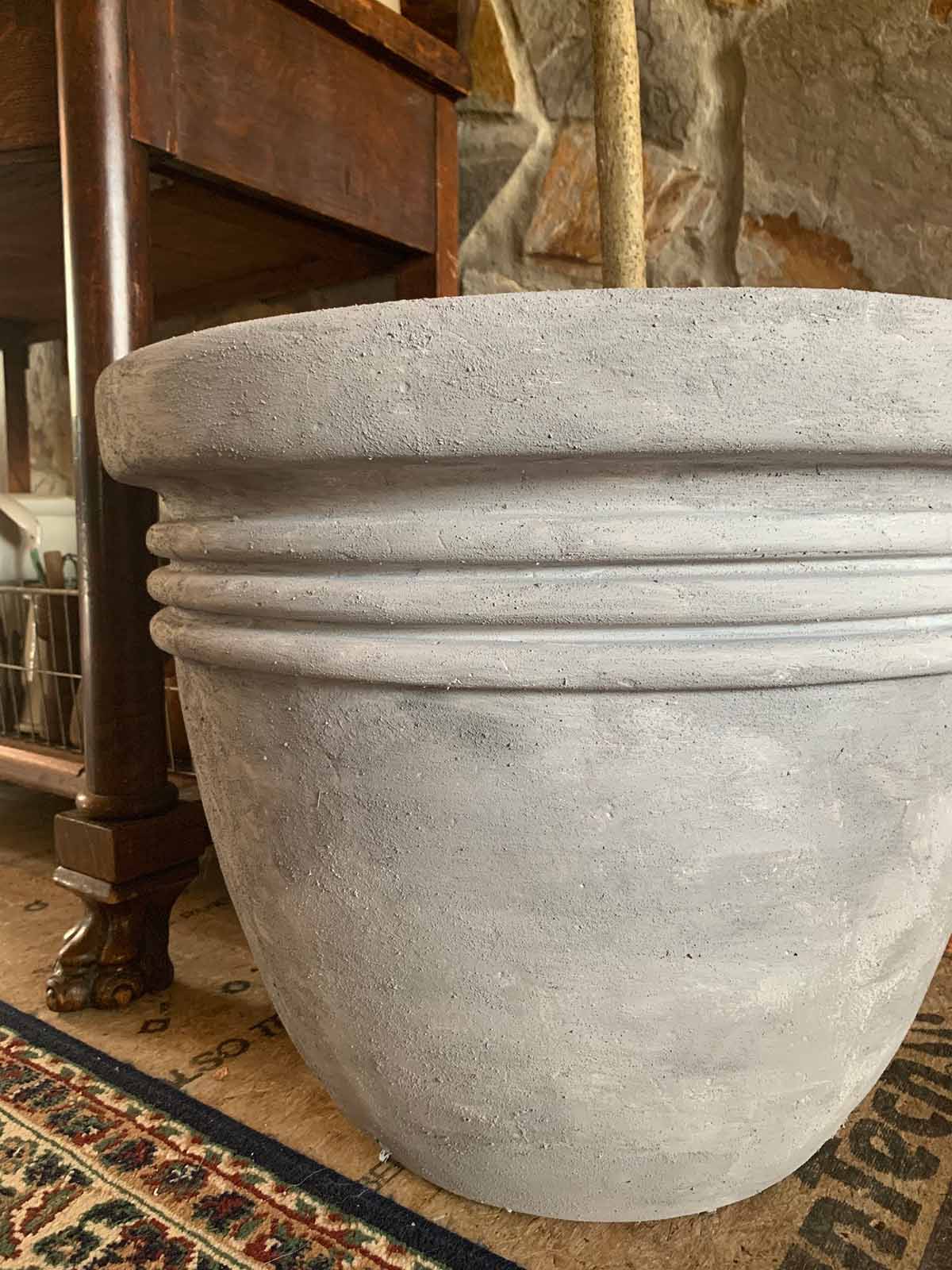 2. If you're looking for creative outdoor painted pot designs this might be for you. Learn how to paint a faux concrete look planter pot. Follow the tutorial for techniques to create this fun pot that looks like a concrete pot. This makes a great indoor or outdoor pot.
3. Farm Animal Flower Pot: Paint a flower pot to look like these cute little animals. These would be cute in a nursery.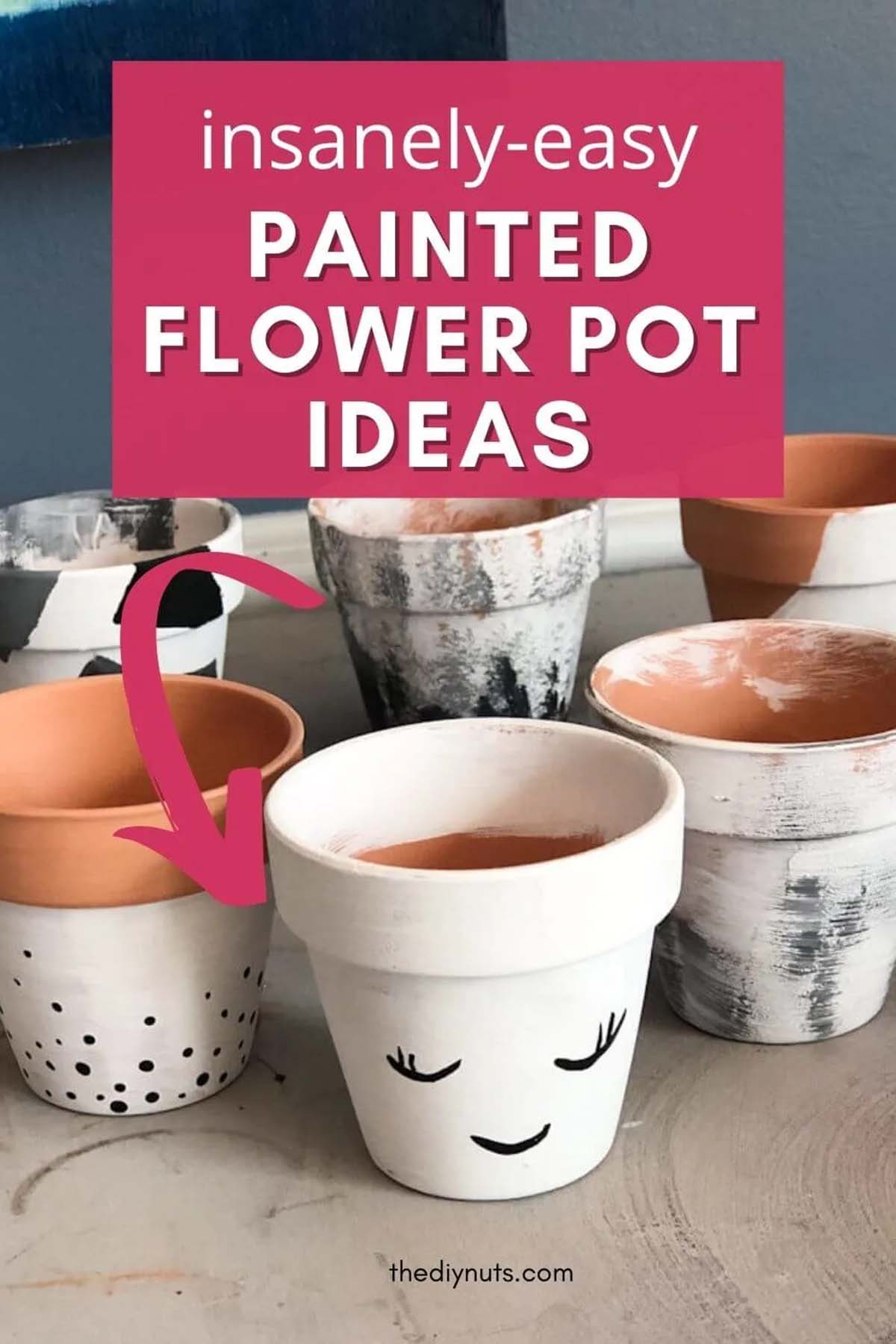 4. These 6 DIY painted flower pots are painted with acrylic paint. Follow the painted pot designs and tutorials for each of the styles, from polkadot, cute face, geometric ombre design, dry brush, dabbing paint and diagonal designs. IF you love dots or different shades of the same color these are fun to try.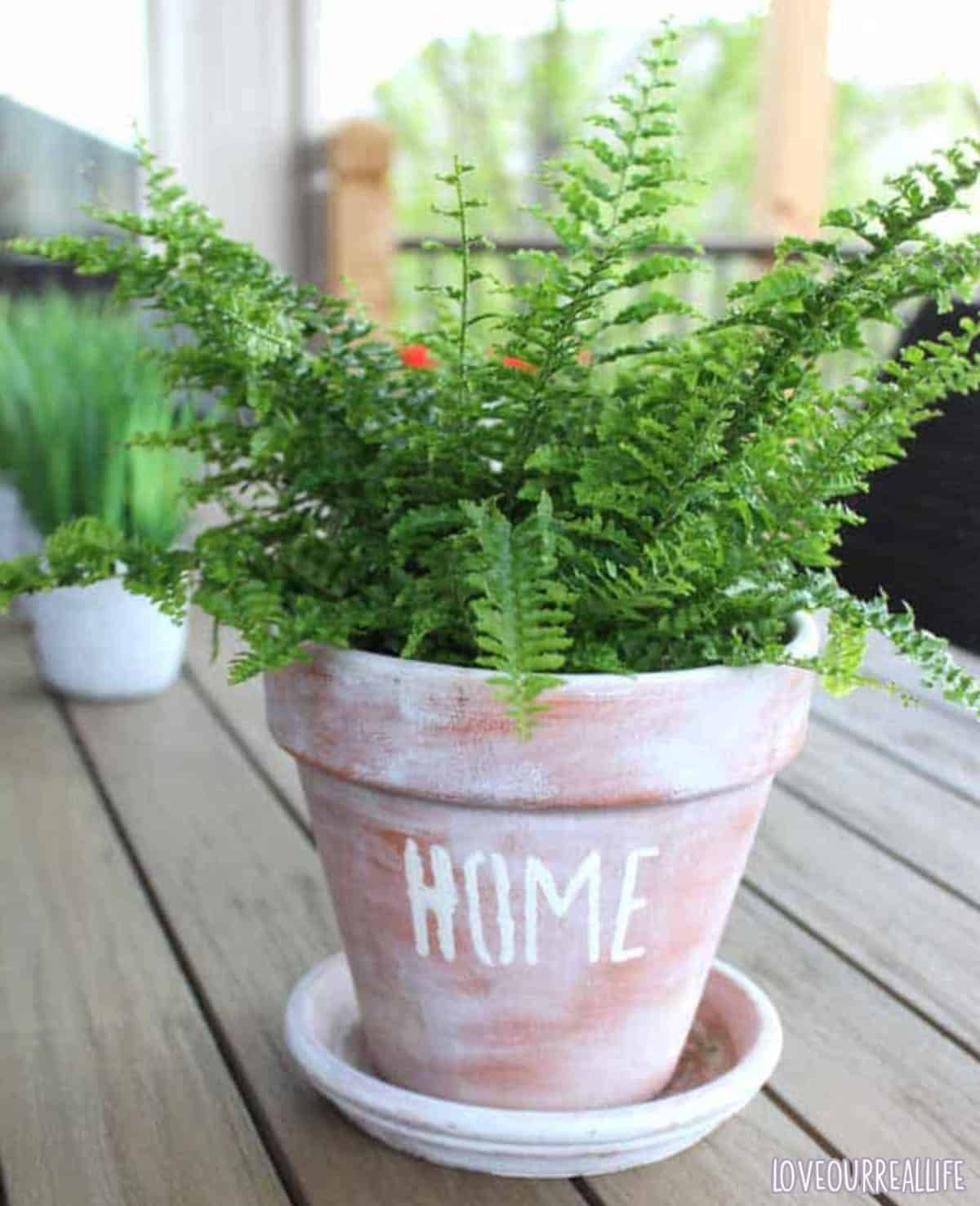 5. Use stencils on a flower pot to create a custom message. I love this simple plant pot decoration. Learn how to use a stencil to create your cute flower pot. This would make a great gift idea.
6. How To Paint A Terracotta Pot: Learn the best way to paint a plain terracotta pot to look like it came that color.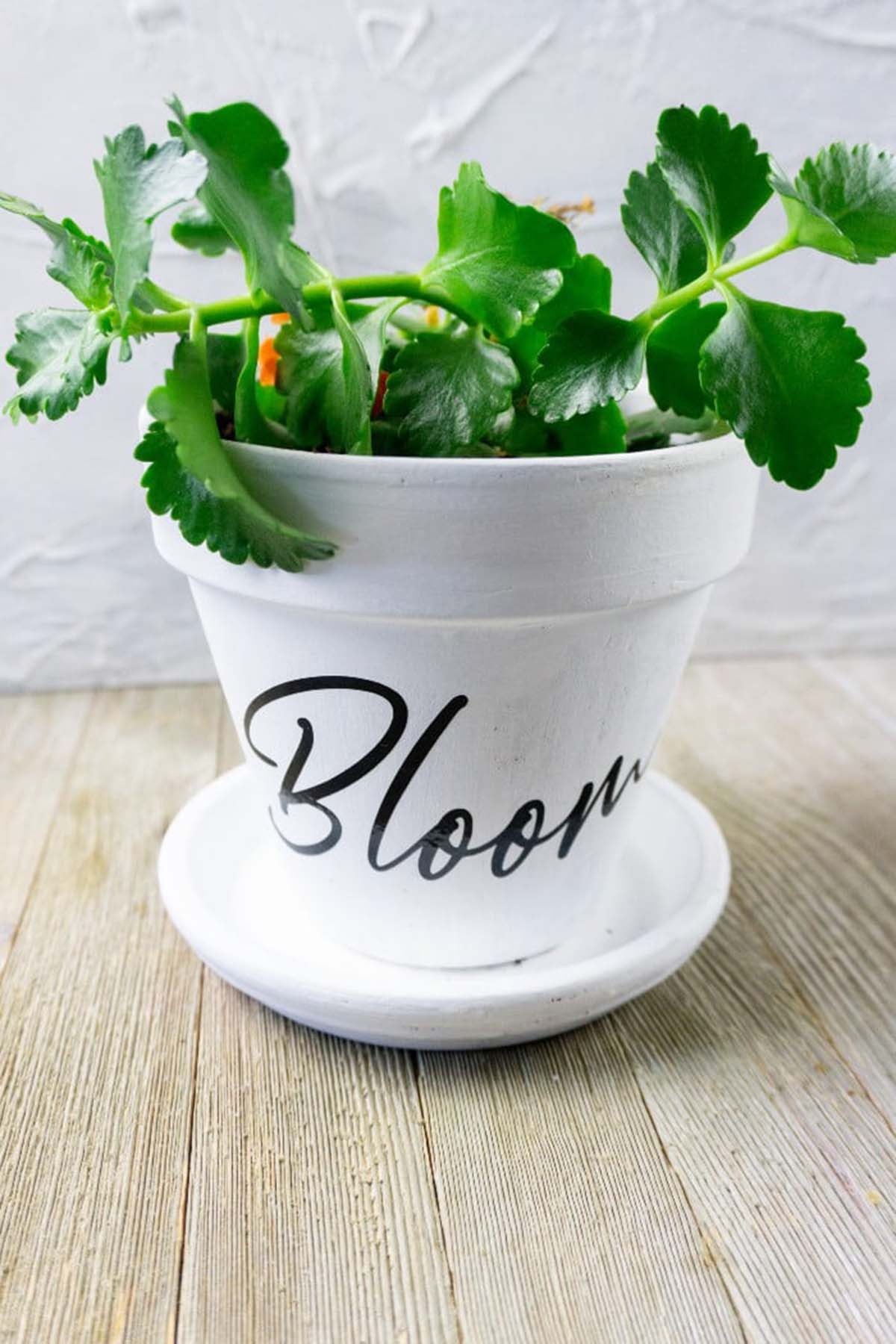 7. Use a Cricut machine to cut out a cute vinyl decal. This "bloom" cut file works perfectly on a pot. Plant something and give it as a cute gift.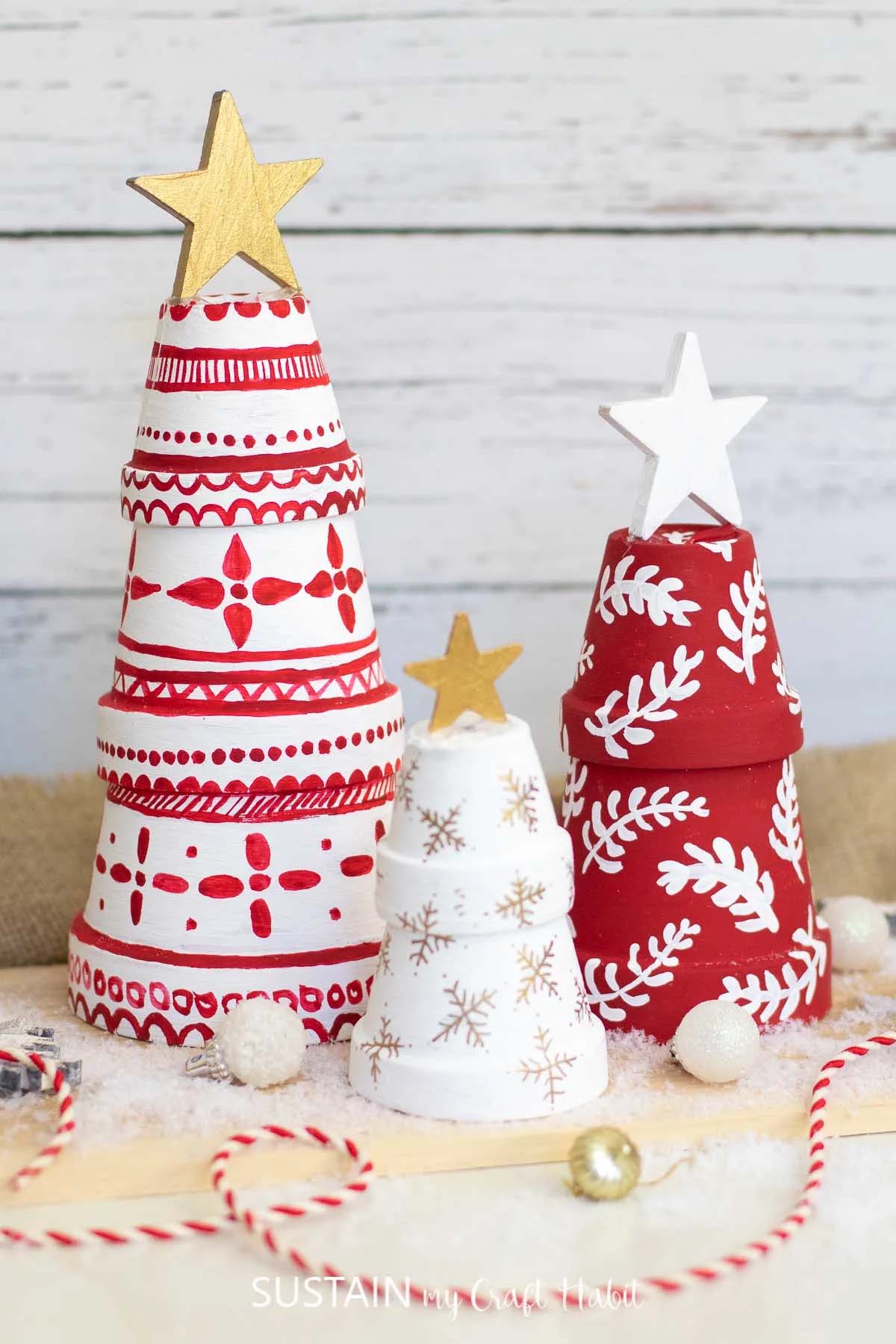 8. Stack flower pots to make these cute Scandinavian inspired Christmas trees. These stacked terra cotta pot trees make adorable holiday decor.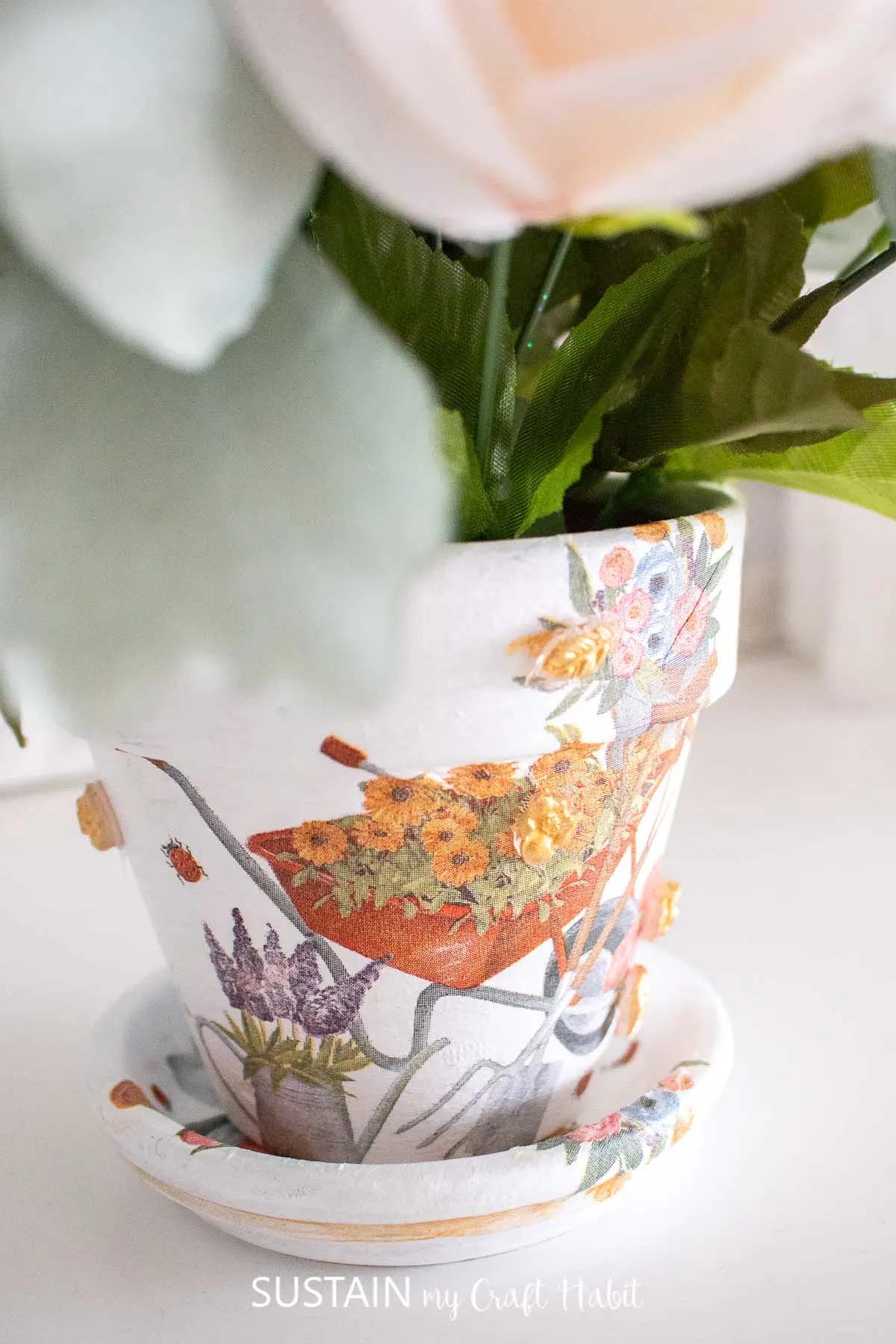 9. Use a napkin with a print you like and decoupage it onto a pot. Follow these easy instructions to learn how to decoupage a flower pot.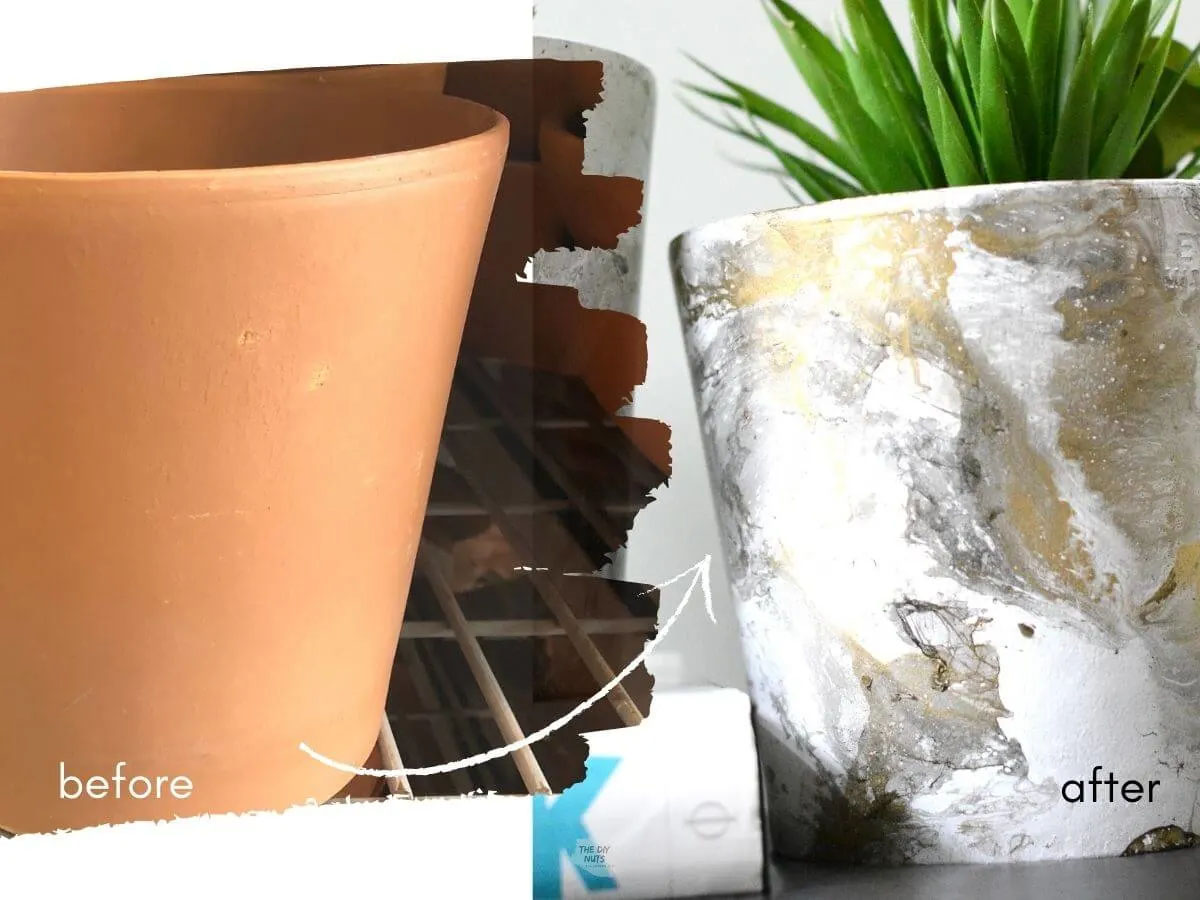 10. Use spray paint and water to create these beautiful marbled look flower pots. The DIY Nuts have a full, detailed tutorial to show you how to make these beautiful plant pots.
11. DIY Weathered Pots: Learn how to make a faux weathered pot that looks like it's vintage.
12, Chalkboard Herb Pot: Learn how to paint a pot with a chalkboard tag. These are really cute for labeling herbs on a window sill.
13. DIY Faux French Pots: Make a cheap pot look like a cute vintage French pot.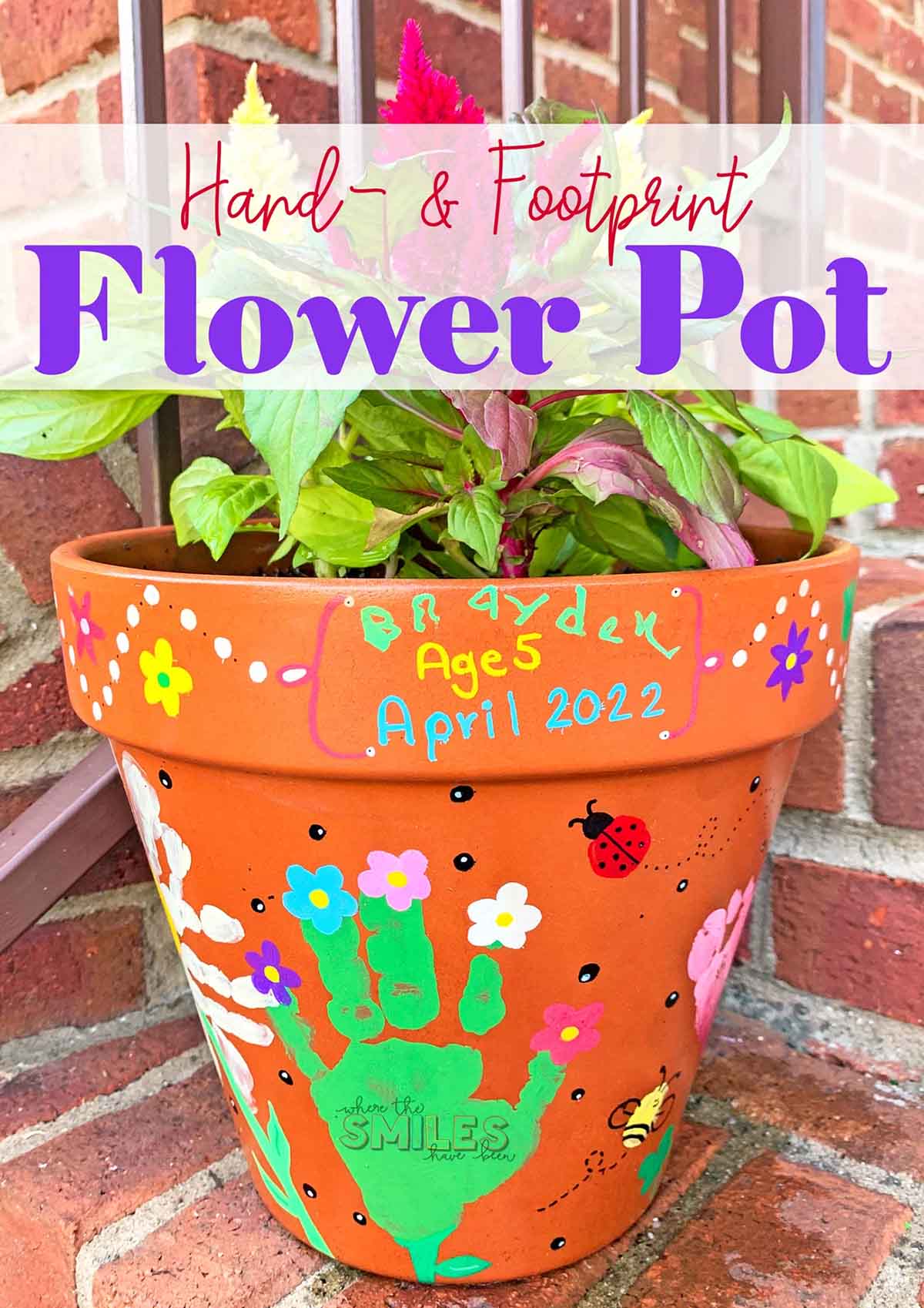 14. Use a flower pot as a cute gift or keepsake. Learn how to turn a plain flower pot into a handprint pot.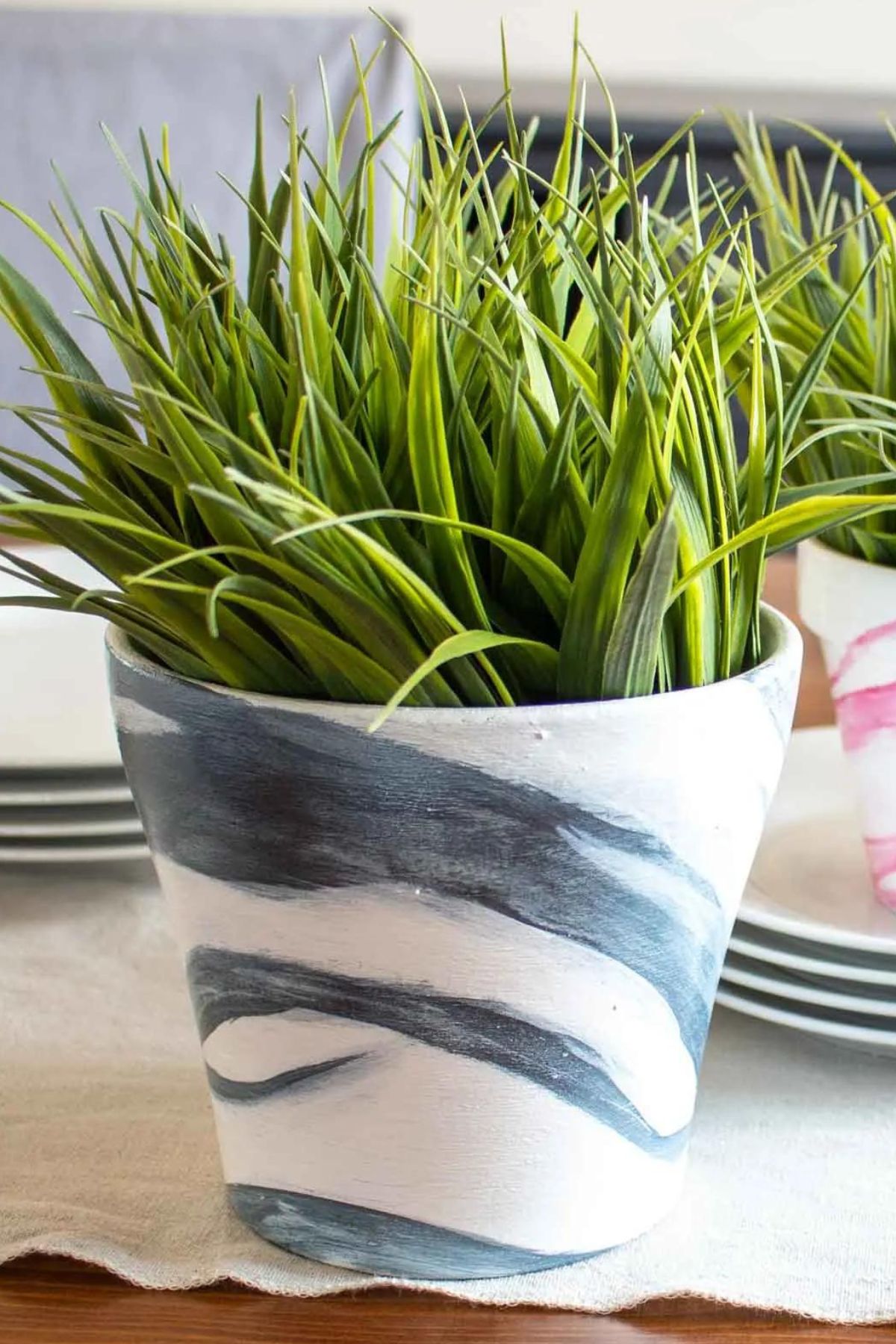 15. Use acrylic paint and paint brushes to create this faux marbled effect. Creating the look of marble is an inexpensive way to get a beautiful planter without spending tons of money on home decor.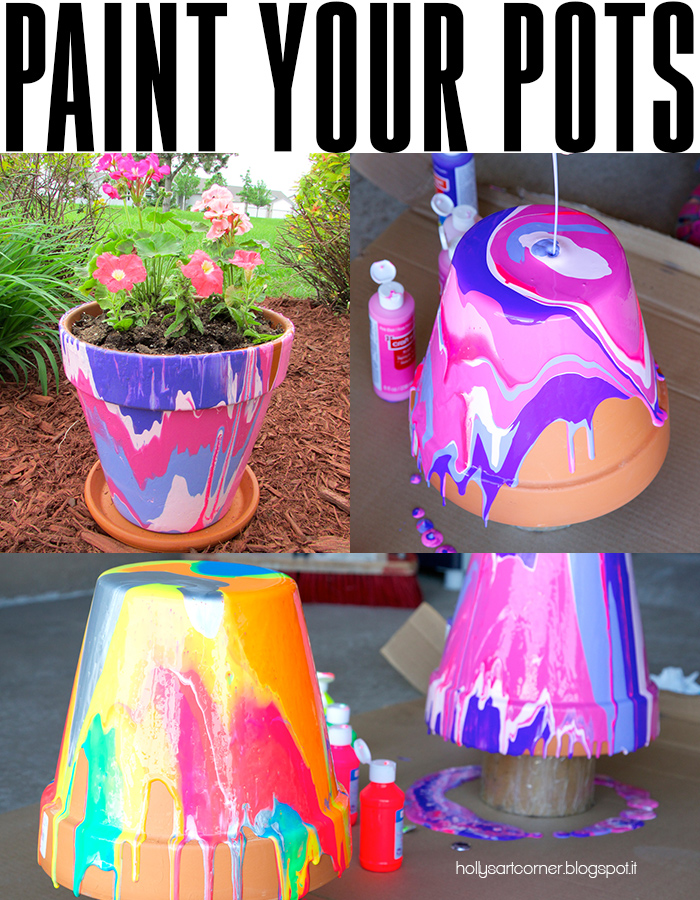 16. Painting flower pots is such a fun way to spend an afternoon! Easy to do and fun to mix colors! Check out the tutorial from Holly's Arts and Crafts Corner. The layers of dripping paint look beautiful and totally transform a terracotta flower pot. No need to worry about a mess! The drip is the best part.
17. Chalkboard Painted Pot: Learn how to paint a flower pot so the whole thing is a chalkboard. So many fun uses for this!
More Craft Projects
If you love DIY painted pots you'll enjoy these craft projects!
Can You Paint The Inside Of A Flower Pot?
Painting the inside of a flower pot is generally not recommended, especially if the pot will be used for live plants. Here's why:
Drainage: Most pots have a hole in the bottom for drainage, and paint can clog this hole or cause water to pool, potentially damaging the plant's roots.
Chemical Leaching: Depending on the type of paint used, there may be a risk of chemicals leaching into the soil and affecting the plant. This is particularly true if the paint isn't designated as non-toxic.
Moisture Resistance: Even waterproof paint can eventually break down with constant exposure to moist soil. This can lead to the paint peeling off the inside of the pot.
If you still want to paint the inside for aesthetic reasons (for example, if the pot will be used to hold faux plants), be sure to use a non-toxic paint and consider applying a waterproof sealant. However, for pots intended for live plants, it's best to leave the inside unpainted.
Frequently Asked Questions
What kind of paint do you use to paint pots?
Most flower pots are painted with acrylic paint. You can also paint with spray paints.
How do you waterproof painted pots?
Spray on or brush on a waterproof sealant once you've painted your terracotta pots. You can use a variety of waterproof sealants, from decoupage to spray paint or a brush on waterproof sealant.
Do I need to prime terracotta pots before painting?
Sealing your pot before painting is optional. Your pot will weather better, especially outdoors if you brush or spray on a clay pot sealer.
What type of paint is best for plant pots?
Acrylic paint is great for painting pots, it's waterproof and comes in a variety of colors. For outdoor pots, consider using a sealant to protect the design.
Can I paint my plastic pots?
Yes, but make sure to use a plastic primer before painting to ensure the paint adheres properly.
How do I prepare my pot for painting?
Clean the pot well to remove any dirt or dust and let it dry completely before starting to paint.