Unclog your toilet with baking soda and vinegar – a safe and effective method without harsh chemicals. Say goodbye to toilet clogs!
Dealing with a clogged toilet can be a major inconvenience. Instead of reaching for harsh chemicals, consider using vinegar and baking soda as a natural and effective solution. In this guide, we will walk you through simple steps to unclog your toilet using common household items. If you love this, you'll love our homemade vinegar cleaning solution or learning how to clean a dog's ears with vinegar.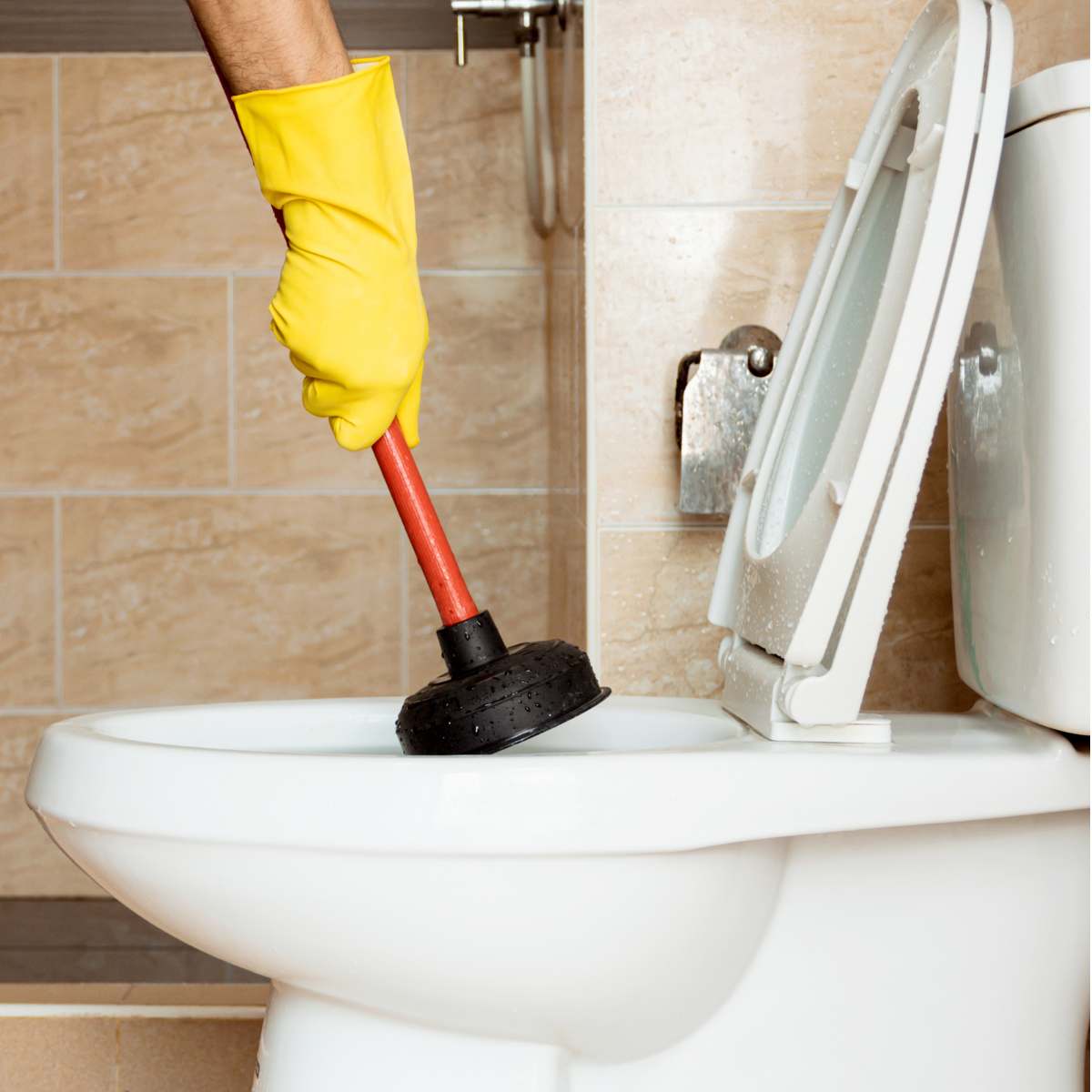 Understanding the Problem
Toilet clogs result from toilet paper and non-flushable items blocking the plumbing system. Harsh chemicals should be avoided. Instead, use baking soda (sodium bicarbonate) and vinegar for a safe and effective solution. The chemical reaction between these ingredients produces a fizzing action that helps break down the clog. Keep in mind that the severity of the clog may affect the method's success. For minor clogs and regular maintenance, vinegar and baking soda are an eco-friendly option. However, severe clogs or foreign objects may require professional assistance. By understanding the causes and utilizing natural methods, you can maintain a properly functioning plumbing system.
What is Vinegar?
Vinegar is a versatile liquid that has been used for centuries. It is produced through a two-step fermentation process. First, ethanol, which is typically derived from fermented fruits, grains, or sugars, undergoes fermentation by yeast to convert the sugars into alcohol. In the second step, acetic acid bacteria convert the alcohol into acetic acid through oxidation. This process gives vinegar its distinct sour taste and pungent aroma.
Vinegar has a wide range of uses across different cultures and industries. In cooking, it serves as a condiment, flavor enhancer, and preservative. It adds tanginess to dressings, marinades, sauces, and pickled foods. Different types of vinegar, such as white vinegar, apple cider vinegar, balsamic vinegar, and rice vinegar, offer unique flavors and characteristics suitable for various culinary applications.
Beyond the kitchen, vinegar has numerous practical uses. It is a popular cleaning agent due to its acidic nature, which helps dissolve dirt, grease, and mineral deposits. Diluted vinegar solutions can be used to clean windows, countertops, floors, and appliances. Vinegar also acts as a natural disinfectant, eliminating certain bacteria and molds.
Moreover, vinegar has been utilized for its potential health benefits. Some people believe that consuming small amounts of vinegar, particularly apple cider vinegar, may aid digestion, support weight management, and help regulate blood sugar levels. However, it's important to note that scientific research on these claims is still ongoing, and vinegar should be consumed in moderation.
With its wide availability, affordability, and natural properties, vinegar has become a staple in households worldwide. Whether used for culinary purposes, cleaning, or potential health benefits, vinegar continues to be a versatile and practical ingredient.
What is Baking Soda?
Baking soda, also known as sodium bicarbonate, is a white crystalline powder with various practical applications. It consists of sodium, hydrogen, carbon, and oxygen atoms. People use baking soda in cooking, cleaning, and personal care due to its versatile nature.
In cooking, baking soda acts as a leavening agent when combined with acidic ingredients like vinegar or lemon juice. It releases carbon dioxide gas, causing dough or batter to rise and creating a light texture in baked goods.
Baking soda's mildly abrasive properties make it an effective cleaner for removing stains, odors, and grease. It can clean surfaces, pots, and pans, deodorize carpets, and freshen up the refrigerator.
Furthermore, baking soda serves in personal care routines. It gently exfoliates the skin, soothes minor irritations, and acts as a natural deodorant by absorbing odors.
Baking soda finds other uses too, like extinguishing small fires, as an ingredient in toothpaste or mouthwash, and as a cleaning agent for fruits and vegetables.
Remember to use baking soda responsibly, following guidelines, and seeking professional advice when needed. Its versatility and affordability make it a valuable household item for culinary, cleaning, and personal care purposes.
How To Unclog A Toilet
Step 1: Gather the necessary tools and materials. To unclog a toilet, you will need a cup of baking soda and a cup of vinegar. Additionally, keep a plunger and a wire hanger handy.
Step 2: Clear the toilet bowl. If there is too much water in the toilet bowl, you need to make some space. You can use a small bucket or a dry vacuum to remove excess water until the toilet's water level is manageable.
Step 3: Add the baking soda. Pour a cup of baking soda into the toilet bowl. Ensure that it reaches the drain opening.
Step 4: Add the vinegar mixture. Create a vinegar mixture by pouring a cup of vinegar into a measuring cup. Slowly pour it into the toilet bowl, combining it with the baking soda. Be prepared for the fizzing action that will occur.
Step 5: Let it sit and work its magic. Allow the vinegar and baking soda mixture to sit in the toilet bowl for about 20-30 minutes. During this time, the fizzing action will help break down the clog.
Step 6: Test with a flush. After the designated time, flush the toilet. The pressure of the water, along with the fizzing action, may dislodge the clog. If the water starts to drain normally, the clog is likely cleared.
Step 7: Repeat if necessary. If the clog persists, repeat the process by adding another cup of baking soda and another cup of vinegar. Let it sit for an additional 30 minutes before attempting to flush again.
Step 8: Plunge the toilet. If the vinegar and baking soda method didn't completely clear the clog, it's time to use a plunger. Ensure you have a good seal around the drain opening and push down firmly and rapidly. The pressure changes can help dislodge the clog.
Step 9: Use a plumbing snake or wire hanger. If the plunger doesn't work, you can try using a plumbing snake or a wire hanger to physically break up the clog. Insert it into the toilet drain and move it back and forth to loosen the blockage.
Step 10: Boiling water as a last resort. As a final attempt, you can pour a kettle of hot water into the toilet bowl. The heat and pressure of the water may be effective in dislodging the clog.
Alternative Methods and Tips:
Avoid using excessive amounts of toilet paper or flushing non-flushable items to prevent future clogs.
Consider using a low-flow toilet, as it is designed to handle waste more efficiently.
Regular maintenance, such as using a toilet brush to clean the toilet bowl, can help prevent stubborn blockages.
When to Call a Professional Plumber
If your attempts to unclog the toilet using the vinegar and baking soda method, plunger, and other techniques are unsuccessful, it may be time to contact a professional plumber. They have the expertise and necessary tools to handle severe clogs or issues with the plumbing system.
Unclogging a toilet doesn't have to be a daunting task. By following these easy steps and using natural ingredients like vinegar and baking soda, you can effectively clear most toilet clogs. Remember, prevention is key, so be mindful of what you flush and consider regular maintenance to avoid future clogs. With a little effort and the right techniques, you can keep your bathroom functioning smoothly without relying on harsh chemicals or costly plumbing services.
Frequently Asked Questions
Can I use apple cider vinegar instead of white vinegar to unclog a toilet?
Yes, you can use apple cider vinegar as an alternative to white vinegar for unclogging a toilet.
Will the vinegar and baking soda method work for severe toilet clogs?
The vinegar and baking soda method is more effective for minor to moderate toilet clogs.
Is it dangerous to mix baking soda and vinegar?
No, it is not dangerous to mix vinegar and baking soda. When combined, they create a chemical reaction that produces carbon dioxide gas and water. This reaction is generally safe and commonly used for cleaning and unclogging purposes. However, be cautious of the fizzing action and avoid inhaling the gas directly.