As the season of spring cleaning fast approaches, many people are working to keep their homes clean using natural cleaners. Vinegar cleaning is one of the oldest used natural products because it's so versatile in the home. Use a natural cleaning solution like vinegar for cleaning windows or vinegar for cleaning washing machine, drains and more.
Households everywhere are looking for the perfect assortment of products and chemicals to make their work a breeze, but what if you probably already have everything you need in the form of vinegar?
My cleaning solution can help make cleaning a breeze. It can be used to clean all sorts of household objects and surfaces. But don't stop at just cleaning. Vinegar has a lot of other uses as well as making a perfect salad dressing ingredient, dog ear cleaner or even unclogging a toilet.
Make a Vinegar Cleaning Solution
Surfaces are a breeze to clean with vinegar, with the exception of granite or marble it is incredibly easy to wipe off any surface with vinegar.
Make a cleaning solution: Mix white vinegar and water 1:1 in a spray bottle. To use simply spray solution directly onto the surface and wipe down with a damp warm rag.
Clean Appliances
Vinegar is perfect for washing out appliances and after all, why wouldn't you use a natural solution over strong chemicals where you make and store food?
Fridge: simply use the 50/50 solution of water and white vinegar to dampen a towel and wipe out the fridge. You can use this to clean up spills or for general scrubbing.
Microwave: use the same vinegar cleaning solution and place into a microwave-safe container and microwave for a minute or so, or until it boils over. From there you can simply remove and wipe out any excess spillage incredibly easily. The combination of steam and vinegar solution will be magical. Wipe out the microwave with a sponge as soon as your solution begins to boil.
Washing Machine: Using vinegar in washing machines can be done with ease. You can easily tackle both the interior and exterior once you start using vinegar for cleaning washing machines.
To clean the interior just add around four cups of white vinegar into the machine before starting it on its heaviest and hottest cycle. Once the machine is filled up, however, be sure to pause it and allow the solution to sit for a while before resuming.
Given how important the washing machine is to the continued quality and cleanliness of your clothes, it makes perfect sense to use vinegar for cleaning washing machines.
For front loaders, don't forget to use the cleaning solution to clean the rubber area around the opening. This can get moldy and stinky if you don't clean and dry often.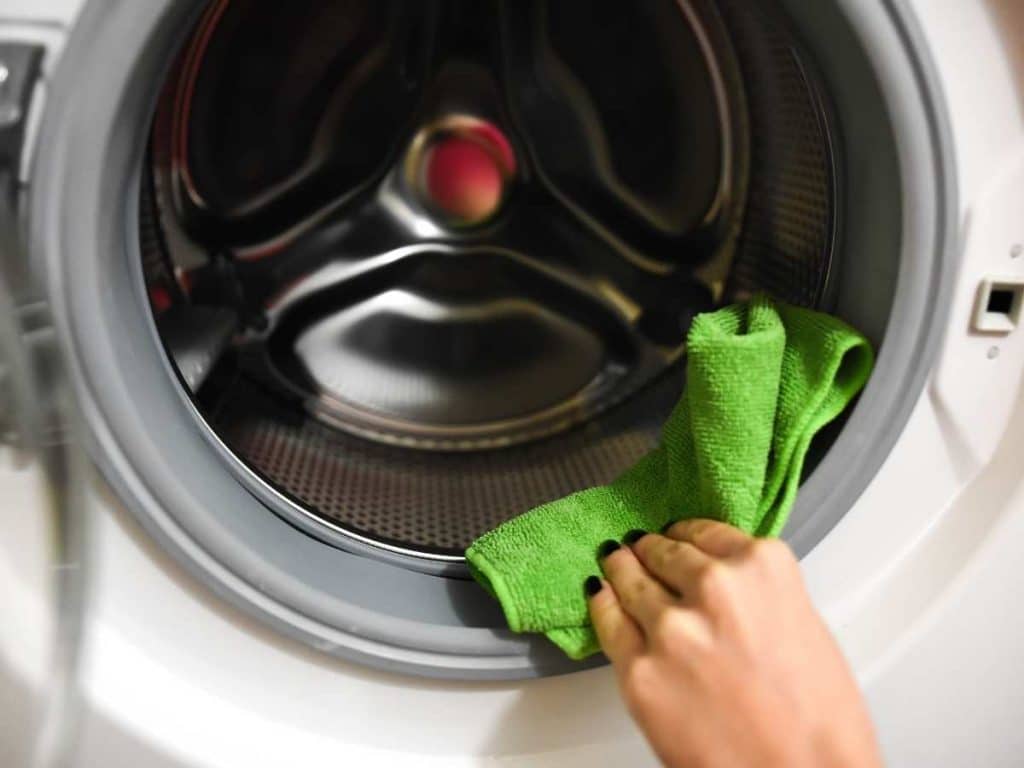 Use Vinegar For Cleaning Bathrooms
You can easily clean the bathroom like a champ with this easy cleaning solution. Vinegar cleaning can be used in nearly every nook and cranny of the bathroom. You can use white vinegar to clean toilets and shower doors.
Toilet: Simply pour vinegar into the bowl and let sit overnight. The next morning use some baking soda and scrub it before flushing. For shower doors, simply take a vinegar dampened sponge and wipe down the door without any need to rinse.
Showerhead: You can even use vinegar to clean showerheads by pouring a cup of vinegar into a plastic bag and letting your head soak in it overnight to eliminate any buildup. Once it is done soaking simply re-affix the head and run water through it.
Bathroom tile: Vinegar even makes cleaning bathroom tile a breeze. Whether scrubbing or mopping, simply pour a cup of vinegar into a gallon of warm water and scrub down or mop up bathroom tiles and watch them shine.
Mirrors: Spray your mirrors with your cleaning solution and wipe clean with a microfiber towel.
Household Chores
Vinegar can also help you maximize effectiveness doing household chores.
Shine your dishes: Pour a cup or so of vinegar into the bottom of your dishwasher before running it and watch how sparkly clean your dishes get.
Windows: You can use vinegar for cleaning windows by the cleaning solution (see above) in a spray bottle. Use a microfiber cloth or newspaper to wipe down windows and other glass surfaces after spritizing with the cleaning solution.
Cleaning windows and glass surfaces is super simple once you start using vinegar. You will even notice a significant improvement in clarity once you start using vinegar for cleaning windows.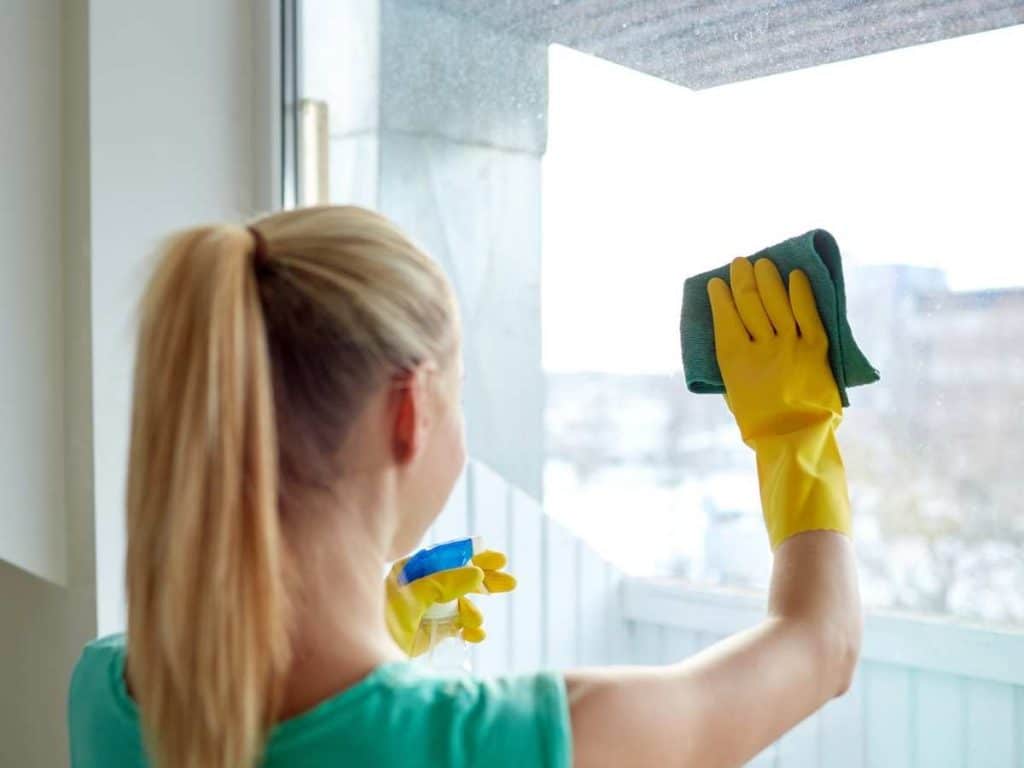 Cleaning Drains
Drains are easy to clean and even unclog. To clean, simply pour vinegar down the drain and let sit for a few hours before rinsing out with water. This is best done in tandem with a good baking soda scrub before rinsing.
Vinegar and baking soda solution: You can also mix both vinegar and baking soda down the drain of your sinks and showers to unclog them. Simply let the cleaning solution sit for a few hours before going in for a deeper scrub and rinse once unclogged.
As you can see vinegar can be incredibly versatile and helpful when cleaning nearly every area of your house from the bathroom to the windows.