I asked on facebook and you all helped me compile this amazing children's book list!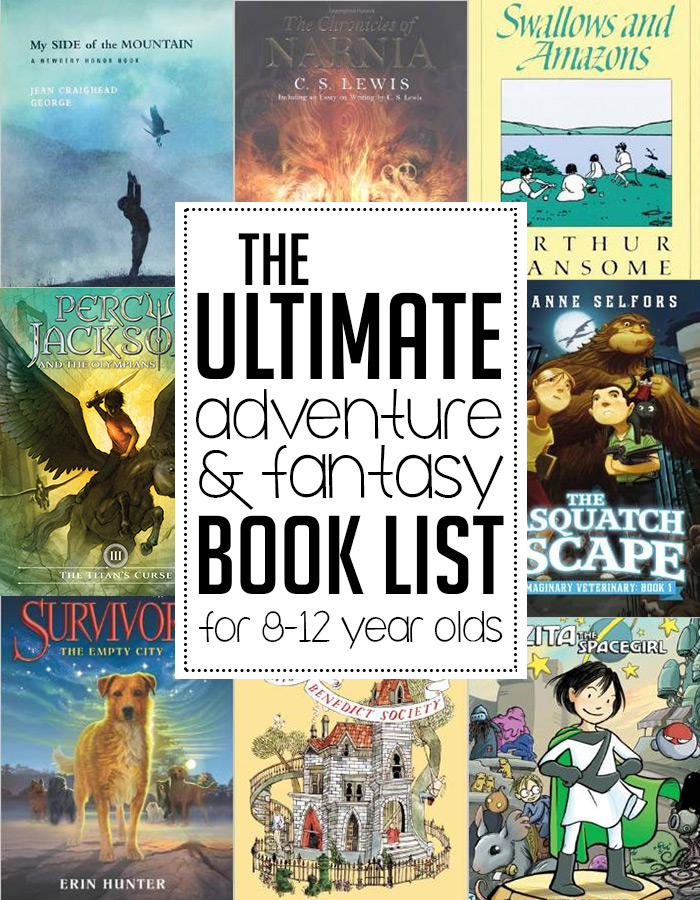 The adventure, mystery and fantasy books on this book list are top rated among the 8-12 year old crowd and will entice even a reluctant reader into a summer of literary adventures. Save this book list! Even the younger crowd would enjoy these as read aloud books as well and you won't mind reading these! I haven't read most of these so the descriptions are from amazon. Affiliate links included.
The ultimate children's book list of fantasy and adventure books for 8-12 year olds
Narnia is the land of enchantment, glory, nobility--home to the magnificent Aslan, cruel Jadis (the White Queen), heroic Reepicheep, and kind Mr. Tumnus. Begin at the beginning, as Digory and Polly are tricked into a strange other world, which becomes, even as they watch, the great Narnia. Return again and again with four other children--Peter, Susan, Edmund, and Lucy--who are to play such a vital role in Narnia's history. Finally, enter the whimsical land one last time to witness the end of Time, and the beginning of something new: "world within world, Narnia within Narnia.
The Wrinkle in Time series by | Ground-breaking science-fiction and fantasy. Even adults will love this series.
Everyone in town thinks Meg is volatile and dull-witted and that her younger brother Charles Wallace is dumb. People are also saying that their father has run off and left their brilliant scientist mother. Spurred on by these rumors, Meg and Charles Wallace, along with their new friend Calvin, embark on a perilous quest through space to find their father. In doing so they must travel behind the shadow of an evil power that is darkening the cosmos, one planet at a time.
When this peculiar ad appears in the newspaper, dozens of children enroll to take a series of mysterious, mind-bending tests. (And you, dear reader, can test your wits right alongside them.) But in the end just four very special children will succeed. Their challenge: to go on a secret mission that only the most intelligent and resourceful children could complete. To accomplish it they will have to go undercover at the Learning Institute for the Very Enlightened, where the only rule is that there are no rules. As our heroes face physical and mental trials beyond their wildest imaginations, they have no choice but to turn to each other for support. But with their newfound friendship at stake, will they be able to pass the most important test of all? Welcome to the Mysterious Benedict Society.
A cynic meets an unlikely superhero in a genre-breaking new novel by master storyteller Kate DiCamillo. It begins, as the best superhero stories do, with a tragic accident that has unexpected consequences. The squirrel never saw the vacuum cleaner coming, but self-described cynic Flora Belle Buckman, who has read every issue of the comic book Terrible Things Can Happen to You!, is the just the right person to step in and save him. What neither can predict is that Ulysses (the squirrel) has been born anew, with powers of strength, flight, and misspelled poetry—and that Flora will be changed too, as she discovers the possibility of hope and the promise of a capacious heart.
Percy Jackson and the Olympians by Rick Riordan | The Percy Jackson series is full of suspense and action. This fantasy series is highly loved by all readers and has even been made into a movie.
Percy Jackson is about to be kicked out of boarding school...again. And that's the least of his troubles. Lately, mythological monsters and the gods of Mount Olympus seem to be walking straight out of the pages of Percy's Greek mythology textbook and into his life. And worse, he's angered a few of them. Zeus's master lightning bolt has been stolen, and Percy is the prime suspect. Now Percy and his friends have just ten days to find and return Zeus's stolen property and bring peace to a warring Mount Olympus. But to succeed on his quest, Percy will have to do more than catch the true thief: he must come to terms with the father who abandoned him; solve the riddle of the Oracle, which warns him of betrayal by a friend; and unravel a treachery more powerful than the gods themselves.
Septimus Heap Series by Angie Sage | A fantasy story that isn't as dark as some other popular series (Harry Potter) but just as fun.
Septimus Heap, the seventh son of the seventh son, disappears the night he is born, pronounced dead by the midwife. That same night, the baby's father, Silas Heap, comes across an abandoned child in the snow -- a newborn girl with violet eyes. The Heaps take her into their home, name her Jenna, and raise her as their own. But who is this mysterious baby girl, and what really happened to their beloved son Septimus?
In Survivors, Erin Hunter shows readers the world through the eyes of dogs, as she did with cats and bears in her earlier series. The Empty City begins with the Big Growl, a devastating earthquake that changes Lucky's world forever. Lucky has always been a Lone Dog, but now he needs a Pack in order to stay alive, so he teams up with a group of Leashed Dogs who have been separated from their owners. Lucky's vivid point of view and the pulse-pounding action make for the start of an addictive series. The time has come for dogs to rule the wild!
Every kid thinks about running away at one point or another; few get farther than the end of the block. Young Sam Gribley gets to the end of the block and keeps going--all the way to the Catskill Mountains of upstate New York. There he sets up house in a huge hollowed-out tree, with a falcon and a weasel for companions and his wits as his tool for survival. In a spellbinding, touching, funny account, Sam learns to live off the land, and grows up a little in the process. Blizzards, hunters, loneliness, and fear all battle to drive Sam back to city life. But his desire for freedom, independence, and adventure is stronger. No reader will be immune to the compulsion to go right out and start whittling fishhooks and befriending raccoons.
Artemis Fowl Series by Eoin Colfer | A crime caper fantasy sure to keep you coming back for more. Good for the 10+ crowd.
Twelve-year-old Artemis Fowl is a millionaire, a genius—and, above all, a criminal mastermind. But even Artemis doesn't know what he's taken on when he kidnaps a fairy, Captain Holly Short of the LEPrecon Unit. These aren't the fairies of bedtime stories; these fairies are armed and dangerous. Artemis thinks he has them right where he wants them…but then they stop playing by the rules.
Harry Potter Series by J. K. Rowling | Adventure, fantasy and magic. The series that everyone loves.
Harry, an orphan, lives with the Dursleys, his horrible aunt and uncle, and their abominable son, Dudley. One day just before his eleventh birthday, an owl tries to deliver a mysterious letter the first of a sequence of events that end in Harry meeting a giant man named Hagrid. Hagrid explains Harry's history to him: When he was a baby, the Dark wizard, Lord Voldemort, attacked and killed his parents in an attempt to kill Harry; but the only mark on Harry was a mysterious lightning-bolt scar on his forehead. Now he has been invited to attend Hogwarts School of Witchcraft and Wizardry, where the headmaster is the great wizard Albus Dumbledore. Harry visits Diagon Alley to get his school supplies, especially his very own wand. To get to school, he takes the Hogwarts Express from platform nine and three-quarters at King's Cross Station. On the train, he meets two fellow students who will become his closest friends: Ron Weasley and Hermione Granger.
This is the tale of Taran, assistant pig keeper. Set in the mythical land of Prydain, this book draws together the elements of the hero's journey from unformed boy to courageous young man. Taran grumbles with frustration at home in the hamlet Caer Dallben; he yearns to go into battle like his hero, Prince Gwydion. Before the story is over, he has met his hero and fought the evil leader who threatens the peace of Prydain: the Horned King.
When Ben Silverstein is sent to the rundown town of Buttonville to spend the summer with his grandfather, he's certain it will be the most boring vacation ever. That is, until his grandfather's cat brings home what looks like . . . a baby dragon? Amazed, Ben enlists the help of Pearl Petal, a local girl with an eye for adventure. They take the wounded dragon to the only veterinarian's office in town -- Dr. Woo's Worm Hospital. But as Ben and Pearl discover once they are inside, Dr. Woo's isn't a worm hospital at all -- it's actually a secret hospital for imaginary creatures. After Ben accidentally leaves the hospital's front door unlocked, a rather large, rather stinky, andveryhairy beast escapes into Buttonville. Ben and Pearl are tasked with retrieving the runaway creature, and what started out as an ordinary summer becomes the story of a lifetime.
The Secret Series by Pseudonymous Bosch | A humorous mystery series sure to be loved by even picky readers.
11-year old heroes, Cass and Max-Ernest are sent hair-raising adventures and face nefarious villains.
The first title in Arthur Ransome's classic series, originally published in 1930: for children, for grownups, for anyone captivated by the world of adventure and imagination. Swallows and Amazons introduces the lovable Walker family, the camp on Wild Cat island, the able-bodied catboat Swallow, and the two intrepid Amazons, Nancy and Peggy Blackett.
Chronicles the adventures and misadventures of Hiccup Horrendous Haddock III as he tries to pass the important initiation test of his Viking clan, the Tribe of the Hairy Hooligans, by catching and training a dragon.
Each book takes readers into the heart of history's most thrilling and terrifying events, including the sinking of the Titanic, the Shark Attacks of 1916, Hurricane Katrina, the bombing of Pearl Harbor, the San Francisco earthquake, 9/11, and the Battle of Gettysburg. Writing these books often makes her feel very nervous, as though at any moment a volcano could erupt right outside her window. Then again, she has learned a thing or two about avoiding being eaten by a shark.
Kendra and her brother, Seth, have no idea that their grandfather is the current caretaker of Fablehaven. Inside the gated woods, ancient laws keep relative order among the greedy trolls, mischievous satyrs, plotting witches, spiteful imps, and jealous fairies. But when the rules get broken, powerful forces are unleashed, and Kendra and her brother face the greatest challenge of their lives. To save their family, Fablehaven, and maybe even the world, Kendra and Seth must find the courage to do what they fear most...
Imagine tales so terrible that as many as fifty million innocents have been ruined by them—tales so indelibly horrid that the New York Times bestseller list has been unable to rid itself of them for seven years. Now imagine if this scourge suddenly became available in a shameful new edition so sensational, so irresistible, so riddled with lurid new pictures that even a common urchin would wish for it. Who among us would be safe?
Zita's life took a cosmic left turn in the blink of an eye. When her best friend is abducted by an alien doomsday cult, Zita leaps to the rescue and finds herself a stranger on a strange planet. Humanoid chickens and neurotic robots are shocking enough as new experiences go, but Zita is even more surprised to find herself taking on the role of intergalactic hero. Before long, aliens in all shapes and sizes don't even phase her. Neither do ancient prophecies, doomed planets, or even a friendly con man who takes a mysterious interest in Zita's quest.
That hero is Matthias, a young mouse who must rise above his fears and failures to save his friends at Redwall Abbey. The villain is Cluny the Scourage, one of the most deliciously despicable rats of all time. The unforgettable cast of supporting characters includes the stalwart badger Constance, an irrepressible hare named Basil Stag Hare, and the elderly wisemouse Brother Methuselah. But most of all there is Matthias, seeking his true destiny in a journey that will lead through danger and despair to true wisdom.
For generations, four Clans of wild cats have shared the forest according to the laws laid down by their ancestors. But the warrior code is threatened, and the ThunderClan cats are in grave danger. The sinister ShadowClan grows stronger every day. Noble warriors are dying—and some deaths are more mysterious than others. In the midst of this turmoil appears an ordinary housecat named Rusty . . . who may turn out to be the bravest warrior of them all.
Adventure books for children

Looking for more reading lists?

Why you should teach your child to read before kindergarten: