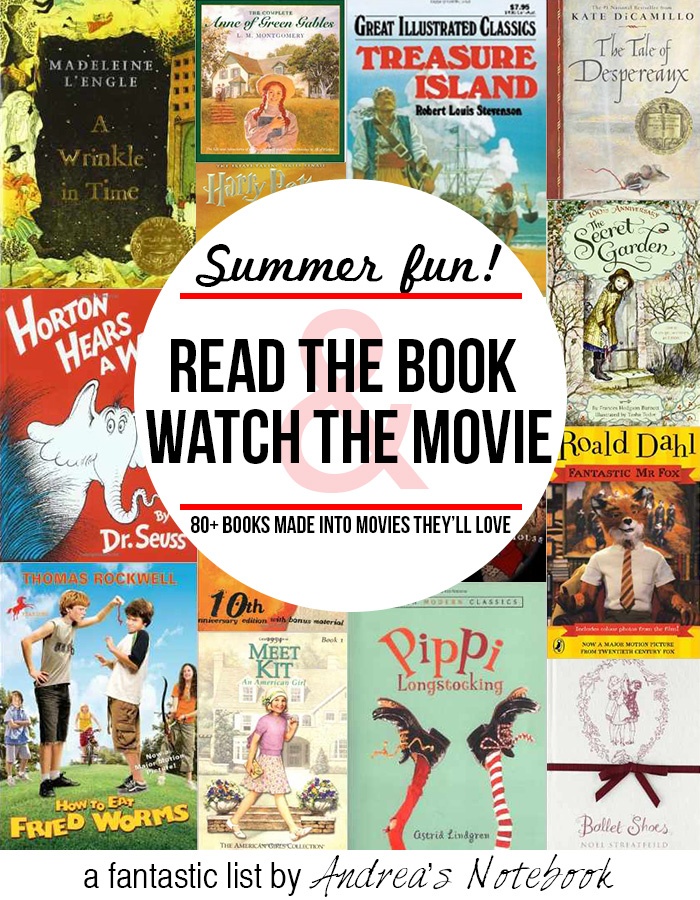 Want to have some fun reading with your kids? Read the book and then watch the movie! This great list of over 80 wonderful stories that have been made into movies is sure to keep you busy! This is a great way to encourage reluctant readers or bookworms alike! Read them aloud then watch them for a movie night or let confident readers read them alone.
This exhaustive list of children's books that have been made into movies will help fill up the long summer nights or cold winter days. All links are affiliate links.
80+ books/movies you'll all love!
The Tale of Despereaux: Being the Story of a Mouse, a Princess, Some Soup and a Spool of Thread
The Tale of Despereaux (Movie)
The Secret Garden
The Secret Garden (movie)
Fantastic Mr. Fox
Fantastic Mr. Fox (movie)
The Complete Tales of Winnie-The-Pooh
Winnie the Pooh (2011 movie)
Pippi Longstocking
The New Adventures of Pippi Longstocking (movie)
Matilda
Matilda (movie)
Charlotte's Web
Charlotte's Web (2006 movie)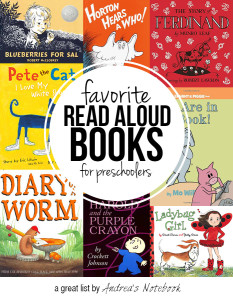 Ballet Shoes
Ballet Shoes (movie)
A Little Princess
A Little Princess (movie)
Treasure Island
Treasure Island (movie)
Alice in Wonderland: The Complete Collection
Alice In Wonderland (Disney movie)
Anne of Green Gables
Anne of Green Gables (movie box set)
Because of Winn-Dixie
Because Of Winn-Dixie (movie)
Black Beauty
Black Beauty (movie)
The Black Stallion
The Black Stallion (movie)
Charlie and the Chocolate Factory
Willy Wonka & the Chocolate Factory (movie)
Charlie and the Chocolate Factory (2005 movie)
Diary of a Wimpy Kid
Diary Of A Wimpy Kid (movie)
Harriet the Spy
Harriet the Spy (movie)
The Complete Harry Potter Collection
Harry Potter: The Complete 8-Film Collection
Heidi
Heidi (Shirley Temple movie free with Amazon Prime)
Heidi (1993 movie)
Holes
Holes (movie)
How to Eat Fried Worms
How to Eat Fried Worms (movie)
The Incredible Journey
Homeward Bound: The Incredible Journey (movie)
James and the Giant Peach
James and the Giant Peach (movie)
Meet Kit: An American Girl 1934
Kit Kittredge: An American Girl (movie)
The Lion, the Witch and the Wardrobe
The Chronicles Of Narnia: The Lion, the Witch & the Wardrobe (movie)
Little Women
Little Women (movie)
Mr. Popper's Penguins
Mr. Popper's Penguins (movie)
Nim's Island
Nim's Island (movie)
Ramona & Beezus
Ramona and Beezus (movie)
Stuart Little
Stuart Little (movie)
Treasure Island
Treasure Island (movie)
The Wonderful Wizard of Oz
The Wizard of Oz (movie)
A Wrinkle in Time
A Wrinkle in Time (movie)
The Bad Beginning (A Series of Unfortunate Events #1)
Lemony Snicket's A Series of Unfortunate Events (movie)
Judy Moody and the NOT Bummer Summer (Book #10)
Judy Moody and the NOT Bummer Summer (movie)
The Hobbit
The Hobbit: An Unexpected Journey (movie)
The Princess Bride
The Princess Bride (movie)
Coraline: The Graphic Novel
Coraline (movie)
Ella Enchanted
Ella Enchanted (movie)
Little Women
Little Women (movie)
Bridge to Terabithia
Bridge To Terabithia (movie)
The Princess Diaries
Princess Diaries (movie)
J.R.R. Tolkien 4-Book Boxed Set: The Hobbit and The Lord of the Rings (Movie Tie-in): The Hobbit, The Fellowship of the Ring, The Two Towers, The Return of the King
Lord of the Rings (movies)
Where the Wild Things Are
Where the Wild Things Are (movie)
Tuck Everlasting
Tuck Everlasting (movie)
Adventures of Huckleberry Finn
Adventures of Huck Finn (movie)
A Christmas Carol
A Christmas Carol (movie)
Peter Pan
Peter Pan (movie)
How the Grinch Stole Christmas!
How the Grinch Stole Christmas (movie)
Mrs. Frisby and the Rats of NIMH
The Secret of NIMH (movie)
Sarah, Plain and Tall
Sarah Plain & Tall (movie)
How to Train Your Dragon
How to Train Your Dragon (movie)
The Polar Express
The Polar Express (movie)
Mary Poppins
Mary Poppins (movie)
The Indian in the Cupboard
The Indian in The Cupboard (movie)
The Jungle Books
The Jungle Book (movie)
From the Mixed-up Files of Mrs. Basil E. Frankweiler
From the Mixed Up Files of Mrs. Basil E. Frankweiler
Percy Jackson and the Olympians Hardcover Boxed Set (Percy Jackson & the Olympians)
Percy Jackson movies
My Friend Flicka
My Friend Flicka (movies)
The Story of Doctor Dolittle
Dr. Doolittle (movies)
Babe: The Gallant Pig
Babe (movie)
The Spiderwick Chronicles, the Complete Series: The Field Guide; The Seeing Stone; Lucinda's Secret; The Ironwood Tree; The Wrath of Mulgrath
Spiderwick Chronicles (movie)
Kristy's Great Idea (The Baby-Sitter's Club #1)
Babysitters Club (movie)
Old Yeller
Old Yeller (movie)
Tarzan of the Apes
Tarzan (movies)
Jumanji
Jumanji (movie)
Bambi: A Life in the Woods
Bambi (movie)
Pollyanna
Pollyanna (movie)
Diary of a Wimpy Kid
Diary of a Wimpy Kid (movies)
Soul Surfer
Soul Surfer (movie)
Clifford The Big Red Dog
Clifford's Really Big Movie
Bed-Knob and Broomstick
Bedknobs and Broomsticks (movies)
The Avengers, Vol. 1, No. 1-10
Avengers (movie)
Little House Nine-Book Box Set
Little House on the Prairie TV series
The Story of Babar
Babar The Movie
The Cat in the Hat
Dr. Seuss' The Cat in the Hat (movie)
Cloudy With A Chance Of Meatballs Cloudy With a Chance of Meatballs
Cloudy with a Chance of Meatballs (movies)
The Complete Adventures of Curious George
Curious George (movie)
Horton Hears A Who!
Horton Hears a Who (movie)