I've compile the ultimate reading list for your beginning reader! These adventure stories are the best!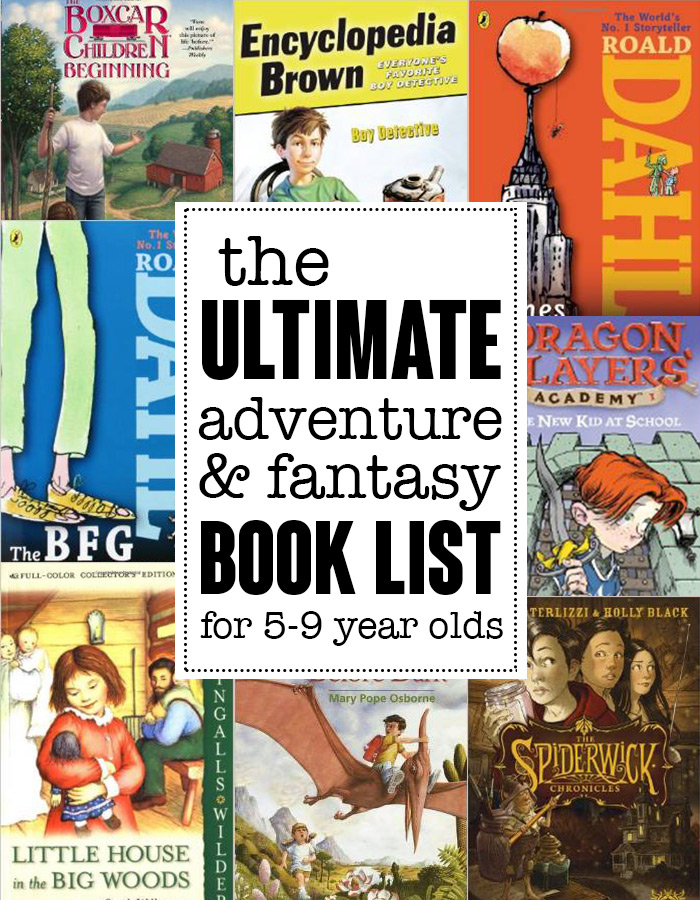 Do you have a new reader? This reading list is perfect for younger children! The adventure, mystery and fantasy books on this reading list are top rated among the 5-9 year old crowd and will entice even a reluctant reader into a summer of literary adventures. Save this reading list! These are great as read aloud books as well! I haven't read most of these so the descriptions are from amazon. Affiliate links included.
Adventure & fantasy reading list for beginning readers ages 5-9
Magic Tree House Series | A time travel fantasy series that is wildly popular with beginning readers.
Jack and his younger sister, Annie, find a tree house filled with books. Jack and Annie get to travel across time to solve mysteries and learn about different time periods.
The Aldens begin their adventure by making a home in a boxcar. Their goal is to stay together, and in the process they find a grandfather.
Leroy Brown, aka Encyclopedia Brown, is Idaville neighborhood's ten-year-old star detective. With an uncanny knack for trivia, he solves mysteries for the neighborhood kids through his own detective agency. But his dad also happens to be the chief of the Idaville police department, and every night around the dinner table, Encyclopedia helps him solve his most baffling crimes. And with ten confounding mysteries in each book, not only does Encyclopedia have a chance to solve them, but the reader is given all the clues as well. Interactive and chock full of interesting bits of information—it's classic Encyclopedia Brown!
The BFG by Roald Dahl | A classic adventure story in true Roald Dahl form.
The BFG is no ordinary bone-crunching giant. He is far too nice and jumbly. It's lucky for Sophie that he is. Had she been carried off in the middle of the night by the Bloodbottler, or any of the other giants—rather than the BFG—she would have soon become breakfast. When Sophie hears that the giants are flush-bunking off to England to swollomp a few nice little chiddlers, she decides she must stop them once and for all. And the BFG is going to help her!
After James Henry Trotter's parents are tragically eaten by a rhinoceros, he goes to live with his two horrible aunts, Spiker and Sponge. Life there is no fun, until James accidentally drops some magic crystals by the old peach tree and strange things start to happen. The peach at the top of the tree begins to grow, and before long it's as big as a house. Inside, James meets a bunch of oversized friends—Grasshopper, Centipede, Ladybug, and more. With a snip of the stem, the peach starts rolling away, and the great adventure begins!
After finding a mysterious, handmade field guide in the attic of the ramshackle old mansion they've just moved into, Jared; his twin brother, Simon; and their older sister, Mallory, discover that there's a magical and maybe dangerous world existing parallel to our own—the world of faerie.
Elmer Elevator, a young boy, runs away to Wild Island to rescue a baby Dragon.
Told from four-year-old Laura's point of view, this story begins in 1871 in a little log cabin on the edge of the Big Woods of Wisconsin. Laura lives in the little house with her Pa, her Ma, her sisters Mary and Carrie, and their trusty dog, Jack. Pioneer life is sometimes hard for the family, since they must grow or catch all their own food as they get ready for the cold winter. But it is also exciting as Laura and her family celebrate Christmas with homemade toys and treats, do the spring planting, bring in the harvest, and make their first trip into town. And every night they are safe and warm in their little house, with the happy sound of Pa's fiddle sending Laura and her sisters off to sleep.
New adventures of Nancy Drew and her friends.
Adventure books for children

Looking for more reading lists?

Why you should teach your child to read before kindergarten: