Last month I whipped up a quick maxi skirt for Fabric Weekend and Skirt Week. I never ended up entering Skirt Week and then never shared the skirt here. Mostly I'm not thrilled posting my own picture but I got over that so here you go! The best way to make a maxi skirt.
OK, there may be other great ways to make a maxi skirt but I think this is the most flattering and easiest. It doesn't gather too much fabric at your waist or hips and gives you a nice flowy look without weighing you down. I wrote out a quick tutorial to show you how to draft if for your own measurements. I think even a beginner could do this. Knit fabric can be a bit tricky to work with so if you're a beginner look for something that doesn't roll on the edges when cut. Other than that, I think you can do this!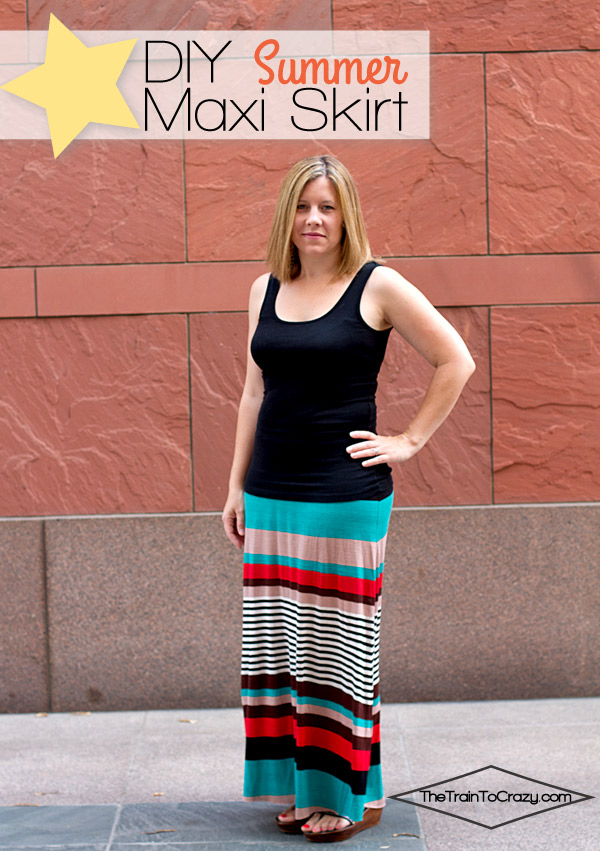 Tools & Supplies:
Knit fabric – You will create your pattern to determine how much you need. (see this great list of where to buy knit online)
1 inch knit elastic – Do not buy No-Roll elastic for this skirt because you will be sewing on the elastic.
A measuring tape to take your own measurements
Fabric scissors or a rotary cutter and cutting mat
Coodinating thread
Sewing machine or serger
Ballpoint needle for your sewing machine or serger
Optional: large pattern paper (or use measurements to create the pattern directly on the fabric. read all the steps first so you don't cut the fabric before the pattern is complete!)
Choosing your knit fabric:
Find a knit that you can't see light through, unless you want to wear a slip!
The fabric should have at least 25-40% stretch. That means if you have a 10″ cut and pull it the way it stretches most, it will grow to be at least 12.5″.
Avoid fabrics with a lot of 4 way stretch. Your skirt will grow as you wear it.
Tips:
Wash and dry your fabric and elastic before using
Optional: Hang your fabric before cutting. (notice in the photo that the striped fabric was not hung before cutting and it stretched some while being worn)
Matching your stripes isn't that hard. I've written some helpful tips here.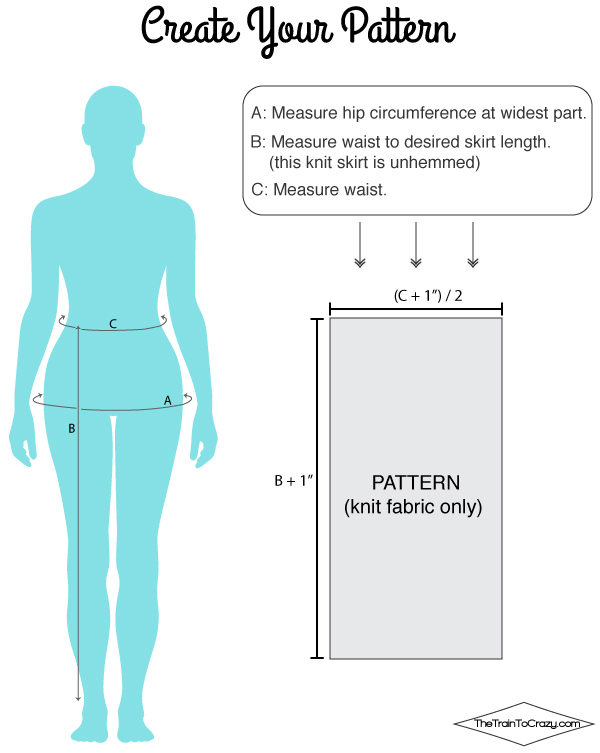 That's it! You've sewn a flattering maxi skirt! I don't hem mine but feel free to make yours an inch longer to allow for a hem.
UPDATE: How much you spread the pattern is up to you! I would spread so that your hip measurement is met at the hip area, as shown in the diagram.