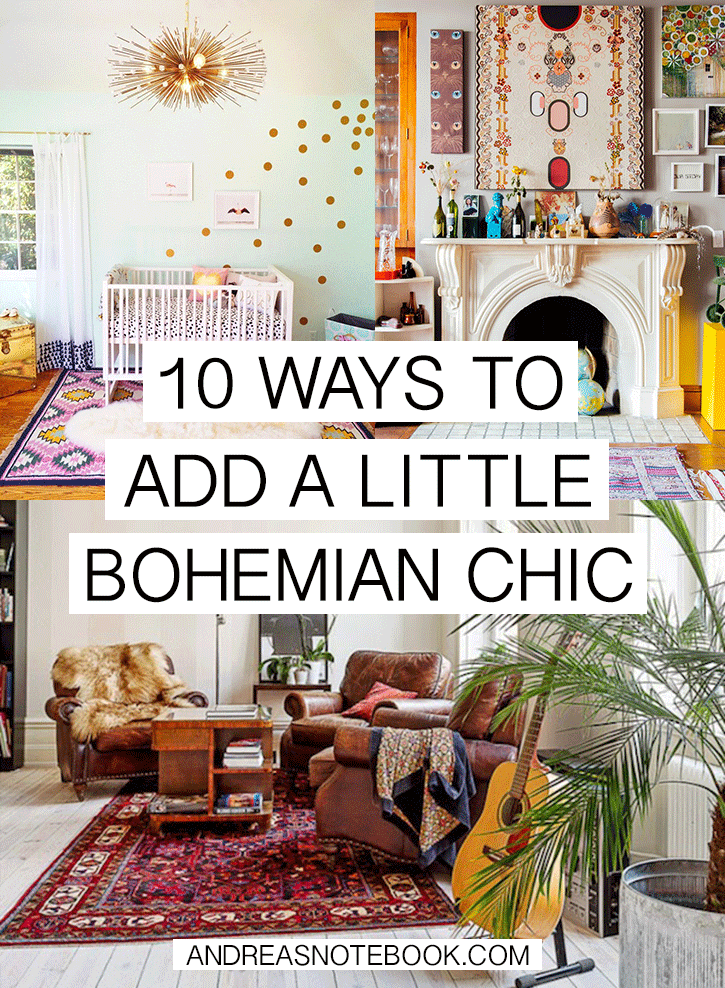 Bohemian Chic is the hot new home decor look and for good reason. It's a little bit throw-back to the hippie era and a little bit world traveller with the end result of a warm, inviting, come-on-in-and-make-yourself-comfortable aura. The Bohemian Chic home is the kind of home you can walk into and immediately join an intimate conversation. Forget the stuffy days of 'hosting' and welcome the relaxed, open days of 'make yourself at home'. The question is how to achieve this casual yet elegant; eclectic but open and airy; effortless but not cluttered look? What are the essential axioms that help a home exude a casual comfort that appears artsy without being uptight? I've distilled it down to it's most basic steps. Here is how to bohemian chic your home in 10 steps!
1. Vary Textures:
Throw in as many textures as possible to a room. Put linen next to metal, next to wood, next to glass, next to plants, next to distressed brick, next to mirrors…throw it all together. The more texture in a room, the better. It doesn't necessarily have to be overly cluttered but light reflects differently off different materials and with more textures in a room, it add a beauty and depth to the overall look that manages to stay casual.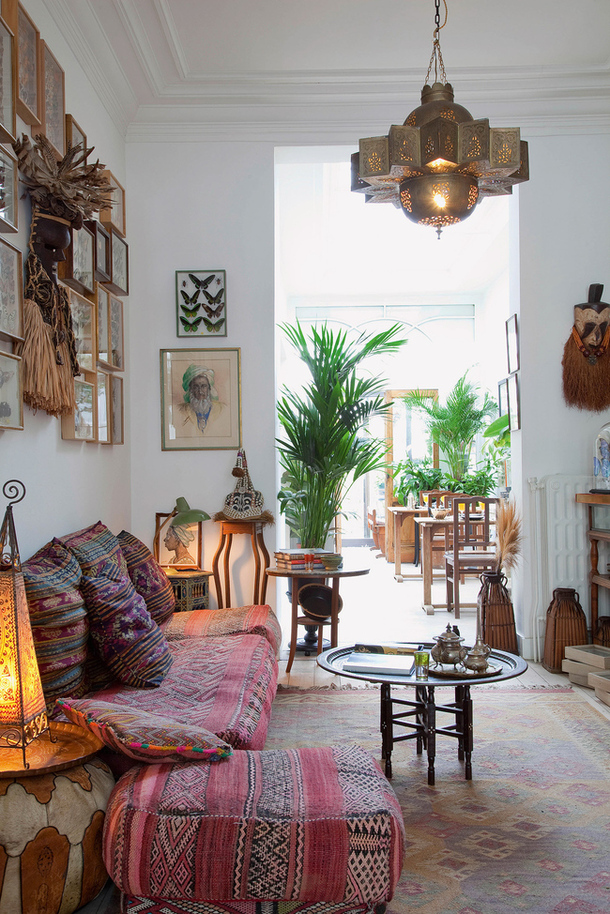 Source: Architectural Digest
2. Add Low Level Seating:
Whether it is a pouf on the floor or a low bench with cushions next to a pillow-filled couch, low level seating is inviting and does away with anything fussy. It says "come and sit with me." A house filled with that vibe is a home open to long conversations that last into the night. It doesn't have to be dramatic either. Replace a simple side table with a pouf and it becomes inviting seating when it's not used to for an open book.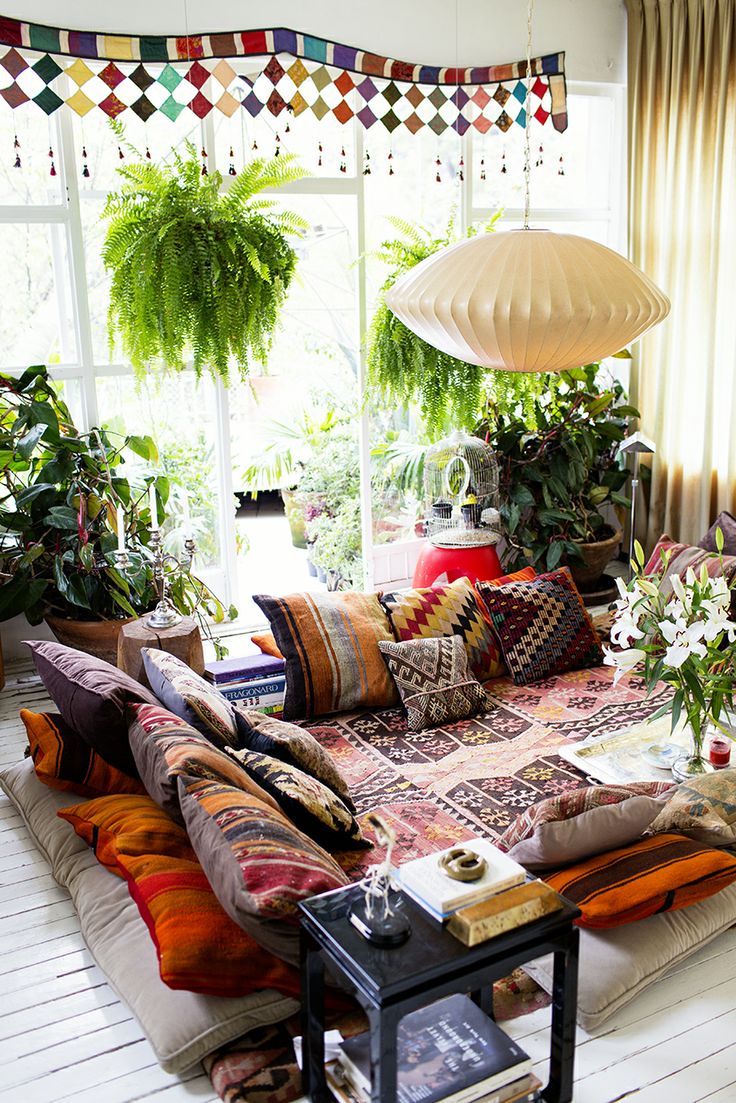 source: Viciously Cyd Tumblr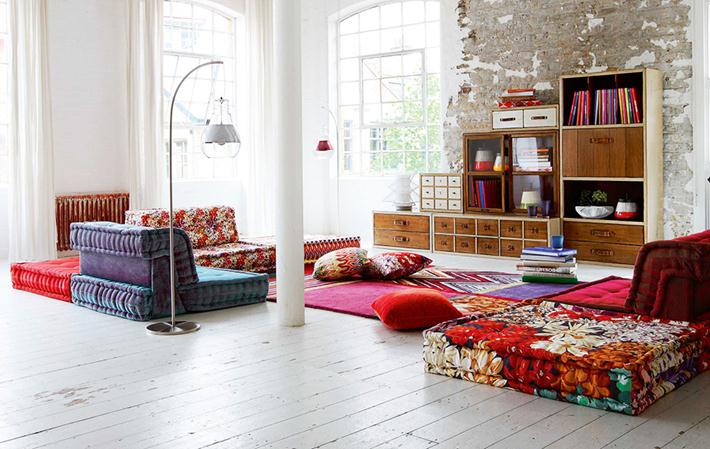 Source: Get a Decor
3. White and Blonde Woods
The dark, imposing wood of 'serious' furniture are often overly imposing and clunky alongside the vibrancy of the bohemian chic home. Strip, paint or re-stain those pieces white and light. Bounce off as much natural light as possible with light, bright woods. Blonde and white provide a neutral, bright background for the color and texture in the rest of the room.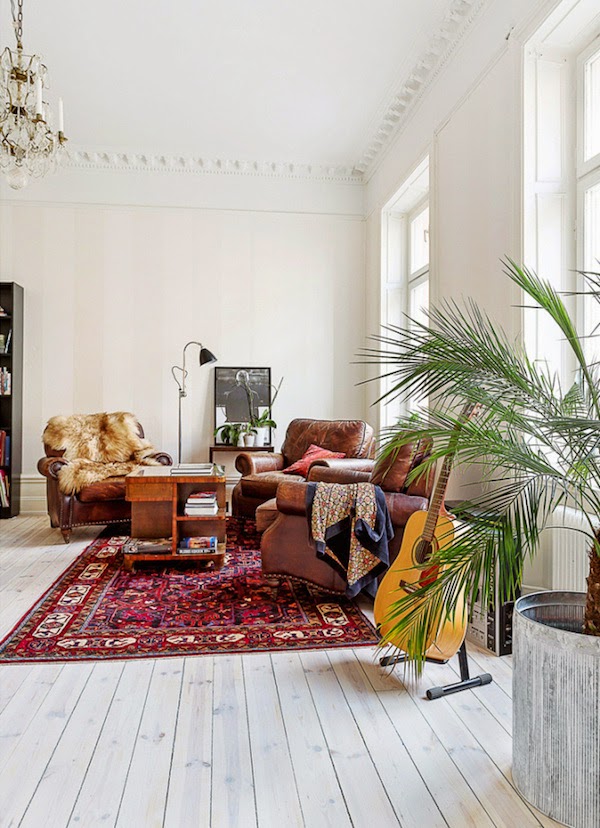 Source: My Scandinavian Home
4. Bring the Outside In with Plants:
In addition to amplifying textural elements, plants bring color and intensify a wild, unpredictable, vibrant feel. The Bohemian Chic home blurs the line between inside and outside as much as possible. Move beyond the conventional flowers in a vase by placing tree branch cuttings in clear glass vessels or plant greenery and terrariums alongside as many plants as possible.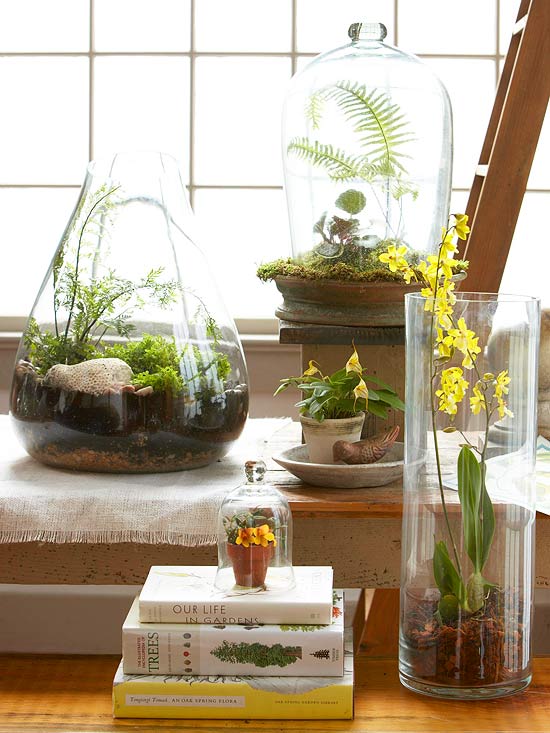 Source: Better Homes and Gardens
Consider a cactus! They're great indoor plants. You don't have to worry about watering them much and they look great!
5. Red and Pink Stripes
Stripes and geometrics are taking over where floral textiles used to rule. Throw down a dozen or so striped pillows to immediately Boho up a living room just be sure that you include pink and red! Sumptuous shades of red add richness while pinks add a surprising pop of color without looking like you are trying too hard.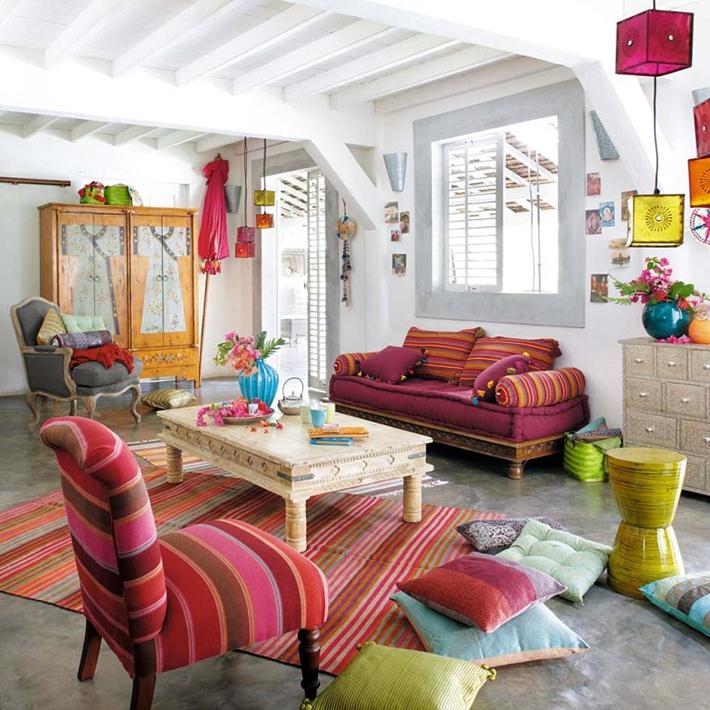 Source: Get a Decor
6. Paint one wall Turquoise
It's vibrant, unexpected and soothing all at the same time. One wall painted in a lovely turquoise color enhances all those red and pink colors without making a room too dark. If a whole wall feels like too big of a commitment, paint a wooden chair turquoise or add in turquoise ceramics to draw the eye.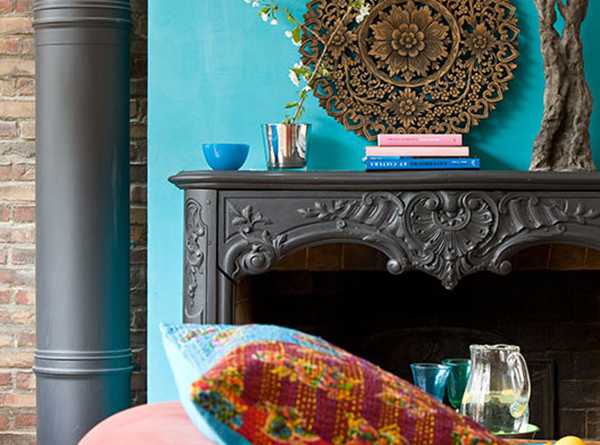 Source: Decor 4 All
7. Add Warm light with Twinkle Lights:
If the idea is to make a home warm, cozy and inviting nothing does that as well as year-round twinkle lights. Don't be afraid to add this soft, sweet light to everything from bedrooms, porches and even the kitchen.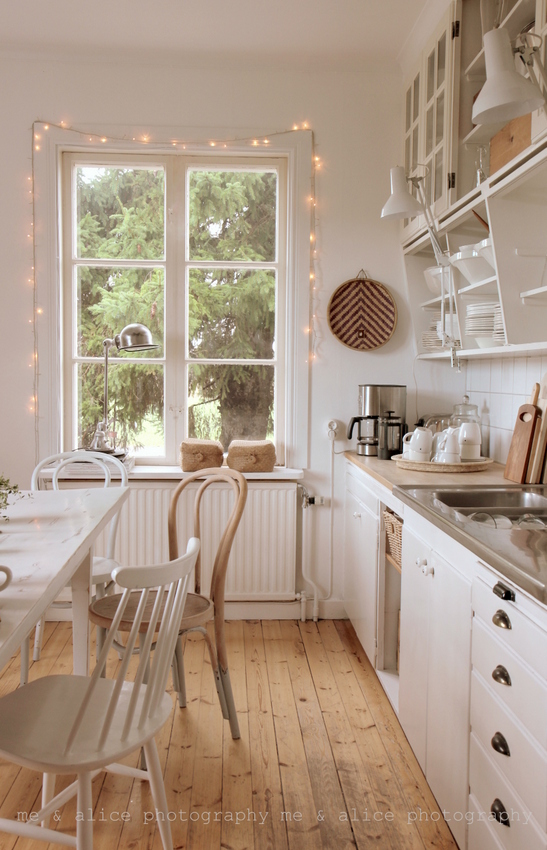 Source: Me and Alice
8. Keep it Rugged and Unfinished:
The Bohemian Chic looks concerns itself more with having a good time than it does with being 'finished'. The right amount of rugged and unfinished furniture transforms a room into a comfortable nesting spot leaving behind any pretenses and inviting family members to settle in and relax.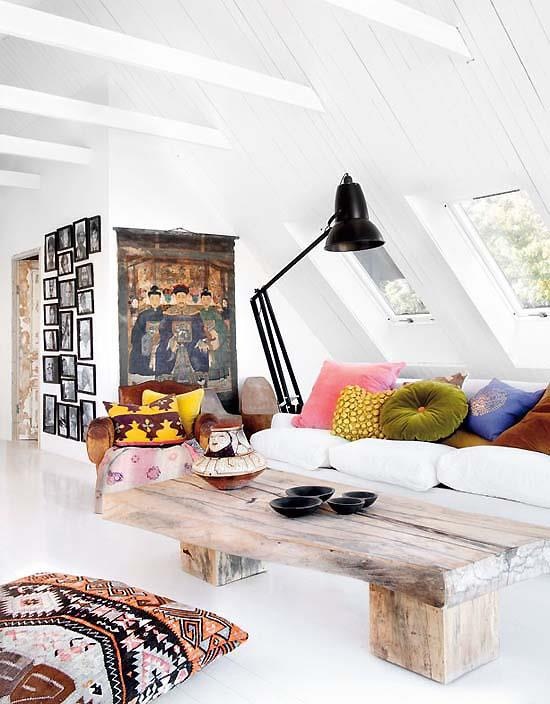 Source : Dig Digs
9. Show off your Travel Adventures with Art from Other Worlds
The Bohemian chic home often has what people call a "Morrocan" look but it's really not restricted to any one cultural approach. It is whatever you want it to be! Use home decorating to show off all the art collected on your travel adventures. Stack painted art next to sculptures and textiles from around the world in a haphazard, happy pile. Regardless of where it came from, a collection of artwork is sure to spark conversation.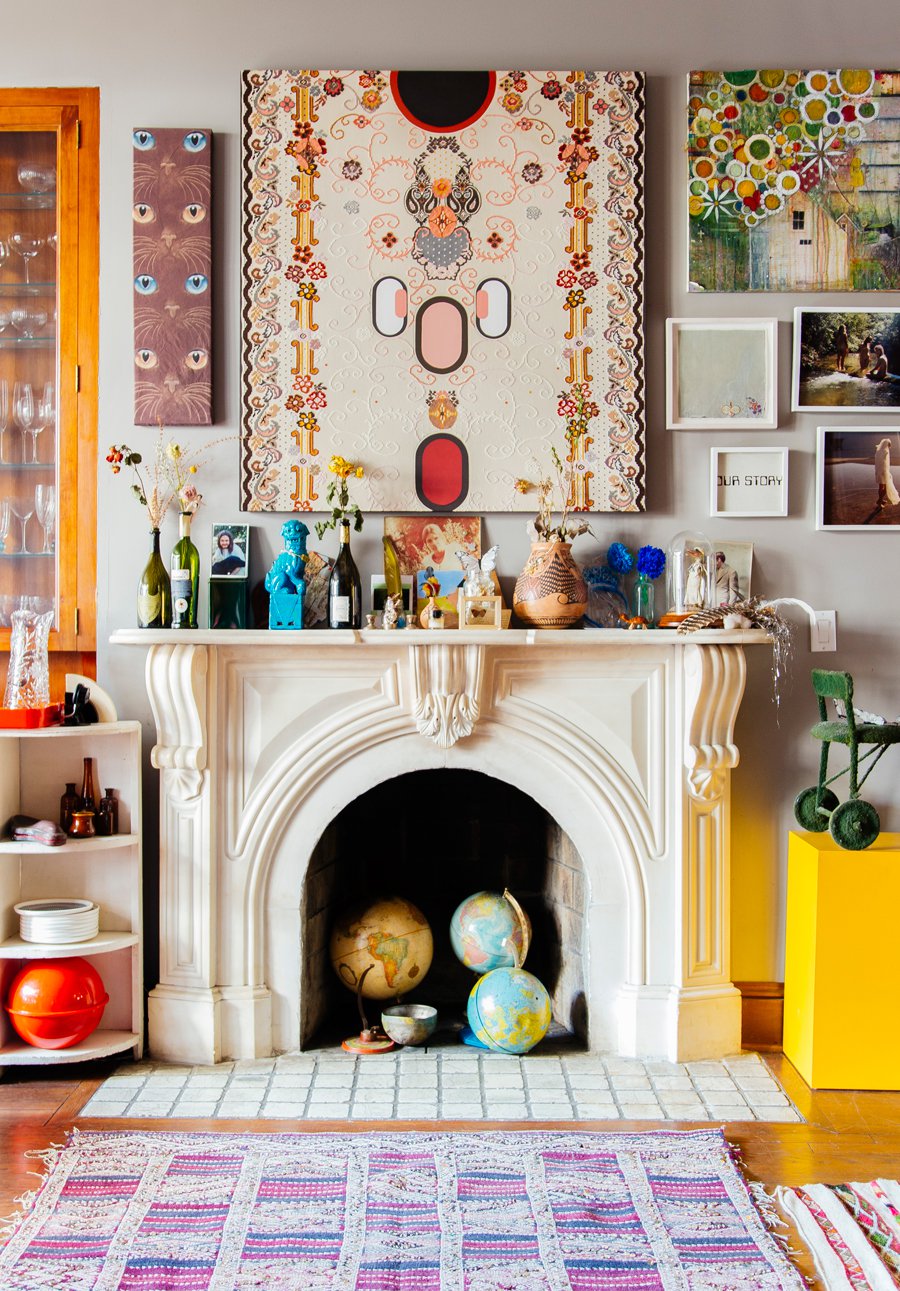 Source: Decor 8 Blog review of the book New Bohemians
Don't worry about making things even or symmetrical! Add your souvenirs however you like.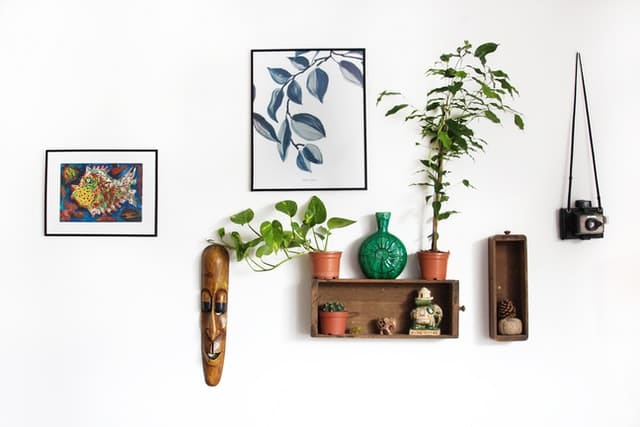 10. Layer Rugs
We layer pillows on the couch and blankets drape over the couch, why not also layer the rugs? Layer them one on top of the other in playful, unexpected ways to add warmth and a laid-back look to any room.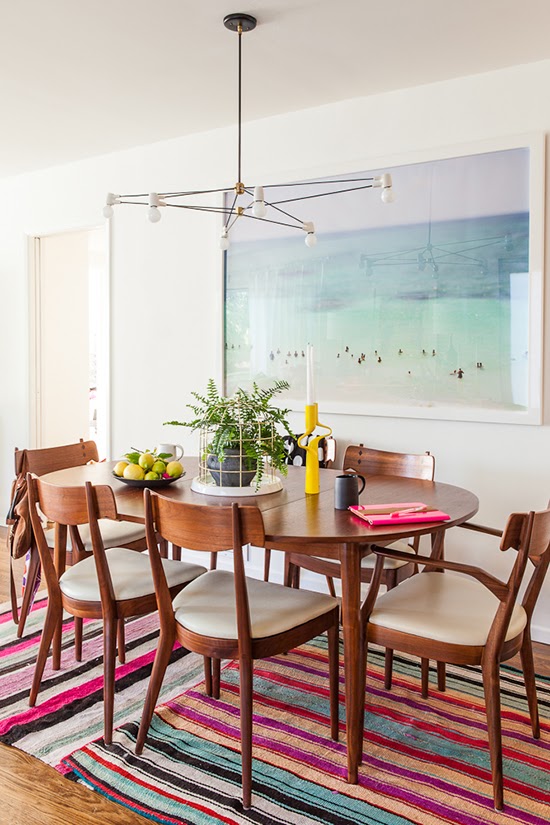 Source: My Scandinavian Home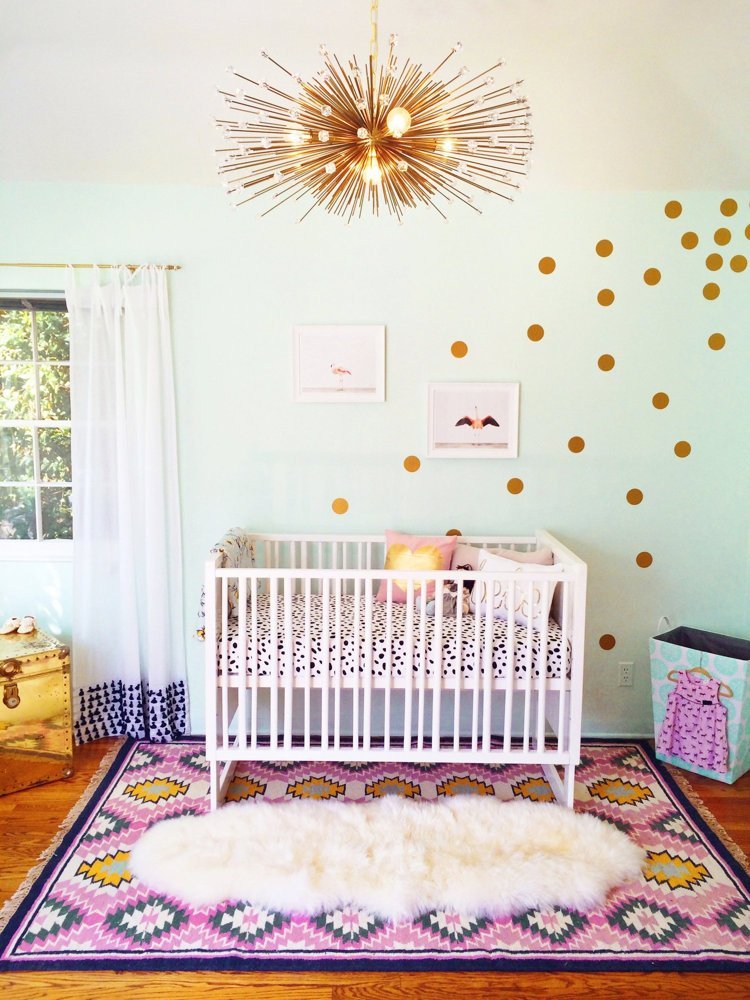 Source: Apartment Therapy
The real beauty of a Bohemian Chic home is that there are no rules. It's what feel right to you, what feels fun and interesting and effortless!