It's pumpkin season! I've found a ton of DELICIOUS pumpkin dessert recipes so you can make a new one every week! From pumpkin cake, pie and cheesecake to more unique desserts like whoopie pies and fudge, you'll find a recipe her that you love!
Best Pumpkin Dessert Recipes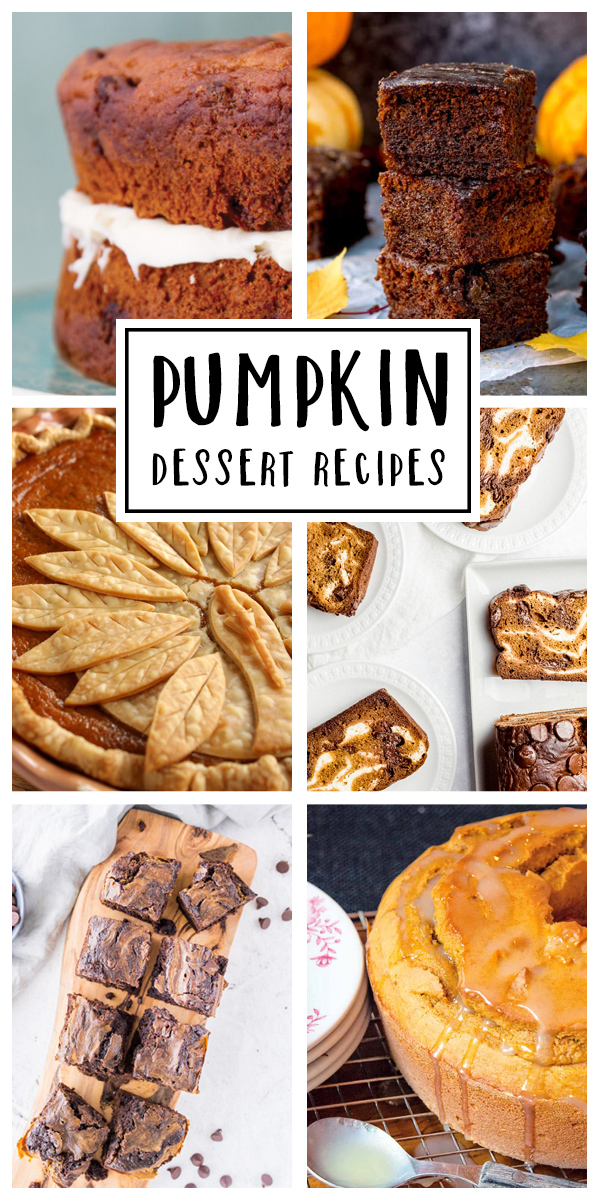 Chocolate Chunk Pumpkin Cake
This is my absolute favorite cake recipe! It's delicious! It's hard to beat chocolate and pumpkin. Put vanilla or chocolate frosting on it or leave it naked. Chocolate chunk pumpkin recipe here.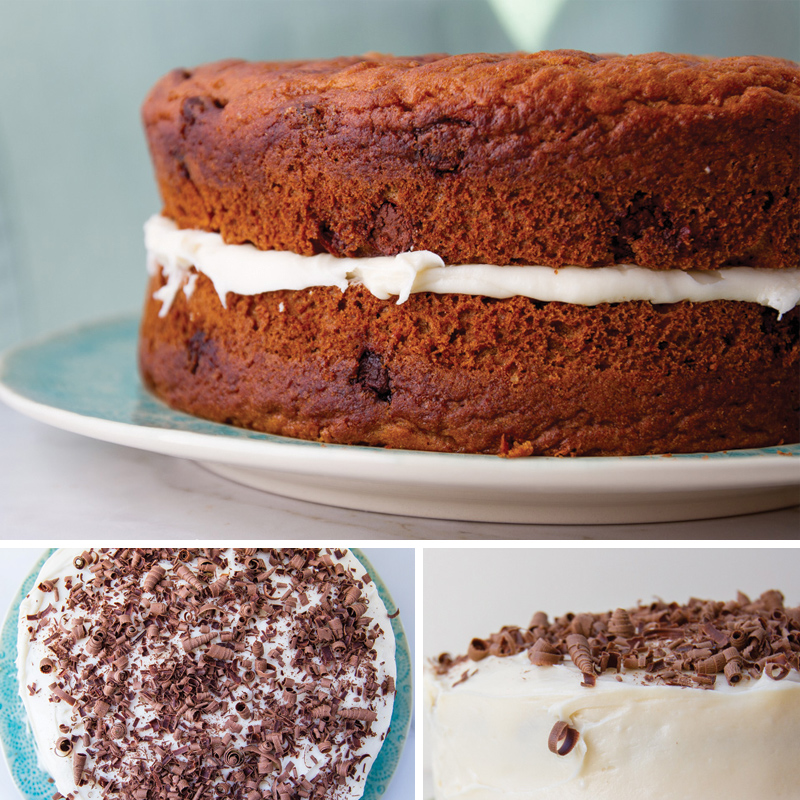 If you love this recipe you'll enjoy these pumpkin pecan pancakes.
---
Pumpkin Crumb Cake
This pumpkin crumb cake looks like the perfect weekend breakfast pastry. The recipe, by Momma Lew, would be good as a make ahead breakfast as well. Make it the night before and bake in the morning. Or bake the evening before and cover for the morning.
---
Pumpkin Cupcakes with Cream Cheese Frosting
Yum! These classic pumpkin cupcakes with cream cheese frosting by Cooked by Julie look amazing. These would be great for a Halloween party or just because. Put some chocolate chips in the cupcake batter to make them even better!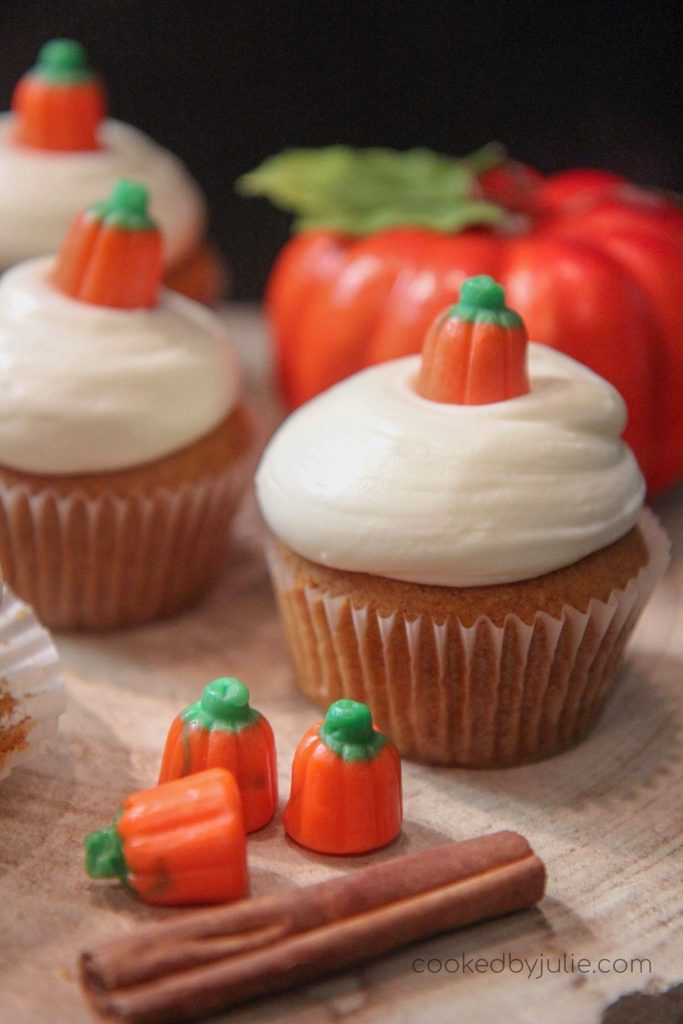 ---
Pumpkin Chocolate Chip Bread with Cream Cheese Swirls
My mouth waters just looking at this photo! It's on my list to make next week! The pumpkin chocolate chip bread with cream cheese swirls recipe by Drive Me Hungry will be a new fall staple.
---
Two Ingredient Pumpkin Donuts
Just two ingredients? It's the perfect, easy recipe. Kids can make these alone. They'll just need a little help with the oven. And don't they look good?? This pumpkin donut recipe is from Girl Inspired.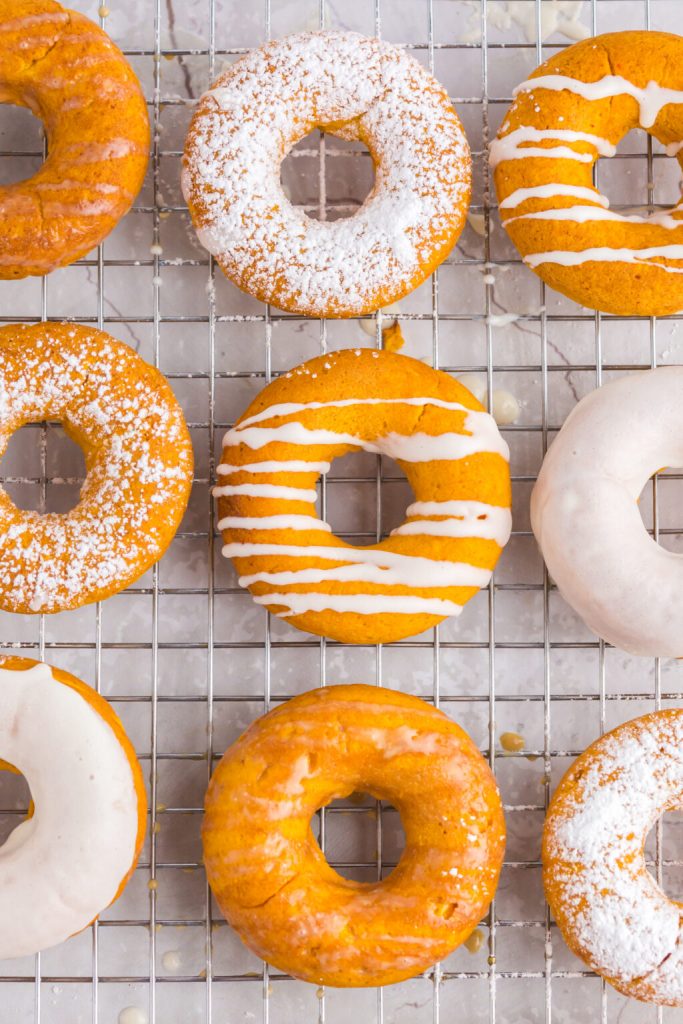 ---
Pumpkin Chocolate Chip Bars
Mmmm! Look at these fudgy pumpkin chocolate chip bars. Don't they look amazing? The recipe by XOXO Bella looks like a new favorite.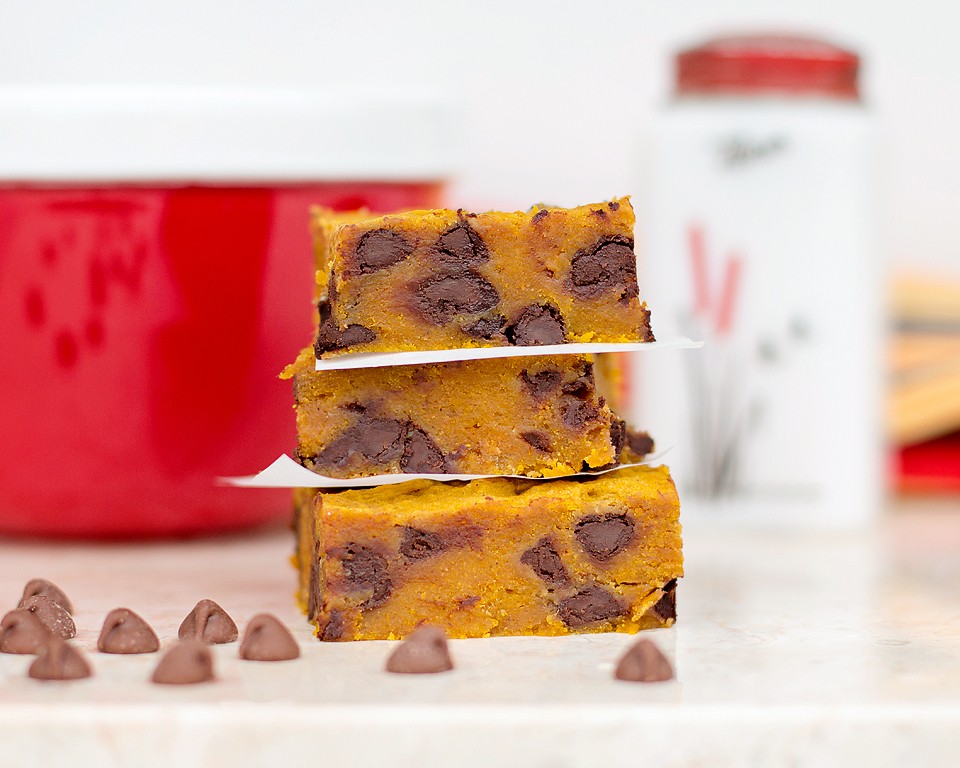 ---
Pumpkin Whoopie Pies
Have you ever had a chocolate whoopie pie? This pumpkin version looks even better! The pumpkin whoopie pie recipe is by Food Folks and Fun. These are a great portable treat if you need to bring a dessert somewhere.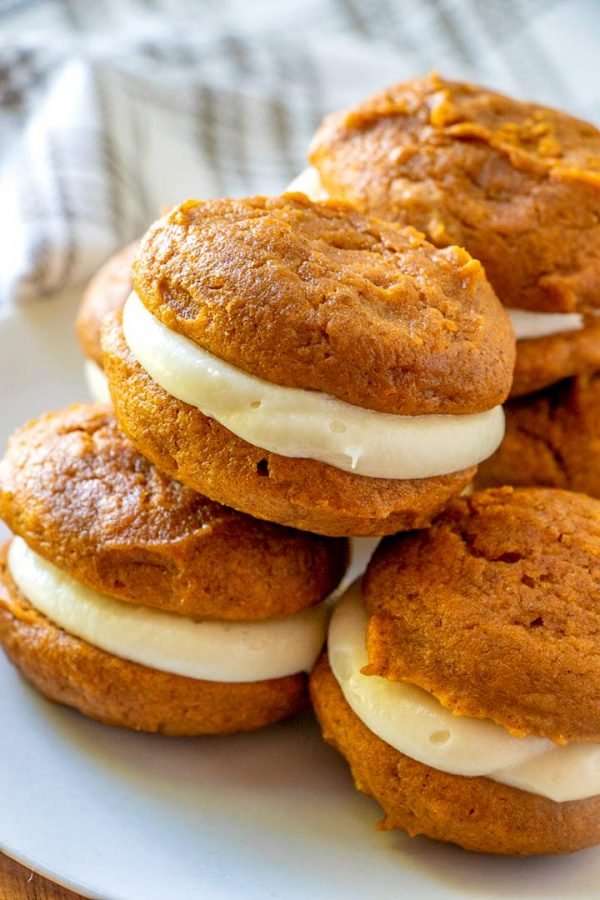 ---
Pumpkin Pie with Turkey Shaped Crust
How cute is this pie!!! The crust is adorable. Kudos Kitchen did an amazing job with this pumpkin pie recipe and turkey crust.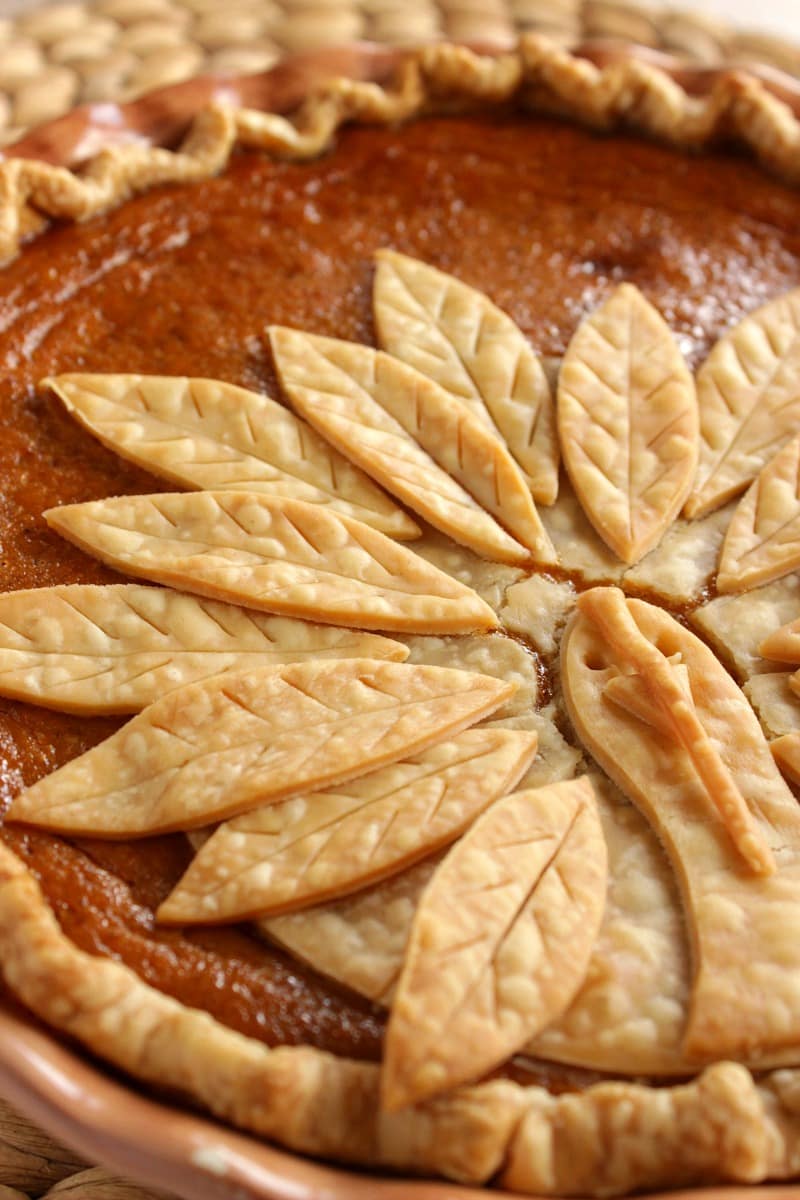 ---
Pumpkin Gingerbread Cake with Sticky Whiskey Glaze
Delicious pumpkin gingerbread cake by Kitchen Sanctuary. This is a unique recipe. If you're looking for something that is different than the usual pumpkin dessert then this is it!
---
Walnut Pumpkin Pie
Have you ever had walnuts on a pie? They aren't as popular as a pecan pie but this combination is so good! This walnut pumpkin pie recipe by Erica's Recipes is perfect for your family Thanksgiving meal!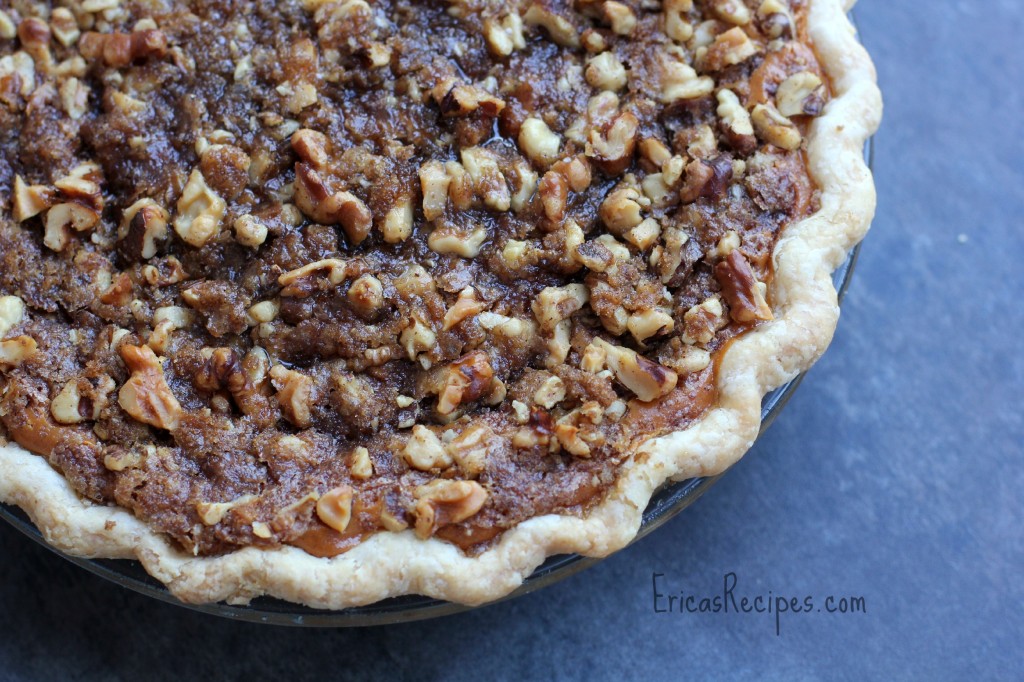 ---
Pumpkin Cheesecake Bars
Cheesecake? Yum. Pumpkin? Yum. These pumpkin cheesecake bars by Moore or Less Cooking looks delicious! Make these in a 9×13 pan and slice and serve when they're cooked!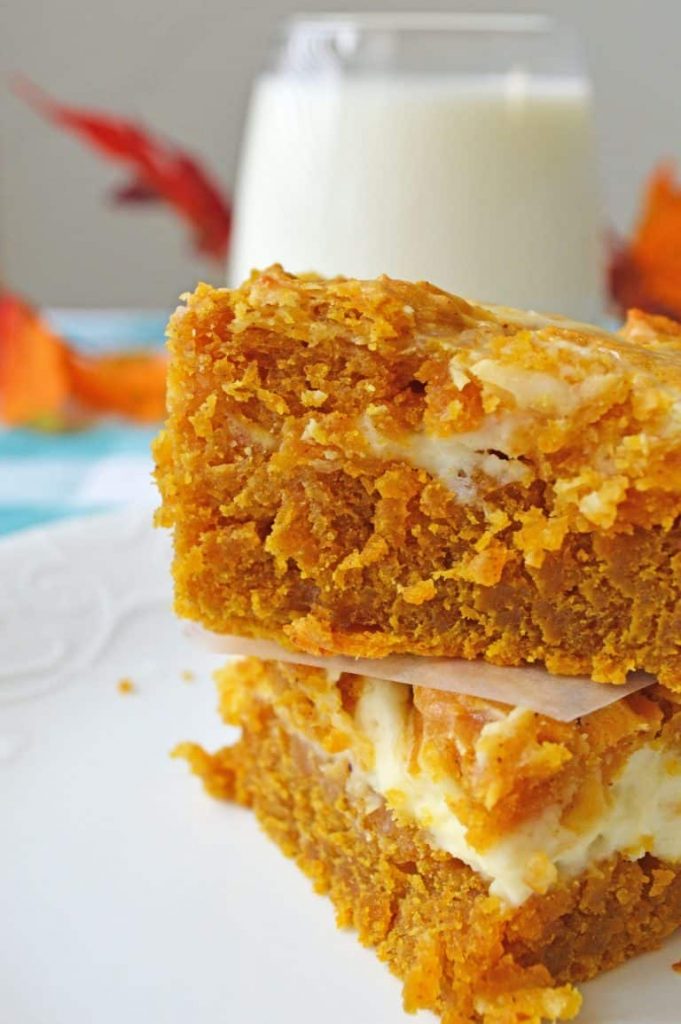 ---
Pumpkin Spice Peanut Butter Fudge
Hello sweets! This pumpkin spice peanut butter fudge recipe by Food and DIY looks amazing!
---
Pumpkin Spice Cheesecake with Nutmeg Crust
I've never tried a nutmeg crust? I have not but this looks delicious! Follow the instructions on how to make a cheesecake that doesn't crack on top when you cook it. Pumpkin spice cheesecake recipe by Tasty Oven.
---
Glazed Pumpkin Poundcake
Poundcake is an underrated dessert! This glazed pumpkin poundcake recipe by Lana's Cooking looks delicious.
---
Fudgy Pumpkin Brownies
Nourish Nutrition has made the tastiest looking pumpkin brownies. The recipe looks easy and super chocolatey.
---
Pumpkin Pie Truffles
Yes, please! Pumpkin pie truffles should be a year round dessert. Recipe by Wholesome Family Living.