If you're like us, you have at least one or two movie streaming services on your TV or devices. Netflix might be the most iconic but chances are you may have Hulu or Prime TV or Disney+ or even HBO. Movie streaming services have made it so easy to easily access movies right when you want to watch them. The problem is, I often spend more time scrolling around the apps trying to find a good movie to watch. Often I just give up because I can't decide what movie I should watch right now.
I've found 15 recent streaming movies I think you should watch right now. There's something for everyone here. Read the synopsis and watch the trailer I've included. Let me know if you've seen any of these and what you think! Do you have any recent movies you recommend?
15 Recent Streaming Movies You Should Watch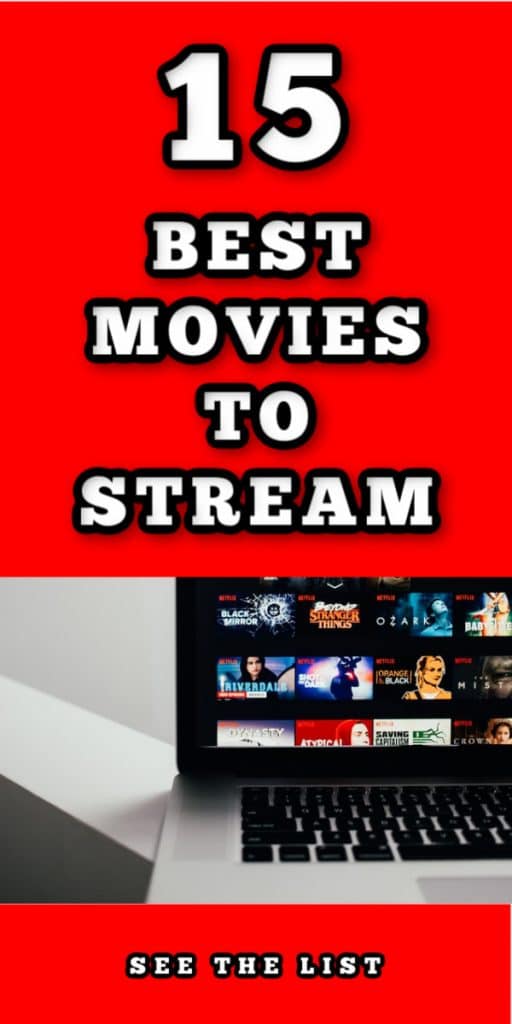 1. Knives Out
Prime Video | Fandango Now | VUDU
I saw Knives Out when it was in the theater and then couldn't wait to stream it when it came to TV. It's one of my favorite recent movies. It's clever, family friendly (older kids) and a lot of fun to watch. I thoroughly enjoyed it and can see why it gets such glowing reviews. It may not be quite as recent as the rest of the list but it is from this year. Though it does seem like ages ago since I've been to the theater!
The circumstances surrounding the death of crime novelist Harlan Thrombey are mysterious, but there's one thing that renowned Detective Benoit Blanc knows for sure — everyone in the wildly dysfunctional Thrombey family is a suspect. Now, Blanc must sift through a web of lies and red herrings to uncover the truth.

Rotten Tomatoes
Watch the movie on Prime Movies.
---
2. Enola Holmes
Netlix
This recent streaming movie is a fan favorite already! This family friendly film (older kids) tells the story of Sherlock and Mycroft Holmes' younger sister, Enola. It was a movie the whole family loved. The cinematography, costumes and acting were all wonderful. We've been hoping it's the first in a series. The end leaves us to believe there might be more coming. I do hope so!
When Enola Holmes—Sherlock's teen sister—discovers her mother missing, she sets off to find her, becoming a super-sleuth in her own right as she outwits her famous brother and unravels a dangerous conspiracy around a mysterious young Lord. Starring Millie Bobby Brown, Sam Claflin, with Henry Cavill and Helena Bonham-Carter. Directed by Harry Bradbeer.

Netflix
Watch on Netflix.
---
3. Rebecca
Prime Video | Fandango Now | VUDU
Daphne du Maurier's novel "Rebecca" has been adapted for the screen a few times since it was published in 1938. Most notably, by Alfred Hitchcock in 1940. That should tell you a little something about the movie.
I was asking a friend what movies she recommends and she mentioned Rebecca but said she went into it thinking it was a chick flick so was confused for a while. It is decidedly not a chick flick. This one has a little of everything. A little romance, a little drama, a little thriller.
A young newlywed arrives at her husband's imposing family estate on a windswept English coast and finds herself battling the shadow of his first wife Rebecca, whose legacy lives on in the house long after her death. A modern adaptation of Daphne Du Maurier's gothic novel comes to Netflix: starring Armie Hammer, Lily James, and Kristin Scott Thomas.

Netlix
Watch the movie on Netflix.
---
4. Eurovision Song Contest
Netflix
My friend recommended this to me. When I told her I'd never seen it she said she's watched it enough for the both of us. It's one of those movies you might want to watch over and over again if the humor resonates with you!
When aspiring musicians Lars (Will Ferrell) and Sigrit (Rachel McAdams) are given the opportunity of a lifetime to represent their country at the world's biggest song competition, they finally have a chance to prove that any dream worth having is a dream worth fighting for.

Netflix
---
5. John Lewis: Good Trouble
Prime Video | Fandango Now | VUDU
This is a must watch documentary. John Lewis' life was extraordinary.
Using interviews and rare archival footage, JOHN LEWIS: GOOD TROUBLE chronicles Lewis' 60-plus years of social activism and legislative action on civil rights, voting rights, gun control, health-care reform and immigration. Using present-day interviews with Lewis, now 80 years old, Porter explores his childhood experiences, his inspiring family and his fateful meeting with Dr. Martin Luther King Jr. in 1957. In addition to her interviews with Lewis and his family, Porter's primarily cinéma verité film also includes interviews with political leaders, Congressional colleagues, and other people who figure prominently in his life.

Magnolia Pictures
6. Little Voice
Apple TV+
This one came highly recommended to me as well. I immediately wanted to watch it when I realized the original music is from Sara Bareilles. I love her and couldn't wait to watch the movie!
Little Voice is a new coming-of-age drama series featuring original music from Sara Bareilles. A love letter to the diverse musicality of New York starring Brittany O'Grady, Sean Teale, Colton Ryan, Shalini Bathina, Kevin Valdez, Phillip Johnson Richardson and Chuck Cooper, "Little Voice" follows Bess King, a uniquely talented performer struggling to fulfill her dreams while navigating rejection, love, and complicated family issues.

Apple TV
---
7. On The Rocks
Apple TV+
Bill Murray, Rashida Jones, Marlan Wayans star in this movie directed by Sofia Coppola. What more do you need to know?? Rashida plays a young mother who is connecting with her wild playboy father on their journey through New York.
---
8. The Trial of the Chicago 7
Netflix
Well written and acted, The Trial of the Chicago 7 isn't one to miss!
What was intended to be a peaceful protest at the 1968 Democratic National Convention turned into a violent clash with police and the National Guard. The organizers of the protest—including Abbie Hoffman, Jerry Rubin, Tom Hayden and Bobby Seale—were charged with conspiracy to incite a riot and the trial that followed was one of the most notorious in history.

Netflix
Watch on Netflix
---
9. Bill and Ted Face The Music
Fandango Now | VUDU | Prime Video
If you're over the age of 35 you probably watched Bill and Ted's Great Adventure 25 years ago. Well they're back and this one got great reviews! It's a fun, nostalgic movie.
The ruler of the future tells best friends Bill and Ted they must compose a new song to save life as we know it. But instead of writing it, they decide to travel through time to steal it from their older selves. Meanwhile, their young daughters devise their own musical scheme to help their fathers bring harmony to the universe.

Rotten Tomatoes
---
10. Summerland
Prime Video | Apple TV+ | VUDU
This beautiful story of a young boy who is evacuated from London during WWII and placed with a single woman who is a reluctant caregiver. He helps her on her journey of love and friendship. Heartwarming and tragic.
---
11. Love and Monsters
Prime Video | Fandango | VUDU
This is a fun, imaginative monster movie. It's a pleasure to watch! If you're looking for fun and action this is for you.
Seven years after the Monsterpocalypse, Joel Dawson (Dylan O'Brien), along with the rest of humanity, has been living underground ever since giant creatures took control of the land. After reconnecting over radio with his high school girlfriend Aimee (Jessica Henwick), who is now 80 miles away at a coastal colony, Joel begins to fall for her again. As Joel realizes that there's nothing left for him underground, he decides against all logic to venture out to Aimee, despite all the dangerous monsters that stand in his way.

Paramount Pictures
---
12. The More You Ignore Me
Fandango Now | VUDU
A British coming of age story about a Smiths obsessed teen and her mentally ill mother. It's heartwarming and darkly funny.
---
13. Misbehavior
Prime Video | VUDU | Apple TV+
Here's another recent streaming movie that not many people know about but should. Misbehavior tells the story of the 1970 Mis World competition when the women's liberation movement disrupted the pageant. The result caused an uproar and Miss Grenada became the first black woman to win the crown.
---
14. Sometimes Always Never
Prime Video | VUDU
The story of a father and his sons. During a game of scrabble, one son walks out and is never seen again. The father barely has anything to do with the other son. When a body is found, the father and this other son must travel to see if they can identify the body. It's a story of finding his way back to being a father.
---
15. End of Sentence
Prime Video | VUDU | Fandango Now
In order to follow his wife's last wishes, a father picks his son up from prison and they embark on a road trip to spread his mother's ashes. They rebuild a broken relationship along the way. There's nothing surprising here but it's an enjoyable movie!
---