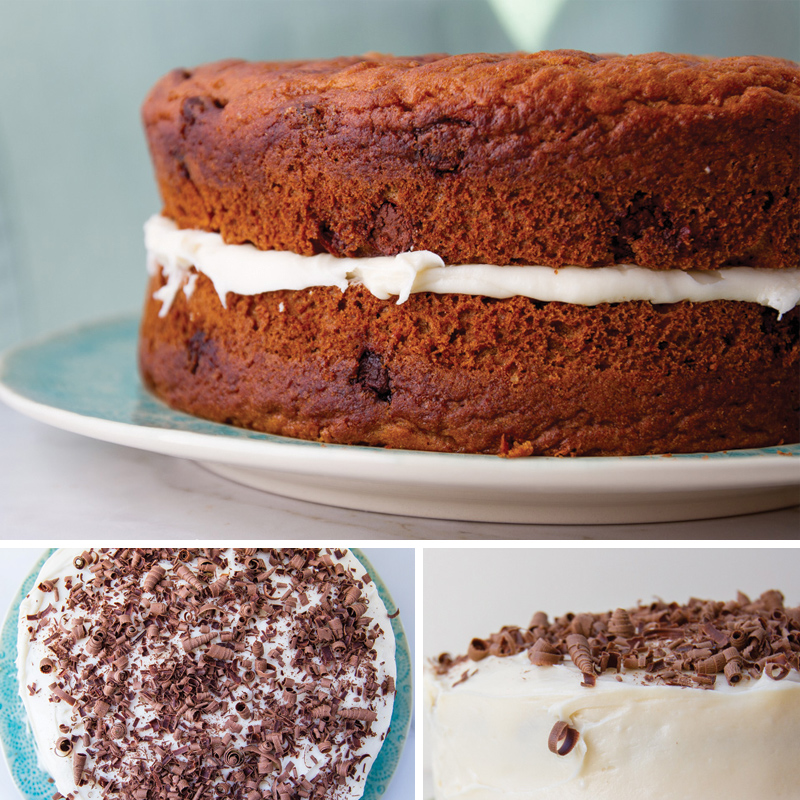 Yesterday was my daughter's 10th birthday. She's an old soul. She's quiet and kind and brilliant and creative. She marches to the beat of her own drum and doesn't let others influence the way she thinks. She's most often found with her nose in a book or doing research on some project she's creating, for fun. She loves volleyball and basketball and rollerblading down ramps or inventing new machines.
Last year she asked for a dark chocolate, flourless pear cake. This year she wanted to go out for sushi and be surprised by her cake. So I made her a double layer chocolate chunk pumpkin cake and a vanilla cream cheese frosting. This was the absolute tastiest cake, ever! You're going to love this recipe! She was so excited!
What's better? We made this gluten free (you don't have to) and it was definitely the best gluten free cake I've ever tasted. My oldest daughter has Celiac Disease so finding gluten free baked goods that aren't dense is often difficult. If you've ever baked gluten free, you'll know what I mean.

We added some dark chocolate curls to the top to make it prettier. Because, why not? Friends, you MUST make this cake this fall. Don't delay.
Ingredients:
½ cup vegetable oil
1 teaspoon vanilla
2½ cups canned pumpkin
4 eggs
2 cups flour (we use Cup 4 Cup gluten free)
1 tablespoon baking powder (gluten free)
2 teaspoons baking soda
1¾ cups white sugar
1 ½ teaspoon cinnamon
¼ teaspoon ground ginger
¼ teaspoon ground nutmeg
dash of ground cloves
1 cup chocolate chunks (or chocolate chips)
Frosting:
16 oz cream cheese, softened
⅔ cup butter, softened
6 ½ cups powdered sugar
1 tablespoon vanilla extract
Dark chocolate bar (optional for topping)
Instructions:
Preheat oven to 350°. Grease and flour the bottom of two 8" round cake pans.
Mix flour, baking powder, baking soda, sugar, cinnamon, ginger, nutmeg and cloves together.
In a separate bowl, mix eggs, oil, pumpkin and vanilla.
Combine the dry and wet ingredients. Do not overmix. Gently fold in chocolate.
Pour cake into the two cake pans. Bake for 30 minutes or until a toothpick is inserted and comes out clean.
Let cake cool on cooling racks while you make frosting.
Combine cream cheese and butter and vanilla with electric mixer. Slowly add powdered sugar about ¼ cup at a time.
Frost the cake once the cake is cool.
Use a potato peeler to make chocolate curls to add to top of cake.
This recipe is based on this recipe from Spend With Pennies.