Halloween is creeping up on us again, and what better way to celebrate than with a foxy twist? If you're on the hunt for that unique and standout look, I've got just the thing for you. Dive into our comprehensive guide on DIY fox costume ideas that will make you the talk of the town this Halloween night. Whether you're a crafting novice or a DIY master, these costume tutorials ensure there's something for everyone. Why opt for store-bought when you can whip up an easy DIY fox costume tailored just for you? These fox Halloween costume DIY ideas will help you craft fox ears, a fox tail and a cute fox face. Not excited about a fox costume tutorial? Check out 75 Halloween DIY Costume Ideas or 30 Last Minute Store Bought Costumes.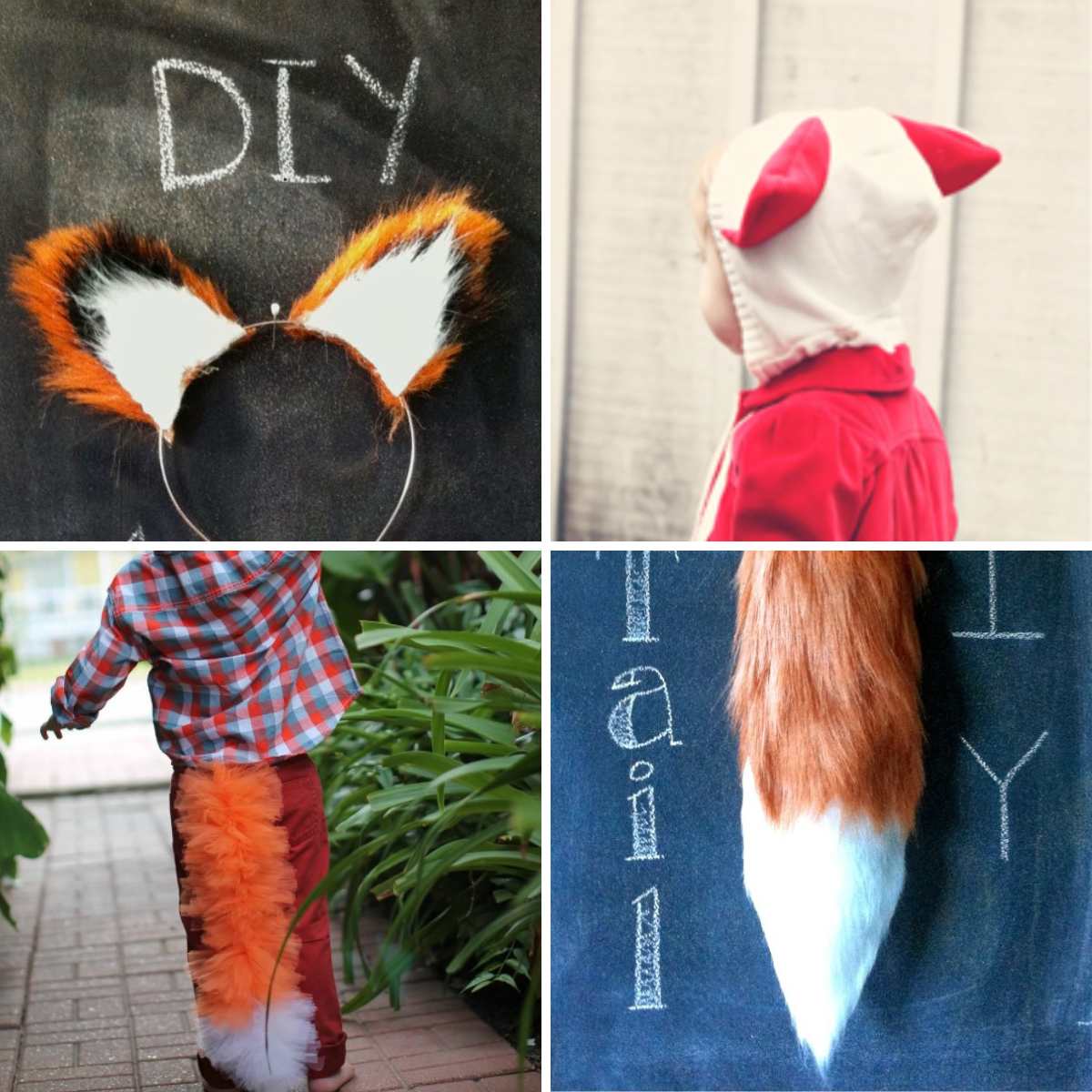 DIY Fox Ears
Ready to stand out this Halloween? Creating your own DIY fox costumes can be the game-changer. Let's focus on one of the most iconic parts of the fox: the ears! No fox Halloween costume DIY would be complete without them. Make them easy way! Here's what you'll need and a quick guide to getting those ears perked up.
Supplies for DIY Fox Ears:
Piece of orange faux fur or wool felt: This will be for the outer ear.
White fur or wool felt: To craft the soft inner ear.
Headband: This will be your base.
Cardboard box: Just a small piece to give those ears some shape.
Paper template: Draw this to use when cutting your fabric.
Hot glue gun or fabric glue: Because we want everything to stay in place.
Making the Fox Ears:
Design: Use the paper template to sketch out your fox ear shape on the cardboard. This ensures even, matching ears.
Cut the Faux Fur: Using the same template, cut out the piece of faux fur but make it slightly larger for overlap.
Craft the Inner Ear: With the white fur or wool felt, cut out smaller shapes to be glued inside for the inner ear.
Assembly: Attach the faux fur to the cardboard using the hot glue gun or fabric glue. Then, glue the inner ear piece inside.
Final Touch: Attach your ears onto the headband. Ensure they're secure and spaced the way you like.
Voila! Your fox ears are ready for the Halloween festivities. Whether you're aiming for a little fox look or a full fox Halloween costume, these ears are a great start. And remember, if you're in a jam, the Halloween store has your back for those last-minute costumes. Now, hop into the homemade costumes trend with pride!
Faux Fur Fox Ears Headband Tutorial
I love this adorable faux fur fox headband tutorial from BITS. The three colors make it so cute. It's simple but has a big impact. Pair with black or orange pants and long sleeves for simple last minute costumes.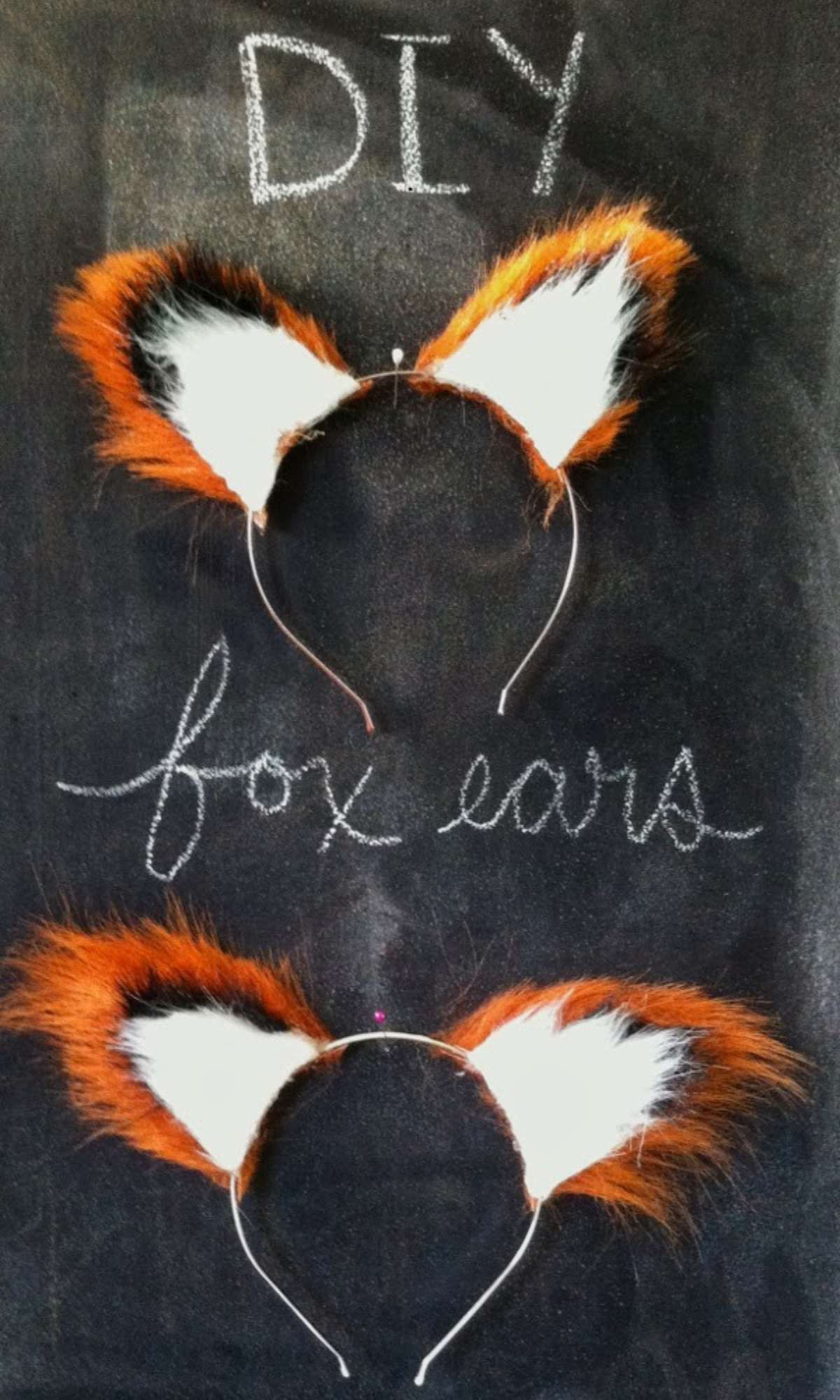 Felt Fox Ears Tutorial
This easy sewing tutorial can be attached to their clothes. The tutorial includes fox tail instructions. Grab your sewing machine for this one!. Tutorial by The Paper Mama.
DIY Fox Tail
A DIY fox costume isn't complete without its iconic fluffy tail. Don't worry; creating a fox tail is easier than you think. Here's a guide to help you craft it in a fun way, ensuring you're the talk of halloween night. No fox Halloween costume DIY is complete without a little fuzzy tail.
Supplies for Your DIY Fox Tail:
Piece of faux fur: Ideally in orange fur, as this is the most recognizable color for a fox. But feel free to get creative!
White fur: For the tip of the tail.
Hot glue gun or fabric glue: Holds everything together securely.
Safety pin: For attaching the tail to your pair of pants.
Crafting Your Fox Tail:
Shape Your Tail: Start by cutting your orange fur in the shape of a tail. Remember, it should taper towards the end for that classic fox look.
White Tip: At the thinner end of your orange tail shape, attach a smaller piece of white fur. This serves as the tip, giving it the authentic fox appearance.
Add Fluff: If you feel your tail isn't fluffy enough, consider doubling up on the piece of faux fur. This will give it extra volume and sway.
Seal It: Using the hot glue gun or fabric glue, glue the side of the tail to close it up, making sure there are no openings.
Attach to Pants: Once the glue has dried, attach your tail to your pants using a safety pin. Place it where it feels comfortable and gives the best fox-like appearance.
There you have it, an easy diy halloween costume piece made from scratch! This tail not only looks authentic but is also perfect for those last-minute costumes decisions. So, whether you're wearing a full fox ensemble or just the tail, you'll be sure to have a whimsical and memorable Halloween experience. Now, step out and let your fox tail lead the dance moves!
DIY Stuffed Fox Tail Tutorial
I love this cute stuffed faux fur fox tail by BITS. No need for a sewing machine. You can make a 3D stuffed fox tail with just faux fur and fabric glue or hot glue.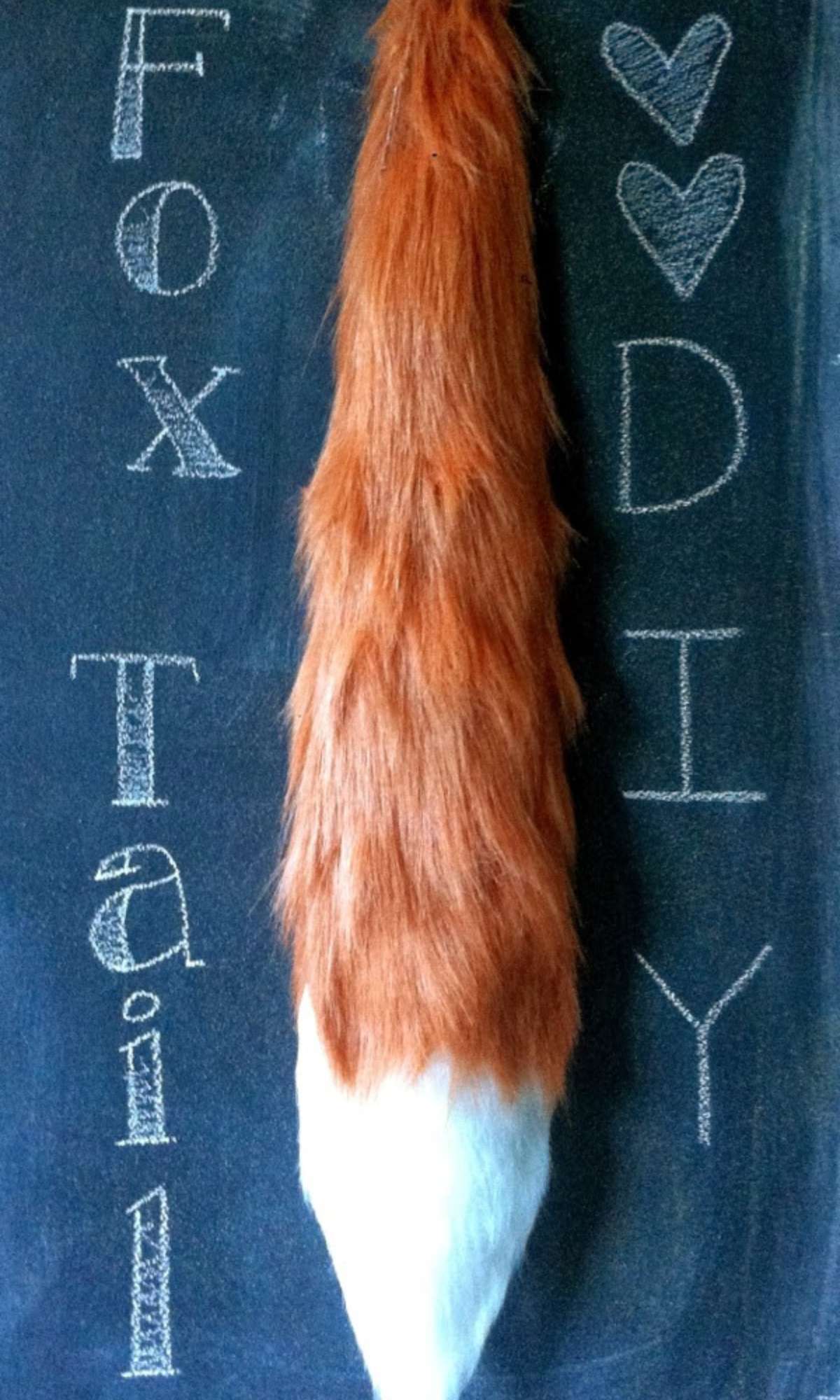 Tulle Fox Tail Tutorial
Make a DIY fox tail out of tulle! This adorable fox tail tutorial by The Hairbow Company is perfect if you are short on time.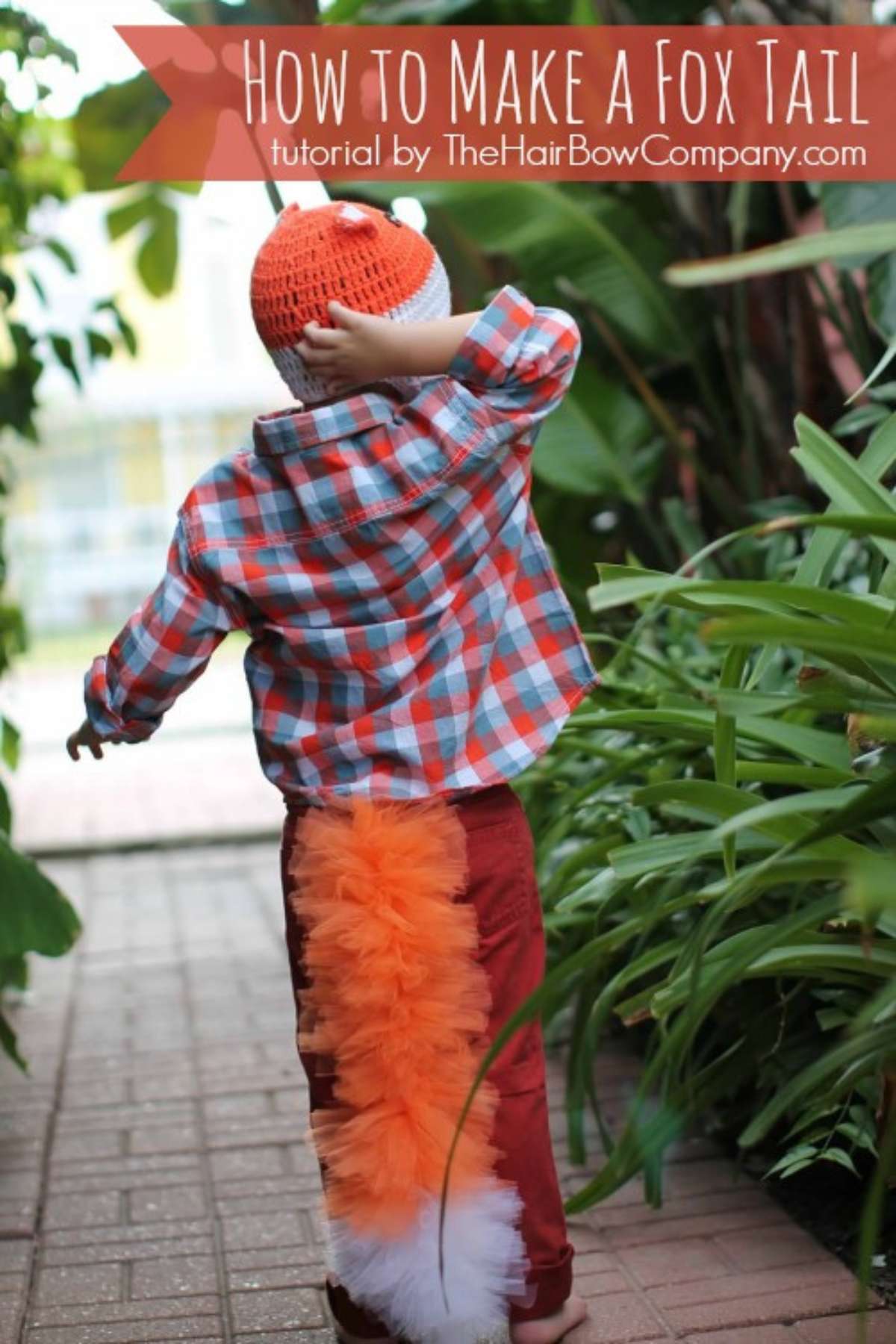 3 Ways To Make A DIY Fox Face
An easy DIY fox costume isn't complete without a fox face. Here are three innovative ways to create that foxy visage!
DIY Fox Face Paint
Face paint isn't just for kids. It's a medium that lets our creativity flow. For your fox Halloween costume DIY face makeup look, gather orange, white, and black face paint. Start by painting your entire face orange. The area around your eyes and the lower half of your face should be white. Using black, draw a nose, and add some whisker dots. Finish with a dash of black eyeliner to give those eyes a foxy edge. Don't forget, while paint is fantastic for achieving detailed looks, always ensure it's skin-friendly.
DIY Fox Mask from Scratch
If face makeup isn't your thing, why not opt for a DIY fox mask? Here's a simple costume tutorial:
Begin with a sturdy piece of cardboard or thick paper. Draw the shape of a fox's face and cut it out.
Paint the mask in shades of orange and white, emulating the fox's natural color patterns.
For a realistic touch, consider gluing pieces of faux fur.
Use black paint or a marker for the eyes, nose, and whisker dots.
Punch holes on either side and attach elastic bands, ensuring the mask sits comfortably.
Need a visual? Use this DIY bat mask tutorial using a fox face shape.
Fox Inspired Halloween Masks from Craft Stores
If time is ticking away, a good idea might be to grab one of the ready-made halloween masks from a local craft store. Many of these masks can be customized. With a bit of paint, glitter, or additional faux fur, you can transform a generic mask into a foxy masterpiece.
Whichever method you choose, pairing it with complementary clothing and a bushy tail will surely make heads turn. Delving into these DIY projects not only ensures a unique look but also adds a personal touch that store-bought costumes often lack. So, this Halloween, let your inner fox run wild and enjoy the festivities with your handmade creation!
Most Popular Halloween Costume Tutorial