The clock's ticking. Halloween 2023 is just around the corner, and panic might be setting in. Where did October go? Your young one's perfect Halloween costume still isn't sorted. But fear not, for I come bearing a treat! Let's toss out the worry of scrambling together a homemade mishmash and embrace the magic of a store-bought costume. Dive deep into a treasure trove of easy costume ideas that'll save the day. Whether you're searching for a dashing boys costume or a dreamy girls costume, this list has your back. Ready to unveil the top costume ideas for 2023? Cast away those last-minute blues and step into a world where dressing up is not just easy but incredibly fun. Let's make this Halloween memorable, even if it's pulled together at the eleventh hour. 🎃

Some things are better to buy, some things are better to DIY. Everyone has a different opinion about Halloween costumes. Some people absolutely love making costumes, others hate spending all the time on something that will be worn once. No matter where you fall on the spectrum, time is running out. We've searched through Amazon to find 4+ star costumes that you can order and will arrive before Halloween. These are all available through Prime. (Make sure you double check that the size you want is available with Prime)
30 Kids' Halloween Costumes to Buy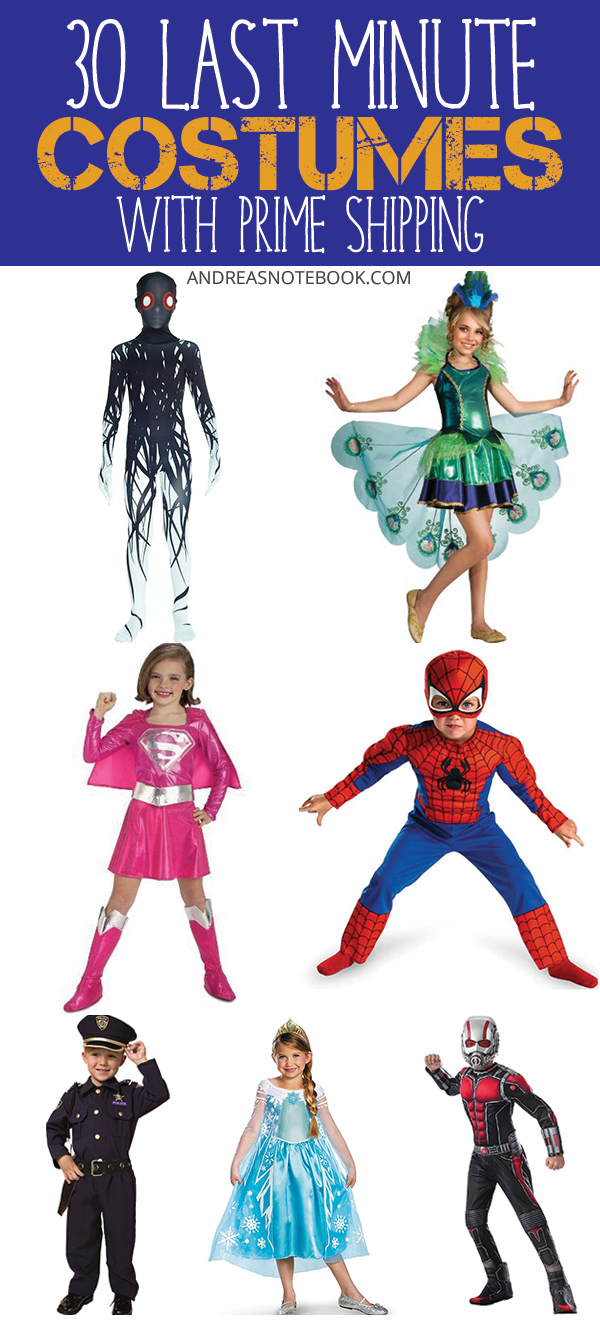 Halloween buzz has hit the streets, and one question echoes louder than the rest: What's the costume trend for 2023? Boys costumes and girls costumes are evolving faster than a wizard's spell! Forget those clichés. This year, it's all about the blend of past, present, and future.
Have your kids been drawn to the world of anime? With vibrant characters and wild imaginations, it's no wonder that anime has skyrocketed in the costume scene. From fierce warriors to magical creatures, these outfits let their wearers step into a whole different universe, even if just for an evening.
Now, while store bought costumes offer the convenience many parents crave, especially during the Halloween rush, don't shy away from the charm of DIY costumes. The creativity, the customization, the absolute joy of crafting something from scratch – it's pure magic. And the best part? It often brings out the artist in both kids and adults. Whether it's the precision of a superhero emblem or the meticulous attention to a princess's gown, DIY adds a unique touch.
On the other hand, for those who'd rather save time and dodge the crafting chaos, store-bought options are racing ahead with innovation. No more generic vampires and witches! 2023 is the year of intricate designs, impeccable detail, and some unexpected characters stealing the limelight.
With the stage set for a Halloween of unparalleled fun and fantasy, it's time for parents and kids to unite in the great costume quest. Dive into the world's most sought-after looks, from the classics that never age to the newbies making their grand debut this year. So, whether you're leaning towards a fantastical anime character or a timeless favorite, the 2023 Halloween arena promises to be diverse, vibrant, and absolutely spellbinding. Happy haunting! 🎃
More Halloween Costumes & Fun