It's time to start making silly and scary food for all the little Halloween fanatics! I've found some super cute, some silly and some gross foods kids should love! These Halloween recipes include sweet treats, Halloween appetizers, Halloween dinner ideas, Halloween party ideas and more. Something for everyone! These scary Halloween treats and meals will get your creative ideas flowing!

Spooky Dessert Ideas
Looking for the ultimate spooky Halloween desserts that'll be a hit at school events and parties? You're in the right place. From delicate meringue ghosts that float atop your cakes to festive treats shaped with cookie cutters, our list has it all. If you're on the hunt for a show-stopping centerpiece dessert or a party-perfect Halloween appetizer, dive into these delightful concoctions. They're not just tasty, but also a visual treat, ensuring your spread becomes the talk of the town! Ready to up your dessert game? Let's explore.
Start with easy chocolate covered Halloween dipped Oreos. Turn them into mummy cookies, monster cookies, or just decorate them with Halloween sprinkles. These are perfect for school Halloween parties or just fun after school Halloween snacks. Everyone loves Oreo cookies!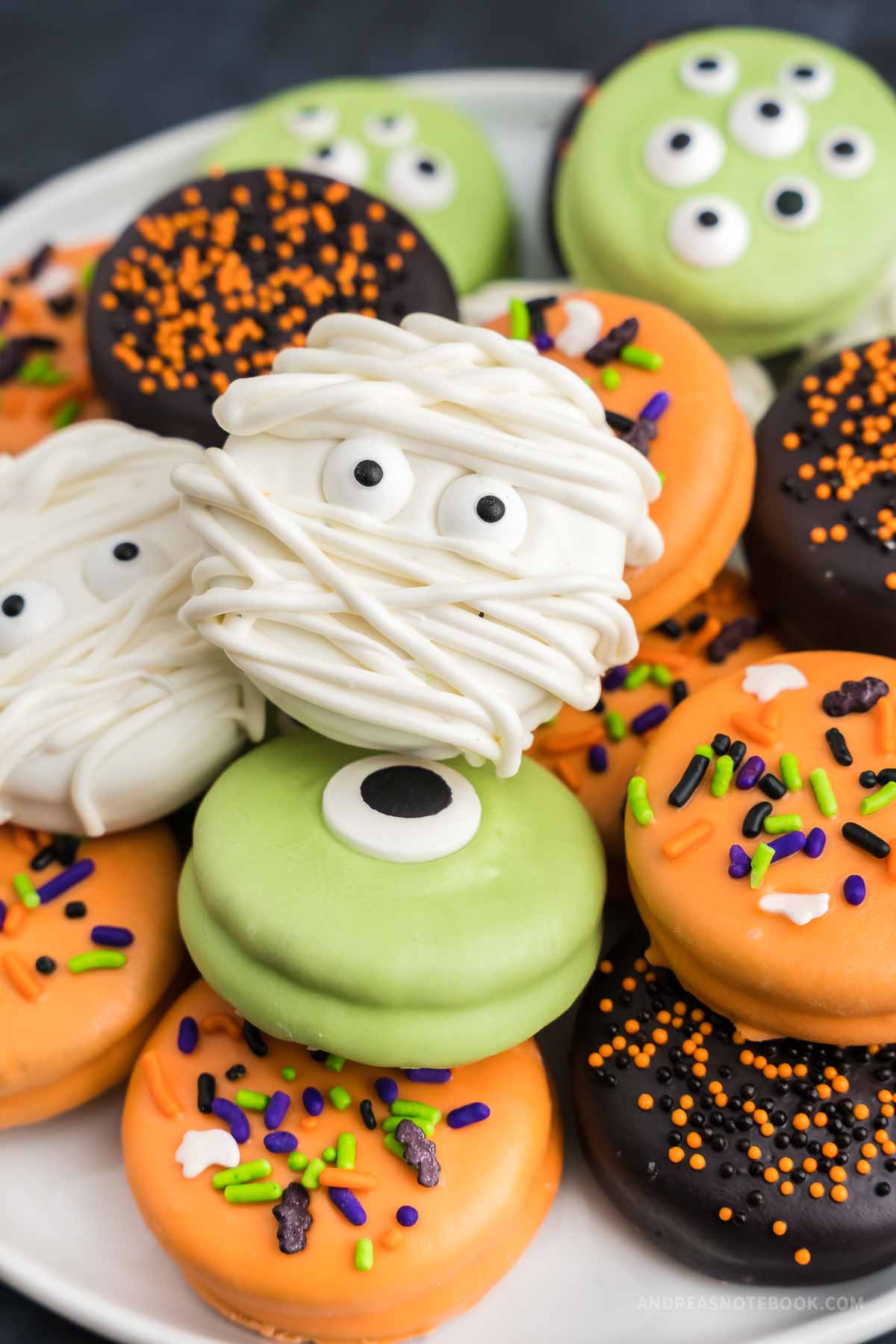 These spooky Halloween Graveyard Brownies are an easy Halloween treat to make for your next Halloween bash. They're fun for kids and adults! These are tasty and cute! A tombstone never tasted so good.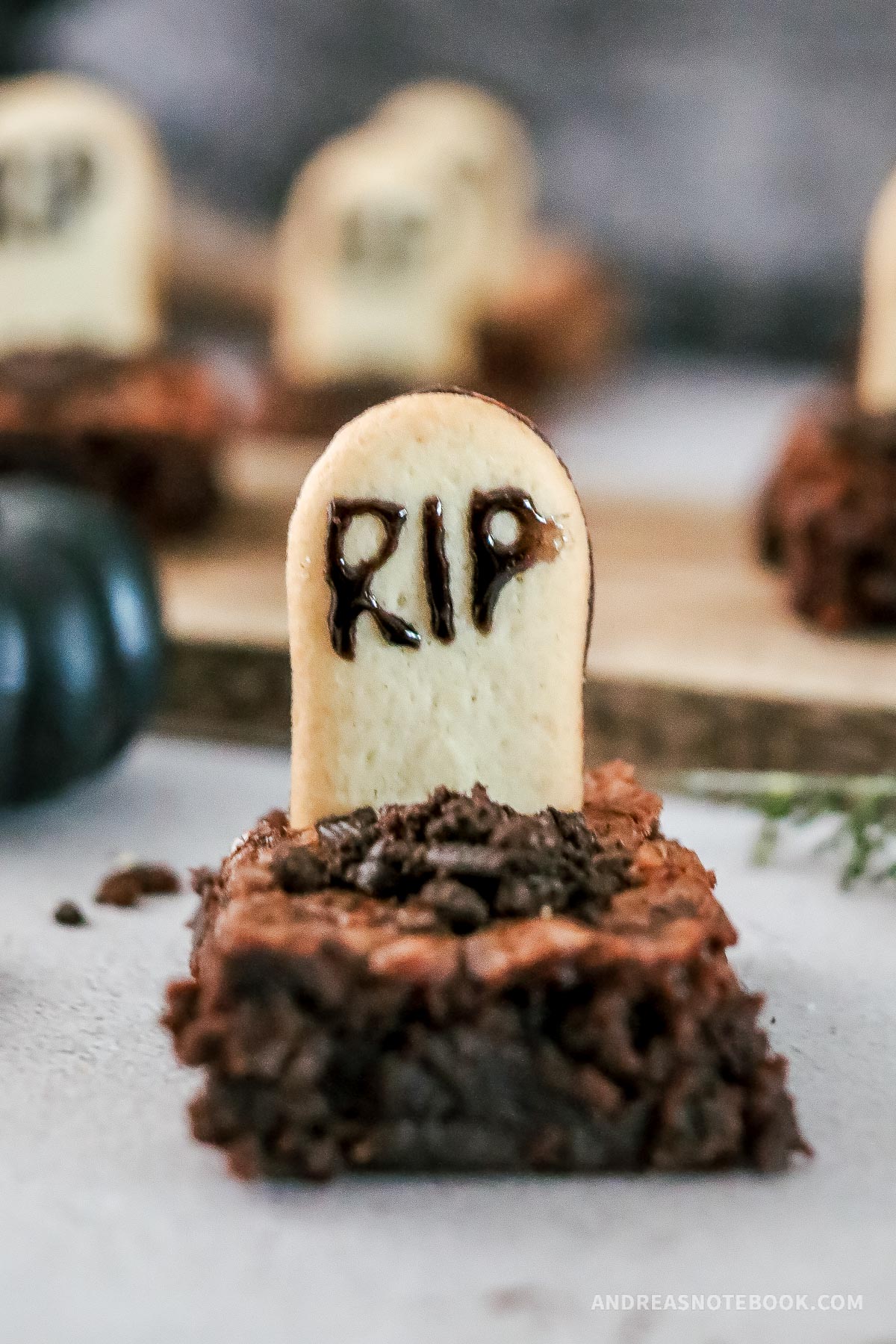 These Monster Cupcakes are simple and sill halloween cupcakes. The candy eyes make a huge impact. Serve these while you watch scary movies!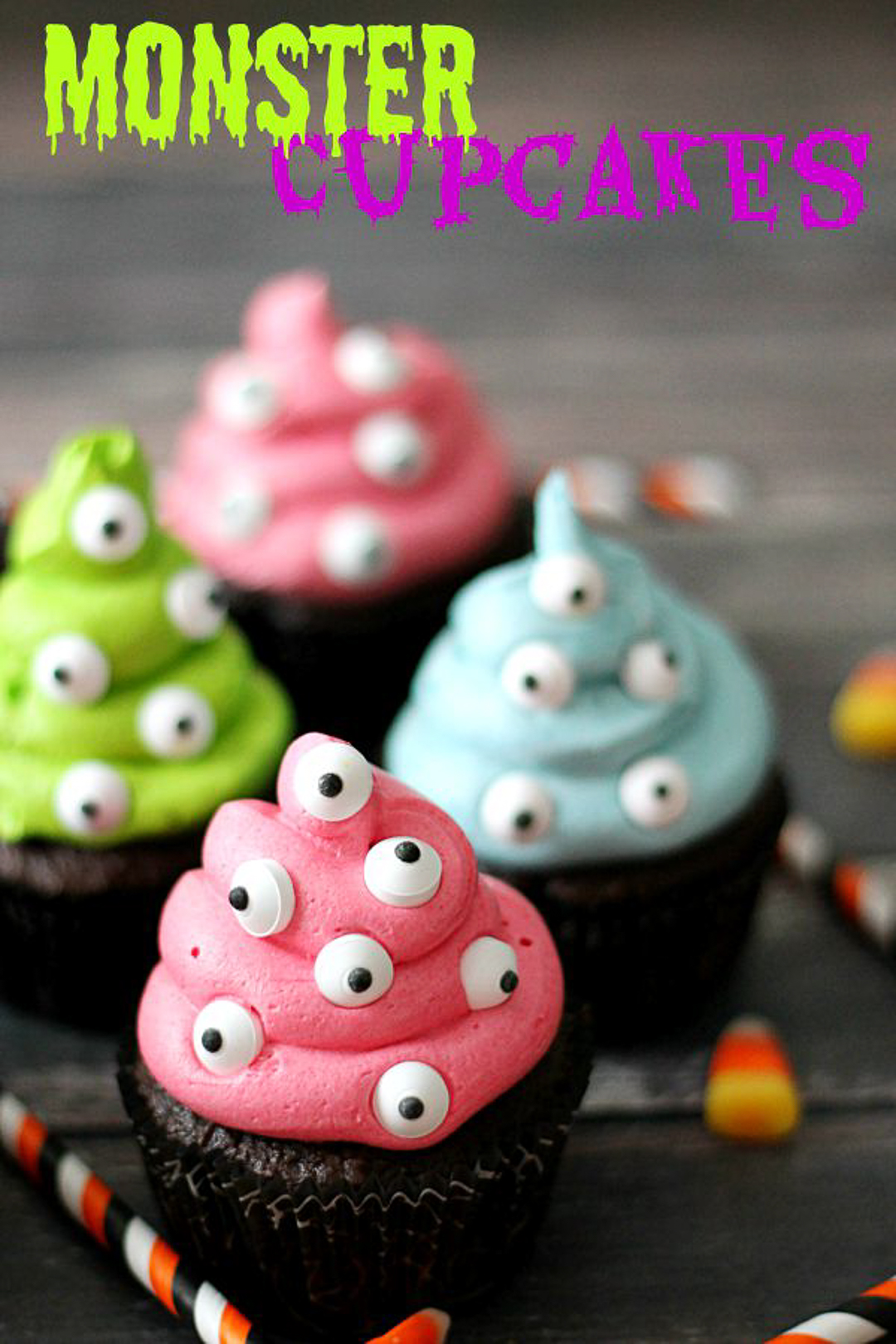 Halloween Bundt Cake Recipe is as colorful as possible. It's full of halloween colors and halloween sprinkles without being spooky or scary.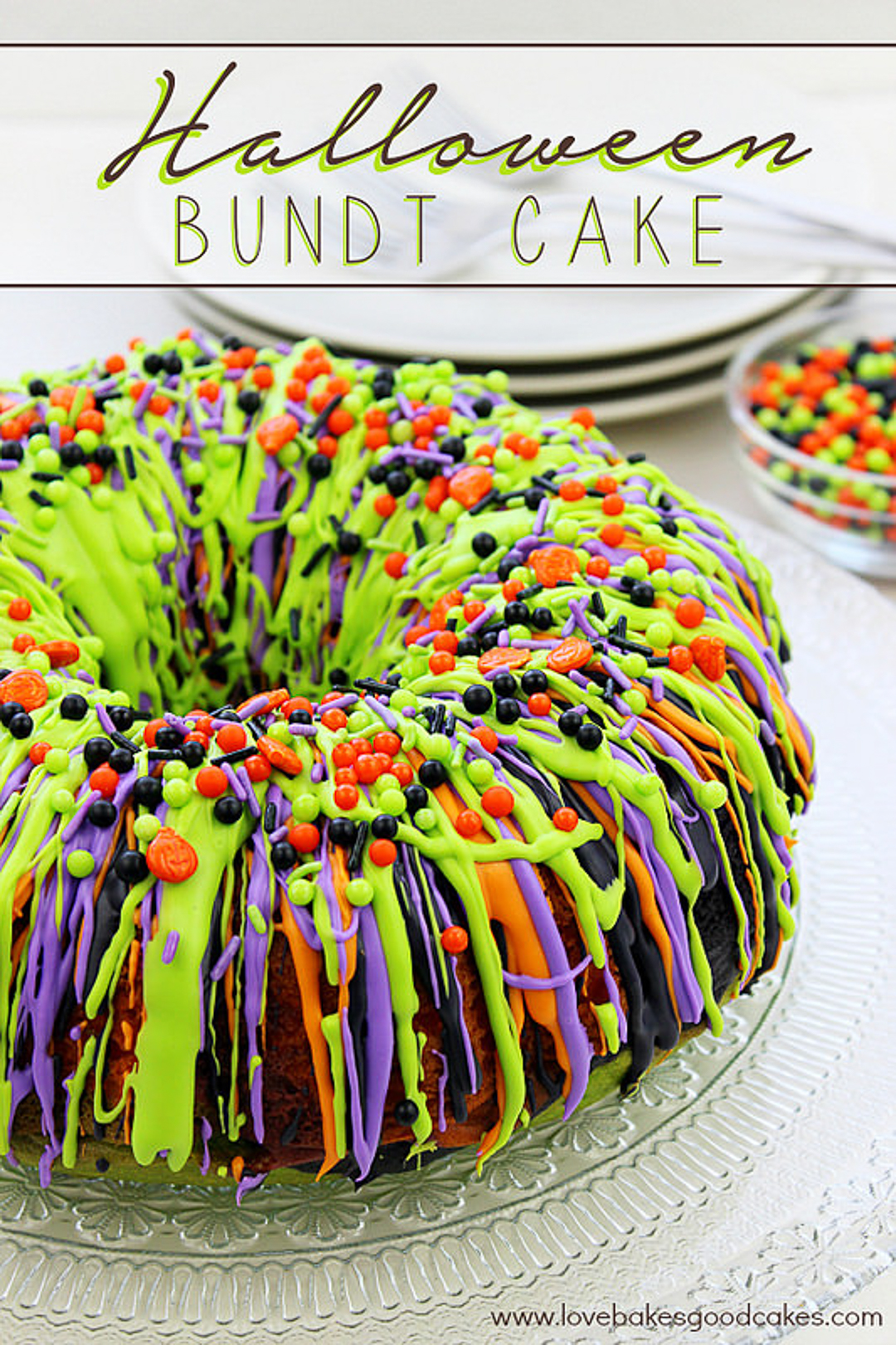 A Monster Cookie Bar on a stick is perfect for a school halloween party. Let kids decorate monster sugar cookies the way they want before they taste it! It's fun to make your spooky snacks for yourself.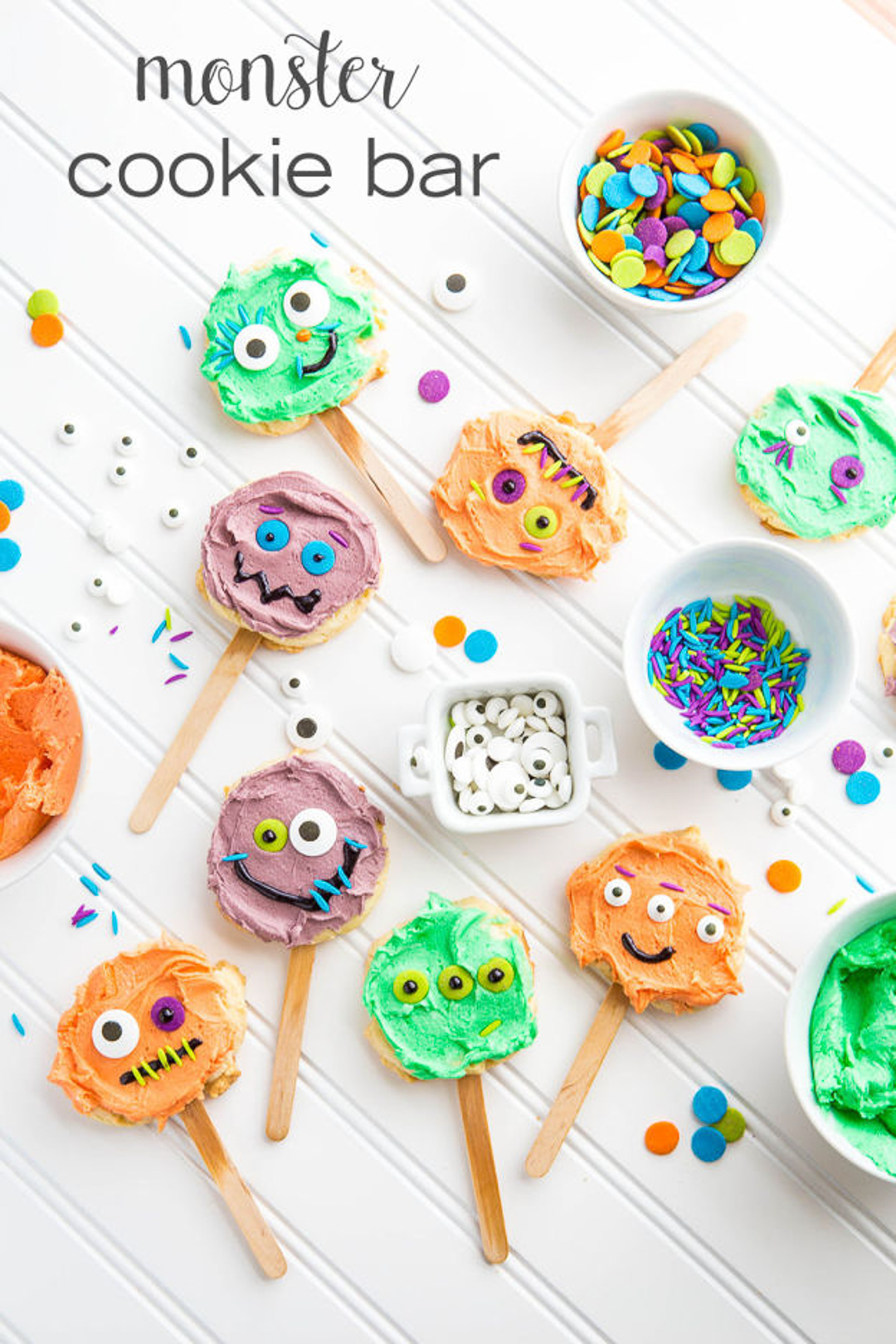 Dark Toffee Apples are very creepy. Shiny and black, these toffee apples look like poisoned apples. These look amazing! I'm sure kids would flip for these! Candy apples and caramel apples are a traditional halloween treat for a reason. They're tasty and fun.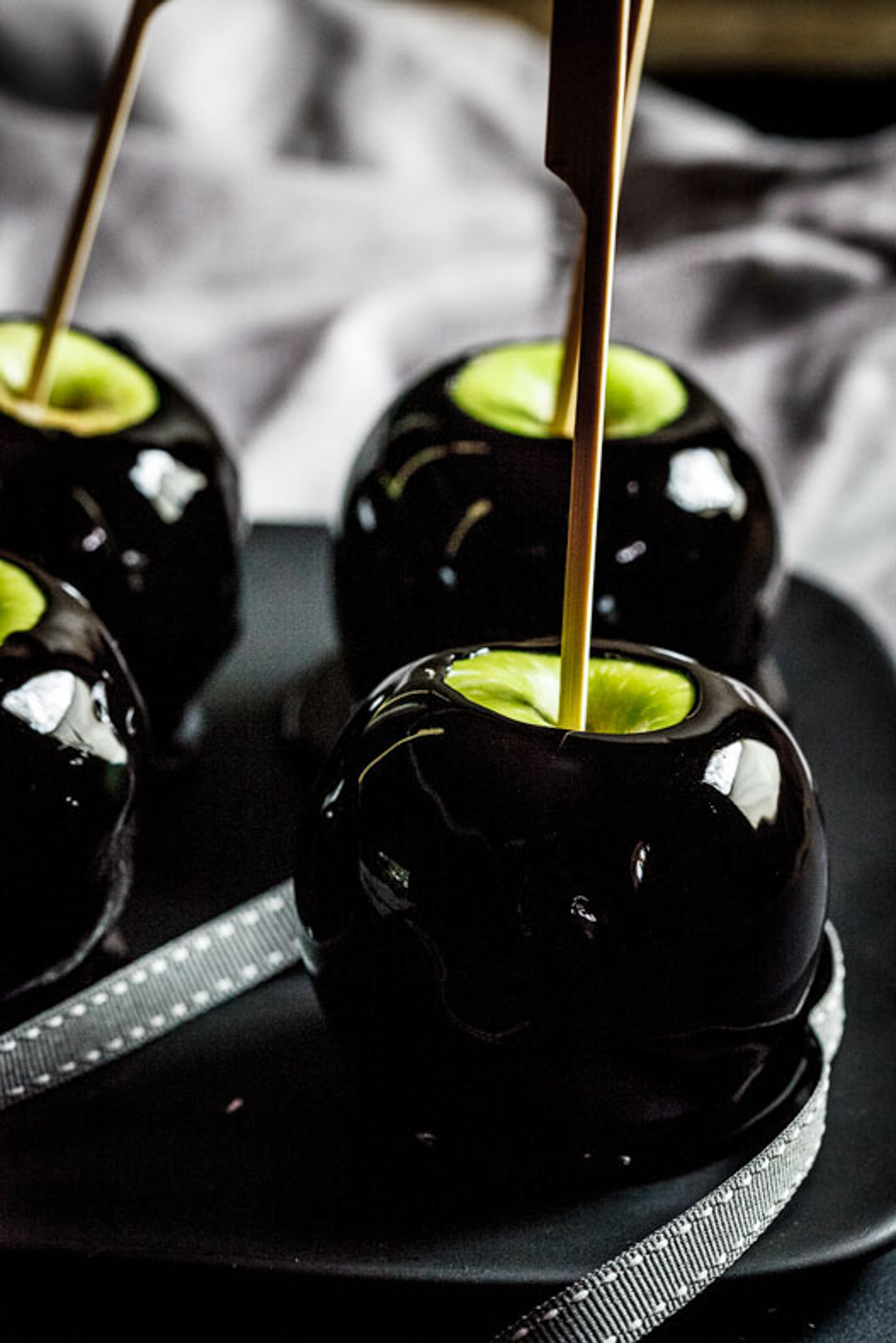 White chocolate covered Strawberry Ghost treats are fun and easy. Melted white chocolate chips and mini chocolate chips are all you need, along with your strawberries. Chocolate covered halloween strawberry ghosts couldn't be cuter. This scary Halloween treat can be refrigerated for later, as well.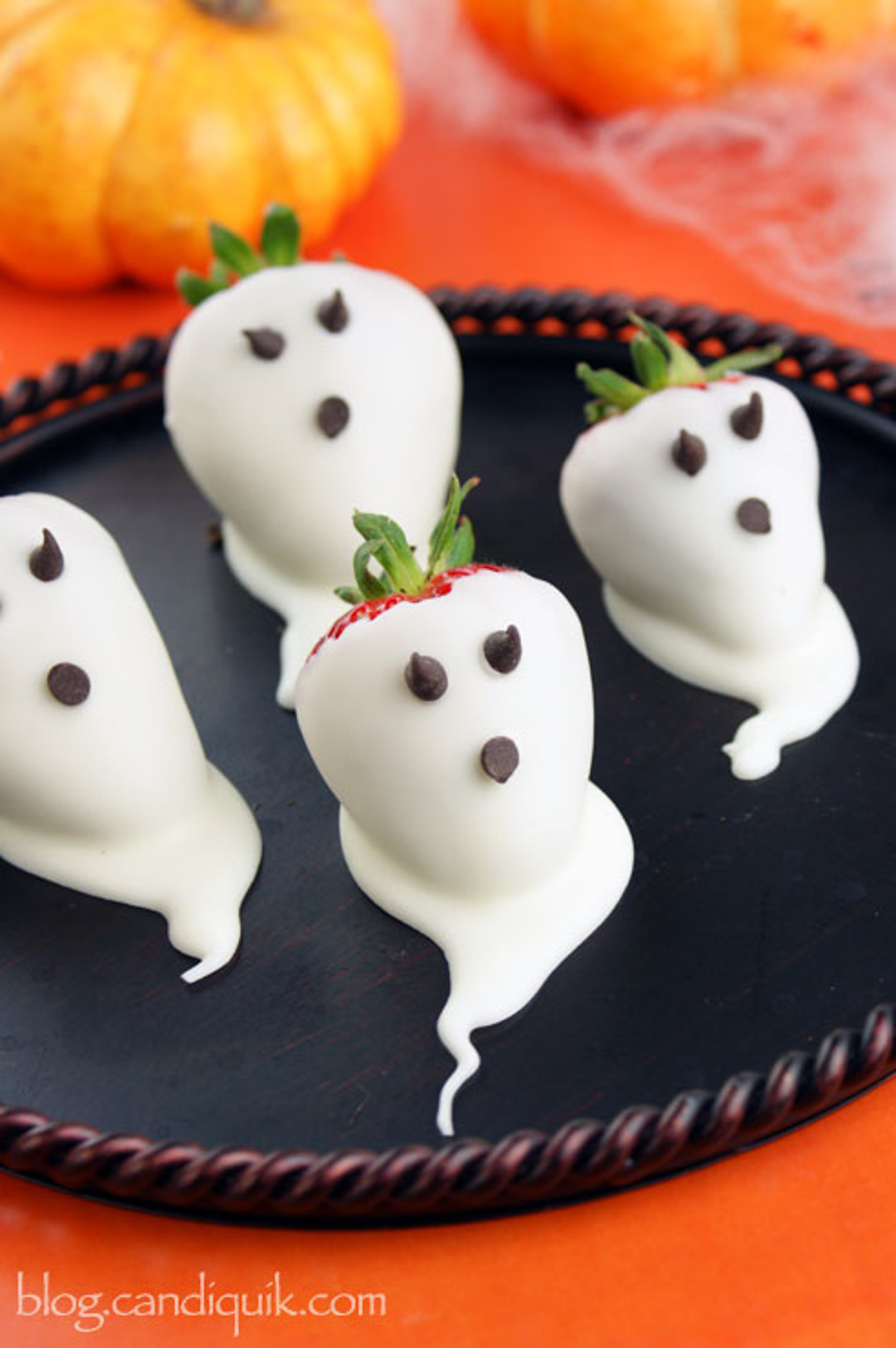 Easy Gooey Monster Eye Cookies are quick, colorful and perfect for toddler hands. These little monsters will delight your little monsters. Loving the vibrant colors! The best part is these Halloween cookies can be made ahead of time as well to make your spooky season a lot easier. These might be the easiest Halloween idea.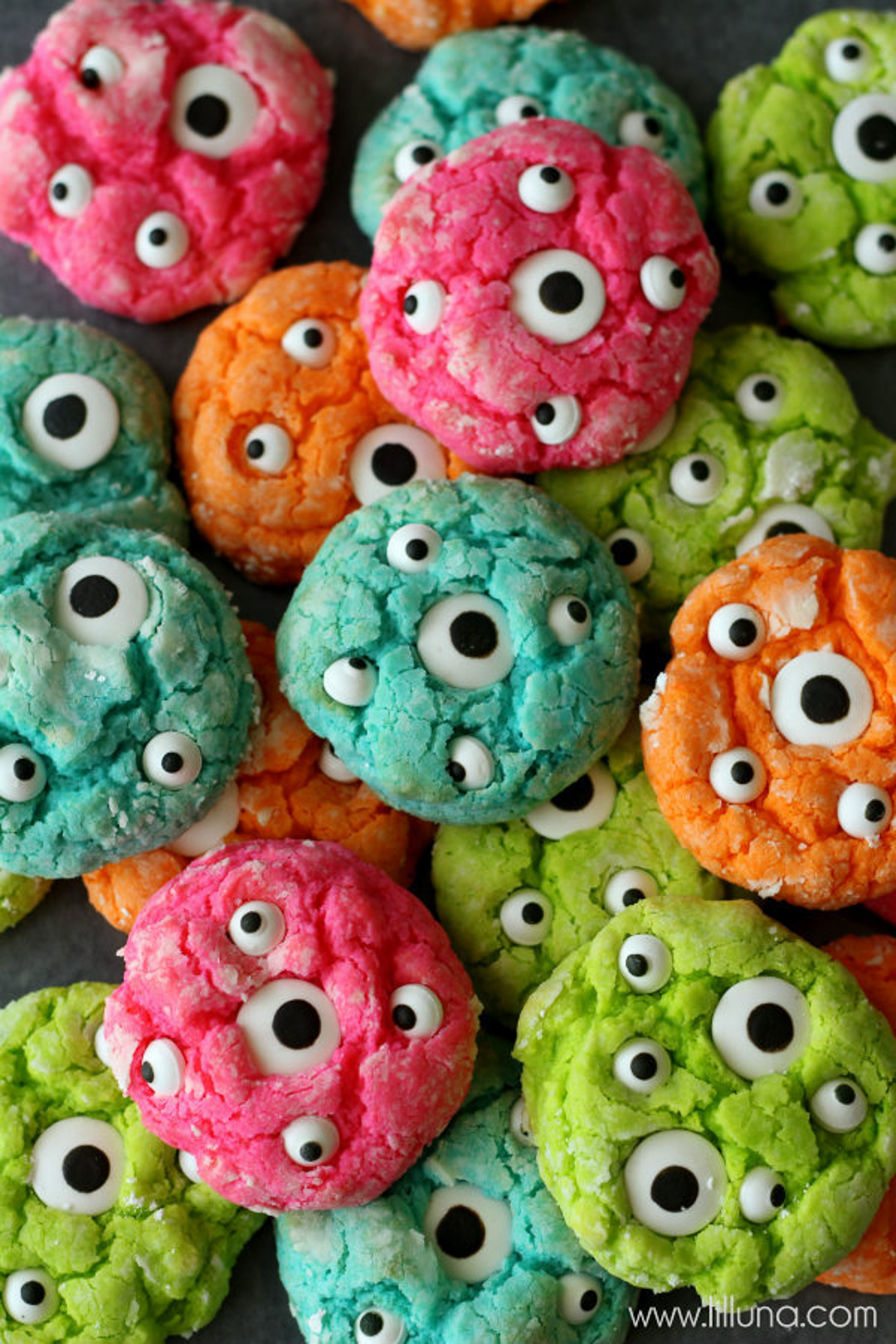 Pumpkin Cheesecake Truffle Mummies are a wonderful halloween treat for adults. If kids don't appreciate a pumpkin cheesecake truffle, adults surely will. The mummy truffles would be perfect to bring to an office halloween party. Pumpkin, cheesecake, mummies… what's not to love??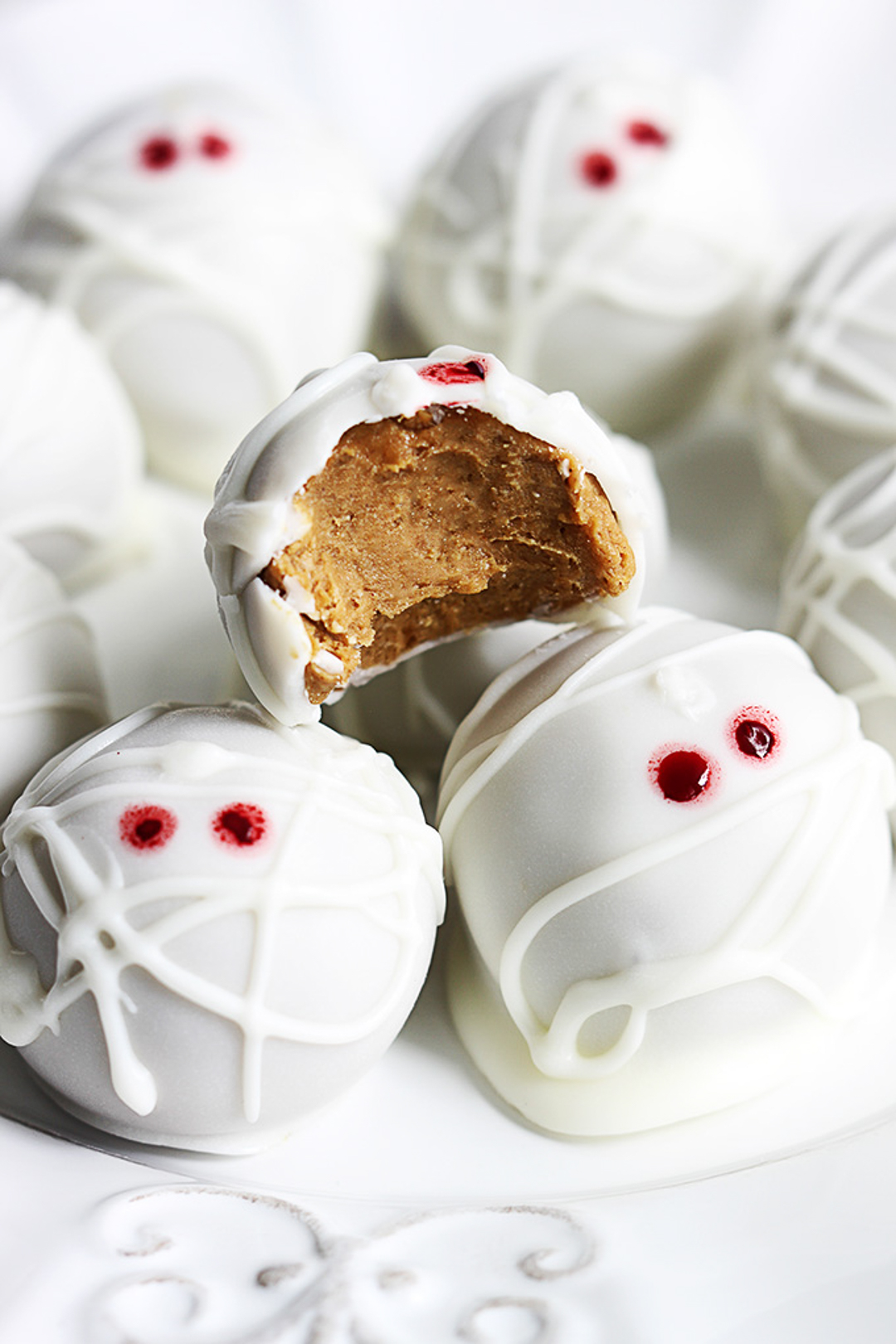 If you love pumpkin desserts, try this pumpkin cake or pumpkin pecan pancakes.
Halloween Spider Cookies are like traditional peanut butter blossoms but with peanut butter cups, some spider legs and candy eyes. Love this Halloween twist on a classic cookie! Spider web cookies and scary spiders made with peanut butter cups is my kind of cookie.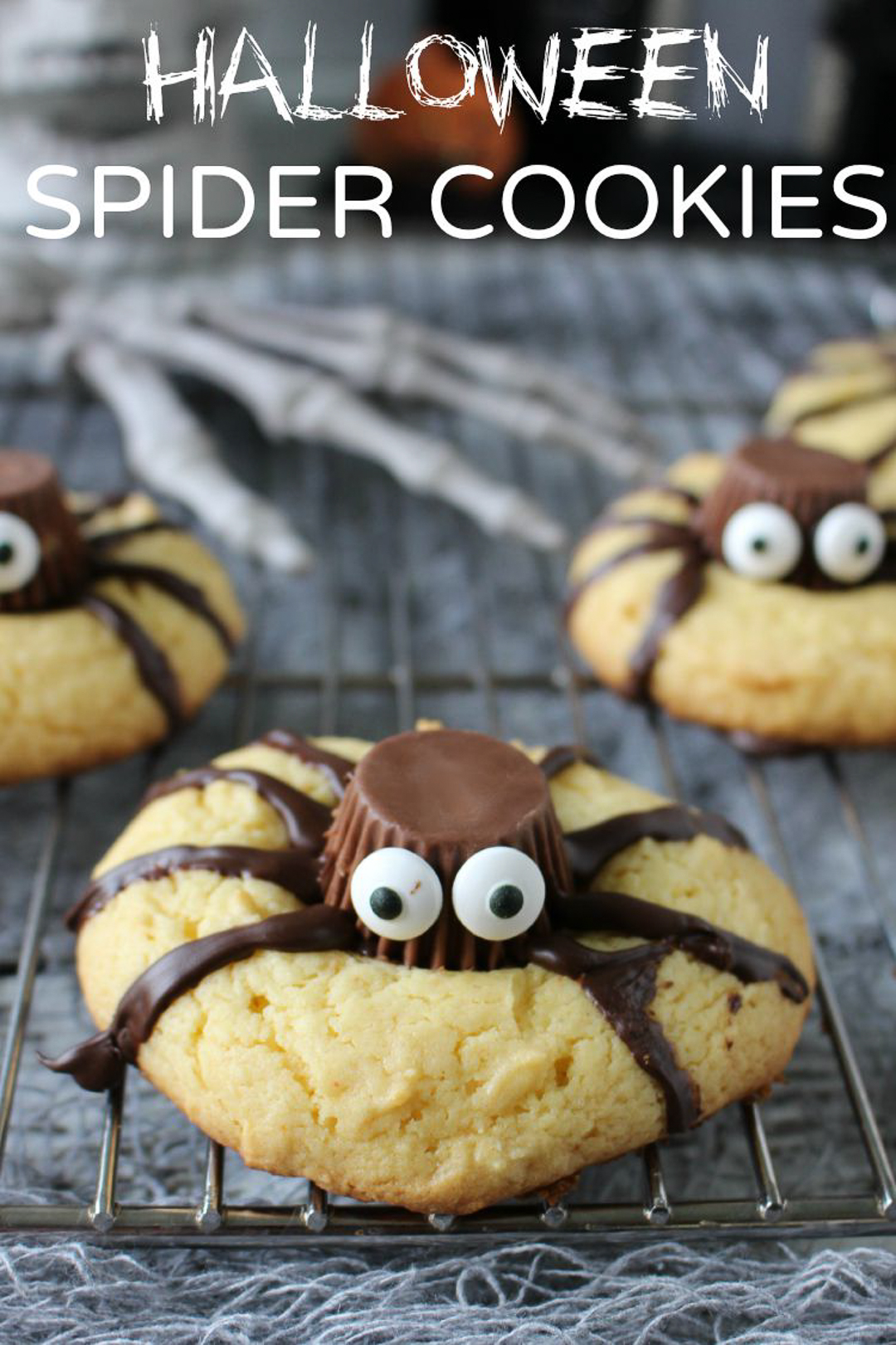 An Oreo Spider Cake is the right combination of silly and creepy. Turn a basic cake into an easy Halloween cake with some oreos and frosting!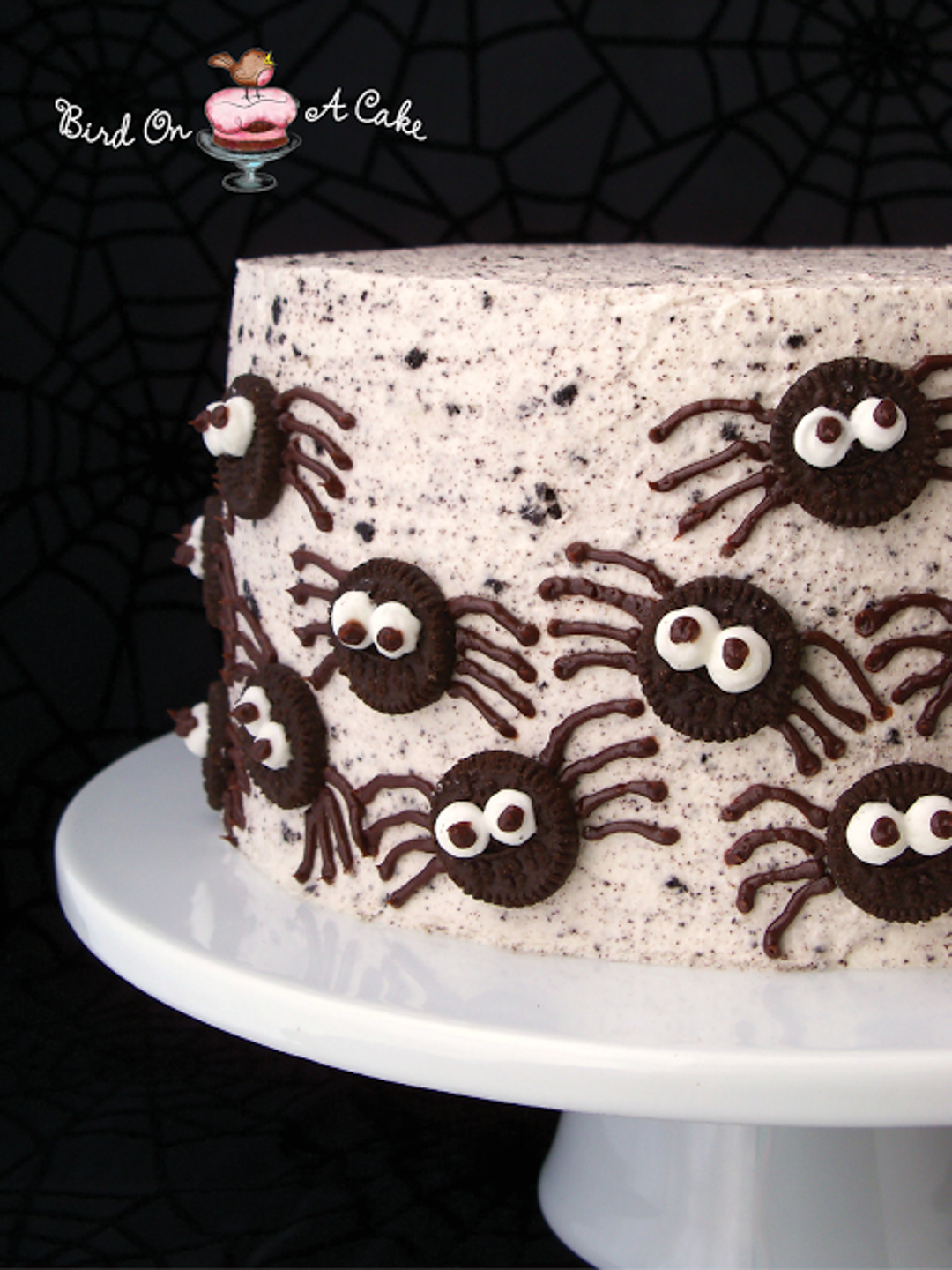 Pumpkin Dirt Pudding Graves are a no bake Halloween dessert. They are made with chocolate pudding and oreos with some Milano tombstones. Great for warm weather. Top with halloween candy body parts or gummy worms.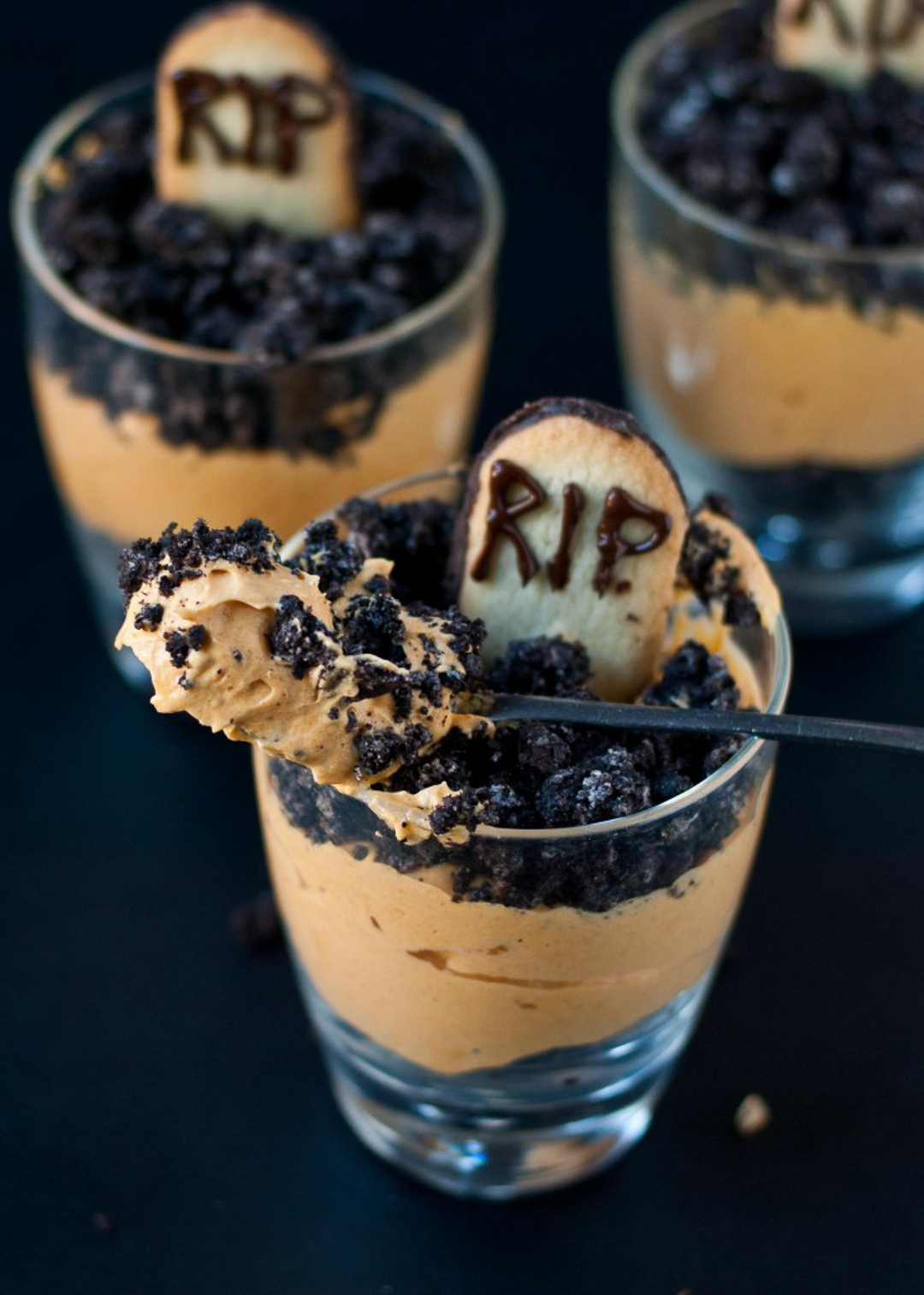 Ghost Meringues are the silliest halloween treat. Made from meringue, these scary ghosts make a big impact.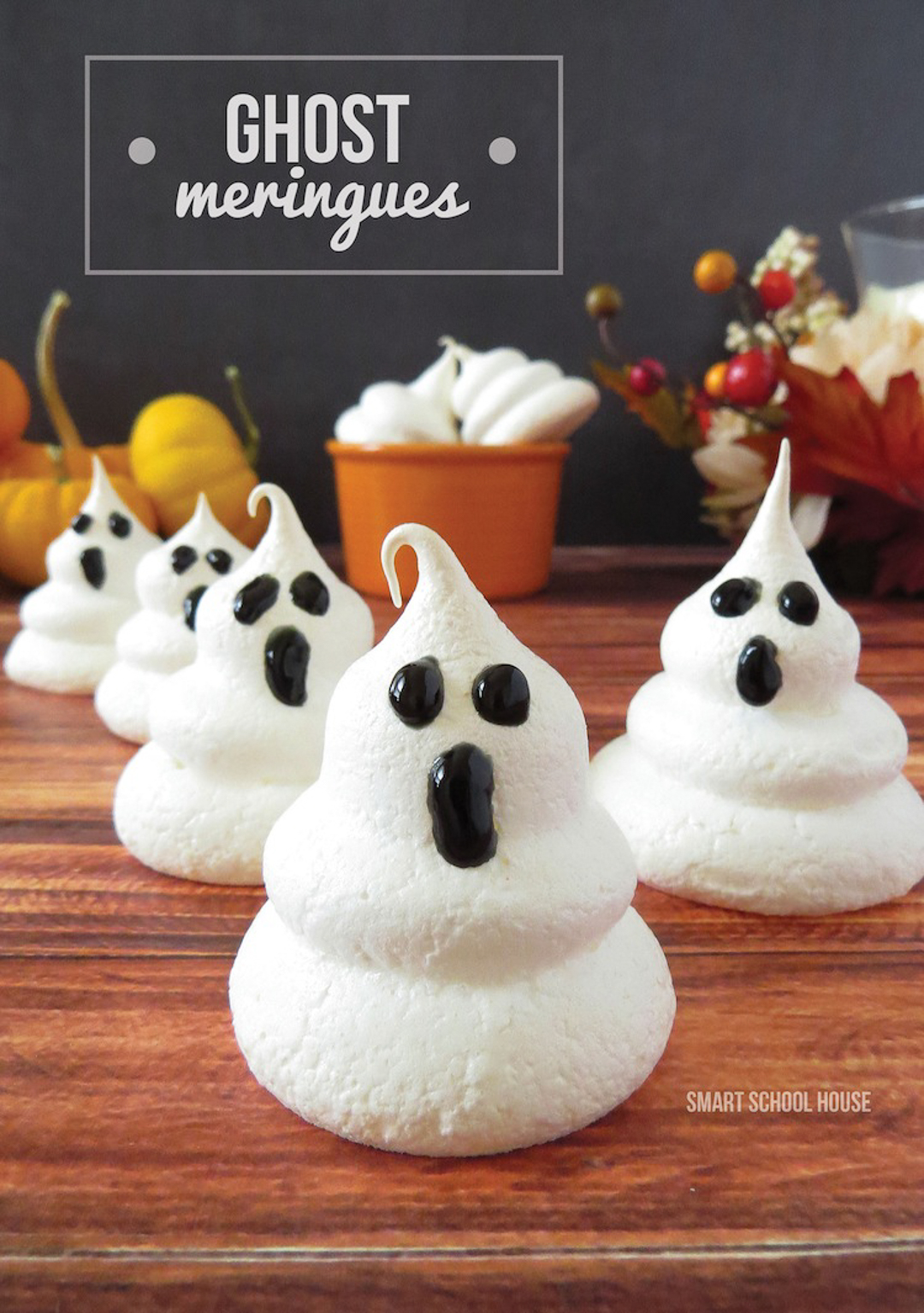 Mummy Treats on a stick! These are easy and fun. A little decoration goes a long way! You could even use pretzel sticks as the stick.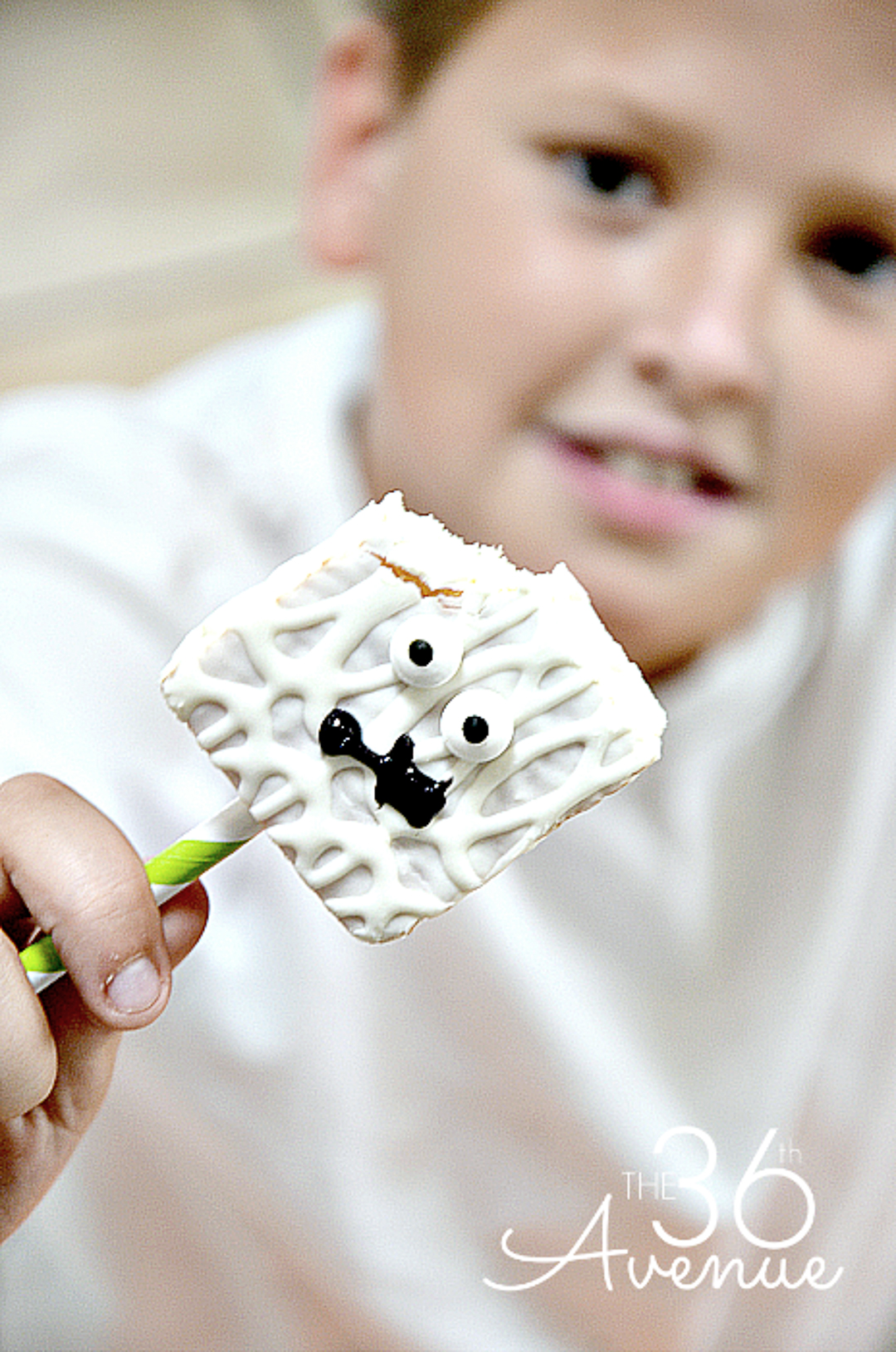 Zombie Brain Cupcakes: Red velvet cupcakes topped with a swirl of raspberry jam-infused cream cheese frosting, made to look like brains.
Witch's Cauldron Pudding: Chocolate pudding in a clear glass with green tinted whipped cream on top. Add candy eyes and gummy worms for an eerie brew.
Dracula Dentures: Split chocolate chip cookies filled with red icing and marshmallow 'teeth', with slivered almonds as fangs.
Bleeding Heart Mini Cakes: Heart-shaped cakes filled with a raspberry or strawberry coulis center. Cut into them to reveal the 'bloody' surprise!
Spiderweb Cheesecake: A classic cheesecake with a spiderweb design using chocolate or caramel sauce, topped with a chocolate spider.
Graveyard Dirt Parfait: Layers of chocolate pudding, crushed chocolate cookies (dirt), and gummy worms. Use cookie crumbs to mark 'graves' and add candy tombstones.
Phantom Phyllo Pies: Mini phyllo pies filled with spiced pumpkin puree, topped with whipped cream ghost shapes and chocolate chip eyes.
Mummified Chocolate Eclairs: Traditional eclairs wrapped in thin strips of white icing, with candy eyes peeking out.
Boo-Berry Ghost Pops: Frozen blueberries coated in Greek yogurt and set on a stick. Use mini chocolate chips for the ghost's eyes and mouth.
Creepy Eyeball Truffles: White chocolate truffles with a lychee and cherry center, resembling an eyeball. Coat in red raspberry sauce for added gruesomeness.
Healthy Scary Treat Ideas
If you want scary Halloween treats that are on the healthier side, try one of these ideas. From fruits and veggies to savory treat ideas.
Adorable Silly Monster Apples are a healthy and fun halloween treat. Made with apples, strawberries, sunflower seeds, peanut butter and candy eyes. You could also use little pretzels and pieces instead of seeds.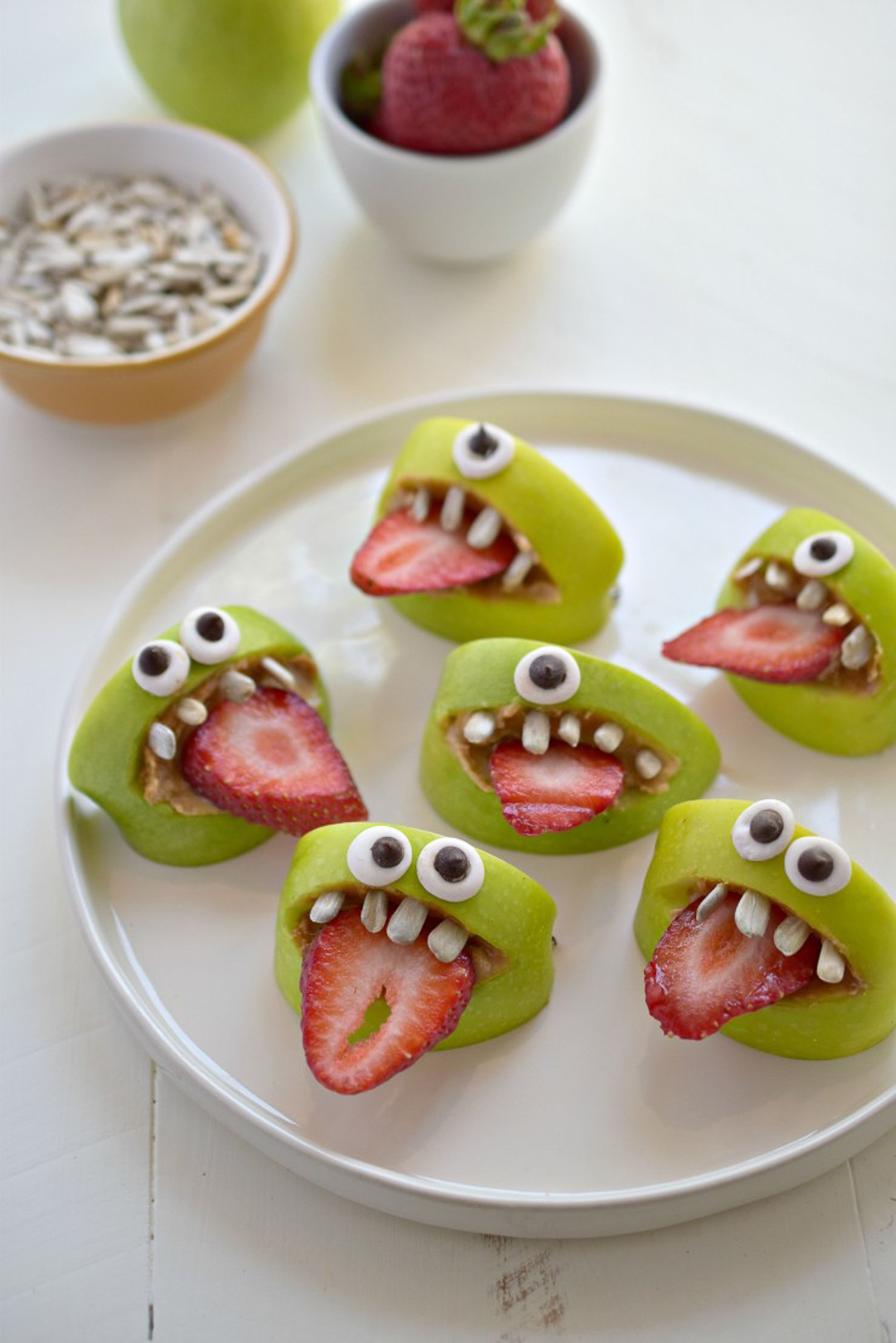 These are the cutest Cheese Monsters treats I've ever seen! I love that they're healthy snacks. I'm not sure if you can call them a spooky treat but they're definitely adorable!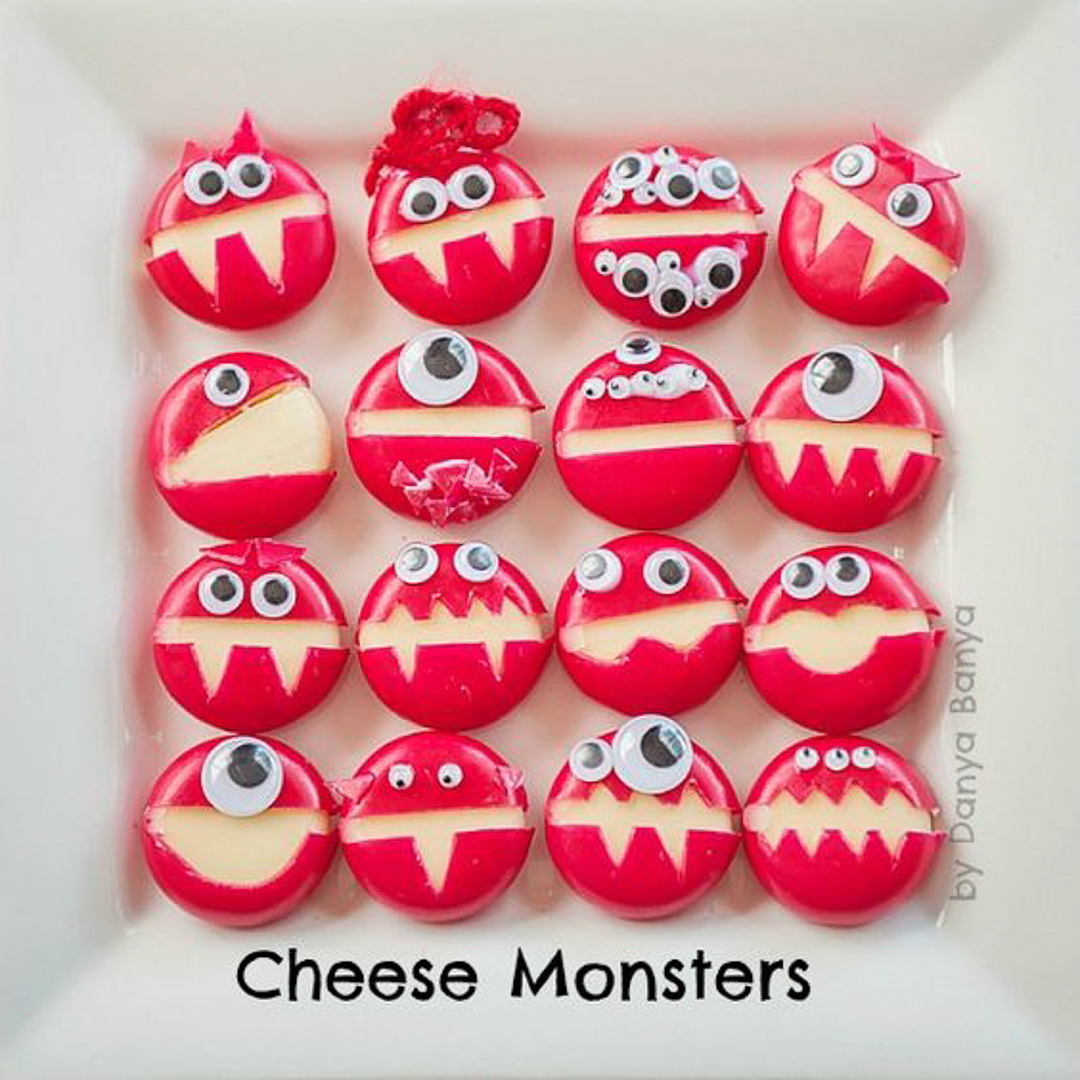 Fruit Mummies: Wrap strips of gauze around bananas and affix googly eyes (or blueberry eyes) to make mummified bananas.
Pumpkin Veggie Platter: Arrange sliced bell peppers, carrots, broccoli, and cherry tomatoes in the shape of a pumpkin on a plate. Use a celery stick for the stalk.
Ghostly Boonanas: Dip bananas in Greek yogurt, add mini chocolate chip eyes, and freeze until set.
Witch's Broomsticks: Stick a pretzel rod into a string cheese piece that has been sliced at the bottom to resemble broom bristles.
Veggie Skeleton: Lay out an assortment of veggies on a large tray in the shape of a skeleton. Use a bowl of hummus or guacamole for the skull.
Spider Crackers: Spread hummus or guacamole on whole grain crackers. Add pretzel stick legs and raisin eyes to create creepy crawly spiders.
Jack-o'-Lantern Clementines: Draw spooky faces on the skin of clementines or tangerines with a permanent marker for a quick, portable treat.
Bat Bites: Combine dates, cocoa powder, and almonds in a food processor to create energy balls. Shape them into bats and add almond slice ears and raisin eyes.
Creepy Carrot Fingers: Peel and carve out 'knuckles' on long carrots to resemble fingers. Dip the tips in hummus or guacamole to mimic spooky nail beds.
Pumpkin Patch Dippers: Hollow out a bell pepper to look like a jack-o'-lantern. Fill with hummus or guacamole and serve with veggie sticks.
Cauliflower Brain Dip: Steam a whole cauliflower until tender. Carve shallow lines resembling brain folds. Surround with a red pepper hummus for a bloody effect and use as a dip centerpiece.
Stuffed Jack-o'-Lanterns: Carve mini orange bell peppers to resemble jack-o'-lanterns and stuff with a quinoa and vegetable mix.
Vampire Bite Cherry Tomatoes: Slice a small 'X' on cherry tomatoes and fill with herbed goat cheese, simulating vampire bites.
Witch's Finger Grapes: Freeze green grapes until solid. They'll resemble witch's fingers and act as a chilling, tasty snack.
Haunted Hummus Graveyard: Spread hummus flat on a plate. Use sliced cucumber and carrot sticks as 'tombstones' and 'zombies' emerging from the ground.
Mummified Sweet Potato: Slice sweet potatoes thinly, brush with olive oil, and wrap in strips of whole wheat tortilla. Bake until crisp. Add eyes using yogurt and raisins.
Ghostly Greek Yogurt Bark: Spread Greek yogurt on a tray, sprinkle with granola, coconut shreds, and mixed berries. Freeze and break into ghostly shards.
Vampire Veggie Cups: Fill clear cups with layers of colorful diced veggies. Top with a dollop of beet hummus for the 'blood' factor and serve with whole grain pita triangles.
Halloween Themed Dinner Ideas
Halloween dinners are so much fun to create! Preparing for your next Halloween party? With twisted pizza dough creatures and ghoulish delights, these easy Halloween food ideas might just become your favorite thing. Ready to serve spooktacular suppers? Let's get cooking!
Pizza Mummy Bites are a nice, non-sugar, halloween food. Mummy pizza bites make a great Halloween lunch or Halloween dinner. Dip them in some marinara. Use crescent roll dough for this cute little mummy treat. These make perfect scary Halloween treats for all ages.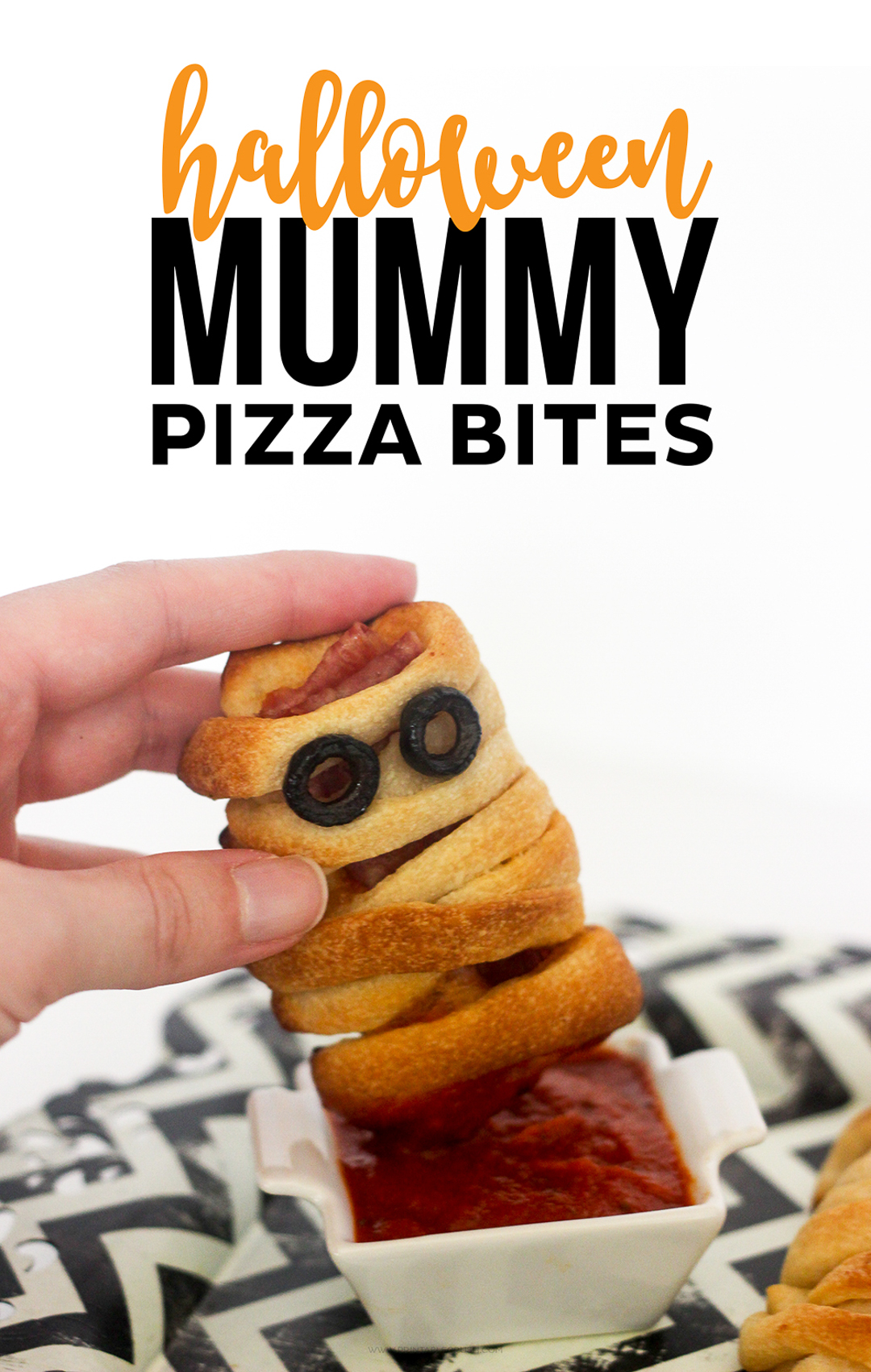 A mummy jalapeno popper is a yummy halloween appetizer recipe with candy eyeballs. Use crescent roll dough for cute little mummies. Don't forget the candy eyeballs to make these jalapeño pepper treats the most fun!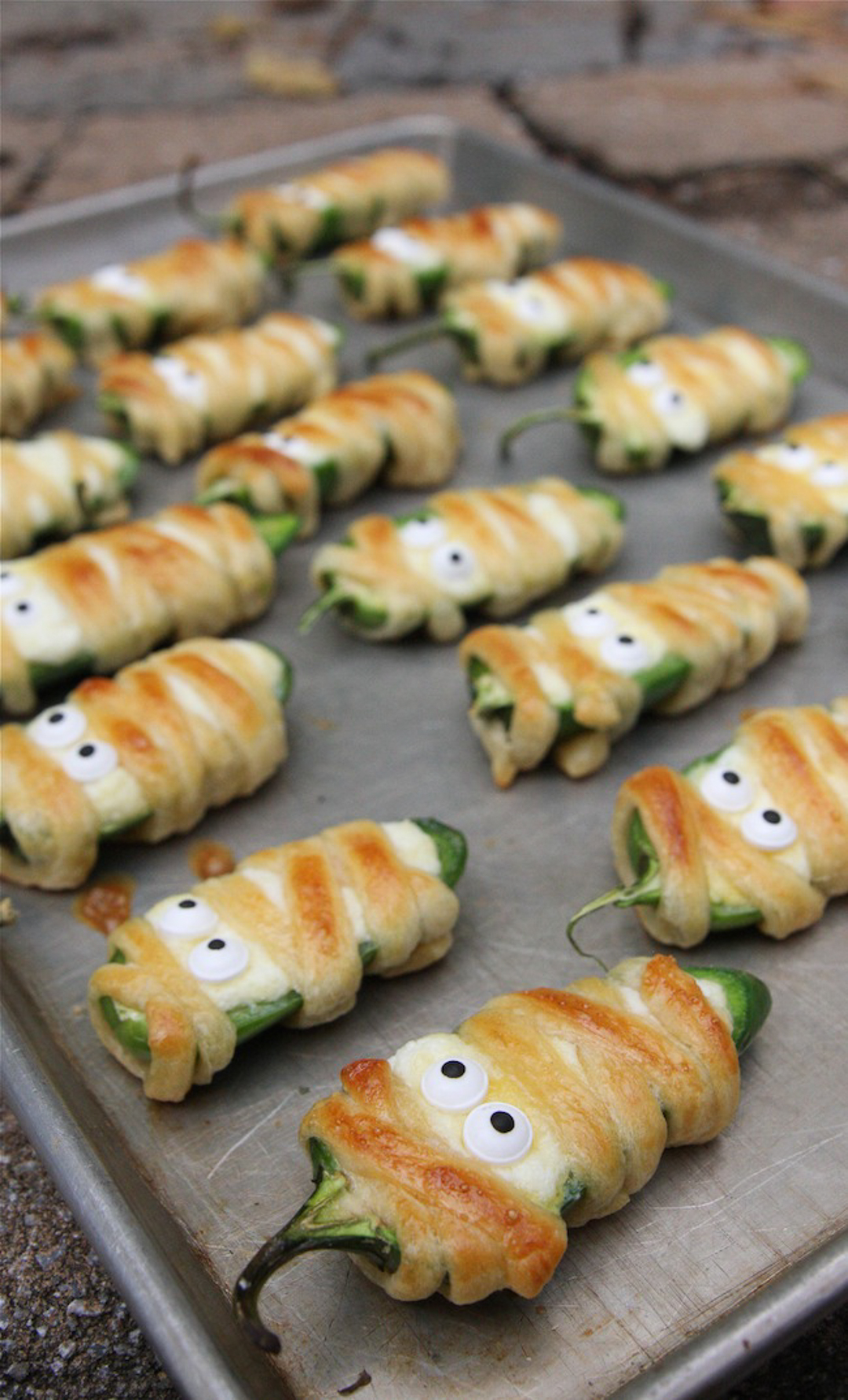 Halloween Spaghetti is a great halloween dinner idea. Those died purple noodles are very creepy! If you're looking for creepy Halloween food ideas, look no further! Serve this on Halloween night before the kids head out trick or treating.

Fingers in a Bun will scare the little ones! It's a gross halloween recipe that kids love. Perfect for kids who love gross things. These party-perfect Halloween hot dogs are made to look like bloody fingers. This is a great way to scar your kids and have fun doing it!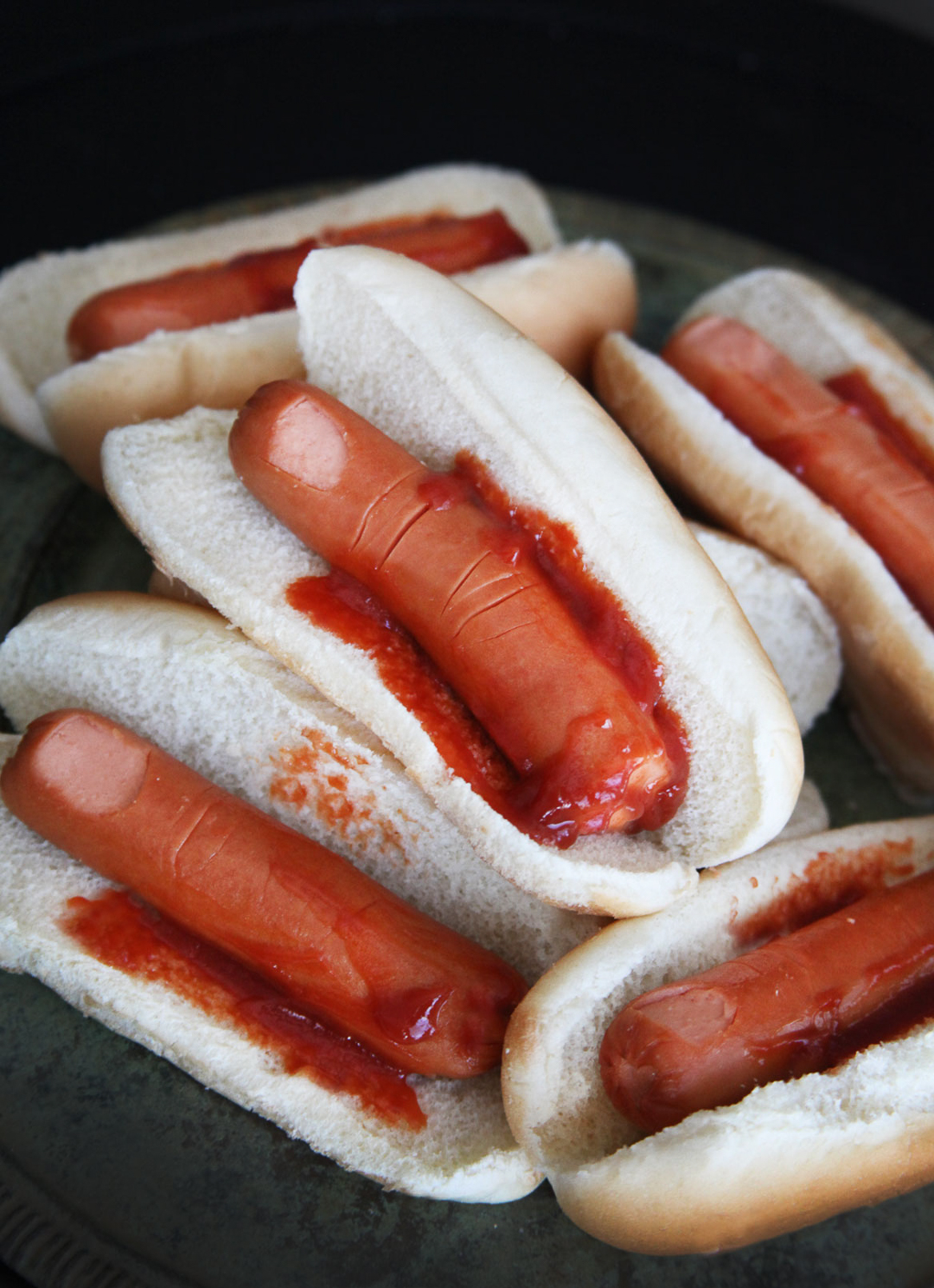 Mummy Meatloaf: Shape your favorite meatloaf recipe into a body and wrap thinly sliced pastry or cheese strips around it. Two olive slices can serve as eyes. Bake until deliciously undead.
Ghoul's Guts Stuffed Peppers: Hollow out bell peppers and carve spooky faces into them. Fill with a spicy rice and meat mixture, then bake until the peppers are tender.
Vampire Bat Wings: Marinate chicken wings in a dark sauce like soy or teriyaki, bake or fry until crispy. Serve with blood-red cranberry or pomegranate dipping sauce.
Haunted Graveyard Pie: Shepherd's pie with a twist! Use mashed sweet potatoes as the "dirt" and plant crispy bacon tombstones sticking out.
Zombie Eye Pasta: Make meatballs with a green olive in the center to resemble eyes. Serve on spaghetti with marinara sauce for the bloody effect.
Spooky Squid Ink Risotto: Creamy risotto made with squid ink for an intense black color. Add sautéed calamari on top for the full eerie effect.
Crypt-keeper's Cauldron Soup: A hearty pumpkin or butternut squash soup served in a hollowed-out pumpkin cauldron. Garnish with roasted pumpkin seeds.
Ghostly Ghoulash: A traditional Hungarian goulash with beef, but toss in some ghost pepper or chili for a spooky kick. Serve with "witch's fingers" breadsticks.
Witch's Brew Chili: A classic chili recipe made with black beans, dark meat chicken, and served in a cauldron (or a cast-iron pot). Top with shredded cheese and sour cream cobwebs.
Banshee Bone Bread: Take a baguette, cut diagonally, and stuff with a mixture of garlic butter, herbs, and grated cheese. Bake until the bread is crispy and cheese is molten, resembling creepy old bones.
Scary Halloween Drinks
Get ready to wow your party guests with bewitching beverages this Halloween. Each sip brings a little bit of magic, making you feel like a mad scientist concocting otherworldly elixirs. These scary Halloween treats are perfect for parties or just for fun at home. Dive in, and let's brew some spooky sips!
Hot Halloween Coco is perfect for the cool fall mornings! Aren't those little faces cute?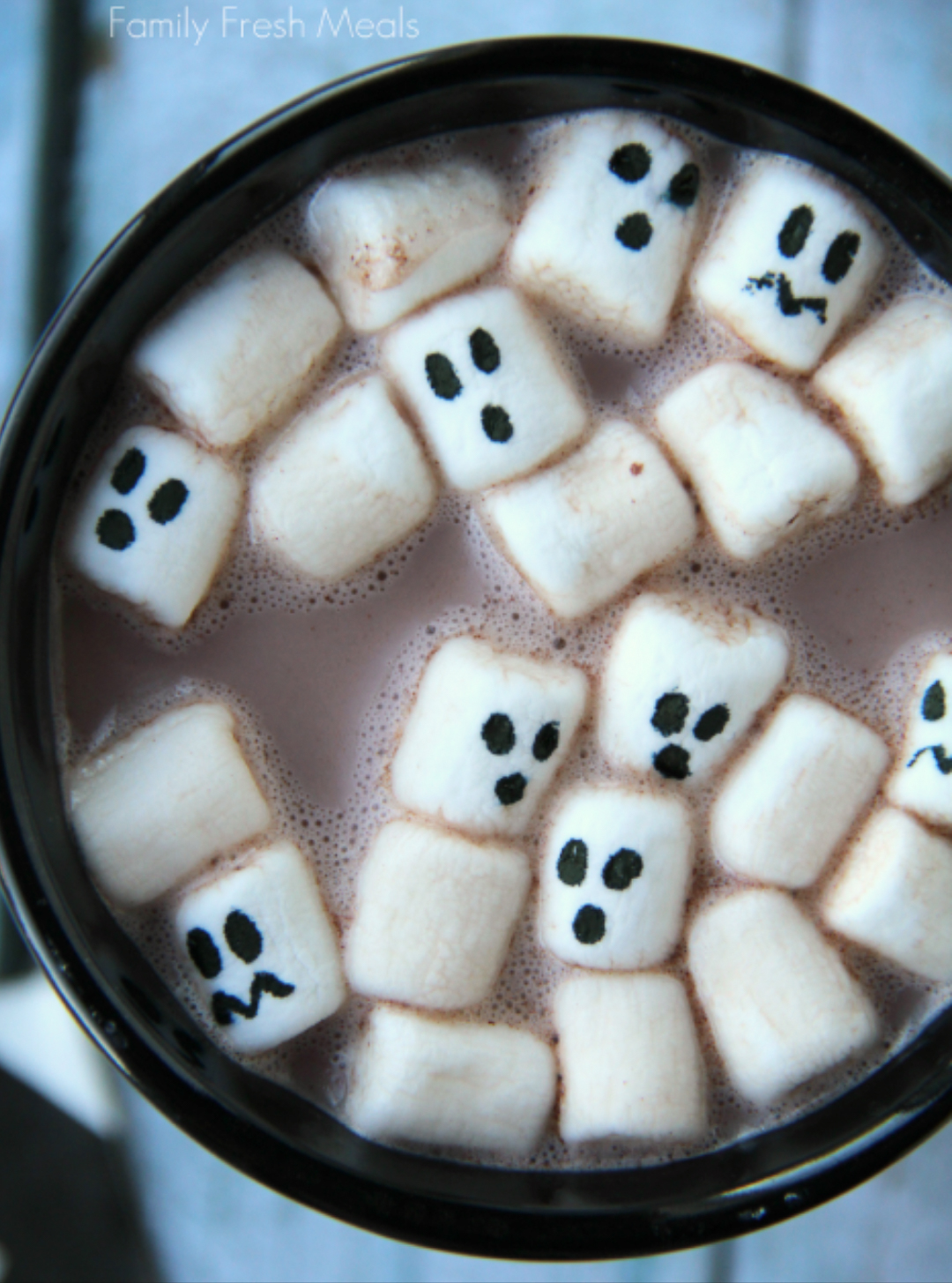 Bloody Mary's Severed Hand: Classic Bloody Mary mix with a frozen hand-shaped ice cube (made using a glove). Garnish with a celery stick and olives for eyes.
Witch's Brew Punch: Combine green fruit punch, lemon-lime soda, lime sherbet, and green food coloring. Add gummy worms or dry ice for an extra spooky effect.
Ghostly White Hot Chocolate: White chocolate melted into warm milk, topped with whipped cream and two mini chocolate chips for ghostly eyes.
Zombie Brain Hemorrhage: In a shot glass, layer peach schnapps, Baileys Irish Cream, and a splash of grenadine. It'll curdle to look like brains!
Vampire's Blood Elixir: Mix cranberry juice, vodka, and a splash of club soda. Serve in a glass rimmed with red sugar, and drop in a cherry for a "heart."
Swamp Sludge Smoothie: Blend spinach, pineapple, coconut milk, and green grapes. Add a gummy eyeball on top for the finishing touch.
Cursed Caramel Apple Cider: Warm apple cider combined with caramel sauce and topped with whipped cream and a caramel drizzle.
Pumpkin Cauldron Latte: A mix of strong coffee, pumpkin puree, milk, and pumpkin pie spices. Serve hot with a cinnamon stick.
Phantom Potion: Combine grape juice, sprite, and vanilla ice cream in a glass. Stir until it gets a foggy look, then serve.
Moonlit Mummy Mojito: A classic mojito with white rum, mint, lime, and soda water. Add a dash of lychee juice and a lychee fruit with a blueberry inside for an "eyeball" garnish.
Goblin Green Smoothie: Blend spinach, kiwi, green apple, yogurt, and honey. Serve in clear cups with monster eyeballs (blueberries with a dot of yogurt) floating on top.
These drinks, both chilling and thrilling, are sure to be a monstrous hit at any Halloween gathering! 🎃🍹👻
Halloween Breakfast Recipe Ideas
Kick off October mornings with a spook-tacular halloween menu! Embrace the halloween fun with an easy recipe that'll transform your breakfast into a plateful of ghoulish delights. Dive into eerie pancakes or ghastly smoothie bowls. Make your mornings hauntingly delicious!
Mummy Toast: Whole grain toast with strips of cream cheese or butter and banana slices. Place two blueberry eyes on top, peering out.
Pumpkin Pancakes: Fluffy pancakes with added pumpkin puree, spices, and shaped like Jack-O-Lanterns. Use chocolate chips or blueberries for eyes and mouth.
Boo-Berry Parfait: Layers of blueberry yogurt, granola, and fresh blueberries in a glass. Top with a ghostly dollop of whipped cream and chocolate chip eyes.
Creepy Crawly Oatmeal: Warm oatmeal topped with strategically placed fruit pieces to resemble spiders or bugs. Think raspberry 'bugs' and grape 'spiders'.
Haunted Mansion Avocado Toast: Avocado mashed on toasted bread, with slices of cherry tomato and olives forming eerie faces or shapes.
Spiderweb Smoothie Bowl: A dark berry (blueberries, blackberries) smoothie base, with yogurt or coconut milk spiderweb designs. Sprinkle with chia seeds and edible glitter for a mysterious glow.
Graveyard Granola Bars: Homemade granola bars with chocolate bits, nuts, and seeds. Shape them like tombstones and write 'RIP' with edible gel.
Vampire Bite Bagels: Bagels spread with cream cheese and strawberry jam 'blood' dripping from two puncture holes. Use almond slivers as fangs.
Witch's Brew Green Smoothie: A concoction of spinach, green apple, banana, and almond milk, blended to perfection. Serve with a swirl of yogurt 'mist' and a sprinkle of matcha powder.