Make these easy, spooky Halloween brownies with boxed brownie mix and Milano cookies. This easy Halloween treat is fun for kids!
Learn how to make spooky Halloween brownies for your school Halloween party or office party. Halloween graveyard brownies (RIP brownies) are made from box brownie mix for those that want easy Halloween desserts! The headstones are made with Milano cookies and icing. They make fun Halloween treats without a lot of effort. You might also love these Halloween dipped Oreos or see some of our favorite Halloween recipes with these silly Halloween treats.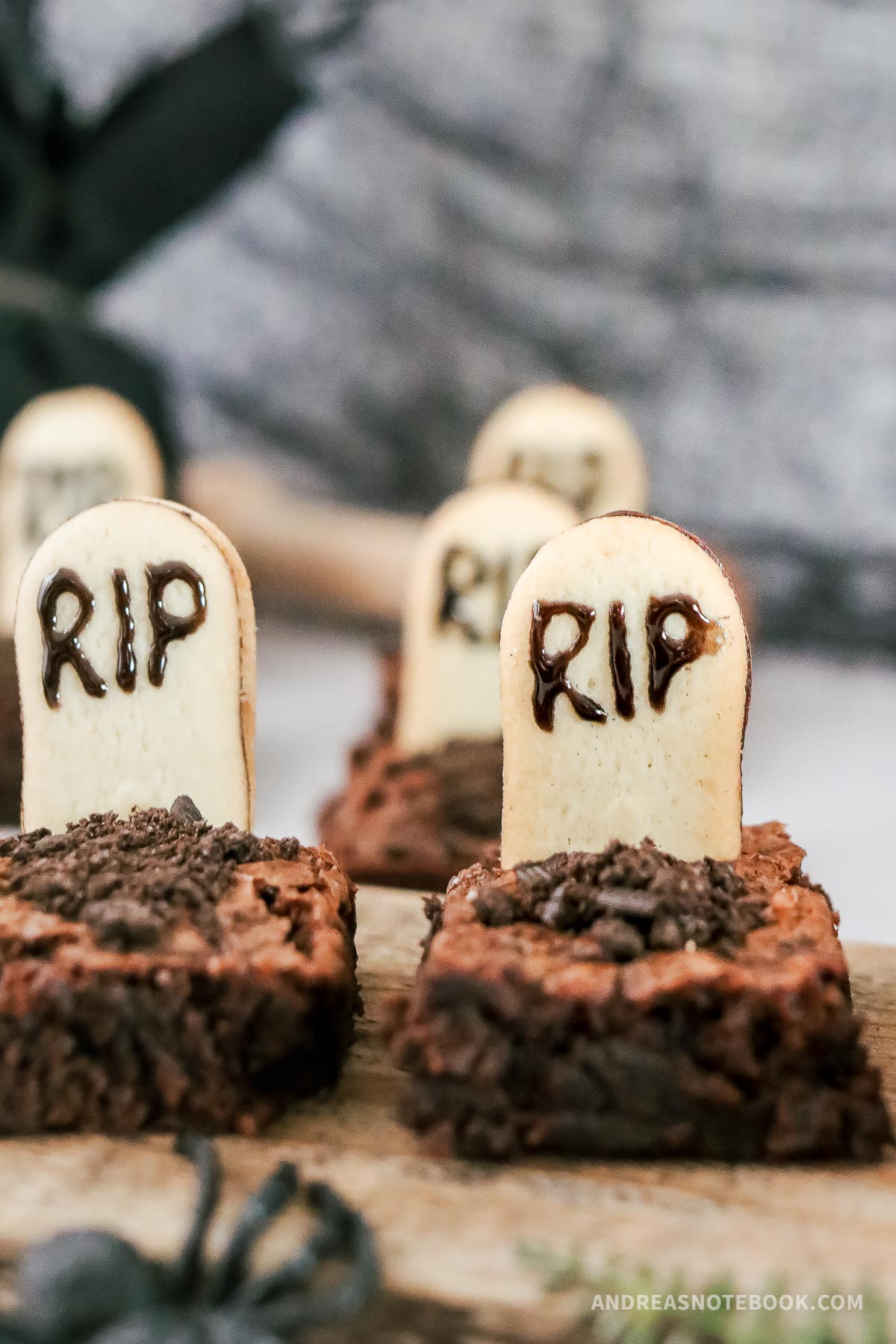 Why You'll Love This Spooky Halloween Treat
Notable: These graveyard brownies are quick and easy and taste delicious. Make these with your favorite brownie batter and your favorite Milano cookie flavor. A box mix makes these homemade brownies quick and painless!
Time: Prep and assembly time takes only 10 minutes! Plus the brownie cookie time. These are very easy.
Equipment: No special equipment required. A brownie pan and a large bowl will be used for making the brownies.
Occasion: home Halloween party for kids, school Halloween party or office Halloween party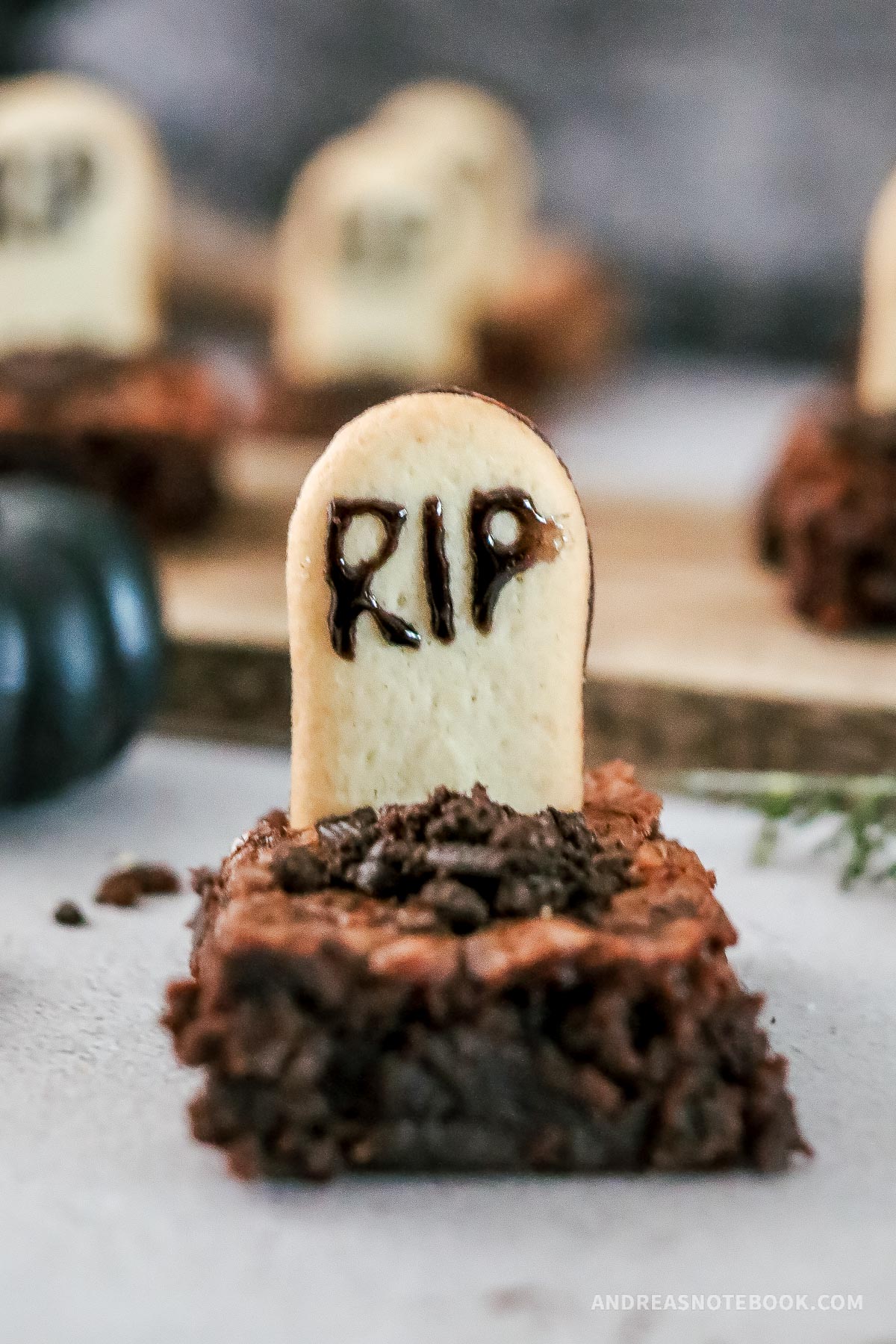 Looking for cute Halloween treats? These 19 fun Halloween recipes will delight the kids!
Ingredients
Full dessert ingredient measurements and amounts are found in the recipe card below.
boxed brownie mix: This includes the ingredients required for your box of brownies which usually includes large eggs, vegetable oil and water. Our favorite store-bought brownie mix is the Ghirardelli brand but use whichever brand you prefer for these fun Halloween brownies. We love the fudgy chocolate brownies that result from Ghiradelli.
chocolate chips: I prefer to use semi-sweet chocolate chips. You could also use dark chocolate chips or milk chocolate chips.
Milano cookies: These come in different flavors and make a great tombstone.
Oreos: You will use these crumbles to look like dirt on top of the brownies. The flavor does not matter as you won't use the filling.
Black gel icing for decorating the Milano cookies
Optional: Halloween sprinkles for a little colorful fun.
Substitutions
Use your favorite homemade brownie recipe instead of boxed brownies.
Substitute chocolate sprinkles instead of crunched up Oreos as dirt.
Use a cake base instead of brownies.
Use melted unsalted butter in your brownies instead of vegetable oil.
Add frosting to the top of brownies before adding gravestone.
Add a little peanut butter to the batter to make peanut butter brownies.
Add some candy eyeballs to make spooky eyed Halloween brownies.
Instructions
Full step-by-step instructions for the ultimate Halloween brownies recipe are in the recipe card below. You can print or save to Pinterest for later.
Make Brownies: Line an 8 inch baking dish with parchment paper so you can easily remove brownies once cooked. Using a large mixing bowl, whisk brownie recipe dry ingredients and wet ingredients plus ½ cup of semi-sweet chocolate chips.. Stir until just combined. Do not overmix. Pour your brownie mixture into your pan and spread evenly with a spatula. Cook at the oven temperature and time suggested on your brownie batter box. Set aside to cool.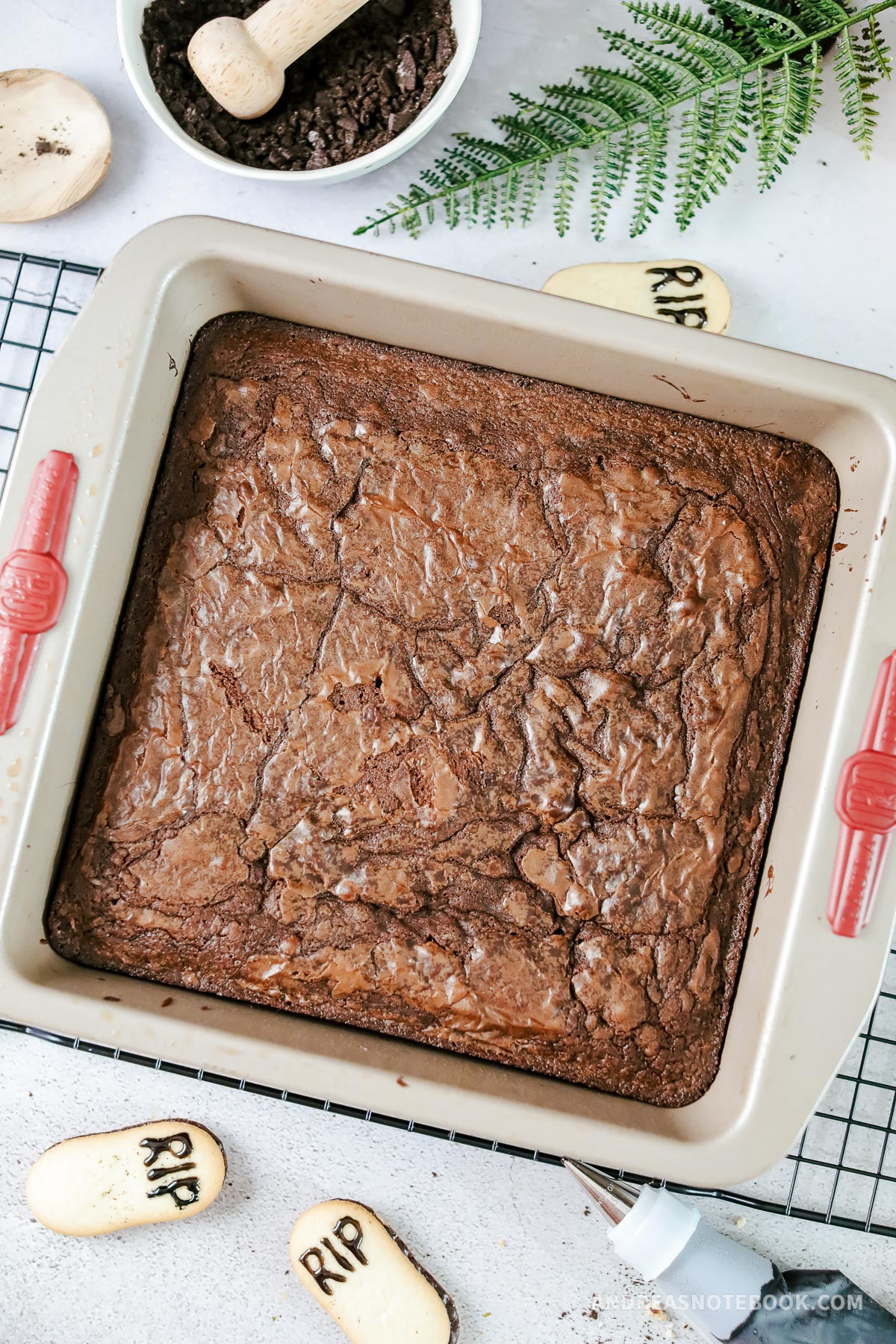 Decorate Headstone: While the brownies are baking, use the black gel icing to write RIP on the top of the Milano cookies. Set aside to dry on a baking rack.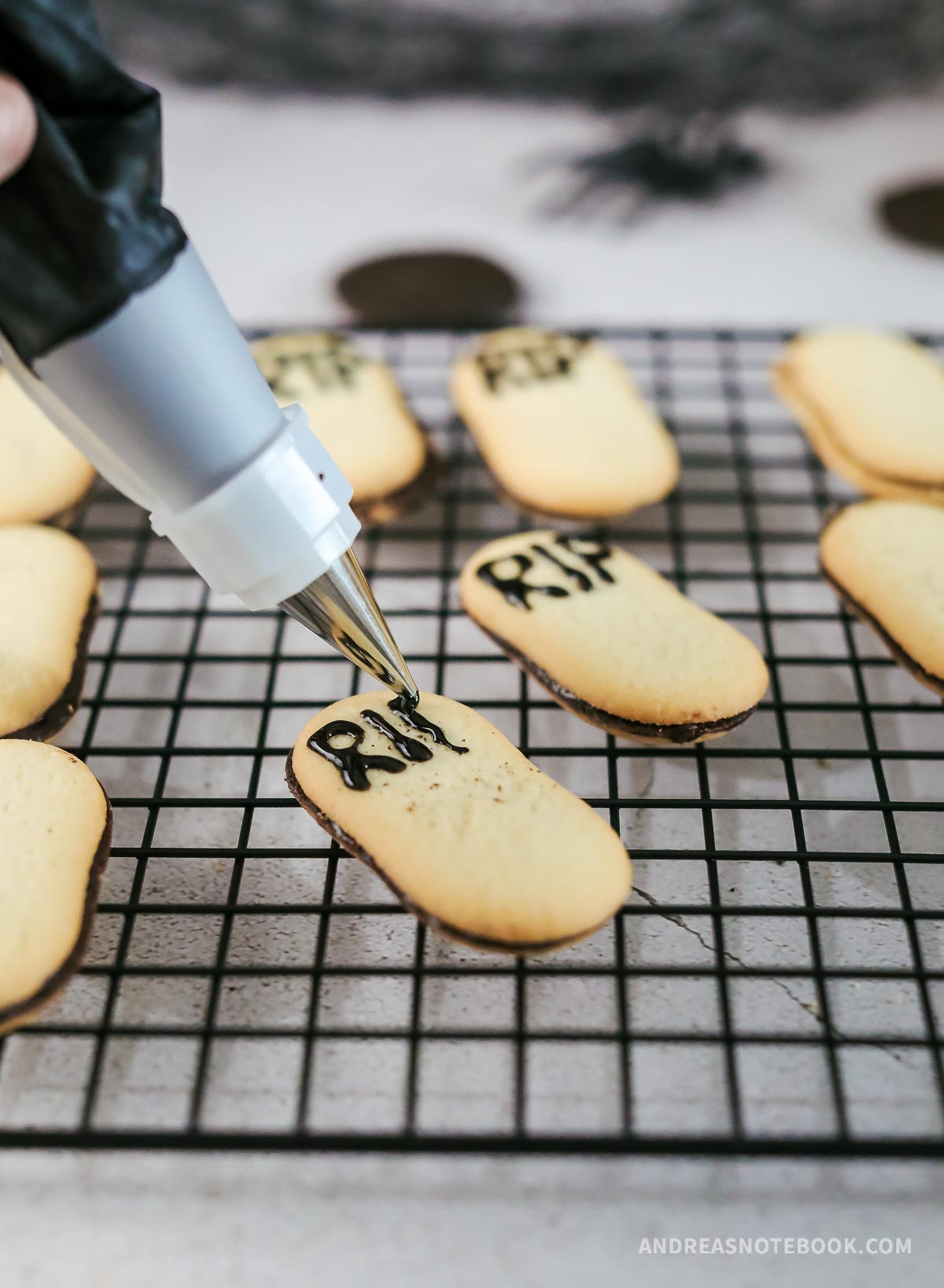 Finish Spooky Brownies: Cut brownies into 12 equal rectangles. Insert a milano cookie into the top of each brownie as a headstone. Spread a teaspoon of crushed oreo crumbs in front of each headstone to simulate a pile of dirt.
Serve this fun Halloween treat on a platter. This is an easy Halloween treat to make for any type of party where you need to serve Halloween desserts. Kids will love these.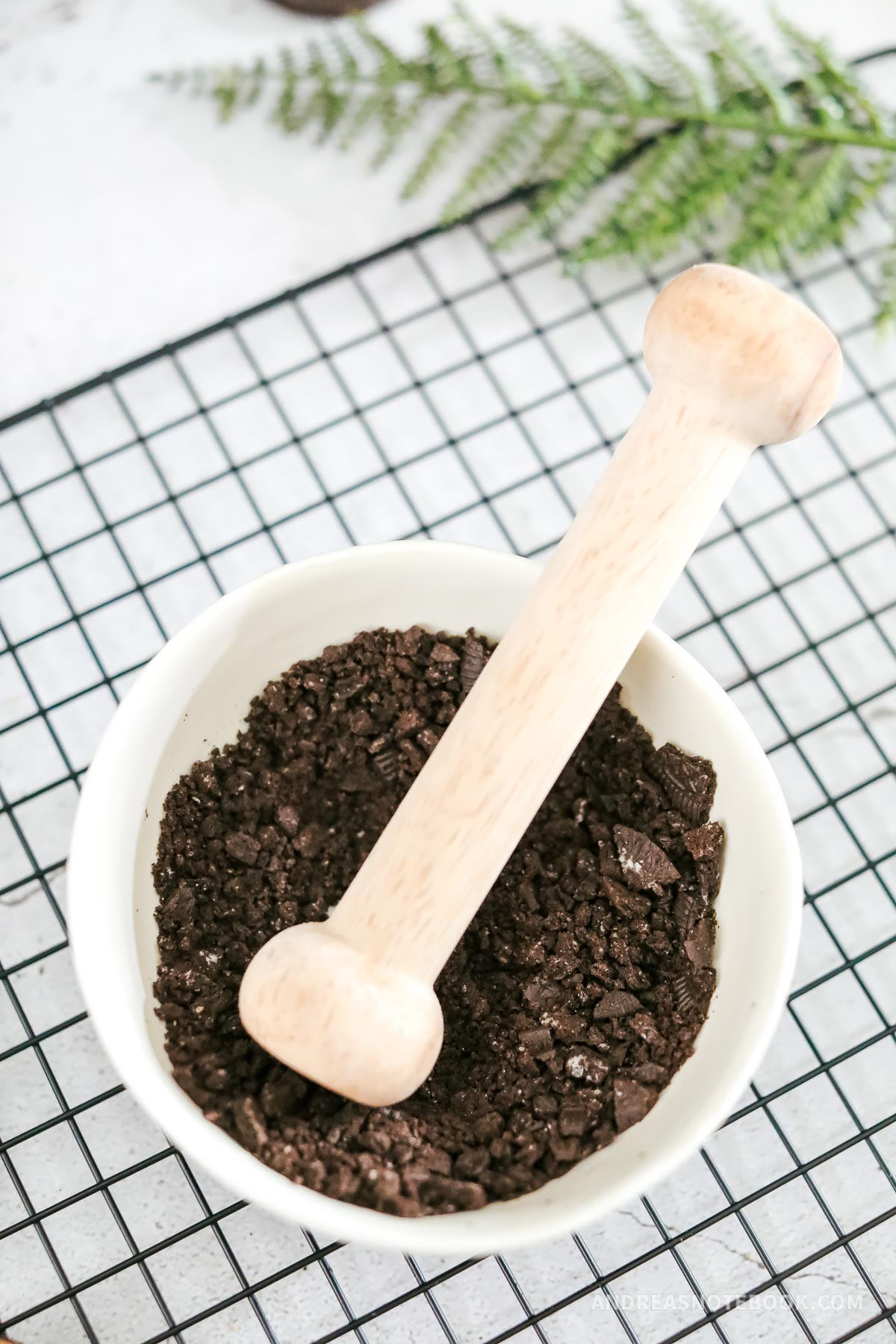 Variations for Spooky Halloween Brownies
Add candy eyes to the top of the brownies.
Frost the brownie and add a small gummy worm coming out of the ground with the headstone.
Use candy body parts to stage coming out of the ground with the headstone.
Make cupcakes instead of brownies.
Creative ideas for headstones besides RIP could be EEK or BOO and mini candy pumpkins look cute sitting next to the headstones.
Top with vanilla frosting and crisscross frosting lines to make mummy brownies.
Use the black icing to make spider webs on the gravestone to get into the Halloween spirit with spooky spiderweb brownies.
Top with green frosting (vanilla frosting plus food coloring) and add candy eyeballs for cute little monsters to celebrate the spooky season.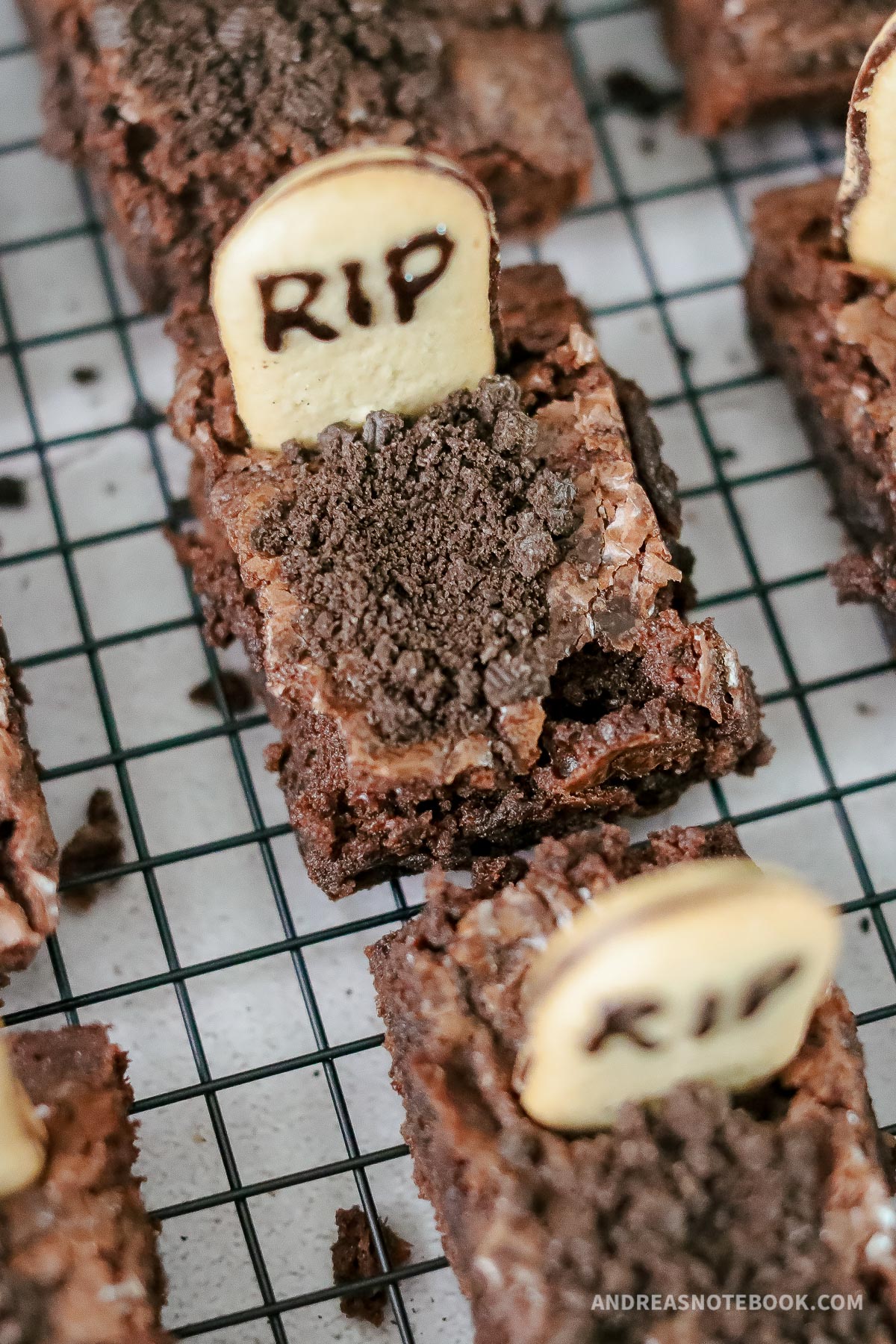 How To Store This Spooky Treat
Storing brownies isn't just about tossing them in a box. It's about preserving that freshly-baked goodness, even if they're enjoyed the next day. Let's delve into the best ways to keep those squares of delight tasting as amazing as they did when they first came out of the oven.
Airtight container: The MVP of brownie storage. Using one ensures that outside air doesn't dry them out. Plus, it keeps those sweet aromas locked in.
Room temperature: If you're planning to devour those best brownies within a day or two, keep them at room temperature. This maintains the right moisture and prevents them from getting too dense or too soft.
Your favorite brownie recipe might have specific storage needs. Some might be gooier and need cooler temps, while others, like nutty ones, might do best in cooler environments.
Frequently Asked Questions
What makes brownies chewy vs fudgy?
Brownies with a higher fat content and more chocolate have a fudgier texture. Brownies with more flour have a chewy texture.
Can you substitute butter for oil in a brownie mix?
Yes, you can use melted butter instead of oil in a brownie mix.
More Cute Halloween Recipes
Make these cute chocolate covered Halloween dipped Oreos or any of these silly Halloween treats!
Spooky Halloween Brownies
Make these easy, spooky Halloween brownies with boxed brownie mix and Milano cookies. This easy Halloween treat is fun for kids!
Ingredients
1 box brownie mix plus ingredients for making the brownies
½ cup semi-sweet chocolate chips
12 Milano cookies
1 black decorating gel icing
5 oreos filling removed
Instructions
Preheat oven to the temperature required on your box of brownies. Line an 8×8-inch baking pan with parchment paper.

In a medium bowl or large bowl, stir brownie mix and add-ins required (usually eggs, water and oil). Use an electric mixer or a rubber spatula. Add chocolate chips for extra chocolatey brownies. Stir until just combined. Pour brownie batter into the prepared pan and bake as directed.

While brownies are baking, use your black decorating gel icing and write "RIP" on the top of the Milano cookies. Set on a drying rack for the icing to harden.

Crumble the Oreo cookies to make the "dirt". Use a mortar and pestle if you have one.

When brownies are done, remove from the oven and cool enough to remove from the pan. Cut into 12 rectangles.

Insert a Milano cookie headstone into the top of the brownie carefully.

Add a teaspoon of Oreo cookie crumbles in front of the headstone to look like fresh dirt.

Serve.
Notes
If following the box recipe you decide to use a 13 x 9 baking pan, the brownies will not be as thick and you may find it difficult to insert the milano cookies so that they stay upright. As an alternative if you choose to use the larger pan, you can break the cookies in half before inserting. For the most delicious brownies, slightly undercook the brownies. This will give you the perfect fudgy Halloween brownies recipes.
Nutrition
Serving: 1brownie | Calories: 268kcal | Carbohydrates: 42g | Protein: 3g | Fat: 10g | Saturated Fat: 4g | Polyunsaturated Fat: 1g | Monounsaturated Fat: 4g | Trans Fat: 0.01g | Cholesterol: 1mg | Sodium: 144mg | Potassium: 68mg | Fiber: 1g | Sugar: 27g | Vitamin A: 5IU | Calcium: 7mg | Iron: 2mg