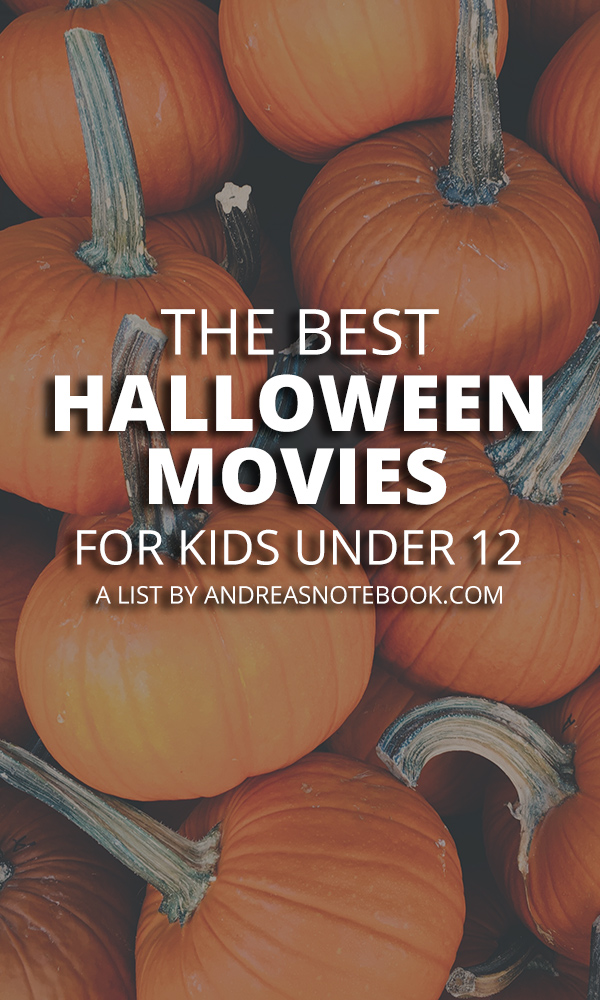 If you have kids or if you just feel like watching some awesome Halloween movies without all the violence and gore of the typical "scary movie" genre, I've compiled a list of the best Halloween movies for kids under 12 for you. If you're looking for non-Halloween movies for kids, check out the Netflix Movies For Kids post.
Without further ado and in no particular order…
1. It's the Great Pumpkin, Charlie Brown
Linus spends the night waiting in the pumpkin patch for the Great Pumpkin to appear despite no one else believing in the story. Poor Charlie Brown can't catch a break. While the other kids are getting treats in their bags, his sad refrain is, "I got a rock."
2. Curious George: A Halloween Boo Fest
Curious George and The Man With the Yellow Hat prepare for the Annual Boo Festival at their country home. George learns the Legend of No Noggin, a scarecrow who kicks people's hats on Halloween. Despite The Man With the Yellow Hat's admonitions to "be a good little monkey", hijinx ensue.
3. The Boxtrolls
Raised underground by the Boxtrolls, an orphan boy called Eggs goes above to save his adoptive family from Archibald Snatcher's ruthless plan to exterminate them all. Ben Kingsley voices the villain, who dresses and sings in drag to further his wicked plot. If for no other reason than that, this movie must be watched.
4. Casper
Kat and her paranormal therapist father move into a haunted mansion while trying to rid the house of ghosts. In addition to the three "bad" ghost uncles, we meet Casper. I can't think of a more endearing ghost than this little guy. This movie is a perfect mixture of sweet, funny, tender and sad.
5. The Nightmare Before Christmas
When Jack Skellington gets bored with being the Pumpkin King of Halloweentown, he decides to take on a different holiday: Christmas. Lovelorn Sally seems to be the only one who doesn't think this is going to work. She was right.
6. Monsters, Inc
The creatures who work to power the city of Monstropolis enter our world through closet doors and from under beds, scaring children and bottling their screams as energy. A little girl named Boo winds up in Monstropolis and we see that the monsters are just as afraid of children as the children are of them.
7. Night at the Museum
On the verge of being evicted, down on his luck Larry takes a job at the Museum of Natural History as the night watchman to prove his worth to his son. Very early into his first shift, the museum literally comes to life around him. Larry has to learn pretty quickly how to handle the motley crew of exhibits until morning.
8. Hotel Transylvania
Talk about having an overprotective father. Dracula built an entire hidden (from humans) monster vacation resort to keep his daughter, Mavis, away from the dangers of people. When a human boy comes stumbling onto the scene, Mavis falls for him. Daddy Dracula is having none of it.
9. Hocus Pocus
The Sanderson Sisters are accidentally resurrected in Salem, centuries after being sentenced to death for witchcraft. They come back to life with a plan to steal all the children of the town and drink their life force. However, three kids (and a medium/cat/trapped soul) are out to stop them before it's too late. Before the witches run amok. Amok, amok, amok.
10. Labyrinth
Maybe this list is slightly in some kind of order because I've saved the best for last. Teenaged Sarah wishes for the Goblin King to take away her crying baby brother. When the squalling baby vanishes, Sarah immediately regrets her wish and spends the rest of the movie trying to get him back. David Bowie is fantastic as Jareth, the menacing but charming Goblin King. Jennifer Connely perfectly captures the transition of child to young adult throughout the movie. Jim Hensen's puppets and muppets are more than props; they are unique characters giving life to the Goblin realm. Despite the movie being 30 years old (3 decades!), it is constantly being introduced to younger generations.
Choosing 10 movies for this list was incredibly hard. My advice is to watch these 10 movies…and then go find 10 more!
Looking for Christmas Movies?