In the states that experience all four seasons, winter is a love or hate time of the year. It's the time many people head south to states like Florida for a few months or plan vacations in tropical destinations to escape the cold. Others, however, look forward to winter, whether it's for the cold, crisp air, the snow or the many activities that can only be done in the winter.
If you're looking for warm weather in winter make sure you check out Things To Do In San Diego.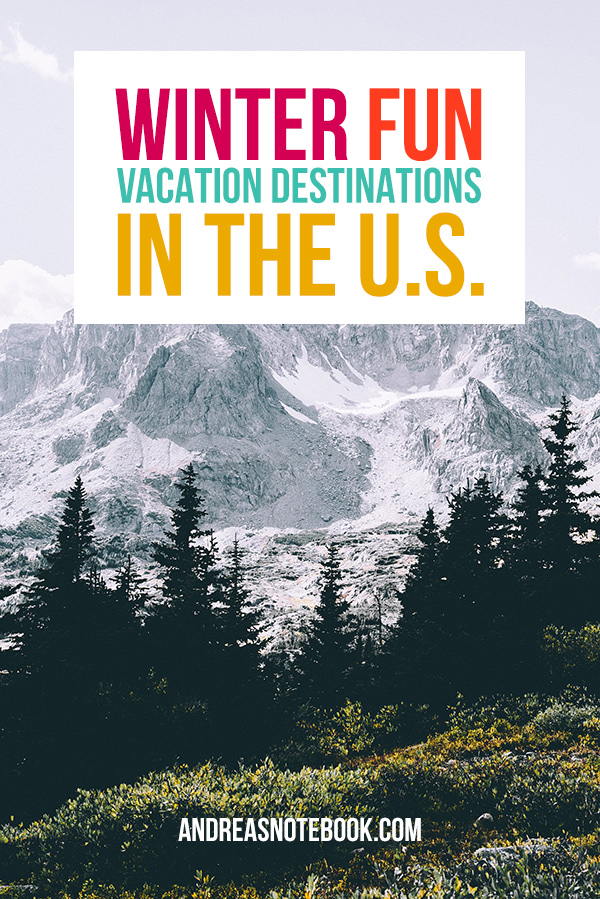 There are winter fun vacation destinations all around the country that offer the idealistic view of winter – snow-covered mountains perfect for skiing, cabins for sipping hot cocoa and so much more. Here are a few top winter destinations in the United States.
Poconos, Pennsylvania
The Pocono Mountains are located in northeast Pennsylvania, about a 2 hour drive from Philadelphia and New York City. It's a haven for couples year-round but becomes a top Pennsylvania in the winter. There's over 185 slopes for skiing and snowboarding with the top destinations being Alpine Mountain, Shawnee Mountain, and Camelback Mountain. Places like the Hickory Run State Park offer cross-country skiing, ice fishing, and snowmobiling and there are plenty of places to go ice skating or take a romantic horse-drawn carriage ride.
Lake Tahoe
Lake Tahoe lies on the California/Nevada border, with South Tahoe considered California and North Tahoe considered Nevada. Located in the Sierras, Lake Tahoe offers some of the best slopes in the United States. The area also offers some more alternative winter activities, like human sled bowling, a unicorn snowman contest and dog sledding.
Keystone, Colorado
If you're looking for a family-friendly winter destination, Keystone, Colorado is it. The Keystone Resort is the main attraction here, with everything you need already there. When you book two nights online, kids 12 and under are given passes to ski free. This is especially perfect if you're not sure the kids will share your love of the slopes. Keystone Kidtopia is an area specifically designed for families, with the world's largest snow fort the top of Dercum Mountain and regular special activities planned throughout the winter.
Stratton, Vermont

Stratton is southern Vermont's highest mountain and a great East Coast option for a winter sports getaway. Besides skiing, visitors can go snow-tubing in the Coca Cola Tube Park, go on a guided snowshoe tour or try cross country skiing at the Stratton Mountain Nordic Center, go on a dog sled tour or simply explore the trails on a fat bike. Ice skating is also available in the Village Commons and Kids Nights Out are a regular occurrence. The Village is also a nice place to shop and relax.
Aspen, Colorado
Aspen is a tiny mountain renowned for its slopes, with 4 major ski areas – Aspen Mountain, Aspen Highlands, Buttermilk and Snowmass Ski Resort. Snowmass is the most popular but Buttermilk is a favorite among beginners. Though skiing is what made Aspen world famous, Snowmass offers many extra activities and there's a recreational center in town as well. Aspen a great destination for the entire family.
New York, New York

When people think of winter in the United States, New York City is usually what comes to mind. Go ice skating at The Rink at Rockefeller Center, Bryant Park, or Prospect Park, wander down 5th Avenue to window shop and look at the extravagant department store holiday displays, watch the Radio City Rockettes or a show on Broadway or simply sip hot cocoa while wandering through Central Park. Some may argue that winter is the best time to visit the city that never sleeps and, at the very least, it's a top destination for those not very interested in winter sports.
Whether you want to have an active family vacation, hit some of the best slopes in the country, or explore a new city, one of these destinations is the perfect place to go.