Are you plotting your perfect winter escape? Whether you dream of a snow-dusted wonderland, a bustling city getaway, or a sun-soaked beach retreat, our list of top 25 winter vacation destinations in the U.S. has something for everyone. From coast to coast, the United States boasts a diverse array of stunning landscapes and vibrant cities, each offering unique experiences to make your winter holiday truly memorable.
So, get ready to explore the best places to go in winter within the U.S., curated for every kind of traveler. We'll guide you through snow-capped mountain resorts ideal for snowboarding and skiing, dynamic cities brimming with holiday cheer and cultural attractions, and warm beach destinations like San Diego where winter translates to mild temperatures and ample sunshine. Discover the enchantment of winter travel as we journey through these diverse and captivating destinations.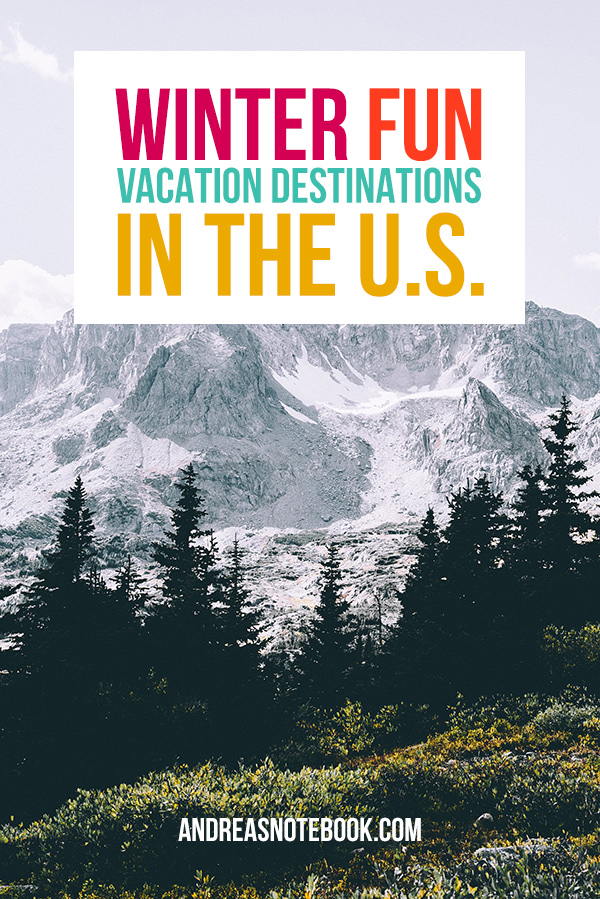 There are winter fun vacation destinations all around the country that offer the idealistic view of winter – snow-covered mountains perfect for skiing, cabins for sipping hot cocoa and so much more. Here are a few top winter destinations in the United States.
Whether you prefer a snowy wonderland or a warm retreat, these U.S. winter vacation destinations offer something for everyone. Enjoy your winter travels!
Snowy Winter Holiday Destinations
Aspen, Colorado
Aspen sparkles in the winter season. Famous for its stunning ski slopes, it's a must-visit for winter sports enthusiasts. But there's more to Aspen than skiing and snowboarding. Explore the town's high-end boutiques and world-class restaurants or catch a show at the Wheeler Opera House.
Poconos, Pennsylvania
The Pocono Mountains are located in northeast Pennsylvania, about a 2 hour drive from Philadelphia and New York City. It's a haven for couples year-round but becomes a top Pennsylvania in the winter. There's over 185 slopes for skiing and snowboarding with the top destinations being Alpine Mountain, Shawnee Mountain, and Camelback Mountain. Places like the Hickory Run State Park offer cross-country skiing, ice fishing, and snowmobiling and there are plenty of places to go ice skating or take a romantic horse-drawn carriage ride.
Jackson Hole, Wyoming
The wild heart of Wyoming, Jackson Hole is perfect for adventurous travelers. Known for its steep skiing terrain, it also offers opportunities for snowshoeing and cross-country skiing. After a day of outdoor adventures, relax in a luxury resort or explore the local art galleries.
Lake Tahoe
Lake Tahoe lies on the California/Nevada border, with South Tahoe considered California and North Tahoe considered Nevada. Located in the Sierras, Lake Tahoe offers some of the best slopes in the United States. The area also offers some more alternative winter activities, like human sled bowling, a unicorn snowman contest and dog sledding. Winter at Lake Tahoe is picture-postcard perfect. The area boasts world-class skiing and snowboarding with stunning lake views. When you're done with snow sports, warm up by the fire in a cozy lakeside cabin.
Keystone, Colorado
If you're looking for a family-friendly winter destination, Keystone, Colorado is it. The Keystone Resort is the main attraction here, with everything you need already there. When you book two nights online, kids 12 and under are given passes to ski free. This is especially perfect if you're not sure the kids will share your love of the slopes. Keystone Kidtopia is an area specifically designed for families, with the world's largest snow fort the top of Dercum Mountain and regular special activities planned throughout the winter.
Stratton, Vermont
Stratton is southern Vermont's highest mountain and a great East Coast option for a winter sports getaway. Besides skiing, visitors can go snow-tubing in the Coca Cola Tube Park, go on a guided snowshoe tour or try cross country skiing at the Stratton Mountain Nordic Center, go on a dog sled tour or simply explore the trails on a fat bike. Ice skating is also available in the Village Commons and Kids Nights Out are a regular occurrence. The Village is also a nice place to shop and relax.
Aspen, Colorado
Aspen is a tiny mountain renowned for its slopes, with 4 major ski areas – Aspen Mountain, Aspen Highlands, Buttermilk and Snowmass Ski Resort. Snowmass is the most popular but Buttermilk is a favorite among beginners. Though skiing is what made Aspen world famous, Snowmass offers many extra activities and there's a recreational center in town as well. Aspen a great destination for the entire family.
Anchorage, Alaska
For a true winter wonderland, head to Anchorage. Witness the ethereal beauty of the Northern Lights, try dog sledding across the snow-laden landscapes, or take a scenic glacier cruise to experience Alaska's raw, natural beauty.
Stowe, Vermont
Stowe offers quintessential New England charm. Enjoy skiing, snowboarding, or snowshoeing amid its scenic beauty. Stroll the charming town center, sample local cuisine, and indulge in the sweetness of local maple syrup.
Park City, Utah
Park City is a hub of winter fun. Ski down the snow-capped peaks, or if you're visiting in January, catch a film at the famous Sundance Film Festival. This city expertly blends outdoor adventures with cultural offerings.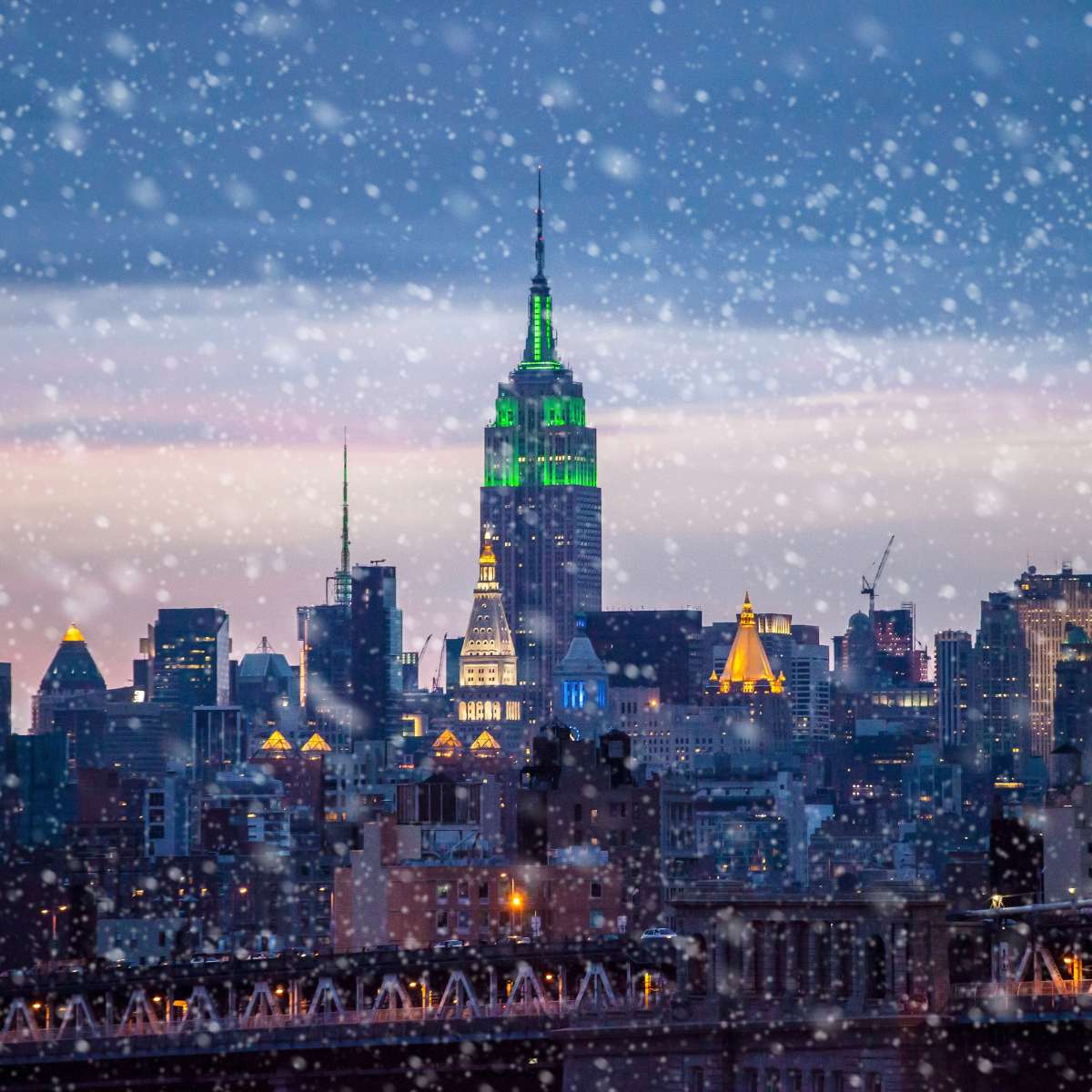 Winter City Vacation Destinations
City vacations in winter can be just as exciting as mountain retreats. From the bright lights of NYC to the historic streets of Boston, these winter city vacations offer unforgettable experiences.
New York, New York
There's no place like New York City in the winter. The city sparkles with holiday lights and seasonal cheer. Don't miss ice skating at Rockefeller Center. It's a tradition that will make your NYC winter vacation unforgettable. Take a stroll through Central Park, and you'll see why this city is a dream winter destination.
New York's shopping is second to none, especially during the holidays. From high-end boutiques on Fifth Avenue to the unique artisanal offerings at the Union Square Holiday Market, you'll find the perfect gifts for everyone on your list. When you've shopped till you've dropped, warm up with a cup of gourmet hot chocolate at one of the city's many cozy cafes.
Chicago, Illinois
Chicago may be known as the "Windy City," but it's a fantastic place for a winter city vacation. Millennium Park is a must-visit, with its iconic "Bean" sculpture and ice skating rink. Check out the city's vibrant theater scene, with plenty of performances on offer throughout the winter season.
The Magnificent Mile offers an impressive array of shops for your holiday purchases. For an unforgettable view, take a trip up to the SkyDeck at Willis Tower. Finish your day with a hearty deep-dish pizza, the perfect remedy for the winter chill.
Boston, Massachusetts
Boston in winter offers a blend of historical charm and modern excitement. Wander the snow-covered paths of the Boston Public Garden and enjoy the festive decorations throughout the city. Boston's rich history comes alive in winter, especially along the Freedom Trail, which offers a fascinating glimpse into the country's past.
Duck into a cozy bookstore in Harvard Square, or shop the fashionable boutiques on Newbury Street. Boston's food scene offers everything from fresh seafood to hearty Italian, perfect for warming up on a cold winter's day.
Washington D.C.
The nation's capital is a stunning place for a winter vacation. Visit the National Christmas Tree near the White House or ice skate along the waterfront in Georgetown. The Smithsonian museums offer a wealth of culture and are especially inviting in the colder months.
Explore the historic neighborhoods of Georgetown and Capitol Hill, decked out in their winter best. Warm up with a bowl of chili at Ben's Chili Bowl, a D.C. landmark. From monuments and museums to vibrant neighborhoods, D.C. is a wonderful winter destination.
Denver, Colorado
Denver is more than just a gateway to the Rockies. It's a bustling city that's great for a winter getaway. The city center comes alive with holiday lights, and outdoor ice rinks pop up across the city. Visit the Denver Botanic Gardens for a twinkling winter light show.
Denver's brewery scene is a highlight, offering the chance to taste a variety of local craft beers. Pair that with a hearty meal at one of Denver's renowned farm-to-table restaurants. With its lively atmosphere and winter activities, Denver offers an exciting winter city vacation.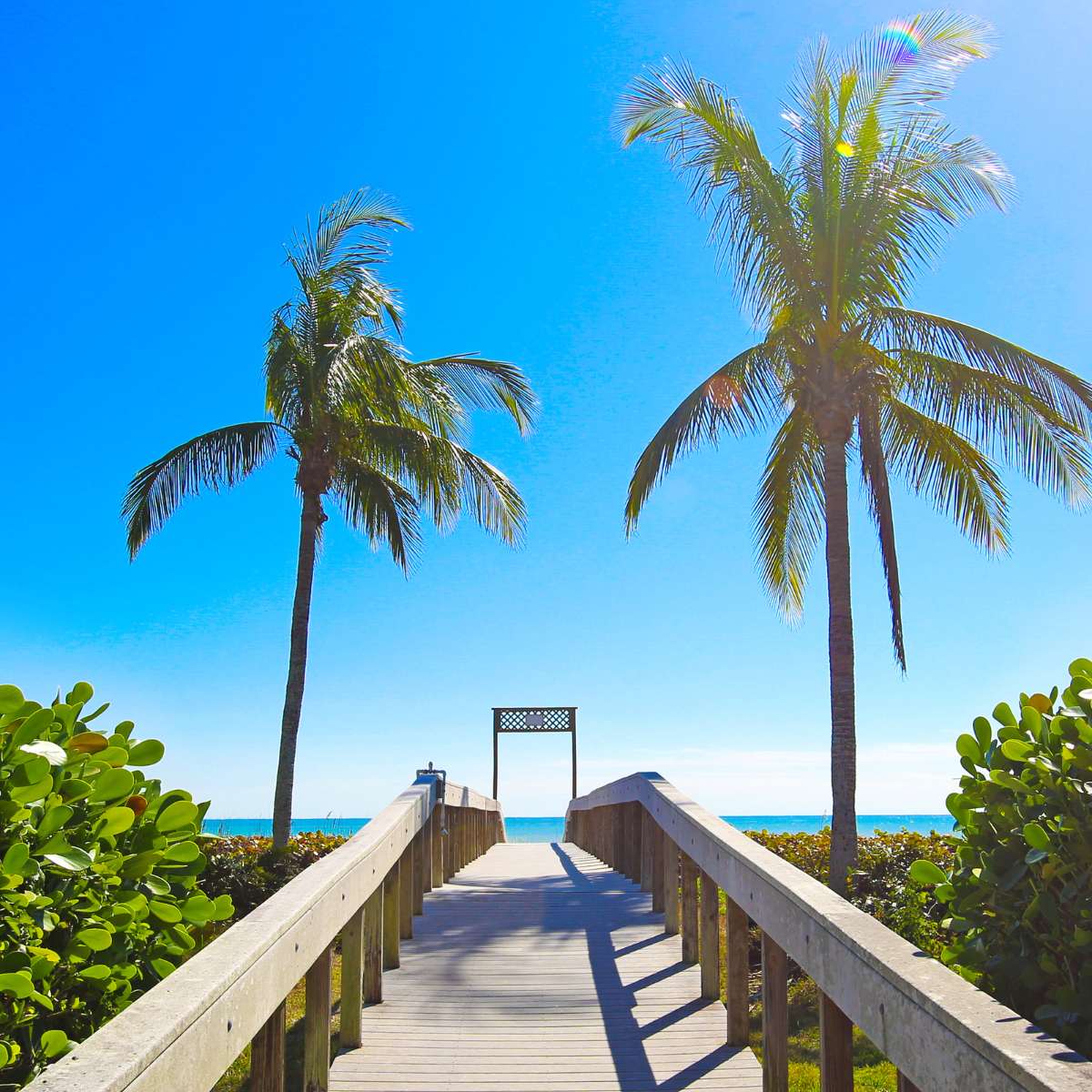 Warm Winter Beach Vacation Destinations
Are you eager to escape the chill of winter and bask in warm sunshine? Let's explore some inviting warm winter vacation destinations. These spots offer not only delightful weather, but also a rich array of activities and attractions. Whether you're drawn to tropical beaches, vibrant culture, or outdoor adventure, there's a warm winter getaway that's perfect for you. So pack your sunglasses and prepare to swap the snow for the sand, as we journey through these sun-kissed destinations.
San Diego, California
San Diego, a crown jewel of Southern California, is an ideal warm winter vacation destination. The city's winter temperature averages around 65 degrees Fahrenheit, providing an excellent escape from the harsh chill of many other locales. San Diego's stunning beaches, including the famous Coronado and La Jolla Shores, offer a year-round playground for surfing, sunbathing, and simply enjoying the breathtaking Pacific views.
Beyond the beaches, San Diego has much to offer in winter. You can explore the iconic Balboa Park, home to the San Diego Zoo, numerous museums, and beautiful gardens. The Gaslamp Quarter, with its Victorian-era buildings, offers a bustling scene with top-notch restaurants, trendy boutiques, and lively entertainment. Furthermore, winter in San Diego is synonymous with whale-watching season. This is the perfect time to take a boat tour and witness the magnificent gray whales migrating off the coast. So, whether you're a beach lover, a foodie, or a nature enthusiast, San Diego has something special for you during the winter months.
Sedona, Arizona
Escape the snow and head to Sedona, Arizona for a distinct winter vacation. While winter temperatures here are cooler than the rest of the year, they're generally mild and comfortable, averaging in the mid-50s to low-60s. This makes it an ideal time to explore Sedona's famed red rock landscapes without the intense heat of summer. Outdoor activities such as hiking, mountain biking, or even hot air ballooning provide breathtaking views of the city's iconic red rock formations and the surrounding desert.
Winter in Sedona is not only about outdoor pursuits. The town offers a rich cultural scene to explore when you're not out on the trails. It's renowned for its art galleries that display a range of works from Native American art to modern pieces. Additionally, Sedona is known for its vortex sites, which are said to be centers of spiritual energy. Whether you're seeking outdoor adventure, a cultural experience, or spiritual enrichment, a winter vacation in Sedona offers a unique and memorable getaway.
Maui, Hawaii
Besides its stunning beaches, Maui offers a rich cultural experience. Visit the Old Lahaina Luau for a traditional Hawaiian feast and performance. Or drive up to the Haleakala National Park, home to Maui's highest peak, for an unforgettable sunrise view.
Outer Banks, North Carolina
The Outer Banks are steeped in history. Visit the Wright Brothers National Memorial in Kitty Hawk, where the first controlled powered airplane flights took place. Or check out the Roanoke Island Festival Park to learn about the area's early English settlers.
Destin, Florida
Destin's HarborWalk Village is a hub of activity, with restaurants, shops, and entertainment. Go on a dolphin cruise, visit the interactive Destin History & Fishing Museum, or just enjoy a relaxing sunset stroll along the boardwalk.
Myrtle Beach, South Carolina
Myrtle Beach offers much more than just its iconic beach. Visit Broadway at the Beach for shopping, dining, and attractions like Ripley's Aquarium. Golfers will love the more than 80 local golf courses, making Myrtle Beach a golfer's paradise.
Gulf Shores, Alabama
The Wharf at Orange Beach is a must-visit in Gulf Shores. This outdoor shopping center offers numerous restaurants, shops, a movie theater, and even a Ferris wheel. It's the perfect place to spend an evening after a day on the beach.
South Padre Island, Texas
South Padre Island is a bird watcher's paradise, hosting the World Birding Center. For a fun educational experience, visit Sea Turtle Inc., a sea turtle rescue center. End your day with a beachside horseback ride at sunset.
Santa Barbara, California
Santa Barbara is also known for its wineries. Take a wine tour or explore the Urban Wine Trail in downtown Santa Barbara. For nature lovers, the Santa Barbara Botanic Garden showcases the diverse flora of the region.
Key West, Florida
Key West has a rich literary history, as it was home to Ernest Hemingway. Visit the six-toed cats at his former home, now a museum. Experience the vibrant nightlife on Duval Street, or enjoy a slice of the island's signature Key lime pie.