Pumpkins are beautiful decorations and tasty to eat. This article will discuss what do pumpkin plants look like, the life cycle of a pumpkin, how to grow and care for a pumpkin and how to protect it from predators. Plus don't miss my favorite pumpkin recipes.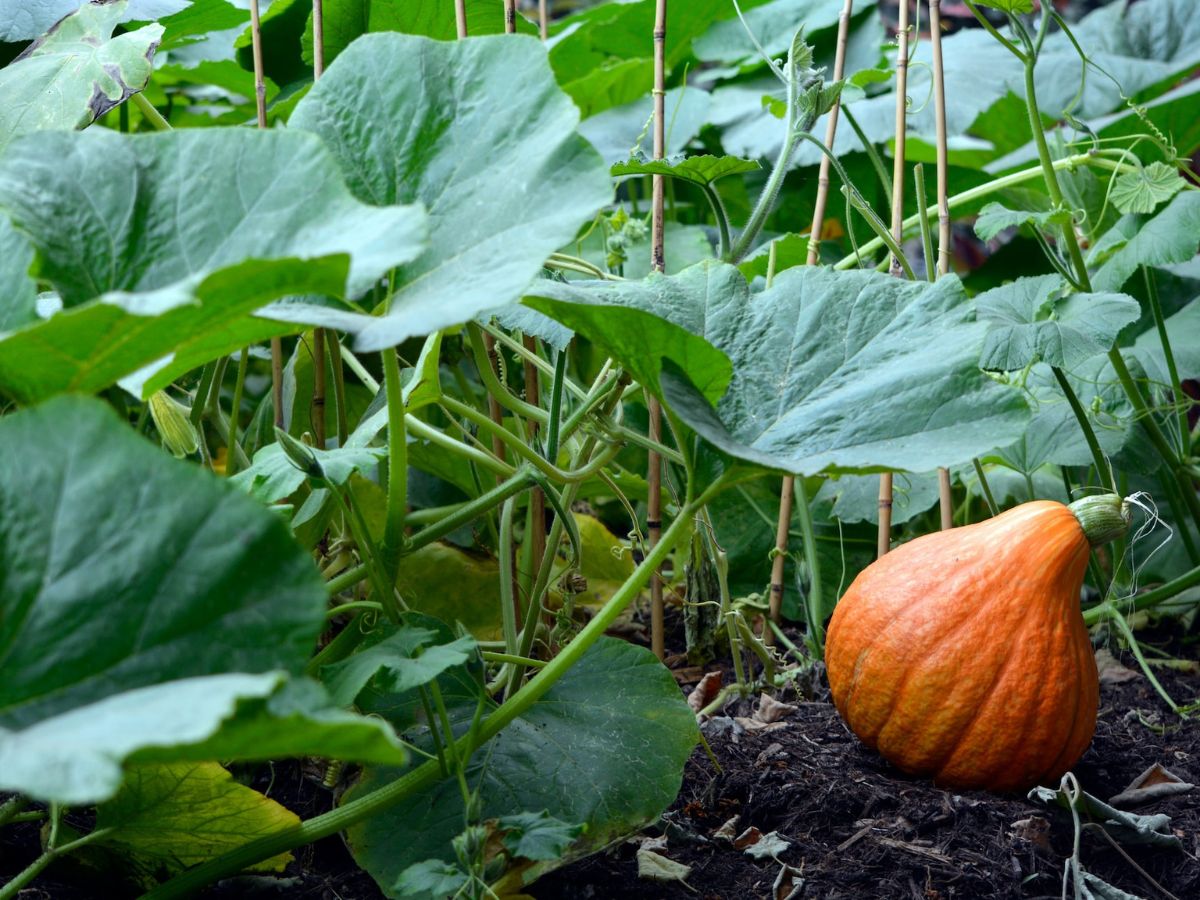 What Type Of Plant Is A Pumpkin?
Pumpkin is the common name of a group of plants in the genus Cucurbita. It is sometimes referred to as a squash. It is grown as a vegetable and an ornamental plant. Pumpkin plants are native to North America.
What Does A Pumpkin Plant Look Like?
Pumpkin plants are short lived vines with branching arms and broad lobed leaves that look like an elephant ear. As the pumpkin vine grows it will sprout new branches off the vine. All of the leaves are reaching up toward the sun. The pumpkin plant produces beautiful, large orange or yellow squash flowers.
Pumpkin vines can have growth up to 50 feet in length if the long vines have space to root. Make sure you have plenty of room if you are planting a pumpkin seed. You can also grow smaller varieties or the vines can be trained to grow on a trellis or fence.
You'll see pictures of what pumpkin plants look like throughout this article. They vary slightly by variety.
The leaves fan out to capture as much sun for the plant as possible. Like most plants in the squash family, it has little tiny spiky stickers along the pumpkin vines and stem. You might want to use gloves while picking your pumpkins.
Types of Pumpkin Plants
Pumpkin fruit vary greatly in size, color and texture. There are miniature varieties and giant varieties that can weigh over 75 lbs.
The skin of the most common pumpkin varieties is usually ribbed and orange. There are dark green, grey, yellow or red varieties as well. Some have jagged edges, some are smooth.
Pumpkin varieties used for cooking:
Cinderella: This pumpkin was renamed after the pumpkin coach in the movie. It has thick flesh and works well in all types of cooking.
Lumina: This is a white pumpkin. It's great for baking and also works well for carving.
Sugar: This small pumpkin variety is perfect for pies or pumpkin dessert. It can also be used in soups and casseroles as well.
Bushkin: This is a great variety of pumpkin if you don't have a lot of space. They're compact plants that can be planted in as little amount of space as 4 square feet. These can be grown easily in a raised bed garden as well. These make great pumpkin seeds for roasting.
Pumpkin varieties for carving:
Connecticut Field: This variety is most often grown on pumpkin farms for Halloween. This pumpkin weighs between 10 and 20 pounds. It is not great for cooking but it makes a great carved Halloween pumpkin.
Jack-O-Lantern: This has a thin rind so once carved a light placed inside will shine brightly..
Miniature Pumpkins come in a few varieties. These mini pumpkins are more compact for growing in a backyard garden and are great ornamentals. These small pumpkins are fun if you don't plan to eat them.
Giant Pumpkins come in many varieties as well. Make sure you have a giant pumpkin patch for these ones! A 50 pound pumpkin doesn't have a lot of use in cooking but they would be fun to have as decorations!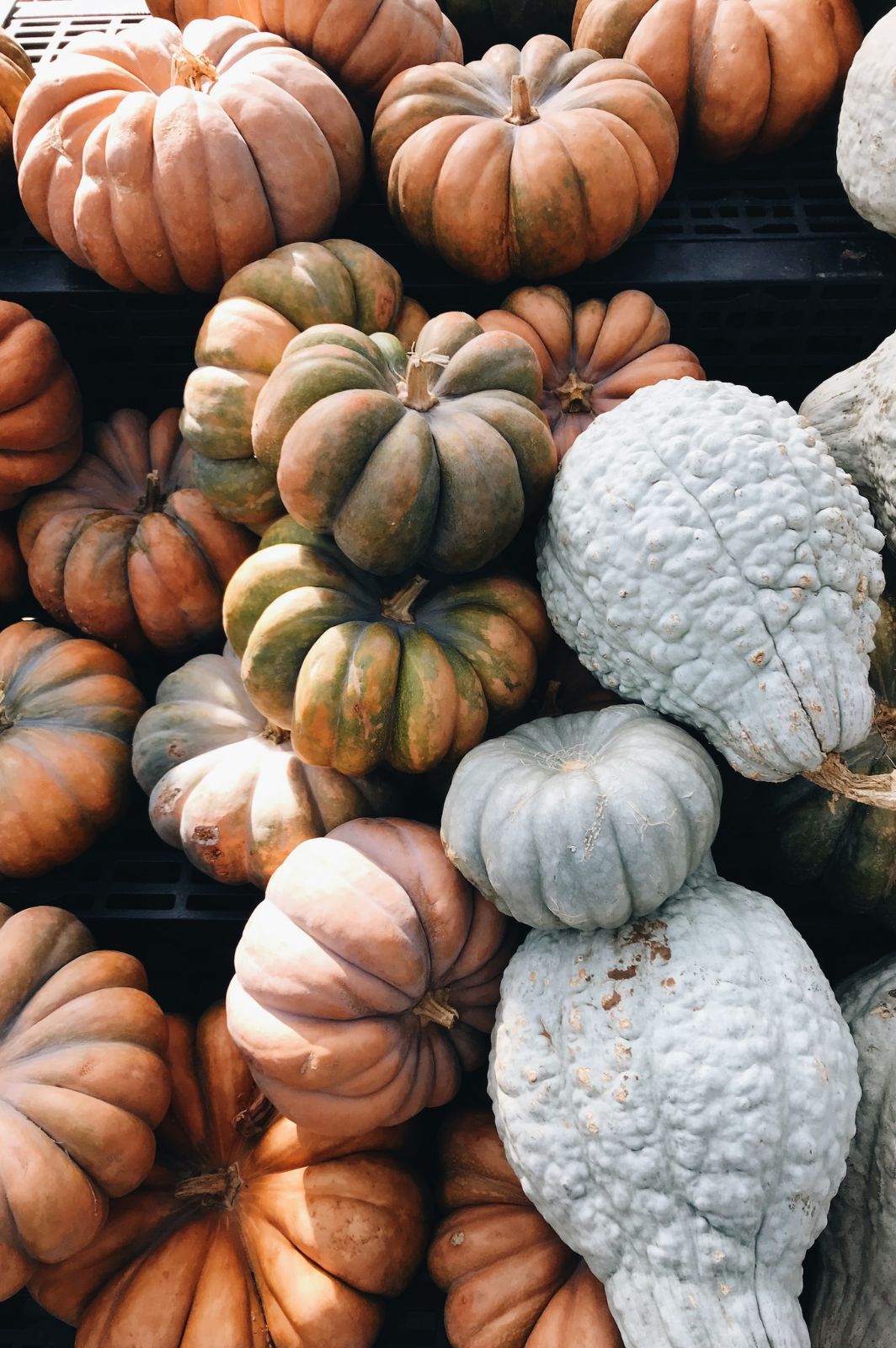 Pumpkin Life Cycle
Here's a quick breakdown of the pumpkin growth stages. Continue reading for more details about plant growth and how to care for your pumpkin plants.
Plant seeds indoors 3 weeks before the last frost.
Germination begins after 5-10 days.
The first true leaf will sprout 6-10 days after germination.
Male flowers begin to grow.
Female flowers will begin to grow.
Insects pollinate the female flower and a tiny pumpkin begins to grow.
Pumpkins grow for 45-55 days until ready to pick.
How To Plant A Pumpkin Seed
Pumpkin is a warm-season crop. However, they do not grow well in hot weather. Your garden will need lots of sunlight and good drainage. You want to be able to soak the ground for a minute and see all the water drain away.
Pumpkin fruits grow best at temperatures between 65–75°F. Find a place to plant your pumpkin seeds that has full sun and has access to regular water. Pumpkin vines have shallow root systems and need frequent watering.
Buy a seed packet for the variety you want to grow. Make sure you buy seeds that are certified disease free. You can start the seed indoors and then transplant outdoors when the weather is warm enough, or you can wait until the soil temperature is at least 60°F and plant the pumpkin seedlings directly in the soil outside. Make sure you plant by late may or early june.
Sow seeds in a hole about 1-inch deep in the dirt. If you're growing the bush varieties you should plant at least 3 feet apart. If you're growing the larger vining varieties you should plant at least 4 or 5 feet apart. Allow for 6-10 feet between rows.
If you're starting the seeds indoors, plant them 3-4 weeks before the last frost date in your area. You don't want to plant them outside while there is a danger of frost. Make sure you plant them outdoors before they develop their second set of true leaves.
Once your seeds are planted, maintain lightly moist soil for the best chance at germination. Do not overwater. It should take about 5-10 days for germination and the stages of life to begin. The first true leaf will sprout on young plants about a week after germination. The true leaves are dark green with jagged edges. These seedlings are ready to plant outside.
How Much Water Do Plants need?
Pumpkins require continuous water. A drip system is best that keeps the soil watered without wasting water. If you don't have a drip system, pumpkins should be watered deeply once a week, depending on your weather. Give the plants about an inch of water all around the root system. This will encourage the plant's roots to grow deeper.
How Much Sun Do Pumpkin Plants Need?
Pumpkins need full sunlight. Plant them in an area that gets at least 6 hours of sun every day.
What Should You Feed Pumpkin Plants
The soil pH in your pumpkin patch should be between 6.5 and 7.5. You will want to add things to your soil to make sure the pH is balanced. It's also important to start with a nutrient rich soil. Use compost and composted manure for a good start to your plants.
Apply a weekly nitrogen-based fertilizer early in the growing season will help promote green growth. Once the flowers start to form, use a phosphorus-based fertilizer to encourage more blossoms. When the pumpkin fruit appear, use a potassium-based fertilizer.
When Do Pumpkin Plants Flower?
It takes about ten days for the first flowers to appear on the vines. After about eight male flowers grow, female flowers begin to develop. Male flowers sit atop long skinny stems; female pumpkin flowers have a slight bulge, or ovary, at the base that may develop into a fruit if pollinated by insects like bees.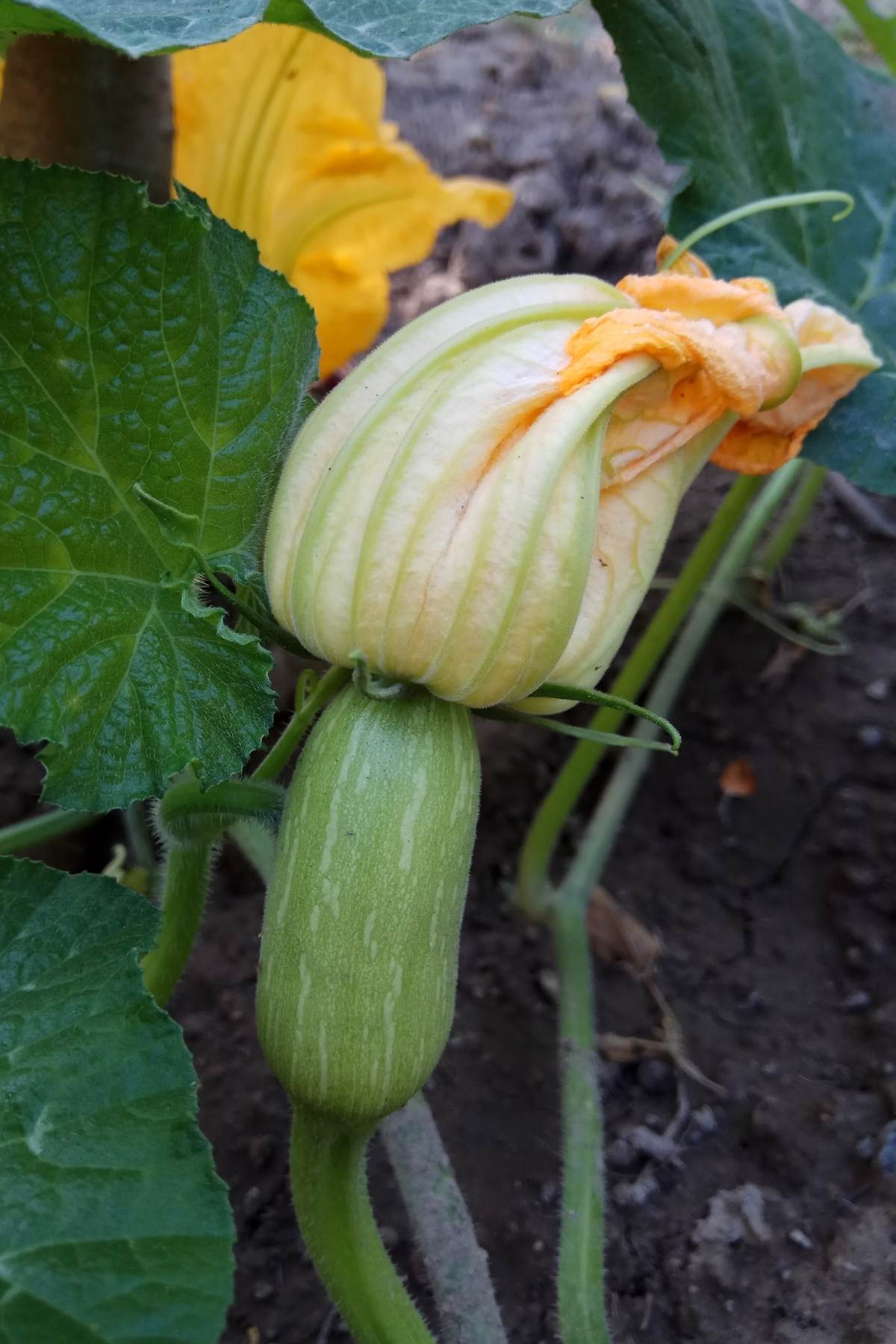 Pollination occurs when bugs and bees get the sticky pollen stuck to themselves and transfer it from the male stamen to the female blossoms. If fertilization happens, baby pumpkins begin to form immediately from the base of the female flower. these small green fruits are infant pumpkins.
Pumpkins have a long growing season. Expect your pumpkin to grow for 45-55 days, depending on the type of pumpkin. Then they will ripen from their dark green color to a bright orange color, or whatever color they are supposed to be.
What Eats Pumpkin Plants
Everybody loves to eat pumpkin plants. You'll need to watch out for pests, especially for aphids, armyworms, cabbage loopers, cucumber beetles, cutworms, squash bugs, stink bugs, squash vine borers, and flea beetles. Read more about insects that eat pumpkin plants.
Will deer eat pumpkin plants? While deer don't love the spiky pumpkin vines, they do love flowers! They'll eat the flowers off your plant and prevent it from forming fruit.
Squirrels and other rodents love pumpkin fruit! You may work hard on your pumpkin patch all summer only to have a squirrel feast on your pumpkin before you can.
You can put up an easy deer fence around the entire plant or your whole pumpkin patch to keep deer away. If you have a lot of rodents, mesh row covers over your garden will keep them away.
How To Protect Pumpkin Plants
Beyond just animals and bugs, you will need to protect plants from fungal disease and rot. You will want to protect your plants from powdery mildew, bacterial wilt and many other organic dangers. You will know your plant has a problem if there are black spots on the leaves or it starts to wilt, rot or look generally unhealthy. If you've been feeding and watering your plants then you might want to look into one of these possible issues.
The best way to avoid disease and rot are to follow these tips:
Use certified disease free seeds.
Rotate crops every 2 years. Do not keep planting pumpkins in the same place year after year. Crop rotation is an important part of growing pumpkins.
Do not overcrowd your plants. They should be spaced far enough apart that they are not growing on top of each other.
Avoid overhead watering. Use a drip system or water the soil without getting the plant wet.
Avoid long periods of water saturated soil.
Scout the plants when conditions are wet to spot fungus when it first begins to grow. Treat the fungus immediately.
Remove infected plants.
Hand pick and remove beetles from plants and destroy them so they don't return.
Insecticide should be used for certain types of pests.
Check here to see what does pumpkin plants look like with the different types of fungus and rot.
Do Pumpkin Plants Come Back Every Year?
Pumpkins grow from early spring through fall during the warm weather. Remove your last pumpkins from the vines before the first heavy frost. The end of the life cycle of a pumpkin comes to a close. You can harvest your pumpkin seeds to continue your pumpkins next year, however, be aware that saving seeds may contribute to different types of fungus or disease, if you had it. It's a good idea to buy certified disease free pumpkin seeds when you want to plant your home garden.
Favorite Pumpkin Recipes
You can make a lot more with pumpkin than pumpkin pies! These recipes call for canned pumpkin puree but you can make your own as well. See directions for making your own pumpkin puree.