This Greek Salad is seriously good enough to eat every day. It's a balanced meal on it's own. I've been eating a green Greek salad non-stop all summer long. If you're a fan of salad you'll love this recipe. The dressing is simple to make and so much better (and healthier) than bottled dressing you buy. This delicious greek salad and dressing recipe will definitely become one of your favorites.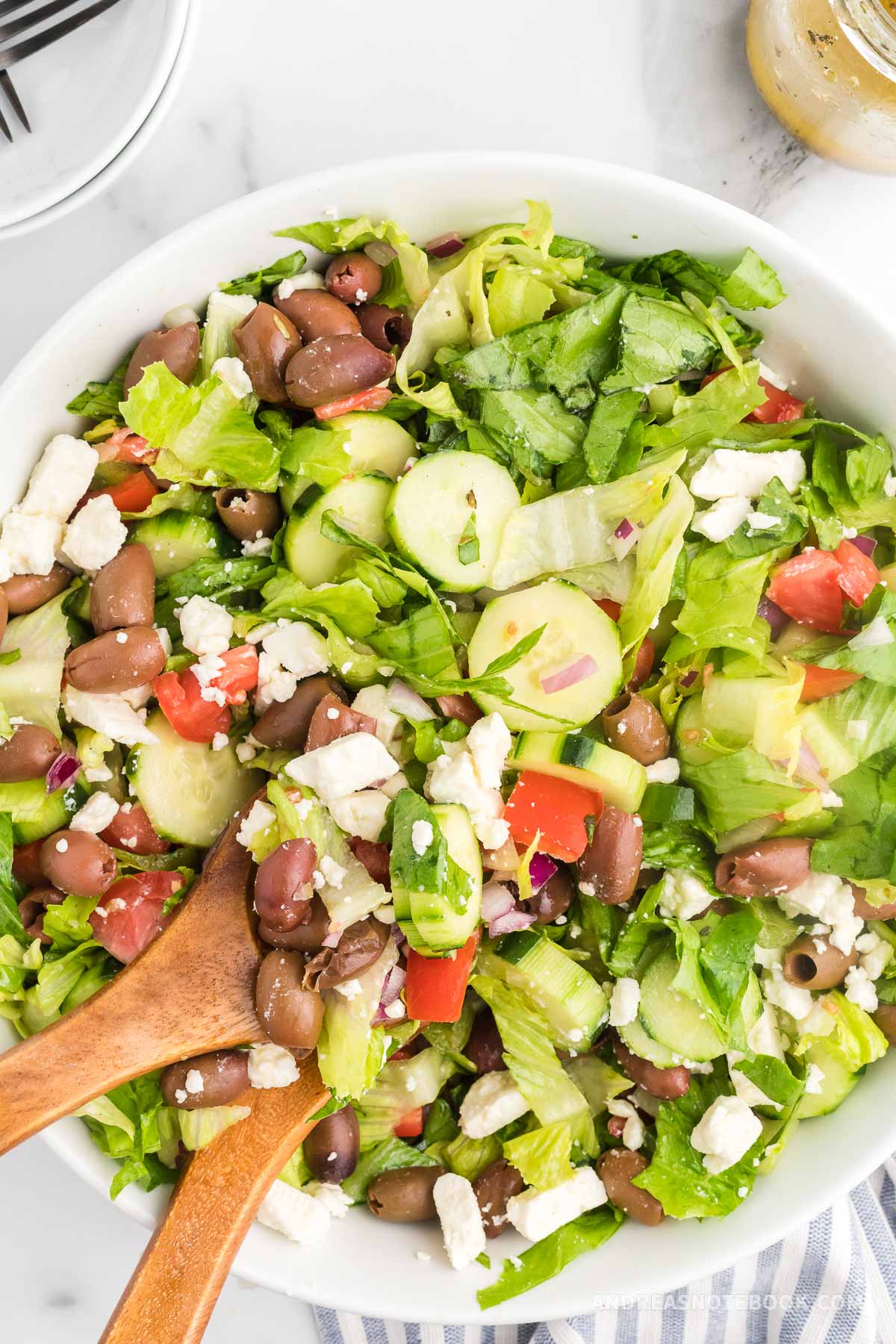 The combination of the crisp cucumbers, fresh tomatoes, creamy Feta cheese, and Greek olives make a delicious meal. It makes a light dinner if you serve as a main dish. Or serve on the side of any meal.
What Is Greek Salad?
An authentic greek salad (Horiatiki) is not a lettuce based salad. The salad includes cherry tomatoes, bell pepper, cucumber, olives and fresh Feta cheese. The classic Greek salad usually has a block of fresh Feta on top, not crumbled.
This Greek salad has all the ingredients of a traditional Greek salad recipe but it's served with lettuce like an American Greek salad. A Greek salad usually has a dressing of olive oil, red wine vinegar (or fresh lemon juice) and dried oregano as well.
Why You'll Love This Greek Salad
Flavor: This is a whole meal if you want it to be! The taste is fresh with just the right combination of tangy and savory. Serve as a main dish or side dish.
Nutrition: 11 grams of protein and lots of vitamins.
Time: Prep time takes only 10 minutes. No cooking involved.
Diet: Vegetarian, Gluten Free
TRY THIS: Serve an easy Greek salad recipe with a homemade pizza with the best Thick Crust Pizza Dough.
Ingredients
Full printable Greek lettuce salad ingredients list and instructions for this Greek salad with lettuce are in the recipe card below.
Salad Ingredients:
A green Greek salad is full of fresh veggies chopped into large chunks.
large head romaine lettuce: rinsed and chopped
2 roma tomatoes: seeded and diced (substitute for any juicy tomatoes)
1 green bell pepper: seeded and diced (substitute red bell pepper or yellow bell pepper, if you prefer)
½ red onion: diced or sliced into long pieces
1 English cucumber: peeled and chopped (any fresh cucumbers will work but avoid cucumbers that have a lot of seeds)
1 cup kalamata olives: cut in half (substitute black olives or any briny olives, if you prefer)
1 cup feta cheese: crumbled
Simple Dressing Ingredients:
To make a Greek dressing, it is important to include extra virgin olive oil, red wine vinegar and dried oregano. If you can, don't miss adding the extra ingredients for one of the best salad dressing recipes you'll try.
¼ cup + 2 Tablespoons extra virgin olive oil
juice of 1 lemon
1 teaspoon dried oregano
2 cloves garlic (1 ½ teaspoons minced garlic)
½ tsp dried basil
1 Tablespoon red wine vinegar
¼ teaspoon salt
½ teaspoon granulated sugar
pinch of fresh ground black pepper
Variations:
For the ultimate Greek salad, add some Greek chicken or any grilled chicken breast.
Substitute the romaine lettuce for baby spinach to make a spinach salad.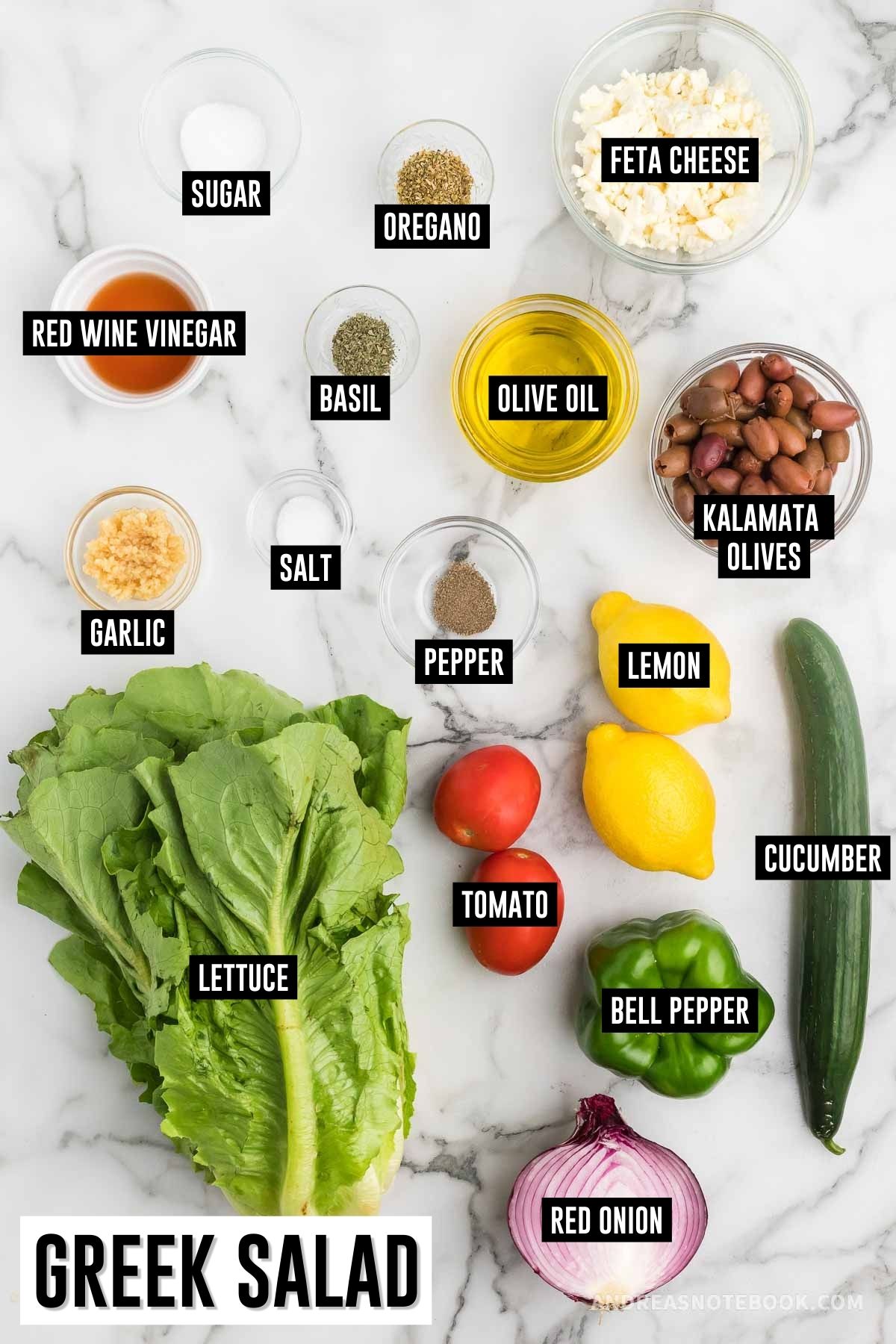 Tools
large salad bowl
mason jar with a lid or a small bowl and whisk
cutting board and knife
Instructions
Full step-by-step instructions for lettuce based Greek salad are in the recipe card below. You can print the full recipe or save to Pinterest for later.
Prep: Chop the lettuce, green pepper, tomato, onion, and cucumber. Measure your dressing ingredients. It is easiest to eat if you chop your vegetables into bite-size pieces.
Make The Homemade Greek Salad Dressing: While this is a simple salad recipe, the flavors are anything but. In a small bow or a glass jar with a lid, combine dried oregano, dried basil, garlic, fresh ground black pepper, salt, sugar, fresh squeezed lemon juice, red wine vinegar and extra-virgin olive oil.
If you're using a bowl, whisk until emulsified and combined. If you're using a jar with a lid, put the lid on and shake until thoroughly mixed.
Make The Salad: Combine chopped lettuce, chopped tomato, chopped cucumber, chopped red onion, chopped green bell pepper in a large mixing bowl or large salad bowl. Drizzle with just the amount of dressing as desired. Toss the salad to mix well and coat the ingredients with the simple vinaigrette.
Top the salad with the olives and crumbled Feta cheese. Optional: top with crumbled pita chips. Serve.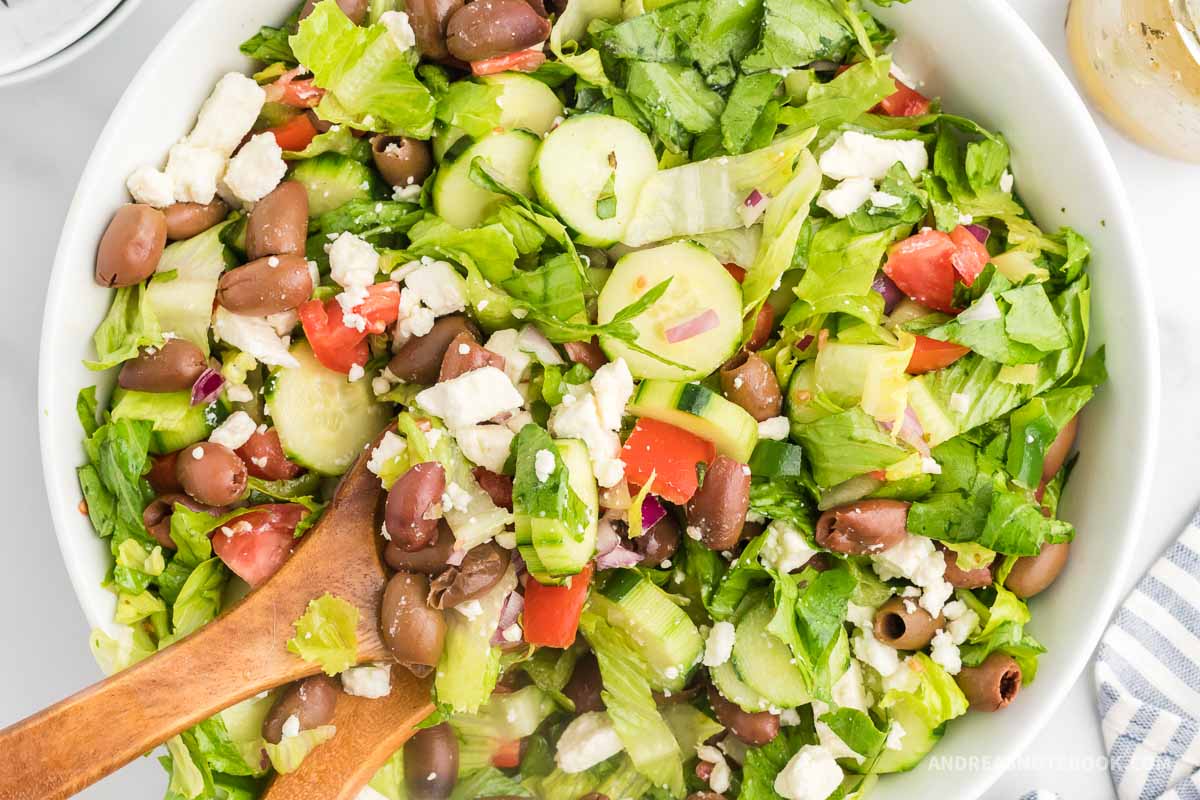 Tips For The Best American Green Salad
Use fresh ingredients. Nothing makes a salad less appealing than mushy, over-ripe tomatoes.
Do not add too much dressing. You can never take dressing off your salad! Add a little of the homemade vinaigrette dressing and toss. Add more if you want more.
Serve with flat bread like pita bread, naan, or any flatbread available in your area.
What To Serve With Greek Salad
If you are serving an easy Greek salad as a main course, serve it with a side of soft flatbread. We usually serve with naan bread because it's easy to get fresh, soft naan bread where we live. Fresh pita bread (not the dry, flaky kind in the bread aisle of most American grocery stores) is a great option as well, and more traditional.
Serve as a fresh side salad with Greek chicken or Greek lamb chops.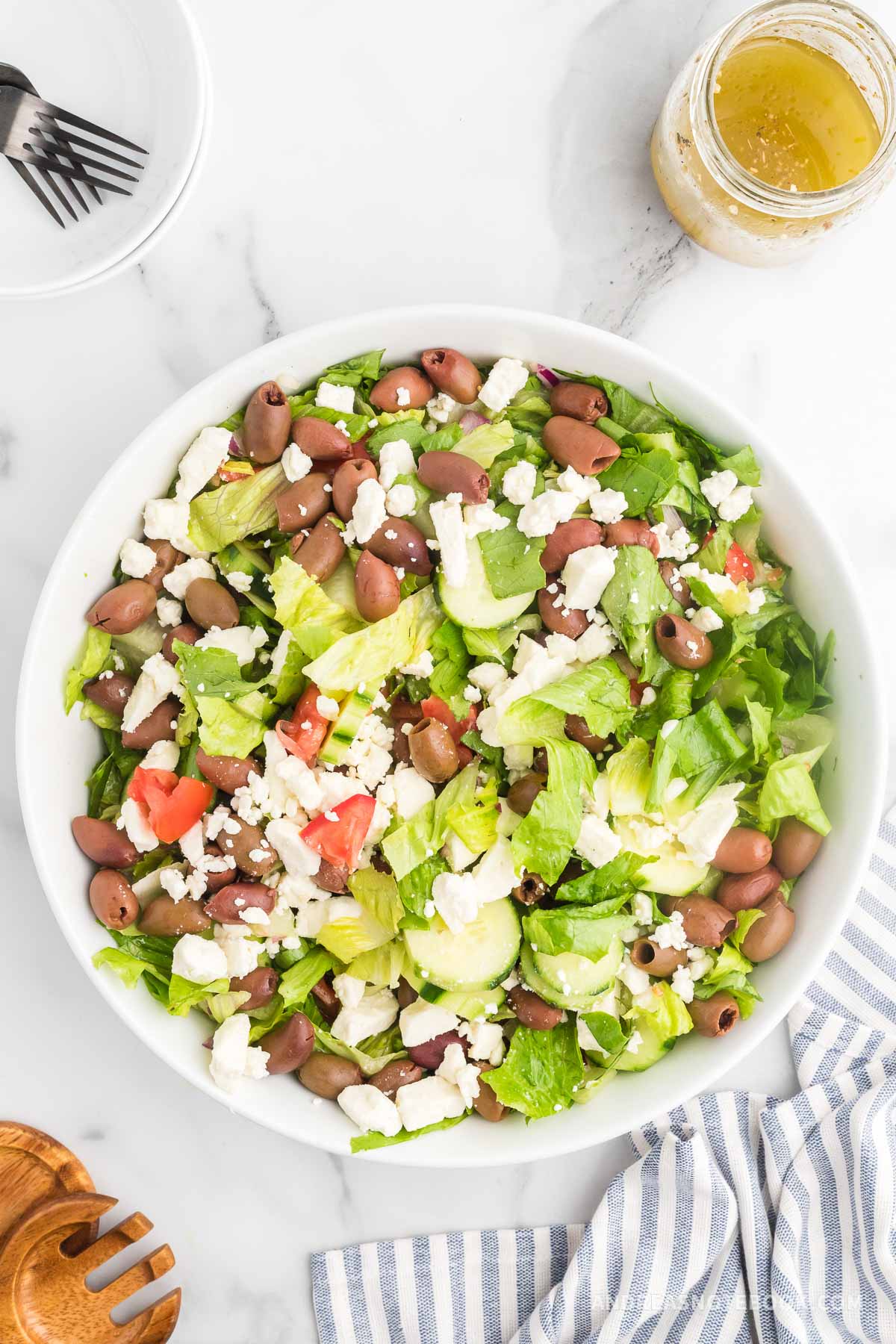 TRY THIS: Serve this fresh salad with the best Oven Cooked BBQ Ribs. You will not be disappointed by these ribs.
Storing
If you would like to store Greek salad leftovers, omit the garlic in the salad dressing. Once garlic is immersed in olive oil it should be used immediately and not stored. If you've omitted the garlic you can store the salad in an airtight container in the fridge for up to 3 days. Salad does store best if you do not put dressing on it until you're ready to eat it.
Frequently Asked Questions
How long is Greek salad dressing good for?
This Greek salad dressing should be used immediately. If you would like to store it in the refrigerator for 3-5 days, omit the fresh garlic. You can substitute ¼ teaspoon of garlic powder.
What is a red wine vinegar substitute?
If you do not have red wine vinegar use white wine vinegar, sherry vinegar, apple cider vinegar or balsamic vinegar.
Ingredients
Salad Ingredients
1

large

head of romaine lettuce

(chopped)

2

roma tomatoes

(seeded, chopped)

1

bell pepper

(seeded, chopped)

½

medium

red onion

(sliced or chopped)

1

large

English cucumber

(chopped)

1

cup

Kalamata olives

(seeded, sliced in half)

1

cup

Feta cheese

(crumbled)
Salad Dressing Ingredients
6

Tbsp

extra virgin olive oil

((¼ cup + 2 Tablespoons))

1

medium

lemon

(juiced)

1

tsp

dried oregano

2

cloves

garlic

(minced (1.5 teaspoons))

½

tsp

dried basil

1

Tbsp

red wine vinegar

¼

tsp

sea salt

½

tsp

granulated sugar

pinch

fresh cracked black pepper
Instructions
Make Salad Dressing
Combine salad dressing ingredients in a small bowl or a canning jar with a lid. Whisk or shake until blended. Refrigerate immediately. Garlic mixed with olive oil can sit out about 2 hours before you should throw away.
Make Salad
Combine chopped lettuce, chopped bell pepper, diced onion, and diced cucumber in a large bowl.

Drizzle with desired amount of salad dressing.

Using salad spoons or tongs, toss salad to combine dressing and ingredients.

Sprinkle top of salad with Feta cheese, Kalamata olives and tomatoes.
Notes
Do not save leftover salad dressing. Once garlic is mixed with olive oil it has a 2 hour shelf life. Most sources say it is not safe to save in the refrigerator either, though many people will save for 1-2 days. To be safe, only make the amount of dressing that you will use at the time.
To make the salad ahead, mix up the salad ingredients then make your dressing when you intend to serve it.
Nutrition
Calories:
319
kcal
|
Carbohydrates:
13
g
|
Protein:
11
g
|
Fat:
26
g
|
Saturated Fat:
4
g
|
Polyunsaturated Fat:
3
g
|
Monounsaturated Fat:
19
g
|
Cholesterol:
7
mg
|
Sodium:
1027
mg
|
Potassium:
315
mg
|
Fiber:
3
g
|
Sugar:
6
g
|
Vitamin A:
2021
IU
|
Vitamin C:
46
mg
|
Calcium:
54
mg
|
Iron:
1
mg