Get ready to channel your inner gnome and elevate your holiday and Halloween celebrations with our DIY garden gnome hat sewing tutorial. Whether you're crafting for the festive Christmas season or gearing up for Halloween fun, this step-by-step guide will help you fashion the perfect gnome hat. Embrace the whimsy, tap into your creativity, and let's sew a hat that captures the essence of these charming mythical beings. Join us in this enchanting journey and make your DIY gnome hat with flair. It's time to add a touch of gnome-inspired magic to your festivities! You might also like this DIY Dwarf & Gnome Costume Tutorial.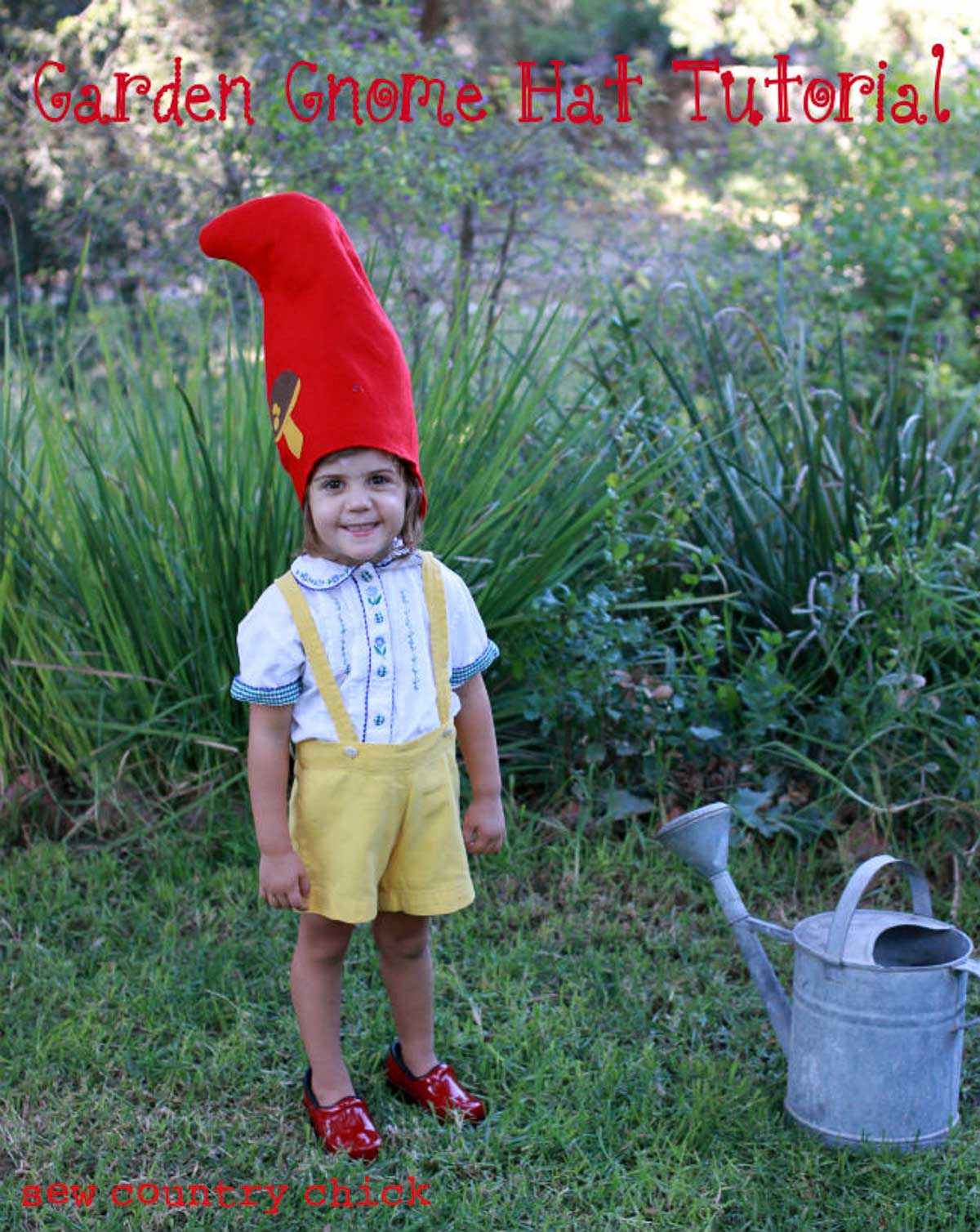 Why I Love This DIY Garden Gnome Costume
Difficulty: This is an easy sewing tutorial. If you can sew a straight line and a curved line you can sew this DIY gnome hat. Basic sewing skills are sufficient for this DIY gnome hat tutorial.
Time: From start to finish you'll have this dress completed in about an hour, depending on skill level.
Versatility: I love how adorable this gnome hat looks! Perfect for a Christmas gnome costume or Halloween gnome costume!
Size: This hat does not have a pattern. You'll make your own based off of your child's head measurements. It can be made for a little girl or little boy in any size.
More Cute Costume Tutorials
Enjoy these adorable costume tutorials!
This DIY Garden Gnome Hat Tutorial was written by Justine from Sew Country Chick for our costume tour in 2012.
When I got my little one these spiffy red clogs I just knew I had to make her a little garden gnome outfit to wear!
I made the hat from easy and quick to sew red felt with a mushroom applique made from some felt scraps I had on hand. The rest of her outfit is from my vintage kids clothing collection.
Don't you just love those old fashioned suspender shorts?
Gather Supplies
Search your scrap pile for this fabric or buy it at your local fabric store for your DIY garden gnome hat. It can also be purchased online or in a thrift store if you're lucky. The amount of fabric you need depends on the size of your hat. I recommend drafting your gnome hat pattern before purchasing your supplies.
Red Felt: Use craft felt or wool felt.
Yellow Felt and Brown Felt: Use small scraps to make a mushroom.
Fusible Double Stick Adhesive: Use to attach the applique.
Iron-on Interfacing: Use this to stabilize your hat.
Sewing Machine: I haven't tried it but you might be able to make this using a little hot glue and a glue gun.
Craft Felt vs. Wool Felt
Let's embark on a journey to uncover the differences between craft felt and wool felt as it relates to this felt gnome hat tutorial.
Material Composition:
Craft Felt: Typically made from synthetic materials like polyester or acrylic.
Wool Felt: Derived from natural wool fibers, making it organic and sustainable.
Texture:
Craft Felt: Often has a smoother and more consistent texture.
Wool Felt: Exhibits a textured, fuzzy surface due to its natural origin.
Durability:
Craft Felt: Generally less durable and may wear out faster.
Wool Felt: Known for its durability and ability to withstand wear and tear.
Cost:
Craft Felt: Budget-friendly, making it ideal for large projects or beginners.
Wool Felt: Typically more expensive due to the quality of the material.
Suitability:
Craft Felt: Great for projects like kids' crafts, ornaments, and decorations.
Wool Felt: Ideal for projects where quality and longevity matter, such as heirloom items or garments. This is my preference for a felt hat.
Now you can buy your felt for your DIY gnomes this holiday season.
Instructions
Ready to make your DIY gnome hat?
Step 1: The first step is to put two pieces of felt together about twenty inches long each, depending on the size of gnome's hat you're making. These two pieces of felt will be cut to be identical hat pieces.
Step 2: Next draw an 18 inch line up the center of the hat pattern to make sure both sides are balanced. Optional: draw your gnome hat pattern on a piece of paper.
Step 3: Then measure your child's head circumference. (or the circumference of your head). Add ½″ to account for seam allowance. Divide the circumference in half. Draw a line that length along the bottom of your hat pattern for the little gnome hat brim.
The front side will be straight across and the back side will dip down about an inch and a half so it can hug your child's head.
Step 4: Free-hand draw the rest of your hat from the sides. Your hat will be a cone shape with a curve to the side a little. See photo below for example. You will cut 2 of these hat pieces.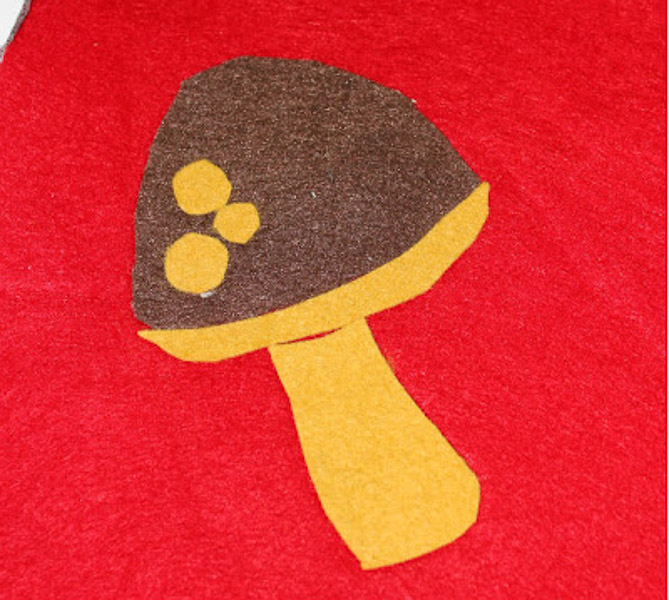 Step 5: Before you sew your hat together, gather some felt scraps and use some fusible double stick adhesive to attach a little mushroom applique. Alternatively, you can attach them with fabric glue. You don't have to add an applique but I find it really makes the little gnome hats extra cute.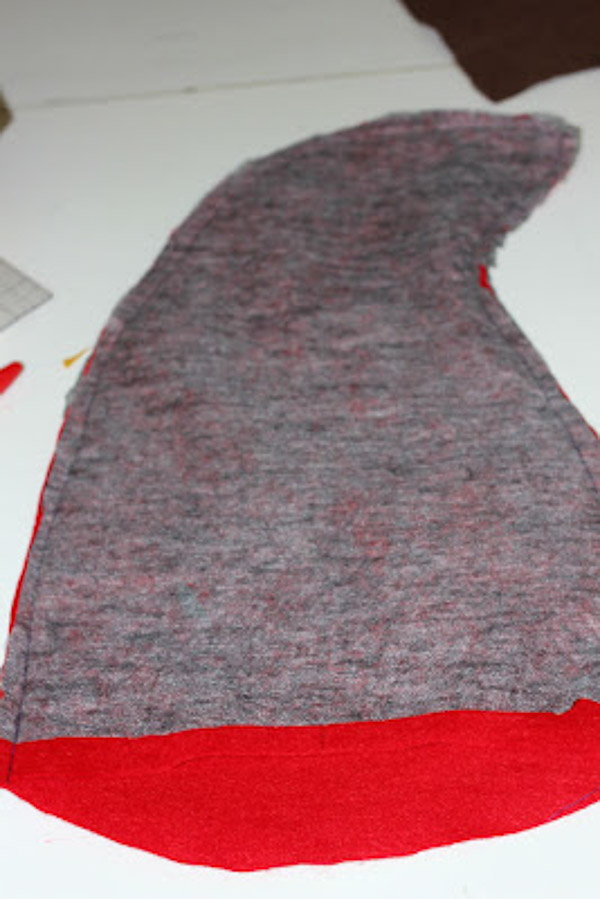 Step 6: Iron on some interfacing to the wrong sides of your felt. Cut it about ½″ shorter than the hat so the interfacing doesn't show out the bottom.
Step 7: Then place the felt right sides together. Pin the outside edges and sew from the bottom of the hat, up over the top of the hat and down the other side. Use a ¼″ seam allowance.
Step 8: The final step is to turn the hat right side out. There is no need to hem the raw edge because it is felt.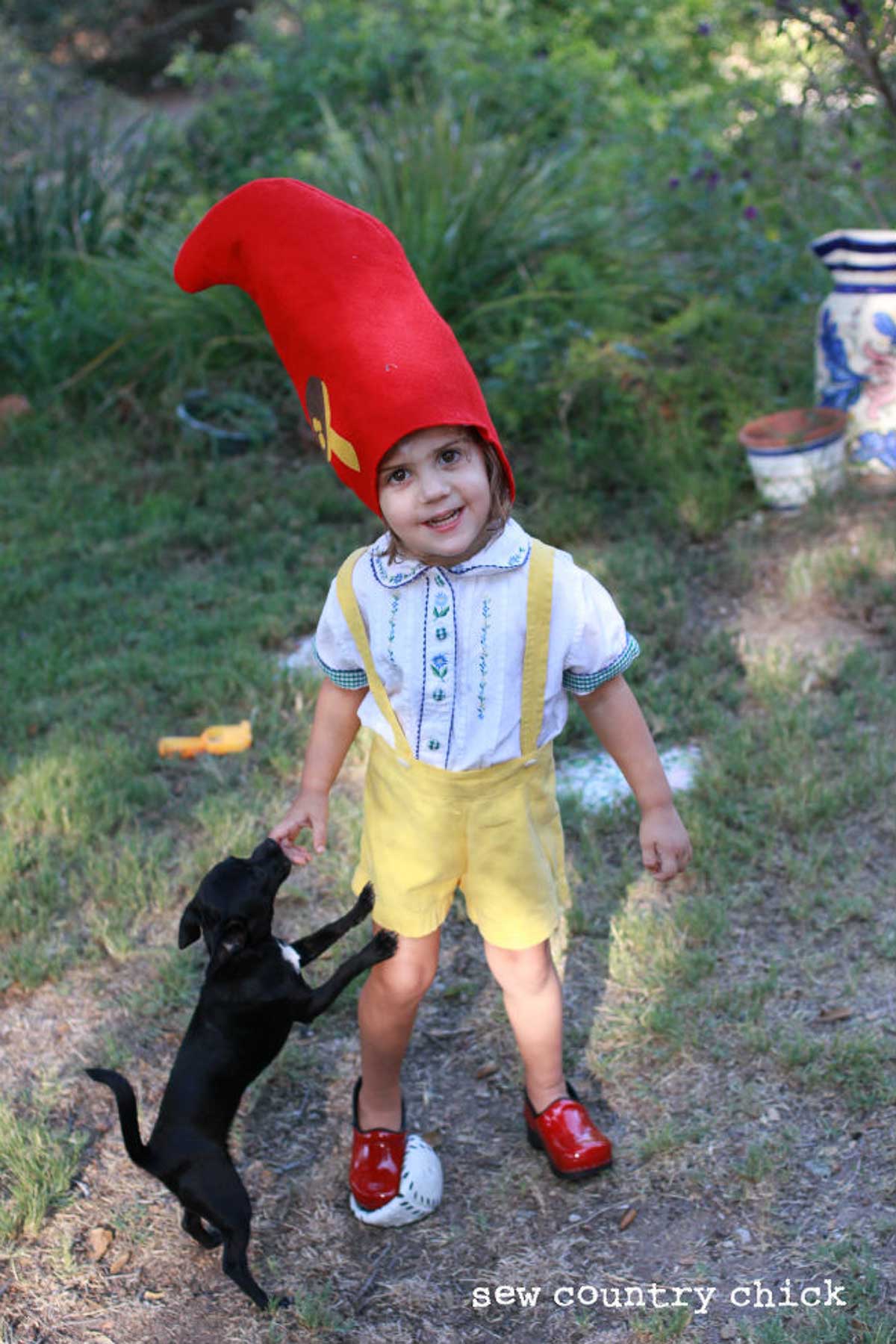 Thanks Andrea for having me participate in your Handmade Costume Series!
Happy Halloween everyone! Enjoy your DIY garden gnome hat!
How to Dress Like a Garden Gnome
Are you ready to embark on a whimsical adventure and transform yourself into an adorable garden gnome? Whether it's for a costume party, Halloween, or just for the fun of it, becoming a gnome is a delightful experience. Here's your step-by-step guide to achieving that enchanting gnome look:
1. Gnome's Body:
Start with a base layer of clothing, like a long-sleeved shirt and pants in earthy tones, such as forest green, brown, or beige.
Gnomes are known for their stout appearance, so consider adding some light padding or layers to achieve that rounder gnome-like belly.
2. Gnome's Head:
Gnomes typically wear a pointy hat. Use your DIY garden gnome hat for your adorable gnomes.
Ensure the hat fits snugly, leaving just the tip of the hat sticking up.
3. White Beard:
Gnomes are recognized by their magnificent white beards. Purchase or craft a gnome beard from faux fur or cotton batting.
Attach the beard securely to the hat or mask using adhesive or elastic.
4. Gnome Nose:
Create a gnome's nose by using a small, flesh-colored piece of clay or putty. Attach it to your face with spirit gum or adhesive.
5. Beard Placement:
Proper beard placement is crucial for an authentic look. Make sure the beard sits just below your nose and covers your chin.
6. Tip of the Hat:
Gnomes are known for their friendly demeanor and their habit of tipping their hats as a greeting. Don't forget to practice your gnome-like manners!
7. Cute Little Gnomes:
To complete the look, carry a small gardening tool like a spade or a watering can to emphasize your gnome's love for gardening.
Now that you've transformed into a charming garden gnome, you're ready to spread joy and enchantment wherever you go. Whether you're entertaining at a costume party or bringing smiles to the neighborhood on Halloween, your DIY gnome costume is sure to be a hit. So, tip your hat, strike a gnome-like pose, and embrace the whimsical world of these beloved creatures.