Hi ladies! I'm Abby from Sew Much Ado, and I'm excited to be over here at Train to Crazy today. I've been sewing most of my life, and I can say that I truly love to sew. At Sew Much Ado I share tutorials, patterns, and other sewn goodness!
Today I'm sharing a tutorial for my family's Halloween costumes from last year, cavemen. As you can see, it works for any age or gender, and is a fast and fun costume. I posted pics of the completed costumes on my blog last year, but didn't share a tutorial, so I thought this would be the perfect time to do that!
As you can see, I made a few different cavemen costumes. Wyatt (on the far right) and I are wearing what are probably the most "classic" caveman costumes, so today I'm going to focus on that style.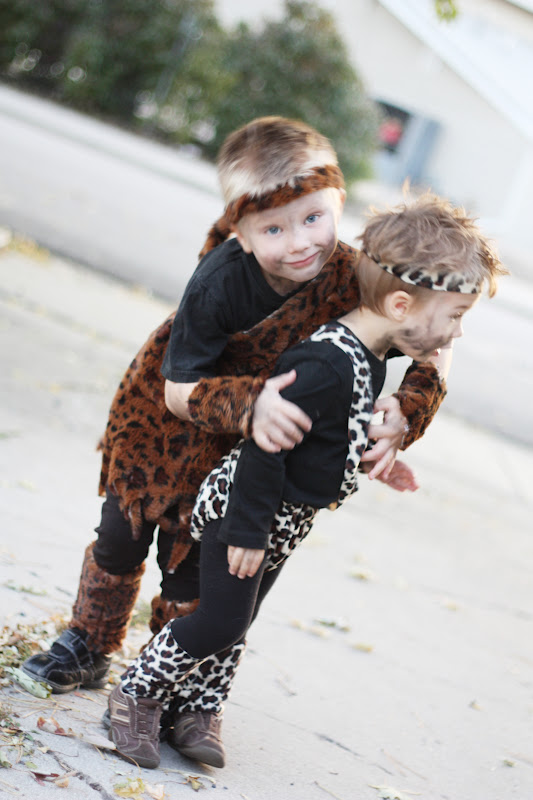 Materials:
faux fur fabric – you'll need a rectangle large enough to wrap around your body width-wise with some extra room, and the length of your shoulder to mid-calf, plus some scraps for a headband and wrist/ankle cuffs
*A note on choosing faux fur – when I made my caveman costume, I used faux fur with a fairly low pile (that means the length of the individual fur strands were fairly short), and it was great to work with. I used a higher pile faux fur for my husband and son's costumes, and it made a HUGE mess as I was cutting it out (please share if you have any tips for dealing with this!). I felt like I was breathing in fur everything I even walked in my sewing room for weeks. The costumes turned out great, and I loved the finished look, but if I were to do it again, I'd definitely opt for low pile faux fur. Just a thought…
Instructions:
1. Cut two rectangles of faux fur large enough that when sewn together, will be wide enough to wrap around your body comfortably. They should be long enough to reach from the top of your shoulder to somewhere between your knee and mid-calf, depending on how long you want the finished costume (later you'll be cutting slits into the bottom which will make it shorter, so I like to give a little extra length to be safe).
2. Out of each rectangle, cut a triangle shape out of the top as pictured. The triangle needs to be long enough on the side (far right edge of image below) to allow the bottom of the triangle to sit under your arm.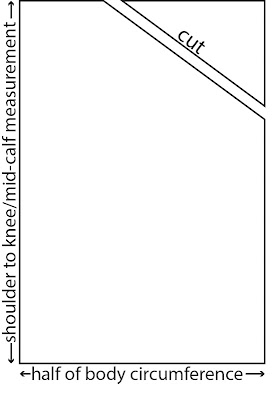 3. Stitch the side seam on the side that you cut the triangle from.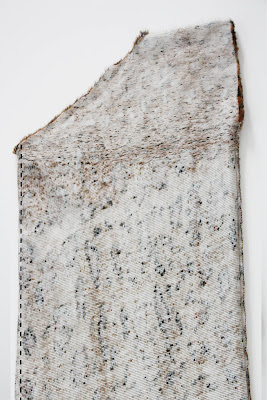 4. On the other side, stitch the seam, stopping with enough room for an arm to fit through plus a few inches.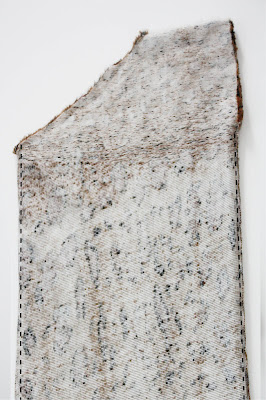 5. Stitch the shoulder seam.
Optional: For a woman's costume like mine, you may want to make an elastic casing around the top and armhole to pull it in a bit. To do this, simply fold the raw edges ½-1″ toward the wrong side and stitch in place, leaving an opening to thread elastic through. You can then thread your elastic through, stitch the ends together, and stitch the opening closed. It adds a little feminity that never hurts :).
6. Cut random triangles out of the bottom of the costume, around the entire hem.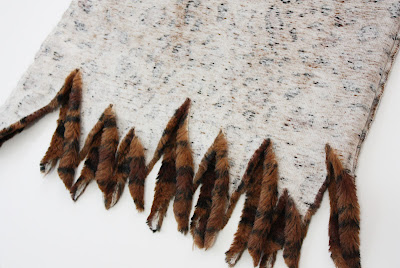 7. Cut a long strip of faux fur long enough to tie around your head for a headband, or long enough for a hair tie, and twice the width you'd like (plus an inch for seam allowance). Fold it in half lengthwise, right sides together, and stitch along raw edges. Turn right side out.
8. For wrist and ankle cuffs, cut strips a width that gives you enough room to slide the cuffs over your feet and hands and as long as you'd like (I made the ankle cuffs more like legwarmers). Stitch the raw edges right sides together, and turn them right side out.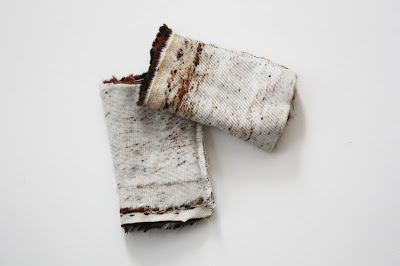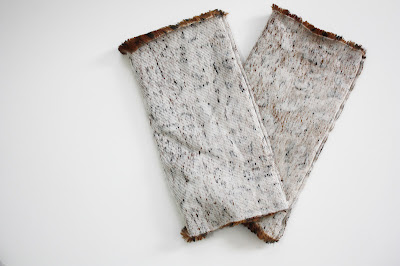 Voila! A costume that the whole family can enjoy :).
Thanks for having me today, Andrea! Come visit over at Sew Much Ado anytime!