Are you ready to transform your furry friend into the superhero they were always destined to be? Introducing an easy DIY dog costume that's about to win Halloween! Forget about spending big bucks on store-bought outfits. With a sewing machine or hot glue gun on hand, you can craft a sensational DIY dog superhero cape that your pup will proudly parade. Think about it: a unique pet costume you made, your dog saving the day (or treats), and oodles of compliments pouring in! Ready to embark on this DIY adventure? Let's get that tail wagging and those capes flying! While you're at it, make one of these Homemade Water Bottle Dog Toys as well.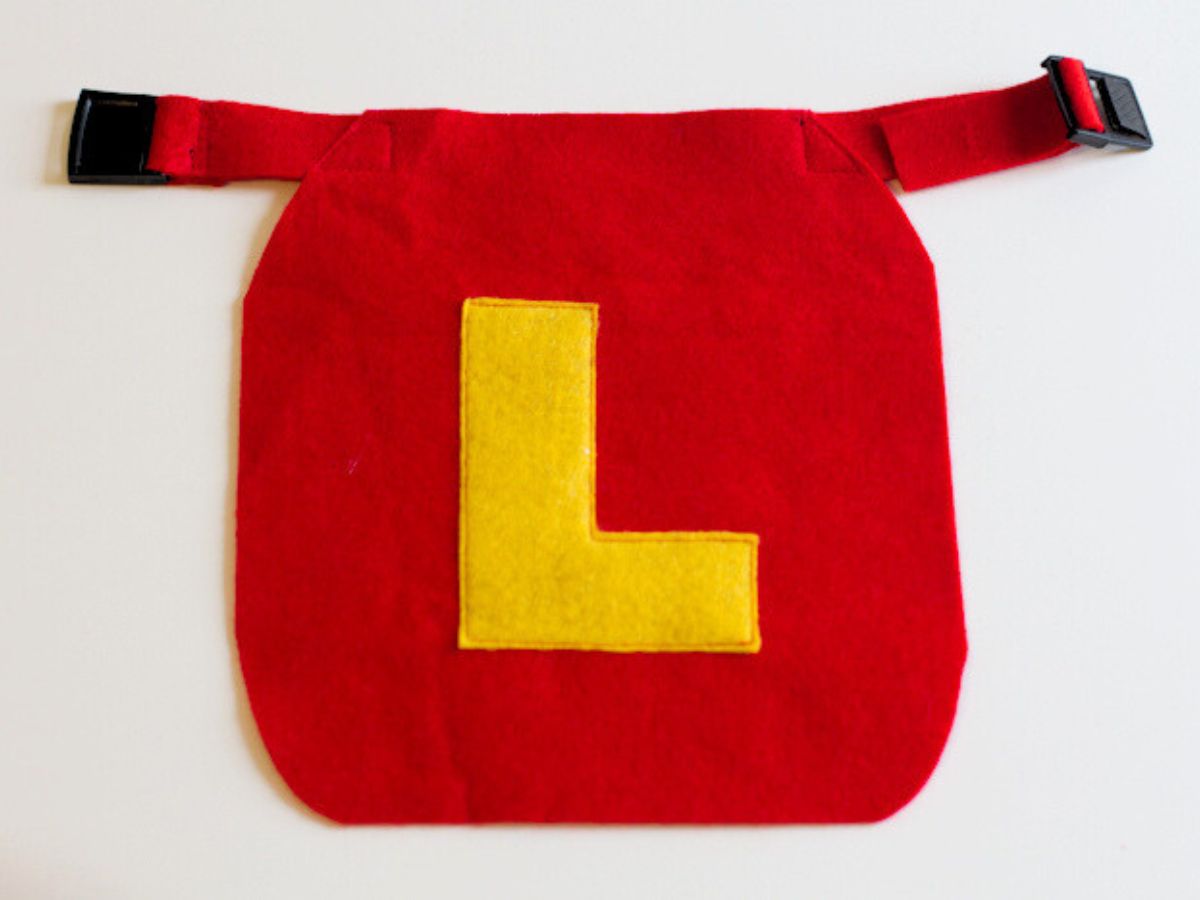 History of Costumes for Dogs
Have you ever wondered when our four-legged friends started getting in on the Halloween spirit with us? The history of dog's costume culture is as fascinating as it is furry. Historically, dressing dogs was functional rather than fun. In colder regions, they wore coats or boots to shield them from harsh weather.
But as humans' love for lavish celebrations grew, our canine companions didn't just stand by the sidelines. In the early 20th century, as Halloween transformed from a night of superstitions to a festive celebration, dogs were already making appearances in cute costumes. Photos from the 1920s and 1930s show pooches dressed as jesters, sailors, and even brides!
Fast forward to today, and you can't scroll through social media in October without spotting a plethora of cute dog costumes. From iconic film characters to hilarious inanimate objects, creativity knows no bounds.
Gather Supplies
Alright, DIY enthusiasts, before our four-legged pals can soar the skies (or the backyard) in their snazzy superhero capes, we need to get our crafting stations ready! It's a bit like assembling a team of superheroes, but instead of caped crusaders, we're gathering materials. Check your local craft store or online for these DIY dog cape supplies.
Red felt: The quintessential cape color! Make sure you've got enough to match your dog's size. You can also get creative by using other colors like black felt, brown felt, green felt, blue felt or any color you prefer.
Yellow felt: For those bold superhero emblems or stars. Brighter the better!
Coordinating thread: We want our stitches to blend seamlessly.
Belt webbing: Perfect for securing the cape. Remember, safety first!
Pair of scissors: Precision is key, especially for those intricate cuts.
Belt buckle or velcro tabs: A snug and easy closure method. Ensure it's comfy around your dog's neck. For larger dogs you might want to add an additional belt around the dog's midsection to prevent the dog cape from slipping around.
While some might dash to the nearest craft store, don't overlook the dollar store. They often have felt in different colors and other handy supplies. Remember, this pet costume doesn't need to break the bank! With your materials at the ready, let's turn that wagging tail into a swooshing cape! 🦸🐶
Step-by-Step Instructions
This diy dog costume craft project can be made by sewing or gluing. The instructions are written for sewing but feel free to use hot glue where stitches would be.
Step One: Cut Supplies
Cut out the shape of your cape in red felt. Cut out the yellow felt emblem you'll put on the cape. We used our dog's initial but you could also do a lightning bolt, a heart or any other shape you'd like.
After cutting out your cape shape, place it on your dog's back. Estimate how much webbing you'll need to add to buckle your neck collar. Add 3-4″ to your total length of webbing.
If you're planning to add another belt at the midsection, you will need enough webbing to go all the way around the dog, plus 3-4″.
Make It Easier! If your dog wears a harness or a collar you can make a could belt loops on the underside of the cape so you can just slip the collar through the loops.
Step 2: Attach First Collar Piece
Cut your neck webbing into 2 pieces. Slip one side of the buckle onto one piece. Once the webbing is folded back through the buckle sew two lines along the webbing to itself as shown in the photo. Then sew the other end of the webbing to the top of the cape.
Step 3: Attach the Other Side of Collar
Thread the other piece of webbing through the buckle loop. You will not sew down this side to secure. Leave it loose so you can adjust the size. Sew the other end of the webbing to the cape as you did on the other side.
If you're adding a mid-section belt you will attach the belt buckles to each side of your webbing. Do not cut your webbing into 2 pieces as you did with the neck strap. Find the middle of the webbing and sew to attach it to the underside of the cape in the middle. This will allow the cape to still be free flowing.
Step 4: Attach Emblem
Sew the letter or emblem onto the cape with matching thread.
That's it! You've completed your simple DIY dog costume!
More Easy DIY Projects For Your Pets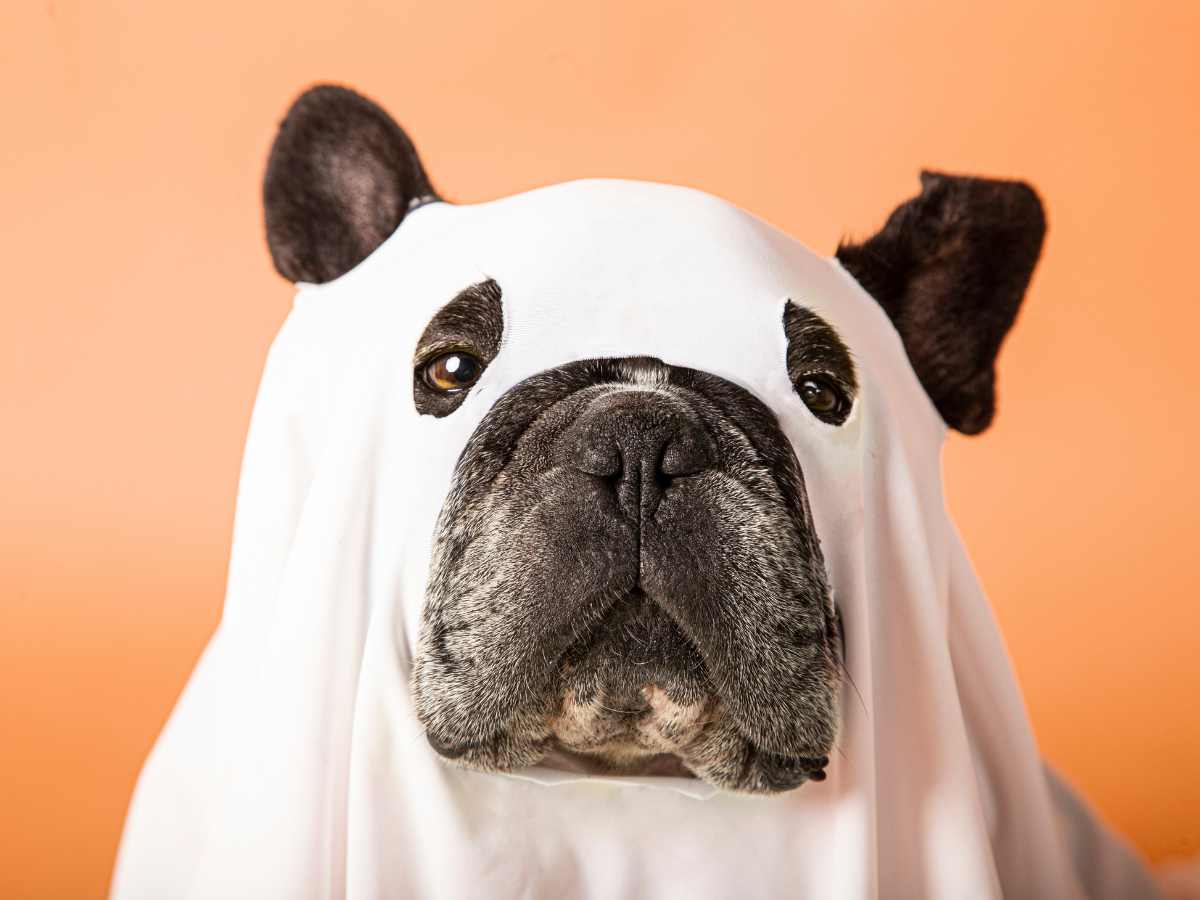 10 More Easy DIY Dog Costumes Anyone Can Make
Oh, snap! Did Halloween sneak up on you again? No time to sew a costume? Think about DIY dog Halloween costumes. One minute you're enjoying the last rays of summer, and the next, it's all pumpkins and trick-or-treaters! Don't fret, especially if you've got a furry buddy waiting for their moment of Halloween glory. We're here to serve up ten last minute DIY dog costume ideas that'll make your pooch the star of the dog park. These are made from various materials you probably already have at home.
Ghost Dog: The classic ghost costume but make it doggo. All you need is an old t-shirt. Cut out holes for eyes, and there you go, a spooky specter!
Spider Dog: Transform your best friend into a creepy crawler. Use an old shirt and attach some plush legs. Bonus points for the authentic scuttle your doggo will provide.
Bat Pup: Cut bat wing shapes from black fabric and attach them to your pet's harness. It's a simple way to make a high-flying impression this halloween season.
Spot-On Dalmatian: Got a white shirt? Add black spots using fabric paint or markers. You've got yourself the perfect costume for your pooch, especially if you're channeling a firefighter.
DIY Harry Potter Pup: Dress your doggo in a striped scarf, round glasses, and presto – your harry potter lookalike is ready to fetch the Golden Snitch.
Star Wars Jedi Pup: Wrap your dog in a brown cloak (an old t-shirt works wonders), and make a lightsaber using aluminum foil around a stick. The force will be strong with your pup this halloween season.
Little Red Riding Hood: An old shirt can be repurposed as a red cloak, and your furry friend is all set to visit grandma's house. Just watch out for the big bad wolf!
Cone of Fame: Turn the dreaded cone of shame into a statement piece. Decorate it with sparkles, stickers, or fabric for a quick costume that's a nod to our pets' less glamorous times.
Shiny Disco Dog: Repurpose aluminum foil to craft a shiny, retro vest. Add some groovy music, and your dog is all set for a night at the 'Bark Fever' disco!
Space Dog: With the star wars franchise ever-popular, why not turn your larger dog into a spaceship? Attach cardboard cut-outs to your pet halloween costumes and watch them soar through the galaxy.
Finding the perfect costume for your pet doesn't need to be a chore or break the bank. It's all about being resourceful, using what you have, and sprinkling in a bit of creativity. Honestly, it's much fun to see your best friend dressed up and ready for action. So, whether you're crafting a simple diy dog costume or going all out, the most important thing is to enjoy the process and have a howling good time this Halloween! 🎃🐶
Popular Adorable Costume Ideas For Dogs
Want to skip the diy costumes? Ready to explore some unforgettable, trendsetting costume ideas for your dog? Easy DIY dog costumes aren't for everyone. Thankfully you can check out your local Halloween stores for cute costumes for your dog. Let's get the paws on the runway! If you're looking for easy dog costumes then buying them is the way to go.
Doggie Dino: Unleash the inner beast with a dinosaur costume. Soft spikes, bold colors, and maybe even a roar (bark) or two will make your dog the talk of the neighborhood.
Pooch Pilot: Grab a mini aviator hat and goggles, and perhaps even a scarf. Your dog's ready to soar, even if it's just around the block!
Bark-tista: For the coffee lovers, how about turning your canine into your favorite barista? A tiny apron, a mock cap, and a take-away coffee cup prop will make the look.
The Classic Ghost: A draped white sheet with two eye holes never goes out of style. It's simple, iconic, and lets your dog join in on the spooky fun.
Pirate Pup: An eye patch, a little pirate hat, and a stuffed parrot on their back will make your dog look as if they're searching for the buried treasure – or maybe just some treats!
The Regal Canine: Crown, cape, and a scepter chew toy, and behold: your dog becomes royalty for the day.
Lil' Lobster: Red fabric, some bendable wire for antennae, and your dog becomes the catch of the day!
Pup-corn: Turn your dog into a delicious cinema snack with white and yellow pom-poms attached to a dog shirt representing popped kernels.
Garden Gnome: With a pointy hat and a fake white beard, your pooch becomes the cutest mythical creature guarding your garden.
Doggy Detective: With a tiny hat, a magnifying glass toy, and a trench coat, your dog's set to solve the greatest mystery: Where did the treats go?
Teddy Bear Turnaround: Transform your dog into an oversized toy with the teddy bear costume. It's as easy as finding a teddy bear at a thrift store and adapting it to fit your pup's frame. Just ensure it's comfortable and allows them to move freely. Animal costumes are always cute costumes!
Beanie Baby Throwback: Let's tap into the nostalgic vibes. Remember those beanie babies with the iconic heart tags? With a simple red collar tag, your dog can become the most coveted toy of the '90s. This adorable costume idea is simple, affordable, and a hit at any party.
While it's fun to dress up your dogs, always ensure their comfort is a priority. A happy pup in a comfy costume is always the best sight during the Halloween season. Whether it's an intricate design or a simple DIY dog costume, the joy is in the creativity and the shared moments of fun. Whatever you choose, snap plenty of pictures; these moments are fleeting but utterly precious!