Ever thought of flipping the world on its head for a day? This Halloween, let's turn tradition topsy-turvy with an innovative upside down costume. It's not just a costume; it's an optical illusion that captivates onlookers and garners double-takes. Just when you thought Halloween couldn't get more creative, the upside down man costume comes to the rescue, proving there's always room to reimagine the norm.
Crafting this ensemble is much simpler than you'd think. With our detailed guide, even the most amateur DIY enthusiast can craft this striking get-up, achieving an attention-grabbing look with minimal fuss. So, if you've been hunting for an easy Halloween costume that stands out in the crowd and leaves a lasting impression, you're in the right place. Dive in and discover the ins and outs of flipping the script – or rather, the costume – this spooky season! Need more ideas? See 75 DIY Halloween Costume Tutorials and Ideas or 33 Costumes for Boys.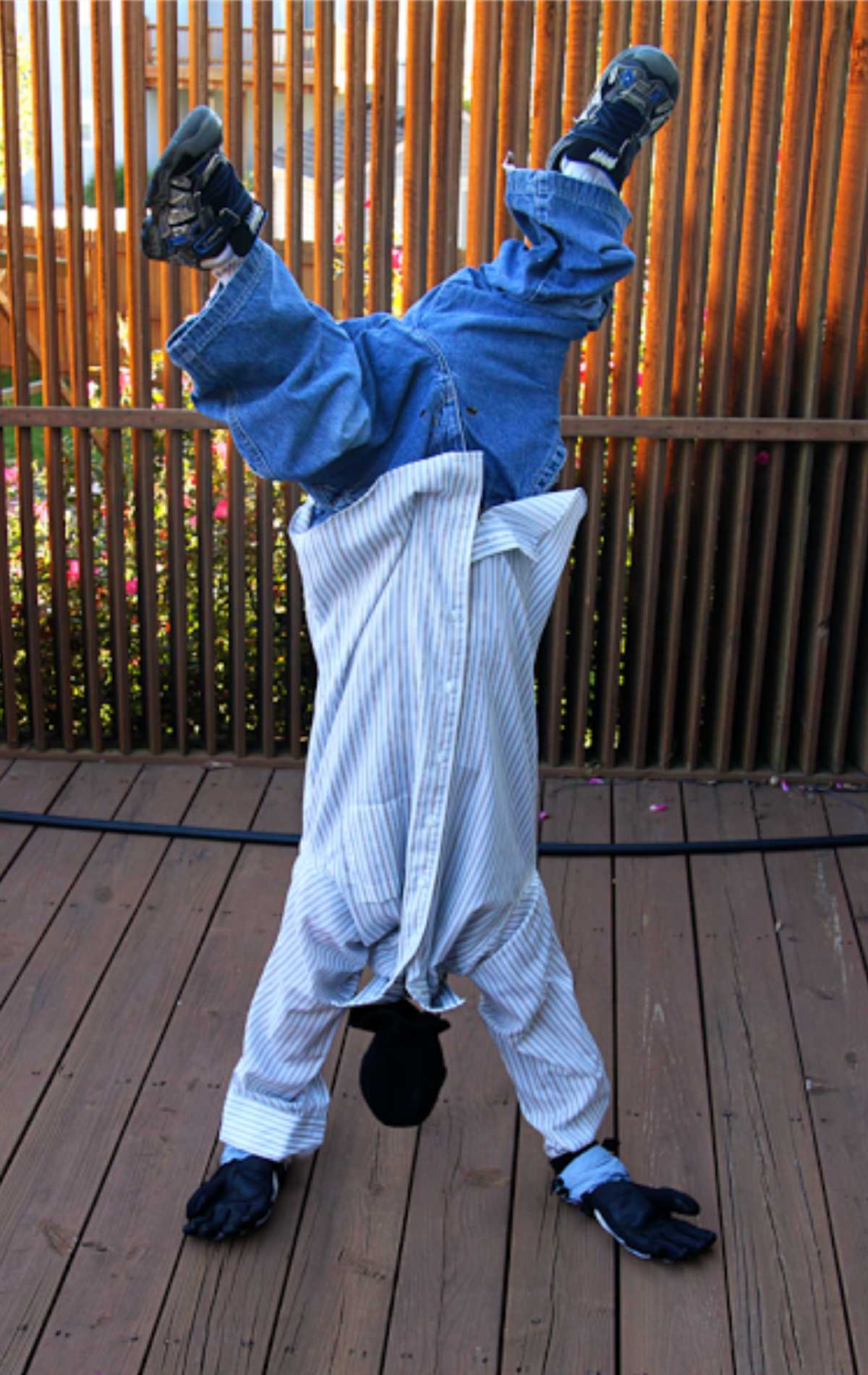 Hi Everyone!! I am Mandy from Sugar Bee Crafts. Today I have a quick idea for those of us who are super last-minute creating a costume. This costume is FREE as well! Make it with things you already have around the house. The upside-down man is always fun and easy to make!
Gather Supplies
Looking to turn the world upside down with a DIY upside down man costume? Before starting your unique Halloween costume, you'll need to collect some essential supplies that you already have in your closet. Here's what you'll need:
Pants or Jeans: The base of your upside-down look. Opt for a pair that fits snugly.
Shoes or Sneakers: Ensure they're clean as they'll be drawing a lot of attention up top!
Button Up Shirt: This will be worn as the 'lower half' of the costume, giving the illusion of an upside-down torso.
Belt: Not just for style, it helps hold the shirt in place around your waist.
Safety Pins: Use safety pins to hold your outfit together.
Ski Gear: A ski hat and gloves will help with the illusion of a head and hands.
With these items in hand, you're all set to create a costume that'll surely be the talk of any event. Ready to see the world from a different perspective? Let's craft away!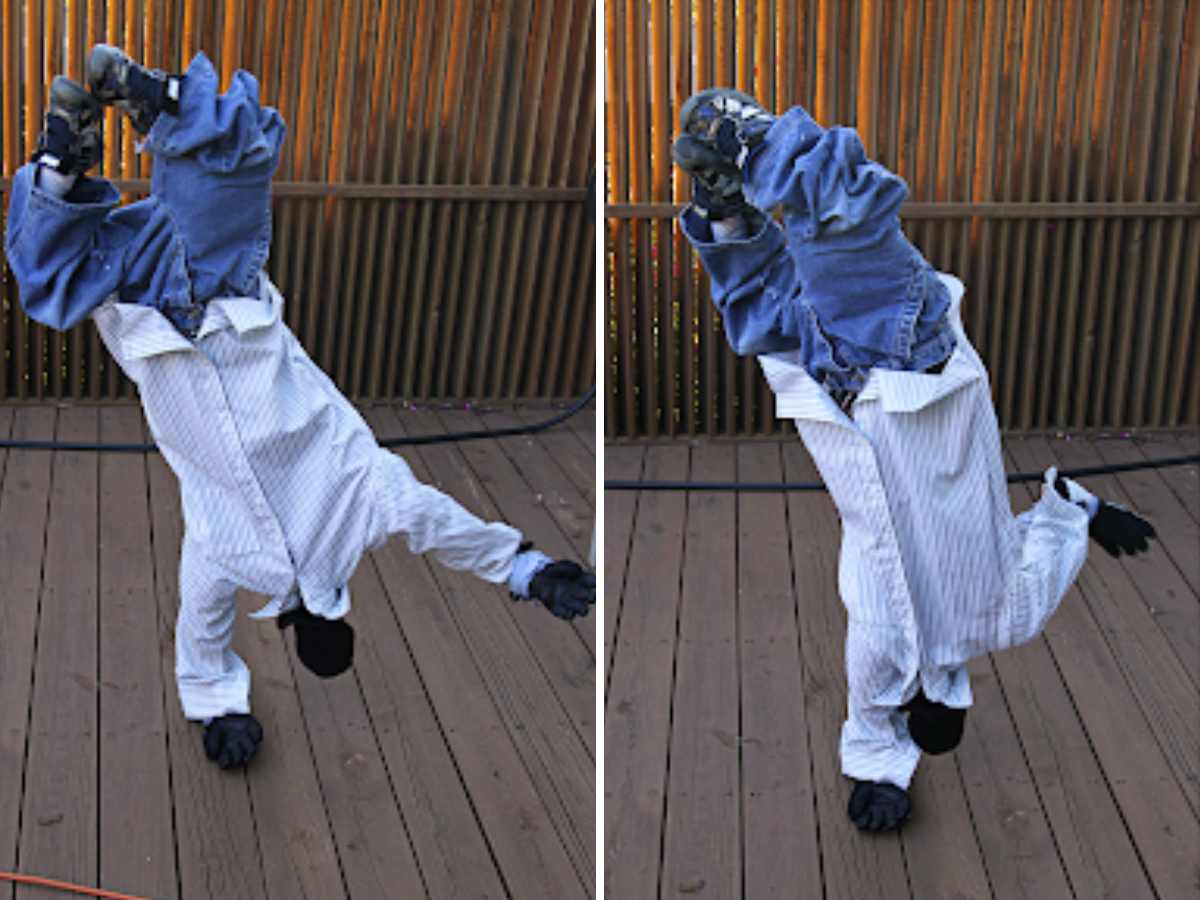 Upside Down Costume Instructions
Grab some old discarded pants – bigger is better because you'll need a big booty area since your head will fill the space. Try them on your head and cut a couple of small eye holes. Wear shoes on your hands.
Grab a long-sleeved shirt and put it on your legs. Use safety pins to hold it up by pinning it to the pants (if you are in the costume you'll need help with this.
Dig a ski hat and gloves out of your winter gear. Safety pin the hat onto the shirt to be a head, and wear the gloves on your feet.
That's it!! If you hop on one foot and wave your arms (which look like legs) it gives a crowd-pleasing break-dancing effect -so fun!
Hope to see you over at www.SugarBeeCrafts.com!!
More Halloween Costumes Using Your Own Clothes
Let's gear up for a Halloween that's both effortless and stylish. Using the garments and accessories you already own, here's a list of 10 Easy Halloween costume ideas:
The Casual Cowboy/Cowgirl: Pull out your jeans, plaid shirt, and a pair of boots. Finish with a hat, and you're set for the wild west!
Timeless Holly Golightly: A little black dress, some pearls, and oversized sunglasses recreate this iconic "Breakfast at Tiffany's" look. Don't forget the updo!
80's Rock Star: Neon leggings, an oversized off-the-shoulder top, and chunky jewelry. Tease your hair and grab a fake mic!
Classic Mime: Black suspenders, white long-sleeve shirt, and a beret. Add white gloves and face paint to make it authentic.
Chic Scarecrow: An oversized flannel, jeans, and a floppy hat. Add a bit of face paint for those stitched details.
Cool Cat: Black top, black pants, and a DIY tail made of fabric or even a black belt. Draw on whiskers and a nose!
Retro Tourist: High-waisted shorts, button-up shirt, a floppy hat, and a camera slung around your neck.
Athlete On-the-Go: Don that sportswear, running shoes, and a headband. Carry a water bottle for added effect.
Boho Witch: Long flowing skirt, lace top, wide-brimmed hat, and layered necklaces. Grab a broom, and you're enchantingly good to go!
Risky Business: A white button-up shirt paired with high socks. Add sunglasses, and slide into the room to the tune of "Old Time Rock and Roll."
Don't let last-minute plans deter you; your wardrobe is filled with potential masterpieces. This year, get ready to dazzle with easy costume choices that showcase both your creativity and style. Dive into these Halloween costume ideas and make a statement without breaking the bank!