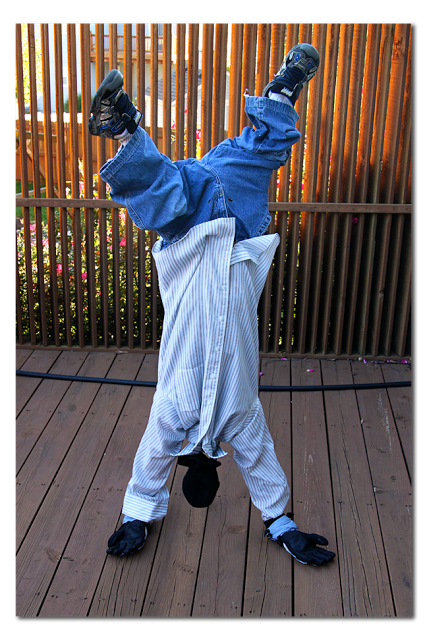 Hi Everyone!! I am Mandy from Sugar Bee Crafts. Today I have a quick idea for those of us who are super last-minute creating a costume. This costume is FREE as well! Make it with things you already have around the house. The upside-down man is always fun and easy to make!

How to make an upside-down man costume:
Grab some old discarded pants - bigger is better because you'll need a big booty area since your head will fill the space. Try them on your head and cut a couple of small eye holes. Wear shoes on your hands.
Grab a long-sleeved shirt and put it on your legs. Use safety pins to hold it up by pinning it to the pants (if you are in the costume you'll need help with this.
Dig a ski hat and gloves out of your winter gear. Safety pin the hat onto the shirt to be a head, and wear the gloves on your feet.
That's it!! If you hop on one foot and wave your arms (which look like legs) it gives a crowd-pleasing break-dancing effect -so fun!
Hope to see you over at www.SugarBeeCrafts.com!!