Amazing DIY Rapunzel dress tutorial from Googiemama!! Read on to find out how to make a Rapunzel dress with this fabulous tutorial.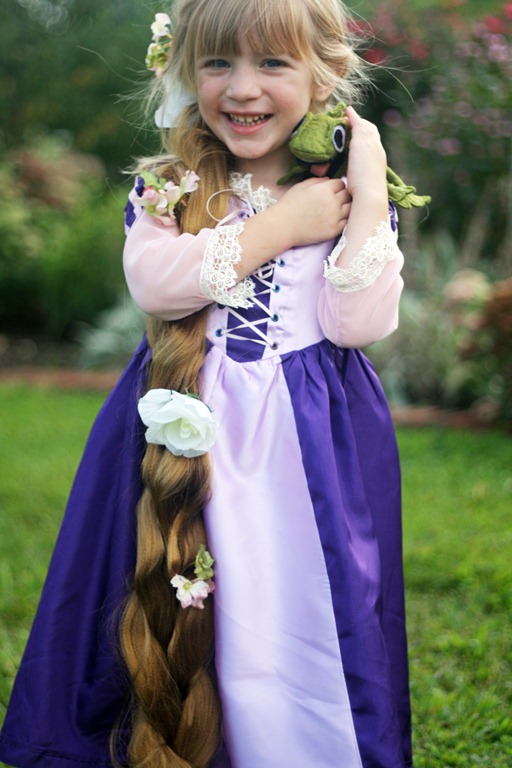 12 years and 4 months ago I gave birth to my first daughter.About 15 minutes later i sewed my first princess costume. Since then I've had three more girls and a boy…and sewn everything from cinderella (twice) and belle to woody the cowboy and an evil dr. porkchop. gone with the wind gown + pink princess + my fair lady gown + woody costume
I've done generic "princess" gowns for play and parties, alice in wonderland, kimonos when guinevere went through a japanese phase, movie inspired gowns, masks and wings and tutus. Between the ages of 2 and 3 my son never, EVER went out of the house in normal clothes. he was a different superhero every day of the week—superman, batman, buzz lightyear—we had 'em all. he even managed to sneak his mr. incredible costume on under his dress clothes one sunday. after all, he explained to us, superheroes always hide their uniform under their regular clothes.
How do you argue with that?
I love dress up. I love make believe.
meet my own little rapunzel.
She begged and begged for a rapunzel dress. Fortunately, I also needed an idea for my contribution to the handmade costume series! Not the most original of costumes—to be sure. But this is what was requested, and I aim to please.
Supplies:
This long golden haired beauty was done with just ½ yard of light purple, ¾ of a yard of dark purple, ¼ yard sheer pink, and two $1 rolls of pink ribbon (one thick, one thin). the lace and flowers came from my stash, and the fabric was all either on sale or couponed.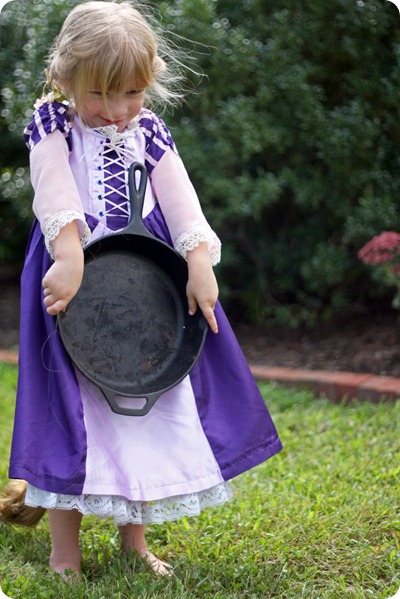 flynn rider better just watch his back. she's packin' heat.
Also from my fabric stash: the green felt for this little guy He was truly a labor of love. I was just committing to a dress. I'm not a stuffed animal maker. But really–what's a princess without her requisite sidekick?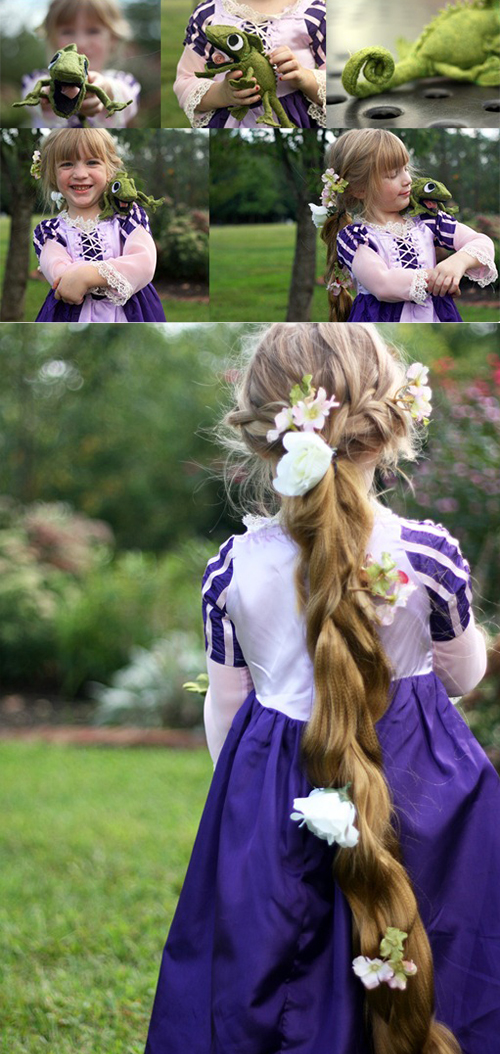 you want a pascal? sorry, you're on your own. okay, i lied. check here. i made it up as i went and couldn't remake him to save my life.
Let's talk about rapunzel's crowning glory—her golden tresses. I was going to do a yarn wig—there's some really cool tutorials floating around the web. Then i realized three things:
o1) yarn—even cheap yard, in that amount—ain't so cheap (and i used up all my coupons on the fabric!)
o2) she's already got blonde hair, we just need more length.
o3) i'm not opposed to fake hair anyway–in everyday situations. yup, i've used it 😉
$4.99 at my local hair and wig store. i call that winning. It's synthetic, so you can't do much with it in the way of styling. But it came out of the package already looking for all the world like rapunzel's braid. I just braided gigi's real hair to the back and attached this with a rubber band.
Rapunzel Dress Tutorial:
So you've got your pascal, and you've got your hair. What about the dress? That's the easy part.
you can customize any basic bodice pattern to look rapunzel-ish. I started with a standard sleeveless scoop-necked bodice pattern that I had already drafted for gigi. I traced it onto the fabric with an erasable fabric marker, then sketched out a new sweetheart neckline and extended the waist into a point.
i cut that new shape out and got to work…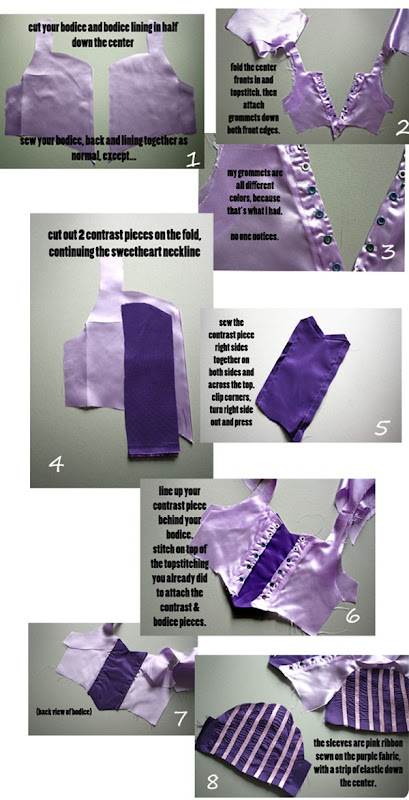 Lace some pink ribbon through the grommets and you're set! I added some lace around the neckline, and sheer pink sleeves—just for authenticity's sake. 😉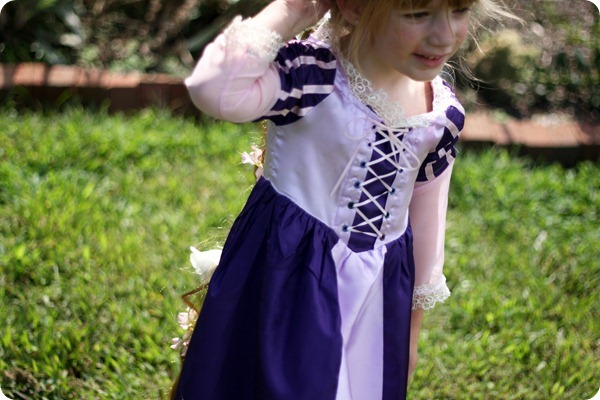 To finish i simply made a full skirt—sewing in a contrasting triangle right in the front. It's gathered to fit and attached to the bodice.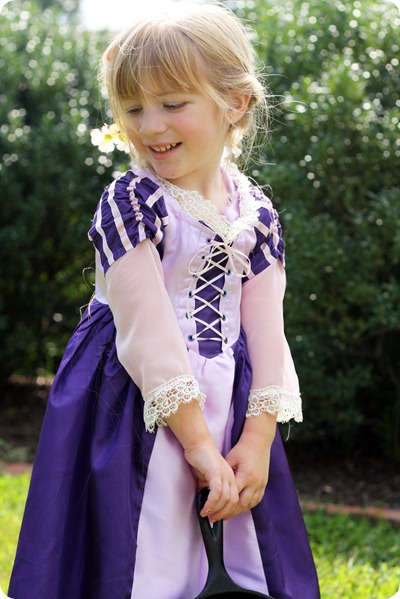 And that's it! You've got yourself one lovely long-haired, pan-toting, bare-footed, tower-bound princess! We had so much fun playing with this dress!