Learn how to create a vintage, film-inspired DIY costume from Alfred Hitchcock's classic thriller "The Birds" with this easy, step-by-step tutorial. Unleash your crafty side this Halloween!
Immerse yourself in the suspenseful universe of Alfred Hitchcock with this unique, DIY "The Birds" costume! Perfect for any last minute costume party, Halloween event, or for a fun cosplay idea, this tutorial will guide you on how to bring to life a piece of cinematic history. DIY Halloween costumes don't have to be difficult!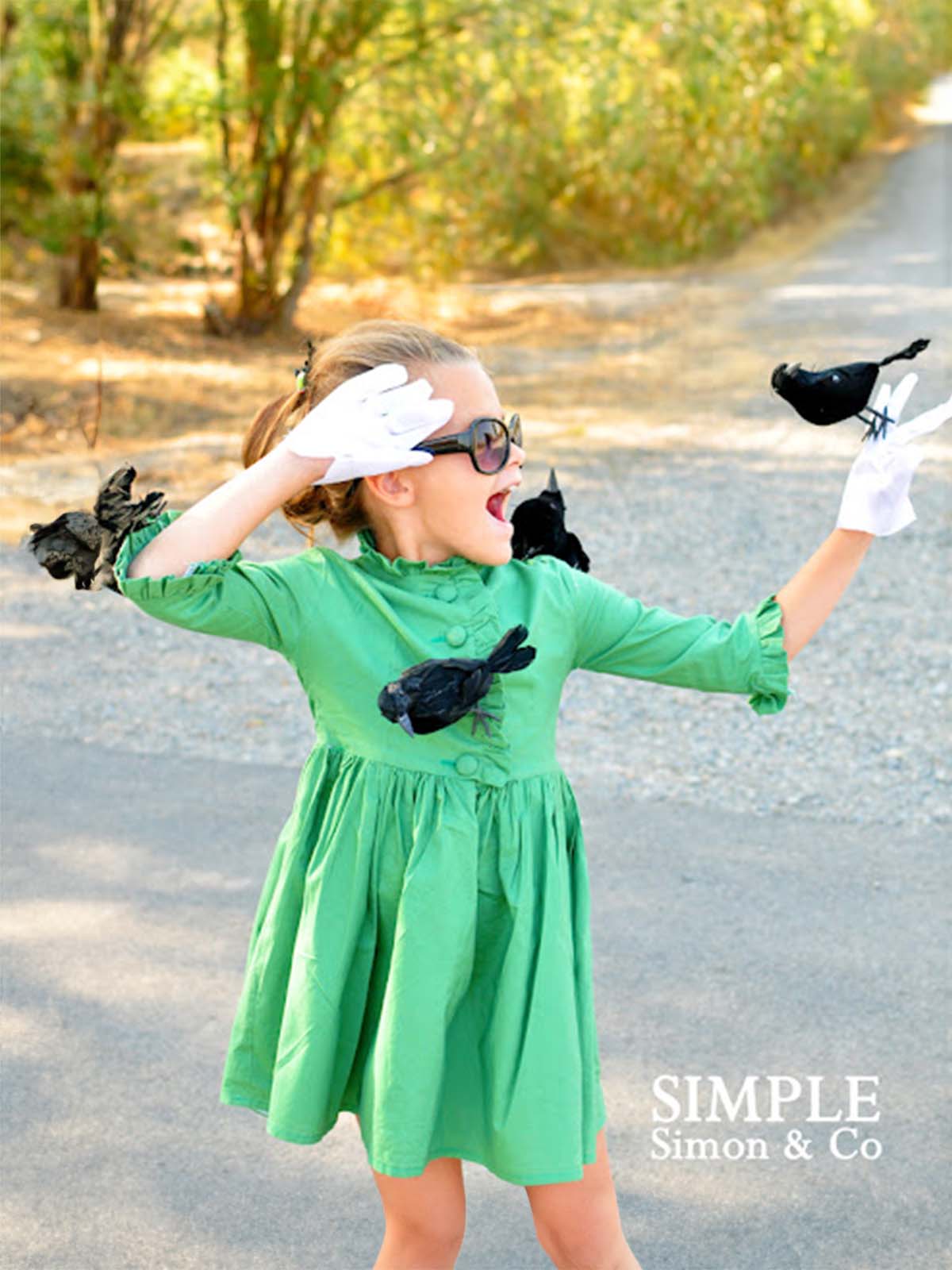 The Birds is a cinematic movie masterpiece that beautifully blends horror and suspense. Set in the 1960s, it tells a gripping tale of a town under siege by violent bird attacks. To help you channel the iconic style of the film's lead character, Melanie Daniels (played by Tippi Hedren), you'll need a 1950s style green pant suit or dress, white gloves, and an assortment of black birds. Follow these steps, and you'll have a Hitchcockian costume in no time.
This is perfect for a kid costume or adult costume! Costume ideas don't have to be difficult or elaborate!
Materials Needed:
1950's style green suit or dress
White gloves
Fake black birds (Can be found at The Dollar Store or similar sources)
Hot glue gun and glue sticks (unless your birds come with wires or clips)
Small craft alligator clips (unless your birds come with wires or clips)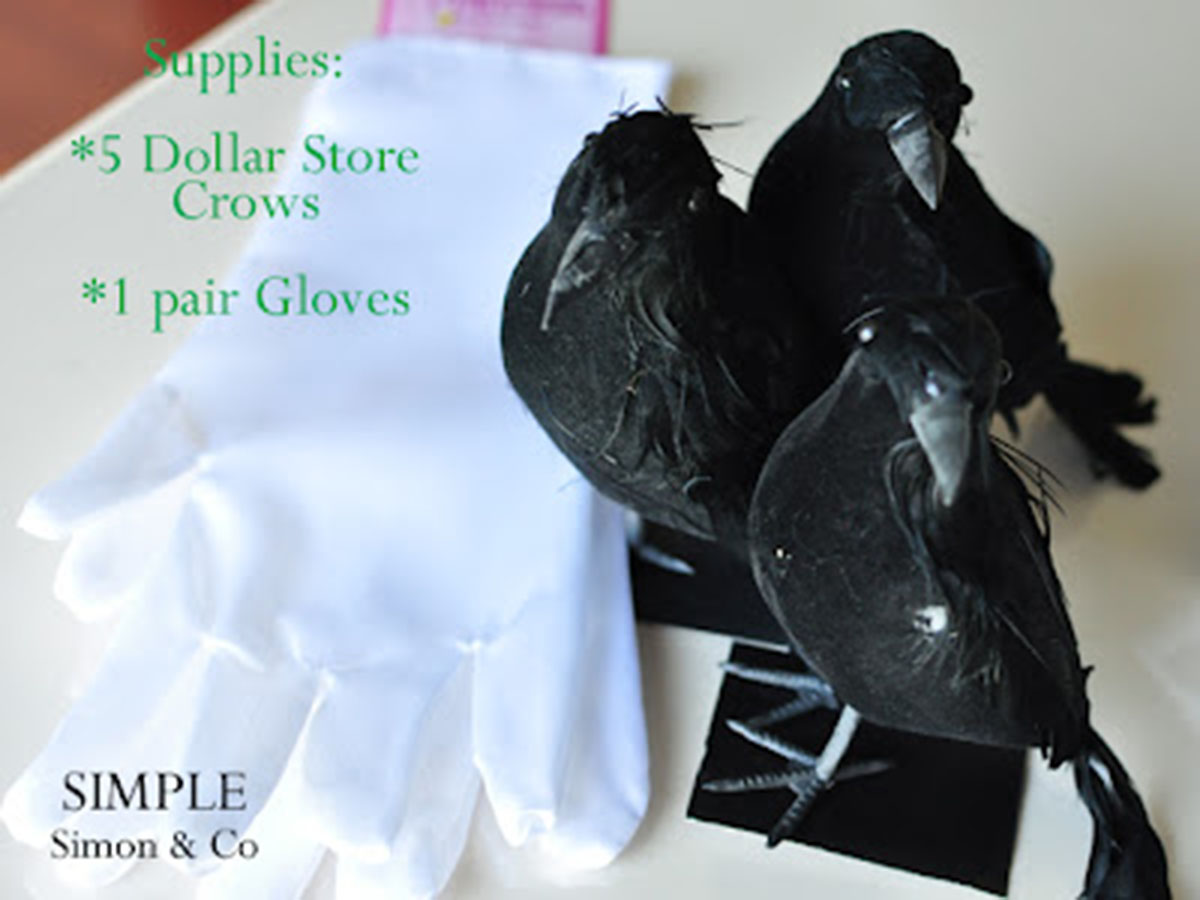 Step-by-Step Costume Tutorial:
No need for scissors, a sewing machine or thread and a needle for this DIY The Birds costume! This Alfred Hitchcock costume tutorial is simple. No making a mask or using feathers.
Purchase Your Materials: Start by finding the perfect 1950's style dress or a green suit and pair of white gloves. Vintage costume shops and online retailers often have a variety of options. Don't forget to pick up your fake black birds from The Dollar Store or another craft store.
Prepare the Birds: Once you have your materials, start by hot gluing small clips to each of the fake birds. Allow them to dry completely before proceeding. Luckily the crows we used come with wires on their feet so we just wired them in her hair, on her dress and on her finger. And presto-chango….we have Miss Melanie Daniels. The same Miss Melanie Daniels who finds herself in Bodega Bay, California which is suddenly the subject of a series of widespread and violent bird attacks.
Attach the Birds: The next step is to clip your birds onto the dress, gloves and hair. Spread them out evenly to create a balanced, dramatic effect. Remember, this costume is a homage to a suspense film – feel free to be creative with your placement!
Style Your Hair: Complete your costume with a 1950's style hairstyle. There are plenty of tutorials online to guide you. A simple, elegant updo often works well and adds to the vintage vibe of your costume.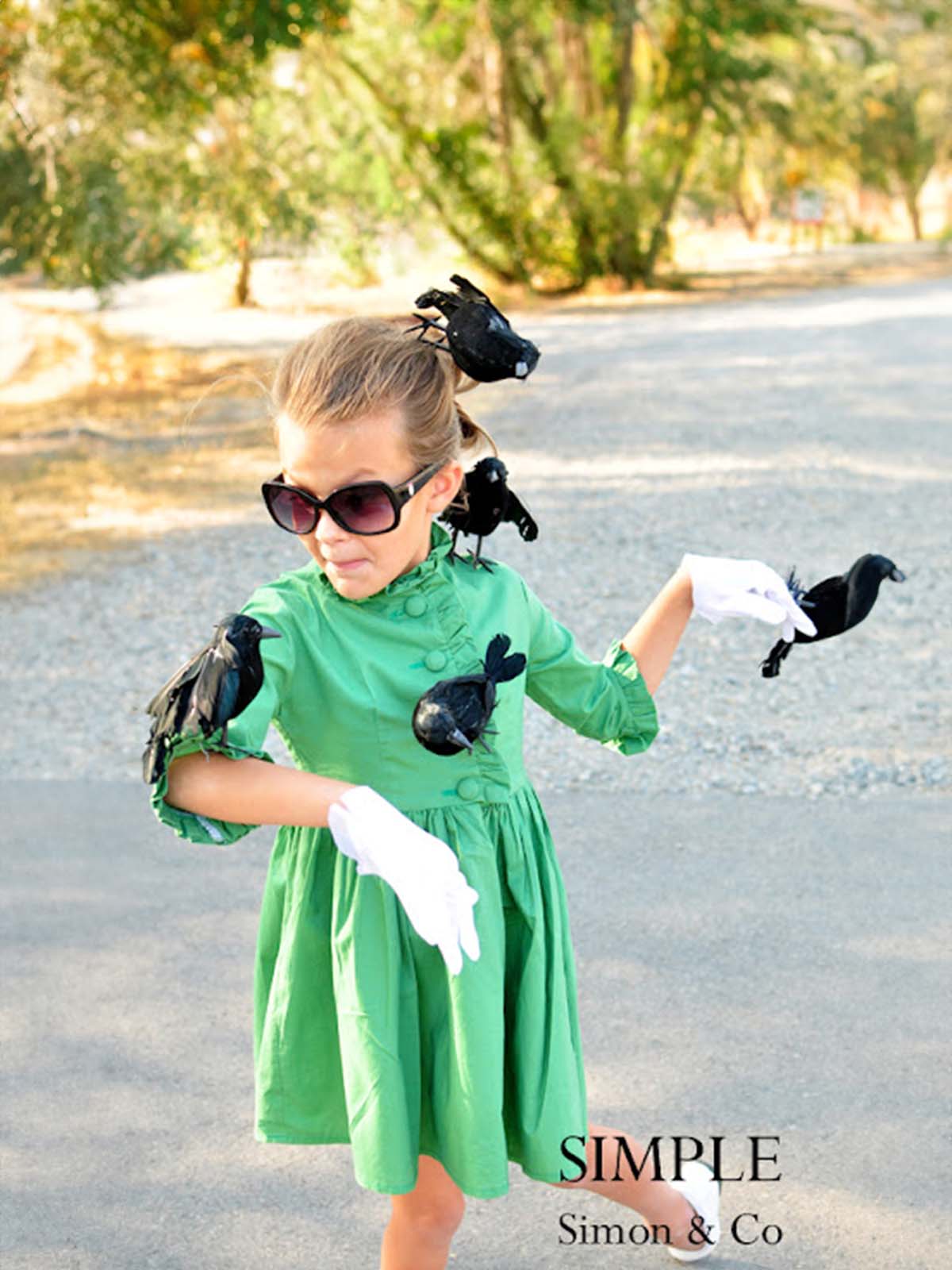 That's it! You've successfully crafted a homemade costume that pays tribute to one of Alfred Hitchcock's most iconic films, "The Birds." Pair with some black shoes and you're ready for trick or treating. Not only is this a fun and creative craft project, but it's also a fantastic way to engage with film history and design a unique look for your next costume event. We'd love to see your finished costumes – share your photos and experiences in the comments below!
Whether you're a film enthusiast, a costume design fan, or a Halloween aficionado, this DIY "The Birds" costume tutorial is a fun, easy, and affordable way to create a unique look that's sure to be a hit at any party.
Now that you've mastered the art of the DIY "The Birds" costume, you're ready to make a dramatic entrance at your next costume event. This Hitchcockian costume not only celebrates the genius of one of cinema's greatest directors, but it also allows you to showcase your creativity. Every detail, from the choice of dress to the placement of the birds, lets you put your personal spin on this classic film character. And, it's a costume that sparks conversation – you might even inspire others to explore the thrilling world of Alfred Hitchcock!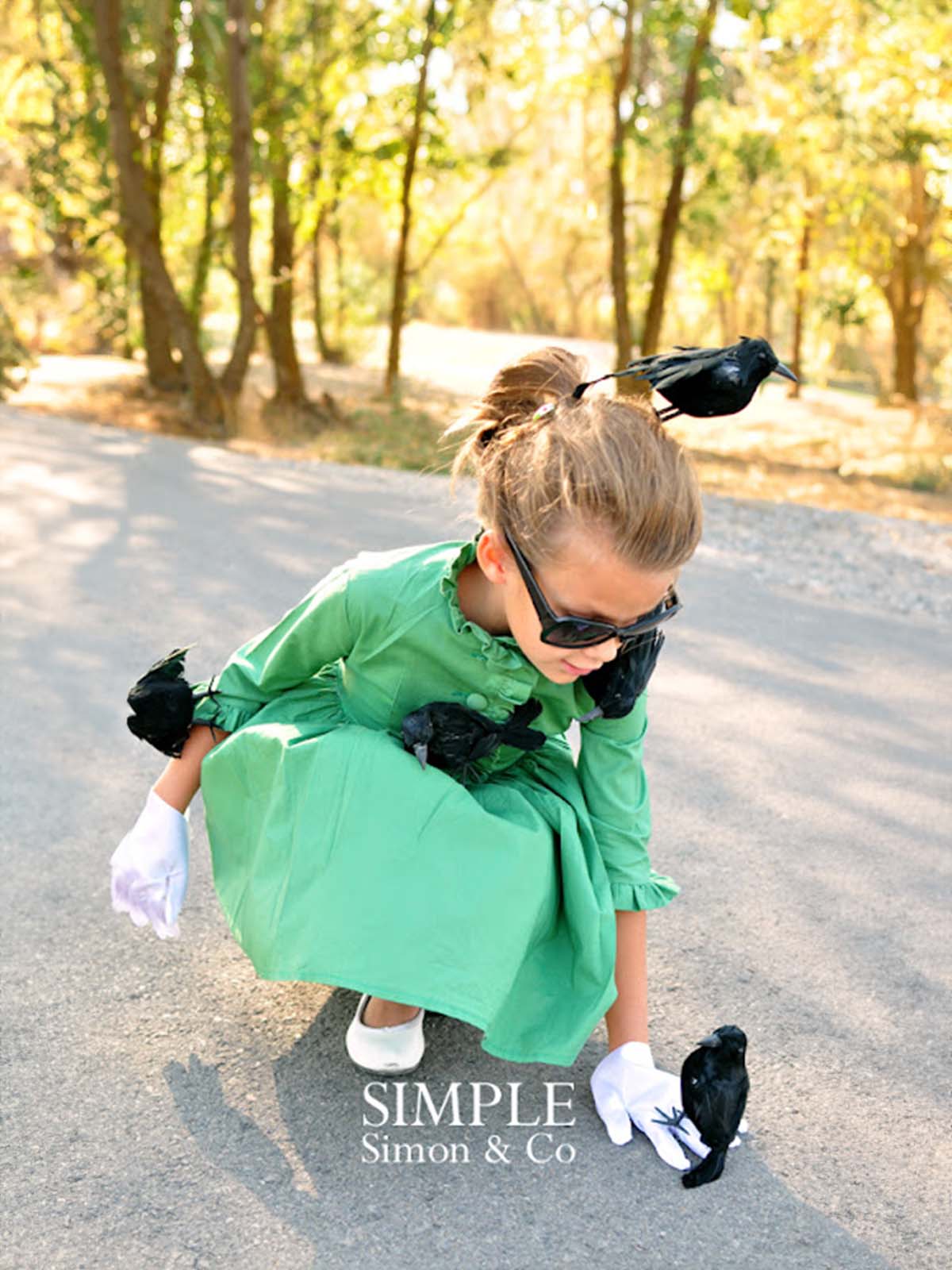 This DIY costume tutorial was created to be both easy to follow and accessible for all. Whether you're a seasoned DIY-er or a craft newbie, we hope you enjoyed the process of bringing a piece of this vintage cinema to life. Remember, the joy is in the journey – each step, from sourcing your materials to hot gluing your birds, is a part of your unique creation story. We can't wait to hear about your experiences and see your fabulous Hitchcock-inspired costumes. Don't forget to share your pictures and stories in the comments below! Thank you to Liz and Elizabeth from Simple Simon and Co for this easy do-it-yourself costume idea!
More Easy DIY Halloween Costumes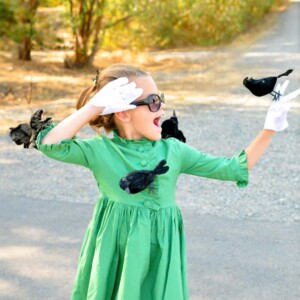 DIY "The Birds" Costume Tutorial
Learn how to create a vintage, film-inspired DIY costume from Alfred Hitchcock's classic thriller "The Birds" with this easy, step-by-step tutorial. Unleash your crafty side this Halloween!
Supplies
1950's green suit or dress
3-5 black fake birds
3-5 glue and clips to attach birds to costume (if birds don't have clips or wires attached already)
white costume gloves
Instructions
Use glue to attach clips to the birds if they don't come with wires or clips on their feet.

Attach the birds to the costume, gloves and hair once it is on.

Style your hair in a 1950's style.
Notes
With this DIY costume, you're not just wearing an outfit; you're stepping into a role. You're embodying the timeless style of Hitchcock's heroines while creating an unforgettable look. And while this tutorial is perfect for a Halloween costume, it doesn't have to stop there. This Hitchcockian costume is a unique cosplay idea that could suit a range of events, from film festivals to fan conventions. You could even adapt this tutorial to make a group costume project, adding characters from other Hitchcock films to create a truly suspenseful ensemble. Whether you're a lifelong fan of Alfred Hitchcock, a lover of vintage costumes, or someone who enjoys unique craft projects, this DIY "The Birds" costume tutorial offers a creative and enjoyable journey. Dive in and celebrate the art of costuming and the thrill of classic cinema with this unique project. Be sure to share your results and experiences in the comments below. We can't wait to see how you bring this Hitchcock classic to life!