The culinary world has a secret weapon – healthy slow cooker side dishes. These flavorful creations, simmered to perfection over slow heat, can turn any ordinary meal into a memorable feast. Far from the typical time-consuming or complex recipes, these healthy crockpot side dishes simplify the cooking process and maximize flavors.
Investing in a slow cooker isn't just about convenience. It's also about exploring an extensive world of recipes that are both delicious and nourishing. With a slow cooker in your kitchen arsenal, creating dishes that leave a lasting impression is within reach. So, let's delve into this fascinating world of slow cooking and discover the potential it holds. Don't miss my favorite Crockpot Chicken Noodle Soup Recipe, Crock Pot Taco Soup Recipe and Easy White Chicken Chili Recipe.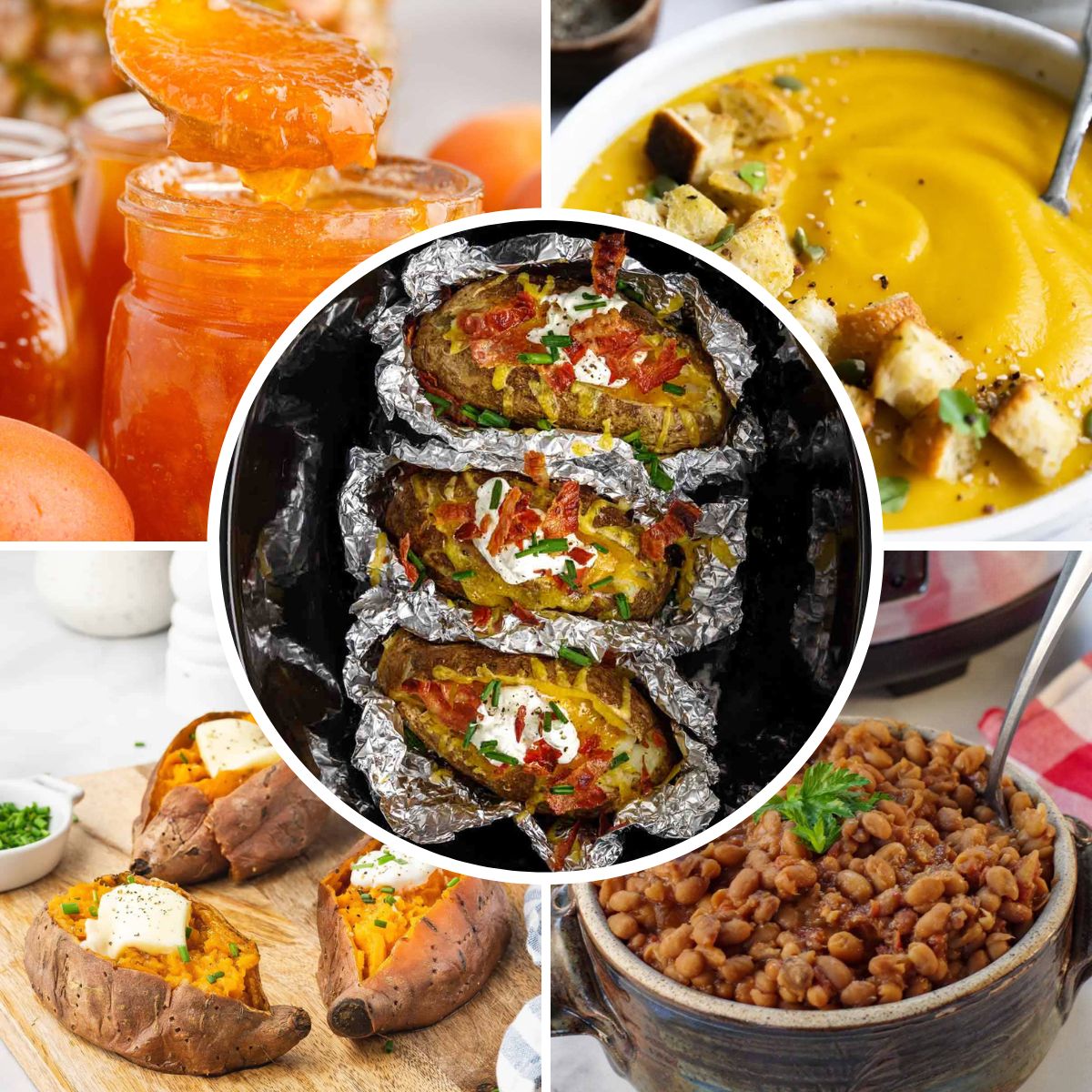 What Is A Slow Cooker?
A slow cooker, often referred to as a "crockpot", is a countertop kitchen appliance designed to simmer food at a low temperature over an extended period. By slowly breaking down fibers in food, it's a great way to tenderize meat and bring out the flavors in hearty stews and soups. It's all about the ease of "set and forget" – just toss in your ingredients, set the temperature and timer, and let the slow cooker work its magic.
Inside, the slow cooker consists of a removable stoneware pot enclosed within a metal housing. The housing contains a heating element that evenly distributes heat to the pot, cooking the food in a slow, controlled manner. The lid keeps in moisture and heat, facilitating efficient cooking and allowing flavors to meld beautifully over time.
Popular brands like Crock-Pot, Hamilton Beach, and KitchenAid have a range of slow cookers to cater to different cooking needs and preferences. From basic manual models to programmable ones with fancy features like timers and keep-warm settings, there's a slow cooker for every home cook out there. Whether you're whipping up an easy side dish or an elaborate main course, a slow cooker is your reliable kitchen ally.
Popular Healthy Slow Cooker Side Dish Recipes
Check out all these delicious healthy crockpot side dishes!
Slow Cooker Apricot Pineapple Jam: Venture into the world of homemade jams with this Slow Cooker Apricot Pineapple Jam recipe. It's a delightful blend of apricot and pineapple, slow-cooked to perfection for a deliciously sweet and tangy spread that'll transform your breakfast routine. Amazing recipe!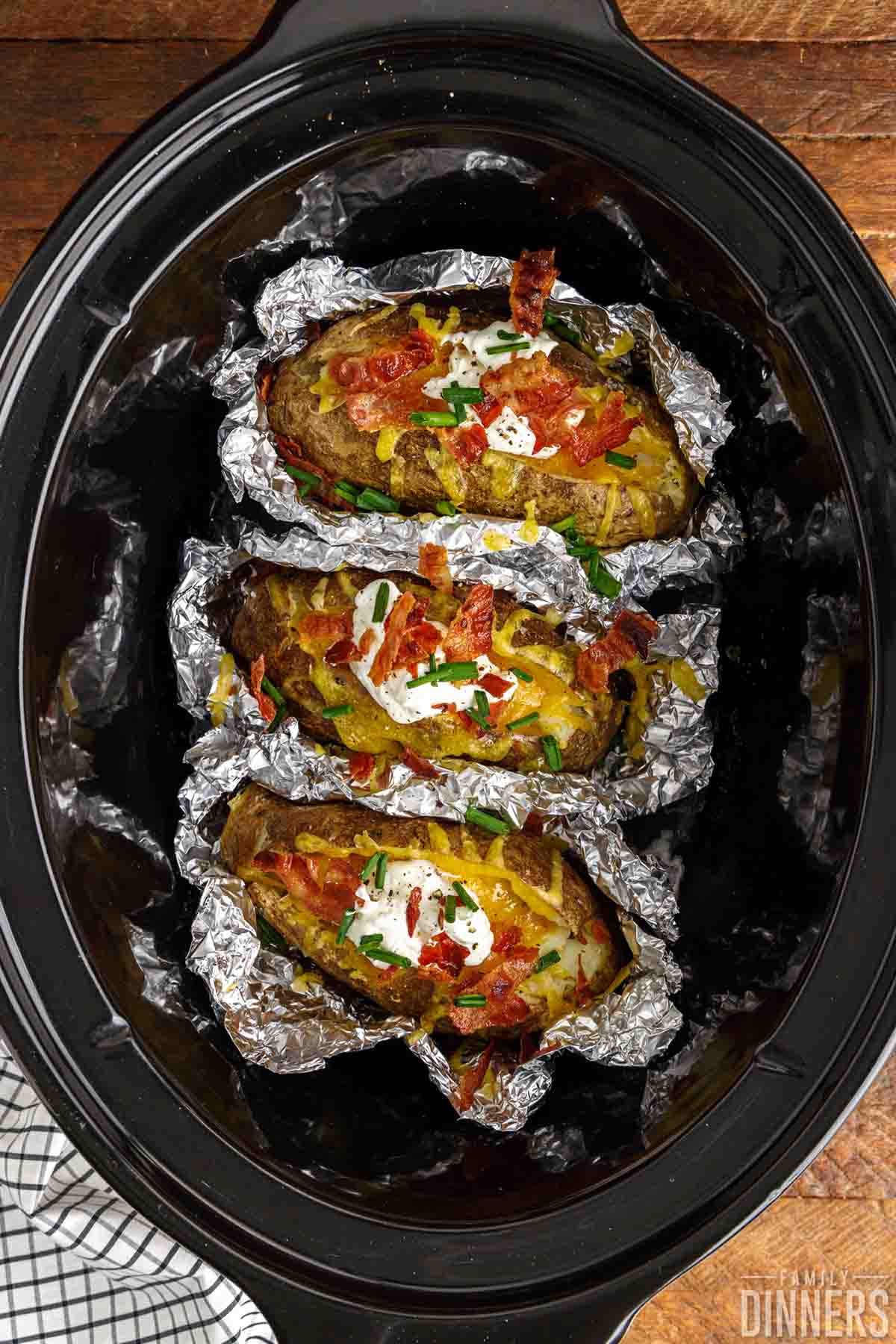 Crockpot Baked Potatoes: Want to know the secret behind the best slow cooker baked potatoes? Learn how to make baked potatoes in a crockpot and enjoy this versatile, crowd-pleasing side dish without any fuss. This comfort food makes one of the best crockpot side dishes.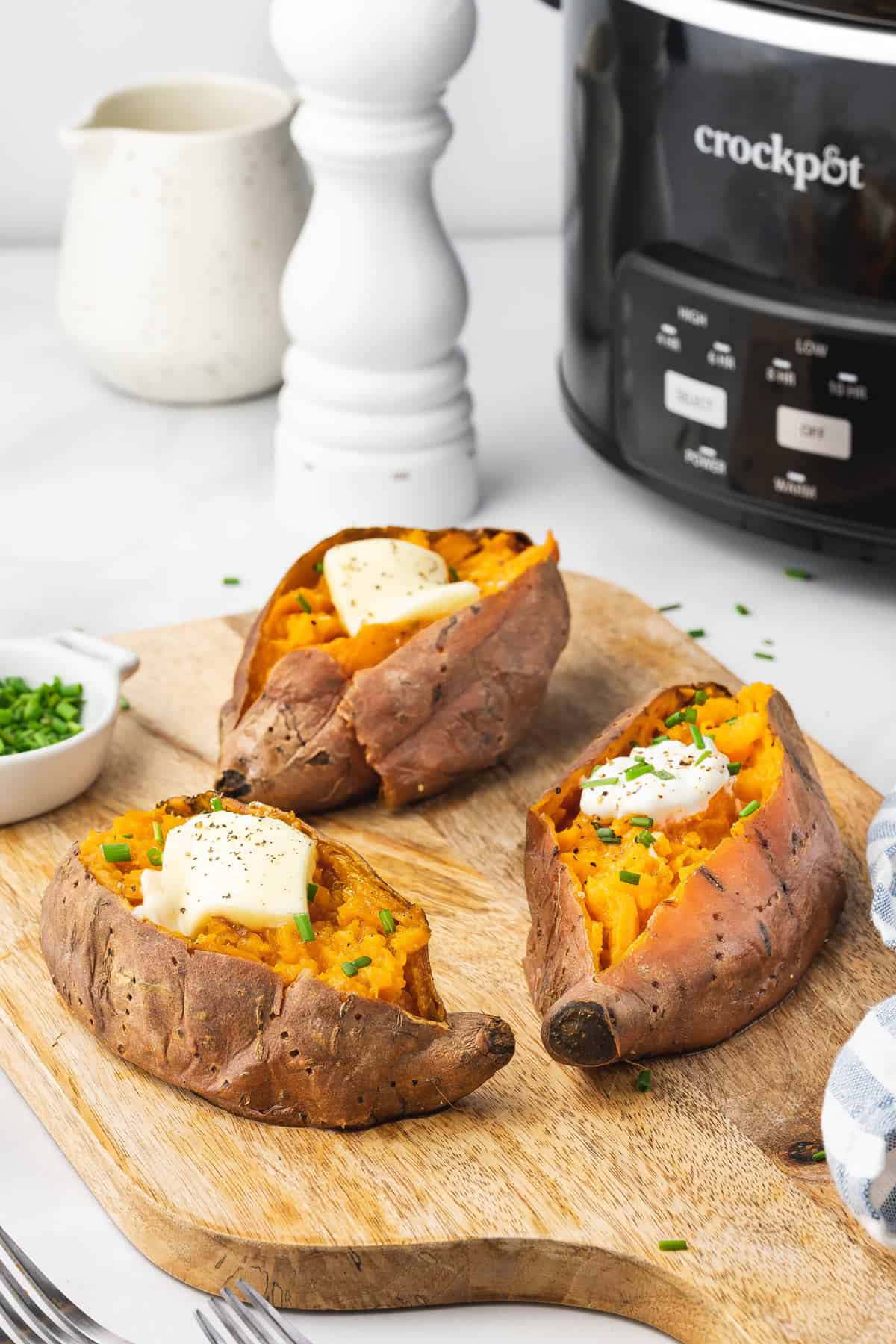 Slow Cooker Sweet Potatoes: Craving melt-in-your-mouth sweet potatoes? This step-by-step guide reveals how to nail slow cooker baked sweet potatoes. It's all about maximum flavor with minimum effort. Game-changing cooking method, indeed! One of our favorite crockpot side dishes. Top with chives or green onions and butter.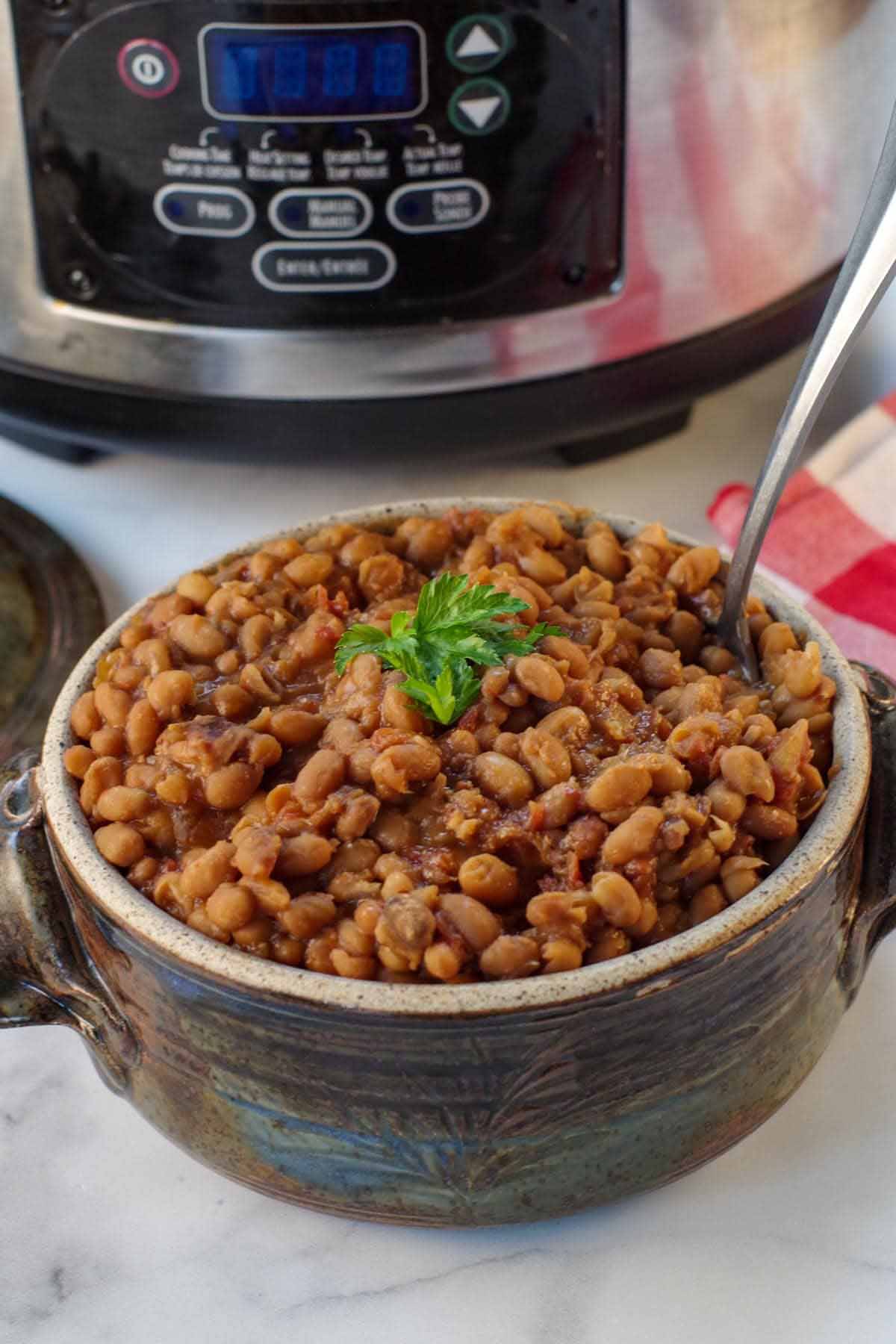 Slow Cooker New England Baked Beans: With this slow cooker crockpot baked beans recipe, you're about to impress. Simple, yet packed with flavor, you'll never go back to store-bought. It's time to cook up a storm! This is an easy recipe with simple ingredients. Use your favorite toppings!
Crockpot Butternut Squash Soup with Bacon and Pomegranates: Try this healthy slow cooker butternut squash soup recipe. Nutritious, delicious dish, and easy to make! This is great for the holiday season paired with your holiday meal, as one of your favorite sides with roast beef recipe or pork chops.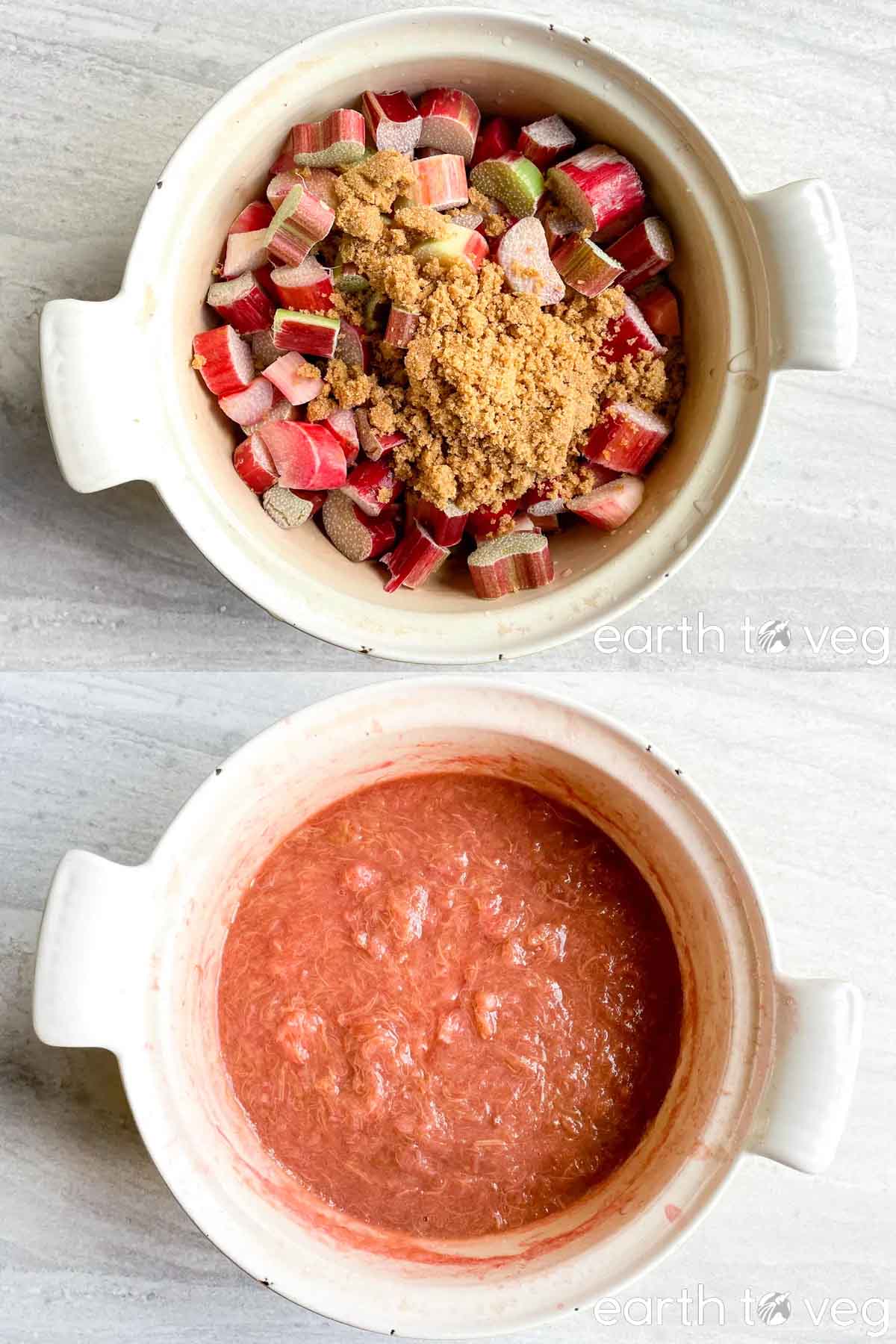 Slow Cooker Rhubarb Butter: Indulge in the tangy delight of homemade Slow Cooker Rhubarb Butter. This post will walk you through the process, step by step. If you're an Instant Pot user, don't worry – there's an option tailored just for you!
Slow Cooker Tips
Mastering the art of slow cooking is about more than just owning a slow cooker. Here are some handy tips and tricks that'll help you unlock its full potential:
Choosing the Right Ingredients: Slow cooking is perfect for tougher cuts of meat that become tender over long, slow cooking. Also, robust veggies like carrots and potatoes stand up well in a slow cooker.
Layering is Key: Hearty root vegetables should be placed at the bottom of your slow cooker, while meat typically goes on top. This allows for even cooking and better infusion of flavors.
Mind the Liquids: Unlike conventional cooking methods, slow cookers retain most of the moisture due to the sealed lid. So, reduce the amount of liquids in your slow cooker recipes to prevent watered-down results.
Add Dairy Last: Ingredients like sour cream and cream cheese tend to separate if cooked for too long. To maintain a smooth consistency in your delicious side dish, stir them in during the last 30 minutes of cooking.
Don't Overcrowd: For the best results, fill your slow cooker no more than two-thirds full. This ensures even cooking and prevents overflows.
Spice it Right: Spices can lose their punch during long cooking times. For a flavor-packed dish, add most of your spices during the last hour of cooking.
Time it Well: Most slow cooker dishes can be cooked either on high for about 4 hours or on low for about 8 hours. Try both to see which works best for your schedule and your recipe.
Remember, every slow cooker is unique. Learning the quirks of your particular model is a big part of creating perfect slow cooker side dishes, whether it's cheesy potatoes, green bean casserole, or something even more adventurous. Happy slow cooking!
More Healthy Crockpot Side Dishes
More delicious recipes! These great crockpot side dishes can be an entire meal or a healthy pairing. Harness the magical slow cooker power!
Slow Cooker Veggies and Fruit Side Recipes
Yum! Get these veggie and fruit side dishes going in the morning to save time while cooking dinner. These easy crockpot side dishes are healthy! They make a great side dish for your next family dinner. From slow cooker potato dishes or green beans to your favorite veggies and sauces!
Slow Cooker Rice, Beans, Pasta and Lentils
A slow cooker is a great way to cook your rice, beans, lentils or any other grain. They make a perfect side dish for almost any meal. Save oven space and make an easy slow cooker recipe.
Slow Cooker Bread and Dessert Recipes
Cooking side dishes doesn't have to be just veggies! Don't forget the dessert recipes and desserts! These are great for special occasions or family meals. There will be less stress if you fix something in the crockpot ahead of time to make for easy weeknight dinners.
Slow Cooker Soup and Chili Recipes
Make the slow cooker version of your favorite soup recipes, stew recipes and chili recipes. These make a healthy side dish to accompany your main dishes or serve them as a starter or appetizer. Soups make for great crockpot recipes.
Ready to begin a clean eating lifestyle? Read all about how to jump with two feet and find your healthiest, most energetic self! With just five steps you can start eliminating the foods that make you tired and sluggish and feel your best.
Frequently Asked Questions
Let's dive into some common queries people have about slow cooking and healthy side dishes:
How do I clean my slow cooker?
After the cooker has cooled, remove the ceramic insert and lid and wash them with warm soapy water. Never submerge the base in water.
Can I leave my slow cooker on while I'm not at home?
Yes, it's safe to leave your slow cooker on while you're away. However, make sure it's not near any flammable materials, and the cord isn't dangling off the counter.

What veggies work best in a slow cooker?
Tough, hearty veggies like carrots, potatoes, and beans work wonderfully in a slow cooker. They maintain their texture and don't turn to mush.
Do I need to add liquid to my slow cooker recipes?
Generally, yes. You should have enough liquid to cover about half of your ingredients. This aids in even cooking and prevents your food from drying out.
Can I put raw meat in a slow cooker?
Absolutely. One of the greatest benefits of a slow cooker is the ability to cook raw meat thoroughly over a long period of time.
We hope these answers help enhance your slow cooking experience. If you have any more questions, don't hesitate to ask. After all, exploring new recipes and techniques is part of the fun!
The case for slow cooker recipes is a robust one. Not only are these dishes delectable, but they also offer a host of health benefits. These easy slow cooker side dishes are indeed a wonderful addition to any meal.
Whether you're a seasoned slow cooker enthusiast or a curious beginner, the journey of exploring slow cooker recipes is both exciting and rewarding. So, dive in, try out new recipes, create amazing meals, and relish the delightful world of slow cooking!