This soup has delicious written all over it! It's got the crunch from the fritos! Tangy-ness from the lime! It's full of flavor. This crock pot taco soup is your new go-to for those busy days and those chilly evenings.
A fantastic dinner for a busy night requires only 5 minutes of prep in the morning and 4 hours of slow cooker time. But you can cook all day if that works better for you.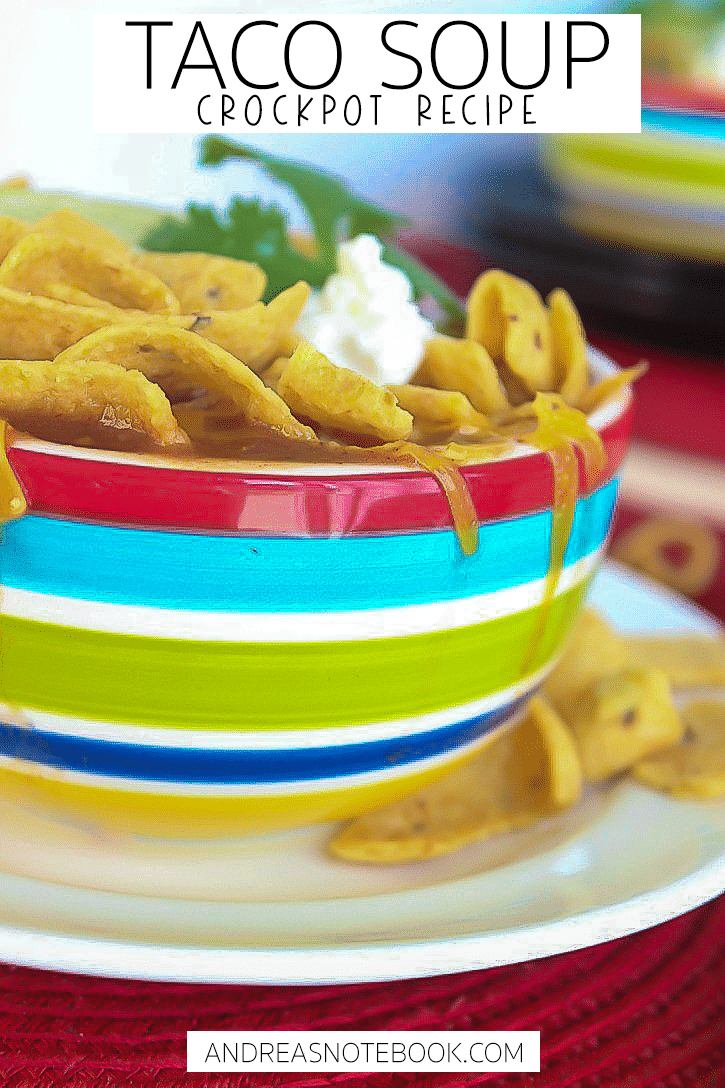 Hardly any prep time and little to no mess means as few dishes as possible. That makes it perfect for busy families.
Serve with Fritos, tortilla chips or rice. Add a little cheese, sour cream and cilantro on top and it'll please the whole family.
If you love this delicious soup recipe you'll enjoy this quick and easy Crockpot Chicken Noodle Soup recipe.
How long does this crock pot taco soup take to make?
How long does it take you to dice an onion and open a few cans of beans?? It will take most people 5-10 minutes to prep this. You can cook in your crock pot from 4-10 hours, depending on what works for your family.
What do you serve this with?
The photos show this served with Fritos corn chips. You can serve with tortilla chips or over rice if you prefer. Or skip the chips and rice all together. Top with your favorite cheese, sour cream, lime and cilantro.
This soup would pair well with quesadillas or burritos. Or even a side salad.
If you love this delicious soup recipe you'll enjoy this quick and easy Instant Pot White Chicken Chili recipe.
This is the kind of recipe that works perfectly in all seasons. It's soup but don't just save it for the winter! During the summer you can add some fresh avocado too.
I don't have a crock pot can I cook it on the stove?
Yes! You can definitely cook the crock pot taco soup on the stove! Bring to a boil then cover and turn down to a low simmer, stirring occasionally. It can cook much quicker on the stove. Cook until the onions are cooked through and the beans are soft.
You can also cook this in an Instant Pot on the slow cooker mode.
Do I need to add sour cream?
Mix the sour cream in and it makes the taco soup rich and creamy! I prefer full fat sour cream but I buy a cilantro lime sour cream that is extra delicious in this soup. If you don't have it or don't like it, just leave the sour cream out.
*I often double this recipe for my family of 4 so that we can have leftovers another night. Which means I get mom of the year award from my kids, plus, dinner in less than 5 minutes on the second night! Major win right there!
Can crock pot taco soup be frozen?
Yes! Let the soup cool then pour into gallon size freezer ziplock bags. Lay flat in the freezer to freeze. I like to use these to hold the bag open when pouring in soup. Freeze for up to 3 months. To defrost just transfer to the refrigerator the day before you'll be reheating.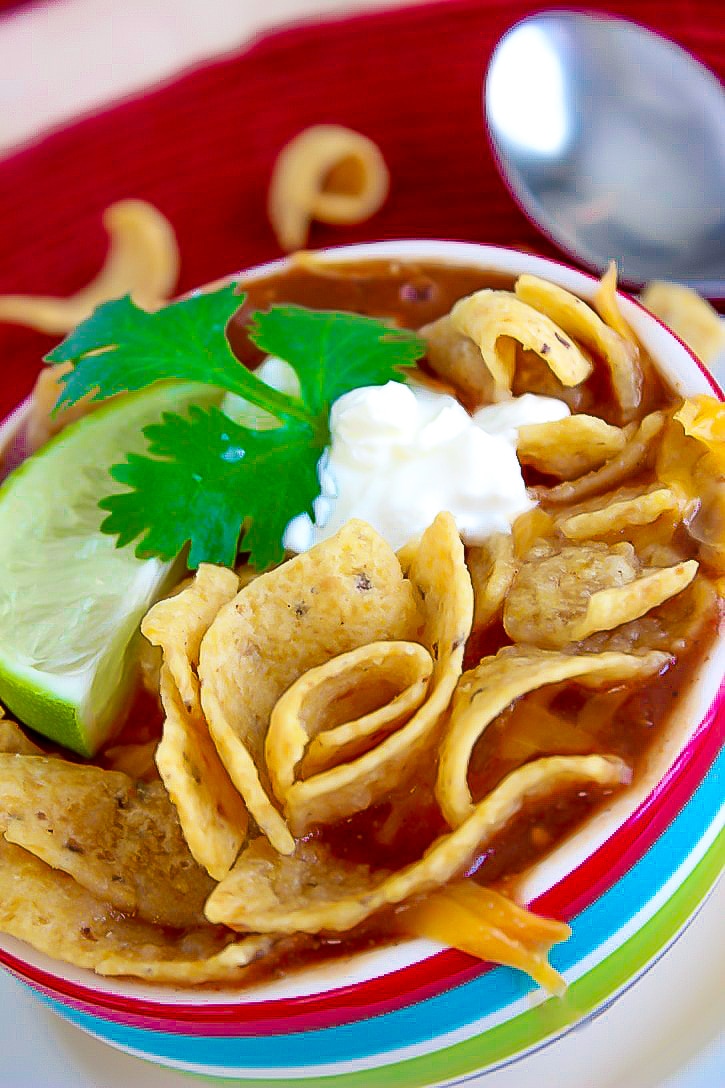 Looking for cosy fall and winter soup recipes? These 12 autumn soups will not disappoint.
Crock Pot Taco Soup Recipe
Delicious and EASY crock pot taco soup recipe. Make and forget in your slow cooker.
Ingredients
1 can red beans
1 can white beans
2 cans black beans
1 teaspoon olive oil
1 medium onion chopped
8 cups chicken broth
1 tablespoon garlic
2 cups corn
1 tablespoon chili powder
1 tablespoon ground cumin
1 tablespoon sugar
½ lime juiced
Frito chips
sour cream
cilantro
Instructions
Put all the soup ingredients into the crockpot.

Cook for 4-5 hours (or longer!).

When ready to serve, stir in sour cream and lime. Garnish with cilantro and chips.