These candied cinnamon nuts are the perfect treat and a wonderful gift! When you make these cinnamon nuts, your whole house smells heavenly.
The FREE printable gift tags go with this DIY gift perfectly. Scroll down to download.
Have you ever walked through the mall and seen (or smelled) those kiosks with the candied nuts? They are always so tempting! When I was still living at home, I was at the mall with my dad and the candied nuts called to us… We couldn't resist, so we sampled some of the sugary candied nuts.
Now my dad is the kind of person that likes to see if he can recreate something on his own. So he bought about 10 lbs of nuts and started experimenting! Once he finally got it right, he bought another 10 lbs so that he could make enough to give to friends and neighbors as gifts for Christmas… and that's what my family's been giving away for the last 10 years!
Candied Cinnamon Nuts Recipe:
Ingredients:
8 cups water
3 large cinnamon sticks or 6 small cinnamon sticks
2 cups sugar
3 lbs nuts
6 teaspoon vanilla
Directions:
ONE: Combine water, cinnamon sticks and sugar on the stove. Bring it to a boil and then turn the temperature down and let it simmer. Let it cook down until you have about 3 cups of cinnamon sugar syrup. If you let it cook down too much, just add a little water and let it cook down again.
TWO: In a large pan on the stove combine about 1 cup of syrup and 1 lb of nuts and cook on medium-high heat (about 350) until about 90% of the liquid has evaporated, turn your heat down (to about 250). You don't want your nuts or sugar to burn. Add a couple teaspoons of vanilla and keep stirring until the sugar begins to crystallize on the nuts.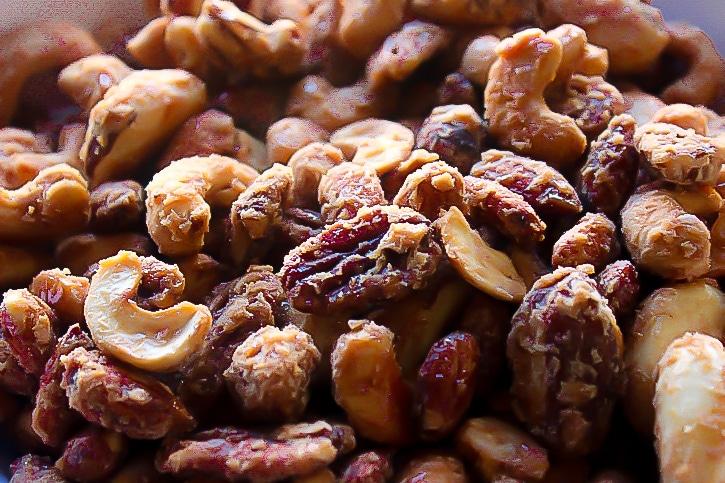 THREE: Remove the nuts from the pan and let cool!
FOUR: Repeat with the remaining two cups of syrup and nuts and you'll have enough nuts to share with your whole neighborhood! To help you share, I put together some adorable nutty gift tags!
What I love about this recipe is that it makes your whole house smell like Christmas. I think my dad likes that too because he'll start a batch of cinnamon sugar water and let it cook down… then add some more water and let it cook down… over and over just so that he can enjoy the smell a bit longer!
Print these cute gift tags
He he he… This is my favorite one! I have a couple nutty friends that would think it's hilarious!
Such a simple, cute and absolutely tasty gift!
DOWNLOAD: Nutty Christmas Gift Tags