Jessie, the yodeling cowgirl from Toy Story, has become a favorite character for many since her first appearance in the series. Her vivacious spirit, coupled with her iconic outfit, makes her an ideal costume choice. And there's something genuinely gratifying about putting together a Jessie look all on your own. This easy last-minute DIY Jessie costume is perfect for any little kid. Love homemade costumes? Check out this cute DIY Peacock Tutu Costume or these adorable DIY No-Sew Iridescent Fairy Wings.
Plus don't miss 9 more easy DIY Toy Story themed costume ideas below! Dress up with Toy Story family costumes!
How to Create an Easy DIY Jessie from Toy Story Costume
So, Halloween's around the corner, and the kids are buzzing with excitement! But maybe, just maybe, you forgot to prep. Need an easy costume idea that won't break the bank? Why not craft a DIY Jesse costume from Toy Story?
Shirt: Rummage through your closet or visit a thrift store for a white button-down. You can add a yellow windowpane pattern using fabric markers or washable paints. If you're artsy, this is your time to shine!
Jeans: Any pair of blue jeans will channel Jessie's cowgirl vibe. If you have some cowhide or even a white fabric, cut patches and attach them for that Western feel.
Hair: Don't have fiery red locks? No problem! Red yarn from an old craft project, braided, will make for a great makeshift wig. Or just braid your regular hair.
Hat: Here's where thrift stores come in handy. Hunt for a cowboy hat, and if you find a plain one, a red ribbon can elevate its look. Want to buy it? Check out this Jessie Cowgirl Hat.
Accessories: Brown belts are commonplace in most wardrobes. Add a shiny buckle, and you're golden!
Creating a DIY Jessie costume is all about being crafty and using what's at hand. It's not just about how to make it but about making it yours. So, for those seeking a last-minute magic solution, Jesse's got your back! Go save the day, partner!
There you have it! With a dash of effort and a sprinkle of creativity, you've got yourself a DIY Jessie costume. Whether it's for Halloween, a themed party, or just some imaginative play, this outfit is bound to make you the star of any Toy Story!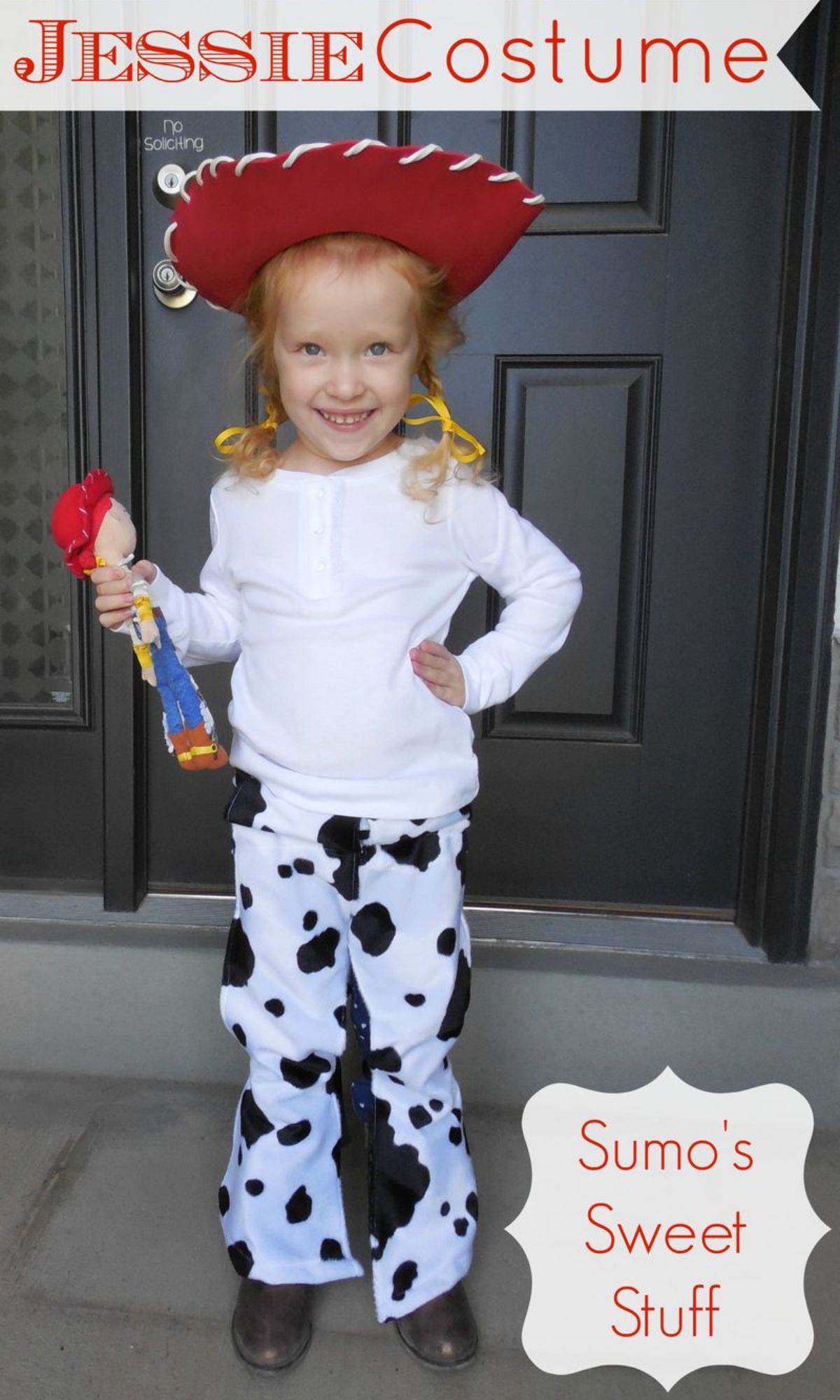 9 More DIY Toy Story Inspired Costume Ideas
From the wild west cowboy to the space ranger hero, "Toy Story" presents a treasure trove of characters beloved by many. With Halloween or costume parties around the corner, let's craft some memorable DIY outfits that channel our favorite Toy Story characters.
Woody: The Cowboy Charm
Every Toy Story fan adores Woody's signature style.
Materials needed: Yellow checkered shirt, blue jeans, red bandana, cow print fabric, brown boots, and cowboy hat.
How to assemble: Kick off with the shirt and jeans. Add a swanky red bandana. Craft a vest with the cow print fabric and finalize with the boots and hat.
Buzz Lightyear: To Infinity and Your Wardrobe!
Want to launch into space or at least the party scene?
Gathering your materials: White shirt and pants, green and purple felt, cardboard wings, and dome-shaped plastic cap.
Crafting the space ranger look: Adorn the white base with felt details. Attach wings to the back, and the plastic cap makes for the perfect space helmet.
Mr. and Mrs. Potato Head: Classic and Fun
Become the iconic spuds of Toy Story.
What you'll require: Brown clothing, felt in various colors.
Creating the ensemble: Dress in brown. Cut facial features from felt and attach them to your outfit.
Slinky Dog: Be the Lovable Dachshund
Slinky combines fun and nostalgia.
Materials to collect: Brown clothing, slinkies.
Assembling the costume: Wear brown clothes and attach multiple slinkies across the body, mimicking the Slinky Dog's design.
Rex: The Not-So-Ferocious Dino
Roar into the party as Rex.
Gathering supplies: Green clothing, cardboard.
Crafting Rex's look: Wear green. Use cardboard to make a tail and attach it. Optionally, paint your face green.
Bo Peep: Elegance Meets DIY
Craft the shepherdess's classic look.
What's needed: Pink dress, blue cape, shepherd's crook.
How to create the outfit: Wear the dress, drape the cape, and carry the crook.
Aliens: The Claw Chooses You
Ooo… become the adorable alien.
Essential materials: Blue clothes, green face paint, three balls for eyes.
Crafting the alien look: Dress in blue, paint your face green, and attach the balls as eyes.
Hamm: Coin Up For This Look
Embody the witty piggy bank.
Supplies needed: Pink clothing, cardboard for cork and coin slot.
Becoming Andy's piggy bank: Wear pink. Attach a cardboard cork to the front and a coin slot to the back.

Recreating the charm of "Toy Story" through DIY costumes not only showcases your creative flair but also resonates with the child in all of us. So, gear up, choose your favorite character, and let the DIY fun begin.
Everyone loves Toy Story. Everyone. A fun Jesse costume is great for any time of year but especially fun for Halloween. Sumo from Sumo's Sweet Stuff is back this year with a Jessie tutorial. Hop over to her blog to see how to make this Jessie Costume! You could even make a whole Toy Story cast if you've got enough children/nieces/nephews!