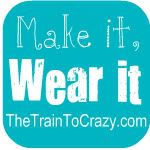 Maxi dresses are in the air! Did you see these ones linked up last week?
Made It On Monday shows you how she made this one.
Sarah from Lunt Family shows you how to create one of these for yourself (including how to dye it)

Emma from Hello Beautiful created this one with a Burda Style pattern
What do you have to share with us this week?? Just make sure you can wear it. I'll delete links that aren't wearable.
New rule, I don't mind if you don't link back but I will only be featuring blogs that have a button or a link back here somewhere. It's only fair! Plus, the more people that know about Make It Wear It, the more inspiration we all have!