Hey there craft lovers! Are you excited to spread love this Valentine's season with a heartfelt DIY project? We've got just the thing for you – DIY felt valentines! With our simple and engaging tutorials, anyone can become a felt crafting whiz, making their own delightful valentine gifts. Let's dive into the world of felt and unleash our creativity for Valentine's day crafts!
The other day, I spotted one of these felt Valentines and it bowled me over with its cuteness. I couldn't resist immediately hunting for more felt Valentines. Among my findings, these stood out as the cutest. The idea of crafting a Valentine that won't end up in the trash immediately really appeals to me! Add some chocolates (of course!) and you'll be everyone's favorite mom, teacher, Valentine.
Working with Felt: Tips and Tricks
Felt is a fantastic material for crafting – it's soft, durable, and comes in every color of the rainbow. But, if you're new to felt crafts, here are some top tips:
Choose the Right Scissors: Make sure you have sharp scissors that are comfortable to hold. This will make cutting shapes much easier.
Use Pins or Clips: When working with multiple pieces of felt, it's helpful to use pins or clips to keep everything in place.
Patience is Key: Remember, good things take time. Be patient with yourself, especially when trying more complex designs.
What is Felt Made Out Of?
Felt, a non-woven fabric, comes to life through a process where we mat, condense, and press fibers together. It holds the title as one of the oldest known textiles, with a history of use stretching back thousands of years. Makers can craft felt from either natural or synthetic fibers, or even a blend of the two. Common natural fibers include wool and other animal fur, while synthetic fibers often feature materials like acrylic or polyester. Rayon presents an interesting blend, created from natural fibers but undergoing processing similar to synthetic fibers.
Types of Felt
There are several different types of felt, including:
Wool Felt: Manufacturers make this high-quality felt from either 100% wool or a blend of wool and rayon. It's durable, soft, and comes in a wide variety of colors. It's also more expensive than other types of felt.
Craft Felt: This is usually made from synthetic materials like acrylic or polyester. It's inexpensive, widely available, and comes in a multitude of colors. However, it's not as durable or soft as wool felt.
Blended Wool Felt: This is a blend of wool and rayon and is often more affordable than 100% wool felt. It still retains some of the softness and durability of wool, but at a more budget-friendly price.
Needle Felt: This type of felt is created by interlocking wool fibers by using a barbed needle. The process produces a very dense and sturdy fabric.
Industrial Felt: This type of felt is made with either synthetic or natural fibers and is often used in machinery for sound dampening, vibration reduction, and filtration.
Choosing the Right Felt for Your Project
Choosing the right felt for your project depends on the craft you're making and the end result you want. Here are a few things to consider:
Durability: If you're making a craft that will see a lot of wear and tear, like a coaster or a toy, you might want to choose a more durable felt like wool or blended wool felt.
Cost: If budget is a concern, craft felt or blended wool felt might be a better choice.
Texture: If the texture of your craft is important, you may want to choose a softer felt like wool felt. Craft felt can sometimes be stiff or scratchy.
Color Range: If you need a wide variety of colors, craft felt often comes in more colors than other types of felt.
Eco-Friendly: If being eco-friendly is important to you, you might choose 100% wool felt, as it's a renewable resource and biodegradable.
Always consider the needs of your project and your personal preferences when choosing the right type of felt.
DIY Felt Valentine Craft Ideas
Ready to dive into some heartfelt crafting? Here are some DIY felt valentine ideas to get your creativity flowing:
Felt Flower Bouquets:
Who said flowers have to wilt? For a valentine gift that lasts, create your own bouquet of felt flowers. Pick your favorite colors of felt, cut them into petal shapes, and assemble your flowers with glue or stitches. Bundle them together with a pretty ribbon and you've got a bouquet that won't fade!
Felt Love Monsters:
This one's perfect for kids (or kids at heart!). Create adorable little love monsters from felt. Cut out a simple body shape, add some googly eyes, and maybe a heart-shaped mouth. These loveable creatures can be as wacky or cute as you like!
Felt Heart Wreath:
Celebrate love in a big way with a felt heart wreath. This decor item can adorn your front door, or add charm to any room. Simply cut out many felt hearts, arrange them in a wreath shape, and secure them onto a circular base (like a large embroidery hoop or wire ring) using hot glue or stitches.
Felt Bookmarks:
For the book lovers in your life, consider crafting felt bookmarks. Cut a strip of felt and add a heart or other love-themed design at the top. It's a small, sweet gift that's as practical as it is heartfelt.
Felt Valentine Coasters:
Help your loved ones protect their tables with style! Felt coasters are a fun, easy craft that can be used all year round. Cut out two squares or circles of felt, then cut a heart shape out of one. Glue or stitch them together for a cute, functional valentine gift.
Felt Heart Sachets: Be still my heart! Bev from Flamingo Toes always stitches the cutest things but these little Valentines make the top of the list! Excellent tutorial!
Felt Envelopes: With a little felt, needle and thread you can make these cute little envelopes by Landee See Landee Do. Add a button and stencil a name and they're a keepsake!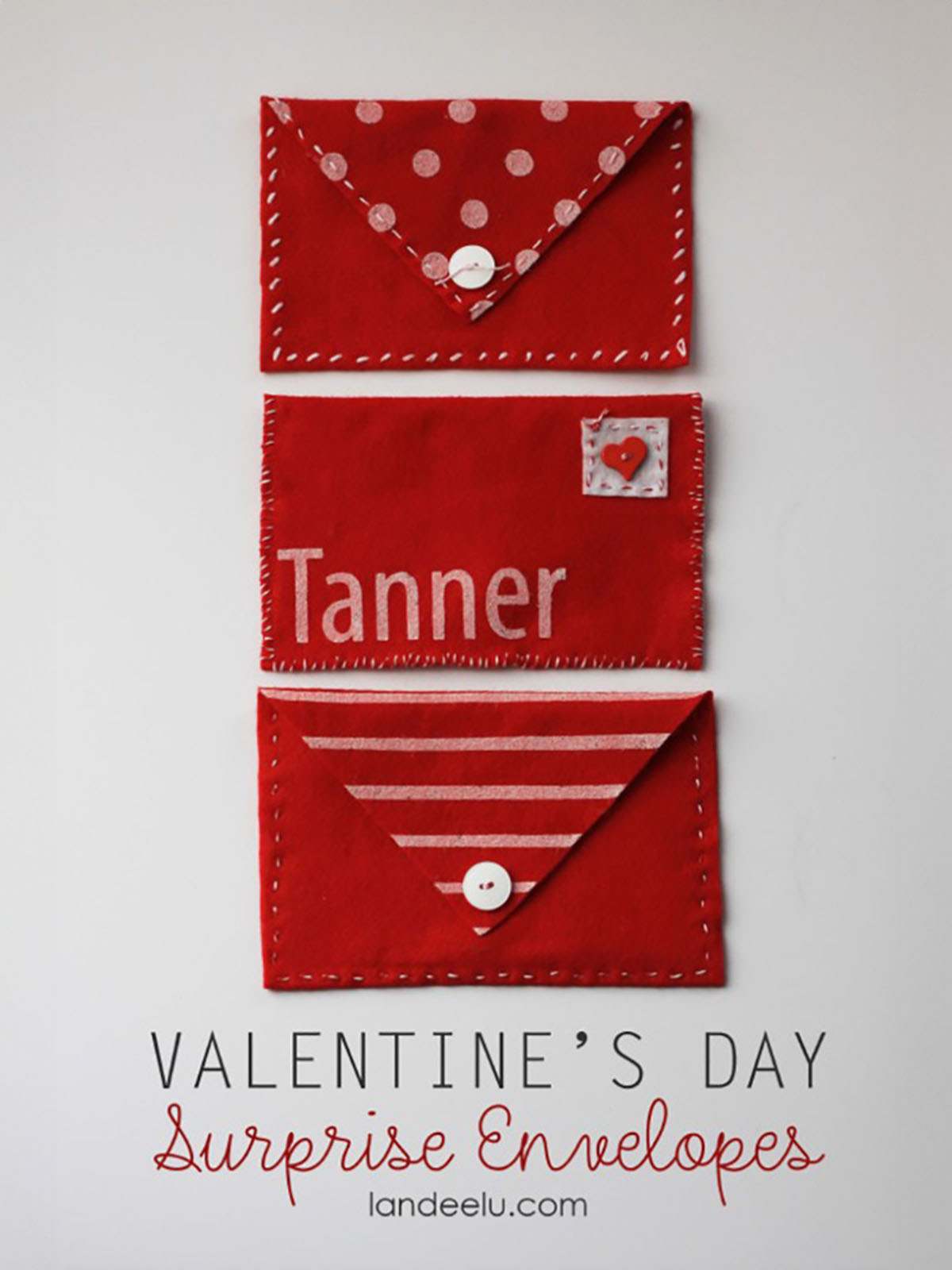 Mini Felt Bears: Tiny little bears by Lia Griffith that your little Valentine will love! Perfect for the pocket or a tiny purse!
Felt Fortune Cookies: Put your love notes inside these adorable felt fortune cookies. Tutorial by Martha Stewart!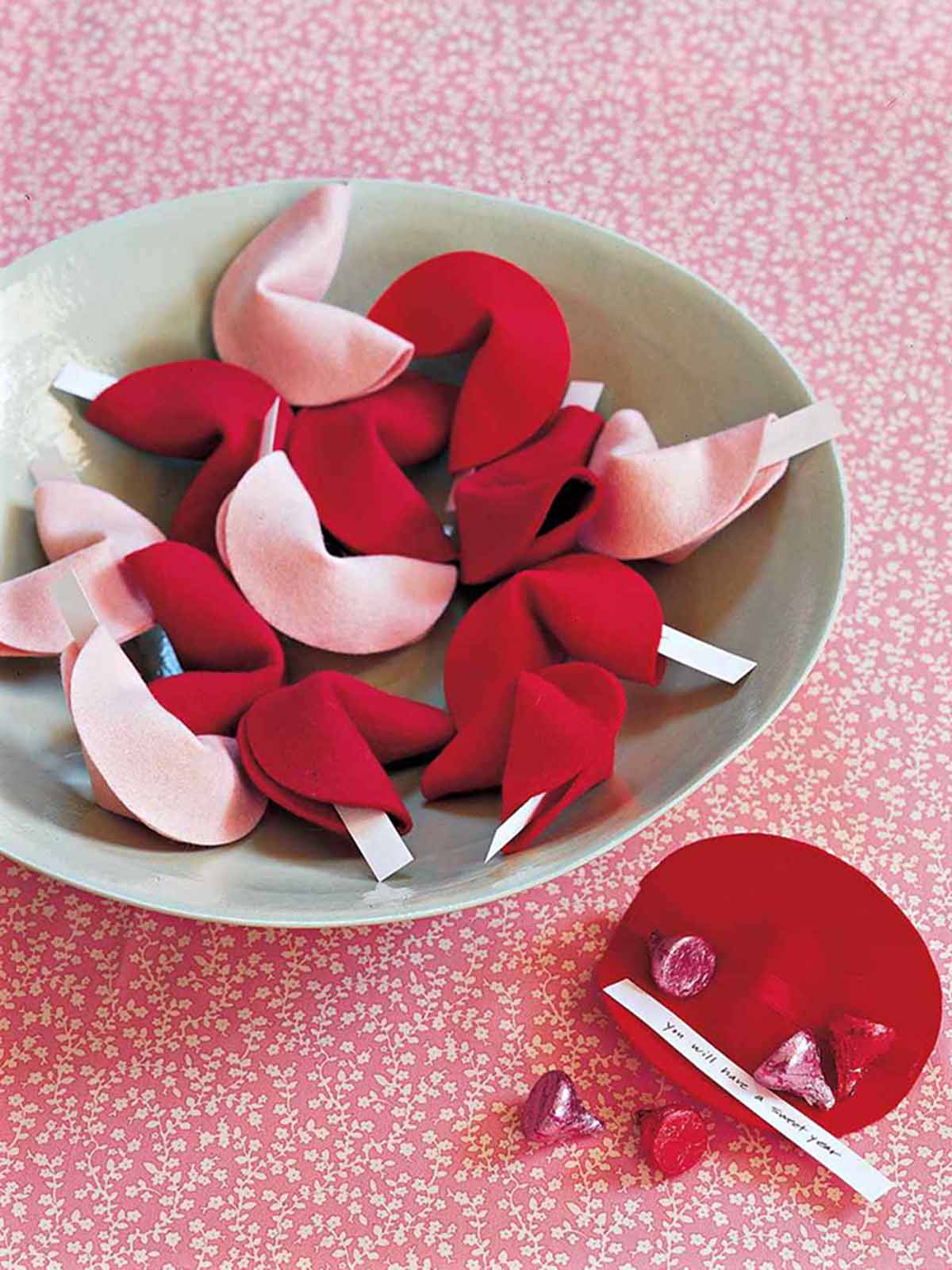 Felt Valentine Envelopes: These first caught my eye years ago! I love the use of the twill tape and stamped name. So much cuteness in this tutorial by Probably Actually.
More Felt Valentines Ideas
The ideas for valentine's decorations and gifts made from crafts are endless! Here are some more fun ideas, whether you enjoy sewing or gluing there's something for everyone! Felt makes for a special valentine's day gift!
Felt pom poms garland
Valentine's Day banner
Valentine hoop art
Felt heart hanging ornaments
Treat bags