Valentine's Day is a time to express love and affection, and what better way to show you care than with a homemade wreath? Whether you're an experienced DIY enthusiast or a crafting newbie, these eight creative Valentine's Day wreath ideas will inspire you to create a unique piece of décor that speaks from the heart.
Supplies
Crafting your own Valentine wreaths is a rewarding experience, and the possibilities are truly endless when it comes to design. However, every good wreath starts with a solid base – the wreath form. Wreath forms are readily available in craft stores and online in a wide variety of materials and shapes. The most common type is a round form, often made from sturdy wire, foam, or grapevine. These materials provide a durable and flexible base onto which you can attach your decorative elements. If you're looking for something a bit different, you can also find heart-shaped forms, perfect for Valentine's Day, or square forms for a more modern look. In addition, you can choose a form wrapped in burlap or moss for a rustic aesthetic. No matter your vision for your DIY wreath, there's a wreath form out there to help you bring your creative ideas to life.
Try looking at the dollar store or your local craft stores for supplies for your DIY Valentine wreath. And, of course, you can always find wreath forms online. Here are some links for online for your convenience. Make sure you double check dimensions to make sure they meet your needs before purchasing.
DIY Valentine's Wreath Ideas
Try one of these DIY Valentine's Day wreaths to spice up your February! Cupid won't imss your house if you have one of these beautiful wreaths. From fabric wreaths, to burlap wreaths and yarn wreaths there are lots of ideas!
Heart-Shaped Rose Wreath:
Start off classic with a heart-shaped rose wreath. Simply purchase a foam heart-shaped wreath base and lots of faux roses. Then, attach the roses to the base using hot glue until it's fully covered. This elegant wreath is sure to make a romantic statement on your front door.
Faux Rose wreath (Image Below):
Tutorial by blooming homestead is adorable! It is one of my favorite Valentine's Day wreath ideas. Use faux red roses to create this beauty you can display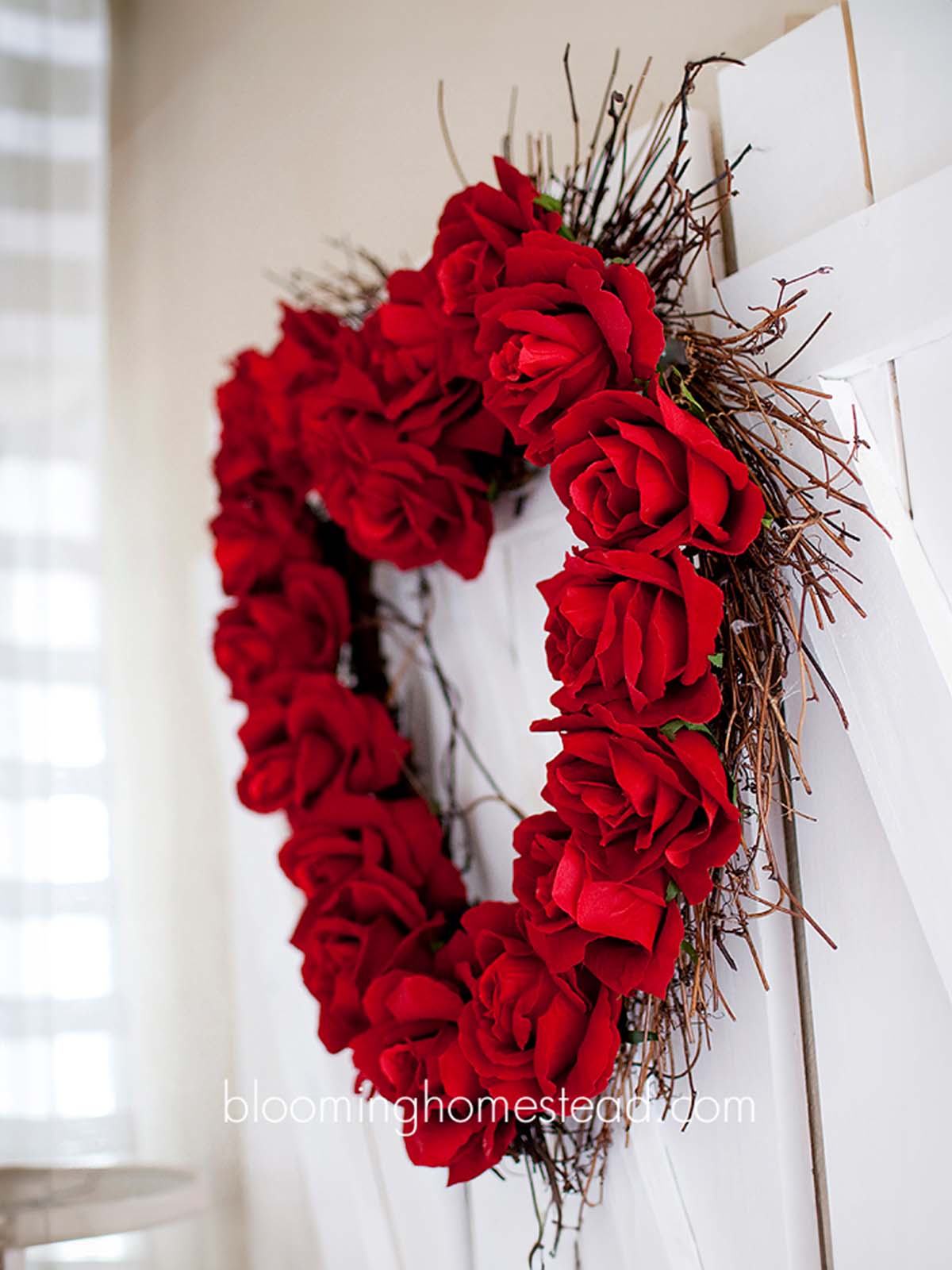 Paper Heart Wreath:
Go eco-friendly with a paper heart wreath, crafted from recycled book pages or old sheet music. Cut out hearts, fold them down the middle for a 3D effect, and glue them onto your base. It's an artistic homage to the written word, and to love.
Coffee filter heart wreath (Image Below):
Learn how to make a Valentine's Day wreath with coffee filters with the bold abode. These don't look like coffee filters at all! This DIY Valentine's heart wreath will last for years!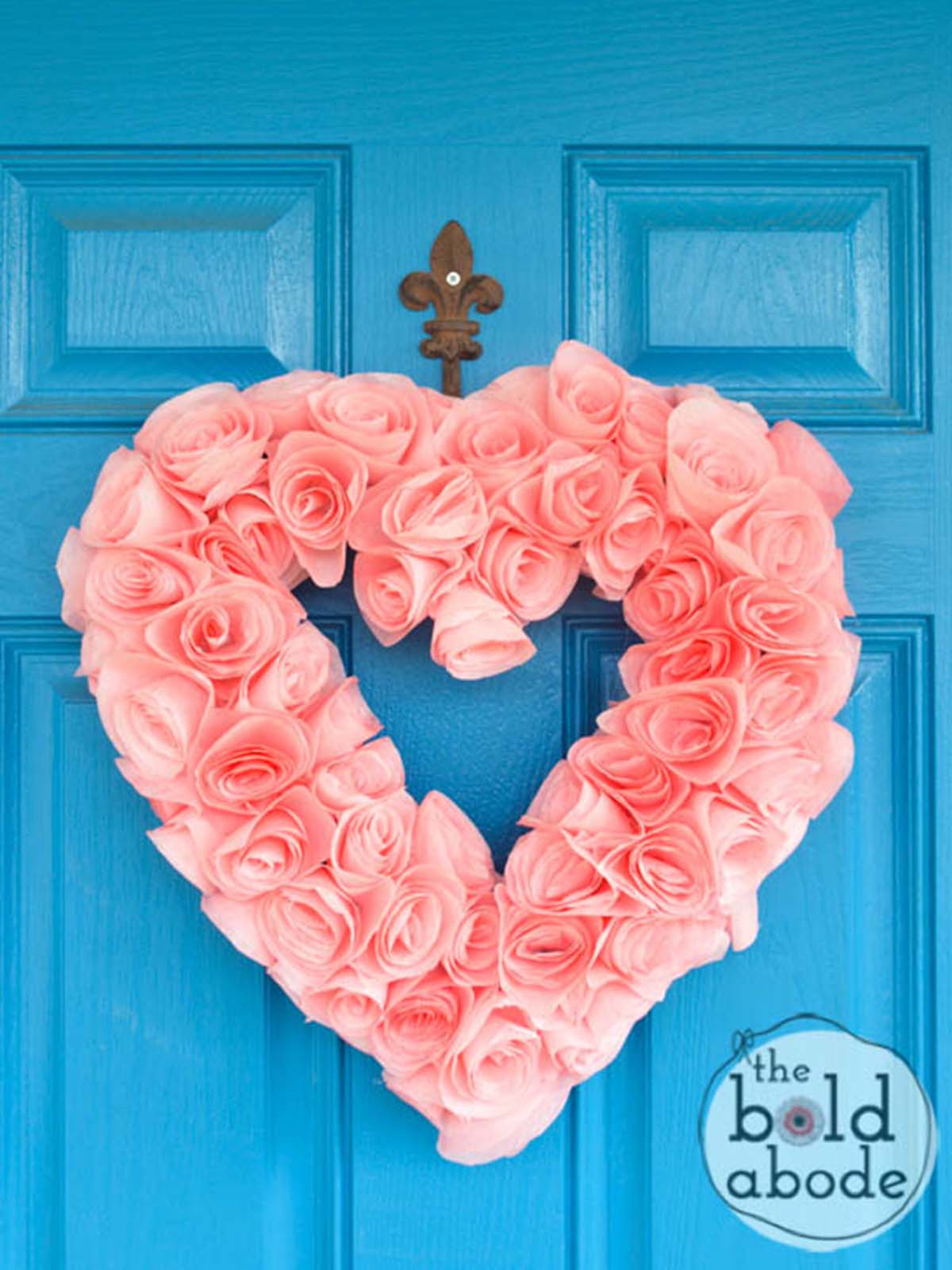 Pom-Pom Wreath:
A pom-pom wreath adds a touch of whimsy to your Valentine's decor. Using yarn in Valentine's colors, make several pom-poms and attach them to a wreath base. This fluffy wreath is as fun to make as it is to display. Pom poms can be found in any craft store or online.
Felt Ruffle Wreath (Image Below):
Unleash your creativity this Valentine's Day with a DIY felt ruffle heart-shaped wreath. Radiating warmth and charm, this wreath is made from vibrant red felt cut into squares, each folded into a cone to mimic ruffled petals. The lush texture makes it a standout piece of decor. Displayed on your front door or wall, this red DIY felt ruffle heart-shaped wreath serves as a bold declaration of love and affection during the Valentine's season, and adds a dash of handcrafted charm to your holiday decor. Find this felt ruffle wreath tutorial on life on virginia street.
Floral Grapevine Wreath:
For a more minimalist approach, design a floral grapevine wreath. Arrange faux flowers and greenery on one side of a grapevine wreath, leaving the other side bare. This style exudes a simple, chic vibe.
Fabric Scrap Wreath:
Put those leftover fabric scraps to good use by making a fabric scrap wreath. Cut your fabric into strips and tie them around a wire wreath form. The result? A cheerful, shabby-chic wreath full of color and personality.
Paper Rose Wreath (Image Below): This DIY Valentine's wreath tutorial is found on I'm A Yarner.
Add a touch of romantic whimsy to your Valentine's Day decor with a pink round DIY paper rosette wreath. Made from delicate paper rosettes crafted from shades of pink, this wreath captures the spirit of the season in a fun and festive way. To create it, use your homemade paper rosettes (see tutorial linked above). These rosettes are then arranged and attached onto a round wreath form, creating a lush, floral-like surface that's pleasing to the eye. The monochromatic pink palette gives it a sweet, charming appeal while the rosettes add depth and dimension. Displayed prominently on your front door or a favorite wall, this pink round DIY paper rosette wreath is a testament to the joy of handmade Valentine's crafts, and a stylish way to spread love and cheer.
Burlap and Ribbon Wreath:
For a rustic touch, try a burlap and ribbon wreath. Wrap a round wreath base with burlap and adorn with Valentine's-themed ribbons. The contrast of textures makes this wreath a delightful sight.
Burlap and Roses Wreath (Image Below):
Adorable burlap and felt roses wreath tutorial by Flamingo Toes also has a sweet little felt bunting! Use up some of your felt scraps to make this adorable homemade Valentine's decor.
Photo Memory Wreath:
A photo memory wreath is a beautiful way to celebrate loved ones. Attach small photos to a wreath base and embellish with faux flowers or ribbons. It's not just a decoration—it's a treasure trove of cherished memories. This is one of the best Valentine's Day wreath ideas to do with kids!
Tissue Paper Wreath (Image Below):
Create something fun and festive this Valentine's Day with a pink DIY tissue paper wreath! First, you'll need some tissue paper. Cut the tissue paper into squares, then pinch each one in the middle to create a fluffy, flower-like shape. Next, find a wreath form at your local craft store. This will serve as the base for your wreath. Now, it's time to start attaching your tissue paper flowers onto the wreath form. Stick each tissue paper flower onto the wreath form until it's completely covered and looks full and fluffy. Hang your beautiful pink tissue paper wreath on your front door or your bedroom wall. And voila! You've just made a fun, festive decoration that adds a burst of color and Valentine's Day cheer to your home. Isn't it amazing what you can create with some simple supplies and a little imagination? Tutorial on A Blissful Nest.
Candy Heart Wreath:
Incorporate the sweet side of Valentine's with a candy heart wreath. Using a foam base, hot glue conversation hearts all over for a vibrant, playful look. Just remember, this wreath is for decoration only, not dessert!
Felt Heart Wreath (Image Below):
Make an easy Valentine's craft with your scraps of pink and red felt. This cute DIY Valentine's wreath tutorial from Classy Clutter makes a fun, kid friendly project and Valentine's Day wreath ideas.
Remember, the best Valentine's Day wreath is one made with love. Whichever design you choose, take pride in your DIY Valentine's craft. These wreaths are not just door decor—they're a testament to the joy of creating something special for a day that celebrates love.
Feel free to share your experiences in the comments below, or post your creation on social media. We can't wait to see the love you've poured into your Valentine's Day wreaths.
More DIY Ideas
If you loved these Valentine's Day wreath ideas, check out these other fun craft ideas and Valentine's food ideas.