Whether you're a seasoned crafter or a DIY beginner, we're confident that you'll find inspiration among these stunning unique and fun wreath ideas and designs. Wreaths aren't just for the holiday season – they can add charm and personality to your home decor all year round. From cheerful springtime creations to vibrant summer wreaths, cozy fall arrangements, and of course, the classic winter holiday wreaths, there's a DIY wreath idea for every season and every occasion. In this post, we'll take you on a creative journey through diverse wreath materials, from traditional evergreens to more unconventional items.
Get ready to learn new craft techniques, expand your DIY repertoire, and, most importantly, have fun! Whether you're searching for a new family crafting project, a personalized gift idea, or the perfect accessory to enhance your front door or interior decor, our selection of fun and unique DIY wreath ideas has got you covered. So grab your glue gun, let your creativity flow, and let's dive in!
Supplies
Making your own wreath can be an exciting DIY project. Some common supplies you might need include:
Wreath forms: These can be purchased in various sizes and shapes from any craft store. Wreath forms come as foam wreath forms, wire wreath forms, grapevine wreath forms, embroidery hoops, evergreen wreaths and straw wreaths.
Decorative materials: These can vary depending on the type of wreath you're making. They might include faux flowers, felt, burlap, ornaments, ribbons, or even edible goods.
Glue gun or floral wire: For attaching items securely to your wreath.
Scissors: For trimming and adjusting decorative elements.
Occasions For Wreaths
ou can display wreaths, those versatile decorations, on various occasions throughout the year, both traditional and non-traditional. Let's look at some examples:
Holidays: Most commonly, many people display wreaths during the holiday season. During Christmas time, they often hang wreaths made of evergreen branches, holly, and decorated with red bows or ornaments from November through December. Other holidays also have their wreath styles. For instance, Easter wreaths usually feature pastel colors, eggs, or spring flowers, and Halloween wreaths might boast faux cobwebs, spiders, or pumpkins. You can hang these wreaths on your door or use them as holiday decor, and if you're feeling extra festive, try adding some Christmas lights, tinsel or Christmas ornaments to an evergreen wreath! The options for DIY Christmas wreath ideas are limitless!
Seasonal Changes: Display wreaths to symbolize the changing of the seasons. Mark the start of fall with a wreath made of autumn leaves, pinecones, and gourds, and welcome the arrival of spring with a wreath featuring flowers, moss, and bright colors.
Special Events: Celebrate specific events, such as birthdays, anniversaries, or even a baby's arrival, with custom wreaths. A baby shower wreath might feature pink or blue colors, or a birthday wreath could be in the celebrant's favorite colors.
Memorial Services: Wreaths serve as symbols of respect during funerals or memorial services in many cultures. People often make these wreaths out of flowers and display them on a stand near the gravesite.
Everyday Decor: Wreaths aren't just for specific occasions. Hang a simple, understated wreath to add a touch of charm to your front door, window, or wall anytime.
Celebrations: Use wreaths to celebrate achievements such as graduations, promotions, or retirements. A graduation wreath, for instance, could be in the school's colors and feature elements like miniature diplomas or graduation caps.
Overall, the great thing about wreaths is their flexibility. With a little creativity, you can make a wreath for virtually any occasion or celebration.
How to Display a Wreath
Wreaths can be an excellent way to decorate and bring personality to your space. Here are several ways to display a wreath, including how to hang it in various locations:
Front Door: This is the most traditional spot for a wreath. To hang it, you can use an over-the-door wreath hanger, which is a metal hook that fits over the top of your door and holds the wreath on the other side. If you don't want to use a hanger, you can also use a ribbon. Just thread the ribbon through your wreath and then tie a bow at the top. Close the door, and the ribbon will keep the wreath in place.
Windows: Hanging a wreath on a window can create a warm and welcoming look. To do this, you will need a suction cup with a hook. Simply wet the suction cup, press it onto the window, and then hang your wreath on the hook. This works best on windows that don't open, or where the wreath won't be disturbed. Consider using a bold red ribbon ton hang your wreath on a window for extra effect.
Walls: Wreaths can also be used as wall art inside your home. You can hang a wreath on a wall just like you would hang a picture frame. Use a nail or a picture hanging hook, and hang the wreath from a ribbon or a wire at the back of the wreath. This can be a fun way to decorate an empty wall or spice up your home decor.
On a Mantel or Shelf: If you'd rather not hang your wreath, you can always place it on a mantel or a shelf. You can lean the wreath against the wall or place it flat on the surface with some candles or other decorations around it.
Outdoor Structures: If you have an arbor, a fence, or a garden gate, you can use a wreath to add some color and texture. Just make sure the materials of your wreath can withstand outdoor conditions.
Always remember that where and how you display your wreath should depend on its materials. Some wreaths are more delicate than others and would be best suited for indoor use, while others can withstand the elements outdoors.
Fun Wreath Ideas
Patriotic Bandana Wreath: This wreath is a festive addition to any patriotic event. Start by purchasing red, white, and blue bandanas from a craft or dollar store. Fold each bandana into a loop and pin it onto a wire wreath form. Continue to do this, alternating colors until the wreath form is covered. Add a ribbon or bow for an extra touch.
Coffee Filter Wreath: This delicate, fluffy wreath is made by layering white coffee filters on a round wreath form. You can simply fold each filter in half twice, then glue it onto the wreath form with the point inward. For a vintage or rustic look, dye the filters with tea or coffee before attaching them to the wreath.
Beach Themed Wreath: Celebrate summer with a wreath inspired by the beach. Purchase sea shells, starfish, and pieces of driftwood from a craft store, or use what you've collected from beach trips. Using a hot glue gun, attach these items to a plain wreath form. The finished product will bring a bit of the beach to your home.
Fabric Scrap Wreath: Use up those fabric scraps you've been saving by tying them around a wire wreath form. Cut each scrap into a strip, tie it in a knot around the form, then trim the ends if necessary. The result is a colorful, textural wreath that's eco-friendly, too.
Sunflower Wreath: Welcome guests with a sunny wreath made from yellow and brown burlap. Cut your burlap into petal shapes and use hot glue to form them into sunflowers. Attach these flowers to a grapevine wreath form, adding green burlap leaves if you wish.
Monogram Wreath: Create a personal touch for your front door with a monogram wreath. Purchase a letter-shaped wreath form from a craft store, then attach faux flowers using hot glue. Choose flowers in colors that complement your home or reflect the current season.
Button Wreath: Glue buttons of various sizes and colors onto a round wreath form for a whimsical design. You can arrange them randomly, or create a pattern or shape, like a heart or a monogram. This wreath can be a fun way to use up a button collection or to commemorate a loved one who enjoyed sewing.
Candy Wreath: Attach wrapped candies to a round wreath form with hot glue for a sweet holiday treat. Choose candies with wrappers in colors that match the holiday or your decor. This wreath can be a fun gift or a festive decoration for your kitchen. Try this gumdrop wreath tutorial and step-by-step instructions from Dream a Little Bigger (image below).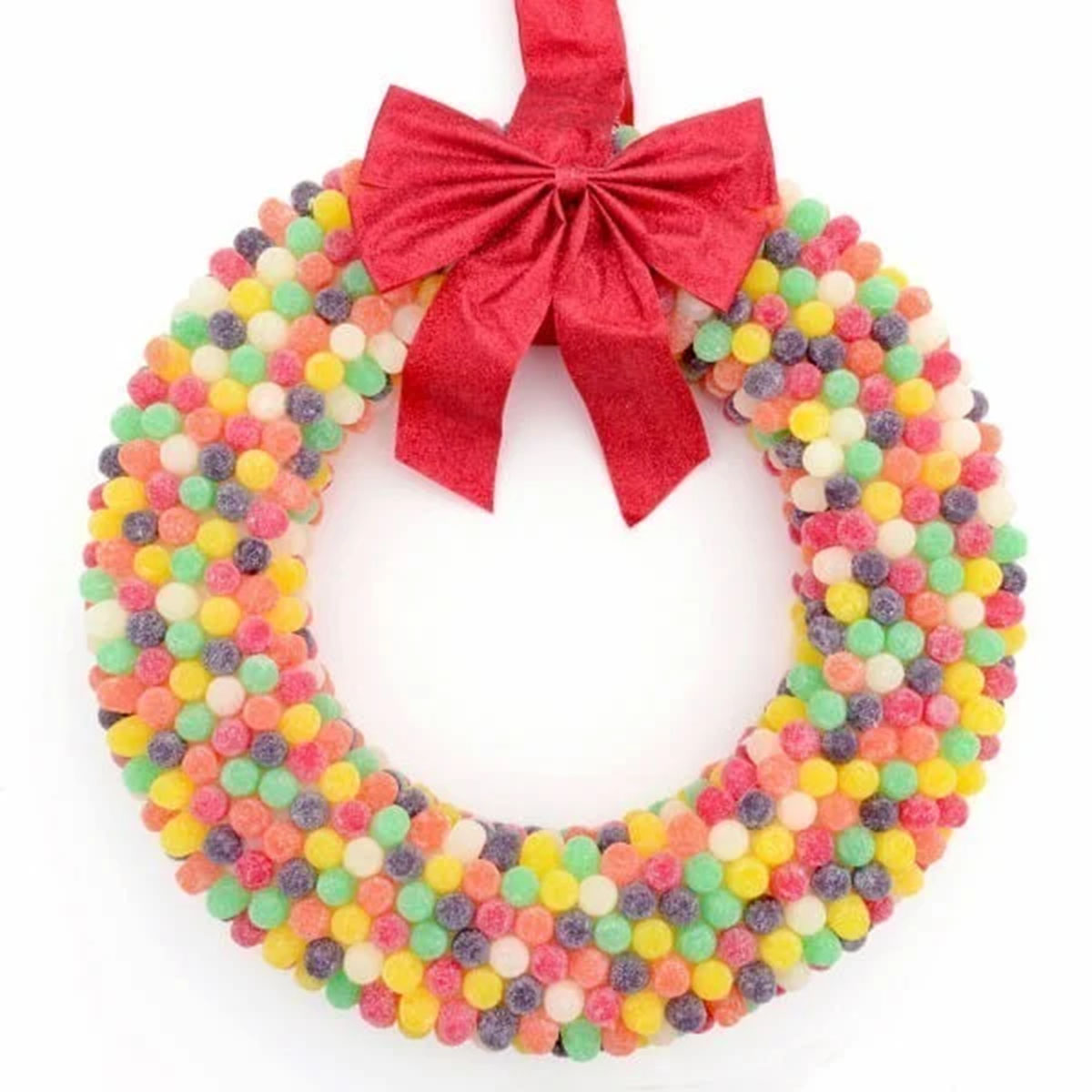 Book Page Wreath: Create a wreath that tells a story by using pages from an old book. Fold each page into a cone, then glue it to a round wreath form with the point inward. The overlapping cones create an interesting texture and give the wreath a vintage charm.
Chalkboard Wreath: For a wreath that changes with your mood or the season, paint a wooden wreath form with chalkboard paint. Once it's dry, you can write messages and draw pictures on it with chalk. Hang this wreath on your front door for a personalized welcome message, or use it in your kitchen to display the menu for a dinner party.
Feather Wreath: Add an exotic touch to your decor with a feather wreath. Purchase feathers at a craft store, or use found feathers for a more natural look. Glue these feathers onto a round wreath form, pointing outward. You can use natural-colored feathers, or buy them in
Popcorn and Cranberry Wreath: This edible wreath is a traditional holiday decoration that also serves as a snack for local wildlife. Using a sturdy needle and fishing line, thread popcorn and cranberries into a long strand. Be careful not to pop the popcorn as you go! Once your strand is long enough, loop it into a circle and tie the ends together. Hang the wreath outdoors and watch as birds and other critters come to feast.
Faux Succulent Wreath: This wreath brings a touch of the desert into your home, and the best part is, it requires no watering. Start by purchasing a variety of faux succulents from a craft store. Arrange these succulents on a grapevine wreath form until you're happy with the layout, then use a hot glue gun to secure them in place. This wreath can be displayed indoors or in a covered outdoor area.
Rustic Grapevine and Burlap Wreath: If you're a fan of rustic decor, this wreath is for you. Start with a plain grapevine wreath form, which you can find at any craft store. Cut strips of burlap and weave them through the grapevine, then tie or glue the ends in place. Add a bow or some faux flowers for extra charm.
Bottle Cap Wreath: This wreath is a great way to upcycle bottle caps and perfect for a man cave or bar area. Paint the bottle caps in colors of your choice, then arrange them on a round wreath form and secure them with hot glue. You can also use beer or soda caps for a themed wreath.
Rainbow Ribbon Wreath: This colorful wreath is perfect for birthdays or pride celebrations. Purchase ribbon in every color of the rainbow, then cut it into strips. Tie these strips around a foam wreath form until it's completely covered. The result is a bright, festive wreath that's sure to bring a smile to your face.
Pom-Pom Wreath: This is a bright and playful wreath idea that adds a fun pop of color to any room. Start by selecting a range of yarn colors and use a pom-pom maker to create a good number of fluffy pom-poms. Once you've made your pom-poms, arrange them on a round wreath form, considering the color balance and distribution. Secure each pom-pom using hot glue. This wreath is versatile – you can choose yarns to match your decor, a holiday theme, or even a birthday party.
Terracotta Pot Wreath: This wreath brings an earthy, garden-inspired touch to your home decor. Start with a round wreath form and small terracotta pots. Arrange the pots on the form and use hot glue to secure each pot in place. Once all the pots are attached and the glue has dried, add your faux flowers or succulents. This creates a mini garden display that's ideal for a sunroom or an outdoor covered area.
Wine Cork Wreath: Perfect for the wine enthusiast, this wreath not only serves as a creative recycling project but also adds a cozy, rustic appeal to your space. Collect wine corks over time until you have enough to cover a round wreath form. Begin attaching the corks with hot glue, making sure to cover the entire form. For added interest, you can mix up the arrangement by alternating the corks' positions and angles.
Balloon Wreath: Celebrate in style with a colorful balloon wreath. Purchase small balloons in a variety of colors and inflate them until they're just firm enough to hold their shape but not too tight to pop. Using a round wreath form, start gluing the balloons onto the form, covering it completely. This vibrant wreath is ideal for birthday parties or any joyful celebration. Keep in mind, though, this wreath is better made close to the event time to ensure the balloons stay inflated and fresh.
Pencil Wreath: Ideal for teachers, glue unsharpened pencils onto a round form and add a bow at the bottom. This fun and creative wreath would make a great classroom decoration.
Washi Tape Wreath: Cover a foam wreath form in strips of colorful washi tape. Overlap and mix different patterns for a bright, fun look. Perfect for a craft room or kids' space.
Lego Wreath: A Lego wreath is a vibrant and interactive decoration that children will love. To make one, start with a large flat circular Lego baseplate, ideally in a festive color like green or red. Choose a variety of Lego bricks, and start attaching them around the edge of your baseplate. You can create patterns with the bricks or go for a more freestyle approach, allowing the pieces to stick out for a three-dimensional effect. Don't forget to add a Lego bow at the bottom or top! It's a great way to reuse loose Lego pieces, and it could even serve as a fun, ongoing project that kids can add to over time.
Cookie Cutter Wreath: A cookie cutter wreath is a charming, culinary-inspired decoration that's perfect for your kitchen, especially during the holiday season. To create this wreath, you'll need a wreath form and a collection of cookie cutters – these could be a variety of shapes or holiday-themed. Arrange the cookie cutters on the form until you're happy with the layout, then attach each with hot glue. Be sure to let the glue cool completely before hanging. For a more rustic look, consider using vintage metal cookie cutters. For a modern and colorful style, plastic cookie cutters work well. You could also tie a ribbon or bow at the top of the wreath for an extra festive touch.
Twine Wreath: A twine wreath is a versatile, rustic decoration that adds a warm and inviting touch to any space. To create this wreath, select a foam wreath form in your desired size. Begin wrapping the form with twine, ensuring the twine is tight and closely aligned to cover the form fully. Hot glue the end of the twine in place once you've covered the form. For added charm, consider incorporating dried flowers or leaves. You can attach these using hot glue or by threading them into the twine. This twine wreath serves as a beautiful year-round decoration or could be customized for different seasons with the addition of various adornments.
Clothespin Wreath: A clothespin wreath is not only visually appealing but also functional, providing a place to hang photos, notes, or holiday cards. Start by obtaining a wire wreath form, then clip on wooden clothespins until the form is covered. For added visual interest, consider painting the clothespins in a variety of colors before attaching them to the form. Depending on the occasion, you might choose seasonal colors or a mix of bright hues. This wreath is an excellent project for crafters of all levels and makes for a charming addition to your home or office decor.
Puzzle Piece Wreath: The puzzle piece wreath is a creative and sustainable way to repurpose old or incomplete puzzles. To make this wreath, spread out your puzzle pieces and start gluing them onto a wreath form, layering them as you go to create depth and texture. Once your wreath form is covered and the glue has dried, you can spray paint the entire wreath in a color of your choice. This could be a classic color like gold or silver, a festive hue, or a bright, bold color for a modern twist. This unique and eco-friendly wreath is sure to become a conversation piece in your home.
Frequently Asked Questions
How can I store my DIY wreaths?
To keep your DIY wreaths looking their best, store them in a cool, dry place out of direct sunlight. Cover them loosely with a plastic bag to keep dust away. You can hang them in a closet or store them flat to prevent them from becoming misshapen.
How can I hang my DIY wreath without damaging my door?
There are several ways to hang your DIY wreath without causing any damage. One of the most common ways is by using an over-the-door wreath hanger. You can also use a magnetic wreath hanger if your door is metal, or command hooks for a damage-free option.
Can I use fresh flowers for my DIY wreath?
Yes, fresh flowers can be used in DIY wreaths, but keep in mind they will not last as long as artificial flowers. Fresh floral wreaths are best made close to the event or occasion they are being used for. After the flowers have dried, they can give your wreath a lovely, vintage look.
What are some tips for making DIY wreaths?
Here are some useful tips: 1) Gather all your supplies before you begin. This includes your wreath form, decorations, glue gun, and other materials. 2) Always start by arranging your decorations on the wreath form before gluing to get an idea of the final look. 3) When using a glue gun, be careful not to burn your fingers. 4) Consider the size and weight of your decorations. Heavy items may require additional support. 5) Remember, the beauty of DIY is in the personal touches. Don't strive for perfection; let your personality shine through your creation!